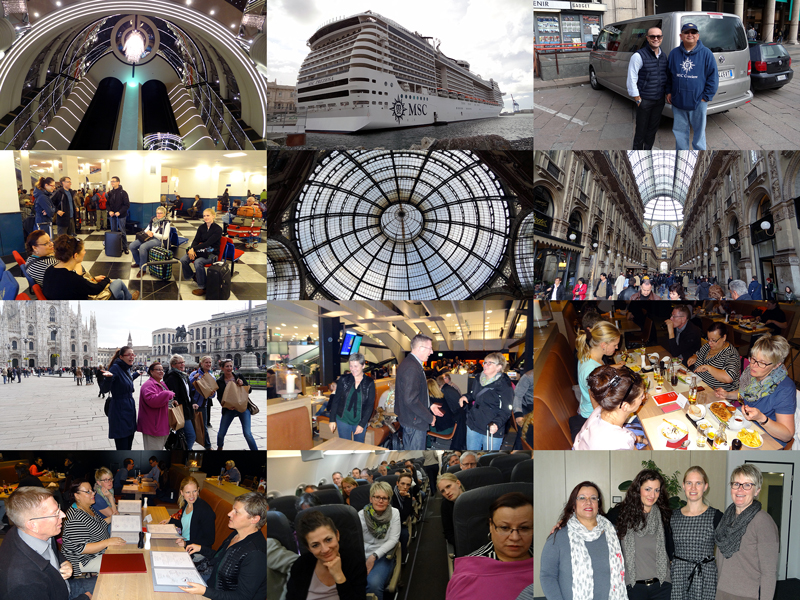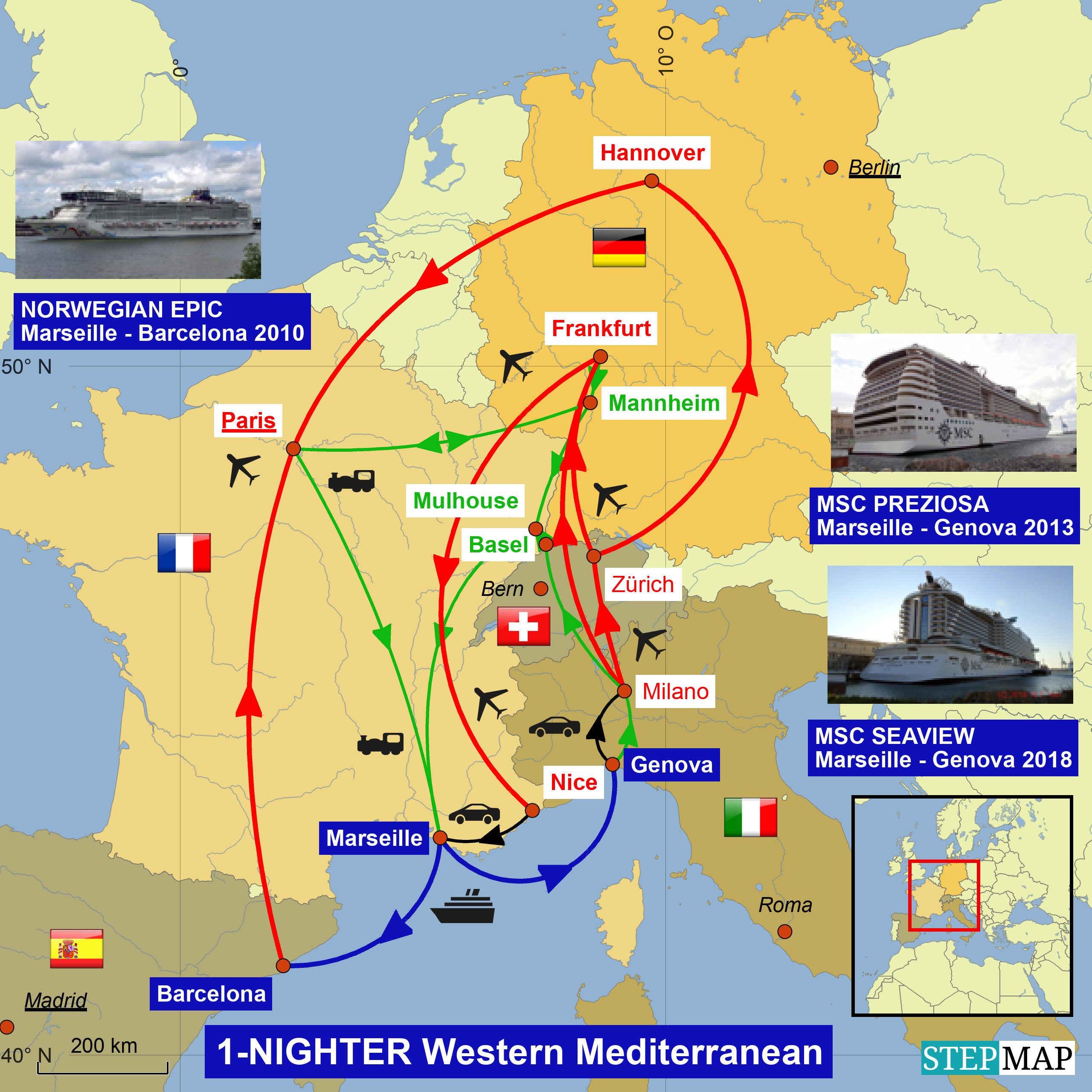 Das zweite Hauptrestaurant ist The Golden Lobster.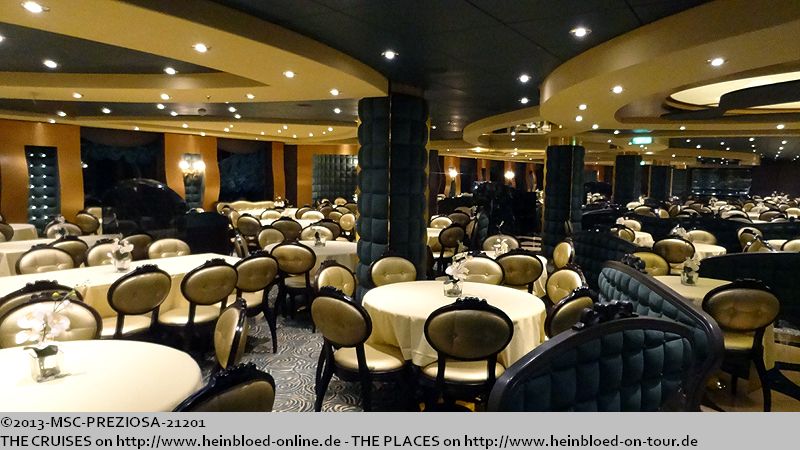 The second Main Dining Room is The Golden Lobster.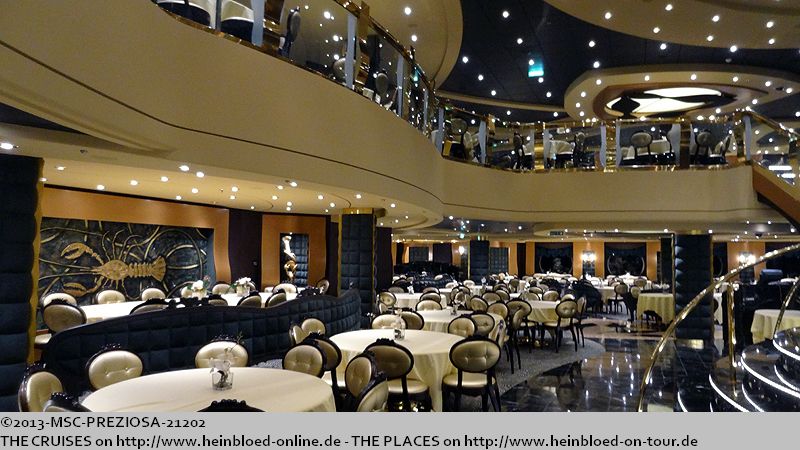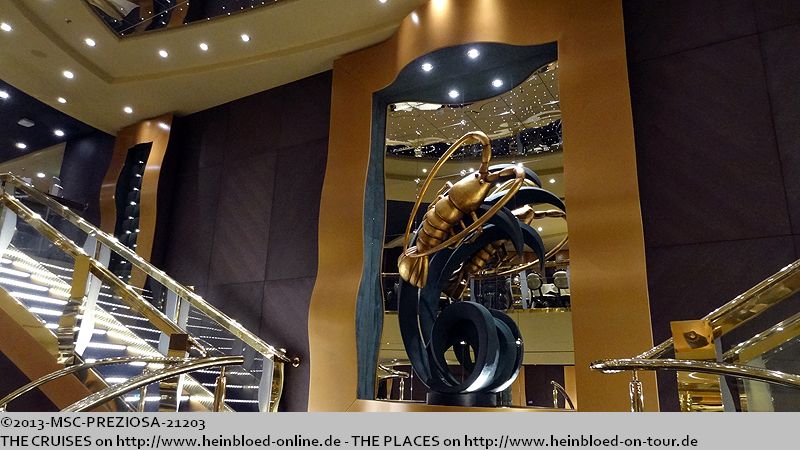 I liked that much more.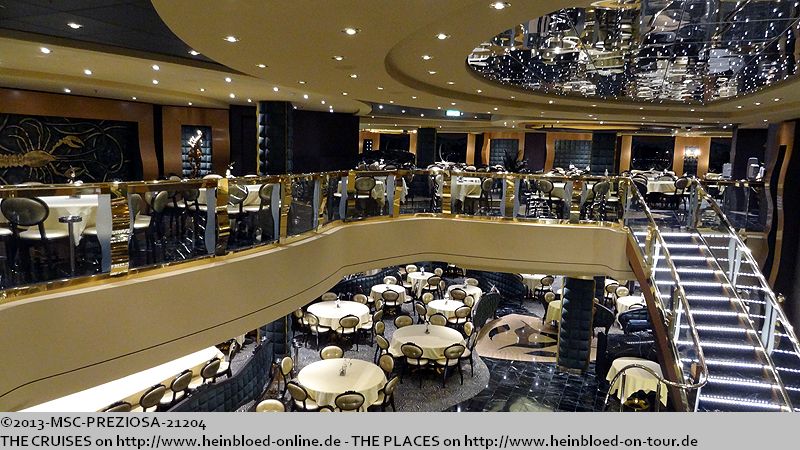 Fand ich jetzt persönlich schöner.
Dass die 1. Tischzeit ausgebucht ist, ist ja bei MSC recht ungewöhnlich. Normalerweise sind die Südländer scharf auf die 2. Tischzeit.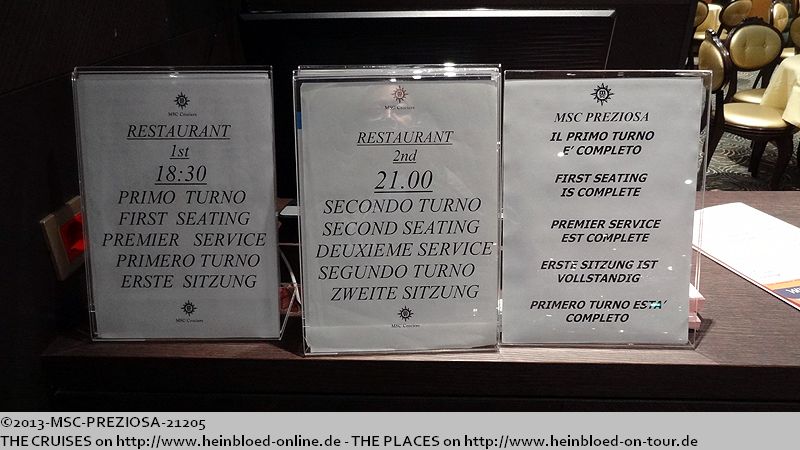 It's quite strange that the 1st seating was already booked out. Normally the Southern Europeans like more to have the 2nd seating.

Now I had the Self-Service Buffet Restaurant just for myself.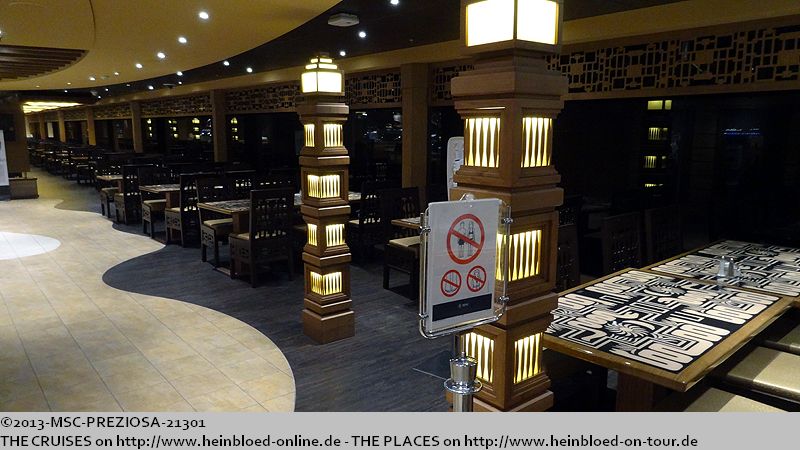 Nun habe ich das SB-Büffet Restaurant mal für mich alleine.
Warum darf ich hier meine Kapuzenjacke nicht tragen?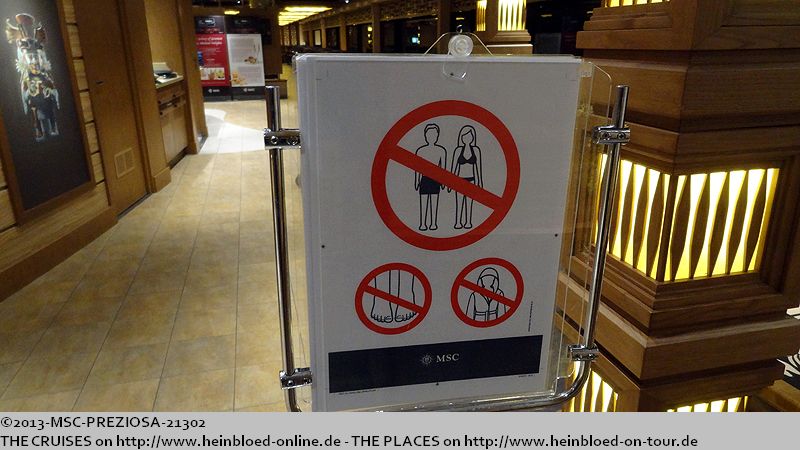 Why am I not allowed to wear my hoodie jacket?

La Palmeraie is the dining venue for the guests of MSC Yacht Club. On MSC FANTASIA they had L'Étoile here. There we really liked to eat and to were willing to pay for.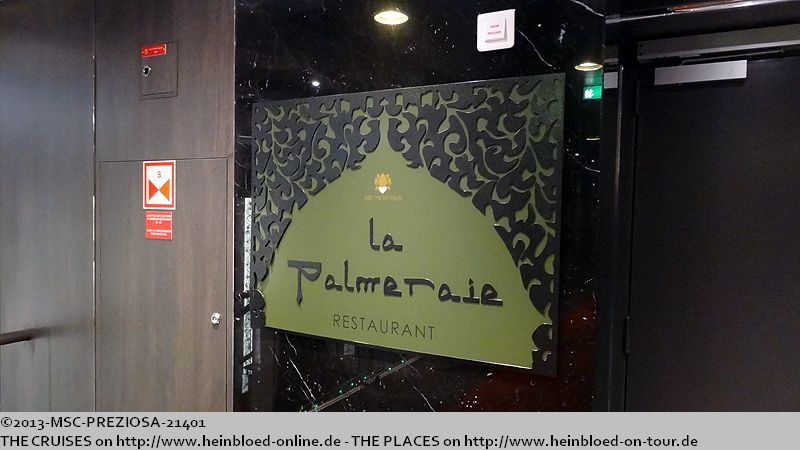 La Palmeraie ist das Restaurant für die Gäste des MSC Yacht Clubs. Auf der MSC FANTASIA befand sich hier L'Étoile, in dem wir sehr gerne gegessen haben und bereit waren zuzuzahlen.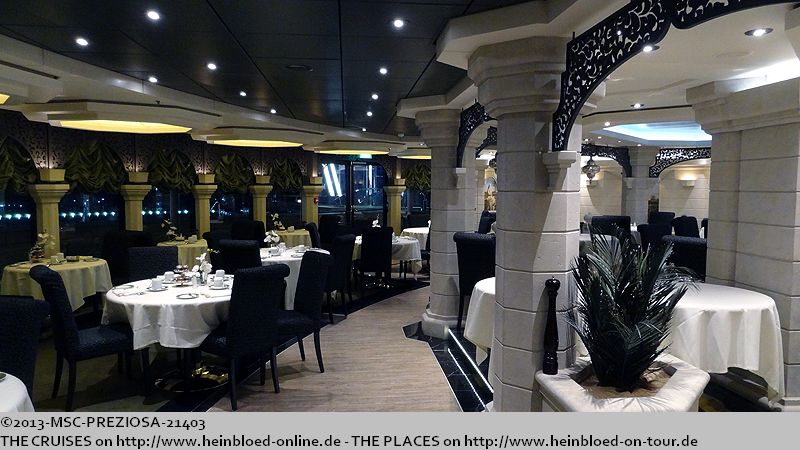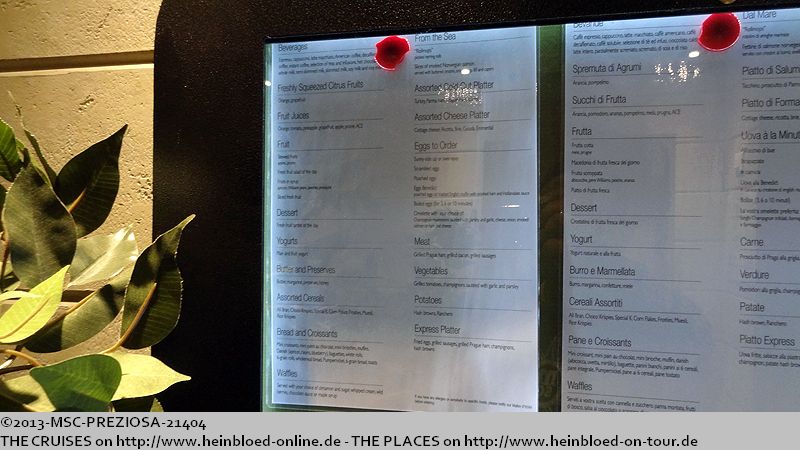 It did not look like that the breakfast was much better than in the Main Dining Room.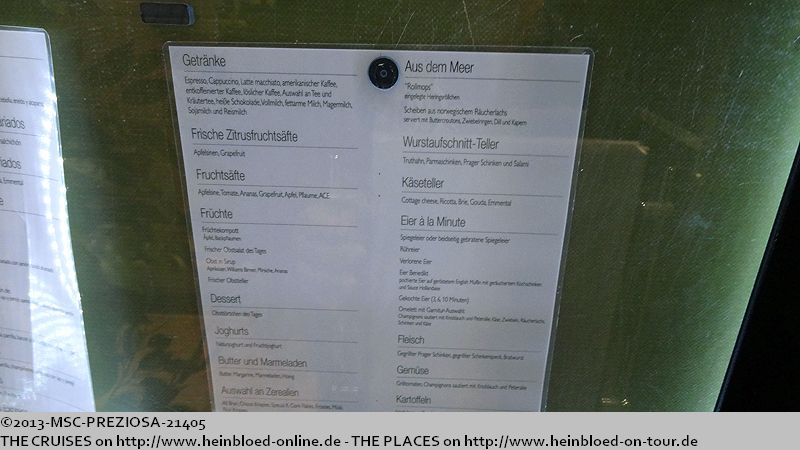 Verglichen zum Frühstück im Hauptrestaurant scheint mir aber kein großer Unterschied zu sein.
Eataly
ist eine italienische Restaurant-Kette mit Filialen in den USA und Japan und nun eben auch an Bord der MSC PREZIOSA.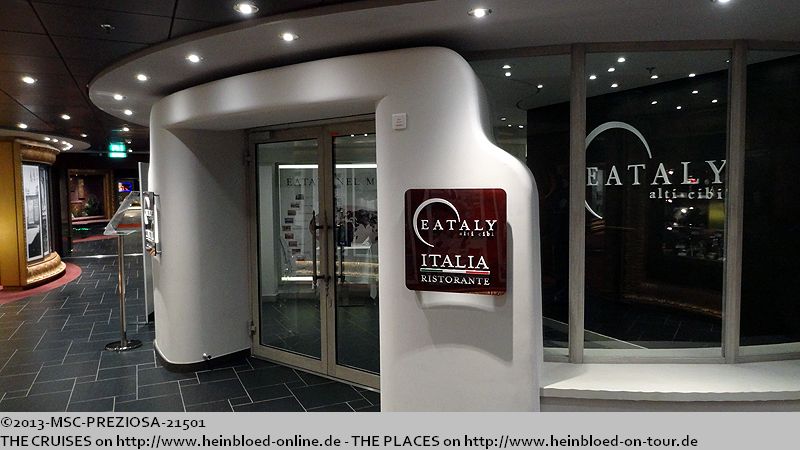 Eataly is an Italian restaurant-chain with branches in the US and Japan and now also onboard of MSC PREZIOSA.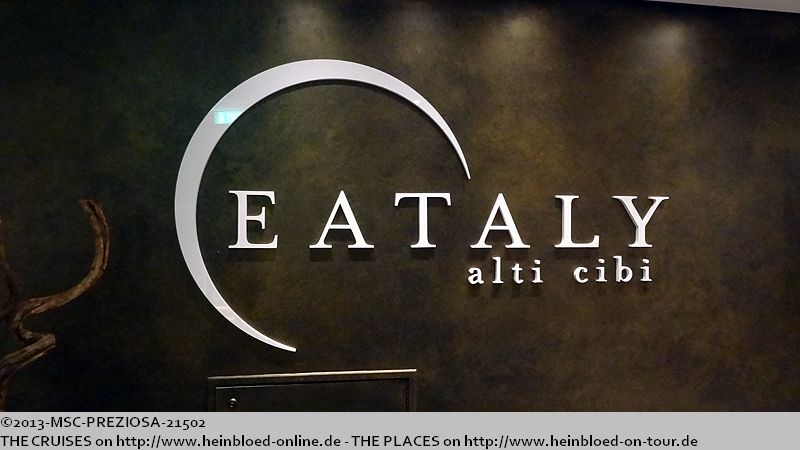 Hätte mich interessiert. Reicht leider die Zeit nicht und leider liegt auch keines entlang unserer Route im Januar in der Toskana.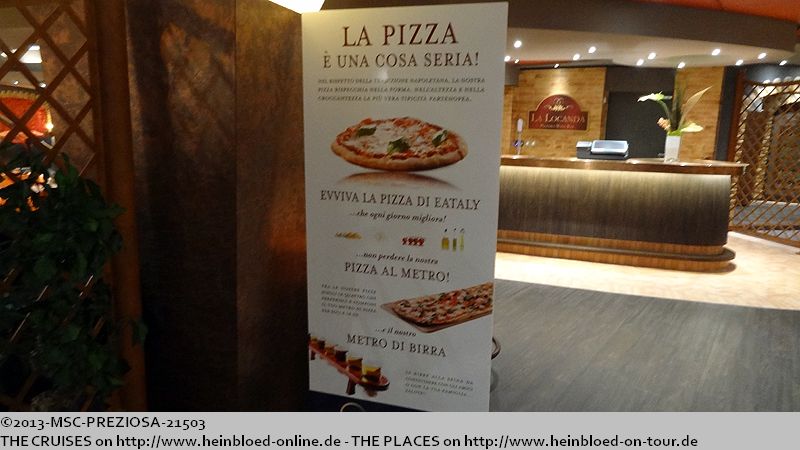 I would be very interested to try. Unfortunately, there was not enough time, and there is also none alongside our route in January in Tuscany.

You can have a menu for 30.00 EUR (2013).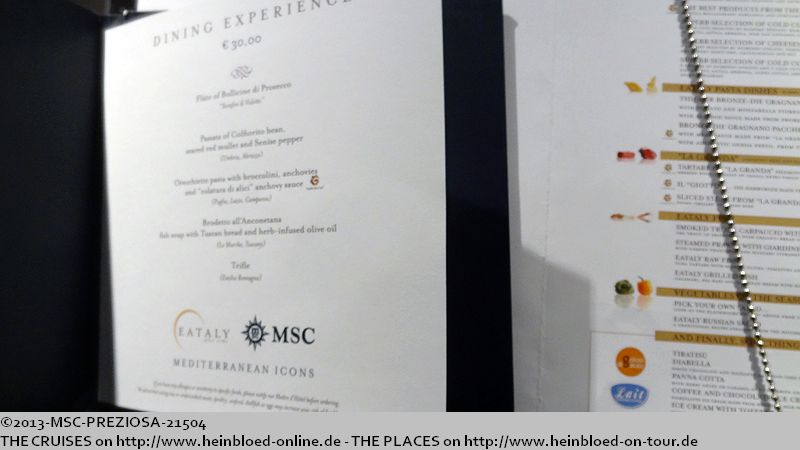 Entweder Menü für 30,00 EUR (2013)
oder à la carte. Sollte die Qualität stimmen, halte ich die Zuzahlung für angemessen.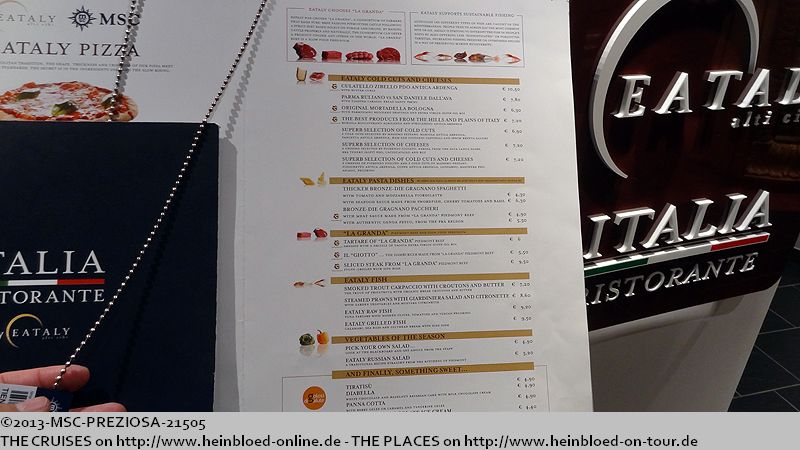 or à la carte. If the quality is fine the cover charge would be appropiate.

The prices for the Pizza are on the level of Da Michele in Naples.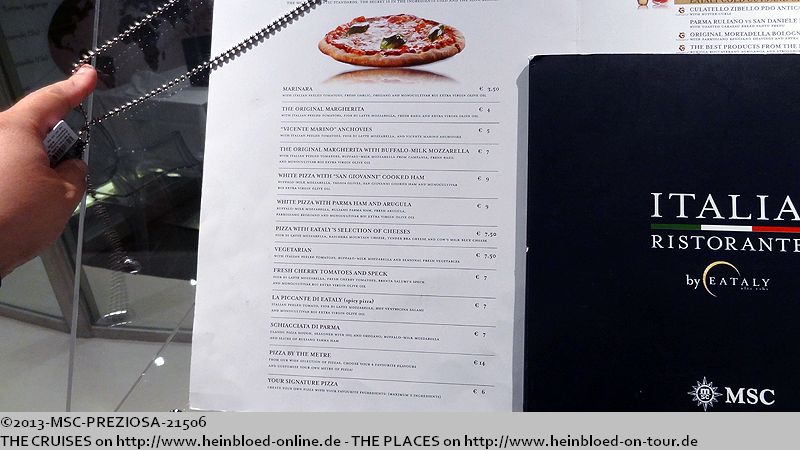 Die Pizzapreise entspricht dem Niveau von
Da Michele in Neapel
.
Es gibt übrigens auch ein Eataly in Passau, aber das wohl nichts mit der Kette zu tun.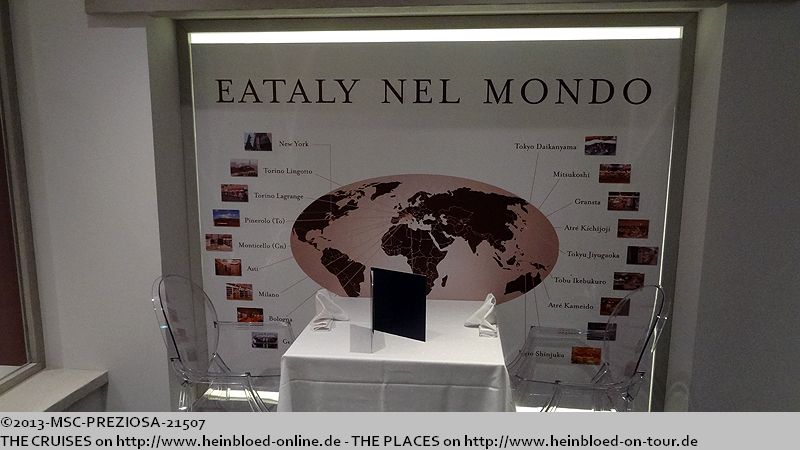 There is also an Eataly in Passau, Germany but it looks like that this one has nothing to do with the chain.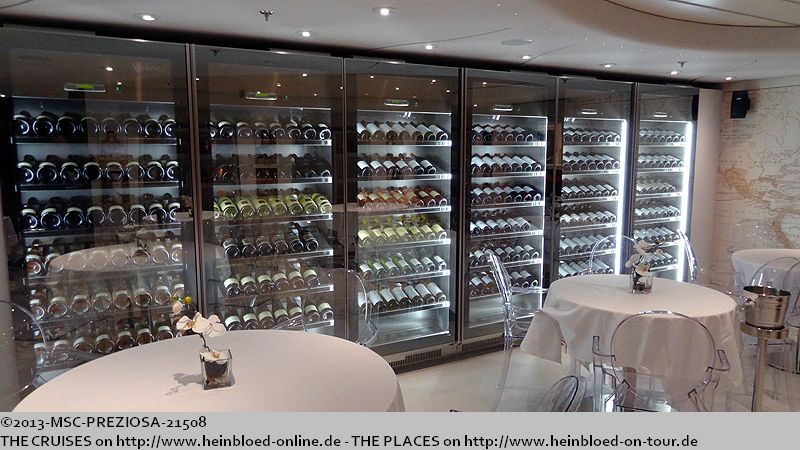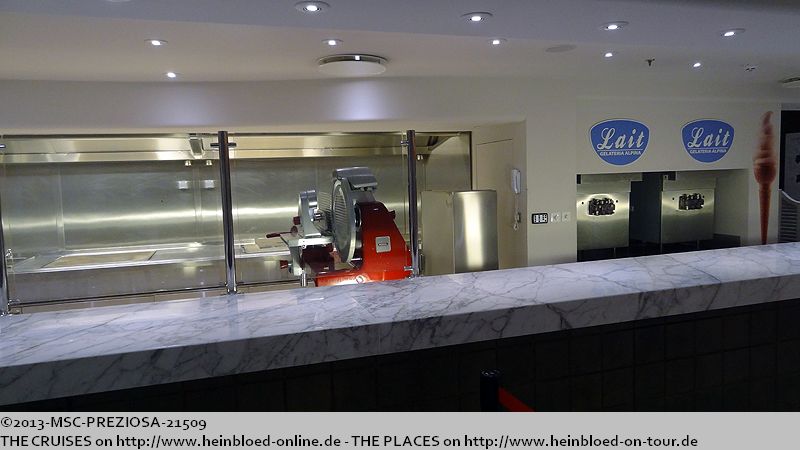 Do no wonder: Here everything was set up for the return of the passports in the morning.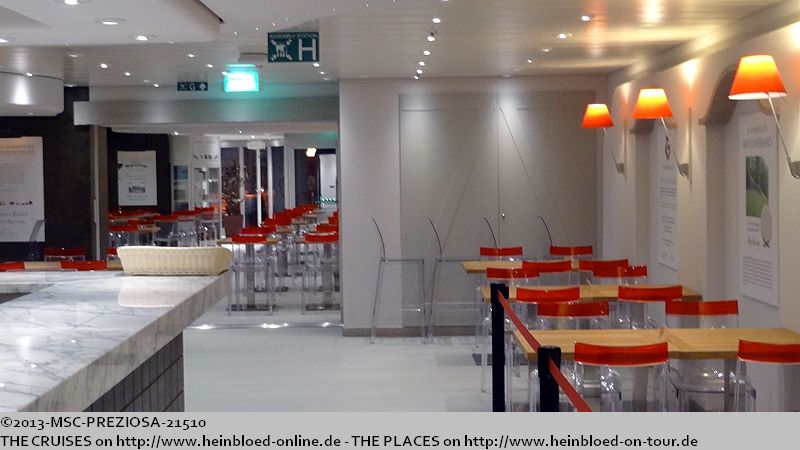 Nicht wundern: hier ist schon alles für die Reisepassrückgabe morgen früh vorbereitet.
Die anderen Reisen in diesem Blog/
The other voyages in this blog: