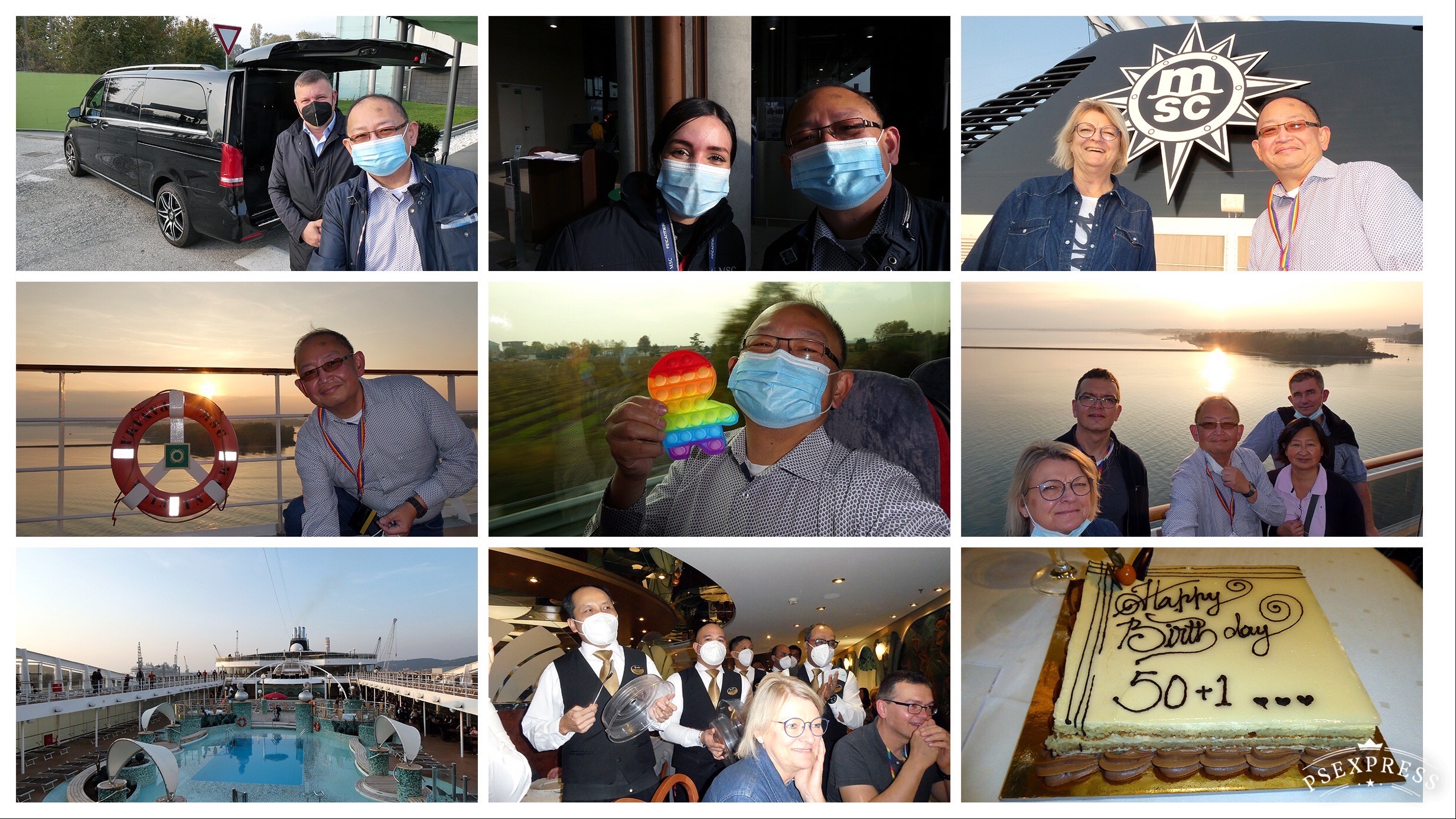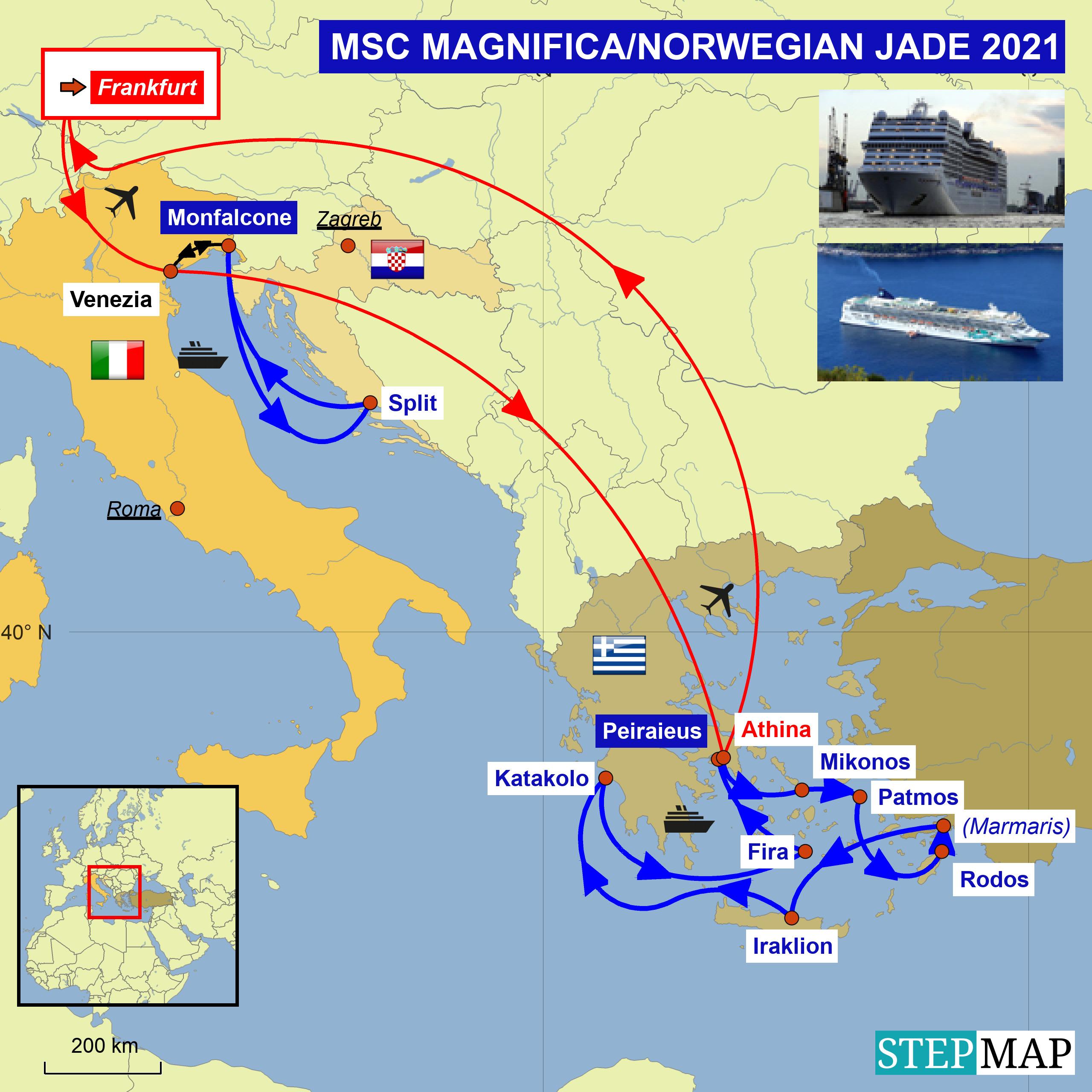 Frühstück! Mit einer Stunde Zeitunterschied, da letzte Nacht die Uhr umgestellt wurde. Im Garden Restaurant ist alles für Halloween dekoriert. Es ist sehr voll. Wir müssen warten, weil man sich selbst nicht am Büffet bedienen darf, sondern nur am Büffet bedient wird, aber ohne dass man alles sehen kann. Eierspeisen kann man sich noch am Tisch bestellen, aber das Omelette schmeckt nicht so richtig: Die Auswahl süßer Sachen dominiert und ich bin ja eher der herzhafte Typ. Einen Cappuccino aus der Barista-Maschine direkt aus der Küche zu bestellen, ist für die Italiener normal. Die Ausländer bekommen zunächst automatisch den Caffe americano. Laktosefreie Milch stellt allerdings eine Herausforderung dar.

Breakfast! With an hour difference since the time was changed last night. Everything in the Garden Restaurant is decorated for Halloween. It's swamped. We have to wait because you are not allowed to serve yourself at the buffet, but are only served at the buffet, but without seeing everything. You can still order egg dishes at the table, but the omelet doesn't taste good: the selection of sweet things dominates, and I'm more of the hearty type. Ordering a cappuccino from the barista machine directly from the kitchen is typical for Italians. The foreigners initially automatically receive the American Caffe. However, lactose-free milk poses a challenge.

We still have time to look around here. It looks pretty cozy here—a nice bar area.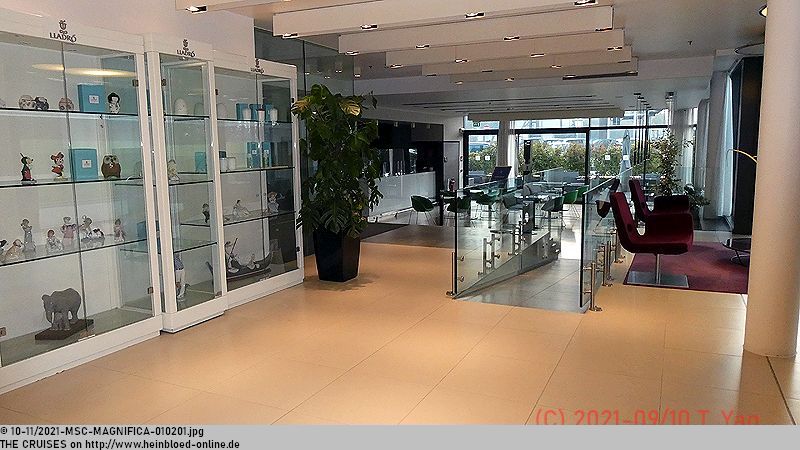 Wir haben noch Zeit uns hier mal umzusehen. Es sieht hier sehr gemütlich aus. Ein netter Barbereich.
Und eine schnöne Sitzecke vor einem Kamin.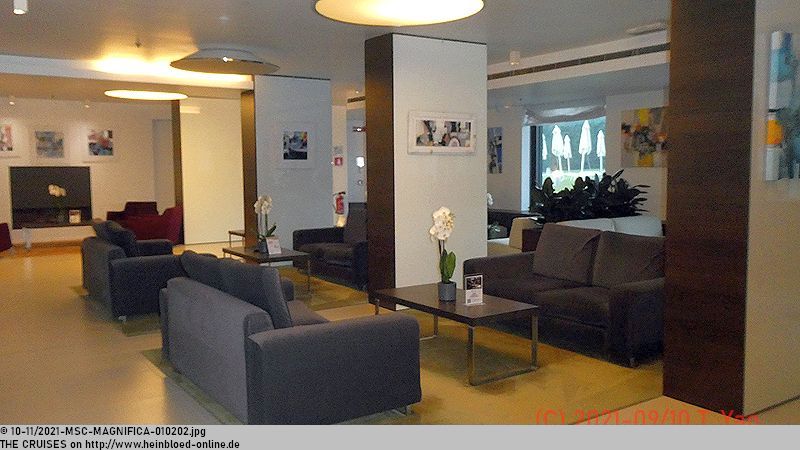 And a nice sitting area in front of a fireplace.

We don't need all of our luggage for the three nights on the MSC MAGNIFICA. So I leave two suitcases here in the hotel. So it is also more practical that we come back here again.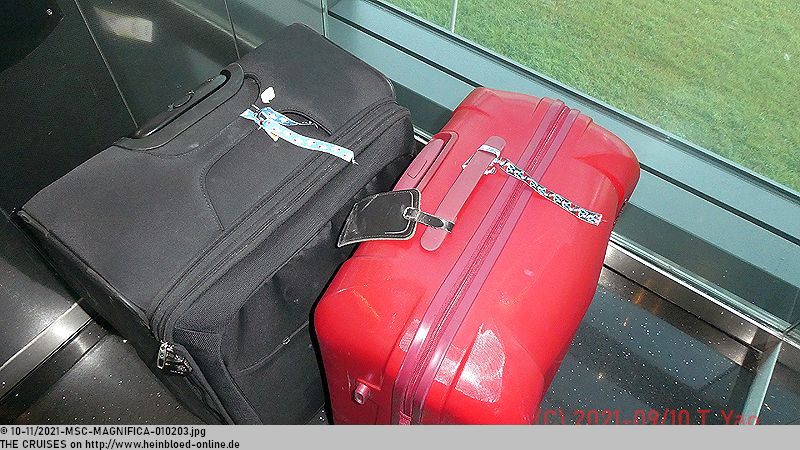 Für die drei Nächte auf der MSC MAGNIFICA brauchen wir nicht unser gesamtes Gepäck. So lasse ich zwei Koffer hier im Hotel. So ist es auch praktischer, dass wir hierher wieder zurückkommen.
So nutze ich schnell die Möglichkeit ohne Gedränge die Koffer zur Rezeption zu bringen.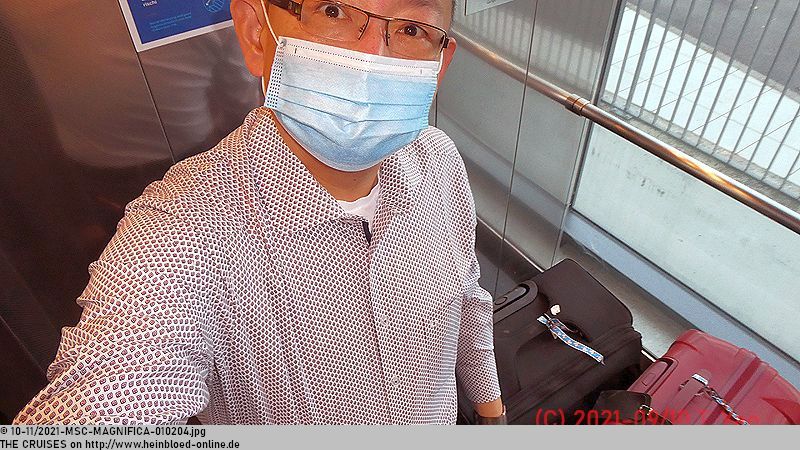 So I quickly took advantage of the opportunity to bring the suitcases to the reception without being rushed.

It is not a problem to store our luggage here for us.

Es ist kein Problem, unser Gepäck hier für uns aufzubewahren.
Mein Ausstatter Bekim aus dem Mannheimer Modehaus
engelhorn
hat mich dazu verdonnert, dass ich endlich meine Hemden mit Kragenweite 44 und Comfort-Fit-Schnitten aussortieren soll. Leider hat er Recht: Kragenweite 42 und Modern Fit steht mir besser.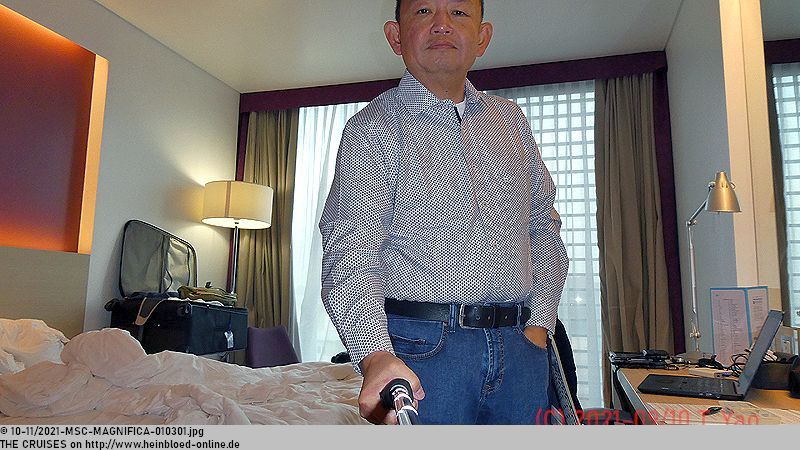 My outfitter Bekim from the Mannheim fashion house engelhorn in Germany ordered me to finally sort out my shirts with a collar size of 17 1/2 and comfort-fit cuts. Unfortunately, he is right: collar size 16 1/2, and modern fit suits me better.

Our driver from yesterday, Pietro from Venice Car Service, is back on time. Before we leave, Pietro asks us for documents that we have to show at the entrance to the port so that we can be let in.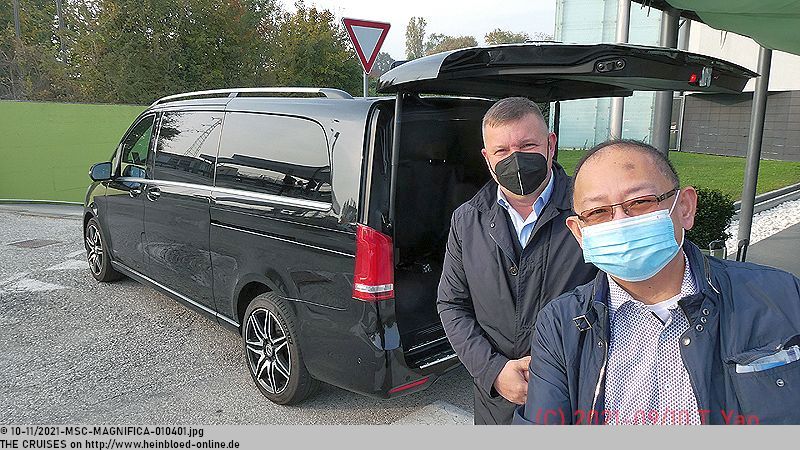 Pünktlich ist unser Fahrer von gestern Pietro von
Venice Car Service
wieder da. Bevor wir losfahren, fragt Pietro schon uns nach Unterlagen, die wir an der Einfahrt am Hafen vorzeigen müssen, damit wir reingelassen werden.
Unser Reisebüro
Sonnendeck Seereisen
hat auch alles sehr gut vorbereitet: wir haben vier Heckbalkonkabinen auf Deck 11 bekommen. Alle nebeneinander. Und auch ist papiermäßig alles gut vorbereitet. Danke an Jens und Raoul für deren Geduld, mit den ständigen Änderungen. Aber wer mich als Kunden hat, braucht schon eine Menge Nerven und Geduld. Und danke nochmals für die Gepäckanhänger.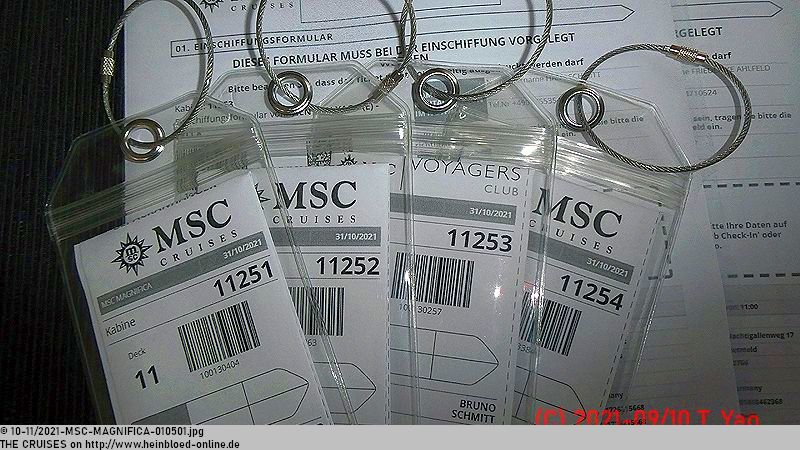 Our travel agency Sonnendeck Seereisen prepared everything very well: we got four stern balcony cabins on deck 11. All side by side. And everything is well equipped in terms of paper. Thanks to Jens and Raoul for their patience with the constant changes. But if you have me as a customer, you need a lot of nerve and patience. And thanks again for the luggage tags.

And thank you again to Jens, who helped me bridge the time between MSC SEASIDE 2021 and now. I got the Venchi Nougatini that I got on MSC SEASIDE 2021.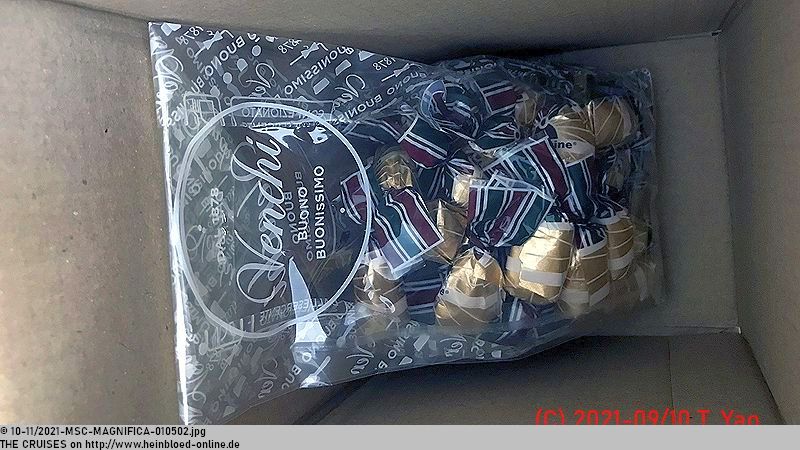 Und auch nochmals vielen Dank an Jens, der mir die Zeit zwischen der
MSC SEASIDE 2021
und jetzt, zu überbrücken. Ich bekam die
Venchi Nougatini
, die ich auf der
MSC SEASIDE 2021
bekommen habe.
Ein großer Dank auch an
Sartori & Berger
in Kiel, die dafür gesorgt haben, dass noch der Kapitän der
AIDAluna 2021
meinen Douglas Ward unterschrieben hat und ich ihn noch rechtzeitig vor der Abfahrt mit der MSC MAGNIFICA mir zurückgeschickt hat: per DHL Express!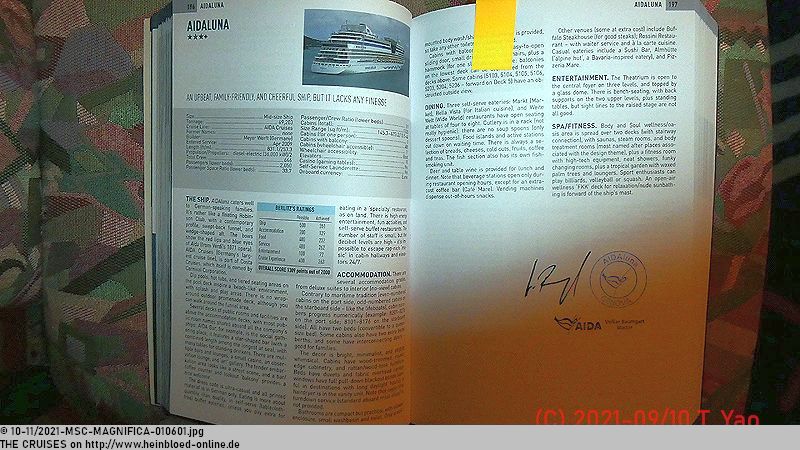 A big thank you also to Sartori & Berger in Kiel, who made sure that the captain of the AIDAluna 2021 signed my Douglas Ward and that I sent it back to me in good time before the departure with the MSC MAGNIFICA: by DHL Express!

Everything is very well prepared at the cruise terminal Isonzo 1-2. There is no queue for Diamond members. The time to which you are assigned is not taken into account. Omaima checks our papers. My mother has a problem because she is not an EU citizen but has a German residence permit. She takes care very touchingly that it is cleared up very quickly that my mother is allowed to ride. We give up the suitcases. Then it goes to the terminal for testing. The route in the terminal is very well divided. The waiting areas are very well marked. Since unvaccinated people are also allowed, they test very "deeply". I thought that only a nasal swab should be taken, not a frontal sinus swab. We are already embarkation group 7 and will be taken to the bus after a short waiting time.

Am
Kreuzfahrtterminal
Isonzo 1-2
ist alles sehr gut vorbereitet. Eine Schlange für Diamond-Mitglieder gibt nicht. Auf die Uhrzeit, der man zugeteilt ist, wird nicht geachtet. Unsere Papiere werden durch Omaima überprüft. Bei meiner Mutter ergibt sich ein Problem, weil sie keine EU-Bürgerin ist, aber einen deutschen Aufenthaltstitel hat. Sie kümmert sich sehr rührend darum, dass sich sehr schnell aufklärt, dass meine Mutter mitfahren darf. Wir geben die Koffer auf. Danach geht es zum Testen ins Terminal. Die Wegführung im Terminal ist sehr gut aufgeteilt. Die Wartezonen sind sehr gut gekennzeichnet. Da ja auch Ungeimpfte zugelassen sind, testen sie sehr "tiefgründig". Ich dachte, dass nur ein Nasenabstrich gemacht werden sollte und kein Abstrich in der Stirnhöhle. Wir sind bereits Einschiffungsgruppe 7 und werden auch schon nach kurzer Wartezeit zum Bus weitergeführt.
Zwei Wochen zuvor: MSC MAGNIFICA fährt an der Südspitze des Lidos Richtung Marghera.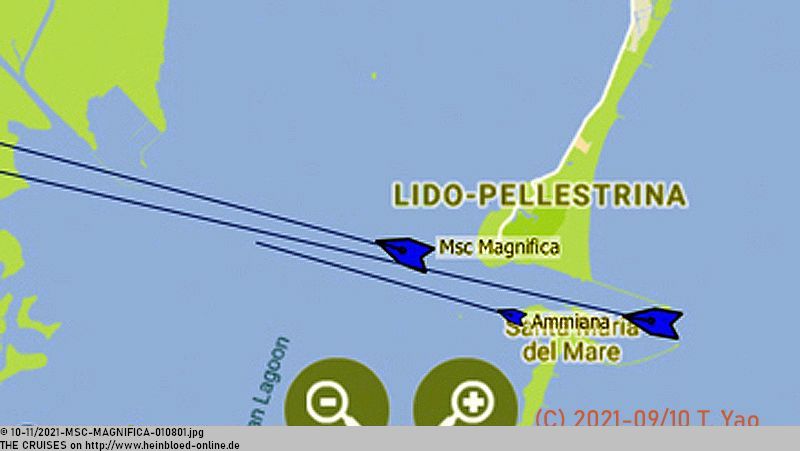 Two weeks earlier: MSC MAGNIFICA is sailing towards Marghera on the southern tip of the Lido.

I have already prepared myself mentally for Shipspotting in Marghera.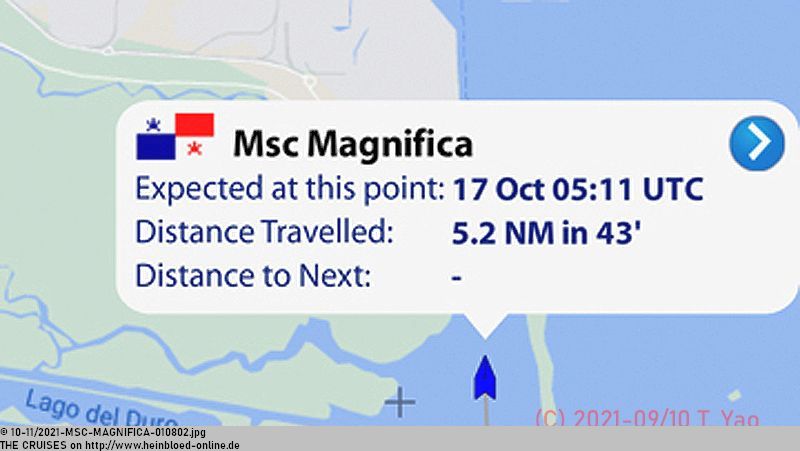 Ich habe mich schon auf Shipspotting in Marghera geistig vorbereitet.
Leider bleibt es bei der einmaligen Ausnahme. Das wäre perfekt gewesen, wenn wir auch hier hätten zusteigen können. Warum war es nur einmal? Was mag da der Grund dafür gewesen sein?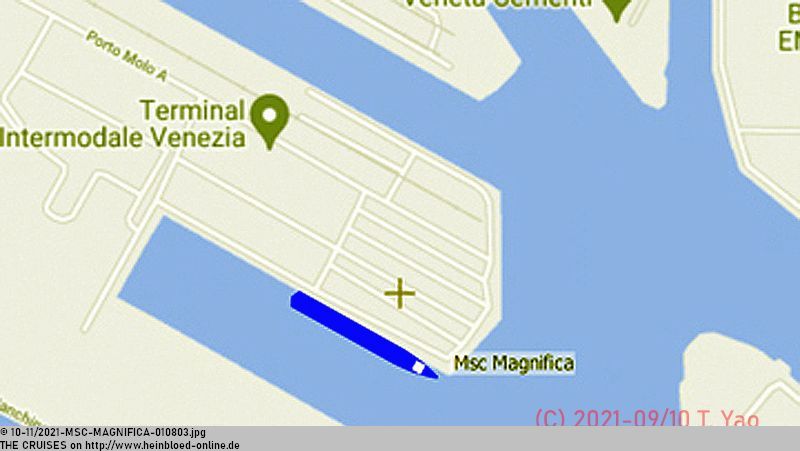 Unfortunately, the one-time exception remains. That would have been perfect if we could have got on here as well. Why was it only once? What may have been the reason for that?

The buses have lined up.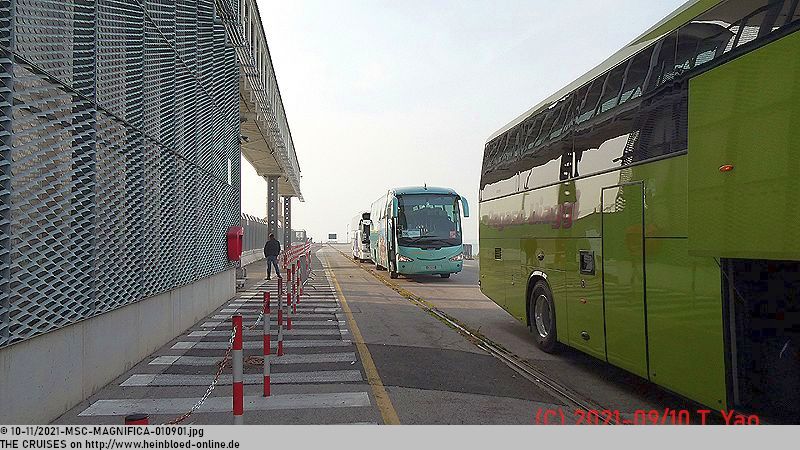 Die Busse haben sich aufgestellt.
Wir sind Gruppe 7: deswegen führt unser Bus die Nummer 77. Wenn man bisher immer mit dem Vorurteil rangegangen ist, dass die Italiener nicht so gut im Organisieren und Meister des Chaos sind: spätestens hier, wurden wir eines besseren belehrt.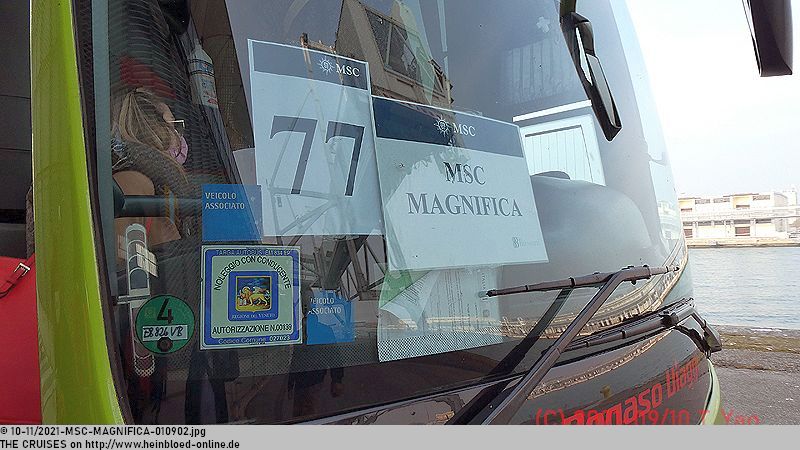 We are in group 7: that's why our bus has number 77. If you have always faced the prejudice that the Italians are not so good at organizing and are masters of chaos: here at the latest, we have been taught better.

The journey takes a long time: almost two hours. The last time I bought something like this at the gas station on sale there: for whining children, they are busy and calm down. It works for me too.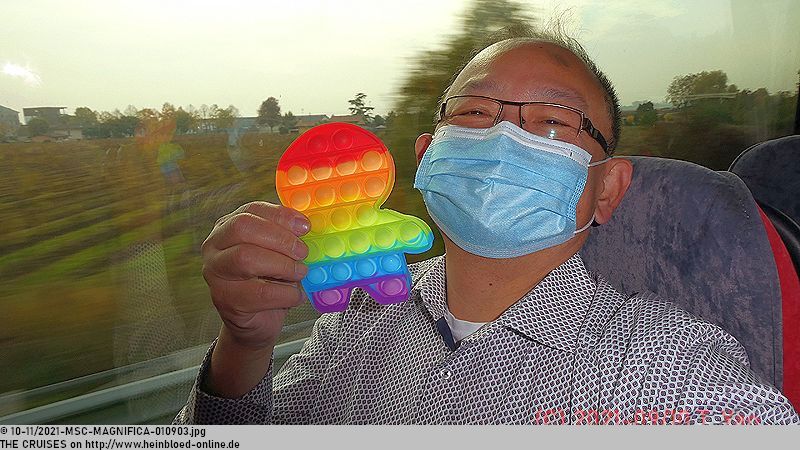 Die Fahrt zieht sich hin: fast zwei Stunden. Ich habe zuletzt bei der Tankstelle so ein Teil gekauft, das dort angeboten wurde: für quengelnde Kinder - damit sie beschäftigt sind und sich beruhigen. Es funktioniert auch bei mir.
Wir kommen direkt neben der
Fincantieri
Werft an. Ich bin im Paradies. Zum Glück wollte ich immer, dass wir in Monfalcone starten. Da die Ausschiffung sich verzögert hat, müssen wir noch eine kurze Zeit im Bus warten. Busse, die nach uns kommen, werden aber nicht vor uns freigegeben. Einer nach dem anderen. Aber nur leider mit kurzen Abständen, so dass sich schnell das Abfertigungsgebäude füllt.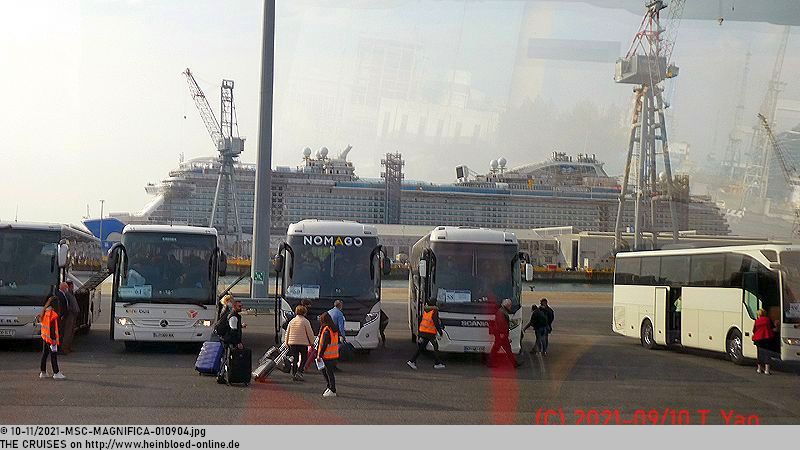 We arrive right next to the Fincantieri shipyard. I am in paradise. Fortunately, I always wanted us to start in Monfalcone. Since disembarkation was delayed, we had to wait a short time on the bus. Repentances that come after us are not released before us — one after the other. But unfortunately, only with short intervals, so that the terminal building fills up quickly.

As soon as we are on board, we are already asked where we will be taken back to. To our surprise: there is also the option of being brought directly to the car park at the cruise terminal in Venice and Monfalcone train station. However, they will not take you to Santa Lucia train station, but Mestre train station.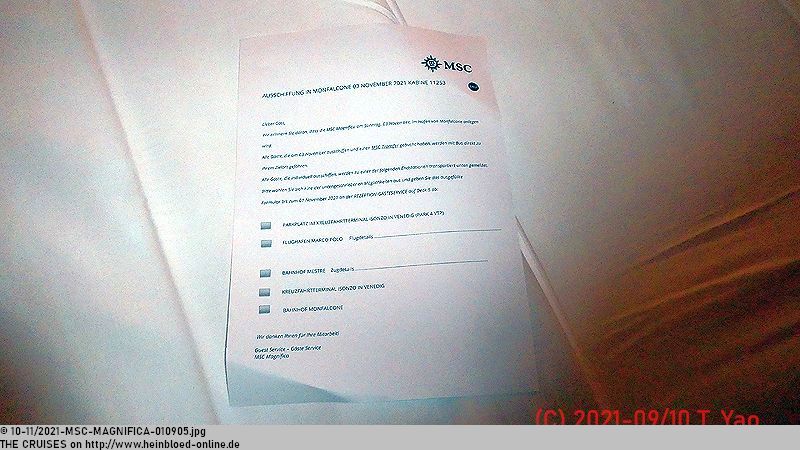 Kaum sind wir an Bord, werden wir bereits gefragt, wohin wir zurückgebracht werden. Zu unserer Überraschung: es gibt auch die Möglichkeit direkt zum
Parkplatz am Cruise Terminal
in Venedig gebracht zu werden und auch zum Bahnhof Monfalcone. Man wird allerdings nicht zum
Bahnhof Santa Lucia
gebracht, sondern zum
Bahnhof Mestre
.
Unsere Heckkabine ist perfekt für Shipspotter wie mich. Der Kapitän hat bereits das Schiff gedreht. So gucken wir direkt auf die MSC SEASCAPE.

Our stern cabin is perfect for ship spotters like me. The captain has already turned the ship. So we look directly at the MSC SEASCAPE.

And right behind us is DISCOVERY PRINCESS. We were booked on her in 2022. But Princess cut our trip from five to seven days. We don't fly to California for that. Our next Princess trip will take place on the REGAL PRINCESS for my birthday.

Und direkt schräg hinter uns liegt die DISCOVERY PRINCESS. Wir waren mal 2022 auf ihr gebucht. Aber unsere Reise wurde von fünf auf sieben Tage gekürzt. Dafür fliegen wir nicht extra nach Kalifornien. Unsere nächste Princess Reise wird dann zu meinem Geburtstag auf der REGAL PRINCESS stattfinden.
Das Team vom
Kreuzfahrtterminal Triest
fertigt hier die Passagiere ab. Alle Familien mit kleinen Kindern werden sofort aussortiert und in einer besonderen Zone eingecheckt. Die Bordkarten bekommen schon hier ausgehändigt. Nur ein Tagesprogramm fehlt. Insgesamt geht es zügig voran. Man darf aber nicht zum Schiff laufen, sondern wird mit dem Bus noch zum Schiff gebracht. Zwischenzeitlich ist der 1. LKW mit dem Gepäck aus Venedig da. Später gucke ich zu, wie hier alles abgebaut wird.

The team from the Trieste cruise terminal handles the passengers here. All families with young children are immediately sorted out and checked in in a particular zone. The boarding passes are handed out here. Only one day's program is missing. Overall, things are progressing quickly. But you are not allowed to walk to the ship but are brought to the ship by bus. In the meantime, the first truck with the luggage from Venice has arrived. Later I watch how everything is dismantled here.

We go straight to the self-service restaurant. When we ask for a large table, they send us straight to the back and say that there are large tables here. An excellent selection awaits us. I am pleasantly surprised. You can take prepared portions directly. Otherwise, too much was packed on my plate again, even if I explicitly said I only wanted a little.

Wir gehen direkt ins SB-Restaurant. Als wir nach einem großen Tisch fragen, schickt man uns direkt nach ganz hinten und sagt, dass hier große Tische stehen. Uns erwartet eine schöne Auswahl. Ich bin positiv überrascht. Vorbereitete Portionen darf man sich direkt nehmen. Ansonsten wird mir wieder zuviel auf die Teller gepackt, auch wenn ausdrücklich sage, dass ich nur ein wenig will.
Wir müssen nach dem Essen zunächst den Cappuccino testen: endlich. Die Kellner bewerben die Getränkepakete. Ich interessiere mich jedoch nur für den alkoholfreien Mojito und den grünen Apfelsaft, den es nur bei MSC gibt. Aber auch an jeder Bar und nicht nur im Yacht Club. Wir haben zum Glück sehr viel Kleingeld vorher getauscht und können so bei besonders netten Crewmitgliedern etwas drauflegen.

We have to test the cappuccino first after dinner: finally. The waiters advertise the beverage packages. However, I'm only interested in the alcohol-free mojito and green apple juice available from MSC. But also at every bar and not just in the Yacht Club. Fortunately, we exchanged many coins beforehand and can add something to the amiable crew members.

When we get to our cabins from dinner, our suitcases are already in front of the door.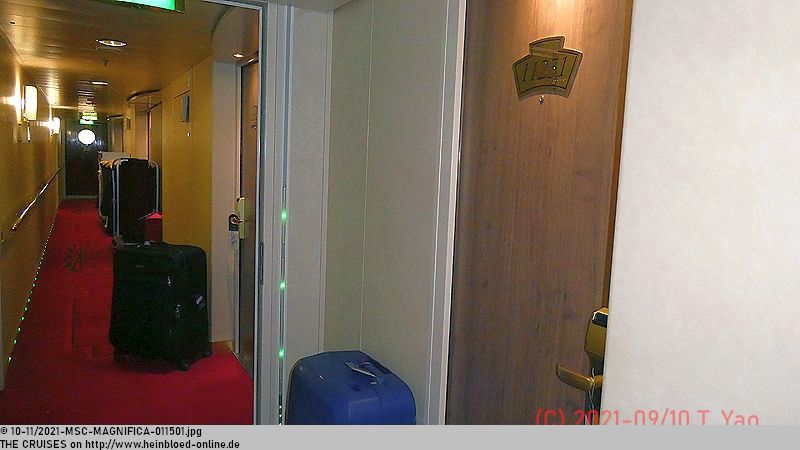 Als wir vom Essen zu unseren Kabinen kommen, stehen unsere Koffer schon vor der Tür.
Unsere Kabine ist fertig desinfiziert.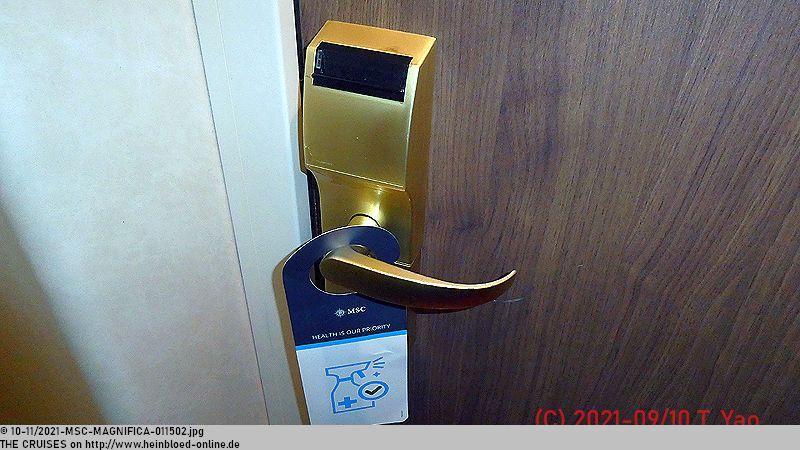 Our cabin is thoroughly disinfected.

We booked the Bella Experience, but we are correct: the cabin looks very spacious... Oh, we have yet to request separate blankets.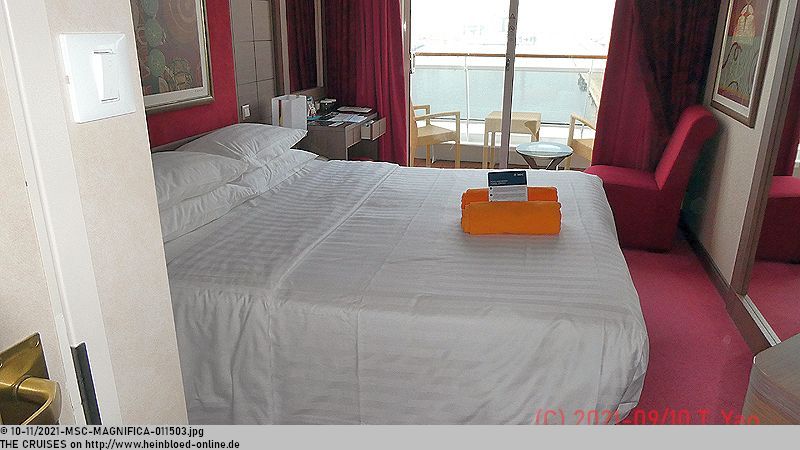 Wir haben
Erlebniswelt Bella
gebucht, aber sind wir richtig: die Kabine wirkt sehr großzügig. Oh... wir müssen noch getrennte Decken anfordern.
Ich bin positiv überrascht.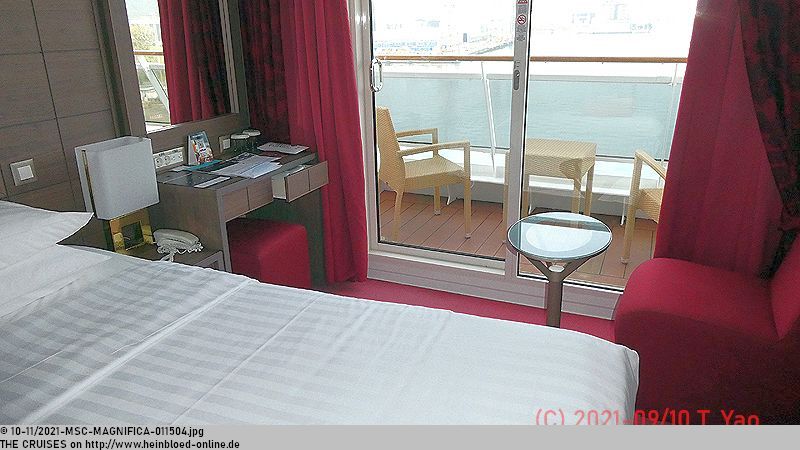 I am pleasantly surprised.

In the evening, we have separate individual blankets. We are in good hands with Neruda. Our safe works. Sigi has problems with her safe and promptly gets a new one, which, however, has to be appropriately removed and installed. The minibar is pleasant: we don't have to bring the water bottles from the bar.

Abends haben wir getrennte Einzeldecken. Wir sind bei Neruda in guten Händen. Unser Tresor funktioniert. Sigi hat Schwierigkeiten mit ihrem Tresor und bekommt prompt einen neuen, der jedoch richtig aus- und eingebaut werden muss. Angenehm ist die Minibar: so müssen wir nicht die Wasserflaschen von der Bar mitbringen.
Im Bad ist es etwas eng. Duschgel und Shampoo aus dem Spender.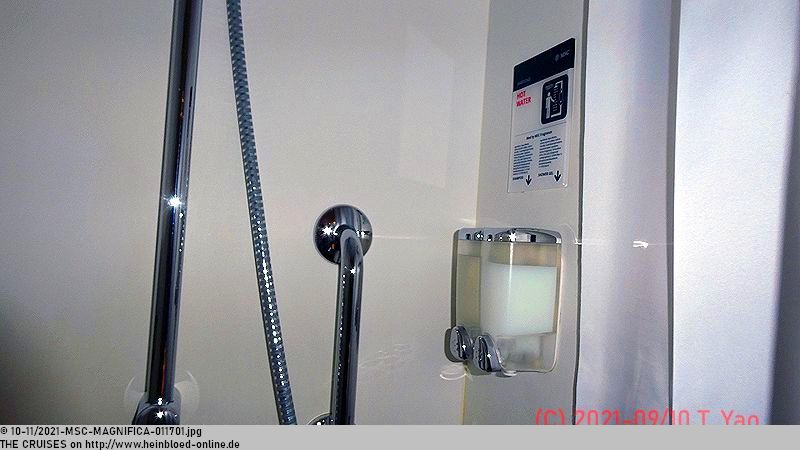 It's a bit tight in the bathroom: shower gel and shampoo from the dispenser.

Still, the curtain, like back then at MSC MUSICA 2007.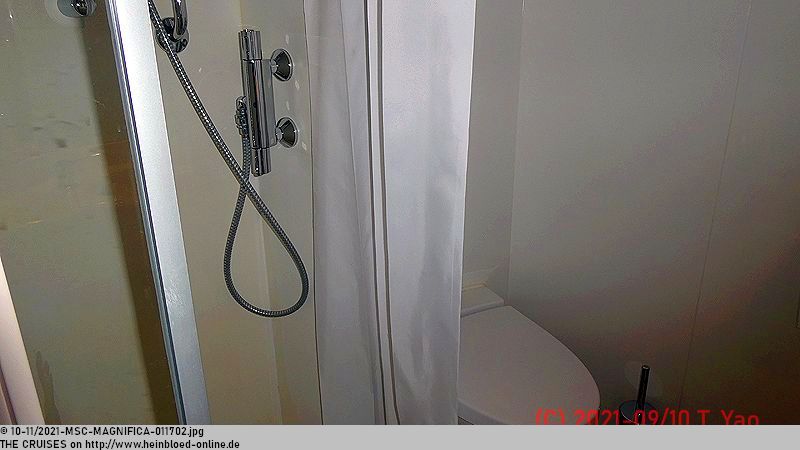 Immer noch der Vorhang, wie damals bei der
MSC MUSICA 2007
.
Irgendwie vermissen wir die Waschlappen, die wir bei den anderen Gesellschaften bekommen. Ist das weil wir
Bella
gebucht haben?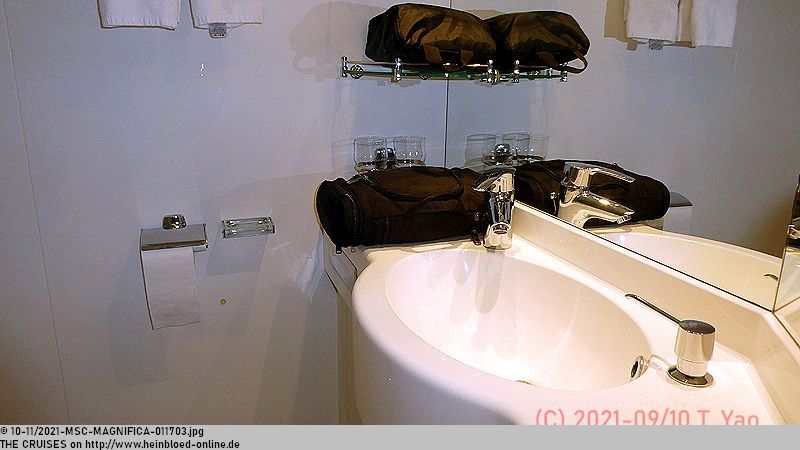 Somehow we miss the soap towels that we get at the other companies. Is that because we booked Bella?

Something needs to be repaired in the sink.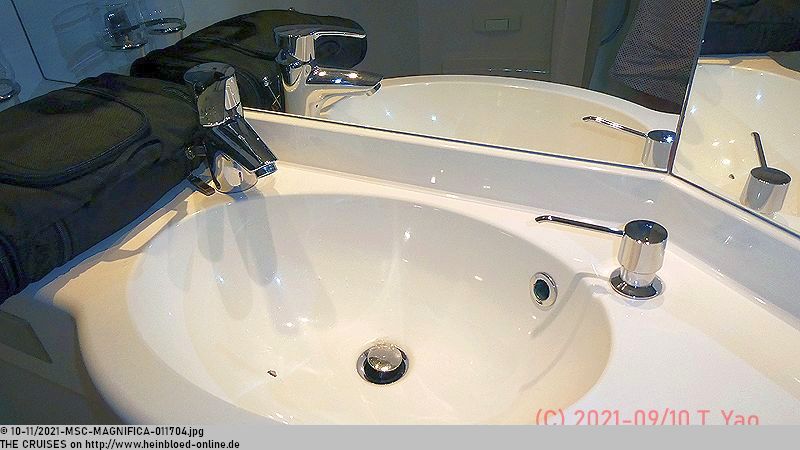 Im Waschbecken müsste mal etwas ausgebessert werden.
Es gibt auch keine Kosmetiktücher mehr. Nur bei uns, weil wir
Bella
gebucht haben?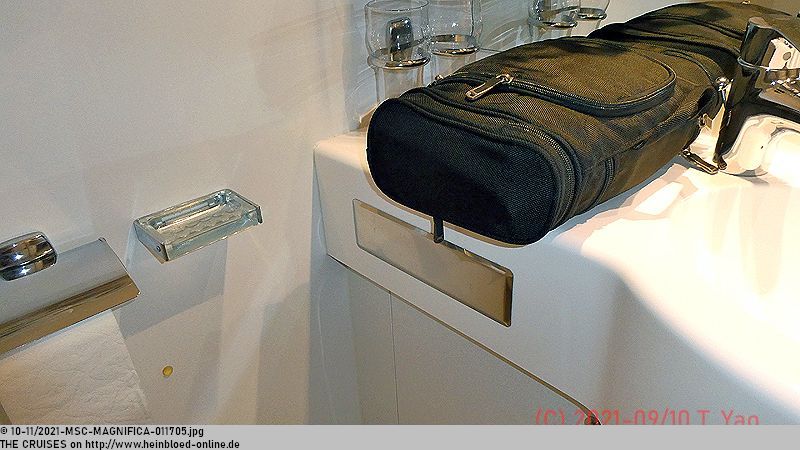 There are also no more facial tissues. Only with us because we booked Bella?

The German cruise forum kreuzfahrten-treff.de talks about the advantages and disadvantages of an aft balcony cabin. I like it in general, but this one on deck 11 has a little bit of "roof" over it. I would like a little more. The furniture is reasonable. We don't get that much noise, exhaust fumes, and soot. A few minutes after casting off, it is a bit more restless. But apart from that everything is good! I like the location and the balcony.

Im
kreuzfahrten-treff.de
wird über die Vor- und Nachteile einer Heckbalkonkabine gesprochen. Mir gefällt sie generell gut, aber diese auf Deck 11 hat etwas wenig "Dach" darüber. Ich hätte gerne ein wenig mehr. Die Möbel sind gut. Wir bekommen nicht so viel von Lärm, Abgasen und Ruß mit. Ein paar Minuten nach dem Ablegen ist es etwas unruhiger. Aber sonst ist alles gut! Mir gefällt die Lage und der Balkon.
Wir gehen uns umsehen: hier werden die Handtücher am Pooldeck getauscht.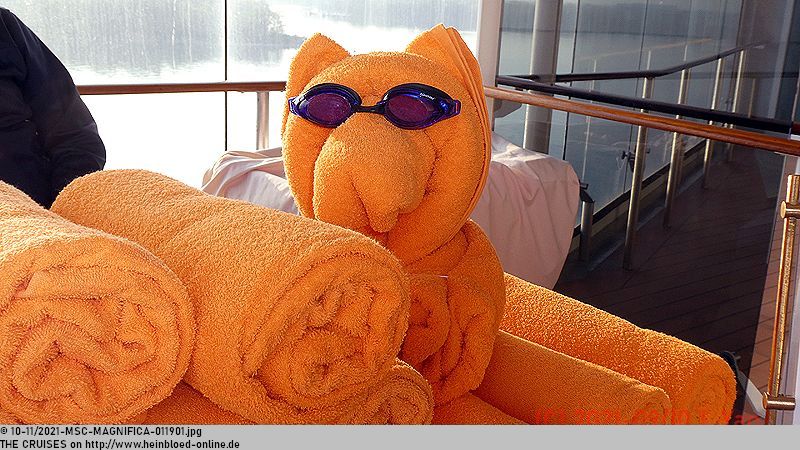 We take a look around: this is where the towels are exchanged on the pool deck.

I think the nautical chart is pretty lovely.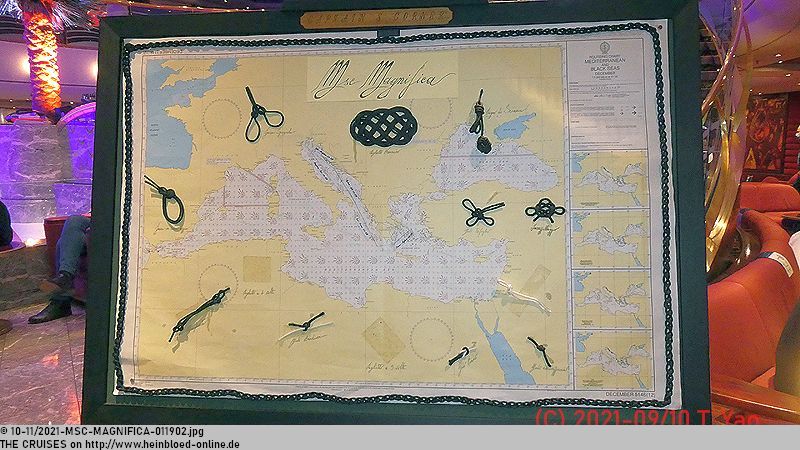 Die Seekarte finde ich ganz schön.
Das sieht nach der Wochenroute aus, die vorher gefahren wurde.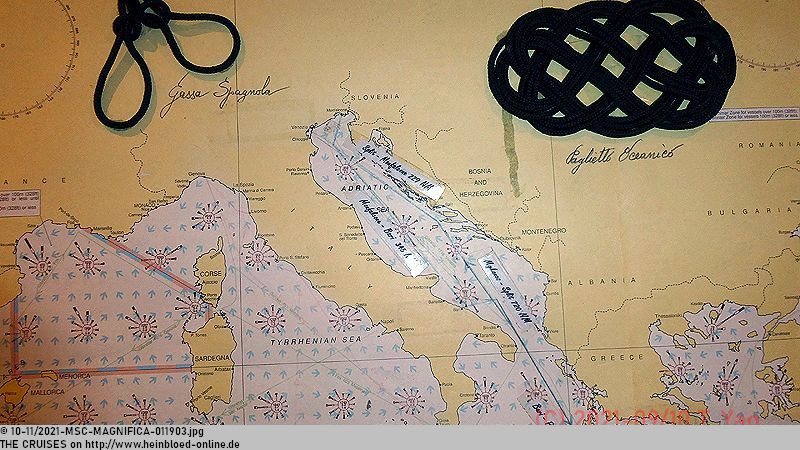 That looks like the weekly route that they sailed before.
Die anderen Reisen in diesem Blog/
The other voyages in this blog: