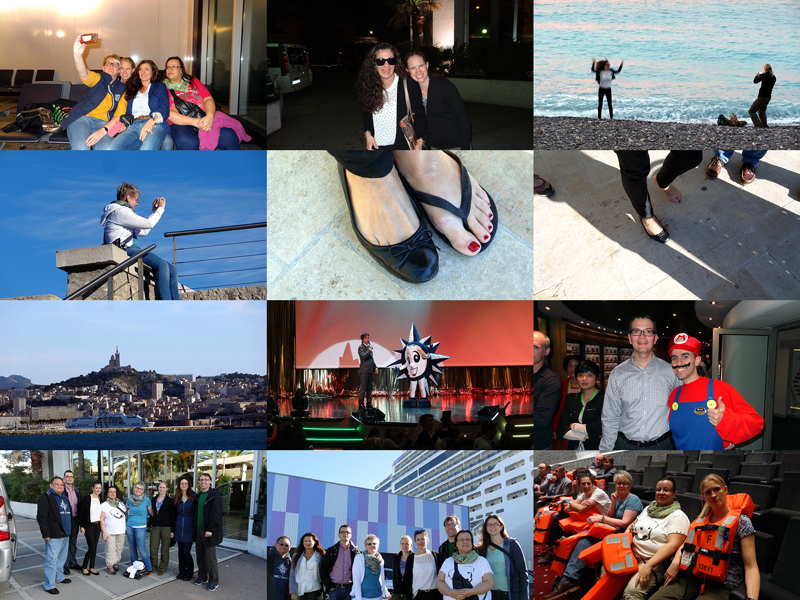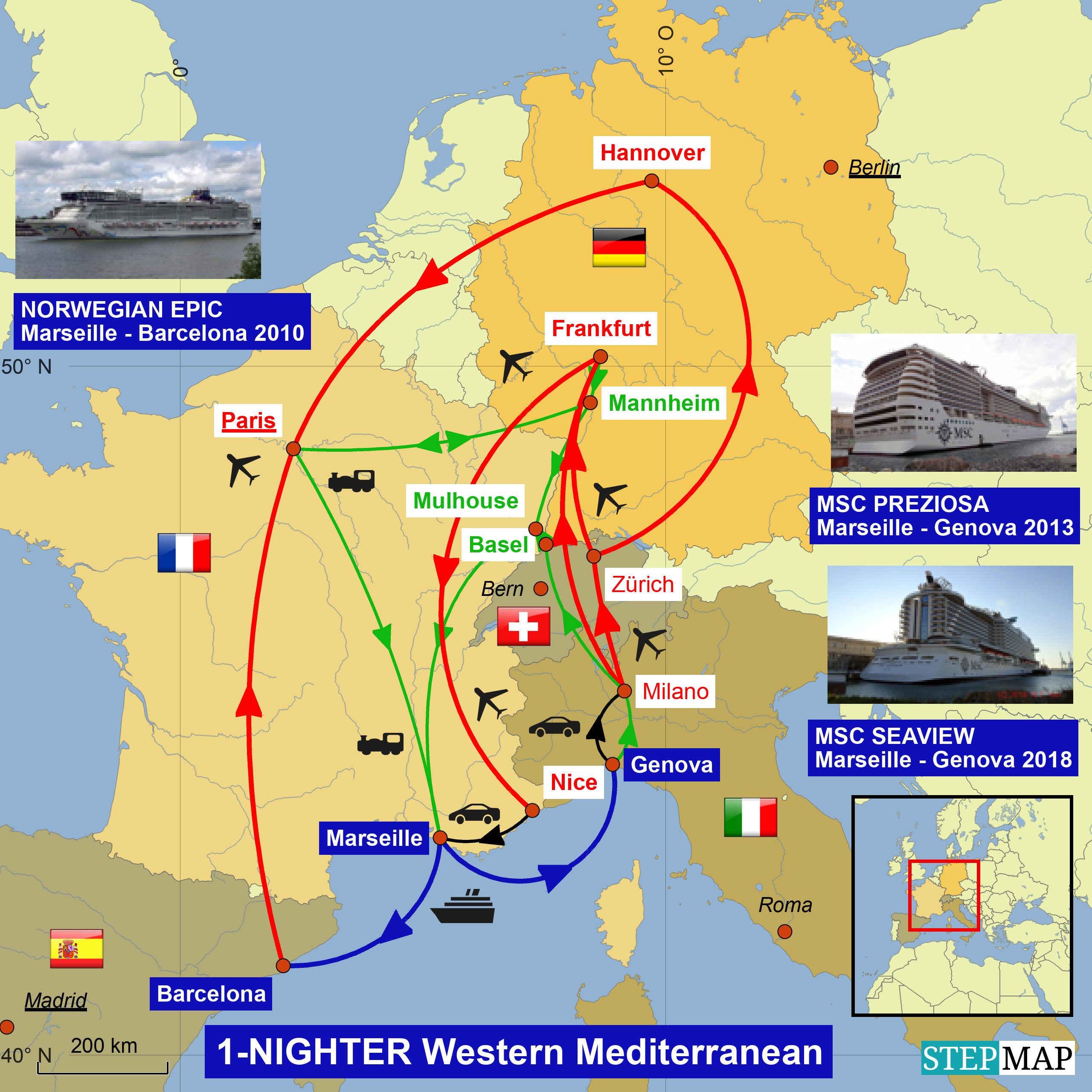 Zwischen Ende der Show und Beginn der 2. Tischzeit liegen ca. 45 Minuten. Wir nutzen das, um das Eis zu probieren. Kaffee und Eis: da ist MSC unschlagbar.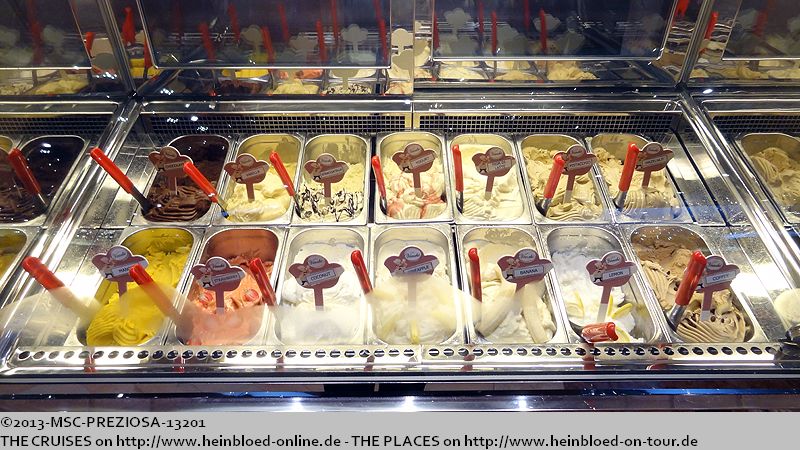 Between the end of the show and the start of the 2nd sitting you had approx. 45 minutes. We used it to try the ice cream. Coffee and ice cream: Something MSC is unbeatable.

Under the sky full of stars (in the ship) we enjoyed like sitting on an Italian Piazza.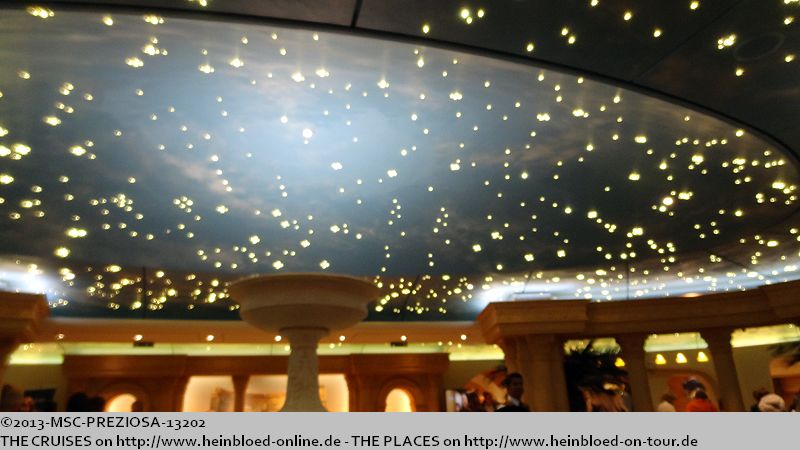 Unter dem Sternenhimmel (im Schiff) genießen wir es wie auf einer italiensichen Piazza.
Haselnuss, Kaffee und Fior di Latte (ein italienisches Milcheis). Wir küren das Haselnusseis als das Beste.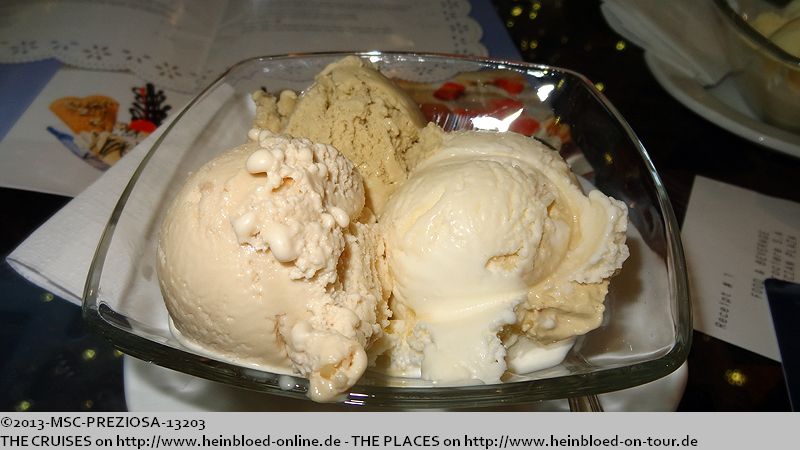 Hazelnut, Coffee and Fior di Latte (an Italian milk ice cream). We awarded the hazelnut as the very best.

I did not like the cappuccino too much as it was a little too strong for my taste but Bruno liked it. But how do we get such a Barista-coffee-machine on NORWEGIAN JADE? MSC PREZIOSA was leaving for Brasil - so no common ports to move the machine from ship to the other.

Mir ist der Cappucino ein wenig zu kräftig, aber Bruno mag ihn. Wie bekommen wir nur eine Barista-Maschine auf die NORWEGIAN JADE? MSC PREZIOSA fährt nun nach Brasilien. Es gibt keine gemeinsame Häfen mehr, um die Maschine von einem Schiff zum anderen rüberzuschaffen.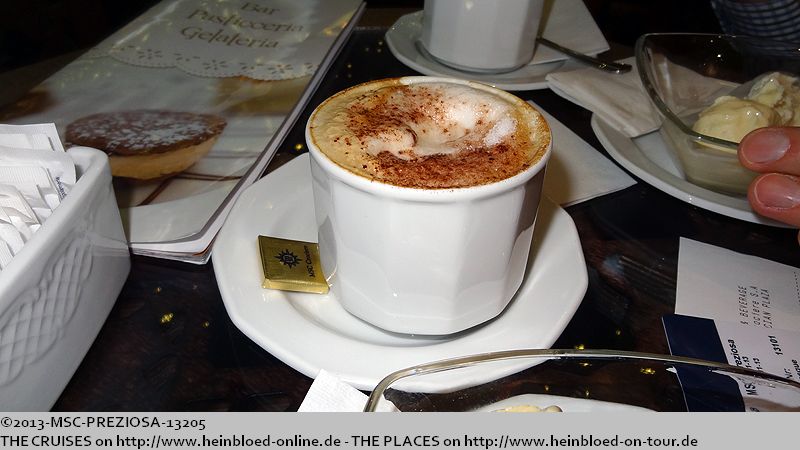 Rosa was very much excited of her Shakerato. To call it just "iced coffee" would not meet describing the art of preparing it.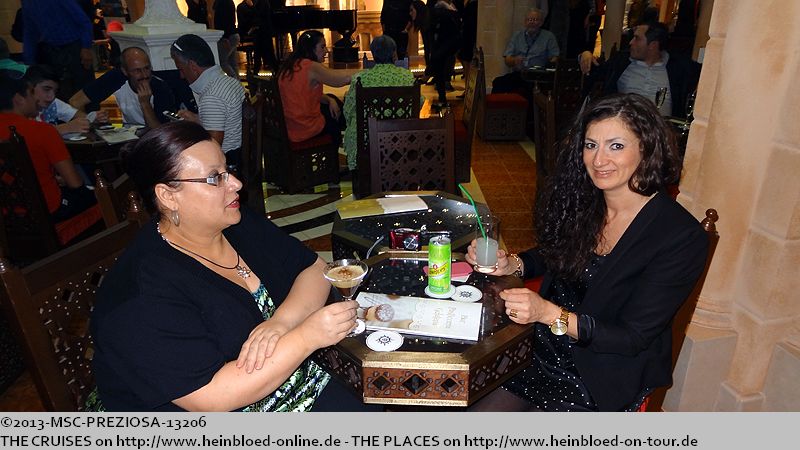 Rosa ist vom Shakerato begeistert. Es einfach einen "Eiskaffee" zu nennen, käme der Beschreibung, wie man ihn zubereitet, nicht nahe genug.
Weil wir wie üblich auch bei bereits bezahlten Getränken Trinkgeld geben, dürfen wir vor allen anderen auswählen, ob wir Chips oder Bretzel oder beides mögen. Alle anderen Tische werden erst sehr viel später damit bestückt.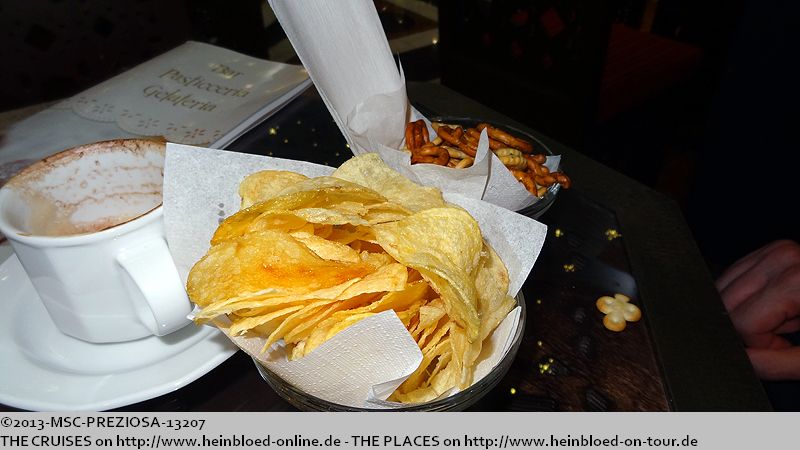 Because we usually tip even for paid beverages we were immediately invited to choose if we would like to have some chips or some pretzels or both. All other tables were offered them too but much later.

Only at the left entrance (facing the aft) they had a Maître-booth. So we were escorted to our seats and got the menu. We were amazed: the number of Maîtres was meager compared to our experience on MSC FANTASIA 2009. Especially we could not see any Italian Maîtres who show up their bottoms. Even we could see any Head Waiters.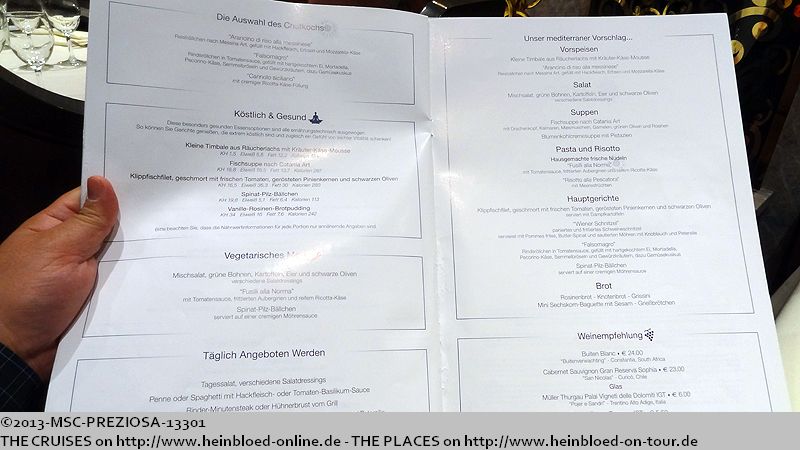 Nur am linken Eingang (in Richtung Heck) gibt es eine Maître-Station. So werden wir an den Platz geführt und bekommen die Karte. Wir sind allerdings überrascht: die Anzahl der Maître war sehr gering, verglichen damals auf der
MSC FANTASIA 2009
. Und schon gar keine italienischen, die uns wieder ihre Hintern zeigen. Aber auch so Oberkellner fehlen.
Alle Karten sind mehrsprachig.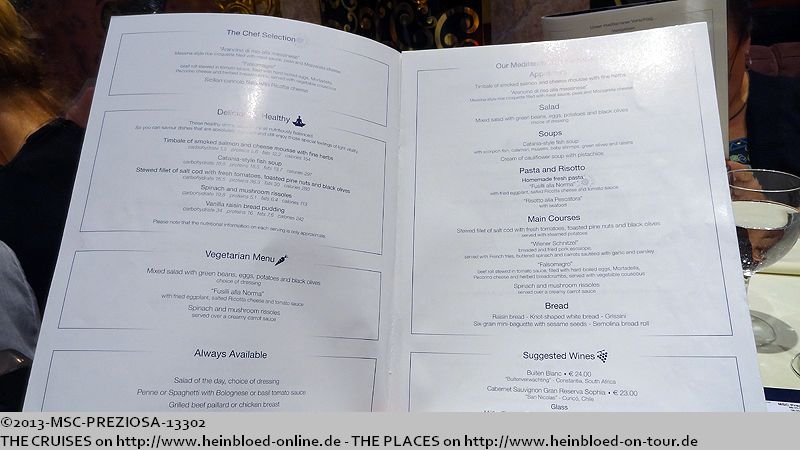 All menus were multilingual.

What I really missed with Cunard, Holland America, Princess, and NCL: Nutrition information!!! Others should follow that standard.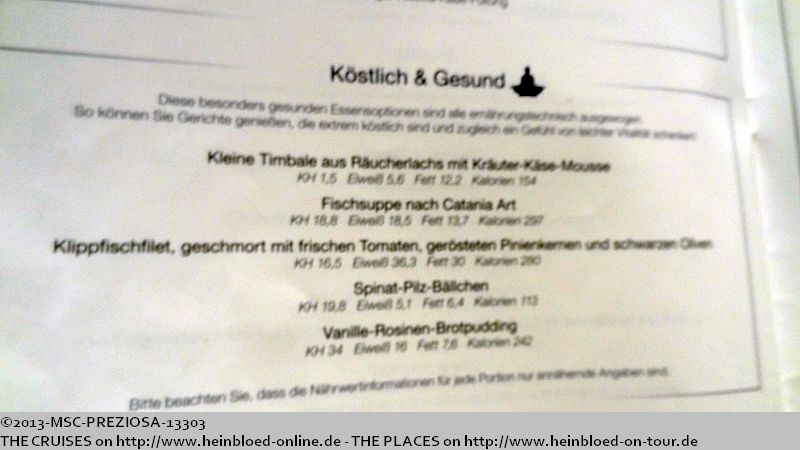 Habe ich bei Cunard, Holland America, Princess und NCL vermisst: Angaben zu Nährwerten!!! Vorbildlich für andere.
Eine kleine Karte mit Gerichten, die jeden Tag verfügbar sind.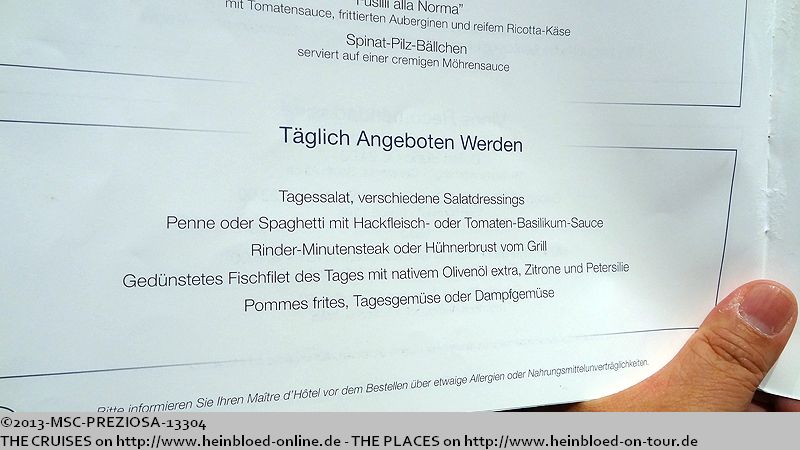 A small selection of dishes which are available every day.

You get the dessert menu already when you arrive.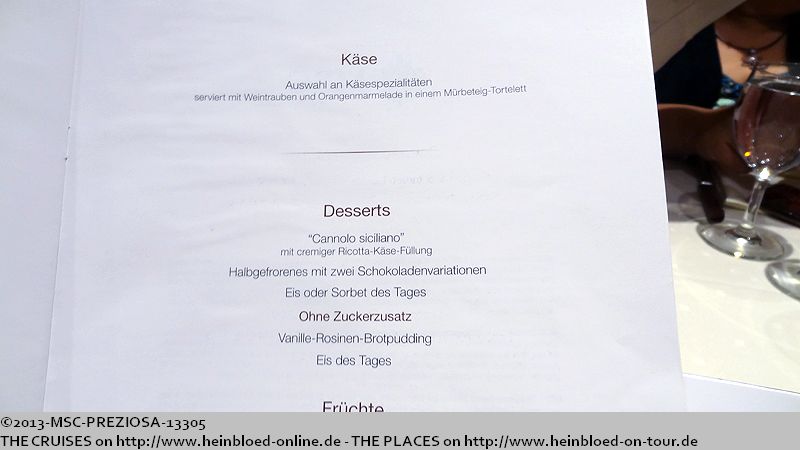 Die Dessertkarte gibt es schon beim Reinkommen.
Leider nicht so, wie wir es bei anderen kennen, dass wir am Schluss die Karte nochmals bekommen und bestellen können. Bestellungen für Kaffeegetränke werden nicht akzeptiert. Und dabei haben wir die 2. Tischzeit und sie damit alle Zeit der Welt.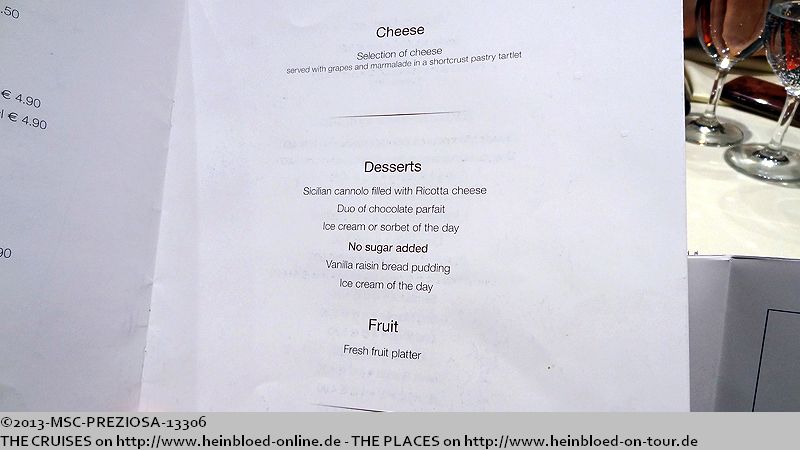 Unfortunately not the way like we knew from others: we get it at the end of our meal and order then. Orders for coffee beverages were not accepted. Although we had 2nd sitting and should have so all the time of the world.

We had to place the napkin ourselves on our lap.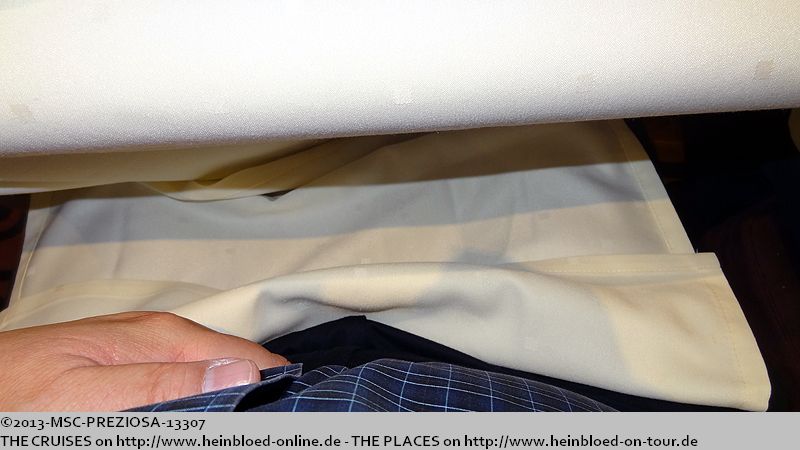 Die Servietten müssen wir selbst auf den Schoß legen.
Eine kleine Brotauswahl liegt bereits auf dem Tellerchen. An anderen Tischen kommt der Kellner mit einer großen Schale vorbei und man darf sich selbst auswählen, was man eigentlich will.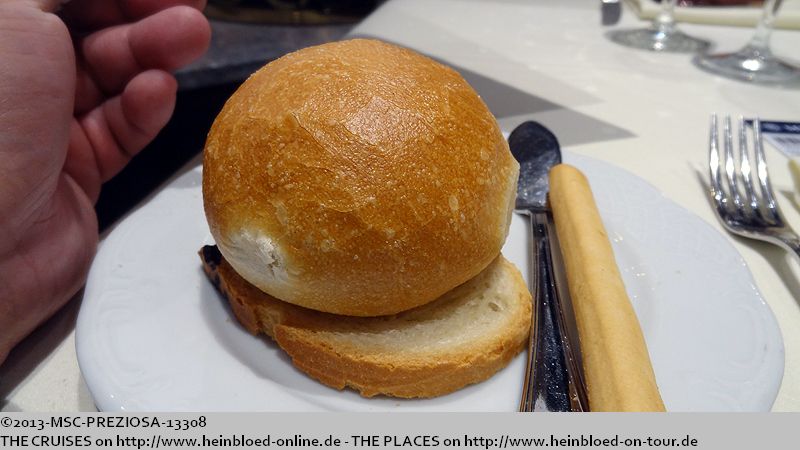 A small selection of bread was already on our little plates. I could see at other tables that the waiter came with a large bowl and you can choose what you want.

German butter.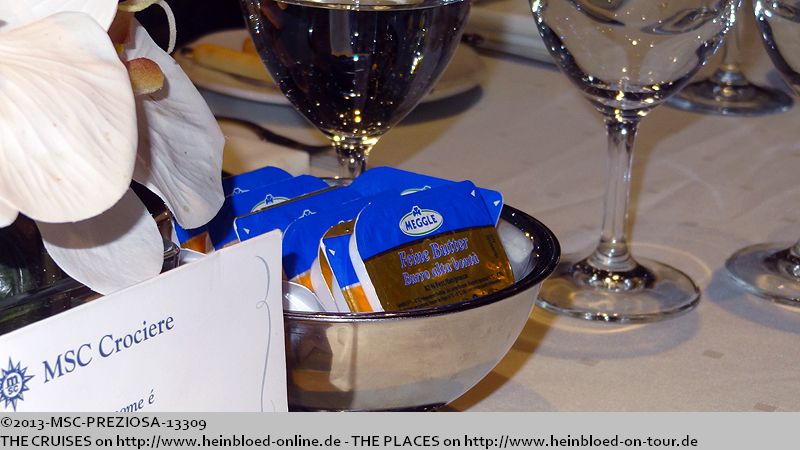 Deutsche Butter.
Es gab zwar Olivenöl, aber kein Balsamessig, nach dem ich gefragt hatte.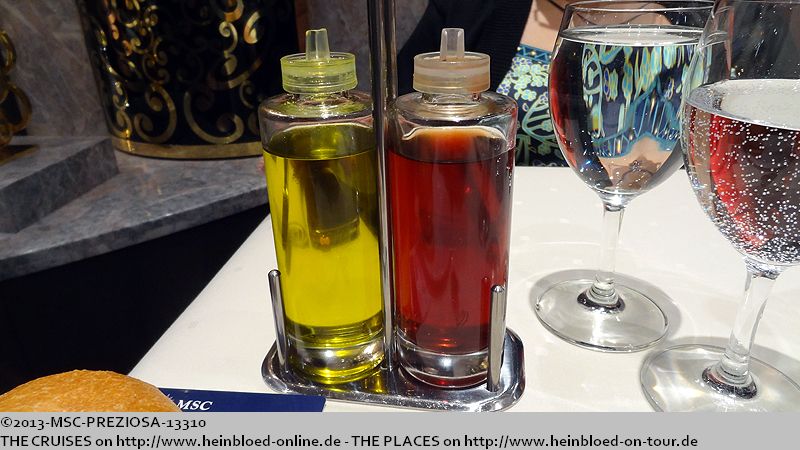 It was olive oil but definately not a balsamic vinegar that I asked for.

When I am on an Italian ship, I want to have olive oil for my bread. But the vinegar was good to descale the water boiler.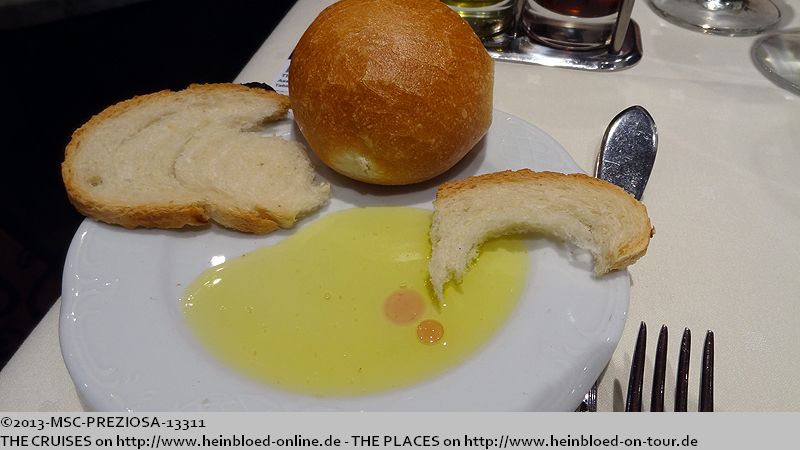 Wenn ich schon auf einem italienischen Schiff bin, dann will ich auch Olivenöl zum Brot. Aber der Essig eignete sich nur zum Entkalken des Wasserkochers.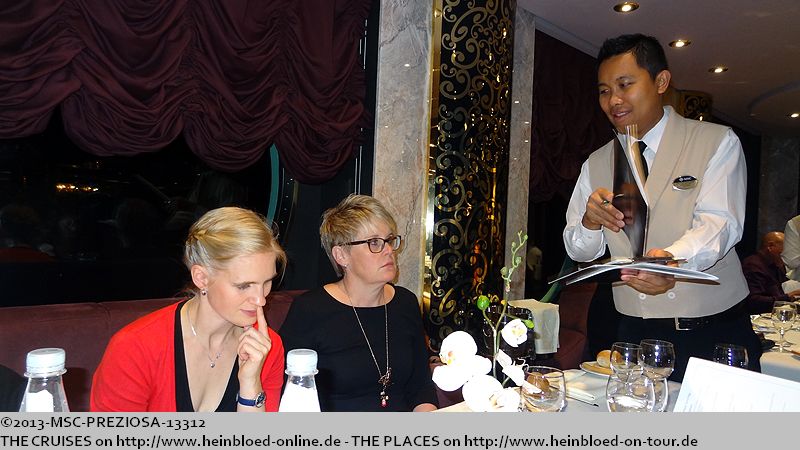 Sodas from the Allegrissimo-package was no problem.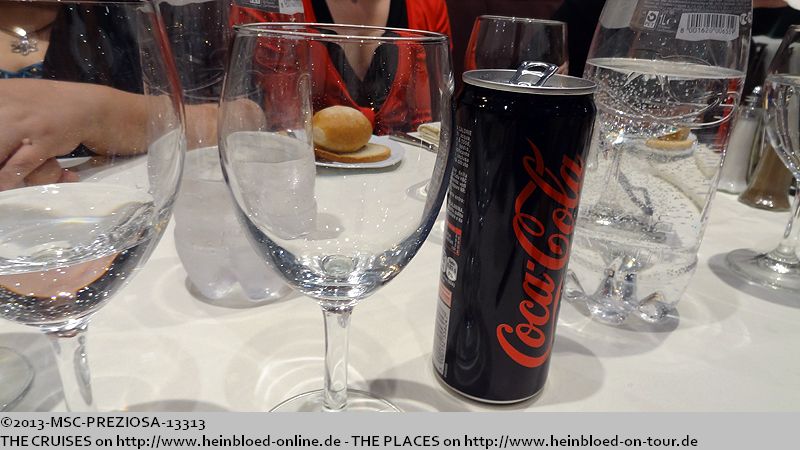 Cola-Getränke mit dem Allegrissimo-Paket: kein Problem.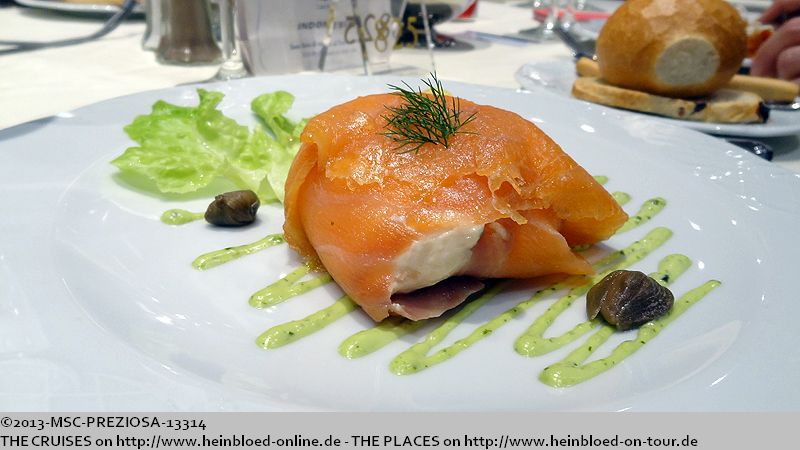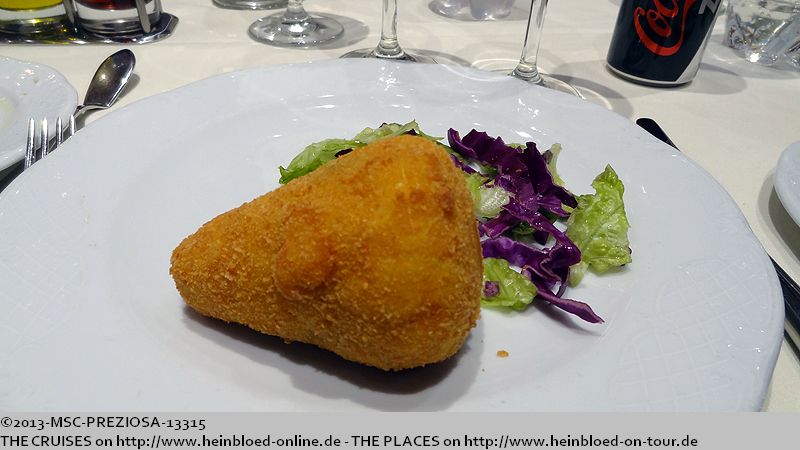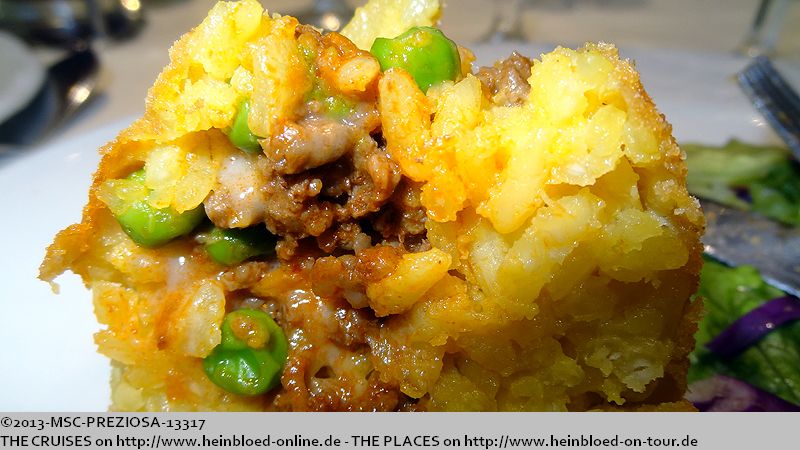 As we had 2nd sitting it was not a real major problem when someone came late.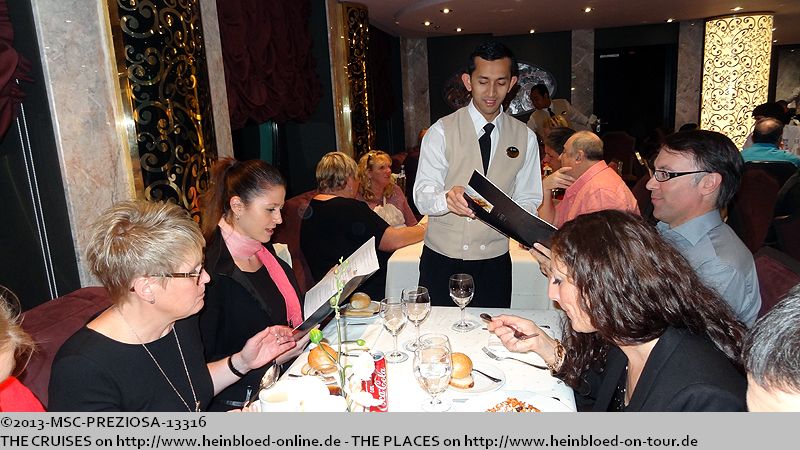 Da wir die 2. Tischzeit haben, war es nicht so problematisch, wenn zwei zu spät kommen.
3 Zinken - Salatgabel - Julia Roberts in "Pretty Woman".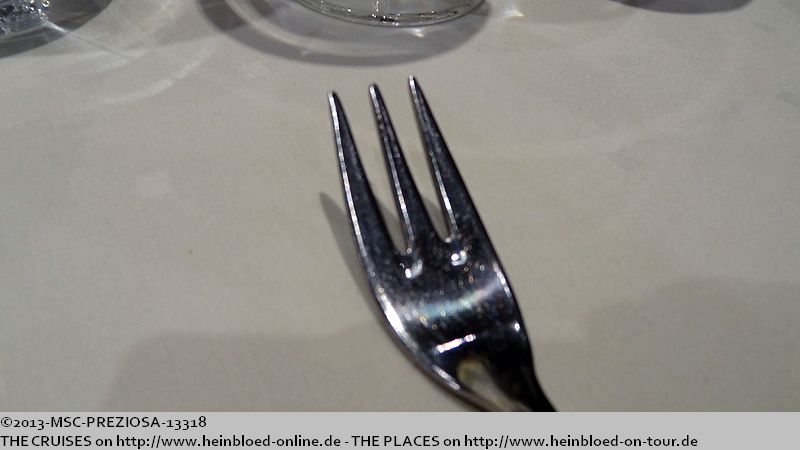 3 teeth - salad fork - Julia Roberts in "Pretty Woman".

I ordered a salad with a blue cheese dressing. But the dressing was too sour that you cannot eat it. You also use this dressing to descale your water boiler subject it would not smell too bad like Gorgonzola cheese later.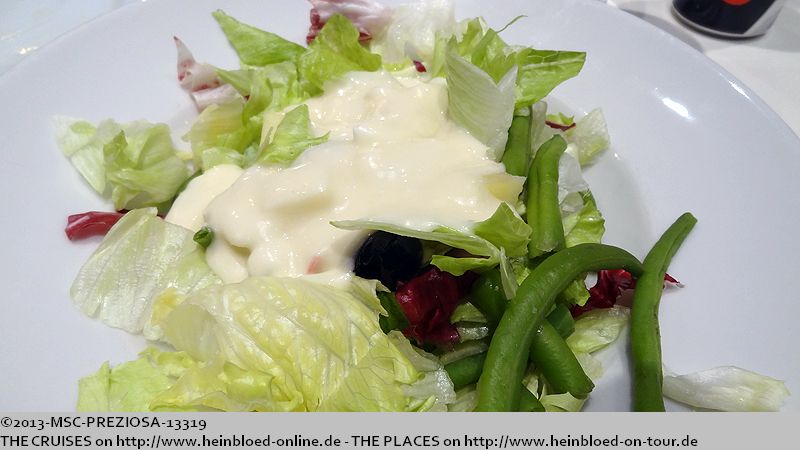 Ich hatte den Salat mit Blue Cheese Dressing bestellt. Aber der Dressing war so sauer, dass man ihn nicht essen konnte. Diesen Dressing würde ich auch zum Entkalken des Wasserkochers verwenden, wenn es anschließend nicht so penetrant nach Gorgonzola stinken würde.
Leider ist es ihnen seit unserer erster MSC-Reise auf der
MSC MUSICA 2007
noch nicht gelungen eine Salatschleuder zu organisieren. Wahrscheinlich sollte das Wasser zwischen den Salatblättern den sauren Dressing kompensieren.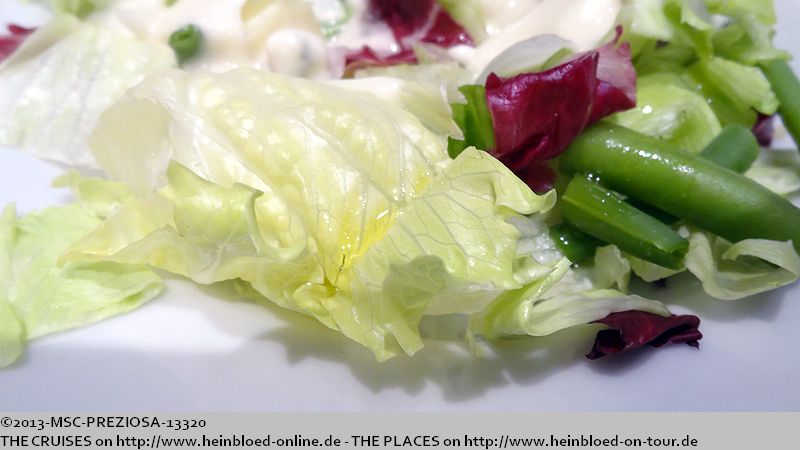 Unfortunately they have not got a salad spinner onboard since our first MSC-voyage on MSC MUSICA 2007. Obviously, the water in the lettuce needed to compensate for the sour flavor of the dressing.

Bruno's fish was served with a half potato.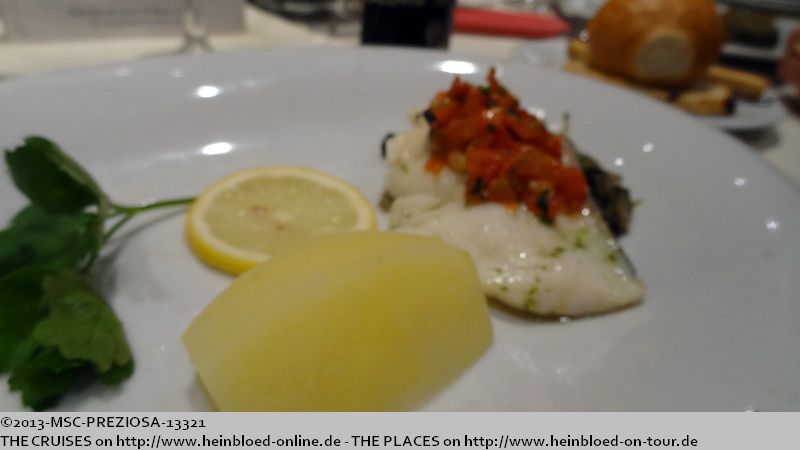 Brunos Fisch wird mit einer halben Kartoffel serviert.
Der Fisch war aber auf der Liste mit den Nährwerten. Dass er nicht so viele Kohlenhydrate hatte lag aber daran, dass man die Kartoffel mehr oder minder nicht gekocht hat und man sie daher nicht essen konnte. Dass die Italiener mit ihrer vielen Pasta die Könige des No-Carb-Dining werden, hätte ich kaum geglaubt.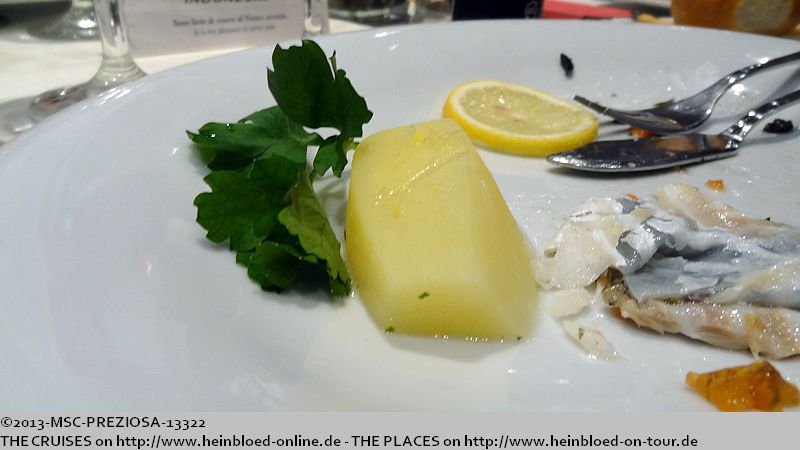 The fish was listed with the food showing the nutrition information. That there was not so much carb had the reason that the potato was more or less not boiled and you could not eat it. It was astonishing to see the Italian becomes the kings of No-Carb-Dining with all their pasta.

My beef was not anything special. You could eat it. Enjoying was something different. Next time I should go first to Cruise and Maritime before I am going on MSC. Then I will appreciate the food with MSC.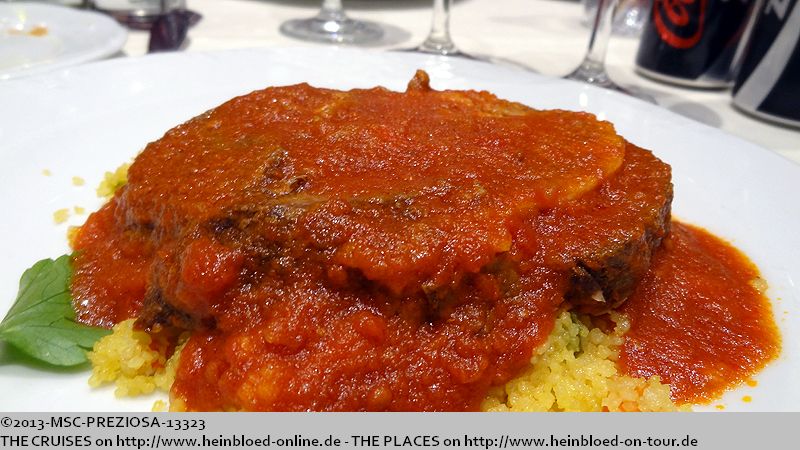 Mein Rind war jetzt nicht so aufregend. Man konnte es essen. Genießen ist jedoch etwas anderes. Das nächste Mal buche ich wieder Cruise and Maritime bevor ich auf ein MSC Schiff gehe. Dann weiß ich das Essen von MSC zu würdigen.
Die Küche für die warmen Gerichte ist geschlossen. Das war die Erklärung für die helle ungemütlich Pommes-Frites-Buden-Beleuchtung und das Einschalten der Klimaanlage auf volle Leistung. Alle Gäste sollten schnellstmöglich raus und sich nicht mehr länger als nötig hier aufhalten. Deswegen nur Schiffe mit flexibler Tischzeit. Und nun diejenigen, die sagen, dass auch MSC so etwas anbietet: Ja - das tun sie in der Zukunft, wenn man die teuerste Kabinenkategorien (Aurea Balkon/Suite) bucht. Bei den anderen bekomme ich auch flexible Tischzeit, selbst wenn ich die billigste Innenkabine buche und werde auch als letzter Gast der eine Minute vor Schließung der Tür kommt, nicht auf diese unverschämte Art und Weise rausgeworfen.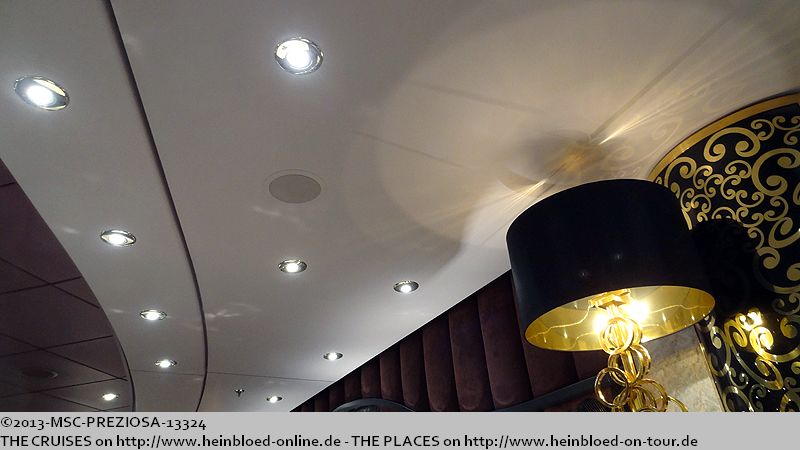 The galley for hot food was closed. That was the explanation for the bright, uncomfortable illumination like in a fish&chips-outlet and the max. operation of the air-condition. All guests should leave as quickly as possible and should not stay any moment longer than necessary. That is why we want to have ships offering flexible dining options. And to those who told me that MSC also offers flexible dining: Yes - they will do in future - but only if you book the most expensive categories (Aurea balcony and suite). With all the others I get flexible dining even I am booking the cheapest inside stateroom, and nobody will kick me out in such an outrageous way even I am arriving one minute before they close their doors.

My sugar-free ice cream.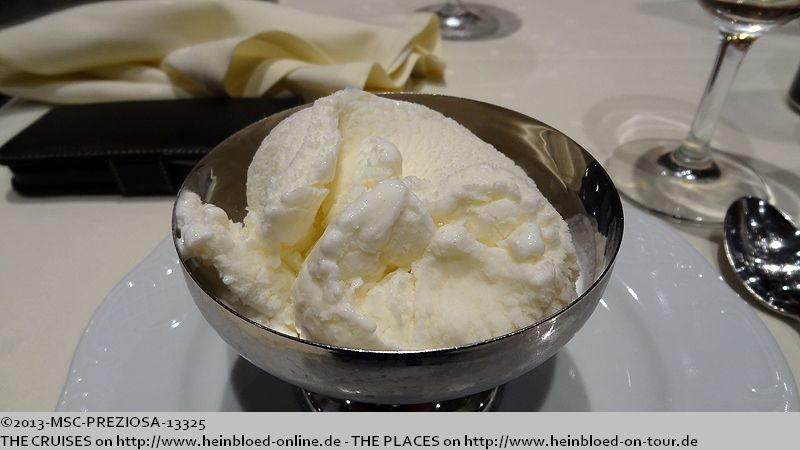 Mein zuckerfreies Eis.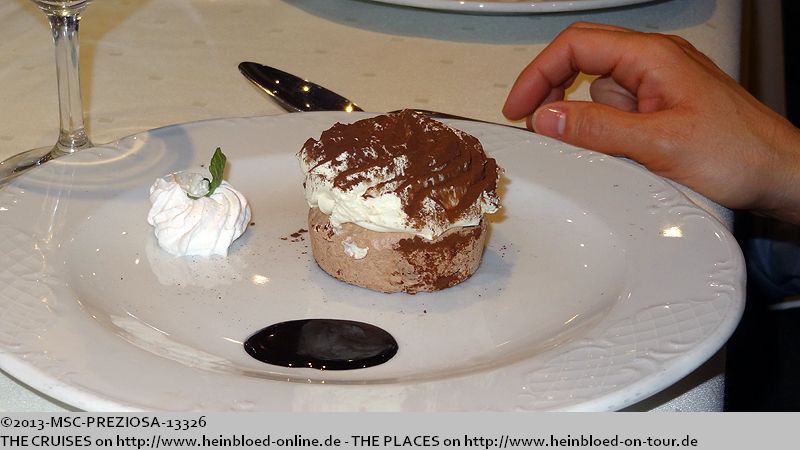 The wine drinker did not touch their wine. They ordered a sweeter one, but obviously, they got the balsamic vinegar which I asked for.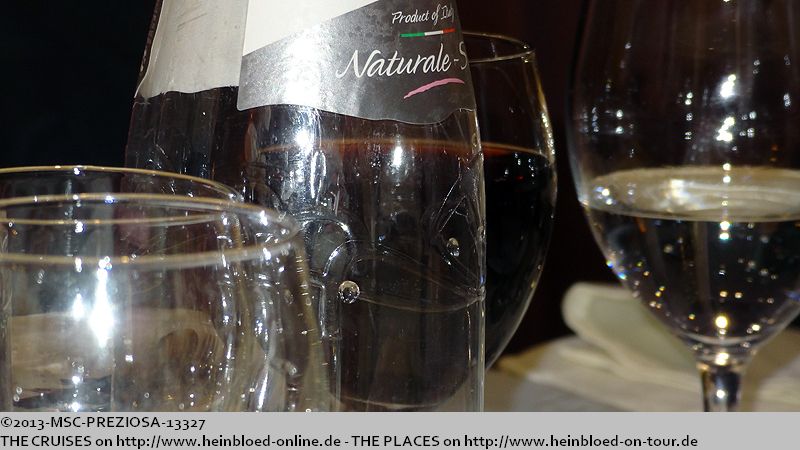 Die Weintrinker lassen den Wein stehen. Sie haben einen süßen Wein bestellt und müssen wohl meinen Balsamessig bekommen haben, den ich bestellt hatte.
Trotzdem lassen wir uns die gute Laune nicht verderben. Und ich kann nicht feststellen, dass es eine spürbare Verbesserung seit 2009 gibt. Vor allem, was die Platzverhältnisse im Restaraunt betrifft. Es war ein ganz klein wenig besser als auf der MSC FANTASIA - aber immer noch ziemlich eng. (Passagier-Raum-Verhältnis: MSC PREZIOSA 39,9, MSC FANTASIA 42,1, MSC MUSICA 36,2, MSC MAGNIFICA 37,0, ROYAL PRINCESS 39,6,
ISLAND PRINCESS 46,4
, NORWEGIAN BREAKAWAY 36,4, NORWEGIAN SPIRIT 38,1,
RYNDAM 44,0
). Aber man muss fair sein: wir haben nicht so viel bezahlt (pro Nacht) und dafür bekommt man schon ganz schön viel. Besonders wenn man Kinder hat, die kostenlos mitreisen können. Nur unsere Reise war zuletzt auf der
RYNDAM 2013
von Holland America. Bei MSC, NCL und Cunard ist mir eigentlich die Bewertung ziemlich wurscht, weil es eben an Bord die zwei bis drei Klassen gibt. Trotz weniger Punkte: ich fühle mich bei Holland America auf der RYNDAM persönlich sehr viel wohler (MSC PREZIOSA 4*+ 1,553 Points, MSC FANTASIA 4* 1,537, MSC MUSICA 4* 1,449, MSC MAGNIFICA 4* 1,452, ROYAL PRINCESS 4* 1,524, ISLAND PRINCESS 4* 1,442, NORWEGIAN BREAKAWAY 4* 1,430, NORWEGIAN SPIRIT 3*+ 1,370,
RYNDAM 3*+ 1,358
). Die Werte stammen alle aus
Douglas Wards Berlitz Cruising & Cruise Ships 2014
. Sie dienen für mich als Orientierung. Und ausgerechnet von den Schiffen 2014 fühle ich mich auf dem Schiff am wohlsten, das die schlechteste Bewertung hat. Damit kann ich leben. Es zählt nur meine ganz eigene Bewertung.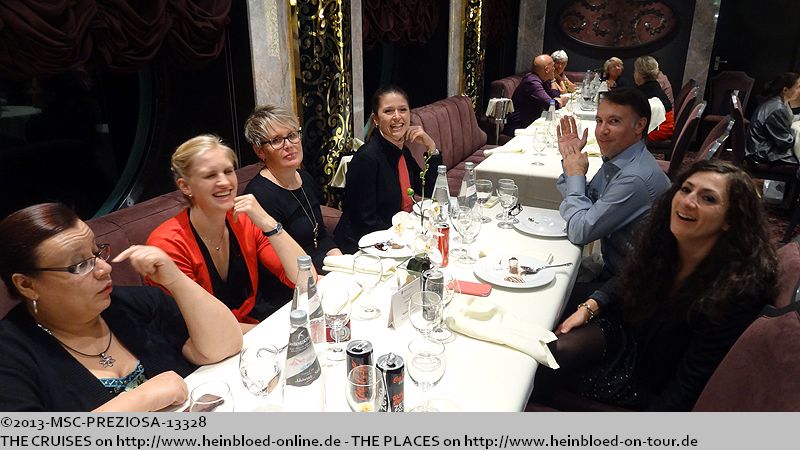 We did not let them ruin our great mood. Personally, I cannot experience real improvements since our last voyage 2009. Especially our ratio for space in the restaurant. It was a little better than on MSC FANTASIA - but still quite narrow. (Passenger/Space-Ratio MSC PREZIOSA 39.9, MSC FANTASIA 42.1, MSC MUSICA 36.2, MSC MAGNIFICA 37.0, ROYAL PRINCESS 39.6,

ISLAND PRINCESS 46.4

, NORWEGIAN BREAKAWAY 36.4, NORWEGIAN SPIRIT 38.1,

RYNDAM 44.0

). But you need to be fair: we did not pay very much (per night), and you got a lot for this price. Especially if you have kids, who can travel for free. But our last voyage was on RYNDAM 2013 with Holland America. With MSC, NCL, and Cunard I do not care too much of the ratings because you have on board two or three classes. Even you have less points: I feel myself on RYNDAM of Holland America much more comfortable (MSC PREZIOSA 4*+ 1,553 Points, MSC FANTASIA 4* 1,537, MSC MUSICA 4* 1,449, MSC MAGNIFICA 4* 1,452, ROYAL PRINCESS 4* 1,524, ISLAND PRINCESS 4* 1,442, NORWEGIAN BREAKAWAY 4* 1,430, NORWEGIAN SPIRIT 3*+ 1,370,

RYNDAM 3*+ 1,358

). All information were taken from Douglas Ward's Berlitz Cruising & Cruise Ships 2014. I use them as general orientation. Of all ships 2014 I feel most comfortable on that ship which has the worst rating. Something I can live with. The only rating which counts is my own one. Die anderen Reisen in diesem Blog/
The other voyages in this blog: