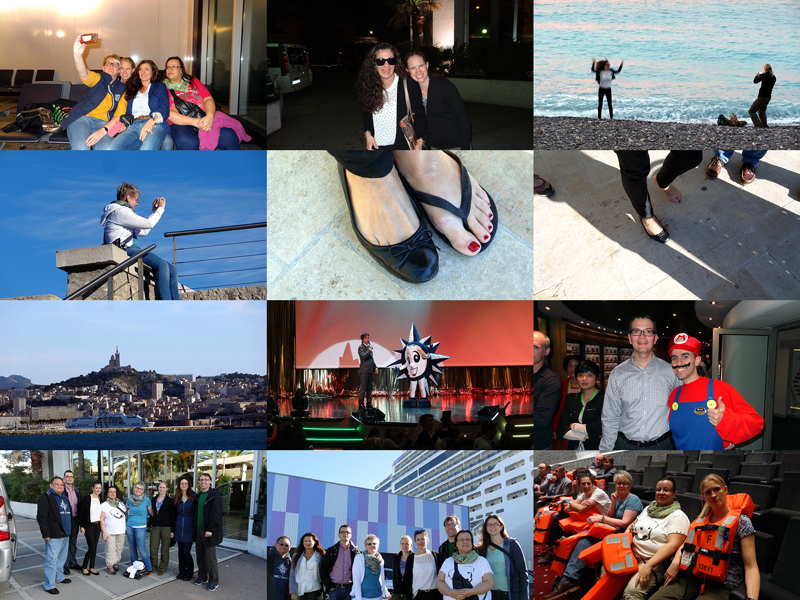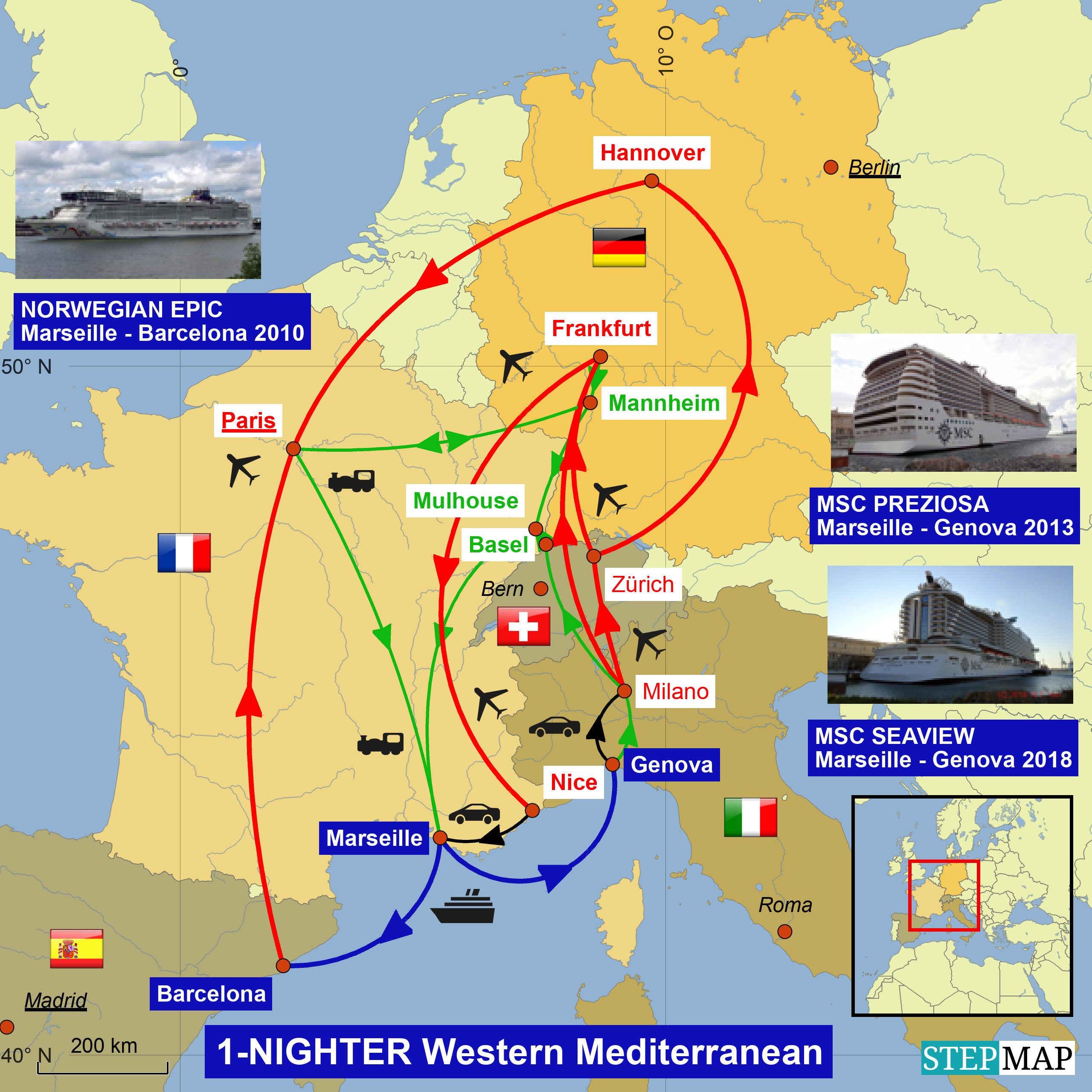 Unseren Fahrer hatte ich gebeten uns an der Oper auszusetzen. Stattdessen werden wir an der Kathedrale ausgesetzt. Da es zu dunkel ist und die Kathedrale kaum beleuchtet ist, gibt es keine Bilder von der Kathedrale außer diesem Haltestellenschild.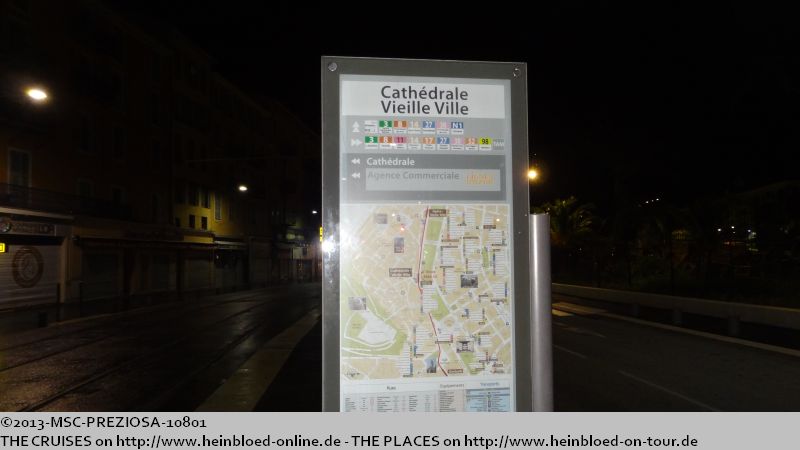 We asked the driver to release us at the Opera. But instead, we were released at the Cathedrale. As it was too dark, and the cathedral was barely illuminated there were no pictures of the cathedral but the stop sign.

We walked through the narrow lanes of the old town.

Wir laufen durch die engen Gassen der Altstadt.
Oben hängt die Wäsche.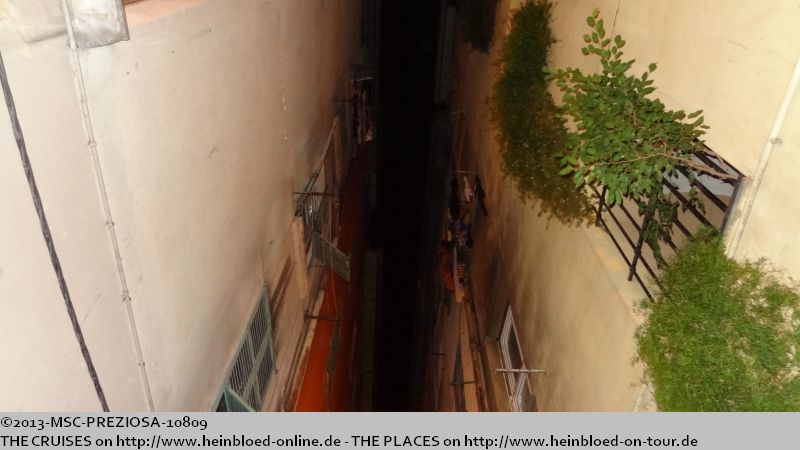 Above they had their laundry.

Even you had the delivery of meat already in "Asterix and the Banquet" (French comic acting 50 BC). We met many street cleaners who showed us the way to the market. The city itself was immaculate.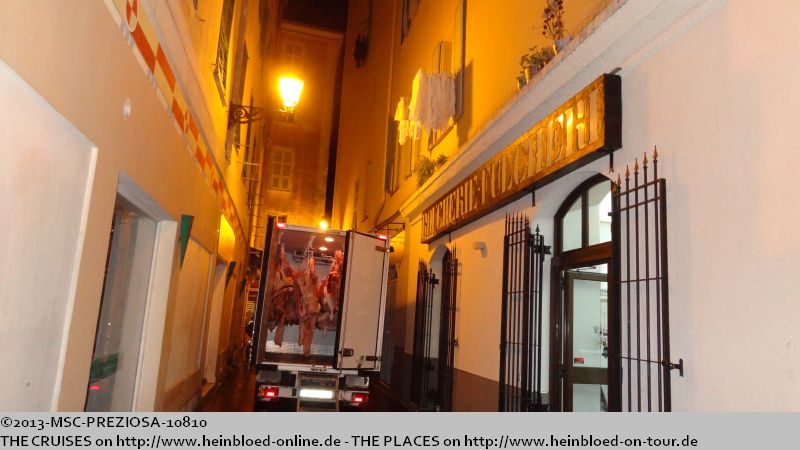 Selbst bei Asterix "Tour de France" sieht man schon die Fleischlieferanten. Wir treffen in den Gassen viele Straßenkehrer, die uns den Weg zum Markt weisen. Die Stadt ist ausgesprochen sauber.
Und bald erreichen wir auch den
Cours Saleya
. Um 06.00 Uhr beginnt der Aufbau des Marktes.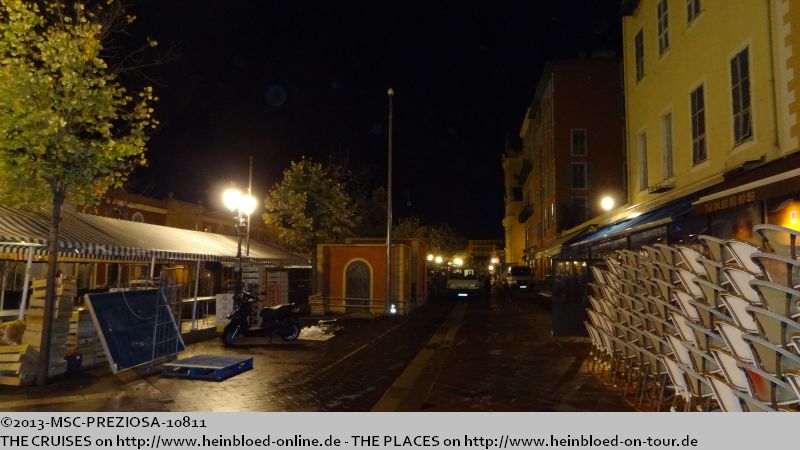 And soon we reached Cours Saleya. At 06.00 hrs they started to set up the market.

Although it was already around 06.30 hrs... it started very slowly.

Obwohl bereits gegen 06.30 Uhr... es geht erst langsam los.
Uns macht es schon Spaß hier durchzulaufen.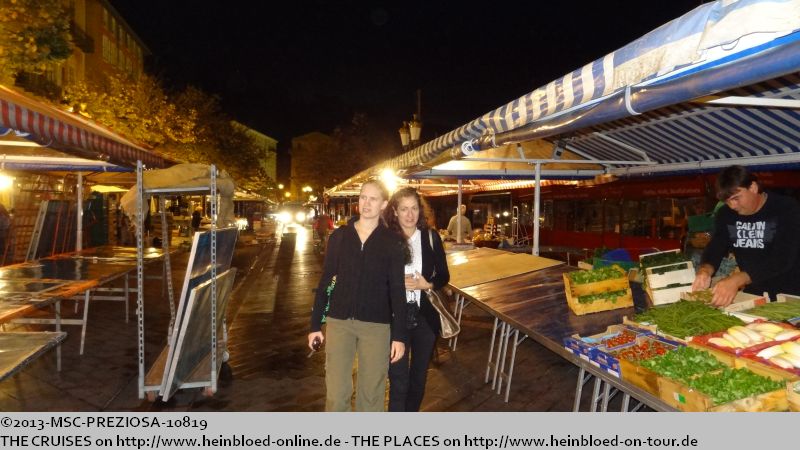 We had a lot of fun to walk through.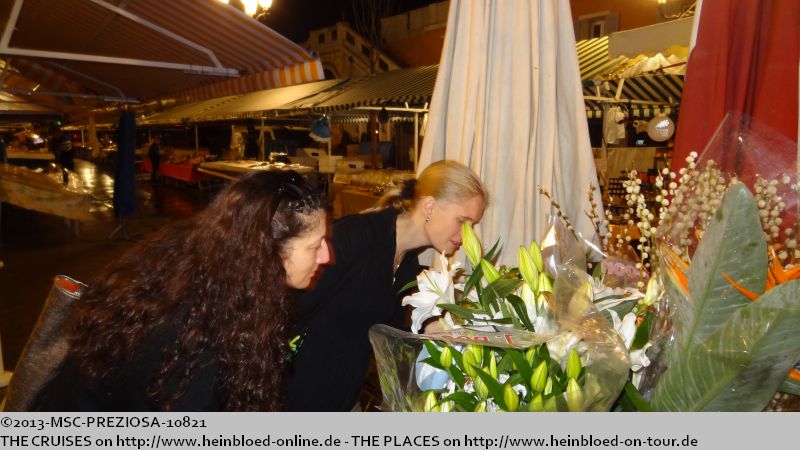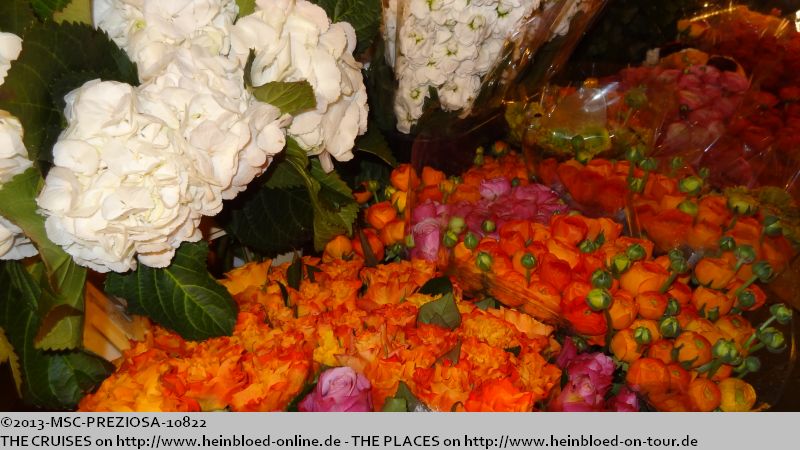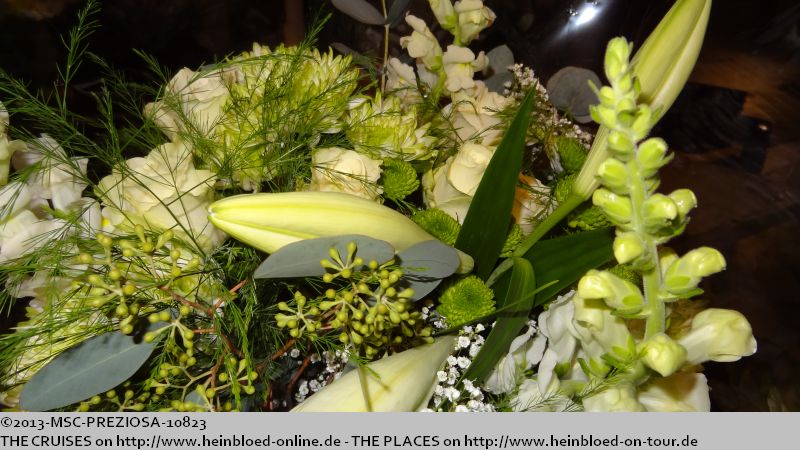 A flower dealer explained where we could find a café which was already open.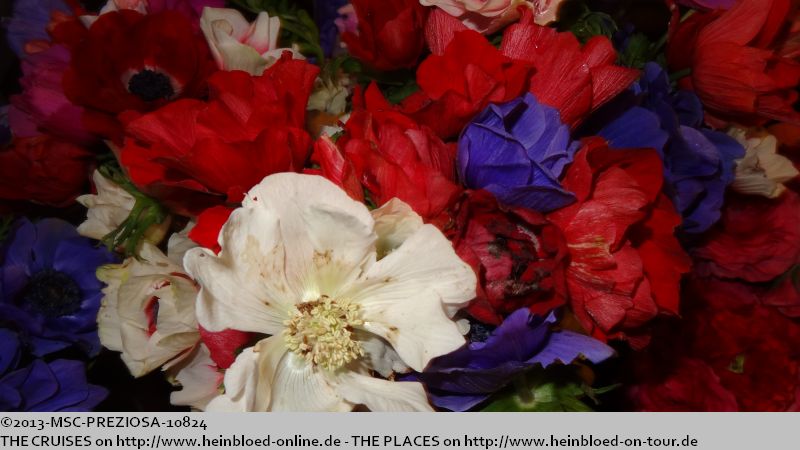 Ein Blumenhändler erklärt uns, wo wir bereits ein Café finden.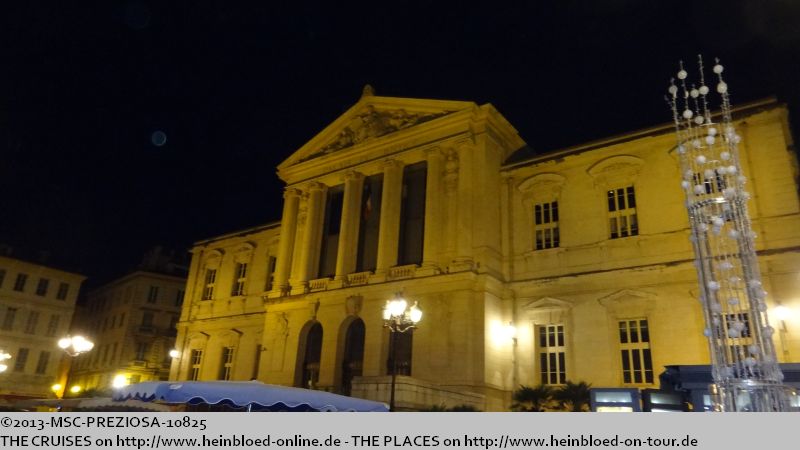 You could see with the girls that the disliked the idea to sit outside the café Cayenne K'Fes.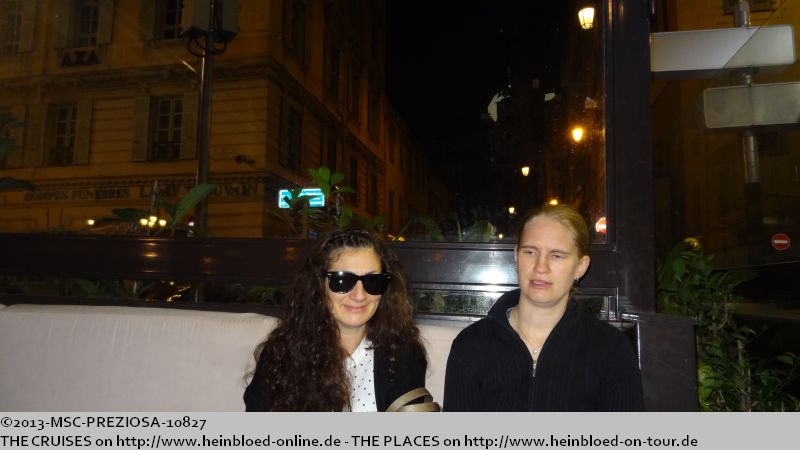 Man sieht den Mädels an, dass wenig Begeisterung herrschte, sich draußen des Cayenne K'Fes hinzusetzen.
Über uns war ein großer Schwarm von Gänsen.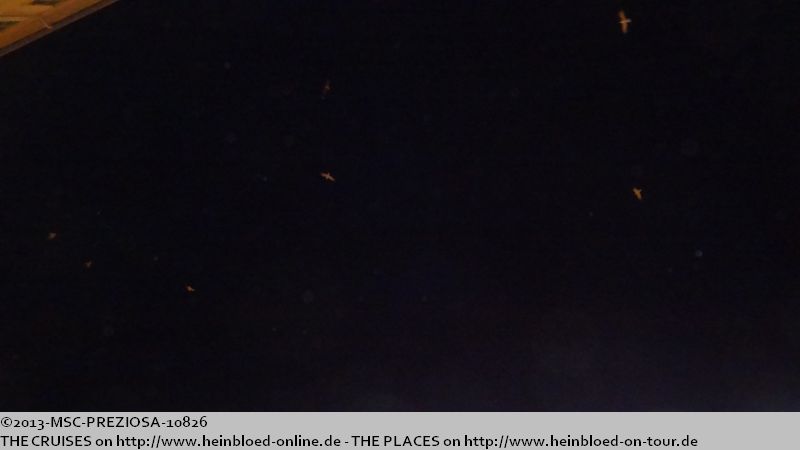 Above there was a large flock of geese.

They had no milk coffee in the big bowls but only the regular cups. The coffee itself was more for Bruno's taste. A Frenchman sitting next to us praised my clear High German... Wondering what his comment might be if I would speak local dialects. But every time I started to talk regional dialects, I moved away.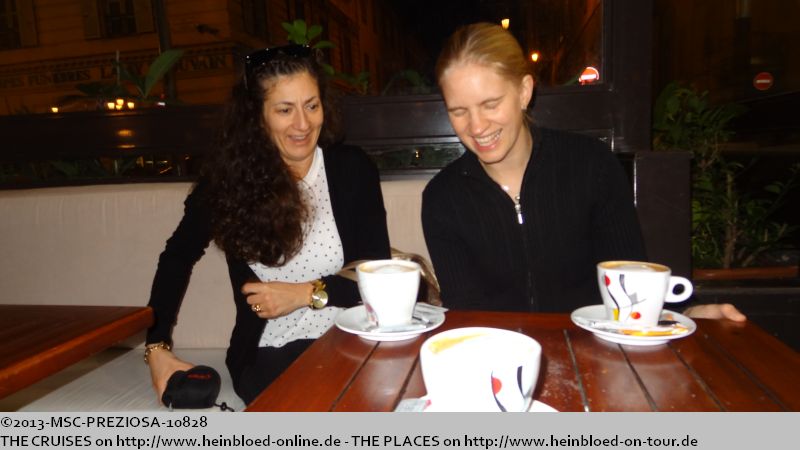 Es gab leider keinen Milchkaffee in den großen Schalen, sondern nur normale Tassen. Der Kaffee wäre jedoch eher wieder was für Bruno gewesen. Ich werde übrigens von einem Franzosen am Nachbartisch sehr für mein klares Hochdeutsch gelobt... Hätte ich doch mal Babbeln, Berlinern, Schwätzen oder Rheinisch sprechen sollen. Ich bin ja immer weggezogen, wenn ich mir einen Dialekt zugelegt hat.
Aber noch ein paar Minuten und wir würden einen schönen Himmel erleben, weil es immer heller wird.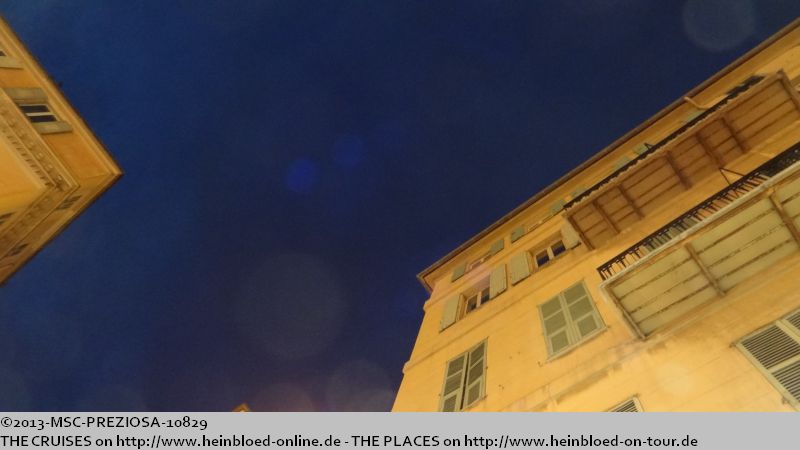 Few more minutes and we could experience a nice sky because it became brighter and brighter.

As standard in France: you leave your money on the little plate. But here the clip for bills was missing so you just place it under the plate.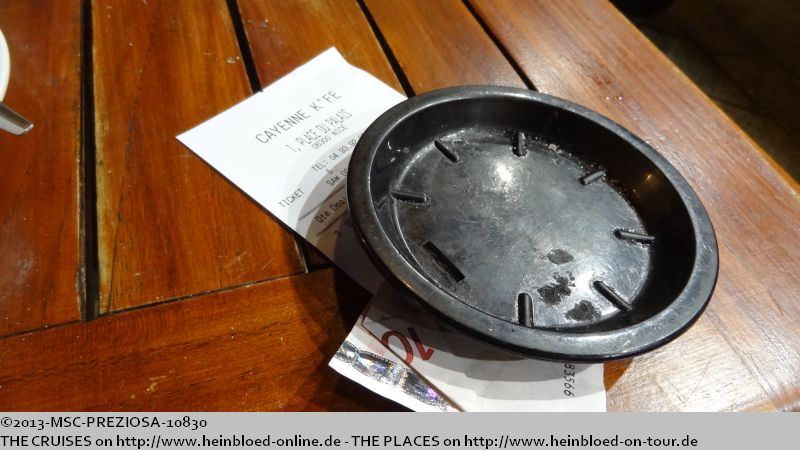 Wie in Frankreich üblich: Geld einfach auf den Teller legen. Da hier aber die Halterung für den Geldschein abgebrochen ist, einfach unter das Tellerchen legen.
Hier am
Place du Palais de Justice
werden die Stände der Kunsthandwerker und Maler aufgebaut.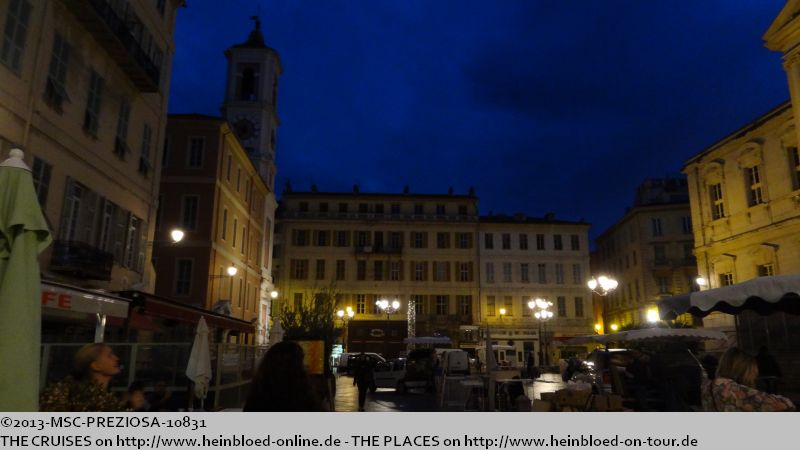 Here at the Place du Palais de Justice they started to set up the stands of the artisans and painters.

So we returned and experienced the market from an entirely different perspective.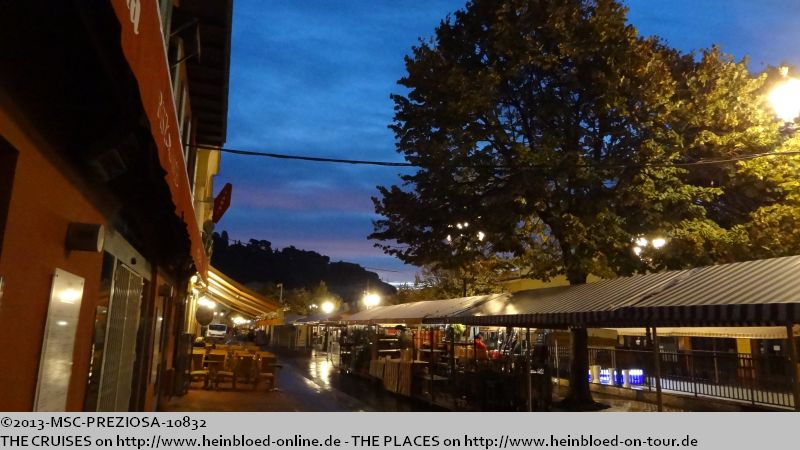 So gehen wir wieder zurück und erleben den selben Markt in einer anderen Facette.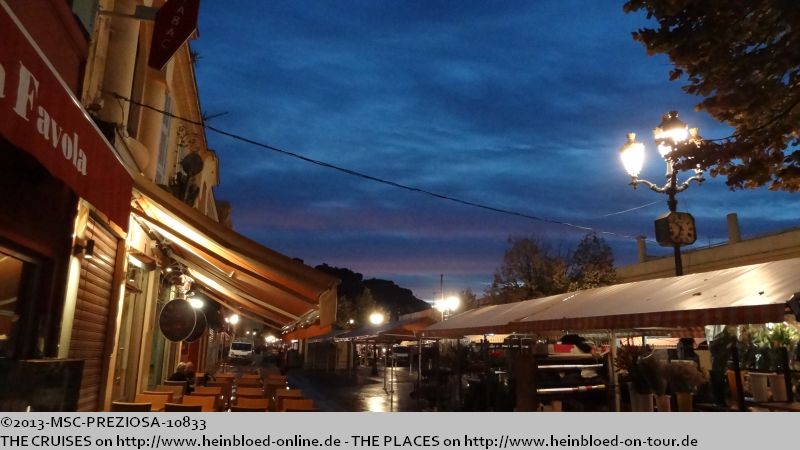 One flower dealer told that I can take pictures without shy. They are used. He said that it might be much nicer in the afternoon when all street cafés were set up too.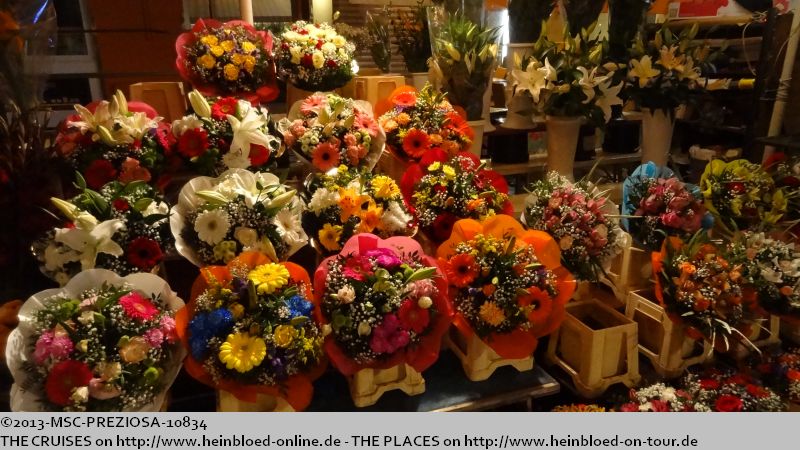 Ein Blumenhändler erklärt mir, dass ich ohne Scheu fotografieren darf. Das sind sie gewöhnt. Er meint aber, dass es nachmittags noch schöner wäre, wenn alle Straßencafés auch aufgebaut hätten.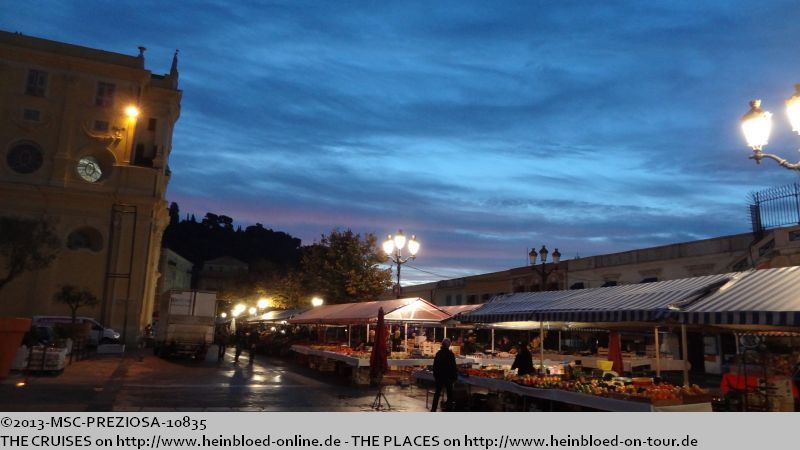 An olives dealers tried to sell us his goods. Especially he would like to sell us his honey.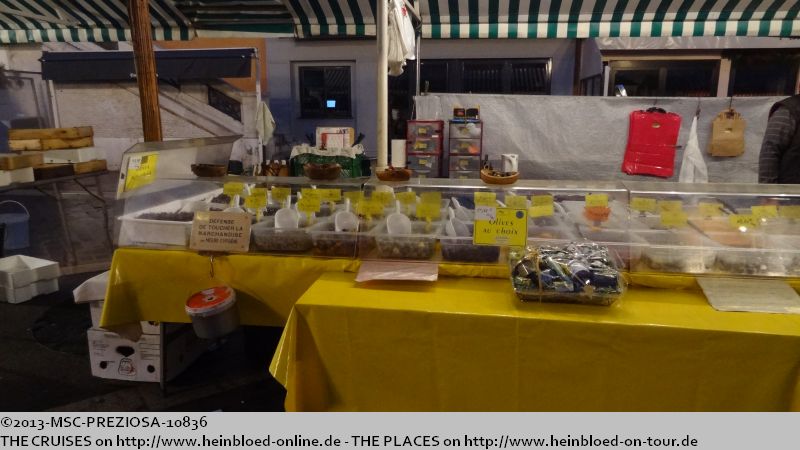 Ein Olivenhändler bietet uns schon seine Waren an. Insbesondere will er uns den Honig verkaufen.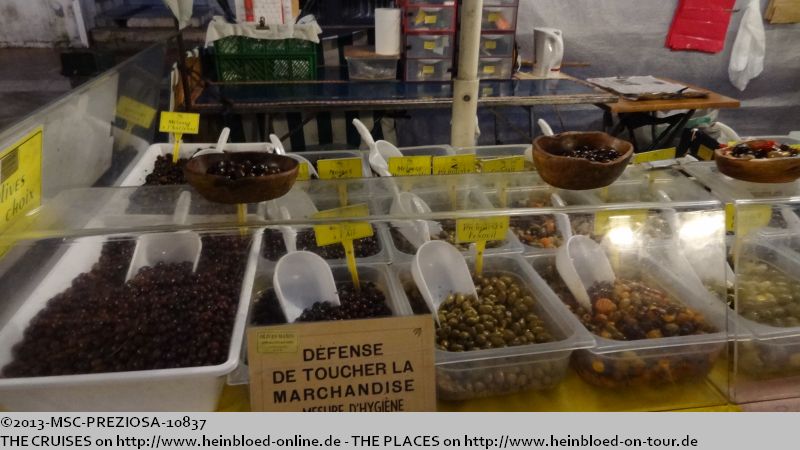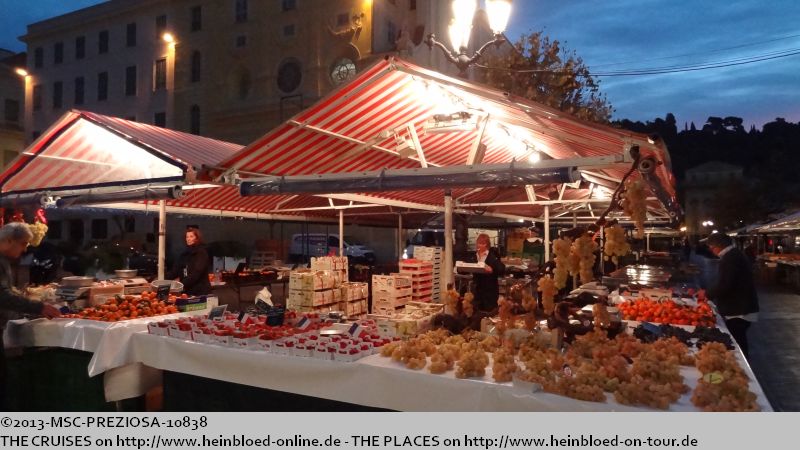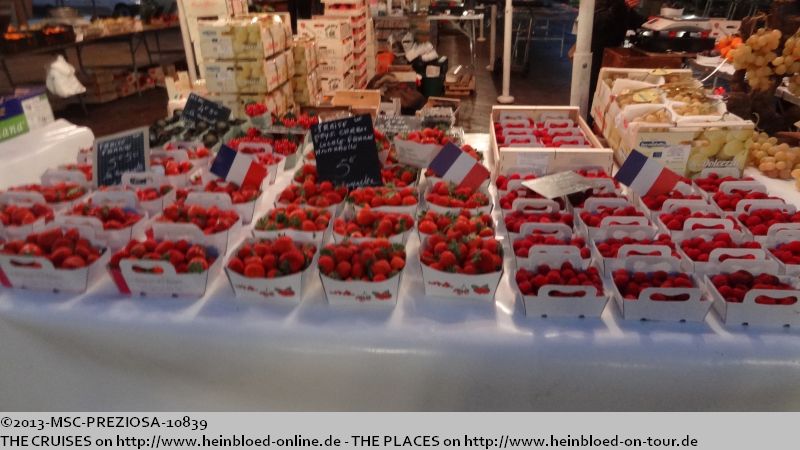 When I bought a magnet it took only approx. 20 seconds.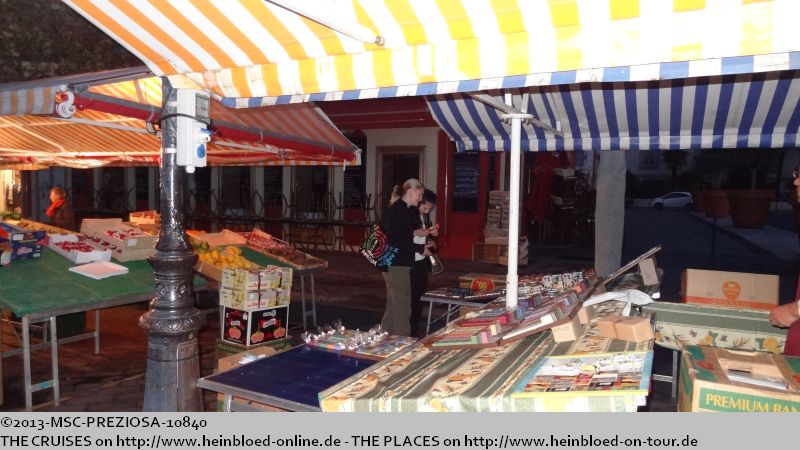 Bei mir hat der Kauf eines Magneten ca. 20 Sekunden gedauert.
Mit den Mädels artet es einfach aus: Minuten, Stunden, Tage, Wochen, Monate, Jahre später...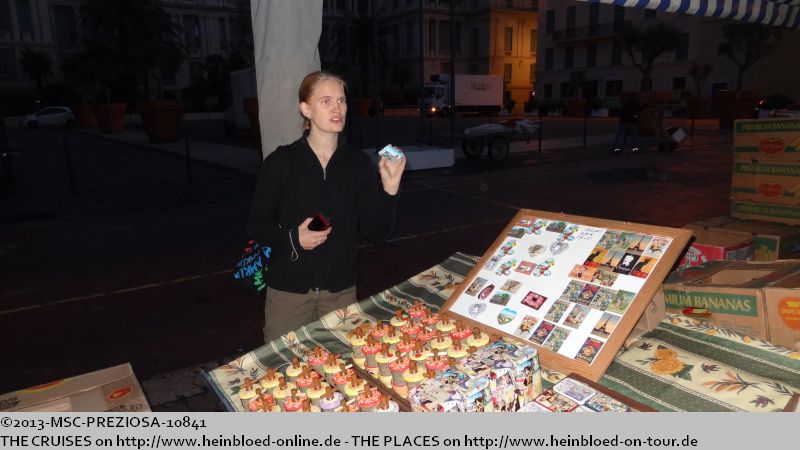 With the girls it got out of hand: minutes, hours, days, weeks, months, years later...

They sold the French herbs unpacked.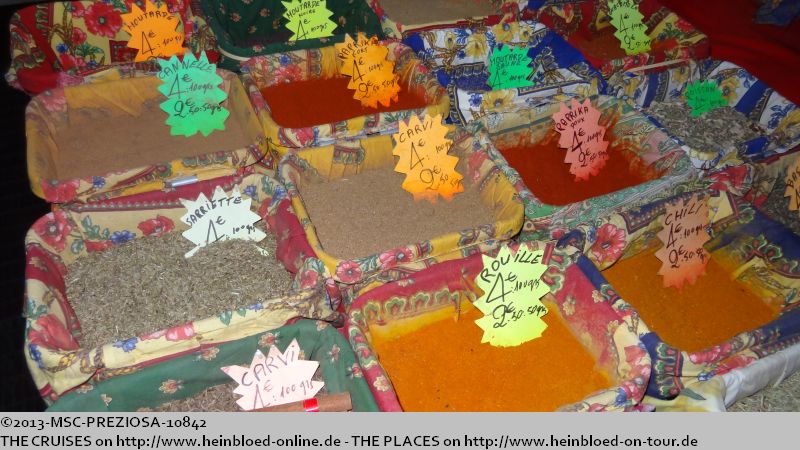 Die Kräuter der Provence werden lose angeboten.
Alleine vor dem Stand zu stehen war eine Aromatherapie.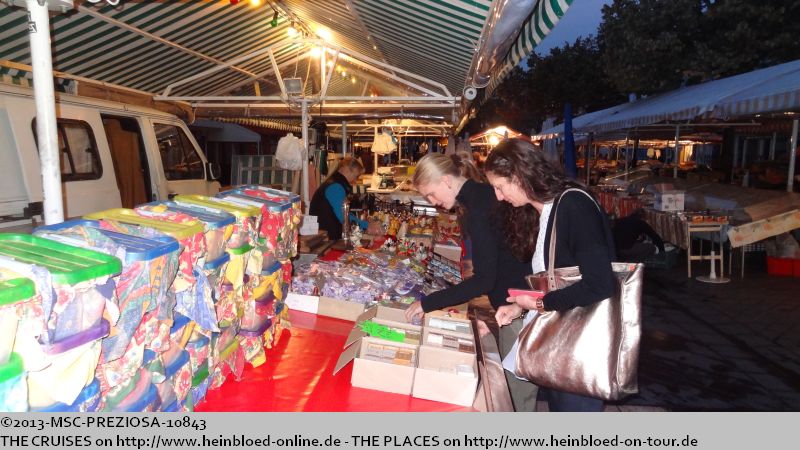 Just standing here around was like enjoying an aroma therapy.
Die anderen Reisen in diesem Blog/
The other voyages in this blog: