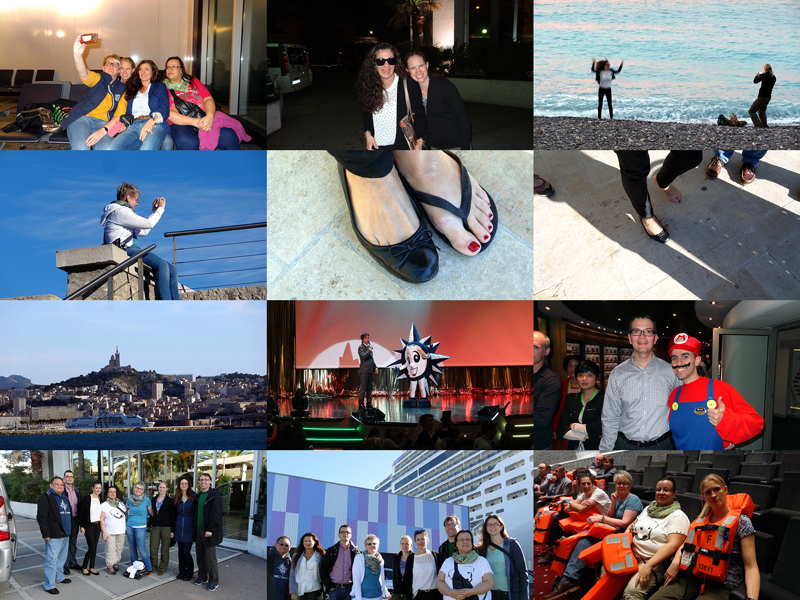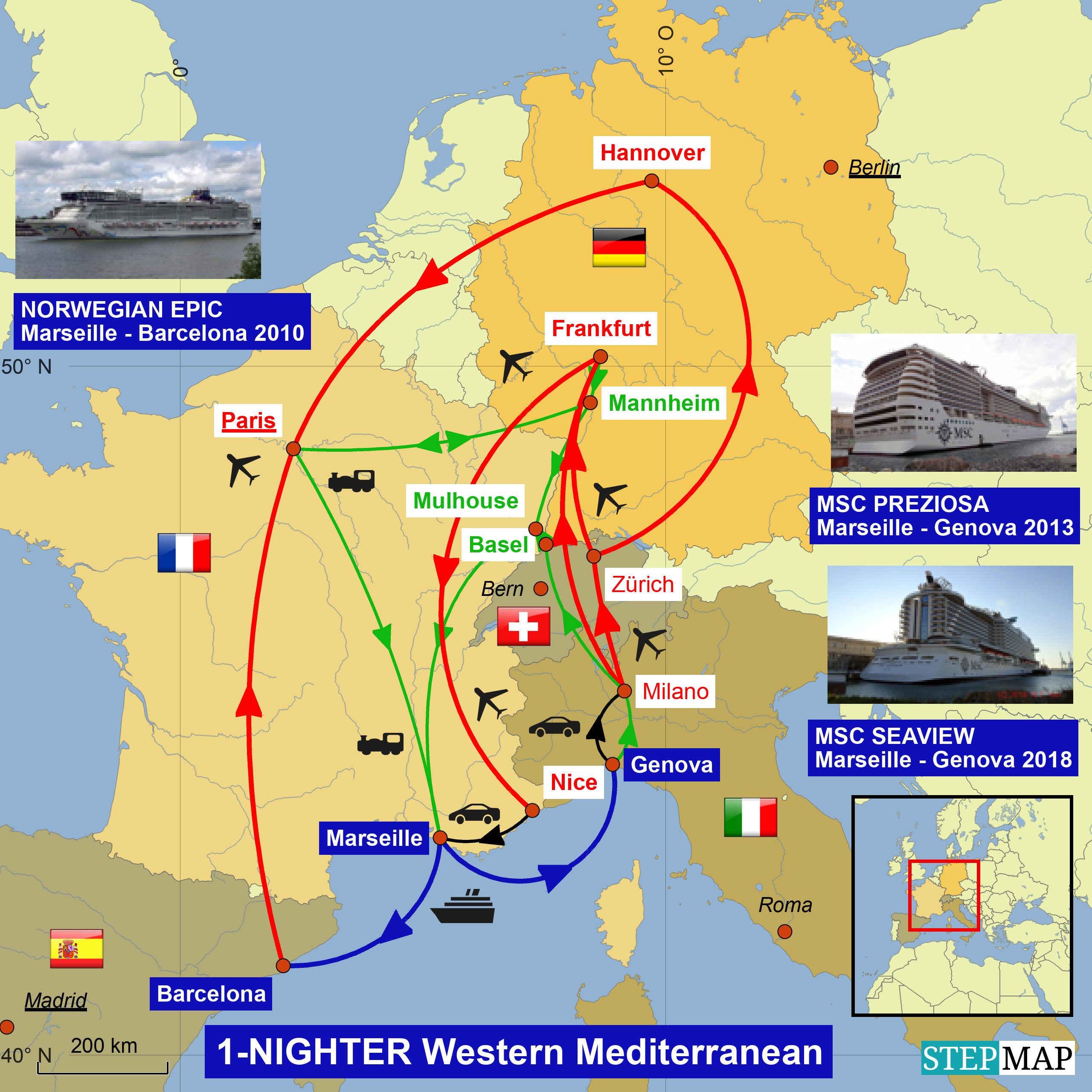 Die vier Mädels bekommen dieses Mal eine Balkonkabine, nachdem sie mich damals auf der
NORWEGIAN EPIC 2012
fast verklagt haben, wegen Verletzung der UN-Menschenrechtskonvention, weil die Innenkabine wohl so klein für vier war, dass eigentlich nur für Zwerge geeignet gewesen wäre.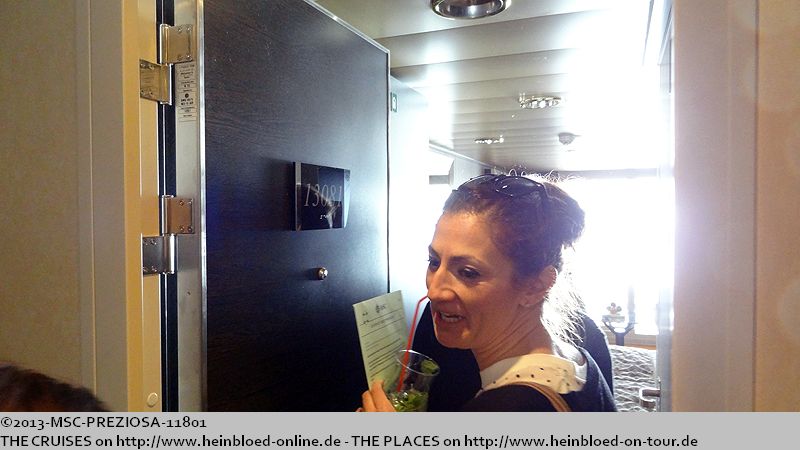 The four girls got this time a balcony cabin after they were about to sue me for their accommodation on NORWEGIAN EPIC 2012 as this was against UN Convention on Human Rights as the inside cabin for four was not for four men but for four dwarfs.

3. und 4. Person teilen sich das große Sofa.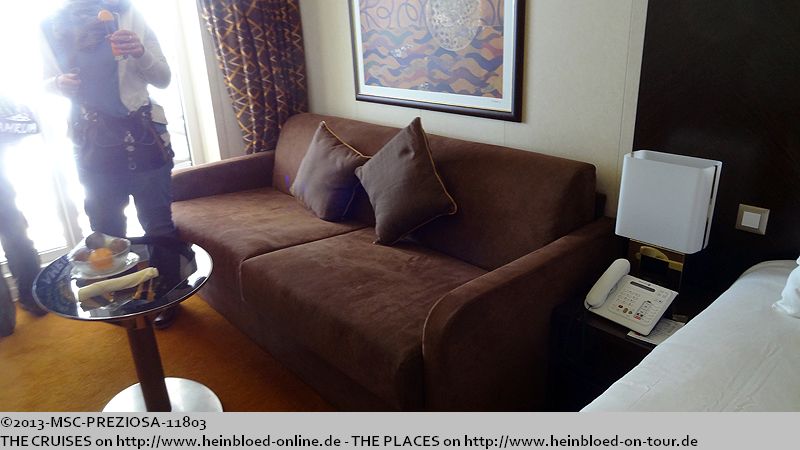 3rd and 4th person share this big sofa.

I was lucky to be ten cabins away from them.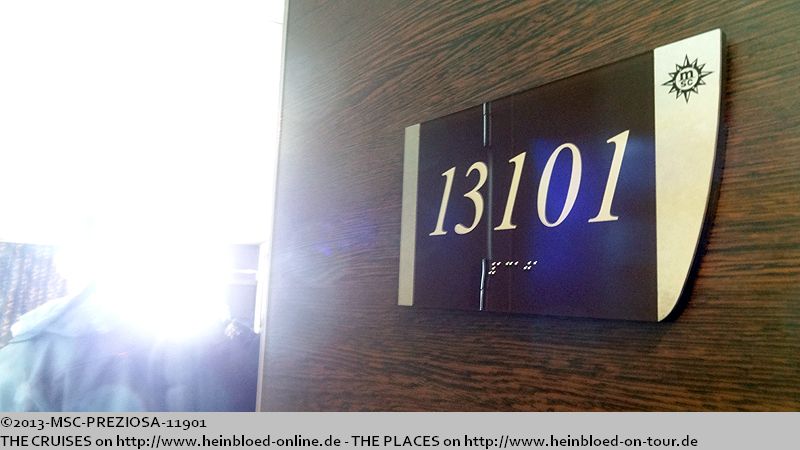 Zum Glück bin ich zehn Kabinen weiter.
Hier liegt das Tagesprogramm aus. Allerdings nur in Englisch.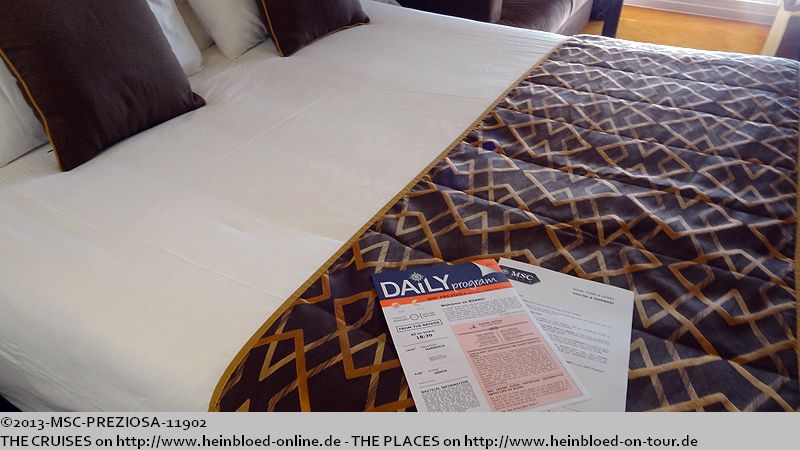 Here we had the daily programme. But only in English.

O.K.: something we need some adjustment for. Bruno refused to share a blanket with me. There was no need to separate the beds as long as we had two mattresses.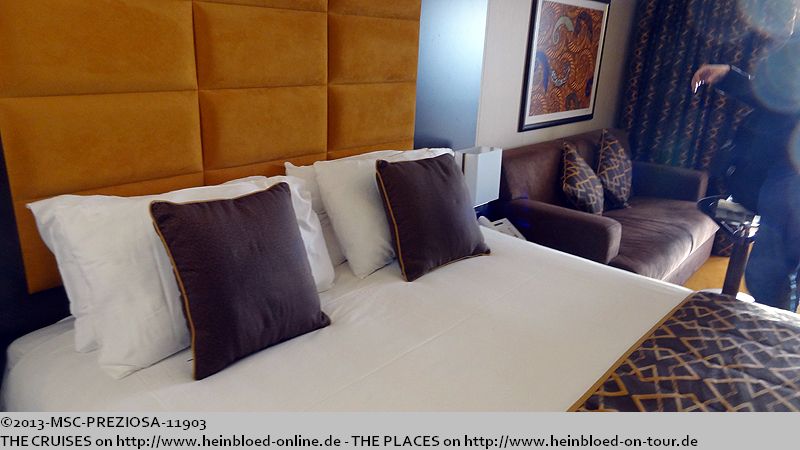 O.K.: das müssen wir noch ändern lassen. Bruno weigert sich mit mir eine Bettdecke zu teilen. Das Bett müssen wir nicht mehr auseinanderstellen lassen, solange es zwei Matratzen sind.
Unser Sofa ist kleiner.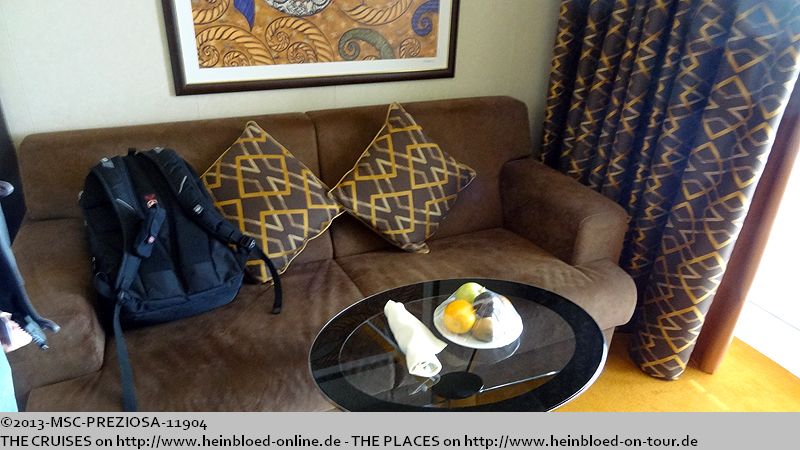 Our sofa was smaller.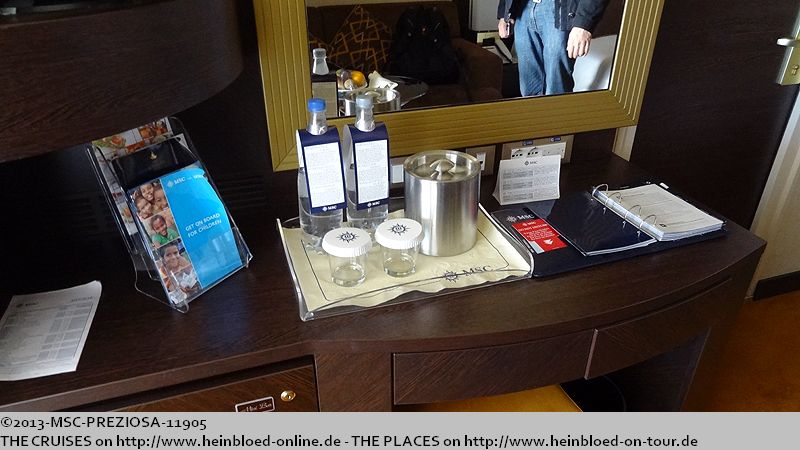 2 Euro-Steckdosen 220 V und 2 US-Steckdosen 110 V.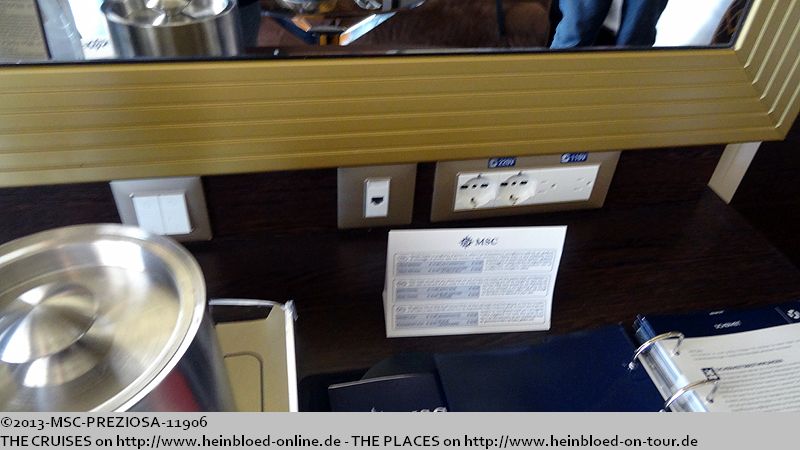 2 European power-outlets 220 V and two US power-outlets 110 V.

The fruit basket.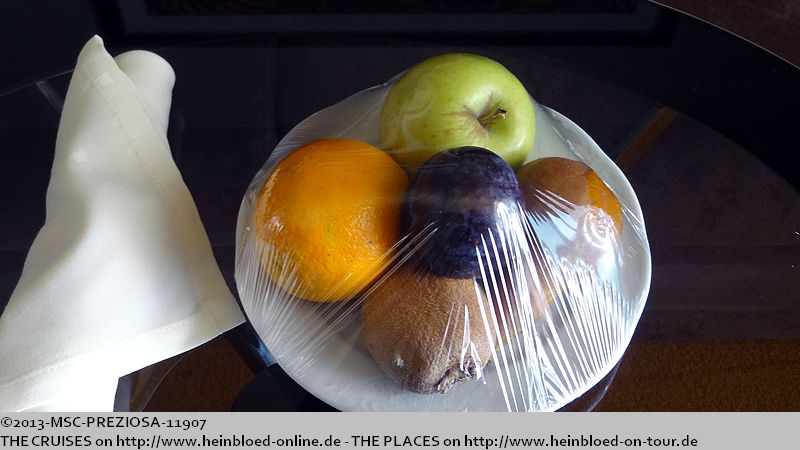 Der Obstkorb.
Kein richtiges Oberbett wie bei den anderen, aber auch keine Sandwich-Decke, wie sonst im Mittelmeerraum üblich.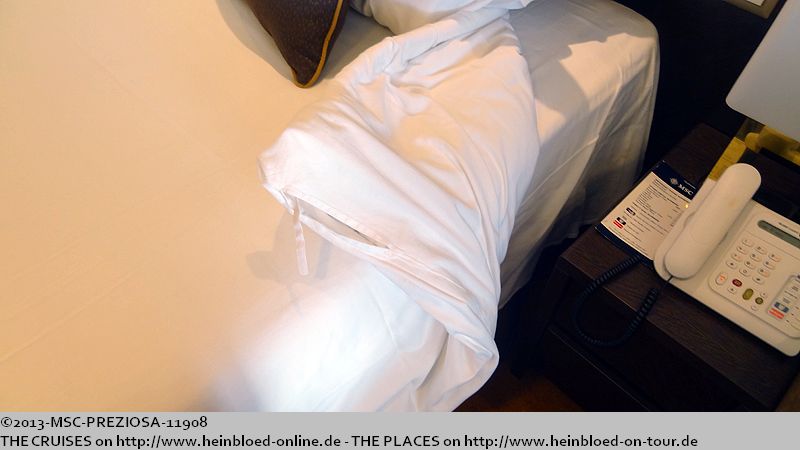 Not a real duvet like with the others but not like those you usually get in Southern Europe.

We checked where we need to find ourselves for the life drill.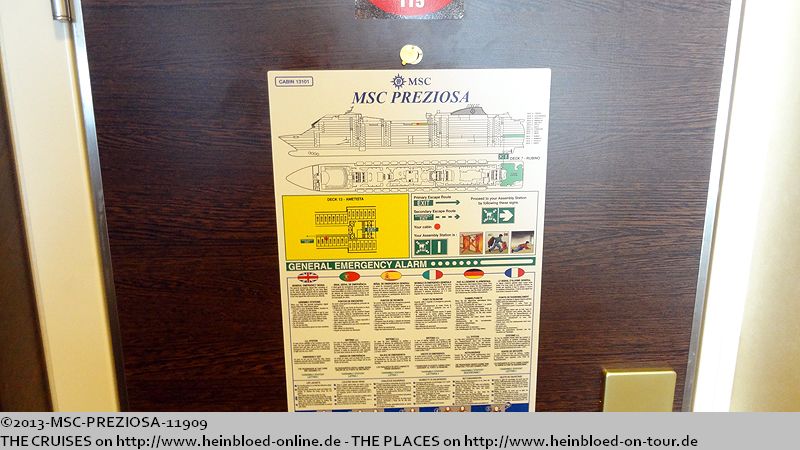 Wir gucken mal nach, wohin wir später müssen. Rettungsstation I.
Oh wie furchtbar: wieder die Dinger, die man nicht klauen braucht, weil man sie zu Hause eh nicht aufhängen kann. Hosenbügel fehlen. Dafür haben wir Bademäntel (noch).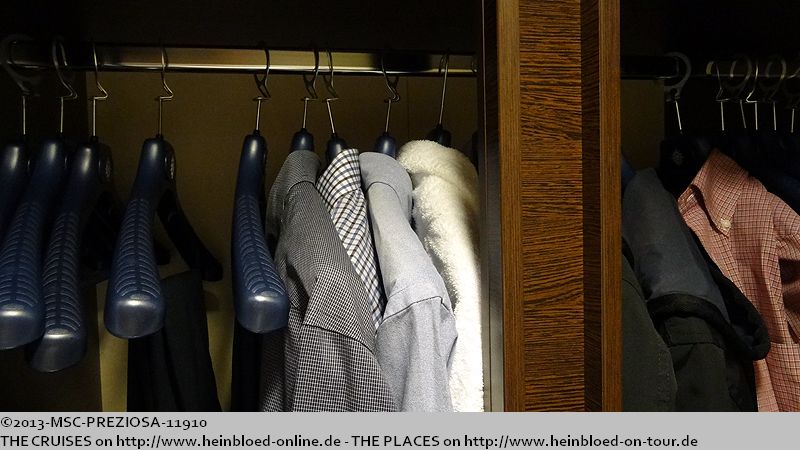 Oh how bad: again the staff we do not need to take home because you cannot use them at home. Hangers for pants were missing. But we (still) had bathrobes.

A safe.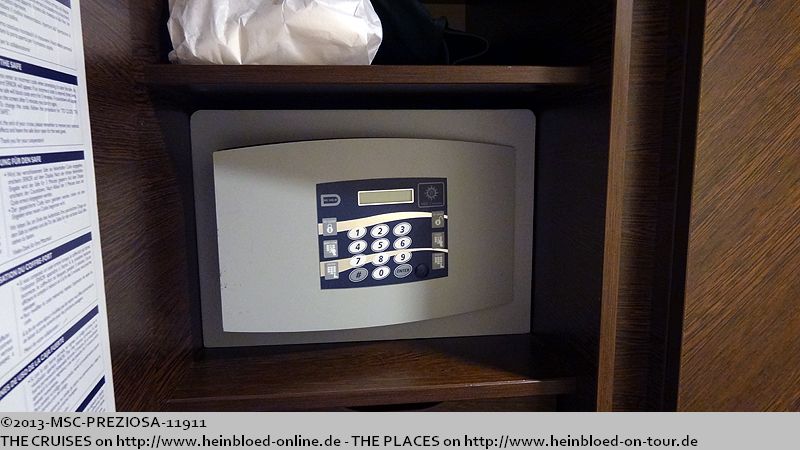 Ein Safe.
Und jede Menge Schubladen.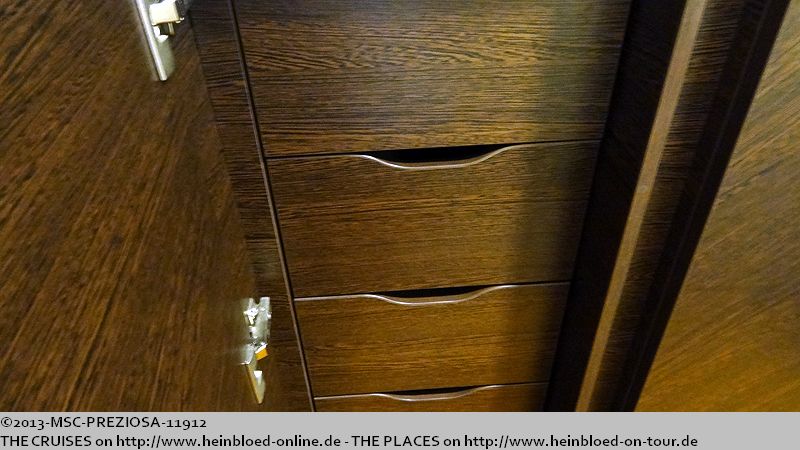 And many many drawers.

An information folder.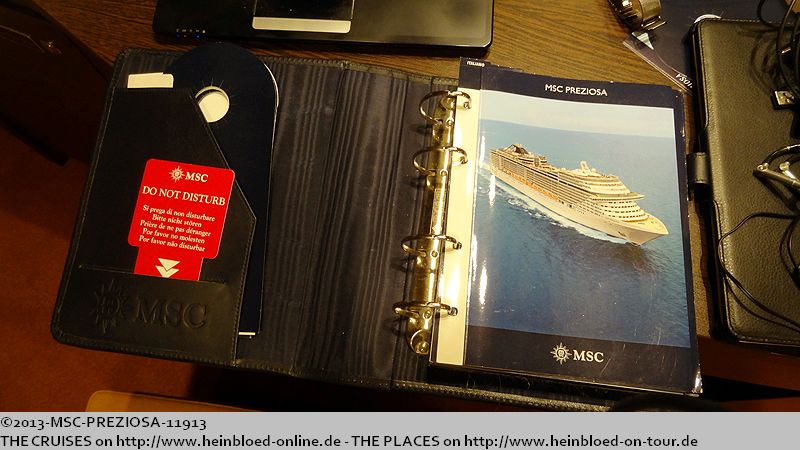 Eine Informationsmappe.
Deckplan, Postkarten, Frühstücksbestellung.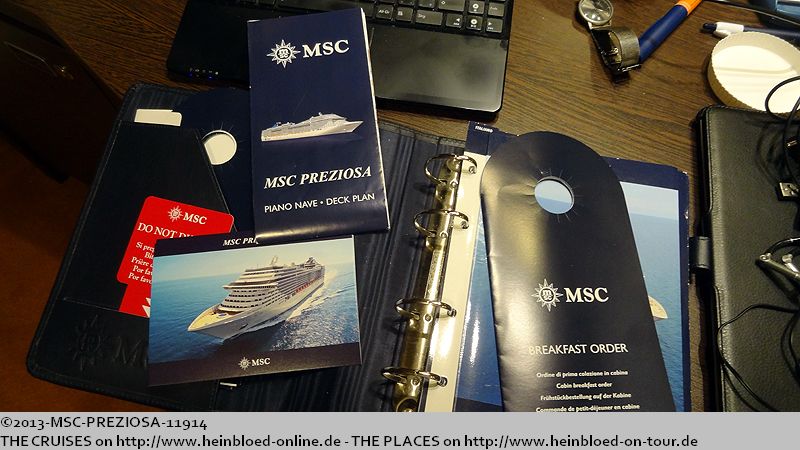 Deck plan, post cards, breakfast order.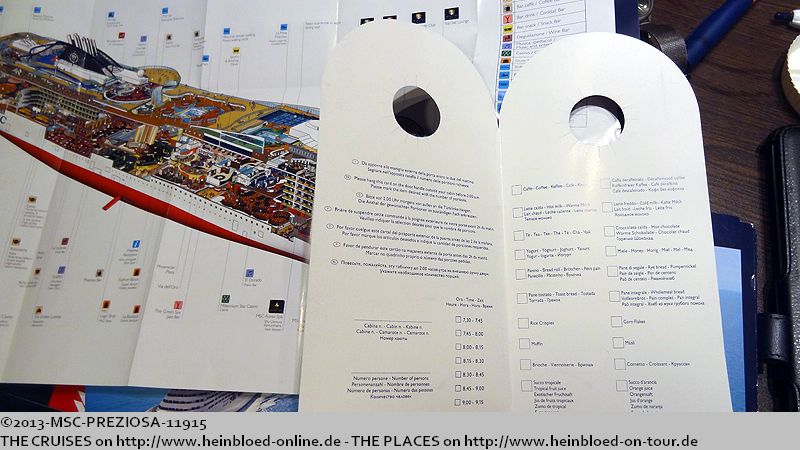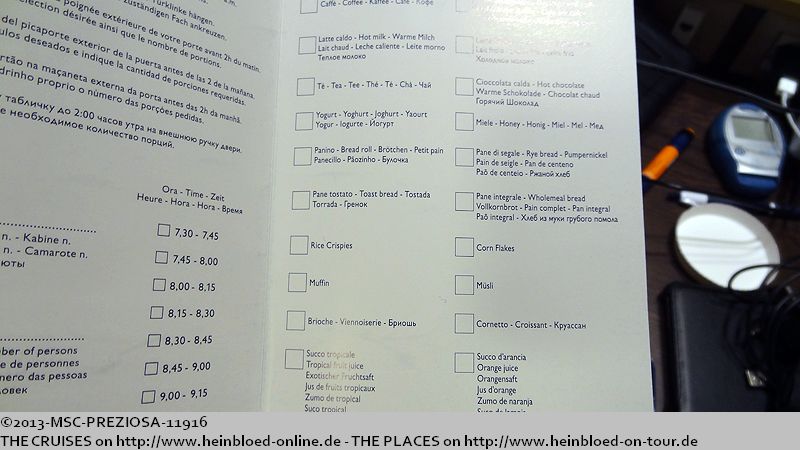 Mini-bar list.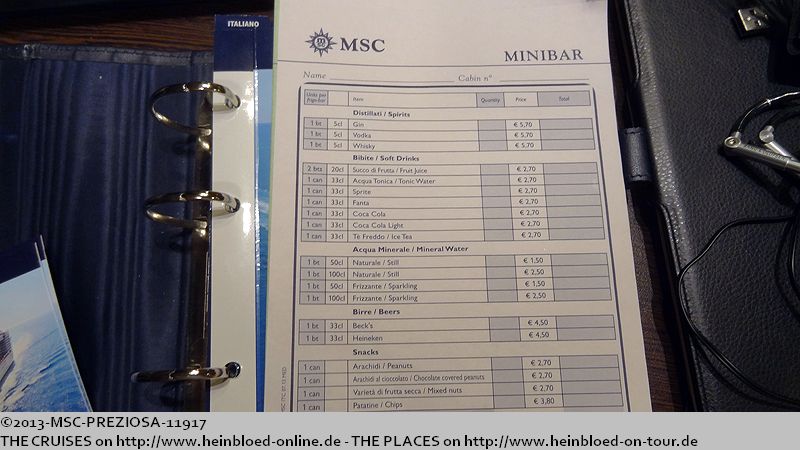 Minibar-Liste.
Und der Kühlschrank ist sogar offen.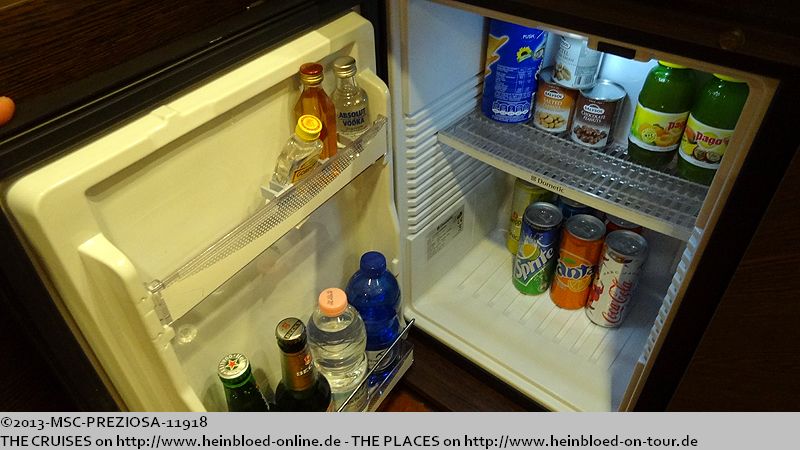 And the fridge was open.

A sewing kit and two laundry bags which you also can misuse for other things.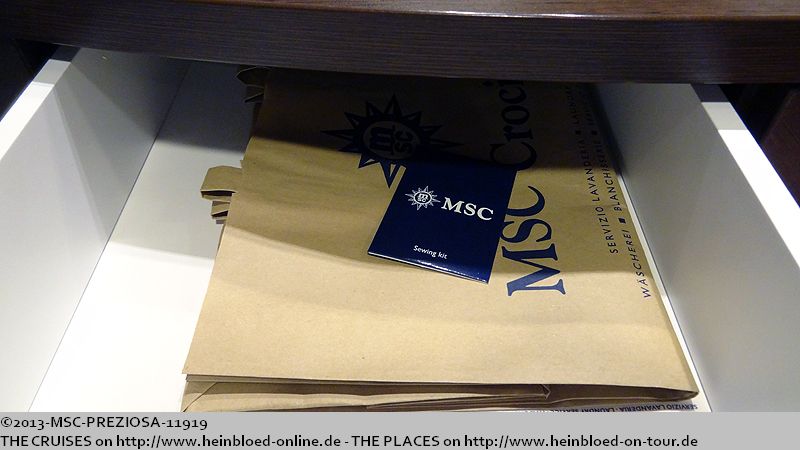 Ein Nähset und zwei Wäschebeutel, die man sonst auch anders missbrauchen kann.
Und die mehrsprachige Wäschereiliste zum Vokabellernen.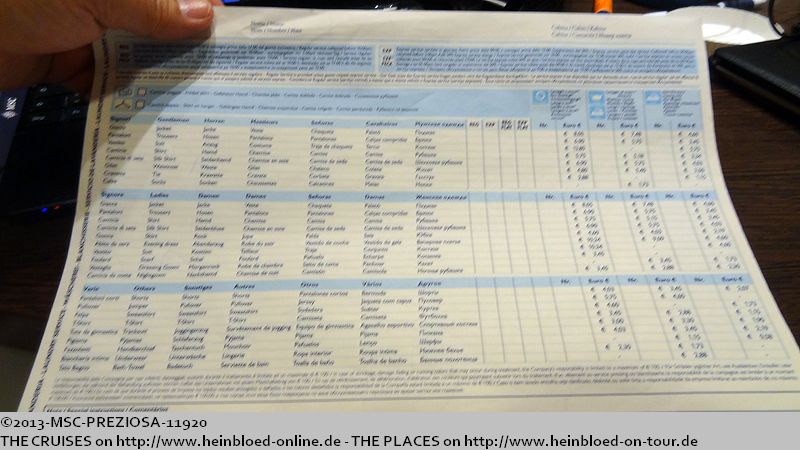 And the multilingual laundry list for your vocabulary training.

A hairdryer.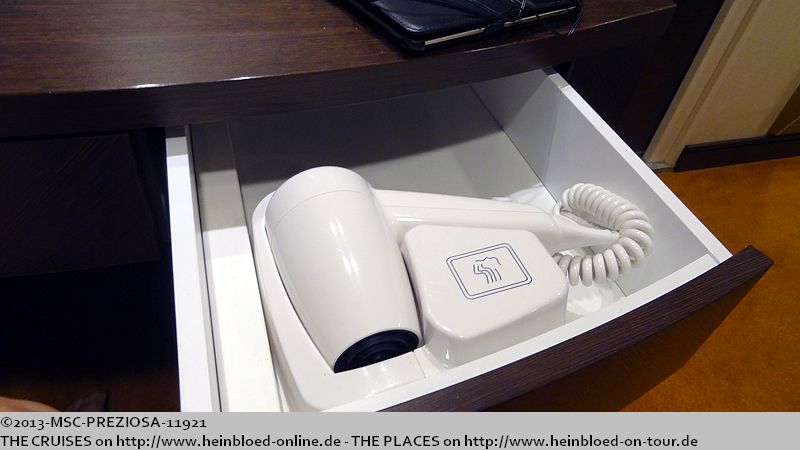 Ein Fön.
Und noch die Speisekarte für den Zimmerservice, der aufpreispflichtig ist.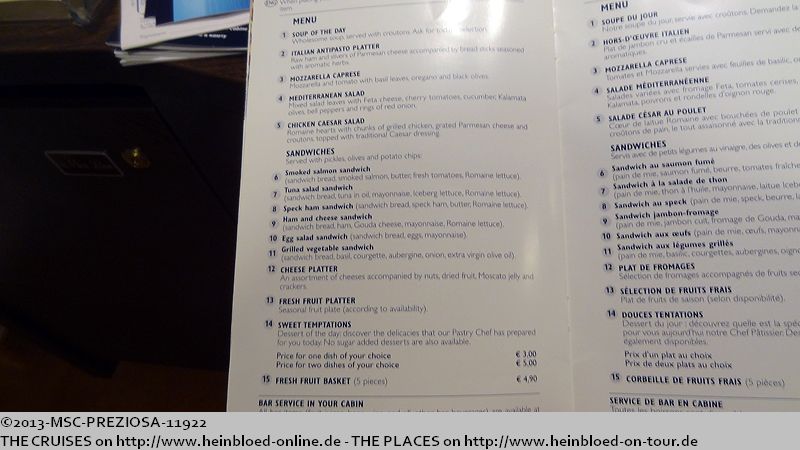 And a menu for the room service which is chargeable.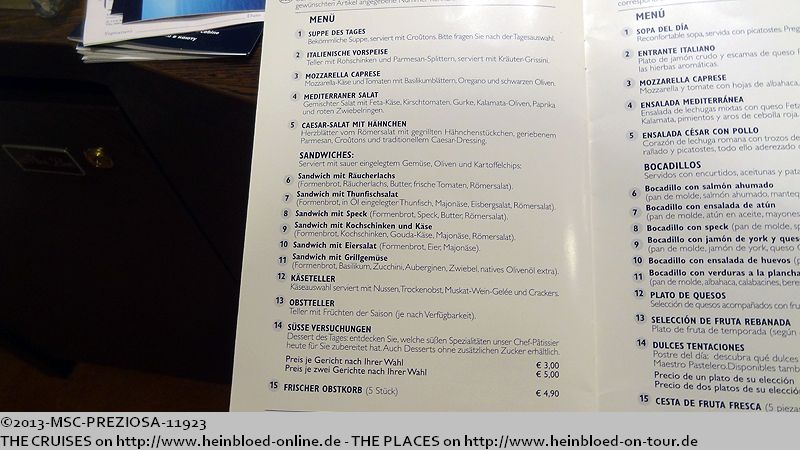 Schiebetüren für den Balkon, die gut gesichert sind.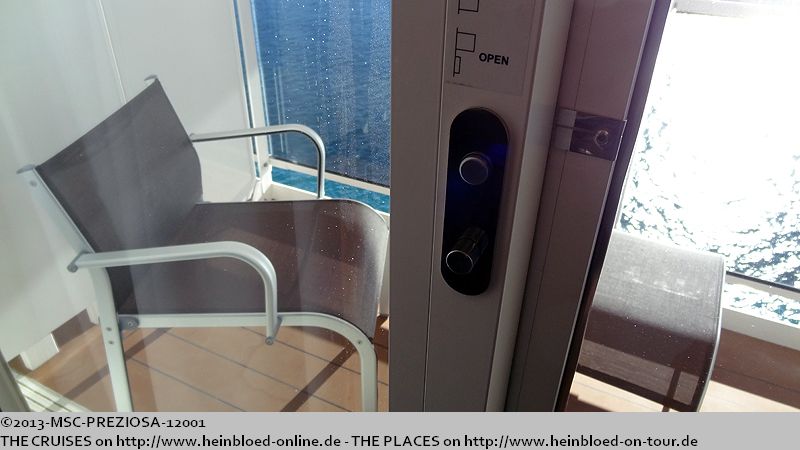 Sliding doors for balconies which were well secured.

A stool for two.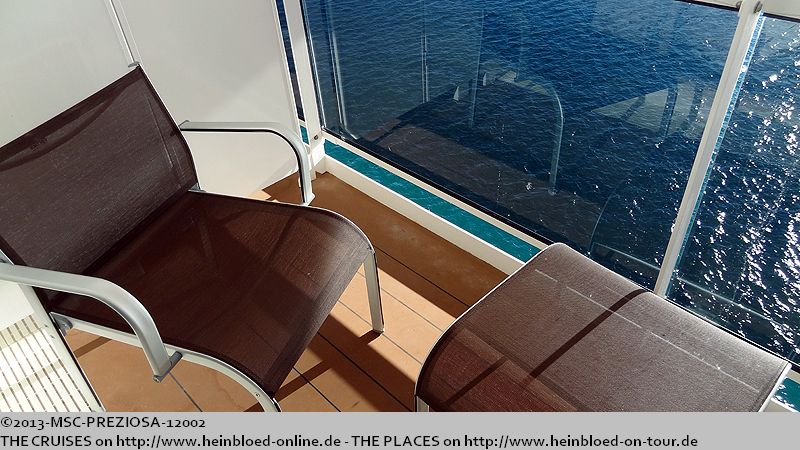 Ein Hocker für zwei.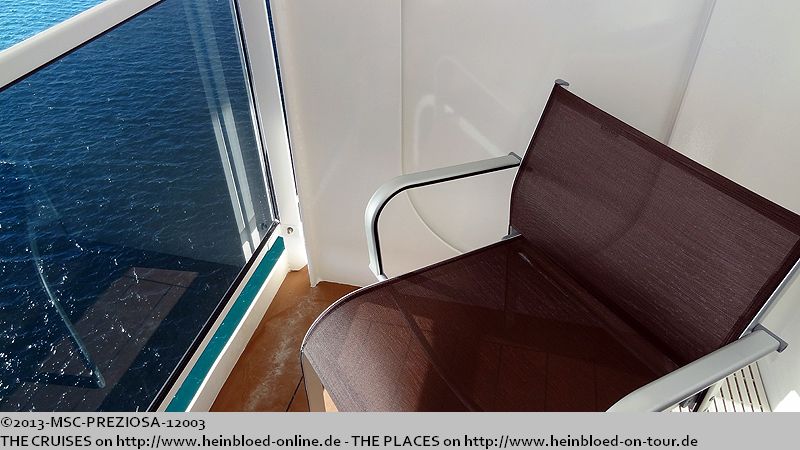 And how much I miss my balcony on RYNDAM...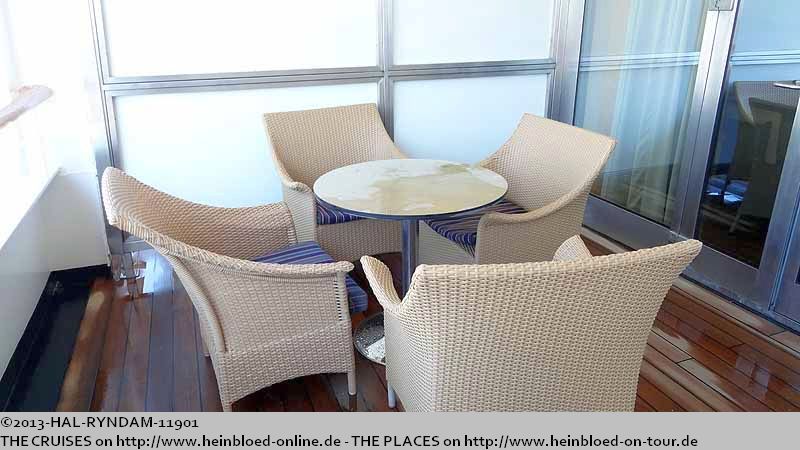 Und ich weine meinem Balkon auf der RYNDAM hinterher...
sogar Platz für zwei Sonnenliegen...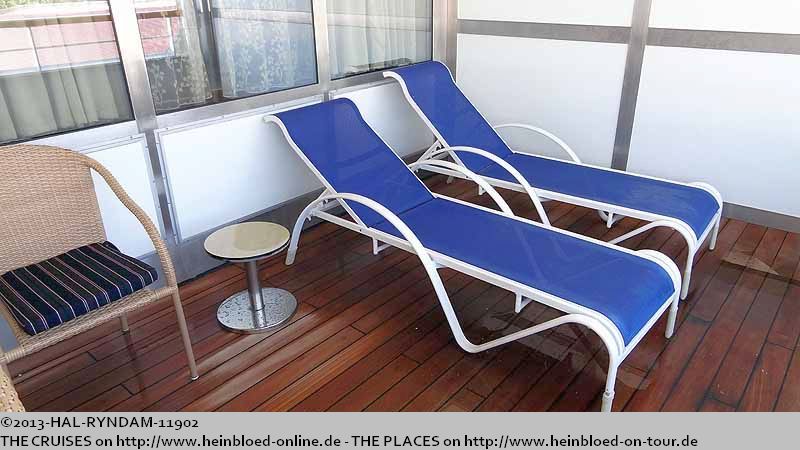 even space for two sunbeds...

Mellie and Richard were our neighbors... As we had a connecting door, we had to learn how clairaudient it was.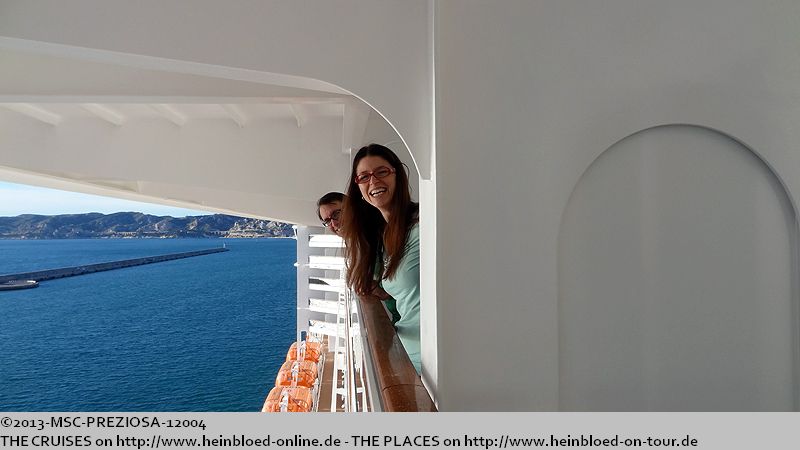 Mellie und Richard sind unsere Nachbarn... Da wir eine Verbindungtür haben ist jedoch alles sehr hellhörig.
Ein Blick auf den alten Hafen von Marseille.

A view to the old port of Marseille.

And the Basilica Notre Dame de la Garde which was not our list this time due to lack of time.

Zur
Basilika Notre Dame de la Garde
haben wir es dieses Mal nicht geschafft.
Die anderen Reisen in diesem Blog/
The other voyages in this blog: