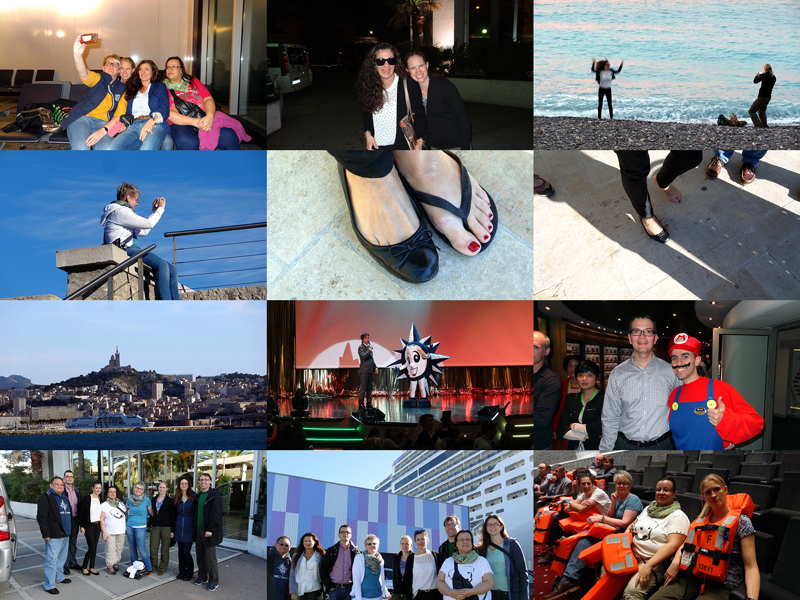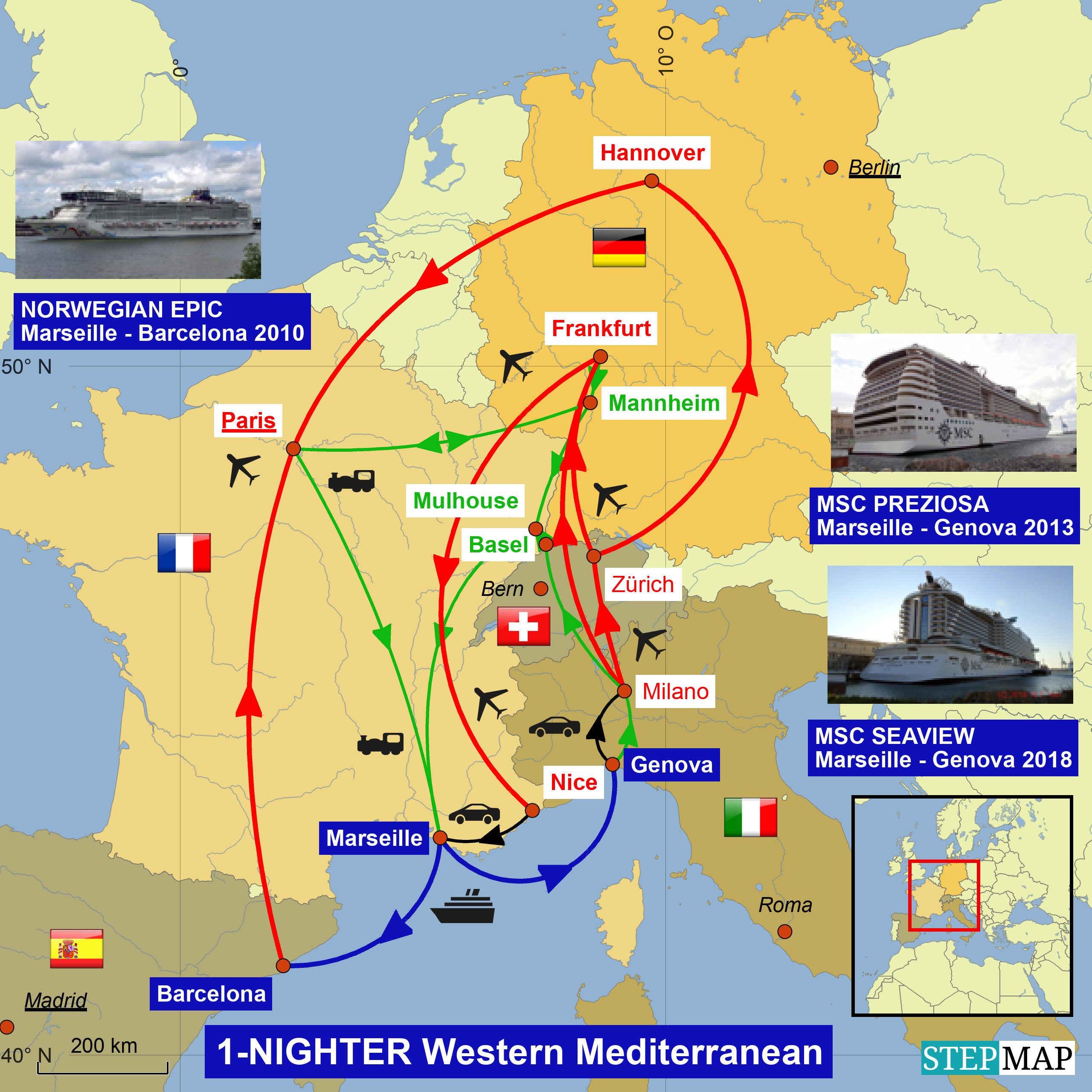 Vom Markt kann man durch das Tor zum Meer gucken.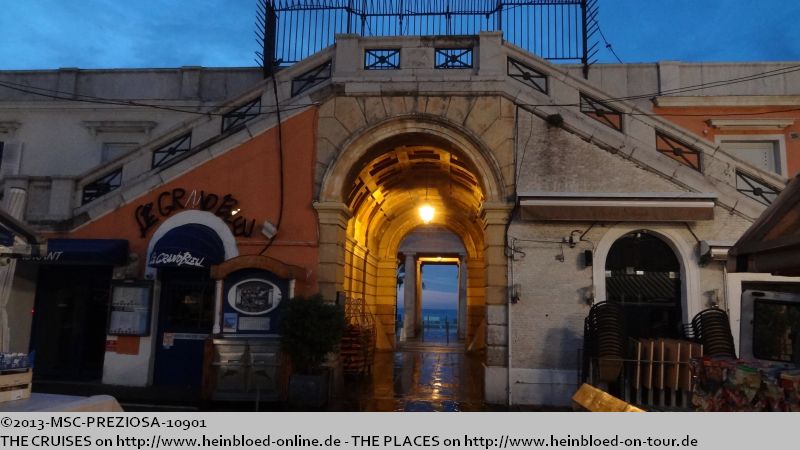 From the market you could see through the gate to the sea.

After we passed the gate, a slow sunrise was expecting us on the other side.

Als wir durch das Tor durchlaufen erwartet uns langsam der Sonnenaufgang.
Die Mädels sind "beknackt"... Sieht doch genauso aus, wie am Vienenburger See...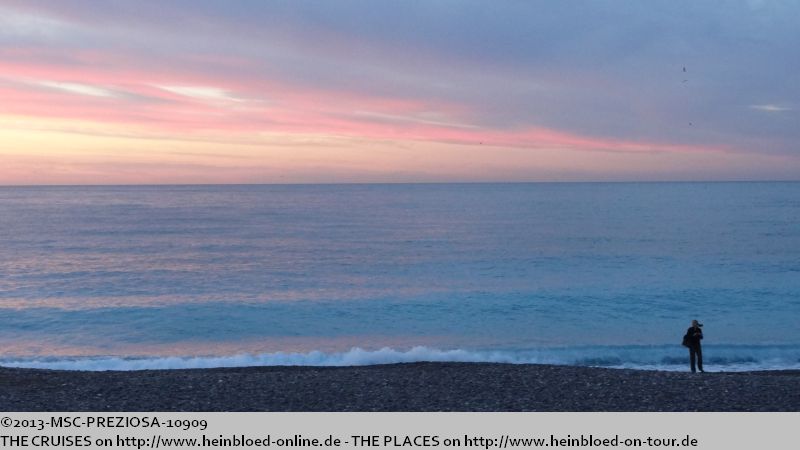 The girls were "up the pole"... looks like the local lake in Vienenburg, Germany...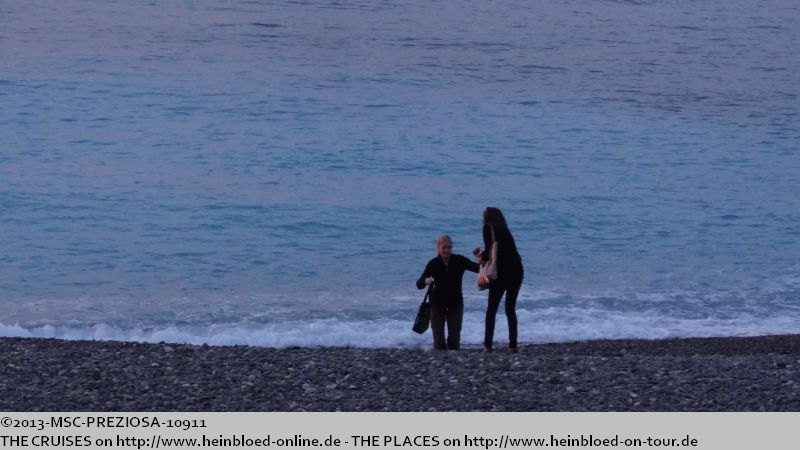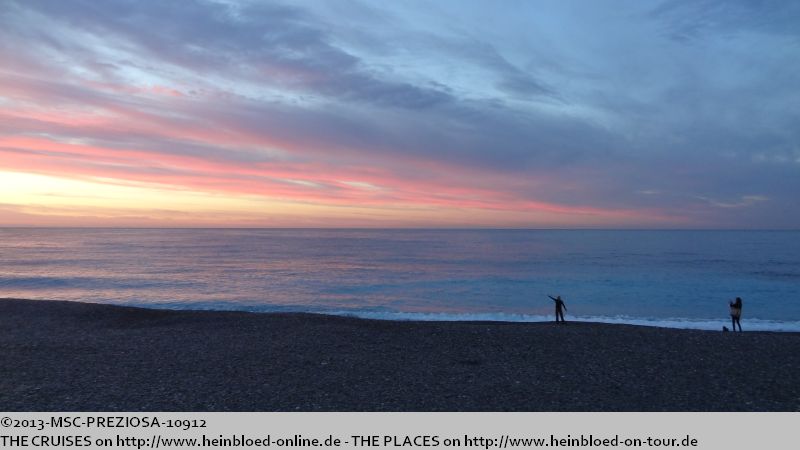 Ich vertreibe mir die Zeit mit französischen Chansons: passend hierzu
Charles Trenets "La Mer"
.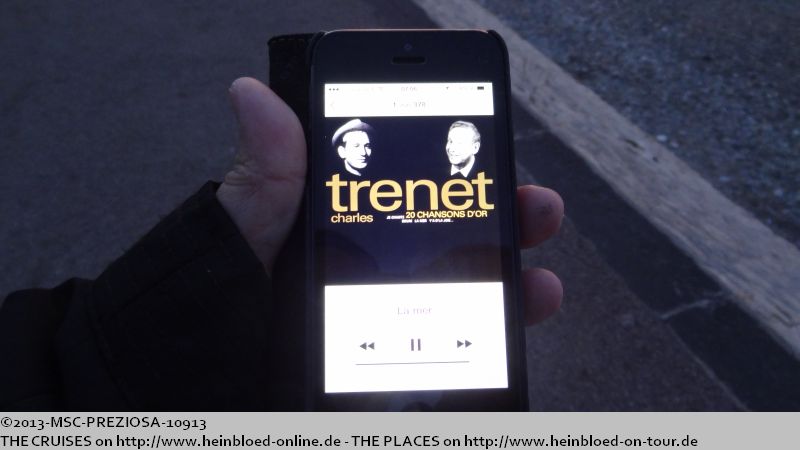 I spent the time to listen to French Chansons: this one fit perfectly: Charles Trenet's "La Mer".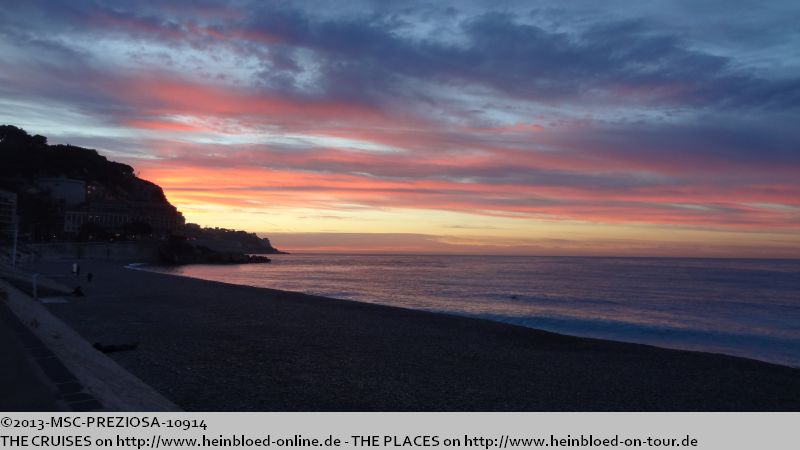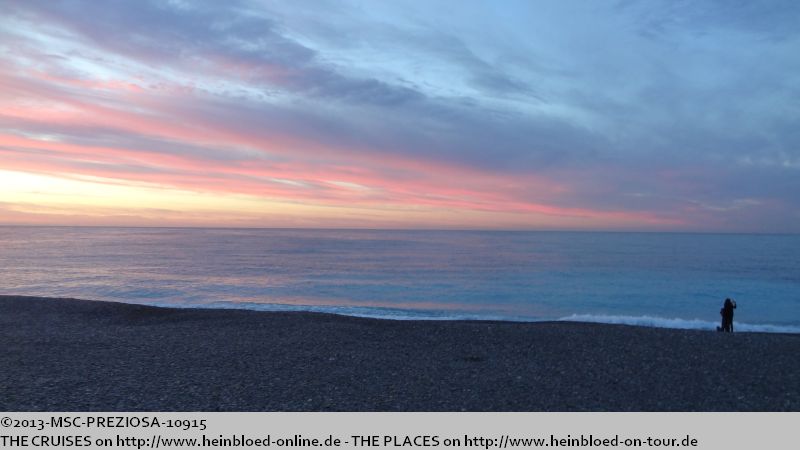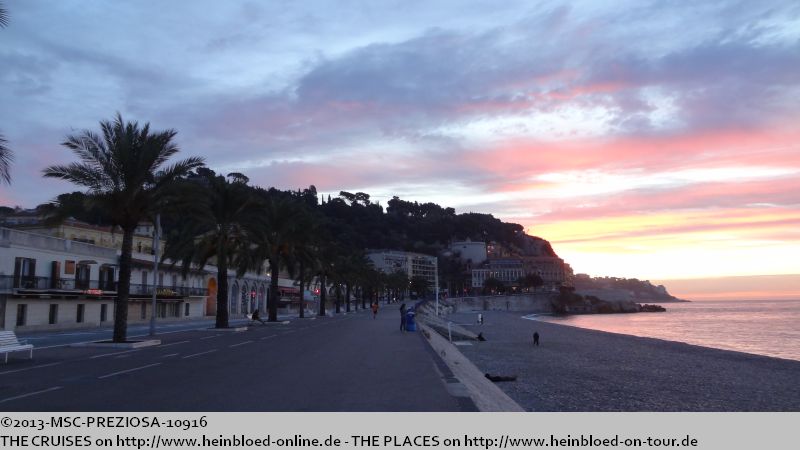 Jetzt drehen sie vollkommen durch!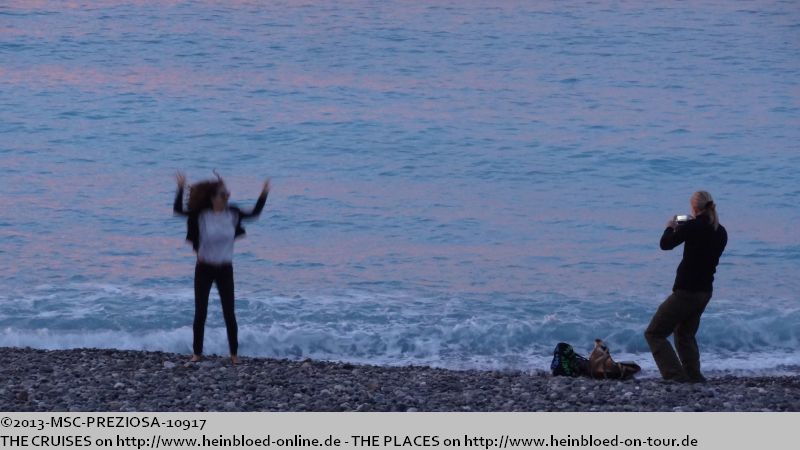 Now I would say they totally cracked up!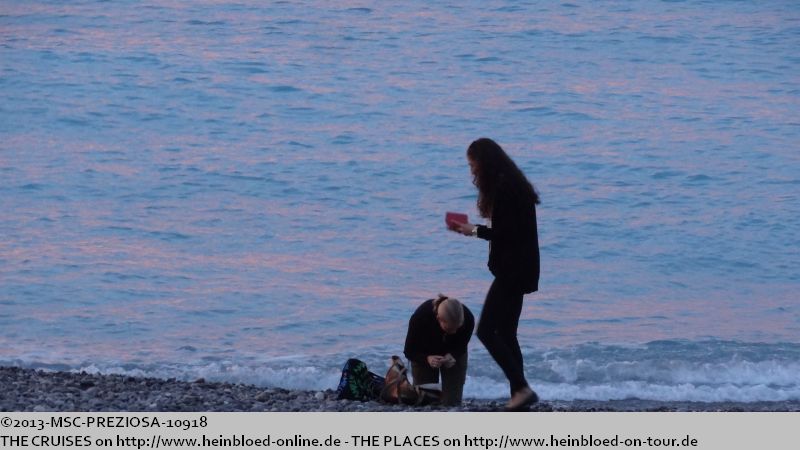 Und selbst als sie zurück an die Uferpromenade kommen: immer noch kein Ende!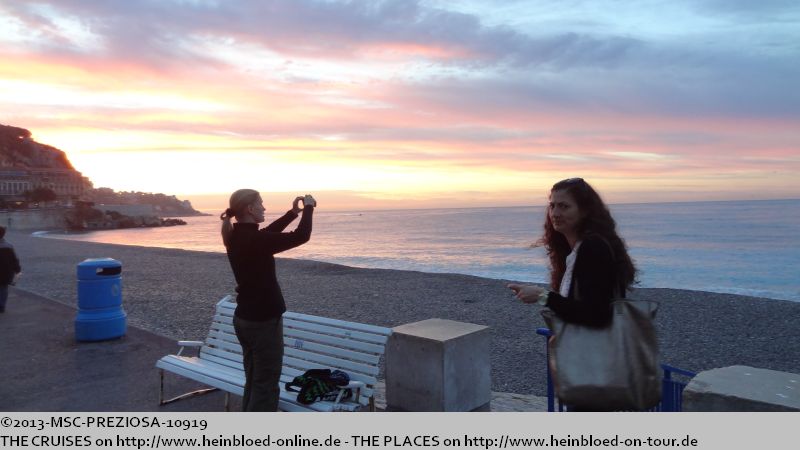 And even they returned to the promenade: no end to see!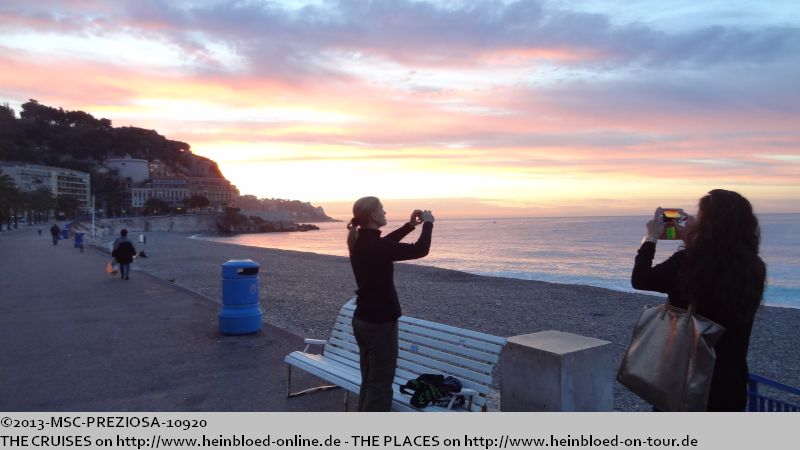 Es geht zurück und weiter.

We headed back and forward.

Everywhere we met the street cleaner.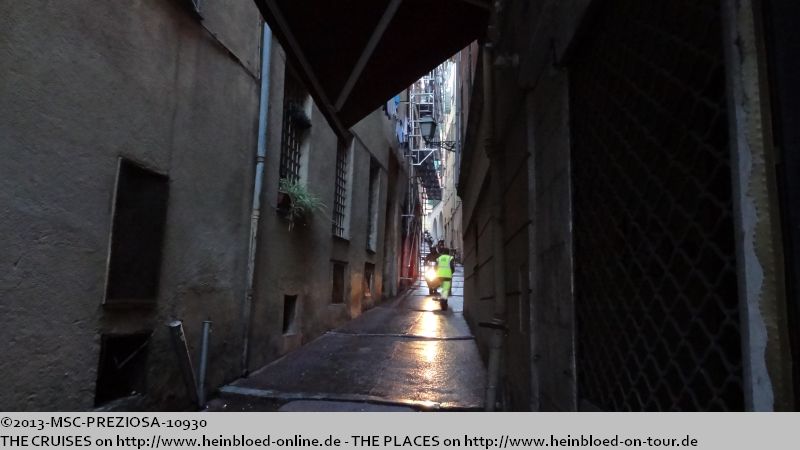 Überall treffen wir noch die Straßenfeger.
Zufällig entdecken wir die Bäckerei "Le Four à Bois" (Der Holzofen).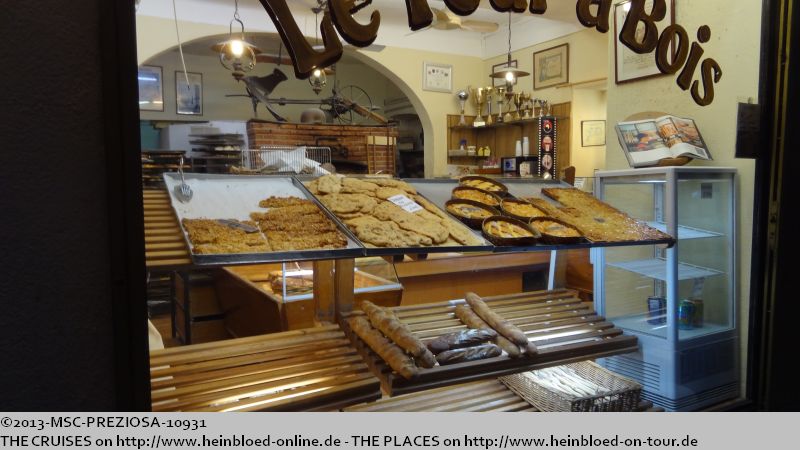 By accident we discovered the bakery "Le Four à Bois" (The wood heated oven).

A real brick oven.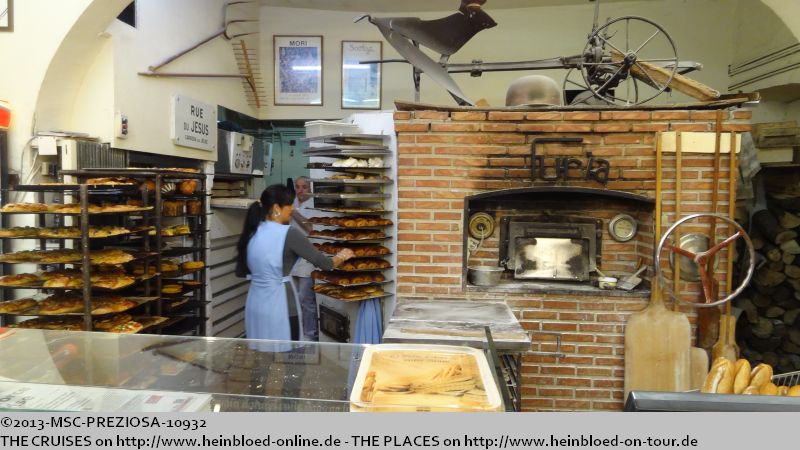 Noch ein echter Steinofen.
Noch echter Teig, der hier vor den Augen der Kunden geknetet und dann in den Ofen geworfen wird. Keine tiefgefrorenen Teigrohlinge.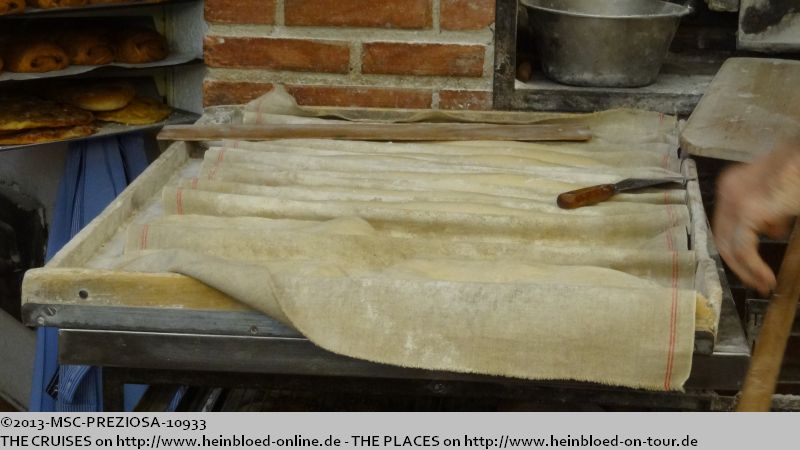 Still they had a right dough which was prepared in front of the customers and placed into the oven. No frozen dough beast.

Everything was freshly prepared.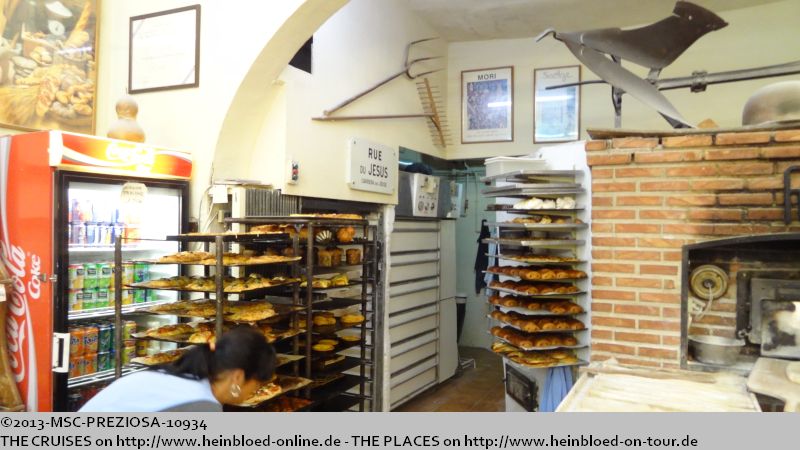 Und alles frisch.
Und lecker duftend.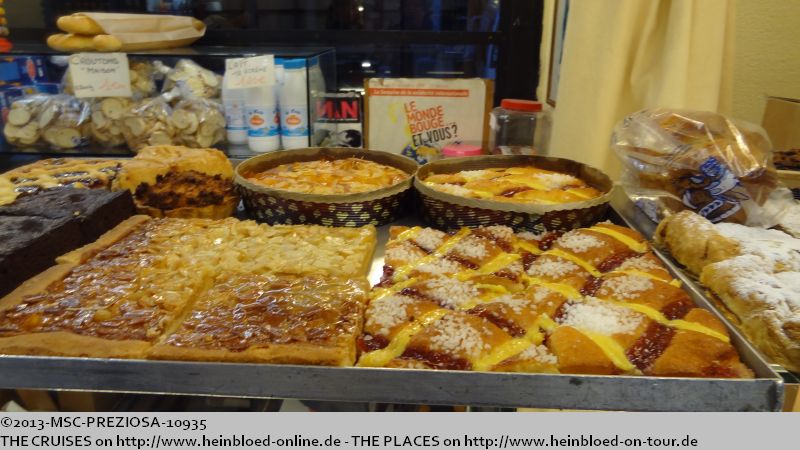 And smelled so yummy.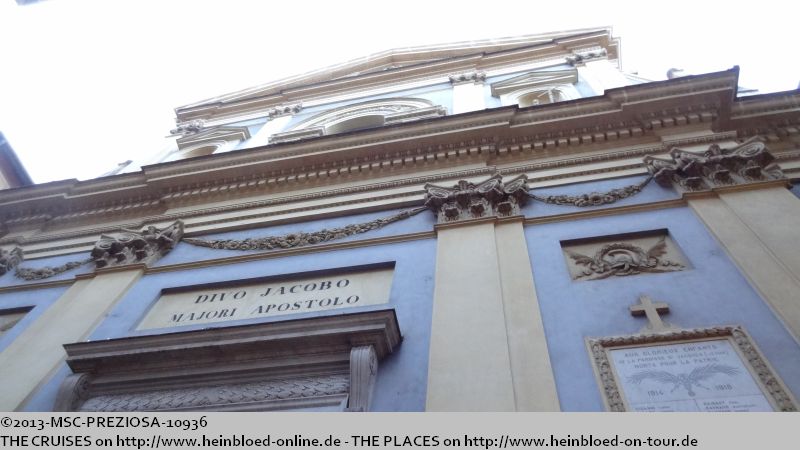 Wir genießen die frischen Pains au Chocolat.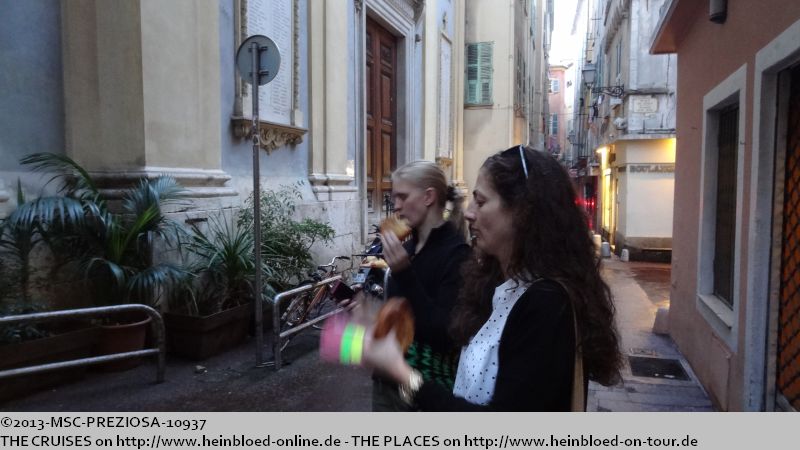 We enjoyed the fresh Pains au Chocolat.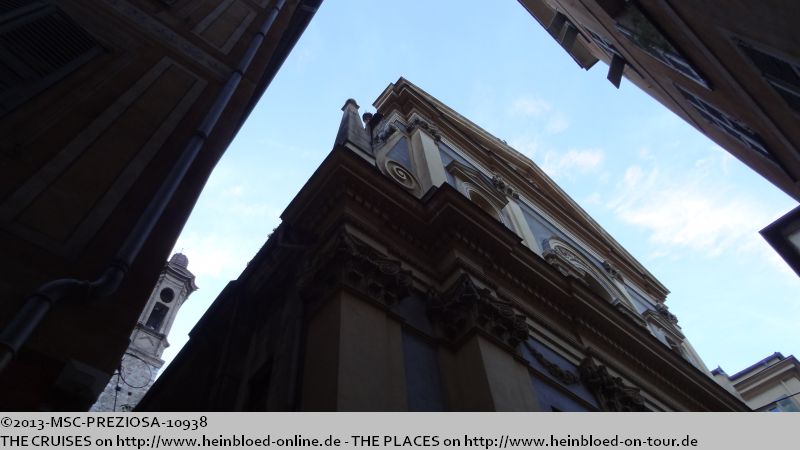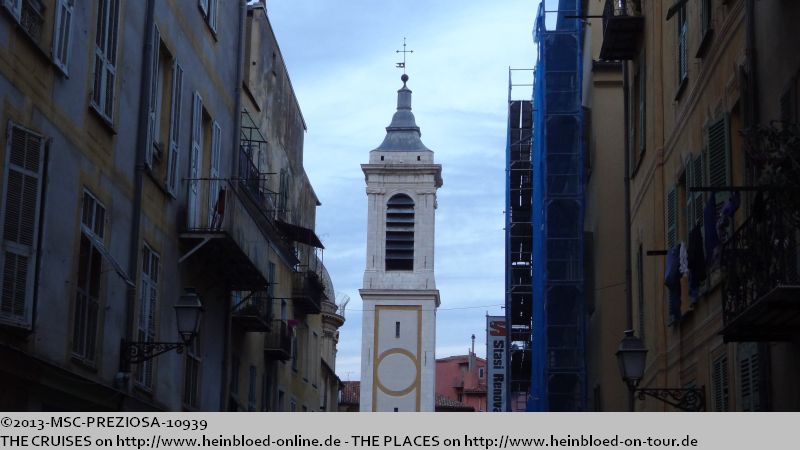 It was 07.15 hrs and there was already a queue in front of the butcher. Unbelievable.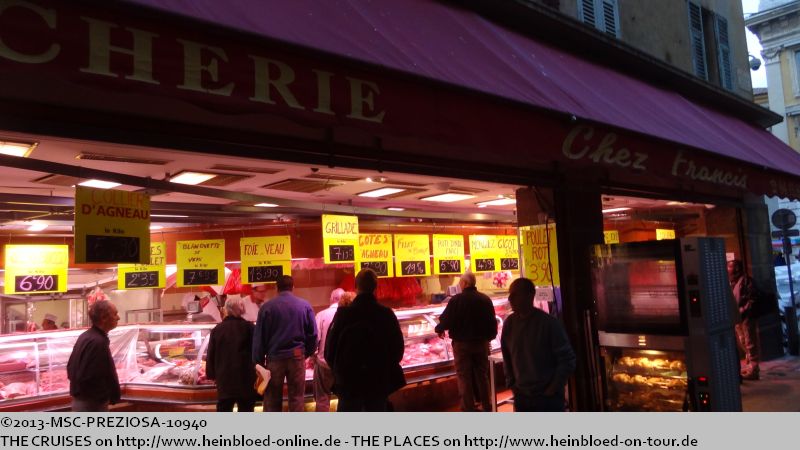 Beim Metzger stehen die Leute um 07.15 Uhr schon an. Unglaublich.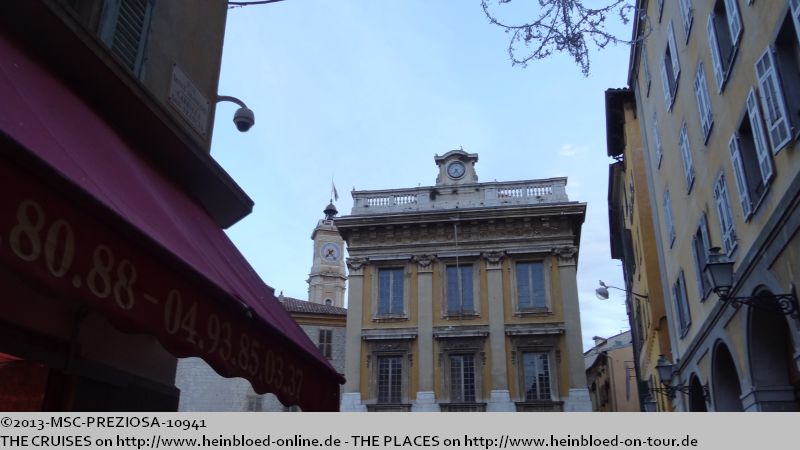 At Place Saint Francois the fish market was set up.

Am
Place Saint Francois
wird der Fischmarkt aufgebaut.
Aber Selma interessiert sich nicht dafür...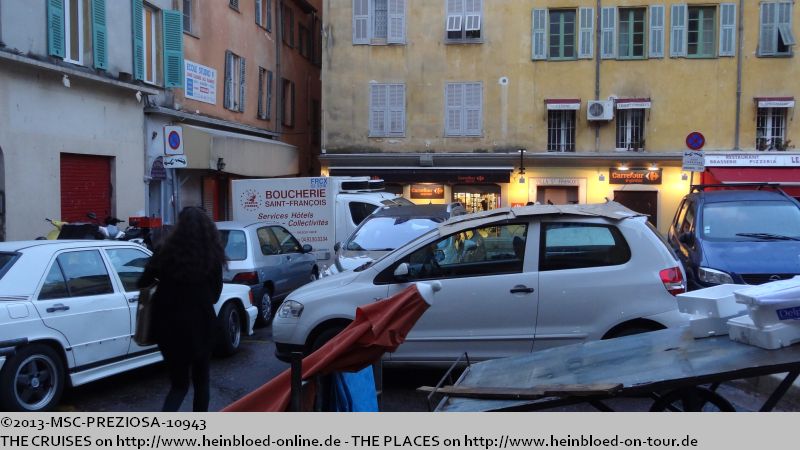 But Selma was not very much interested to see...

She was only interested to see the Carrefour express because she the conditioner (or whatever) was more important but the fish market. But they were not open yet. They explained to her where to buy an Burqa to make sure that they must not need to walk around with this kind of open hairs.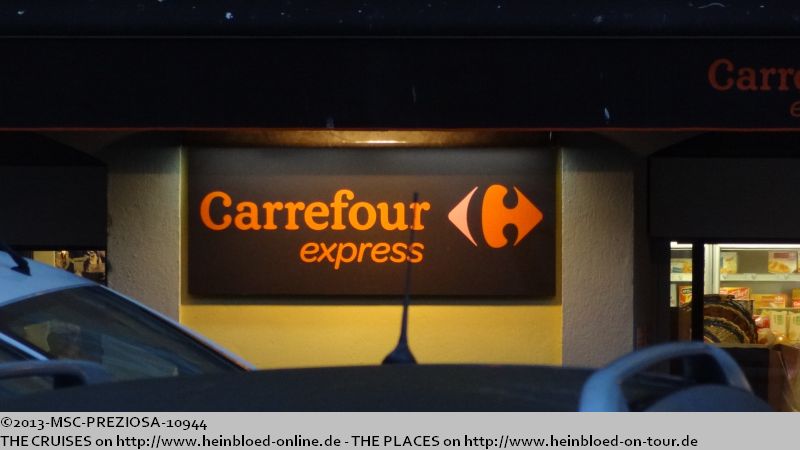 Ihr Interesse gilt nur dem Carrefour express, weil ja nun ein Haarfestiger (oder was auch immer) wichtiger ist, als der Fischmarkt. Leider hat dieser noch nicht geöffnet. Sie haben ihr wohl erklärt, in welchem Geschäft man wohl eine
Burka
kaufen kann, damit sie nicht mehr mit diesen offenen Haaren so rumlaufen muss.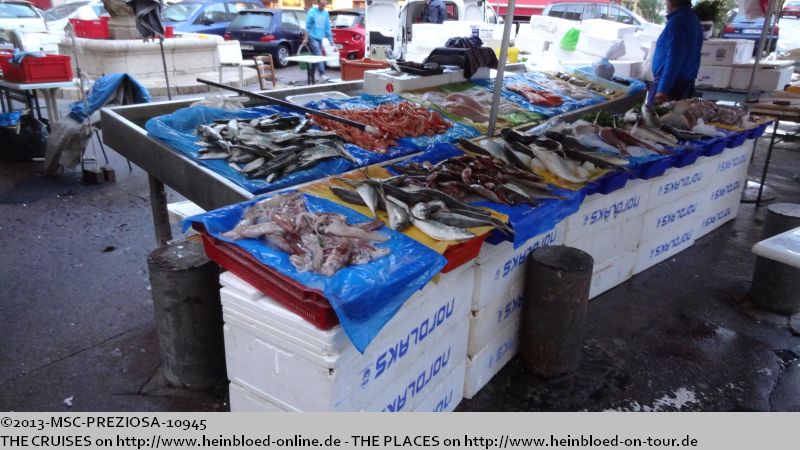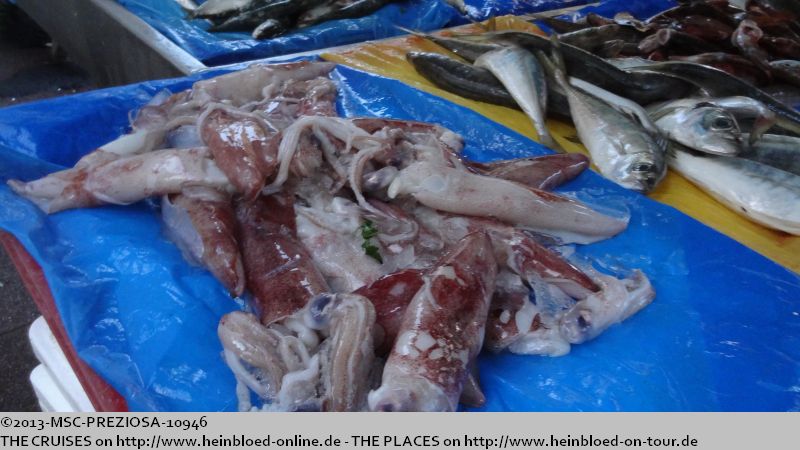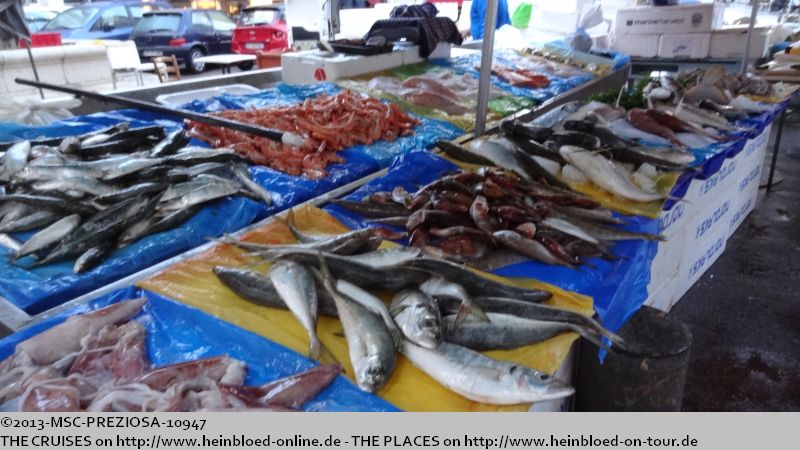 Now a freshly prepare Tuna Tartare...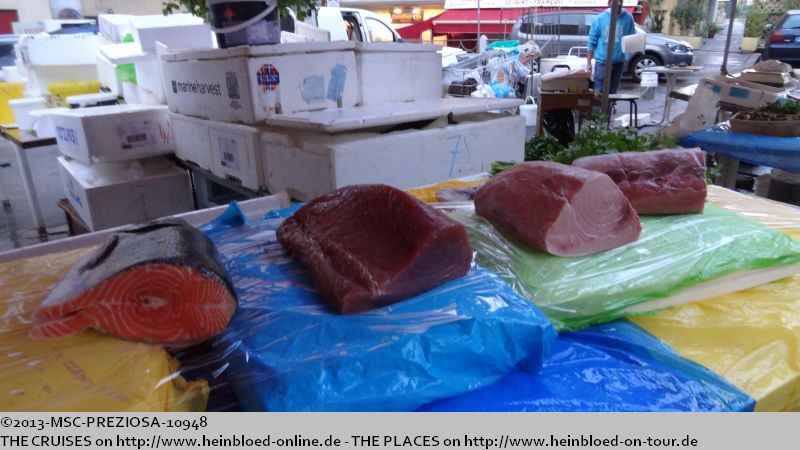 Jetzt ein frisches Thunfischtartar...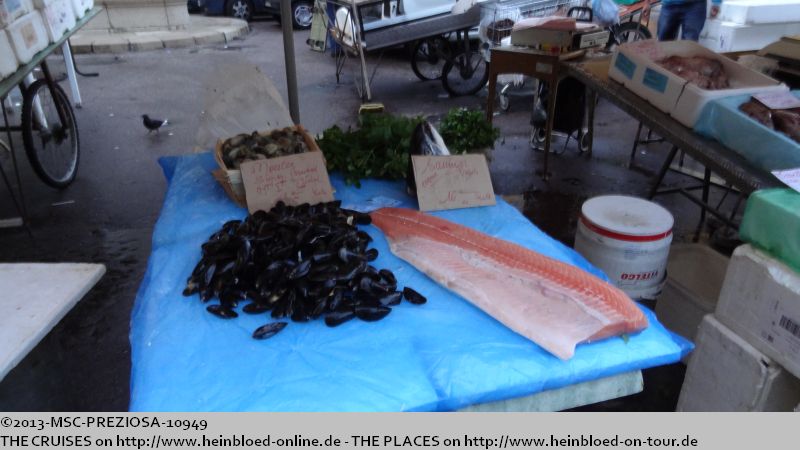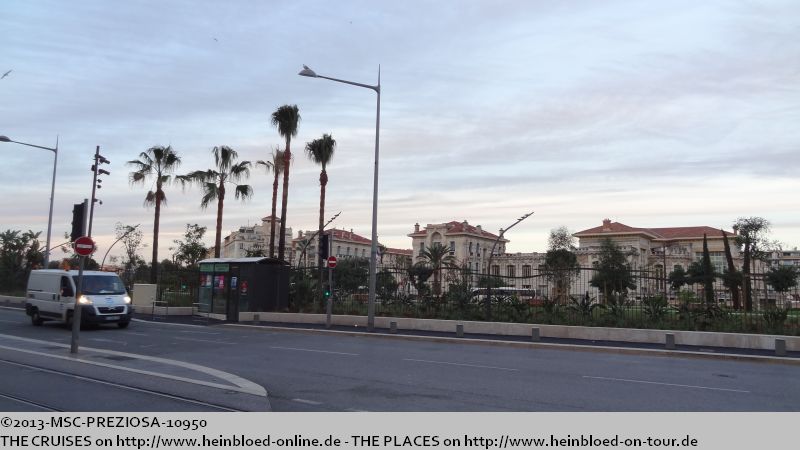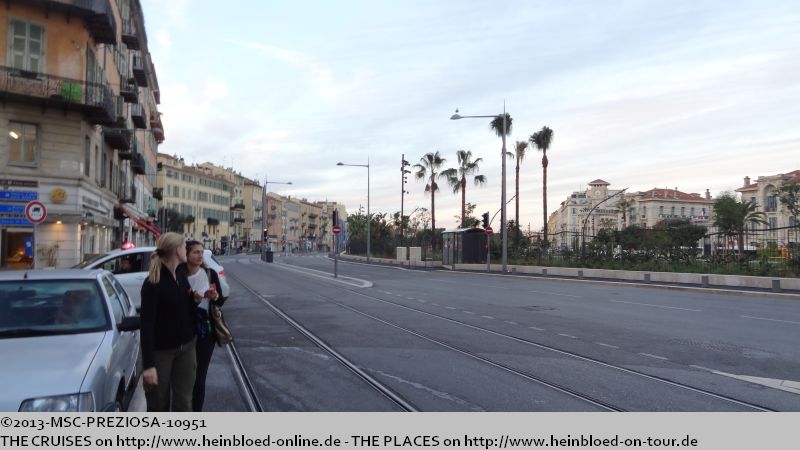 When we arrived the park was still closed.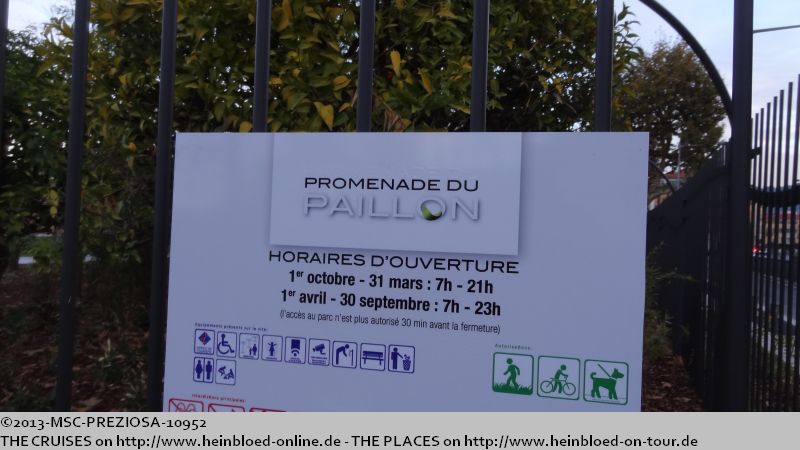 Als wir kamen war der Park noch geschlossen.
Nun fahren sie schon mit ihren Segways Streife.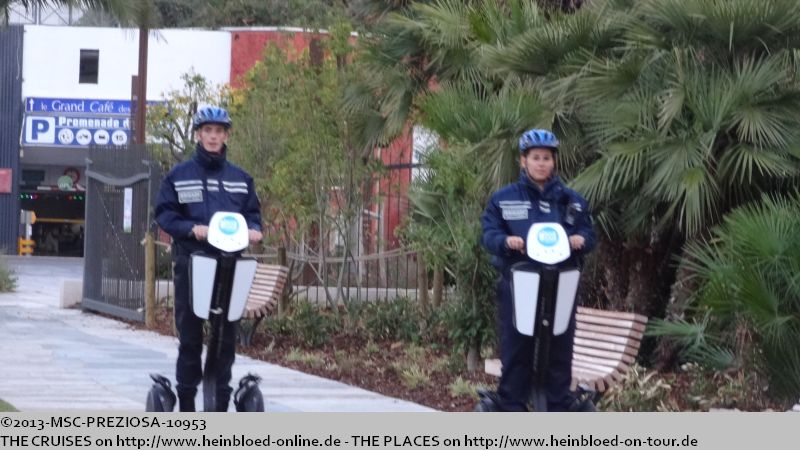 Now they came on segways to guard the park.

Promptly we missed the bus back to the airport. The next day they had a marathon from Nice to Cannes. In Nice, everything was already set up for a start. So I only saw how the bus passed us and I called a taxi.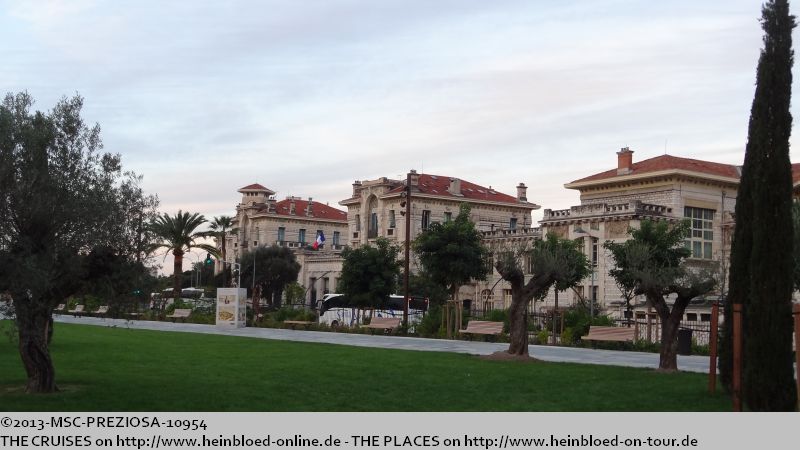 Prompt haben wir den Bus zum Flughafen verpasst. Am nächsten Tag gibt es einen Marathon von Nizza nach Cannes. In Nizza ist bereits alles für den Start aufgebaut. So sehe ich bloß wie der Bus an uns vorbeifährt und ich rufe ein Taxi.
Am Taxistand, an dem wir warten, ist eine Drogerie. Auch sie öffnet erst um 09.00 Uhr. Das Personal zeigt auch kein Mitleid für Selmas Haarprobleme und lässt sie verzweifelt draußen stehen.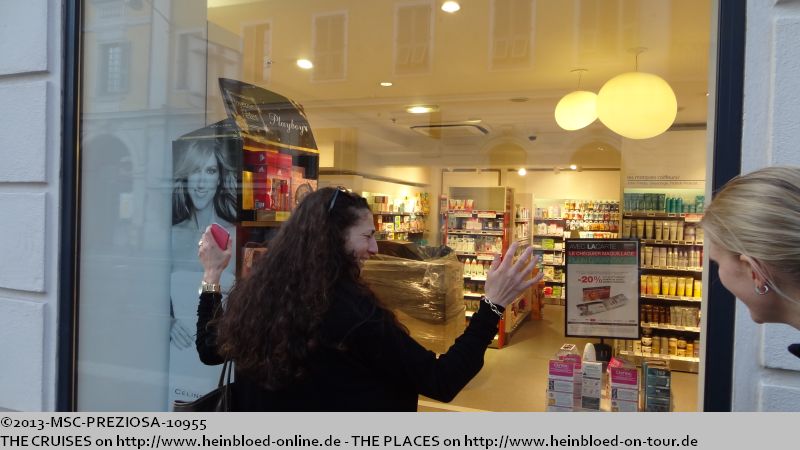 At the taxi rank where we had to wait for our taxi there was a drugstore. But also it would open at 09.00 hrs. The staff members who were already working inside had no pity for Selma's hairy problems and kept her very desperate outside.

Looked beautiful and exciting: "La Tête carrée" - The Square Head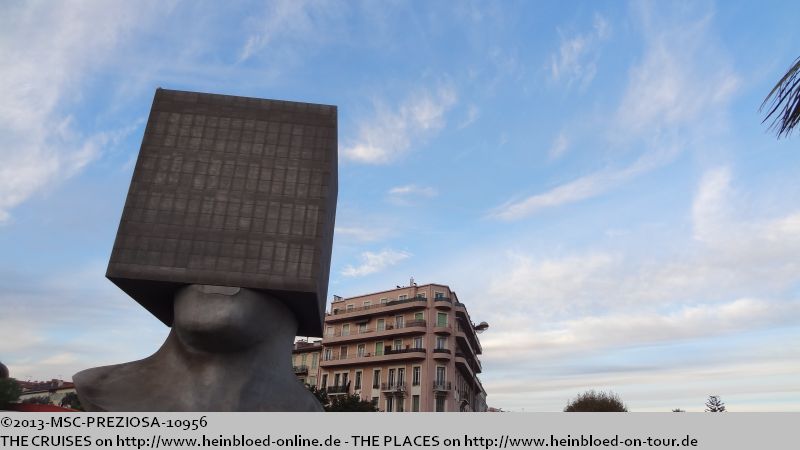 Sieht nett und interessant aus: "La Tête carrée" - Der Quadratkopf.
Die anderen Reisen in diesem Blog/
The other voyages in this blog: