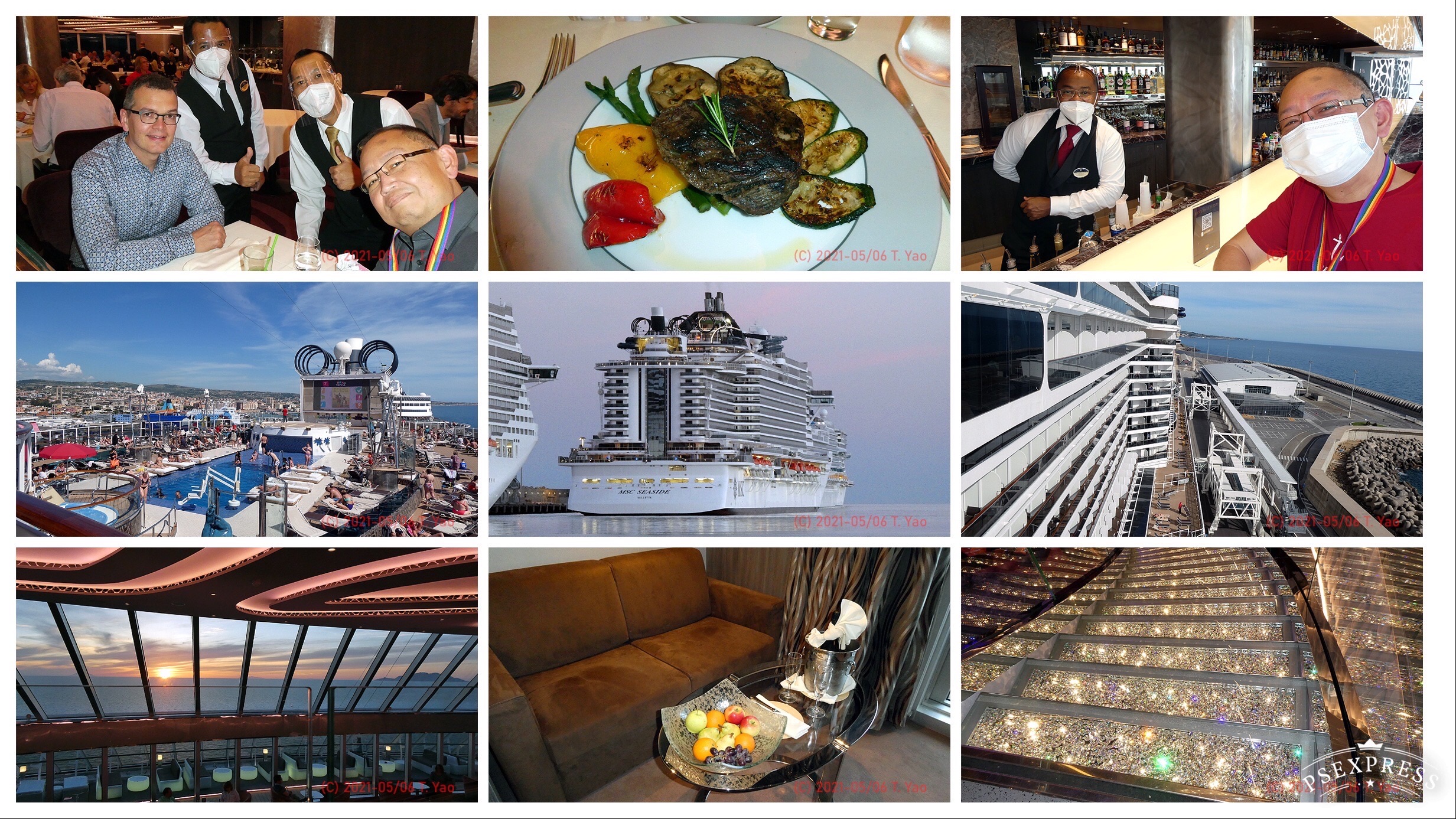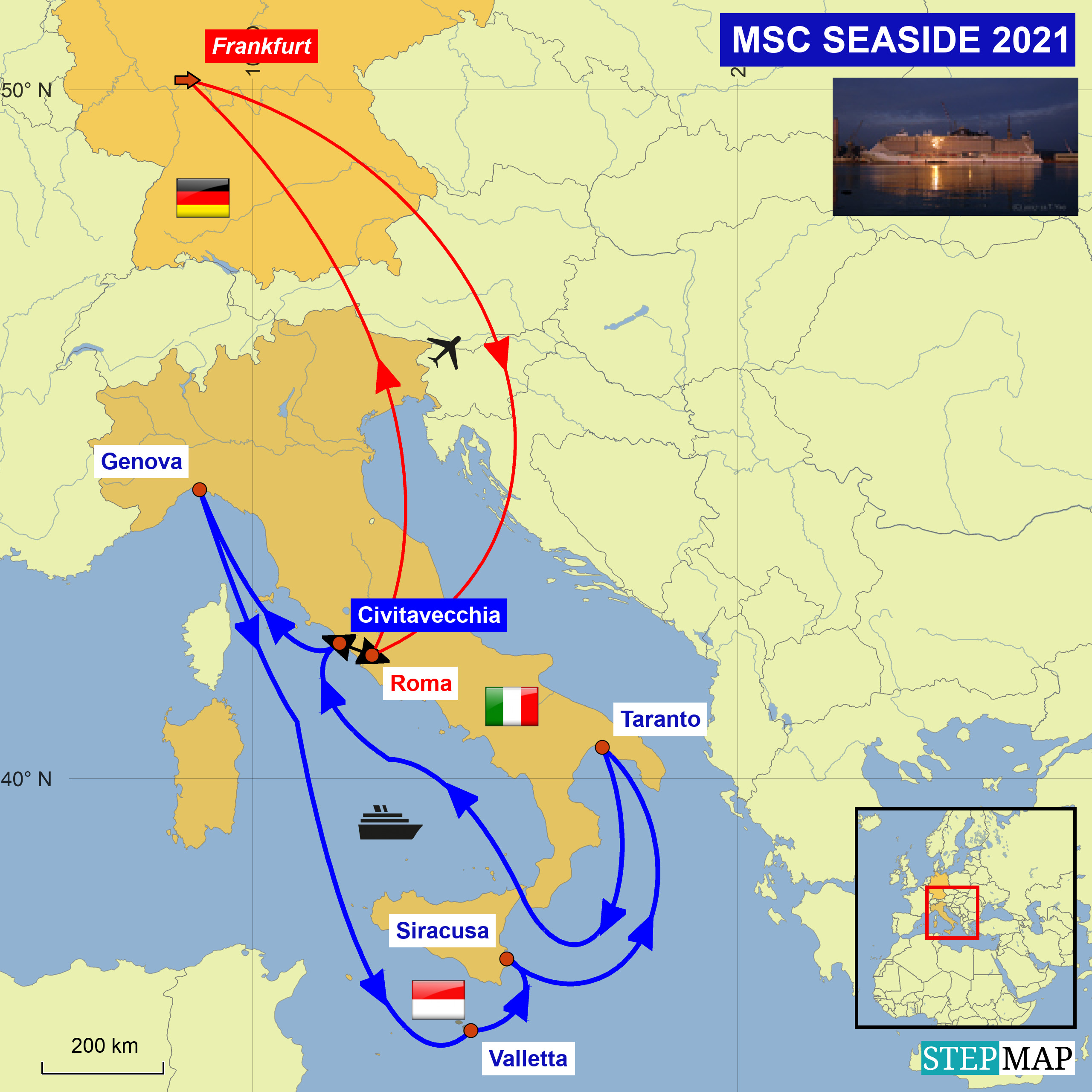 Der seitliche Hafenzugang an der
Festung Michelangelo
öffnet erst um 06:00 Uhr. Der Wachmann meinte aber zu mir, dass ich einfach mal oben weitergehen soll. So laufe ich über den Seiteneingang über die Treppe mit vielen Hundenhaltern ein, die hier mit ihren Hunden Gassi gehen. So kann ich schöne Aufnahmen von der
MSC FANTASIA 2009
machen.

The side entrance to the port of the Michelangelo Fortress does not open until 06:00 hrs. The security guard told me that I should just go on upstairs. So I walk in through the side entrance over the stairs. Many dog owners walk with their dogs here too. So I can take nice pictures of the MSC FANTASIA 2009.

Now I am getting close to the COSTA FORTUNA.

Jetzt komme ich auch nahe an die COSTA FORTUNA.
Ein paar neue Bilder von der CANIVAL VALOR.

I take a few new pictures from the CARNIVAL VALOR.

And of COSTA PACIFICA.

Und von der COSTA PACIFICA.
Ich schaue MEINER MSC SEASIDE zu, wie sie einläuft, wendet und am neuen Americo-Vespucci-Terminal anlegt.

I watch MY MSC SEASIDE come in, turn around and dock at the new Americo Vespucci Terminal.

Very annoying later: the captain deserves a ticket for driving too fast. Because there are no individual excursion guests, the captain casts off around 90 minutes before the scheduled departure. Since there are no announcements in the cabin or on TV, I do not notice that we are leaving later. That's why I, unfortunately, don't get any nice pictures of P PRINCESS (AZAMARA ONWARD / PACIFIC PRINCESS).

Sehr ärgerlich später: der Kapitän verdient einen Strafzettel für zu schnelles Fahren. Weil es ja keine individuellen Ausflugsgäste gibt, legt der Kapitän rund 90 Minuten vor geplanter Abfahrt ab. Da es keine Ansagen in der Kabine gibt und auch nicht im Fernsehen, bekomme ich gar nicht mit, dass wir später abfahren. Daher bekomme ich leider keine schöne Aufnahmen der P PRINCESS (AZAMARA ONWARD / PACIFIC PRINCESS).
Gleiches gilt für die COSTA FIRENZE.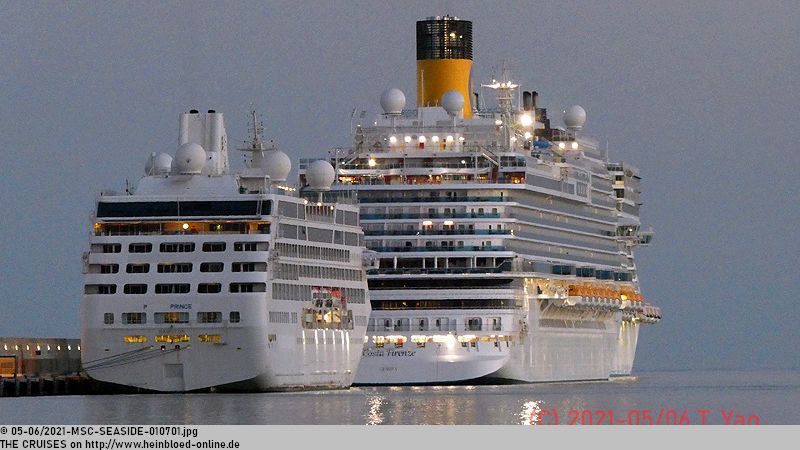 The same applies to COSTA FIRENZE.

Unfortunately, the ship sails so calmly and quietly: you do not notice anything.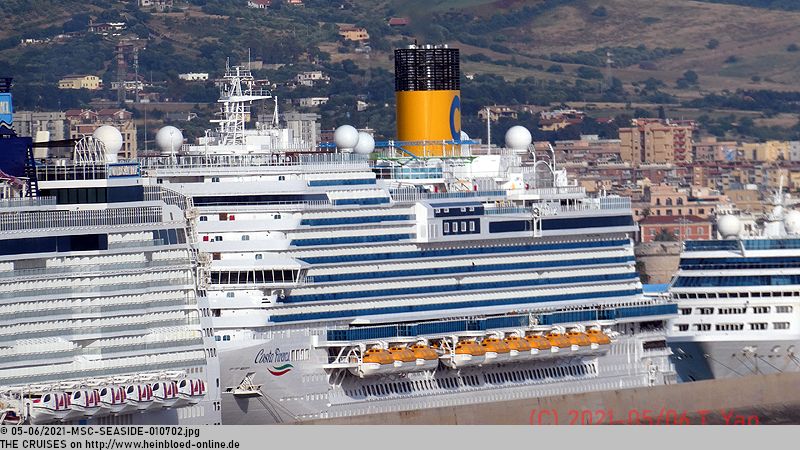 Leider fährt das Schiff so still und leise: man merkt nichts.
Zumindest bekomme ich sie noch von der anderen Seite.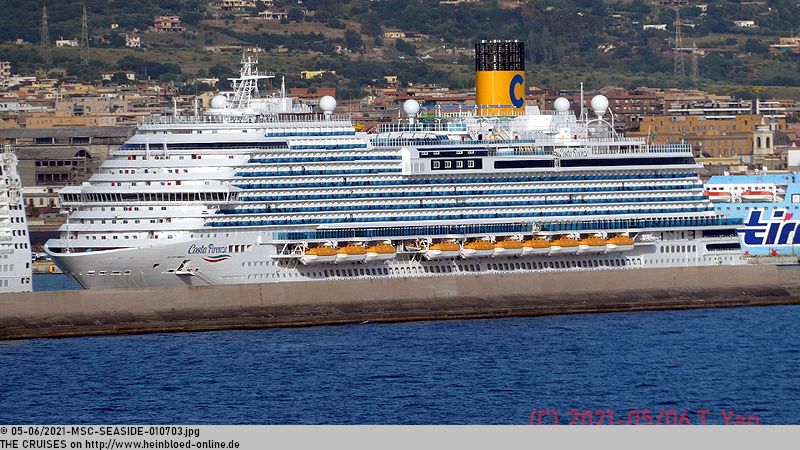 At least I can still get it from the other side.

When we come back a week later, there are unfortunately no new pictures because the COSTA FIRENZE is gone.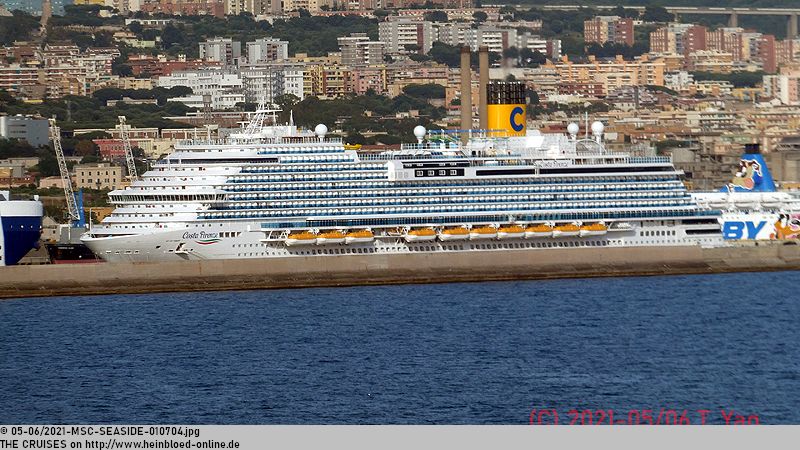 Als wir eine Woche später wieder einlaufen, gibt es leider keine neuen Bilder, weil die COSTA FIRENZE weg ist.
Noch ein Blick auf die
COSTA FAVOLOSA 2017
.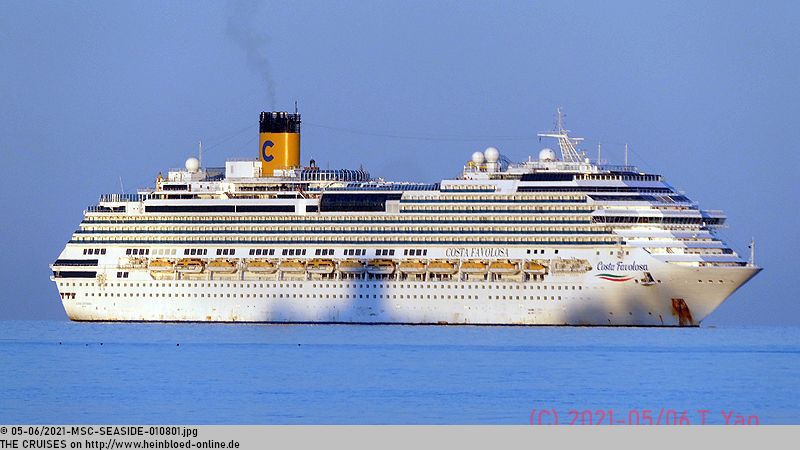 Another look at COSTA FAVOLOSA 2017.

She put herself in a good position so that I will remember her well.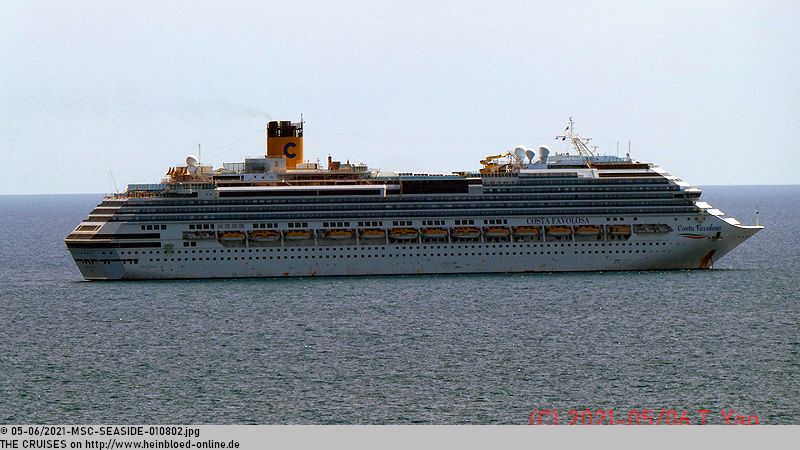 Sie hat sich in eine gute Position gebracht, damit ich mich gut an sie erinnere.
Schade, dass wir ausgerechnet in Richtung Norden fahren.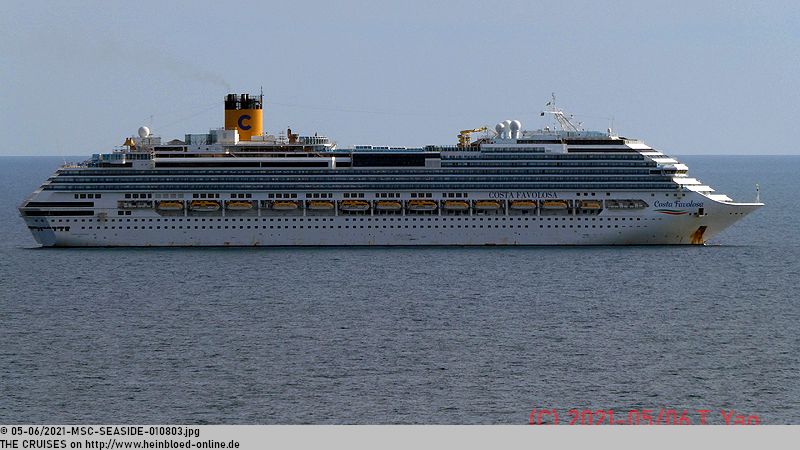 It is a shame we are heading North of all places.

So we move away from her quickly.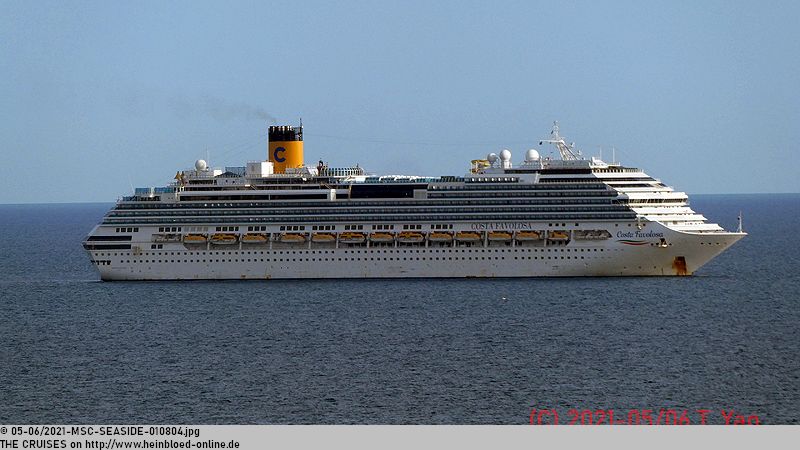 So entfernen wir uns rasch von ihr.
Mal sehen, ob sie immer noch ist, wenn wir in einer Woche wieder zurück sind.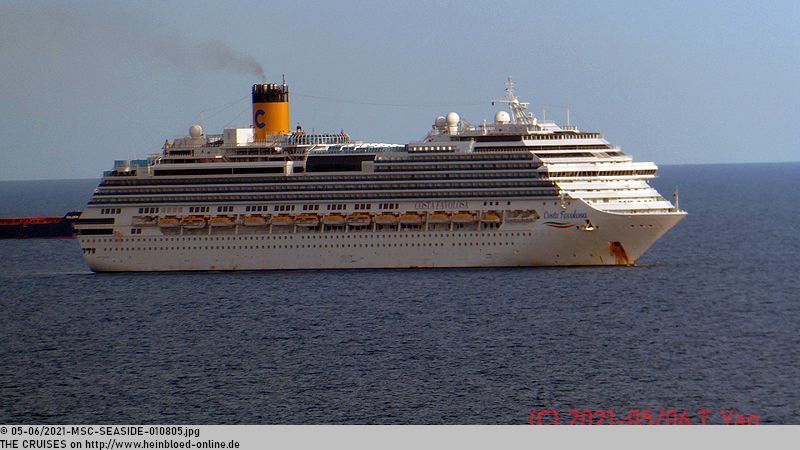 Let us see if it is still there when we get back in a week.

So far, I have only ever seen one part of her: SEVEN SEAS SPLENDOR.

Bisher konnte ich immer nur ein Stück von ihr sehen: SEVEN SEAS SPLENDOR.
Und noch die NORWEGIAN EPIC, die wir von zwei Reisen kennen:
NORWEGIAN EPIC 2010
waren wir Gäste der NCL und nochmals war ich mit einigen meiner Mitarbeiterinnnen unterwegs: Hannover - Paris - Marseille -
NORWEGIAN EPIC 2012
- Barcelona - Hannover an einem Wochenende!

And the NORWEGIAN EPIC, which we know from two trips: NORWEGIAN EPIC 2010 we were guests of the NCL and again I was on the road with some of my employees: Hanover, Germany - Paris, France - Marseille, France - NORWEGIAN EPIC 2012 - Barcelona, Spain - Hanover, Germany in one weekend!

In the morning, I am at the Michelangelo Fortress.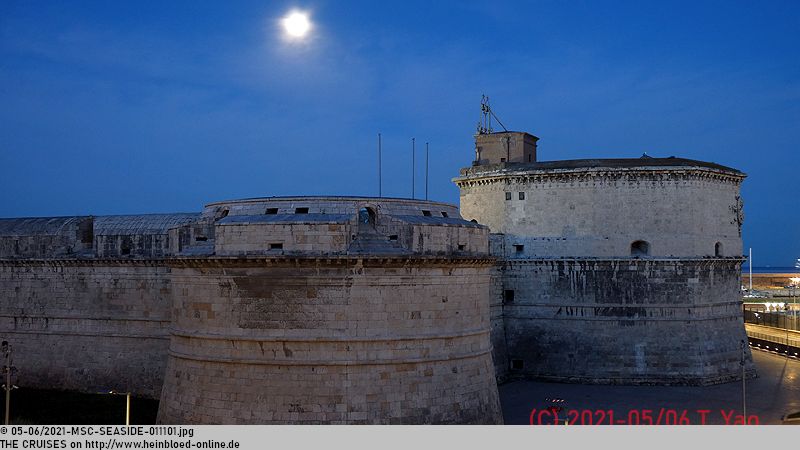 Morgens an der
Festung Michelangelo
.
Später der Abschied von Civitavecchia für eine Woche.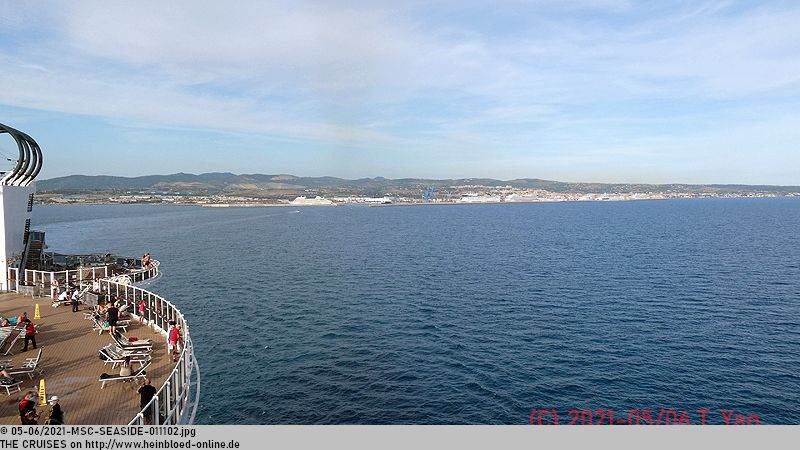 Later I said goodbye to Civitavecchia, Italy, for a week.

It goes back to the hotel for breakfast. I am trying my hand at a chocolate croissant.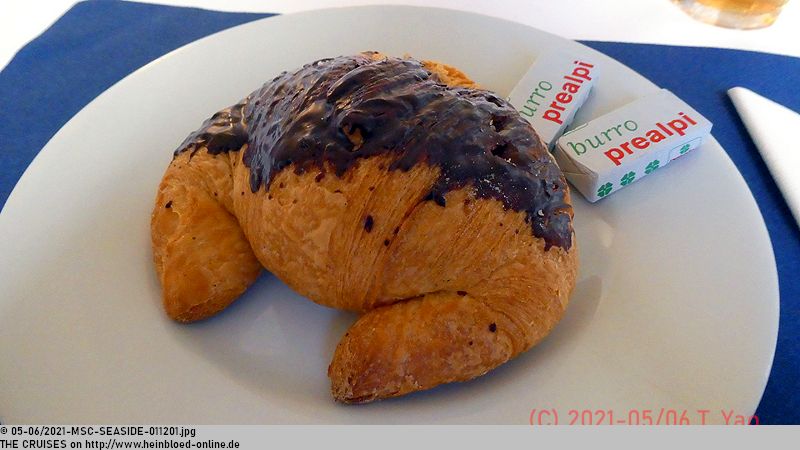 Es geht zum Frühstück zurück ins Hotel. Ich versuche mich an einem Schokoladencroissant.
Bruno bekommt sofort seinen Cappuccino aus der Baristamaschine.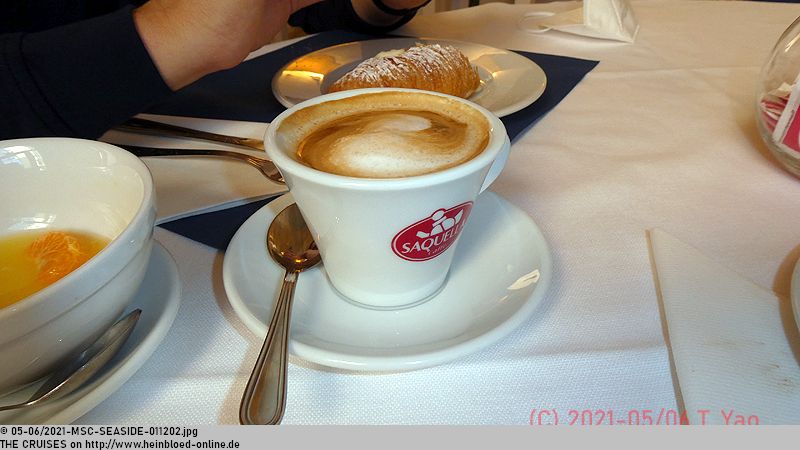 Bruno immediately gets a cappuccino from the barista machine.

So for him, the world is all right.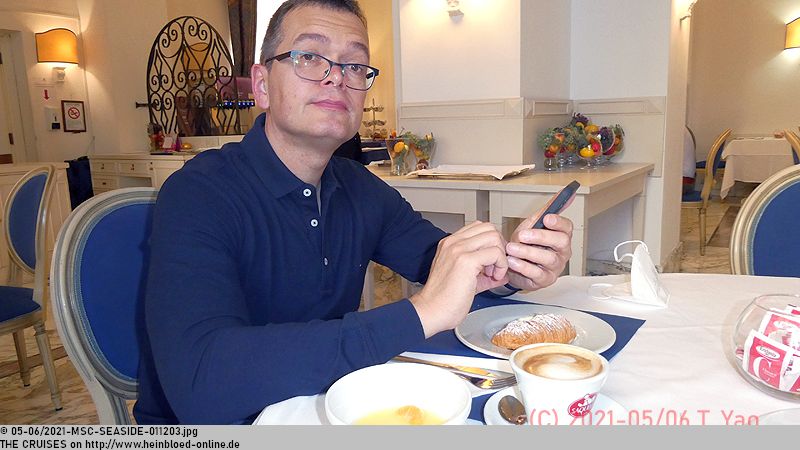 Für ihn ist die Welt daher in Ordnung.
Es gibt das Frühstück von gestern.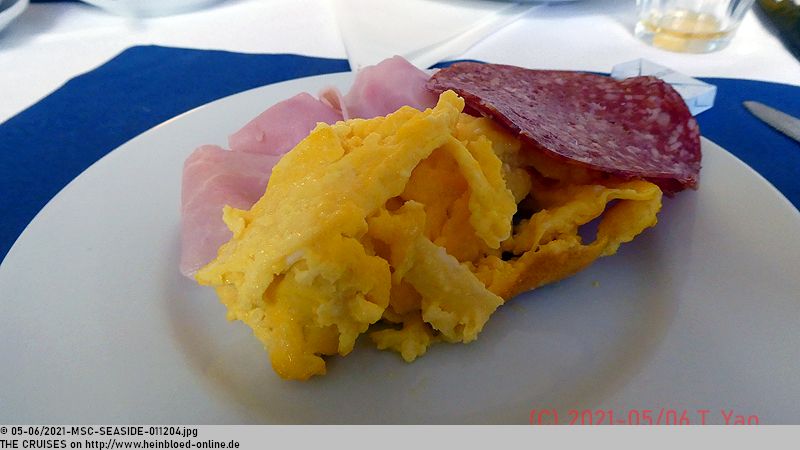 There is yesterday's breakfast.

By chance, I discover prepared ham and cheese sandwiches. But unfortunately, there are no toasted aromas when warming up.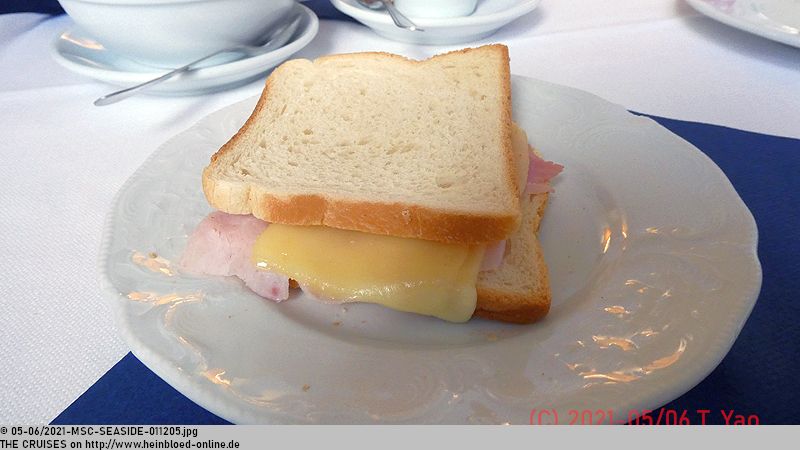 Zufällig entdecke ich vorbereitete Käse-Schinken-Sandwiches. Aber leider entstehen beim Warmmachen keine Röstaromen.
Wir überbrücken die Zeit, bis dass unser Taxi kommt. Uber ist in Civitavecchia nicht verfügbar. Für 11:30 Uhr haben wir es bestellt. Es wird nach Taximeter abgerechnet. Bis zum Americo-Vespucci-Terminal sind es knapp 20 EUR (4 km = 8 Minuten - Wir haben für die vergleichbare Strecke in Rom dur die Hälfte bezahlt!). Wir wollen nicht zu spät aus dem Hotel, da wir bis 11:00 Uhr auschecken müssen und nicht zu früh am Kreuzfahrtterminal sein, weil wir erst ab 12:20 Uhr einchecken sollen. Wir gehen Kaffee trinken. Und zufällig entdecken wir in einer Apotheke so Plastikschienen für Masken. So sitzen sie nicht ganz so fest im Gesicht. Es ist nämlich draußen ganz schön warm und da tut es gut, wenn es nicht ganz so eng im Gesicht sitzt.

We bridge the time until our taxi arrives. Uber is not available in Civitavecchia. We ordered it for 11:30 hrs. The charge is according to the taximeter. It is just under 20 EUR to the Americo Vespucci Terminal (2 1/2 miles = 8 minutes - we paid half for the comparable route in Rome!). We do not want to leave the hotel too late because we have to check out by 11:00 hrs, and we do not want to be at the cruise terminal too early because we are supposed to check in from 12:20 hrs. So we are going to have a coffee. And by chance, we discover plastic rails for masks in a pharmacy. So they do not sit quite as firmly on the face. It is hot outside, and it is good if it's not so tight on your face.
Die anderen Reisen in diesem Blog/
The other voyages in this blog: