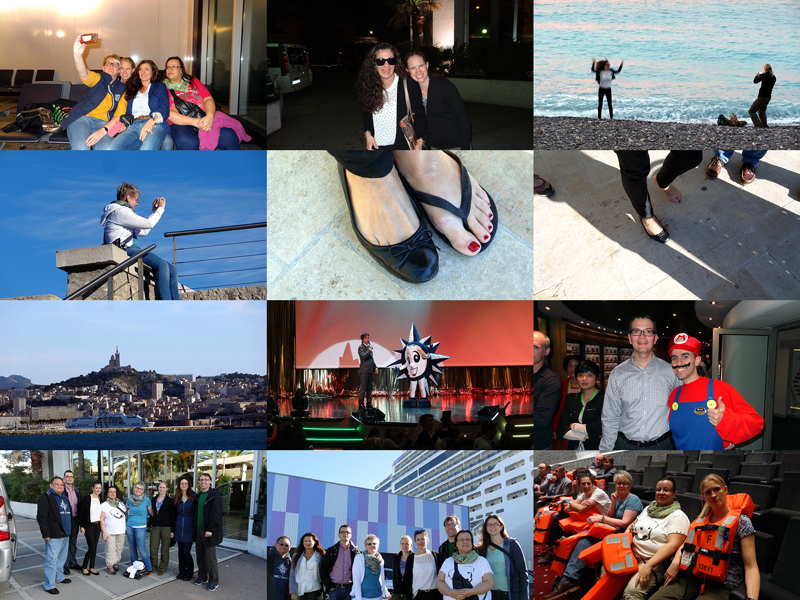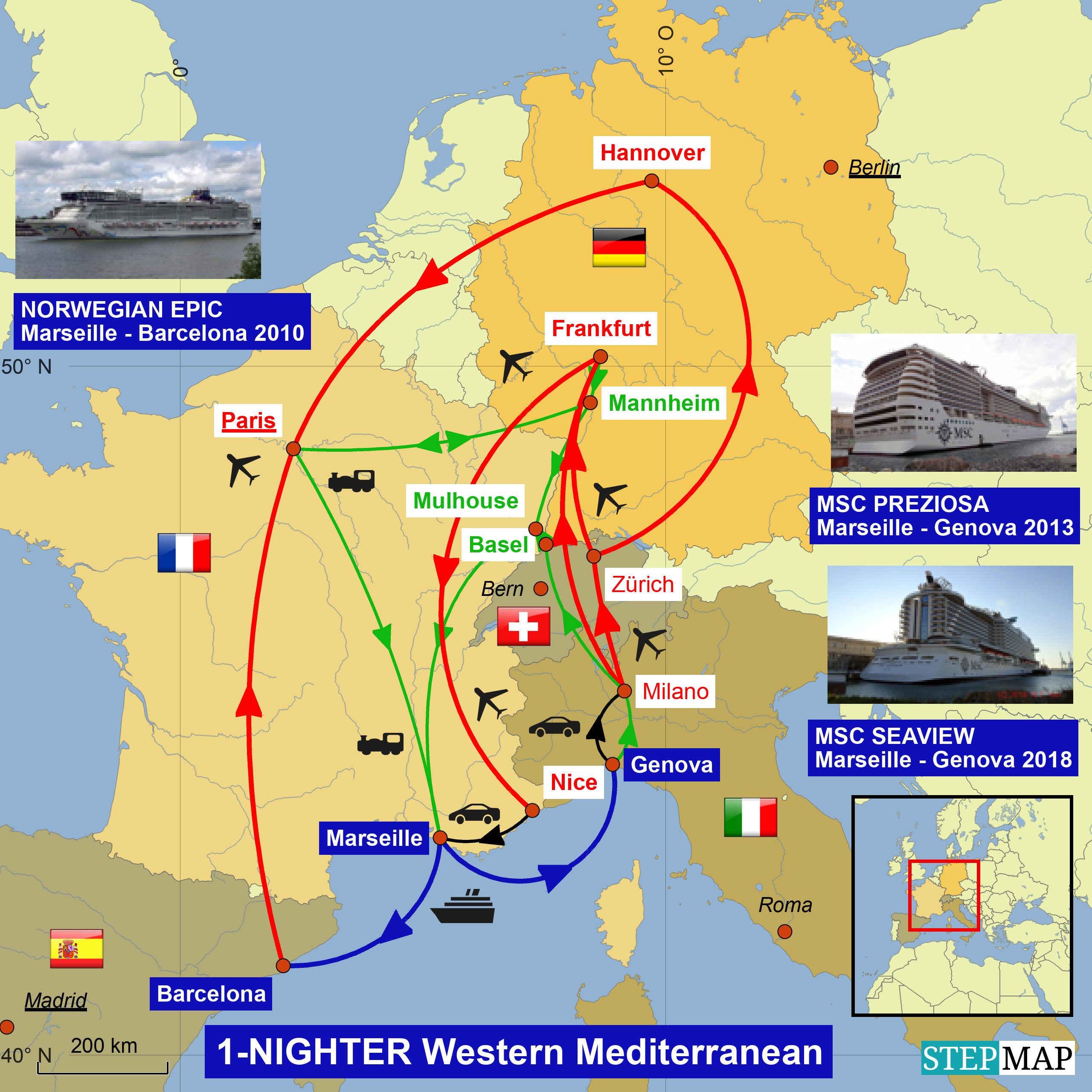 Willkommen am Marseille-Provence Cruise Center.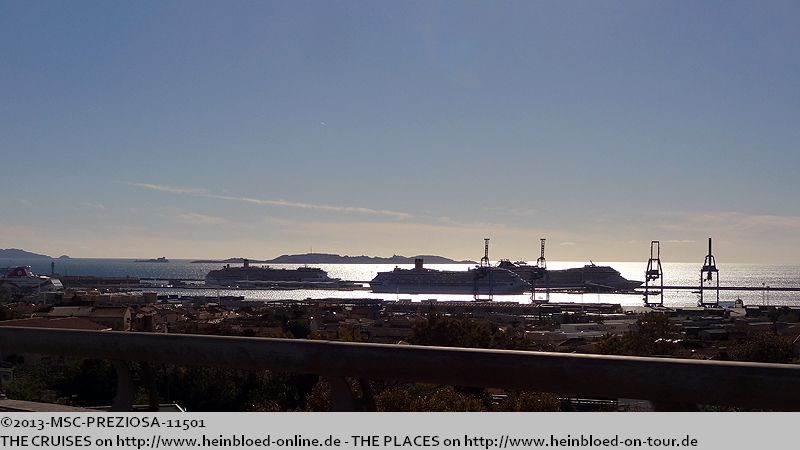 Welcome to Marseille-Provence Cruise Center.

As we did not take a shot together with Chantal, I took my tripod with me to be safe.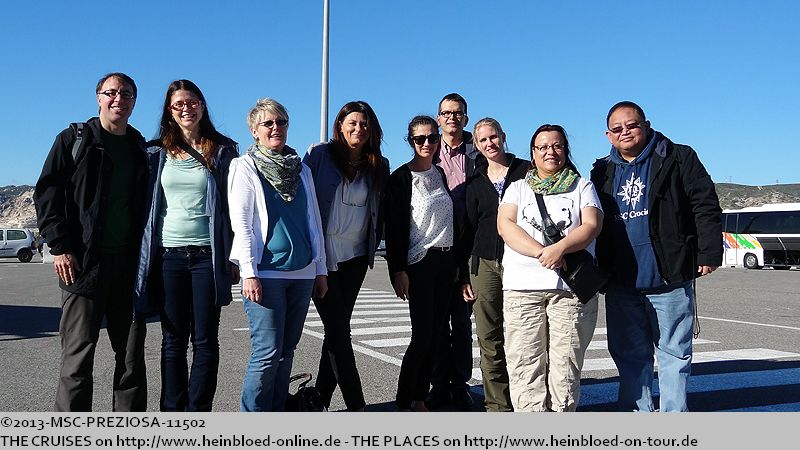 Da wir beim letzten Mal kein gemeinsames Bild mit Chantal hatten, bringe ich sicherheitshalber mein Stativ mit.
Leider gibt es kein Bild vor der MSC PREZIOSA, weil die Sonne einfach blöd steht.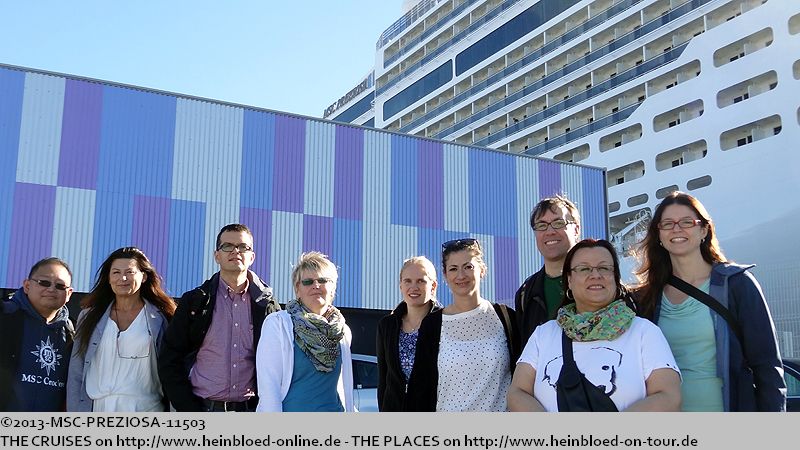 Unfortunately we had no picture with MSC PREZIOSA as the direction from the sun was not very good.

So we had to say good-bye from Chantal.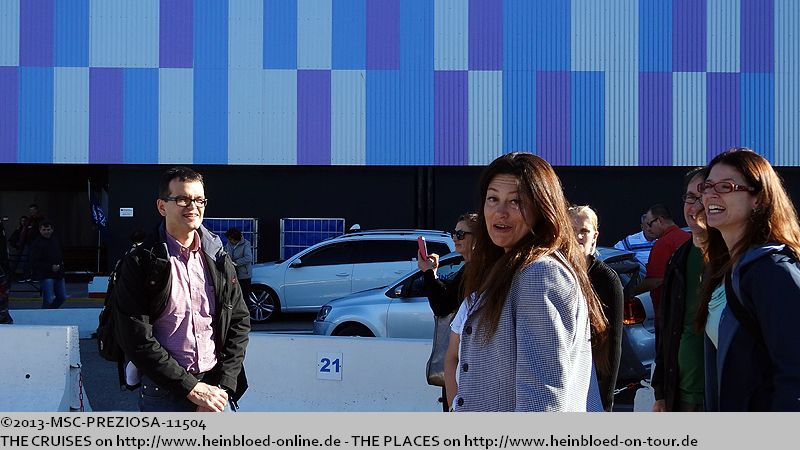 So verabschieden wir uns von Chantal.
Französisch mit Küsschen links und rechts.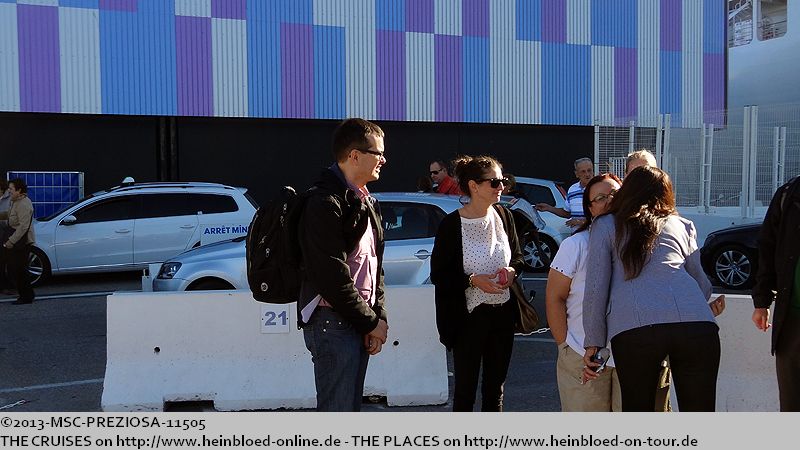 French way with kiss left and right.

It was a lot of fun again. See you next time in Marseille.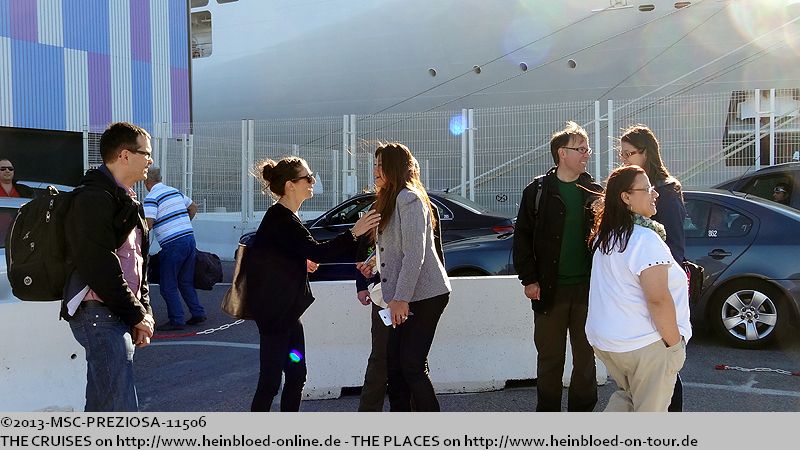 Es hat wieder Spaß gemacht. Bis zum nächsten Mal in Marseille.
Drinnen müssen wir unser Gepäck abgeben. Was ich lustig finde: andere, die mit Costa gebucht haben, lassen sich nicht abweisen und wollen partout hier ihr Gepäck aufgeben.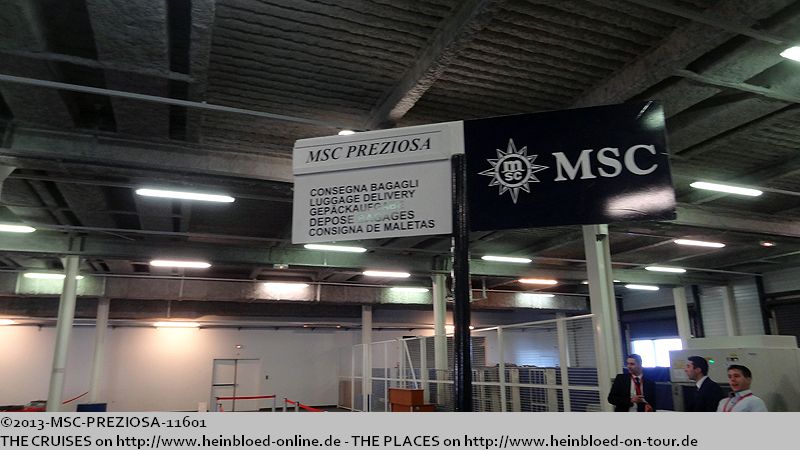 Inside we need to drop off our bags. It was somehow fun to see: other guests who booked on Costa did not like to be sent away and wanted to hand over their bags like us.

We got embarkation number 5.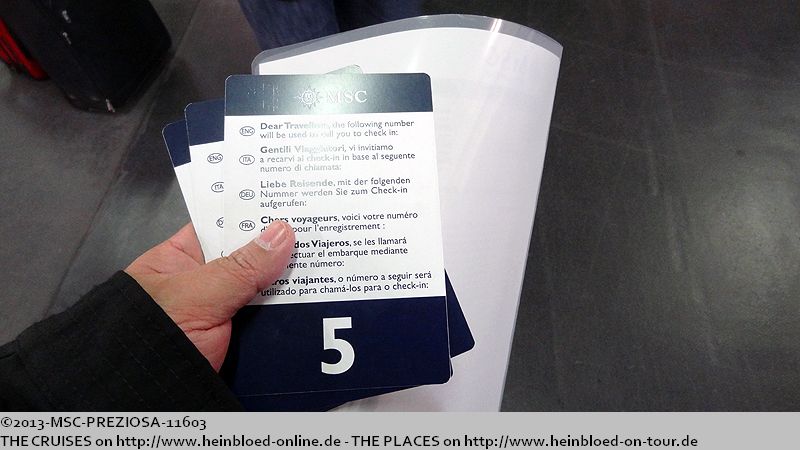 Wir bekommen alle Einschiffungsnummer 5.
Hier geht es auch zum Check-In.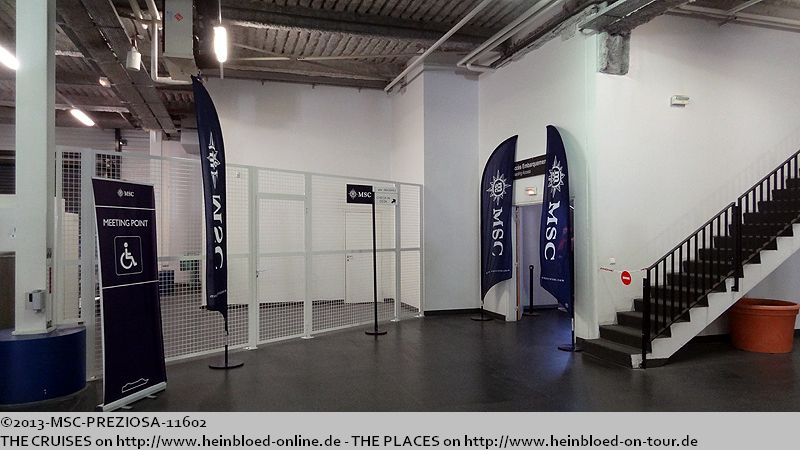 Here we had to follow for check-in.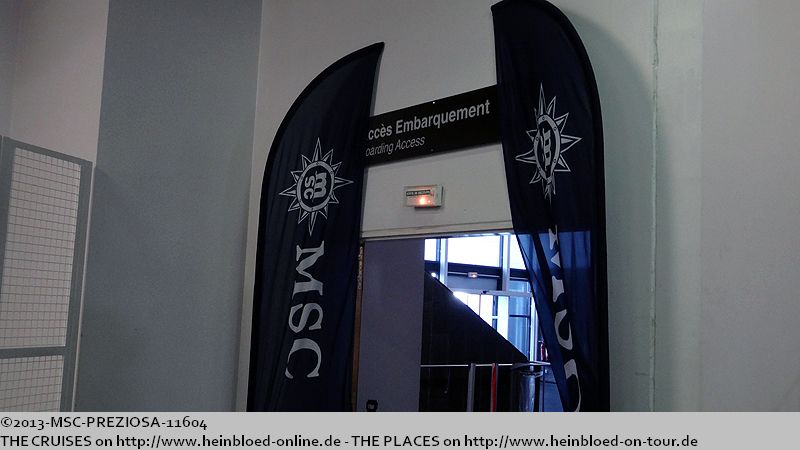 Oben auf der Rolltreppe werden wir schon freundlich begrüßt.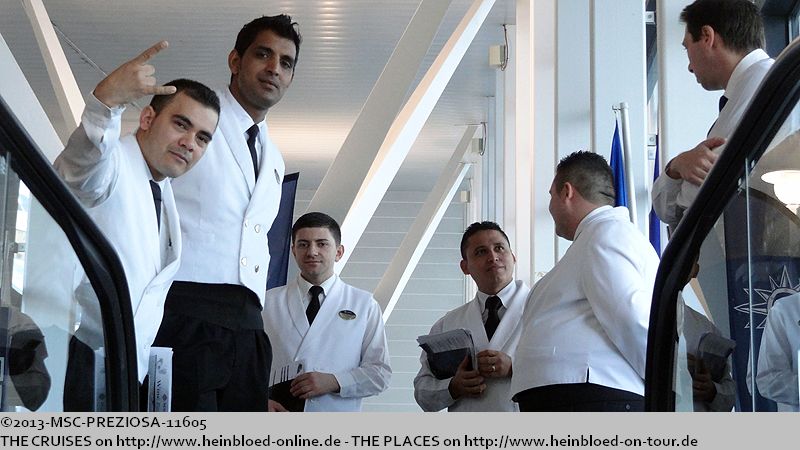 On the top of the escalator were were friendly welcomed.

So if I understood correctly the Communication Museum in Frankfurt, Germany, the waiter wanted to give me a phone call... I truly hope that Bruno has not seen it that I had a devotee. Just like Carly Rae Jepsen: "Hey, I just met you - and this is crazy - but here's my number - so call me, maybe?..."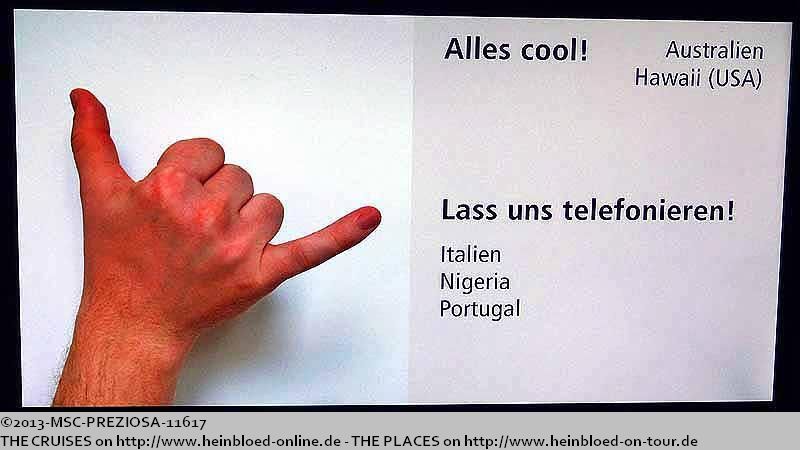 Also, wenn ich das im
Kommunikationsmuseum in Frankfurt
richtig verstanden habe, möchte der Kellner mit mir telefonieren... Hoffentlich hat das Bruno jetzt nicht gesehen, dass ich einen Verehrer habe... Frei nach
Carly Rae Jepsen: "Hey, I just met you - and this is crazy - but here's my number - so call me, maybe?
..."
Hier hätten wir noch die Getränkepakete buchen können, aber hier kommen noch 15% drauf, die bei Vorausbuchung nicht drauf kommen.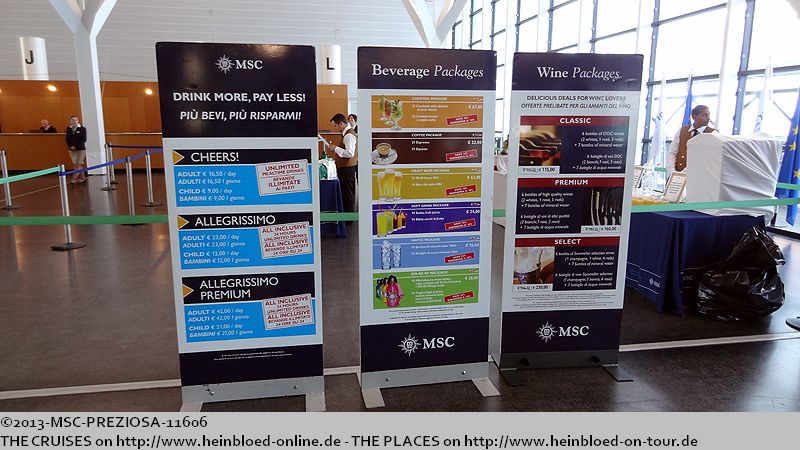 Here we could still book our beverage packages but if we would like they would add 15% on top which you must not pay if you pre-book.

We got the safety instructions to read.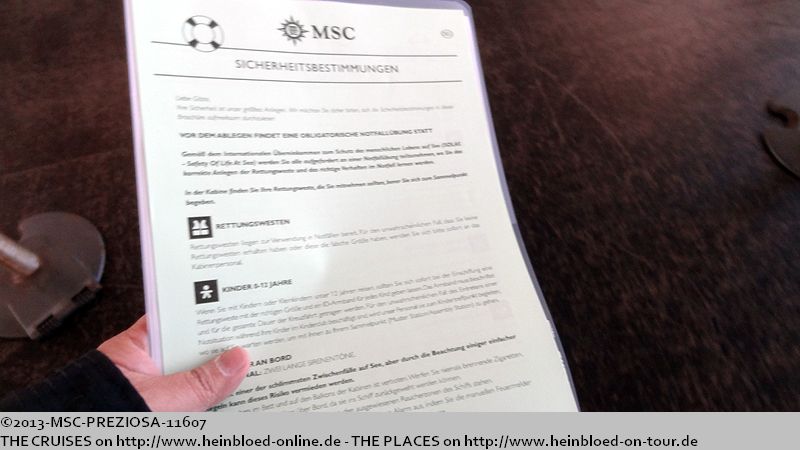 Wir bekommen die Sicherheitsbestimmungen mit, die wir durchlesen sollen.
Und die Kreditkarten lassen wir bereits einzeln registrieren, um später besser tauschen zu können. Die "431" bedeuten, dass wir das
Getränkepaket Allegrissimo
(23,00 EUR pro Nacht / 2013) gebucht haben. Alle haben Tisch 825 in Le Arabesque Hauptrestaurant. Was ich allerdings nicht mag: dass meine Kabinennummer auf der Karte steht: jeder der die Karte findet, kann in meine Kabine.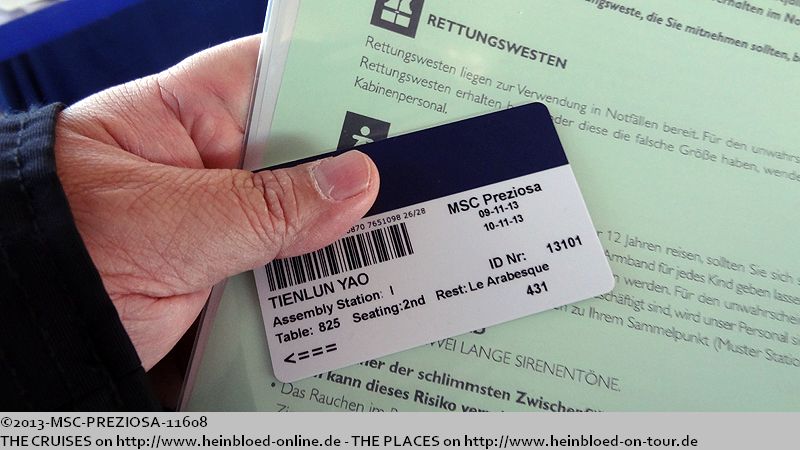 We let them register our credit cards passenger by passenger - so exchanging the cards would be much easier later. The "431" means that we booked the beverage package Allegrissimo (23.00 EUR per night / 2013). All of us had table 825 in Le Arabesque Main Dining Room. What I did not like too much: my cabin number was on the card: everyone who find the card has access to my cabin.

We also got something to drink before we get on board.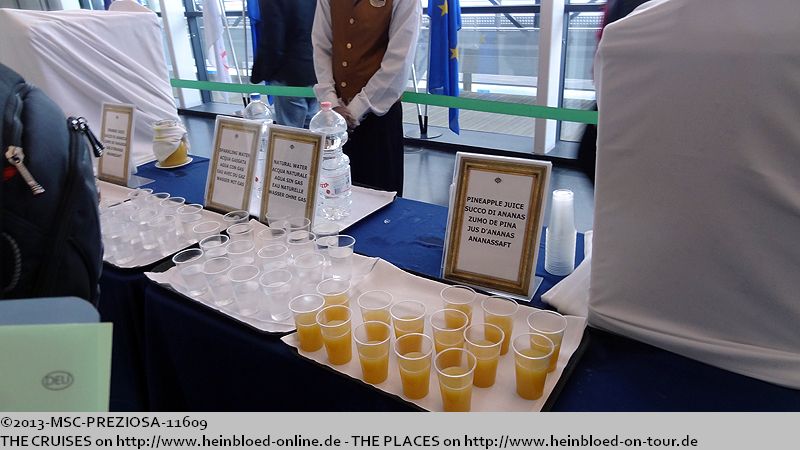 Wir bekommen auch etwas zu trinken bevor es an Bord geht.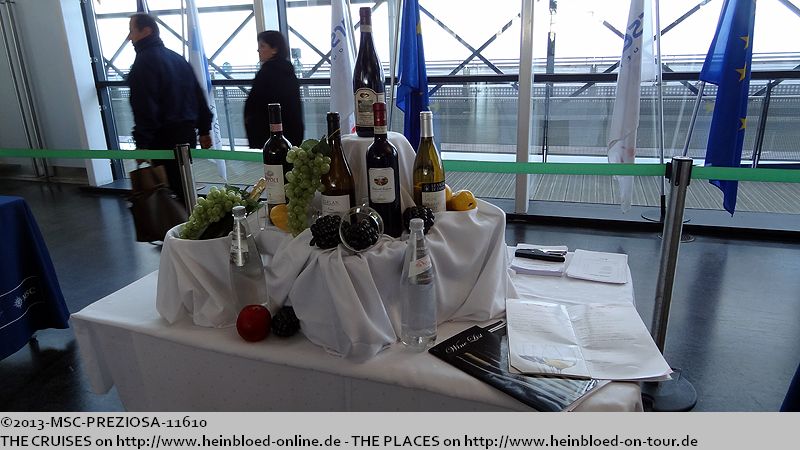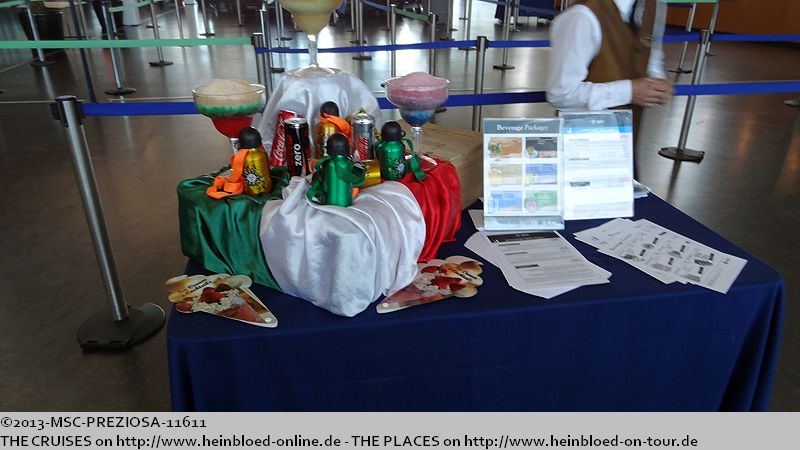 Ausflüge buchen wir nicht. Hier gibt es nur welche für Gäste, die mit nach Brasilien fahren.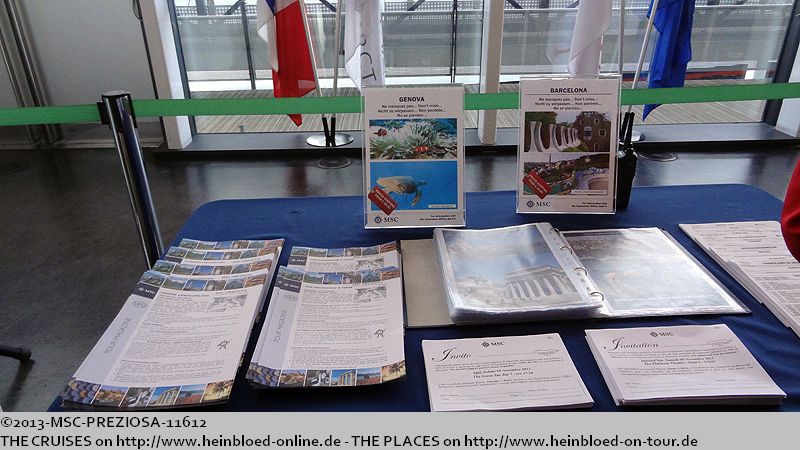 We had no need to book excursions. Here they had only some for guests in transit to Brasil.

For using the Spa, we had no interest either.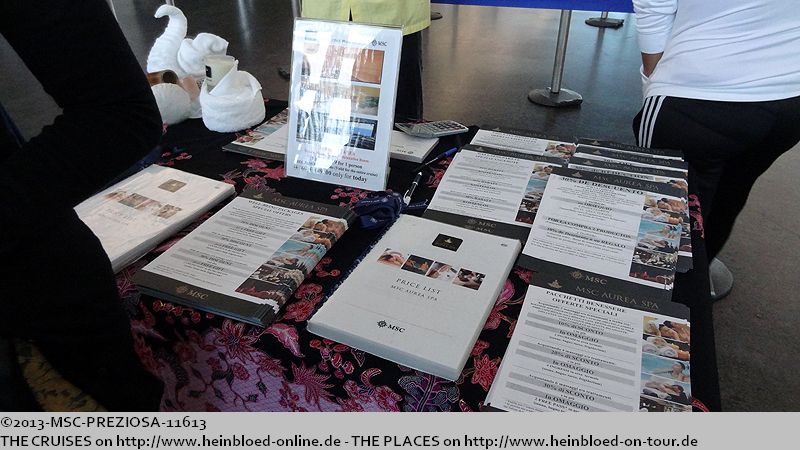 Für das Spa besteht ebenfalls kein Interesse.
Und bald geht es schon an Bord.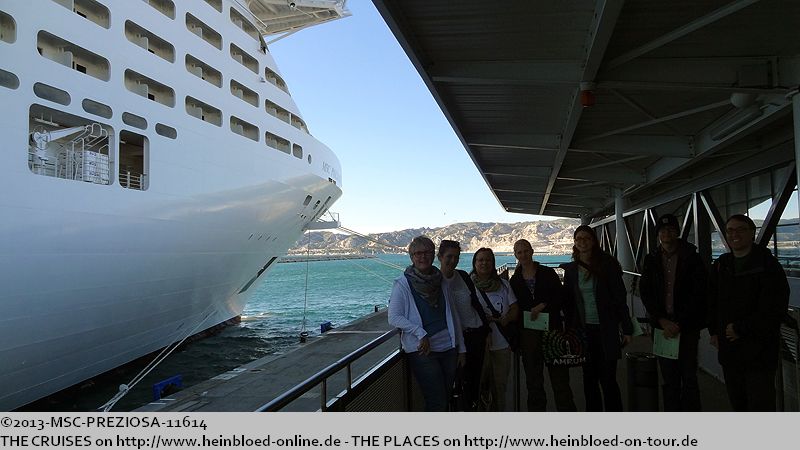 And soon we went towards the ship.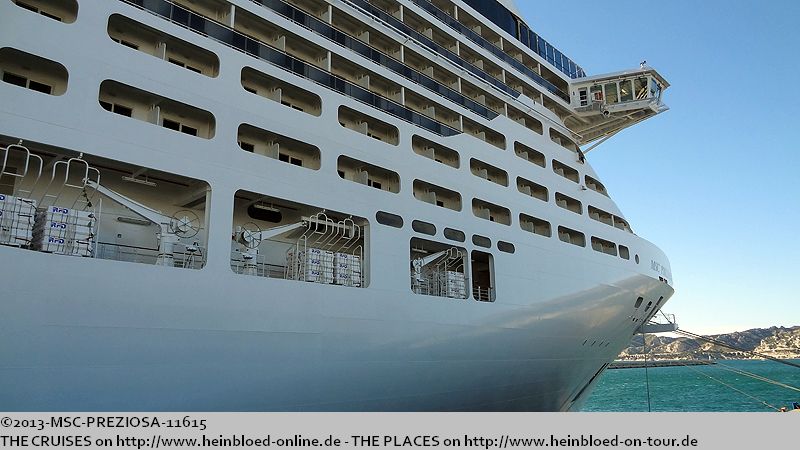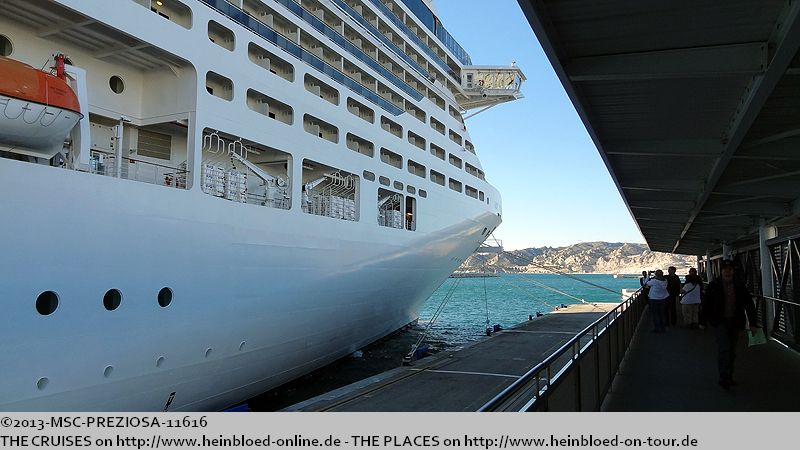 Small problem: there was no programme in German for embarking guests but only for debarking guests and transit guests. So we read in the English version "informal" but in the German version "elegant". At the same time, we let them swap the cards from Hanna and Bruno because Hanna's husband disliked the idea to share a double bed with Hanna. But Bruno disliked it too. As all credit cards were registered passenger by passenger, it was not any problem. Only Rosa need to see the purser. As she did not carry her credit card with her, she needs to place a deposit of 30.00 EUR in cash (Allegrissimo-package and service charge). You must always in a positive balance to your favor. Even you want to pay in cash: it is never wrong to have a credit card with you for the last day.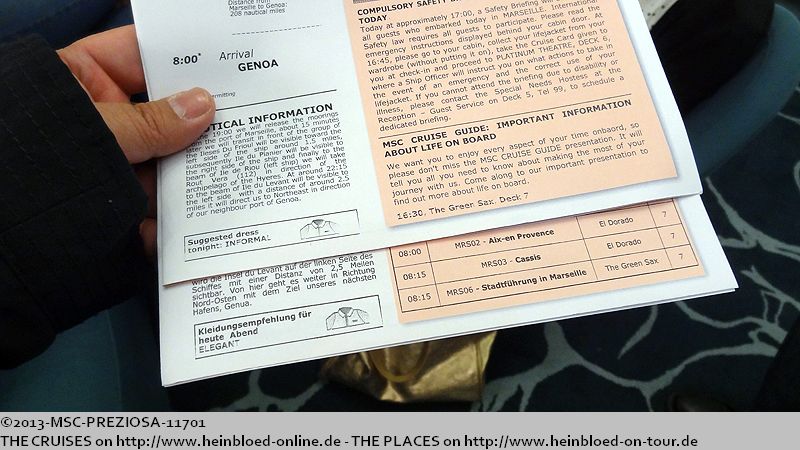 Kleines Problem: es gibt kein Programm in Deutsch für Neuzusteiger, sondern nur für Aussteiger und Transitgäste. So lesen wir im englischen Programm "informal" und im deutschen "elegant". Gleichzeitig lassen wir die Karten von Hanna und Bruno umschreiben, weil Hannas Mann etwas dagegen hat, wenn Hanna und ich uns ein Doppelbett teilen. Bruno übrigens auch. Da aber bereits die Kreditkarten einzeln eingelesen wurden, ist das gar kein Problem. Nur Rosa muss den Purser sehen. Da sie keine Kreditkarte mitgenommen hat, muss sie 30,00 EUR (Allegrissimo-Paket und Servicegeld) in bar hinterlegen. Man muss immer im Plus sein. Also selbst wenn man bar alles zahlen möchte: eine Kreditkarte ist trotzdem sehr praktisch für den letzten Tag.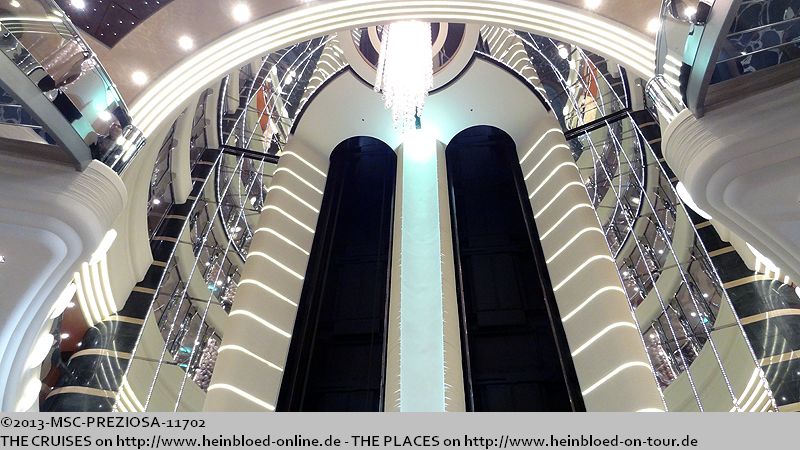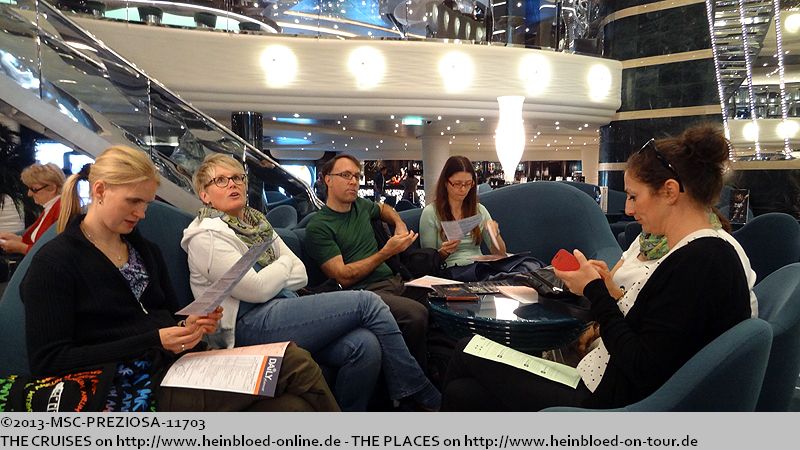 Wir gönnen uns unseren ersten Drink und probieren unsere Karten aus. Nicht jede Karte wird für den Getränkeumsatz registriert. Wenn alle eh das Paket haben, spielt es wohl keine Rolle, dann werden verschiedene Umsätze auf einen Gast gebucht. Man muss aber für den Nullbon unterschreiben.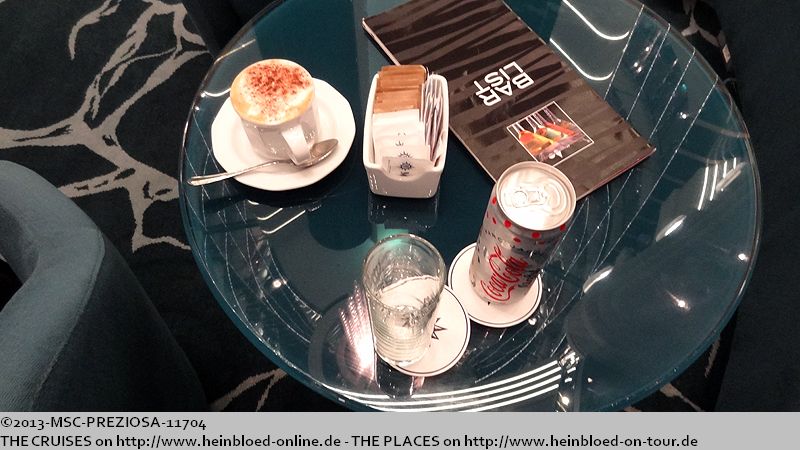 We allowed us to have a first drink and tried our cards. Not every card was registered for the revenue. If everyone had a package anyway it did not play any role - so they booked the revenue on one guest. But you need to sign for the zero-revenue.

Bruno was happy because the cappuccino was delicious. Meanwhile, all bars had the same Barista-coffee-machine. So you must not walk anymore from to bar to bar to find the very best Barista-coffee-machine like on MSC FANTASIA.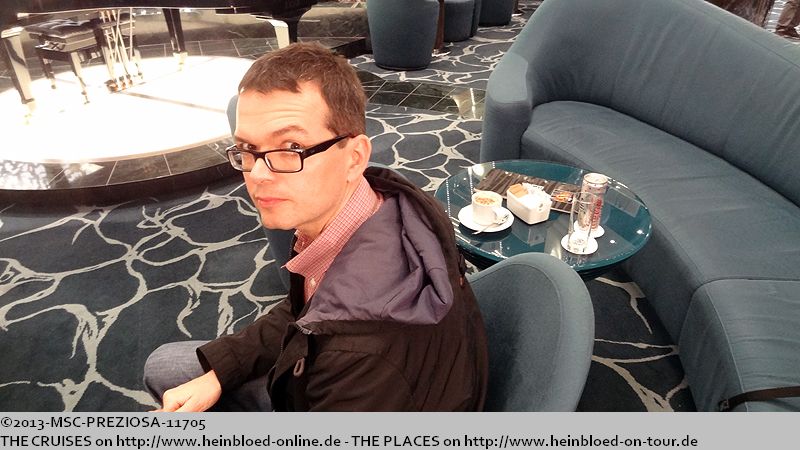 Bruno ist glücklich, weil der Cappucino richtig gut ist. Mittlerweile haben alle Bars die gleiche Barista-Maschine. Man muss also nicht mehr von Bar zu Bar laufen, um die beste Barista-Maschine zu suchen, wie auf der MSC FANTASIA.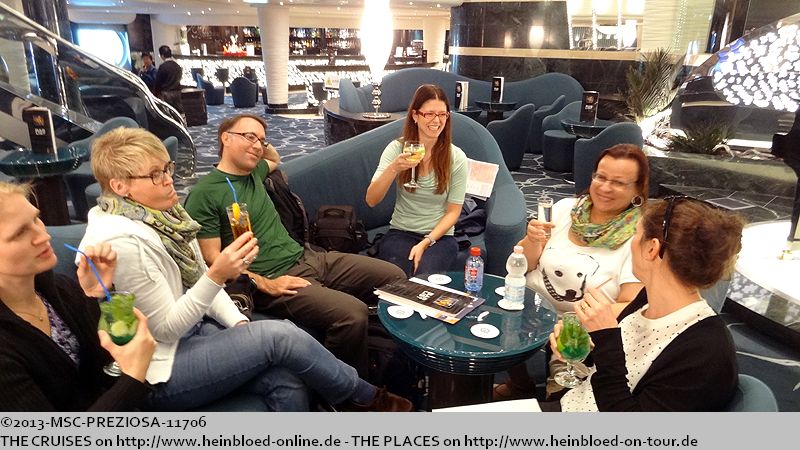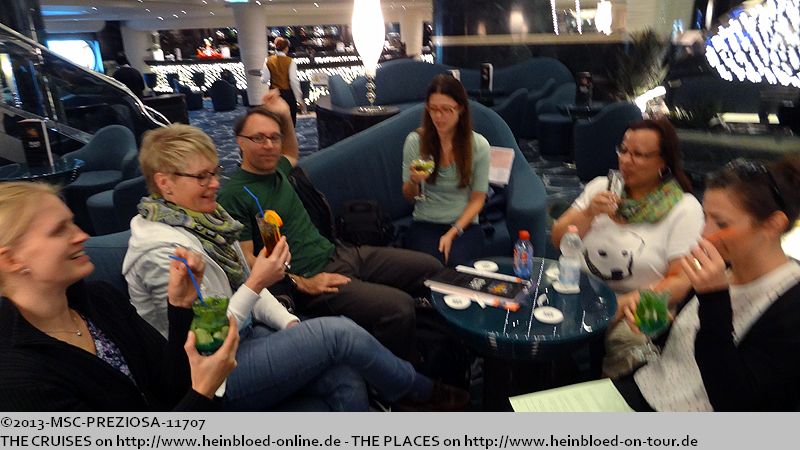 Swarovski
-Stufen...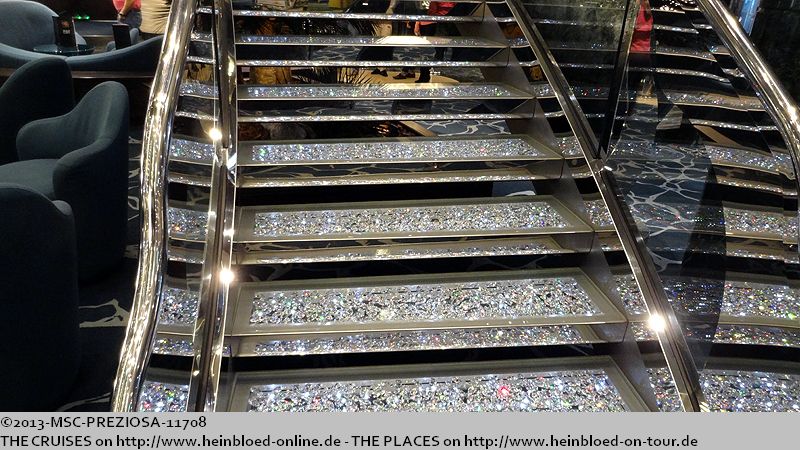 Stairs of Swarovski.

We were escorted to our deck when we asked for.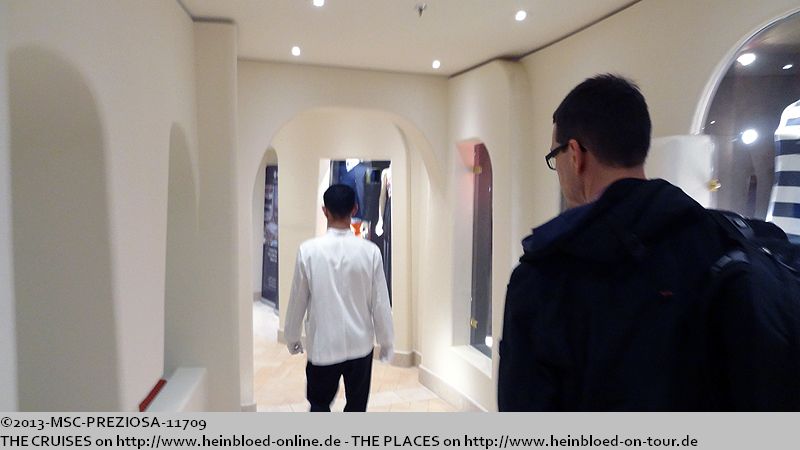 Wir werden zu unserem Deck begleitet, als wir darum bitten.
Wir sind auf Deck 13, die für Italiener keine Unglückszahl darstellt, dafür die 17.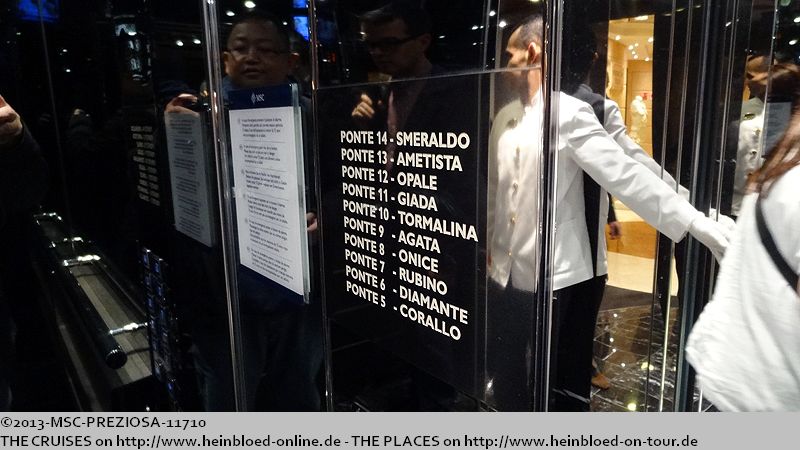 We were on Deck 13 which was no unlucky number for Italians but no. 17.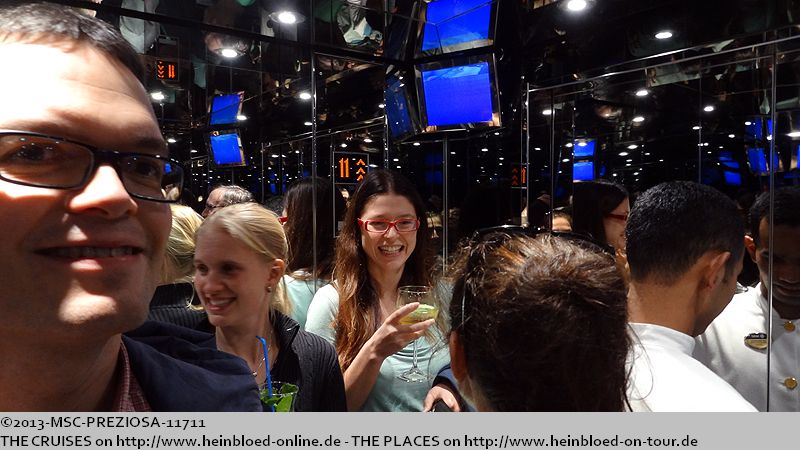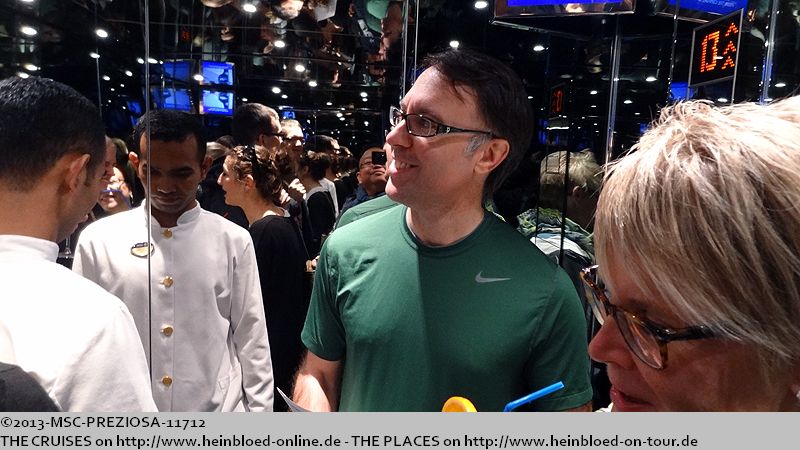 Die anderen Reisen in diesem Blog/
The other voyages in this blog: