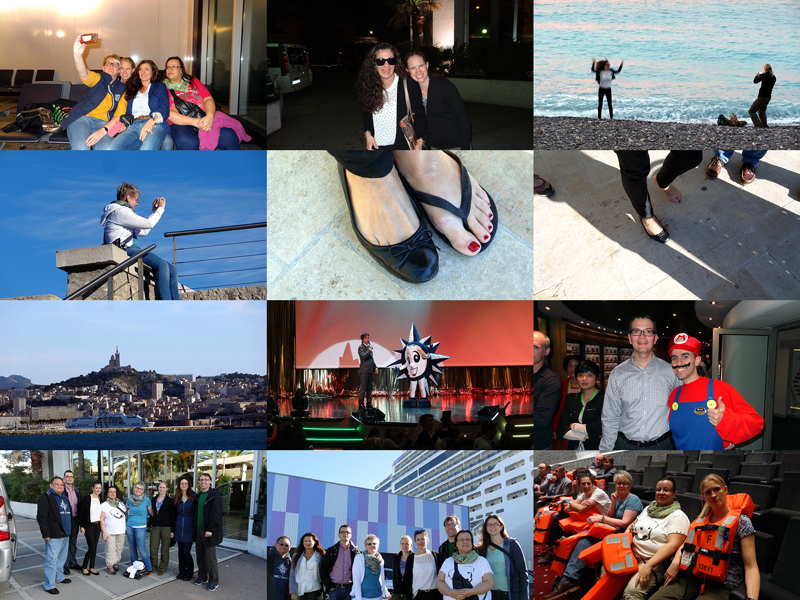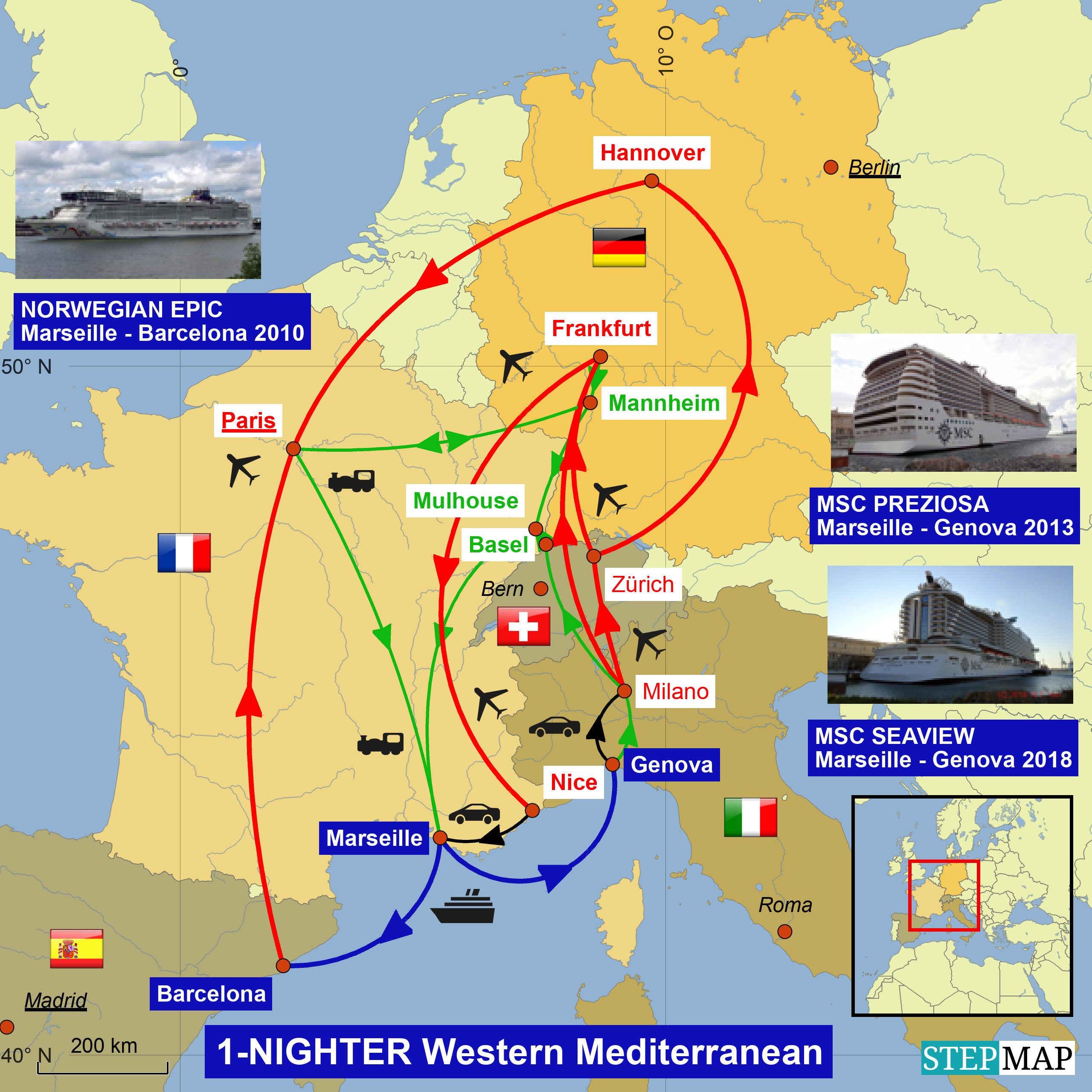 Pünktlich erwartet uns unser Taxi aus Marseille.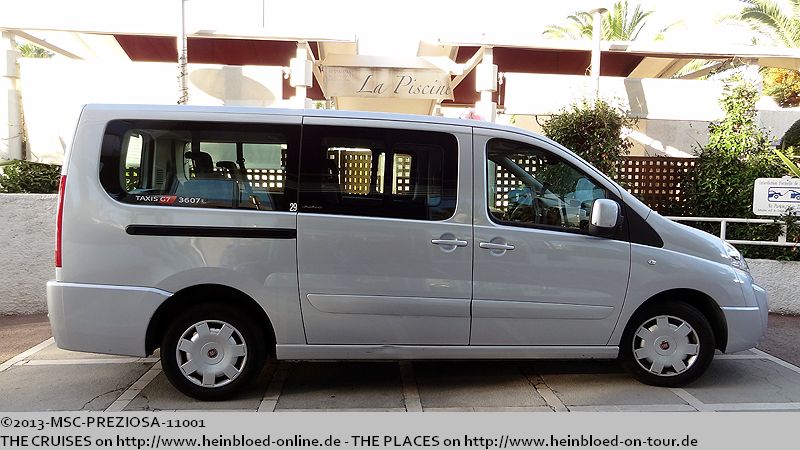 On time our taxi from Marseille came to collect us.

We knew Chantal from our sailing on NORWEGIAN EPIC 2012. So we booked her because we know that she also speaks some English. If you are not on Facebook, you may contact me, and I can give you her contacts.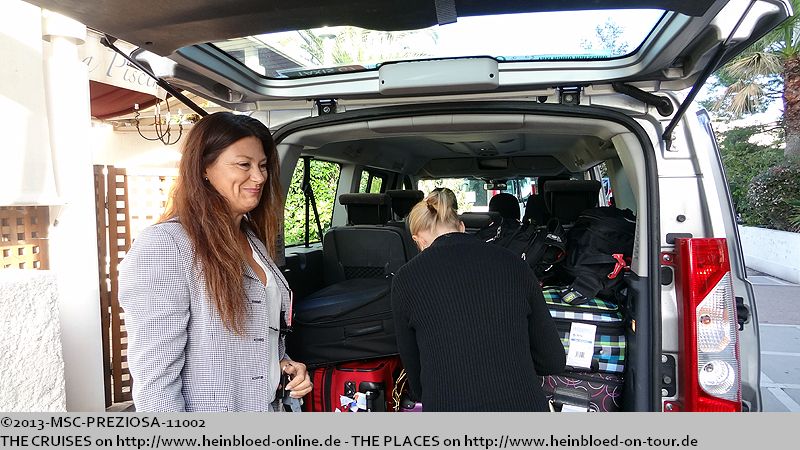 Chantal
kennen wir von unserer Fahrt auf der
NORWEGIAN EPIC 2012
. So bestellen wir auch sie, weil wir wissen, dass sie Englisch spricht. Falls ihr nicht auf Facebook seid: gerne gebe ich die Kontaktdaten weiter.
O.K. Ich gebe zu: ich habe gelogen, damit wir Männer die Smokings nicht mitschleppen mussten und die Frauen nicht eine Modenschau an Bord veranstalten. Der Kofferraum ist doch nicht so klein.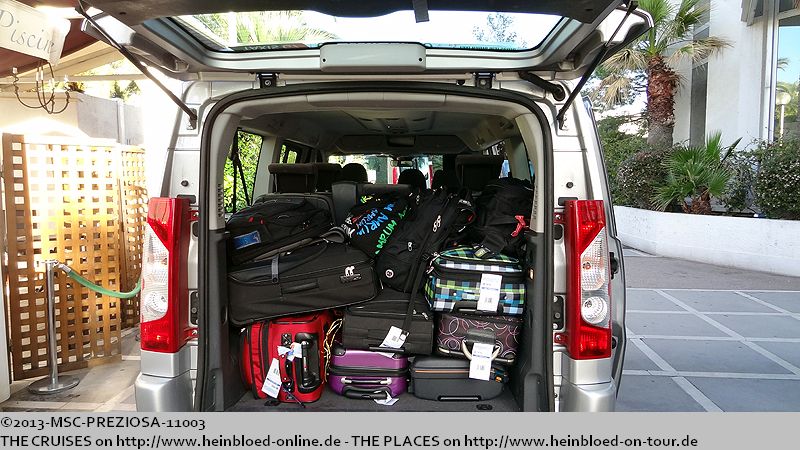 O.K. I admit that I lied so that we (gentlemen) must not carry the tuxedos with us and the girls should not start a fashion show. But I was surprised that the trunk was not so small.

As Chantal knew that we did not so many occasions to have a group picture she took one of us. She is a beautiful photographer who is traveling a lot, and she can make you have the lust for travel.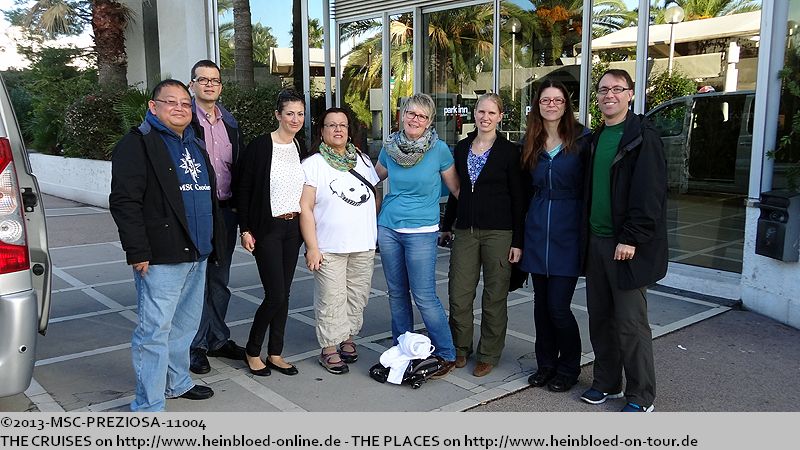 Da Chantal weiss, wie selten wir Gruppenbilder machen können, macht sie sofort von uns eines. Sie ist eine wunderbare Fotografieren, die auch viel reist und daher mit ihren Bilder Lust auf Reisen macht.
Und immer wieder die Stufe, die sie mitführt.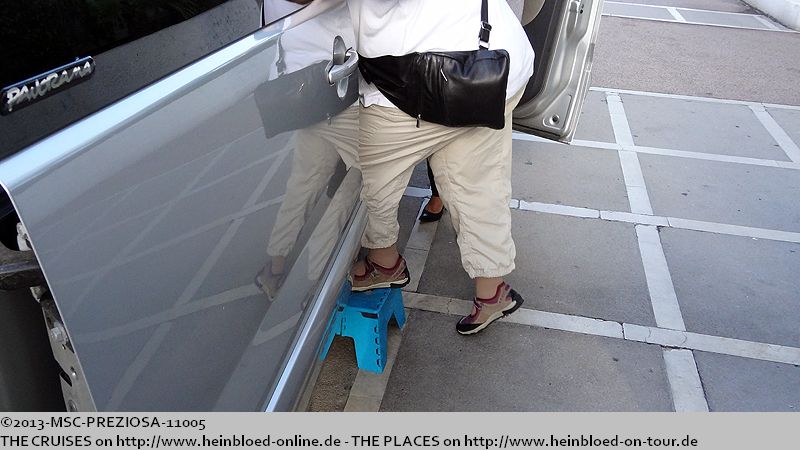 And again the little step she always had with her.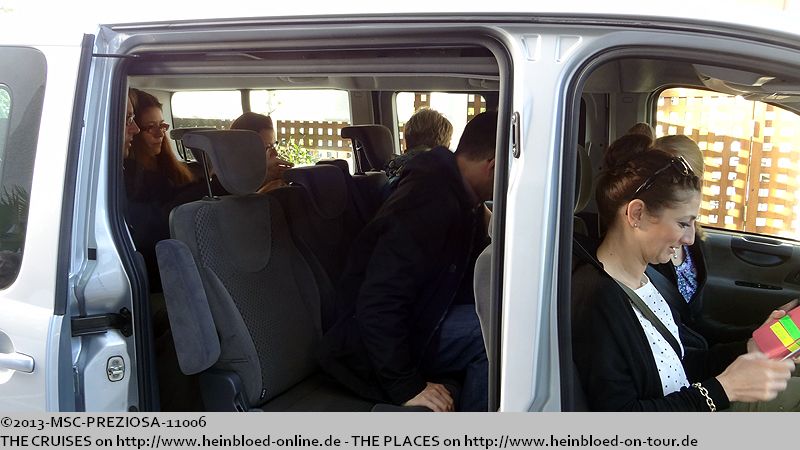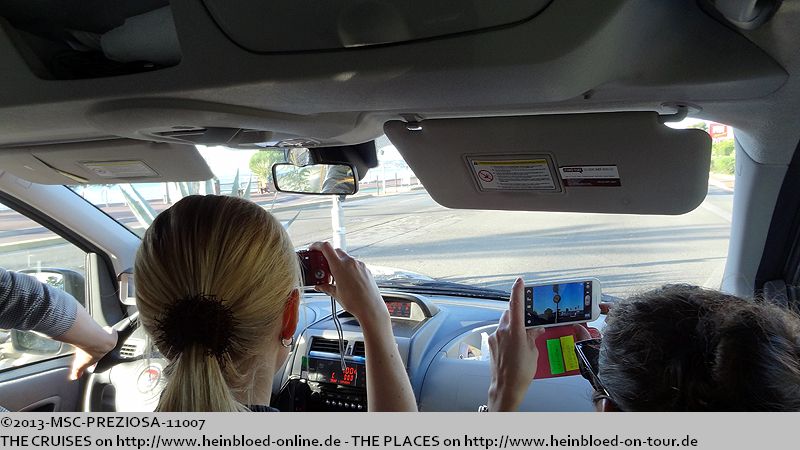 We drove along the Corniche (Coastal Road) to Antibes.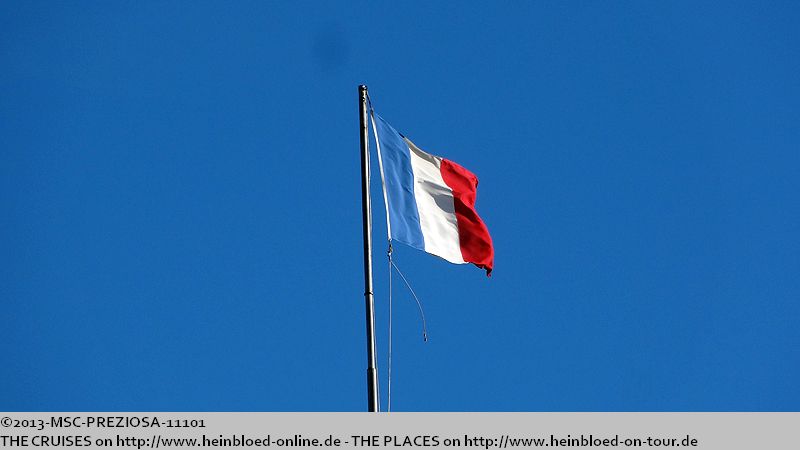 Wir fahren entlang der Corniche (Küstenstraße) nach
Antibes
.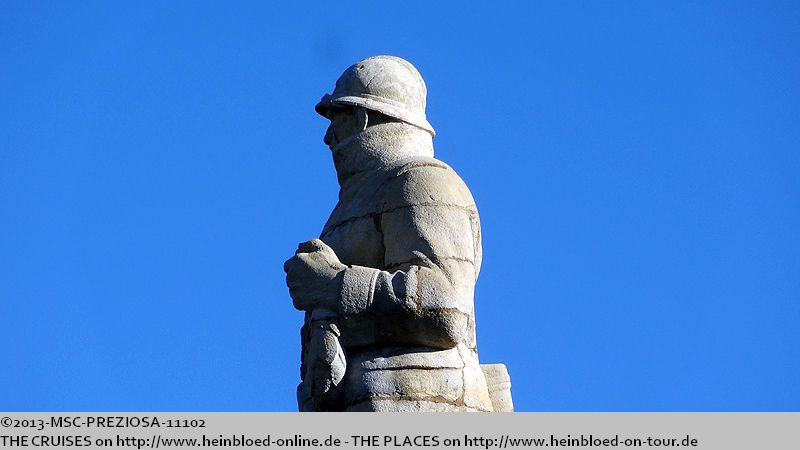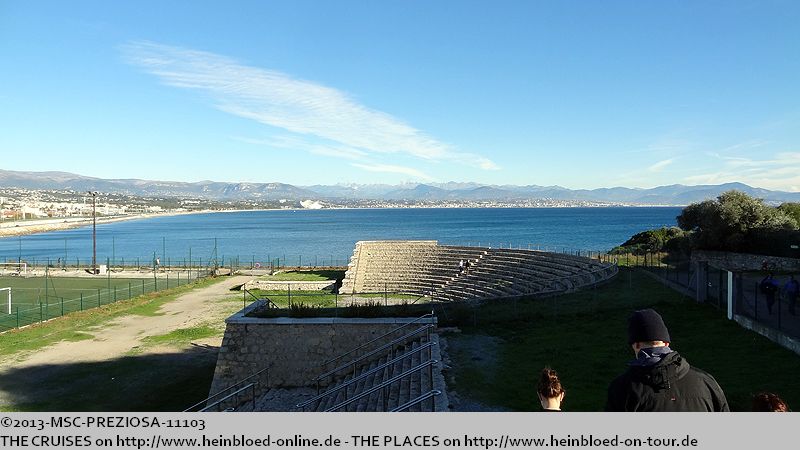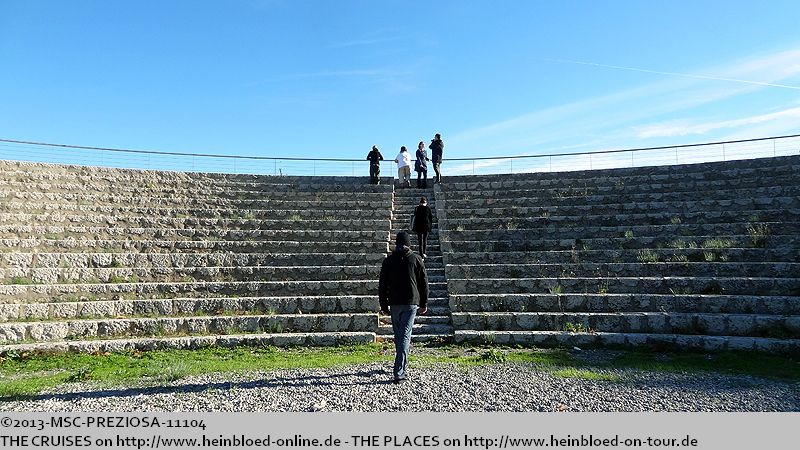 The view over to Nice.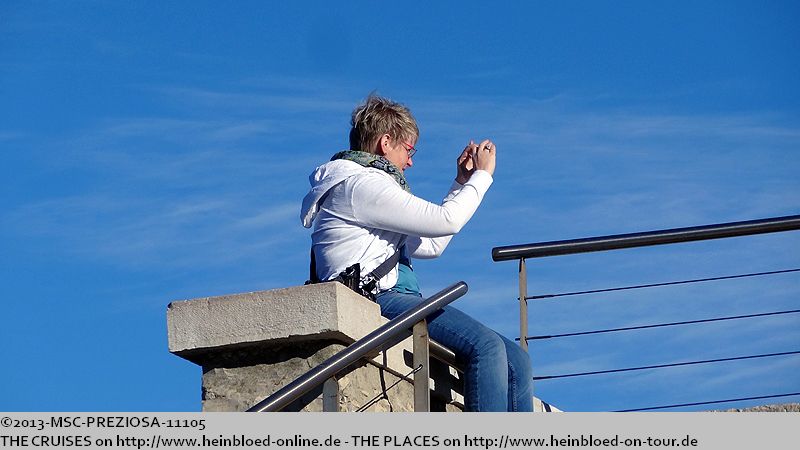 Der Blick rüber nach Nizza.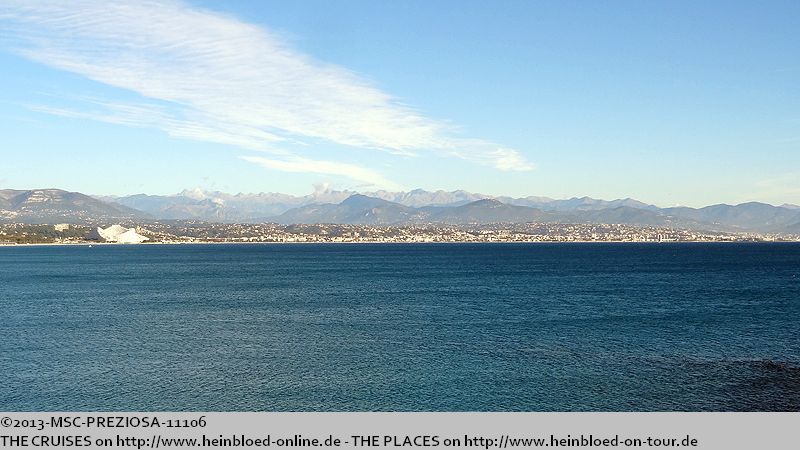 From the Nice side it looked like the Gizeh Pyramids.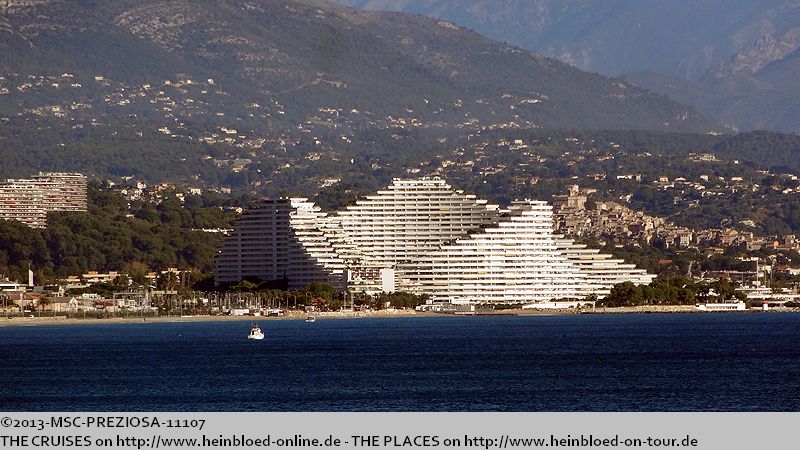 Von der Nizzaer Seite sah es aus wie die Pyramiden von Gizeh.

I enjoyed the sun, the life, the wind and the French Riviera. So far we had called twice Cannes and once Villefranche. But there is so much to discover. So I do not mind to have many many calls here. Especially as Chantal refused to drive in the reverse direction so that I should have the waterline on my side.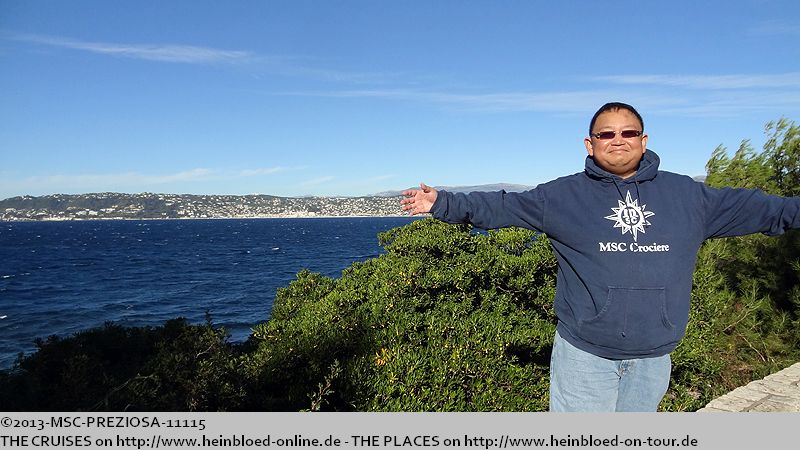 Ich genieße die Sonne, das Leben, den Wind und die Côte d'Azur. Bislang haben wir zwei Mal in Cannes und einmal in Villefranche anlegt. Aber es gibt soviel zu entdecken. Von mir aus, können wir noch viele viele Male hier anlegen. Zumal Chantal nicht rückwärts fahren wollte, damit ich die Küste auf meiner Seite hatte.
Weil die Kapuzenjacke von MSC immer zu Diskussionen führt: Er ist der einzige mit 100% Baumwolle. Alle anderen hatten immer Polyester drin. Das mag ich nicht. Darin fühle ich mich nicht wohl.

Because my hoodie jacket from MSC occurred every time discussion: it's the only one with 100% cotton. All other have some polyester inside. I do not like them. I do not feel comfortable.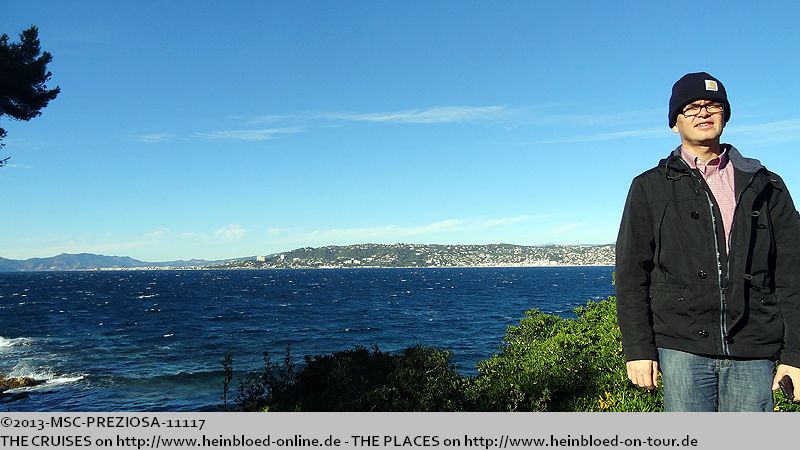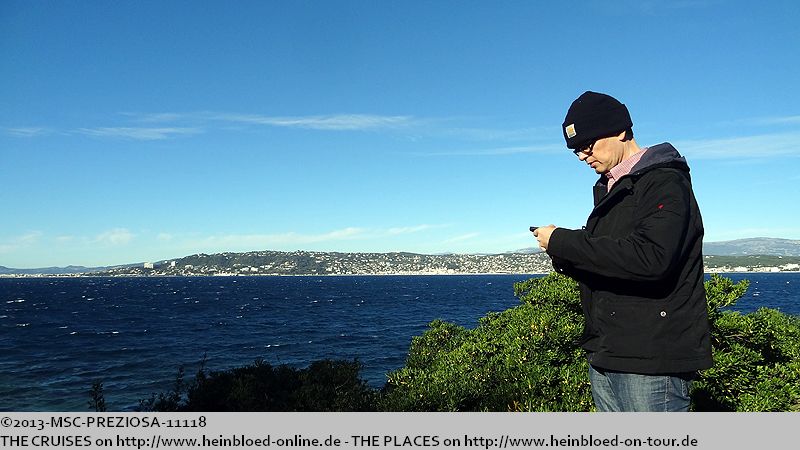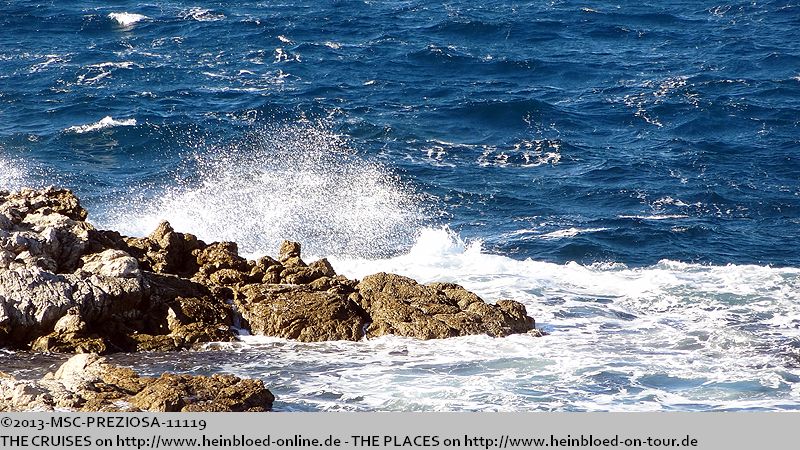 Treppen... keine Rolltreppe... wieder ein Job für Bruno, der runter zum Fotografieren muss...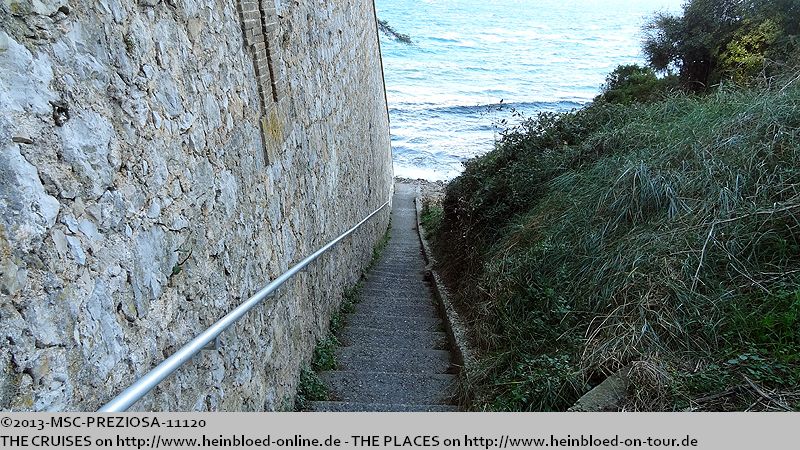 Stairs... no escelators... again a job for Bruno to take some pictures downstairs...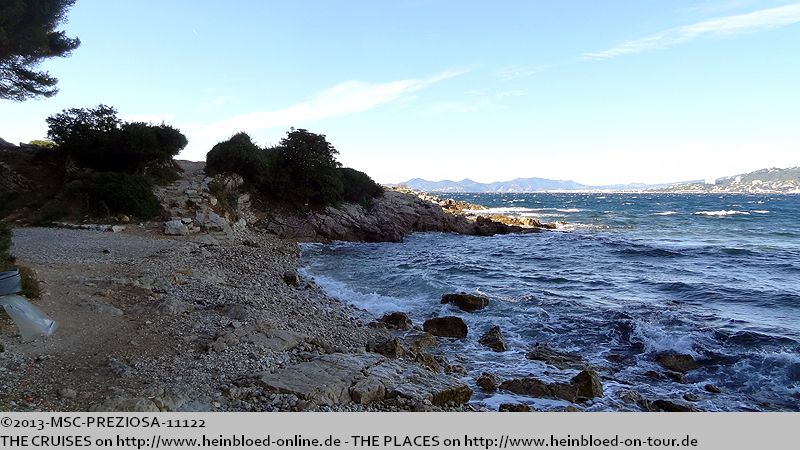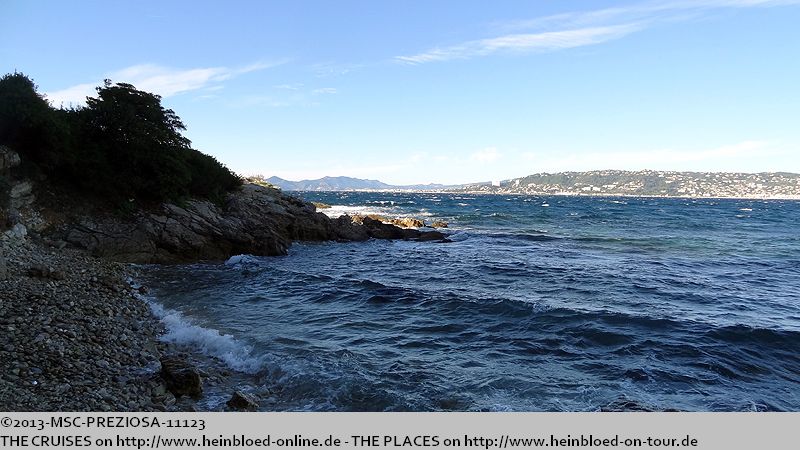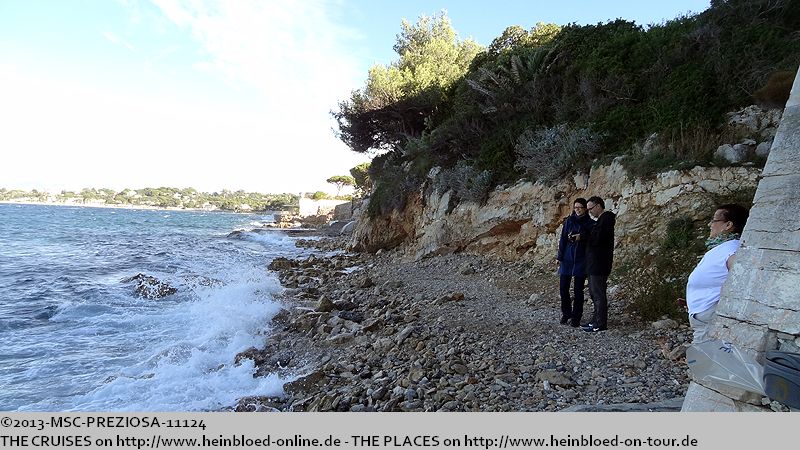 "Egoiste" by Chanel...
who does not know the silhouette of the
Carlton Inter-Continental Hotel in Cannes
from the TV-spot from 1990. I wanted to indulge myself with a coffee... but a look on the menu: 8.00 EUR for a cup of coffee and 16.00 EUR for a sweet indulge... Well... it was Saturday, and we could not reach our financial consultant to ask for a new mortgage arrangement...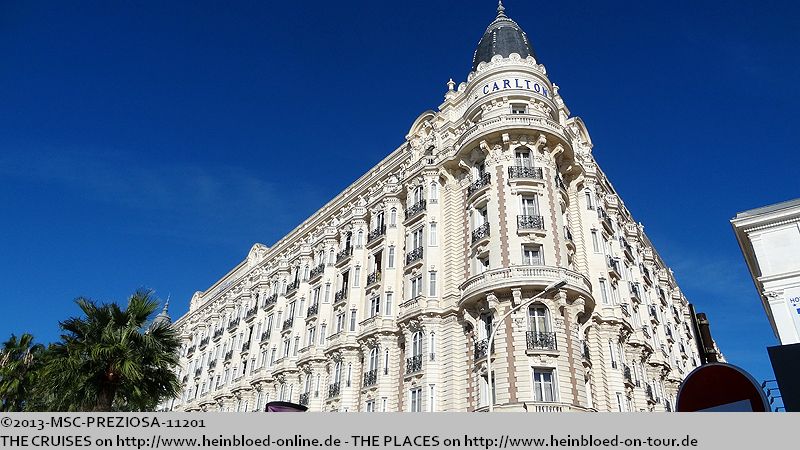 "Egoiste" von Chanel
... wer kennt nicht die Silhouette des
Carlton Inter-Continental Hotels in Cannes
aus der Fernsehwerbung aus dem Jahre 1990. Ich wollte mir einen Kaffee gönnen... aber beim Blick der Karten: 8,00 EUR für eine Tasse Kaffee und 16,00 EUR für ein Leckerli... Nun... es war Samstag und ich konnte unseren Finanzberater nicht erreichen, um die Erhöhung unserer Hypothek auszudiskutieren...
So gehen wir auf die andere Straßenseite zu "
Le Voilier
"... Die Mädels nehmen ein Kaffee mit heißer Milch...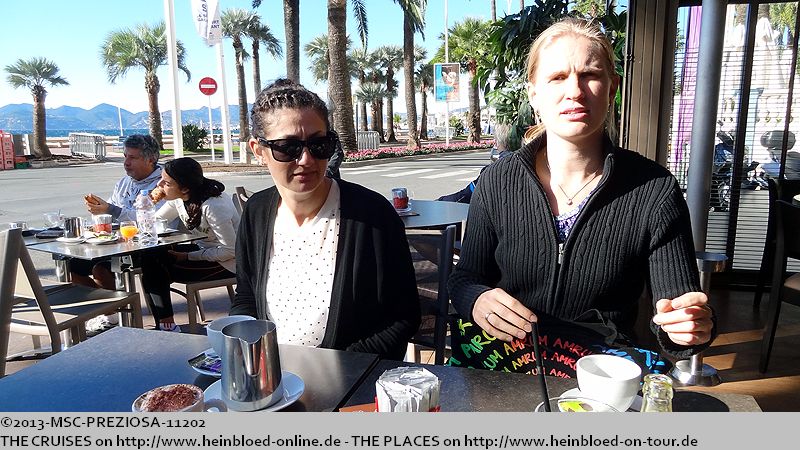 So we went to the other side of the street to "Le Voilier"... The girls took some coffee with hot milk...

This was only 3.50 EUR (2013)... Bruno's Cappucino (same size of the cup) - just that they had the effort to steam up the milk it was 5.30 EUR (2013)... and I always thought that energy was so cheap in France due to their nuclear power...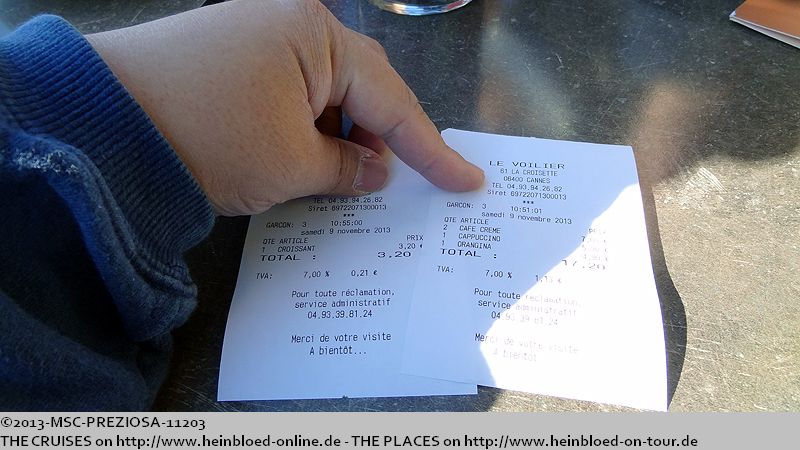 Der lag bei bloß 3,50 EUR (2013)... Brunos Cappucino (gleiche Tassengröße) - nur dass sie sich die Mühe gemacht haben, vorher die Milch aufzuschäumen bei 5,30 EUR (2013)... und ich dachte immer in Frankreich wäre Strom so billig wegen der Atomkraftwerke...
Da ich im Hotel nicht mehr großartig gefrühstückt hatte, gönne ich mir noch ein Croissant. Für 3,20 EUR (2013) bekomme ich jedoch eine
Marmelade von Bon Maman
und
Président Butter
aus der Normandie dazu.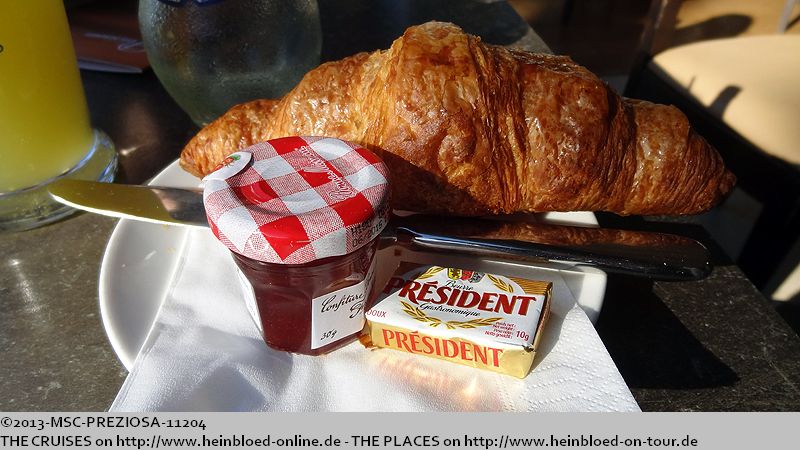 As I had not so much time to have breakfast I got me a croissant. For 3.20 EUR (2013) I got some jam from Bon Maman and some Président butter from the Normandy.

Because Bruno was thirsty, he caused a gap in our budget by ordering another bottle of water... Now we need to have bread and water only for the rest of the month... Although that price was harmless compared to Frankfurt Airport...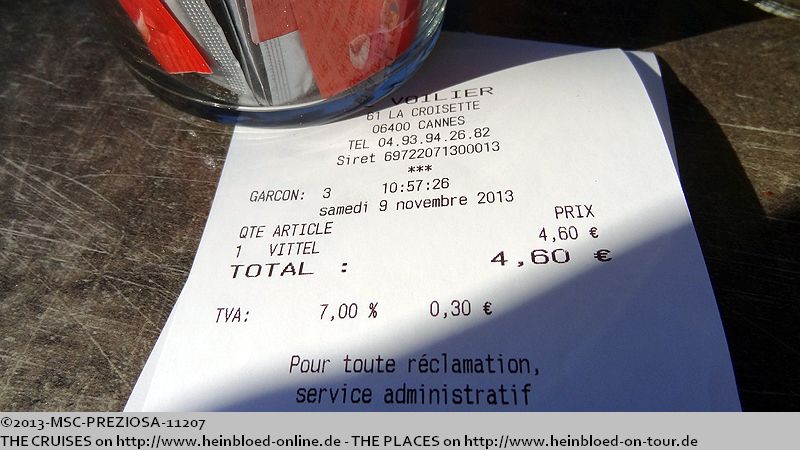 Weil Bruno aber noch Durst hat, reißt er direkt für ein bisschen Wasser ein Loch in unsere Haushaltskasse... Nun müssen wir uns den Rest des Monats von Brot und Wasser ernähren... Wobei das noch harmlos gegenüber Frankfurt Flughafen war...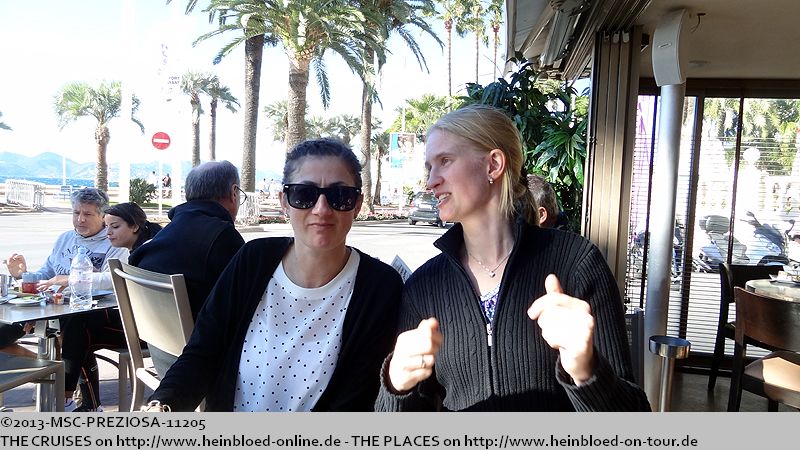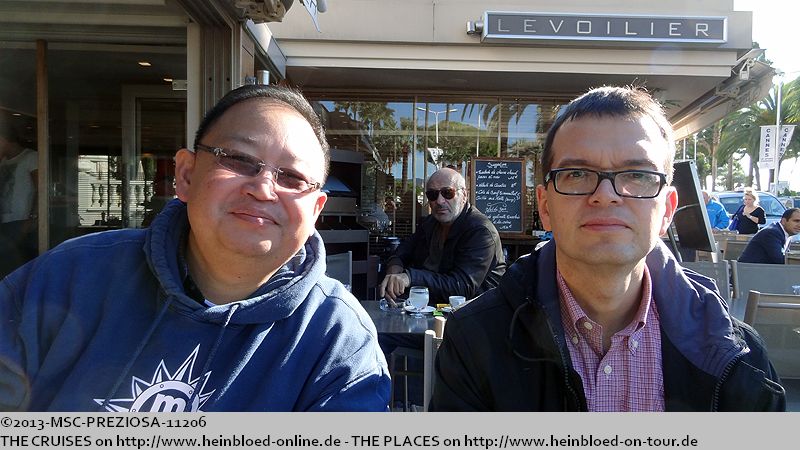 Ich will noch ein paar Bilder vom Strand machen.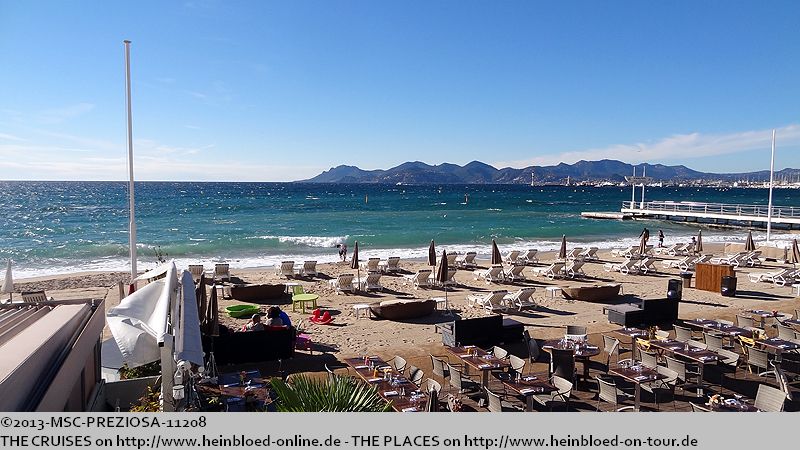 I wanted to take few pictures of the beach.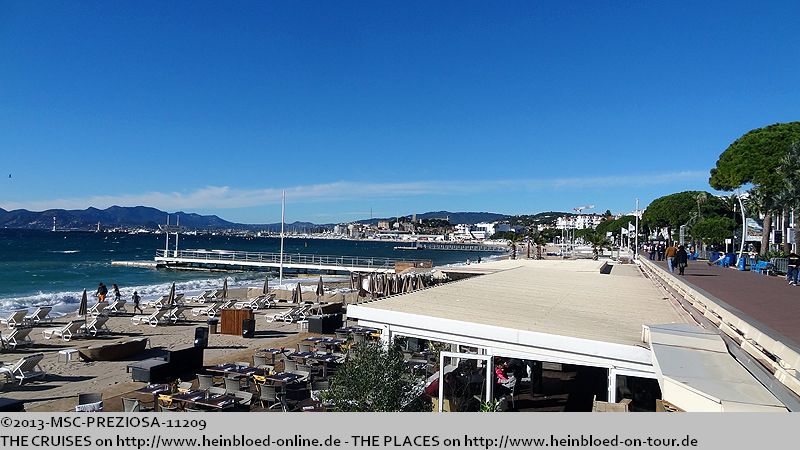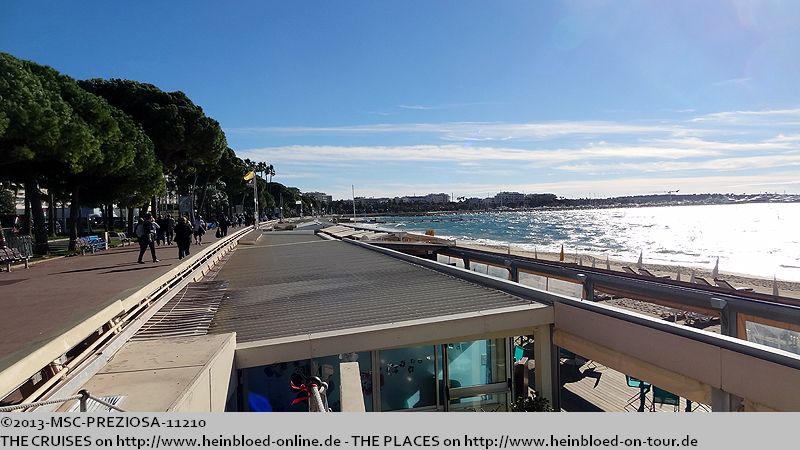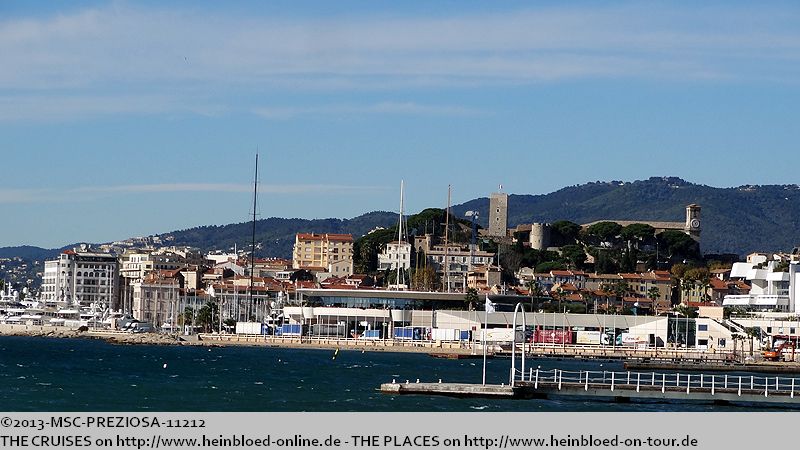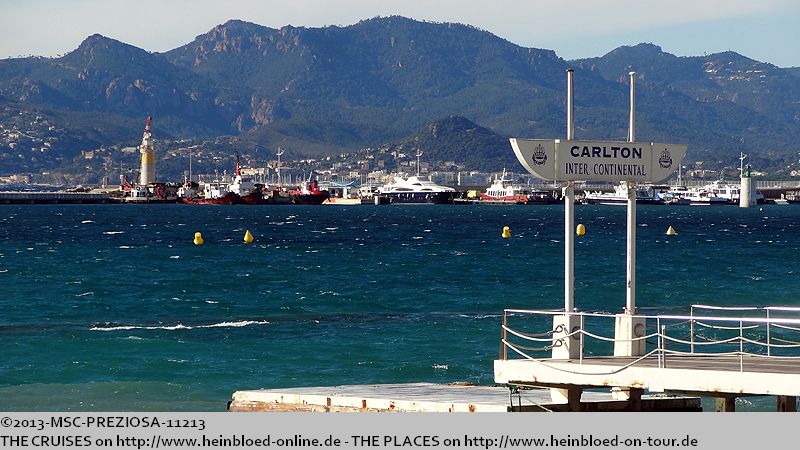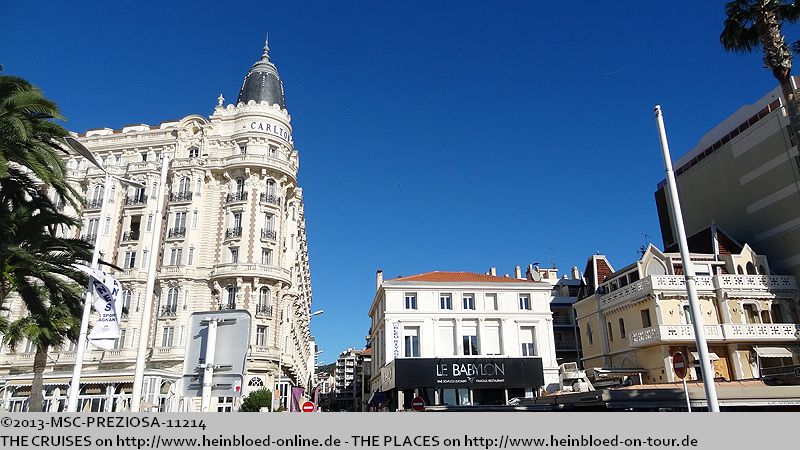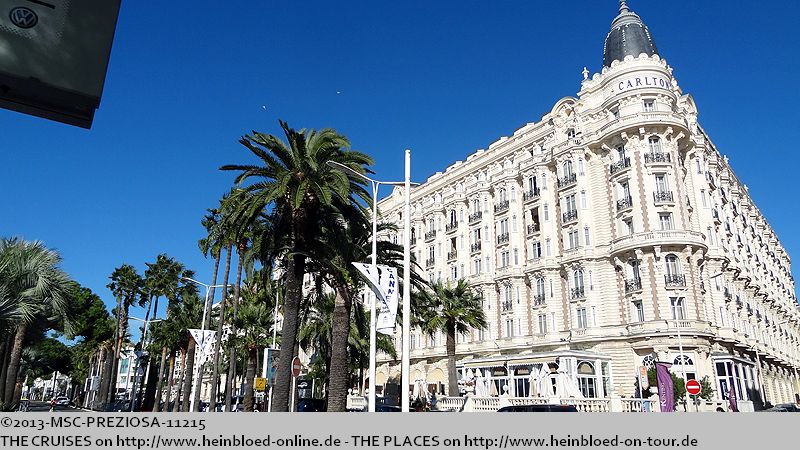 Und Chantal hat im Auto direkt neben dem Café geparkt und auf uns gewartet.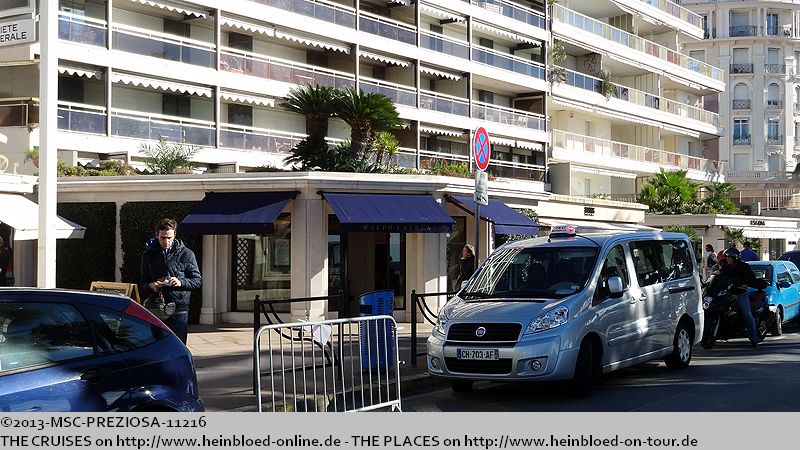 And Chantal parked next to our café and waited for us.

Selma was already under suspicion of robbery, burglary, and theft... Looked somehow very conspirative... Was this because she cannot a visit with Ralph Lauren?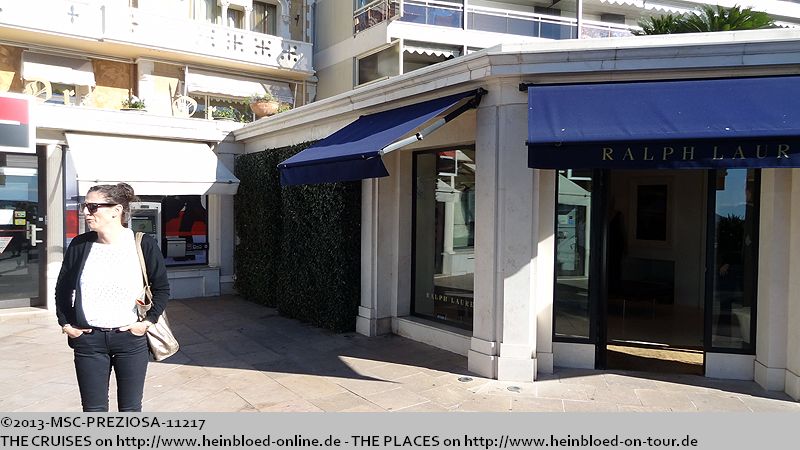 Selma wurde heute Morgen schon mal wegen Einbruch, Raub, Diebstahl verdächtigt... Das nennt man irgendwie konspirativ... Ist es weil sie sich keinen weiteren Besuch bei Ralph Lauren leisten kann?
Will sie Hanna oder die alte Dame überfallen oder die PIN ausspähen...?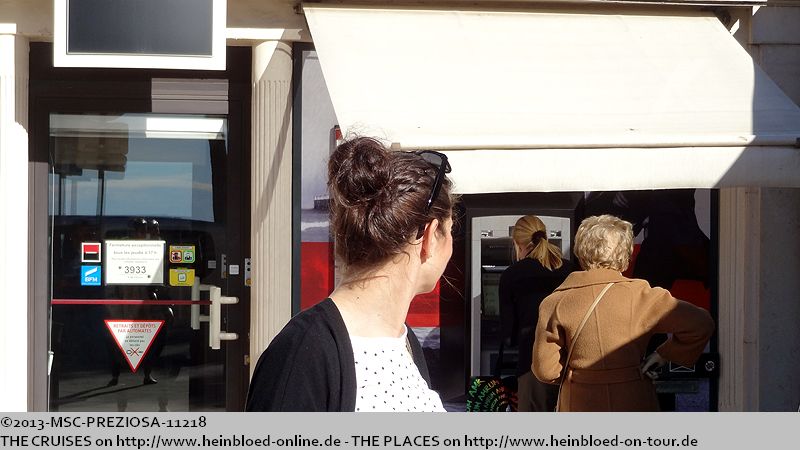 Was she planning to rob Hanna or the old lady or just to pish the PIN...?

Was she taking now a weapon out of her purse...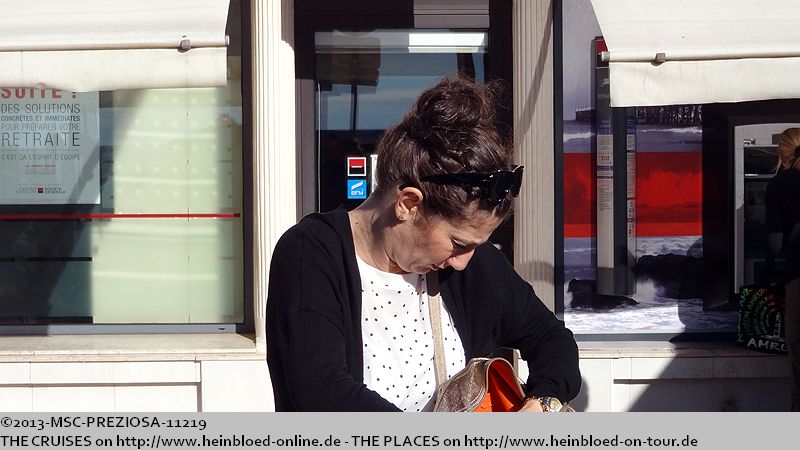 Holt sie jetzt eine Waffe raus...
Wird sie bereits hier von der Security von Ralph Lauren angesprochen, die bereits die finanzielle Lage überprüft haben und ihr klar machen, dass ein Überfall nichts bringen würde???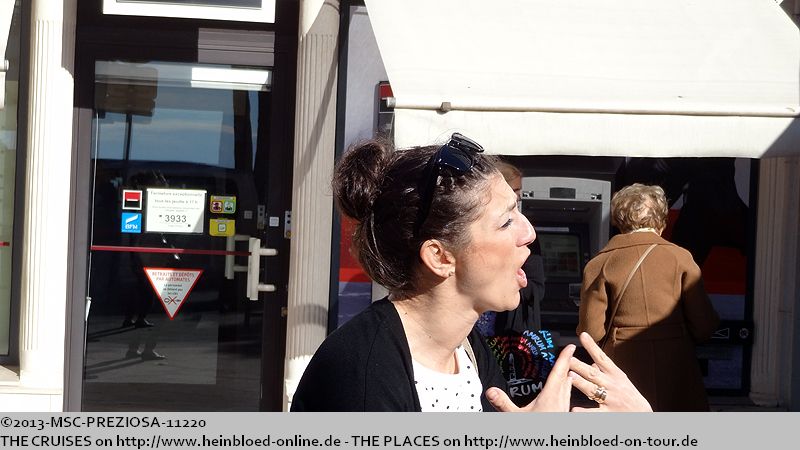 Looked like that Ralph Lauren's security completed their background check and found out that her budget did not allow a visit and she was told even a robbery would not make any difference.
Die anderen Reisen in diesem Blog/
The other voyages in this blog: