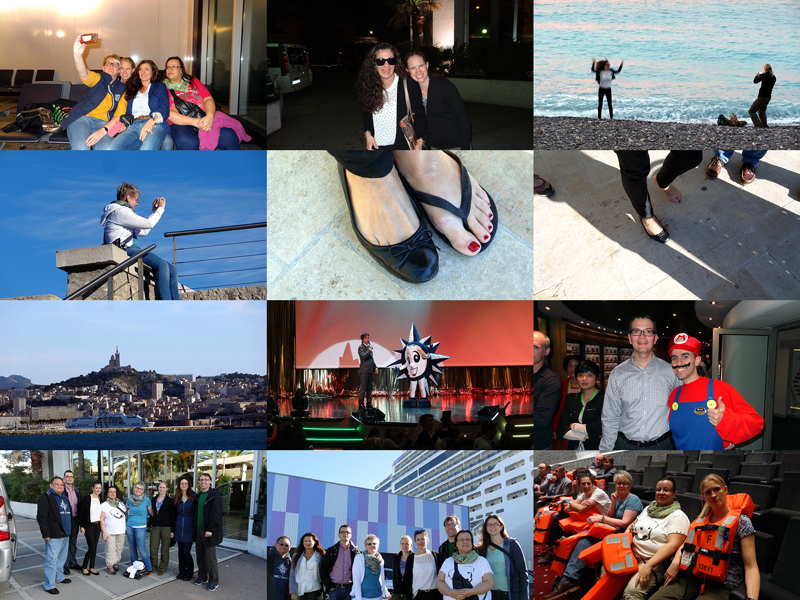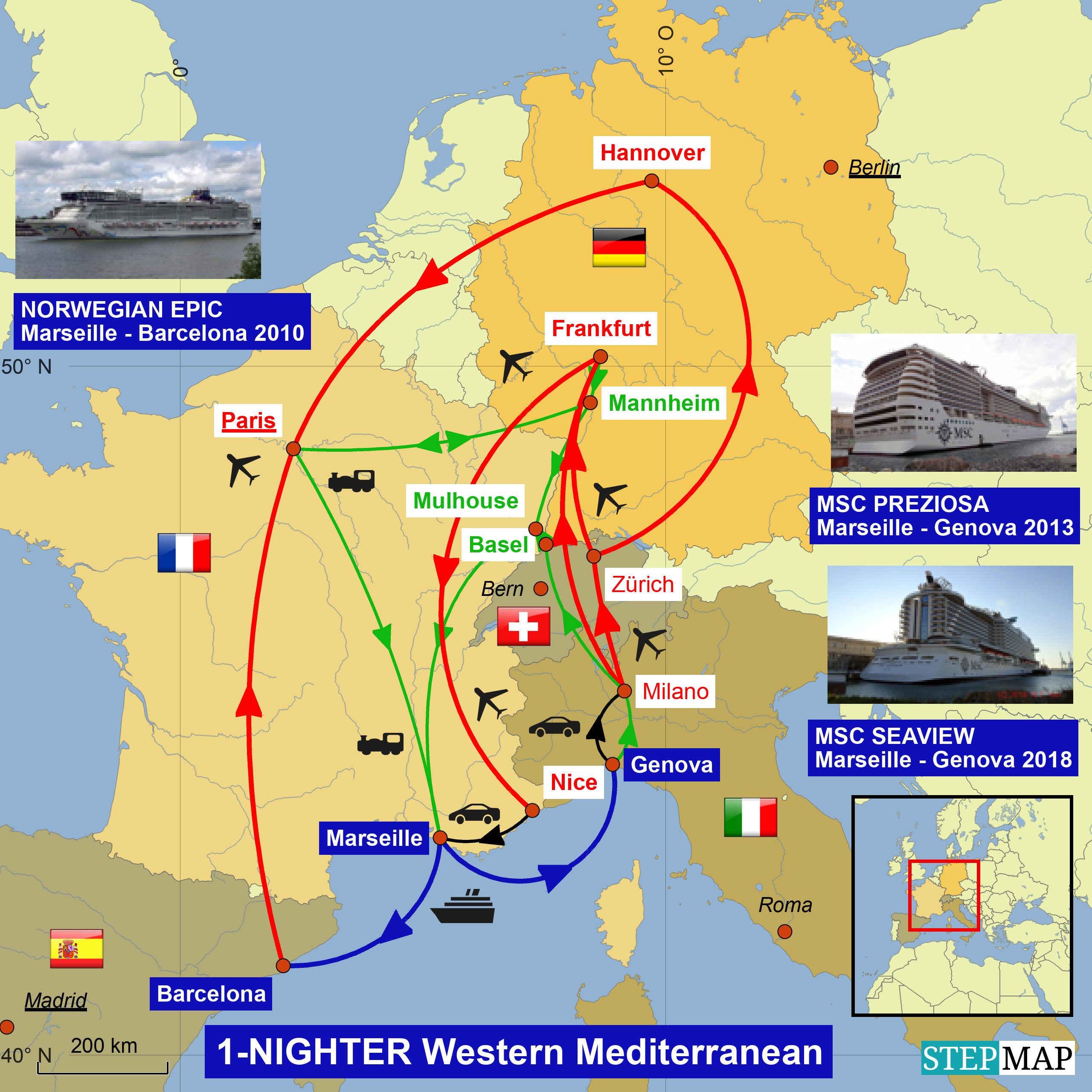 Die Gäste, die in Marseille zusteigen, müssen um 17.00 Uhr (Ende des Check-Ins) ins Theater zur Seenotrettungsübung. Die Anwesenheit wird überprüft und die Karte am Eingang eingescannt. Für jede Sammelstation wird eine Ecke eingerichtet.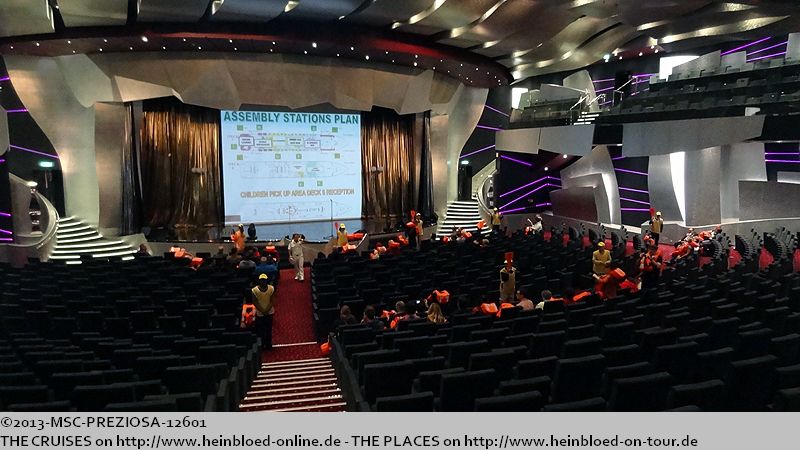 Guests embarking in Marseille need to be at 17.00 hrs (End of check-in) in the theater for the life drill. They checked the presence and scanned the card at the entry. For every muster station, they had a dedicated corner in the theater.

My boss will be glad to know: just for the worst case: we do not use the same lifeboat. Which means that maybe 50% could come for work on Monday, in fact, we will sink... And I was a lucky man: guess I had to share one lifeboat with girls: then I need to have my ENT-doctor with me to survive.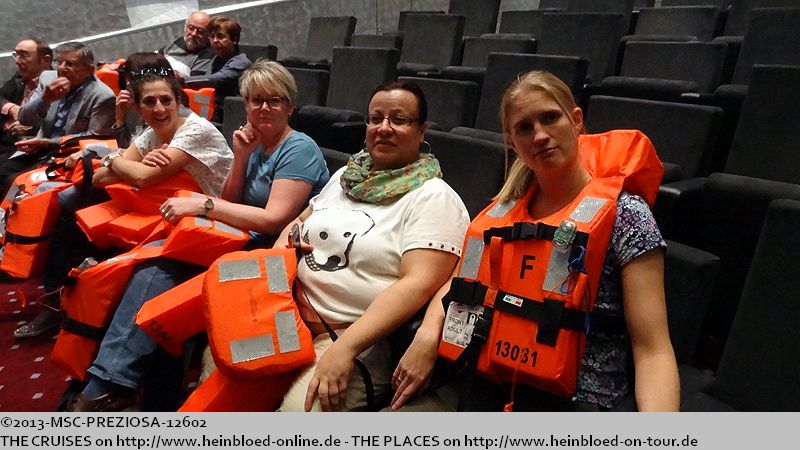 Darüber wird sich mein Chef freuen: im Falle der Fälle: wir gehen nicht alle acht im selben Rettungsboot unter. Das heißt ggfls. kommt am Montag 50% der Gruppe wieder, um weiter zu arbeiten, falls wir untergehen... Und ich habe Glück: so muss mein HNO-Arzt nicht mit, den ich unbedingt gebraucht hätte, wenn ich mit den Mädels in ein Rettungsboot müsste.
Wir müssen selbst fotografieren. Mangels Fotografen, die wir sonst früher immer anlässlich der Seenotrettungsübung hatten, um extra Umsatz zu machen. Unsere Einschiffungsbilder hatten wir kurz gesehen, aber irgendwie nicht mehr geschafft, nach dem Essen nochmals in Ruhe auszuwählen. Das oberste war aber nicht gut.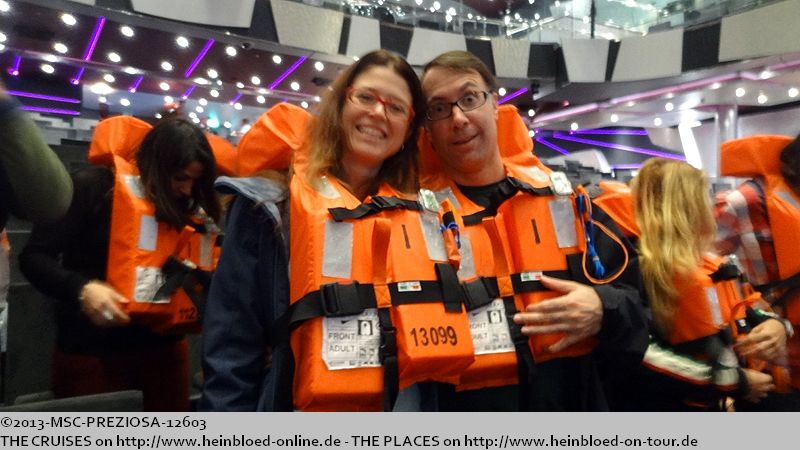 We need to take pictures of ourselves. Due to the lack of photographers who came on previous cruises to make revenue during the life drill. We saw for a short moment our embarkation pictures, but we did not make it again to see them after dinner. The one on the top was not good.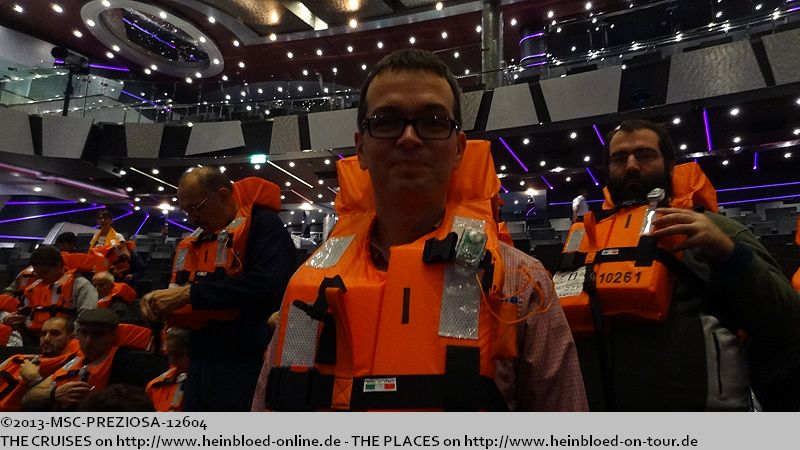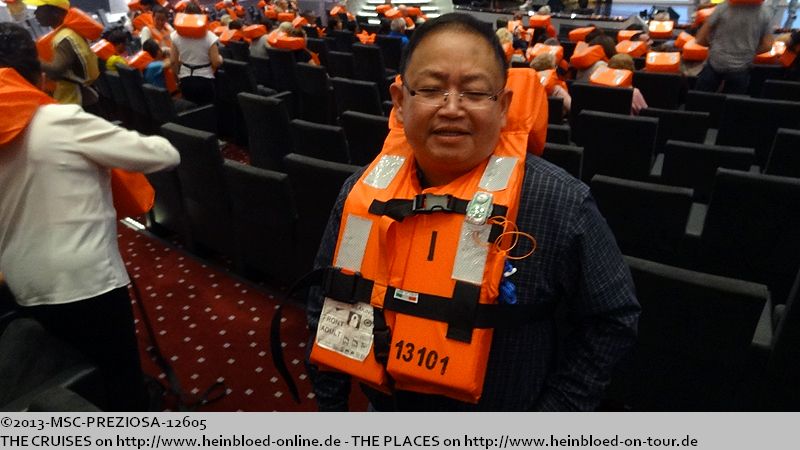 Die Seenotrettungsübung wird dreisprachig abgehalten (Französisch, Englisch und Italienisch).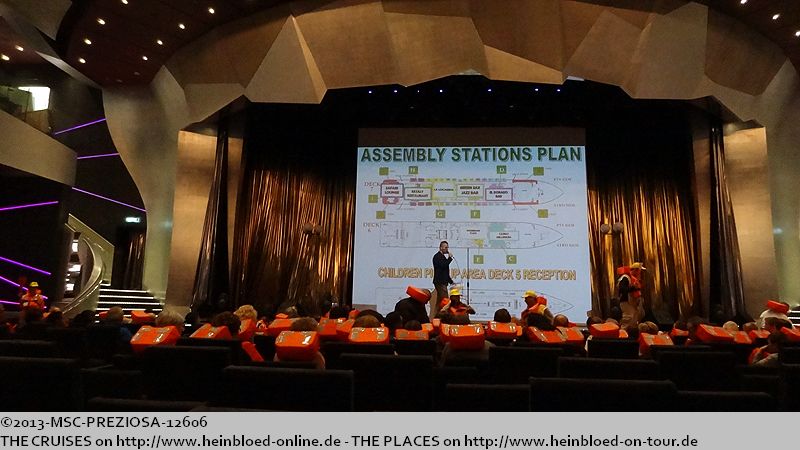 The life drill was conducted in three languages (French, English and Italian).

Later we were taken to our real muster stations.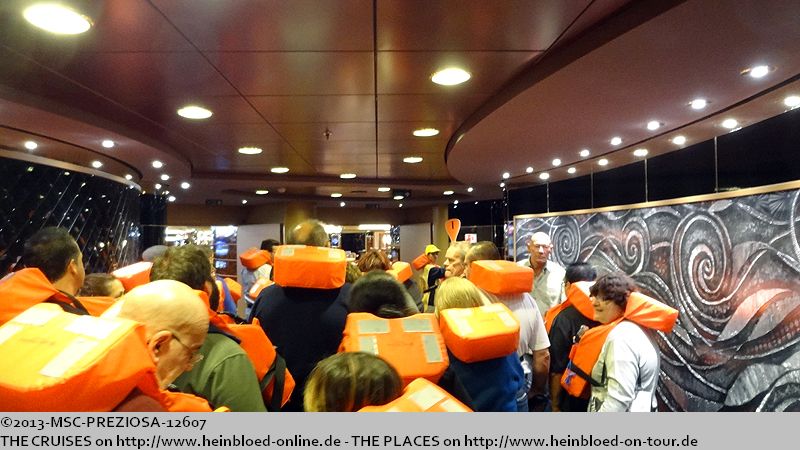 Später werden alle zu ihren richtigen Sammelstationen geführt.
Erst als wir unsere Sammelstation in der African Lounge erreichen und bestätigen, dass wir wissen, dass wir hierher und nicht ins Theater müssen, wird die Seenotrettungsübung als beendet erklärt. Das andere Rettungsboot wäre wohl schon bei der Seenotrettungsübung abgesoffen. Die Mädels haben uns hinterher erklärt, dass es wohl richtig Ärger gegeben hat, weil es wohl bei denen nicht so reibungslos lief.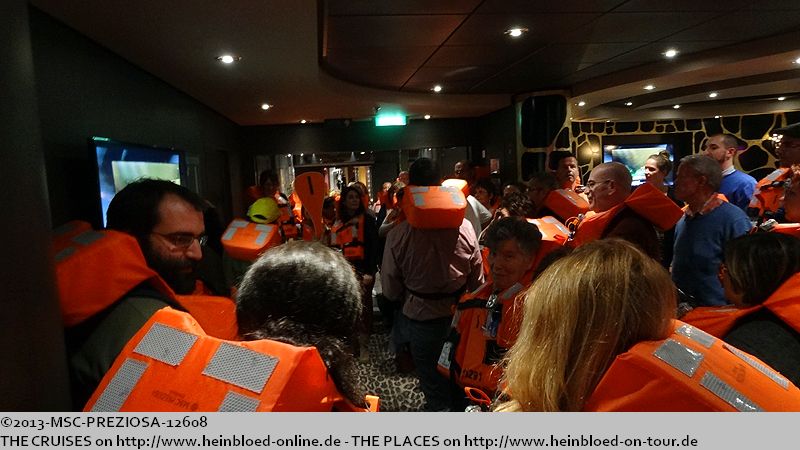 After we finally reached our muster station in the African Lounge and confirmed that we knew that we had to come here and not to the theater it was declared the end of the life drill. The other lifeboat would have sunk during the life drill. The girls told us later that they had some troubles because it was not as free of problems as it should be.

So we quickly went out to see the sunset.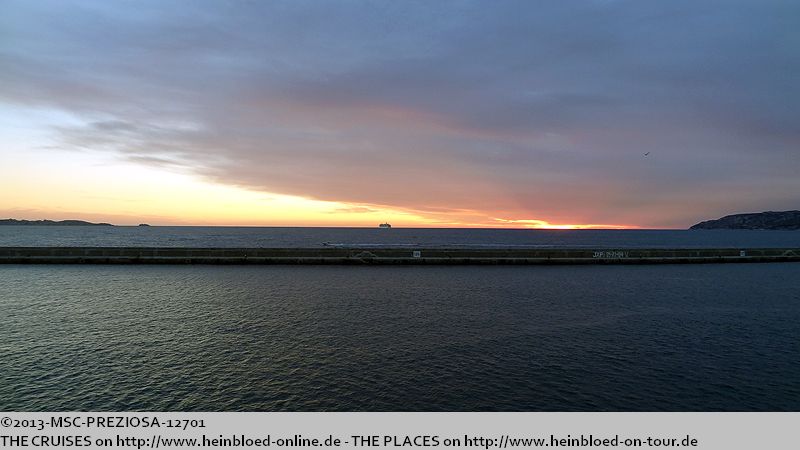 So gehen wir schnell raus, um noch den Sonnenuntergang zu sehen.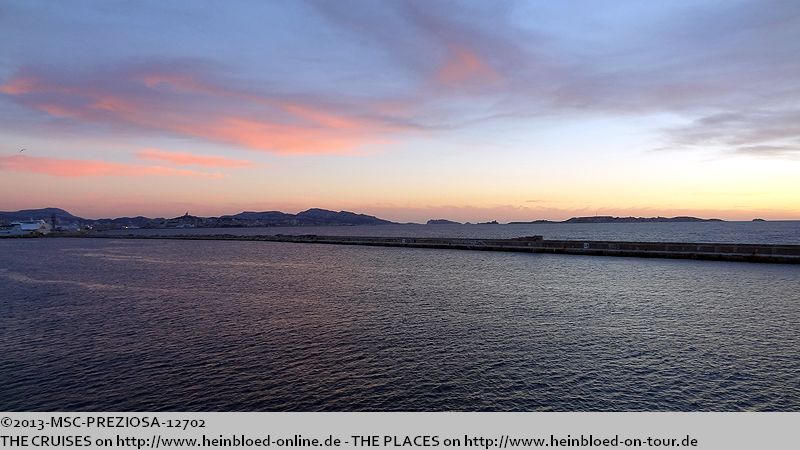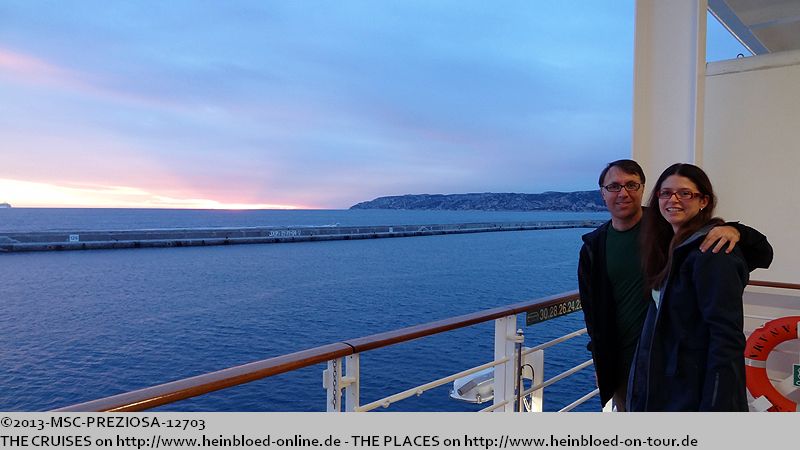 Sehnsüchtig gucken Mellie und Richard der COSTA MEDITERRANEA hinterher: Fernweh, Reiselust oder wie immer man das Bild bezeichnen will.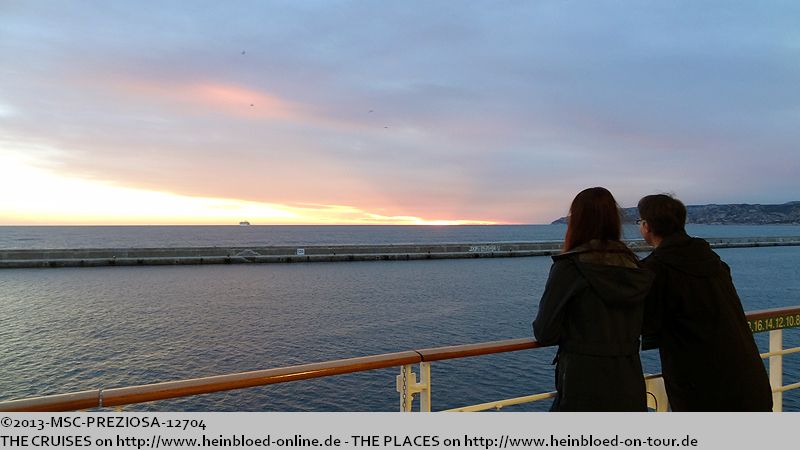 With some desire Mellie and Richard watched COSTA MEDITERRANEA sailing away: wanderlust, travel bug or however you would like to name this picture.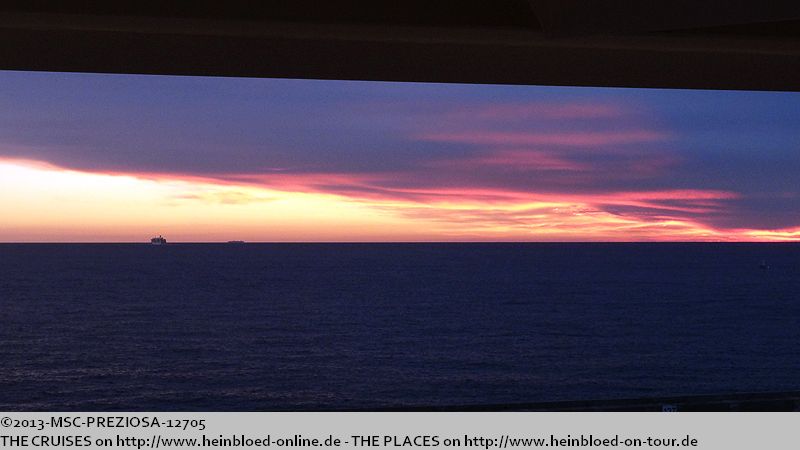 Ätzend... deswegen finde ich die NORWEGIAN EPIC, ROYAL PRINCESS und jetzt MSC PREZIOSA so furchtbar. Wenigstens hat NCL das ja bei der NORWEGIAN BREAKAWAY wieder verbessert und gelernt, dass man auch die Promenade sehr schön vermarkten kann.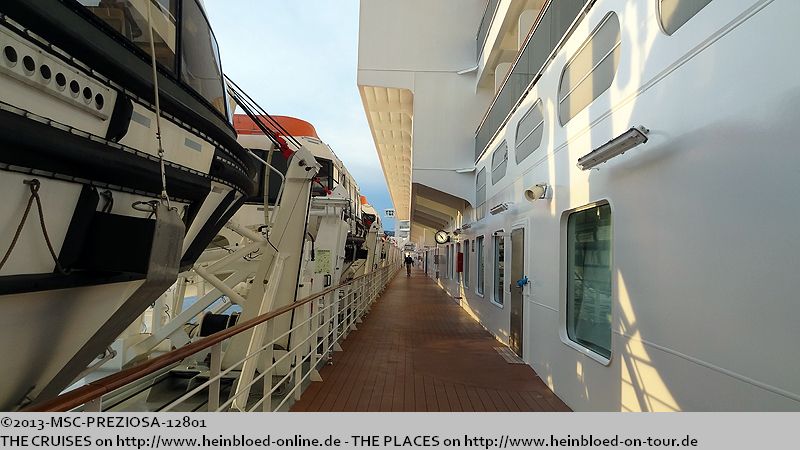 I hate this... that is why I dislike NORWEGIAN EPIC, ROYAL PRINCESS and now MSC PREZIOSA. But glad to know that NCL learned and now they know how to sell the promenade like on NORWEGIAN BREAKAWAY.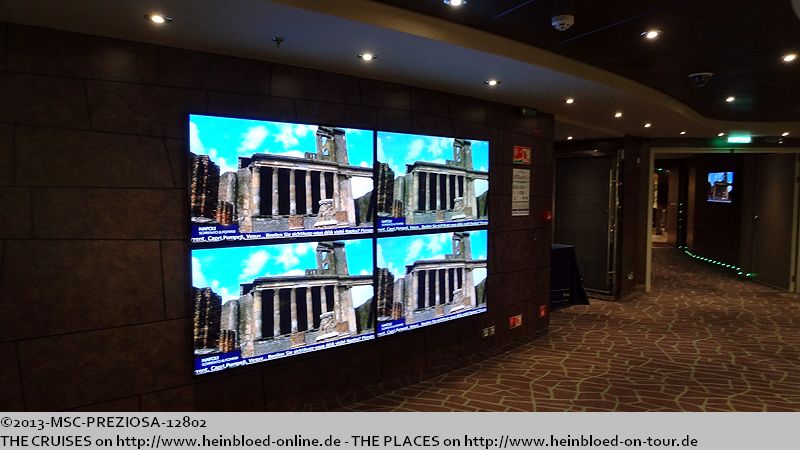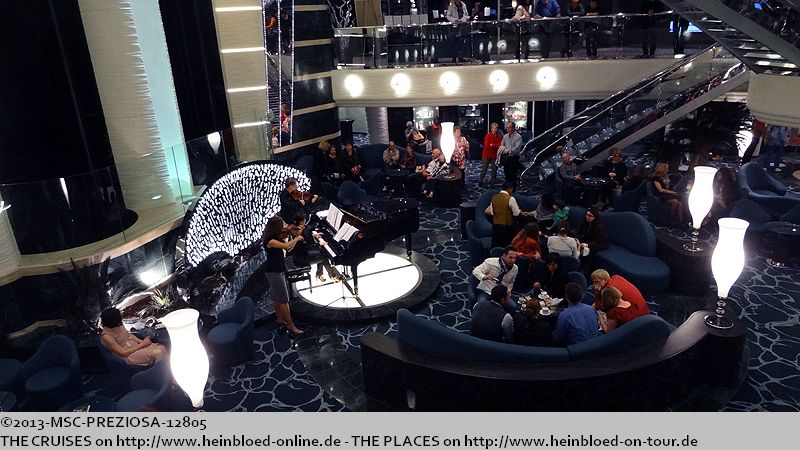 Has someone decollated her... Was she singing so bad?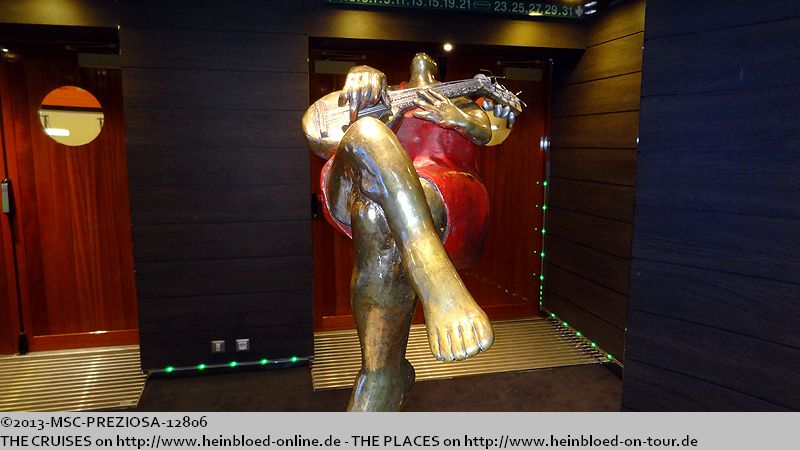 Hat ihr jemand den Kopf abgeschlagen... Hat sie so schlecht gespielt?
An Bord kann man noch die Getränkepakete kaufen. Allerdings mit 15% Servicezuschlag. Deswegen möglichst schon zu Hause buchen.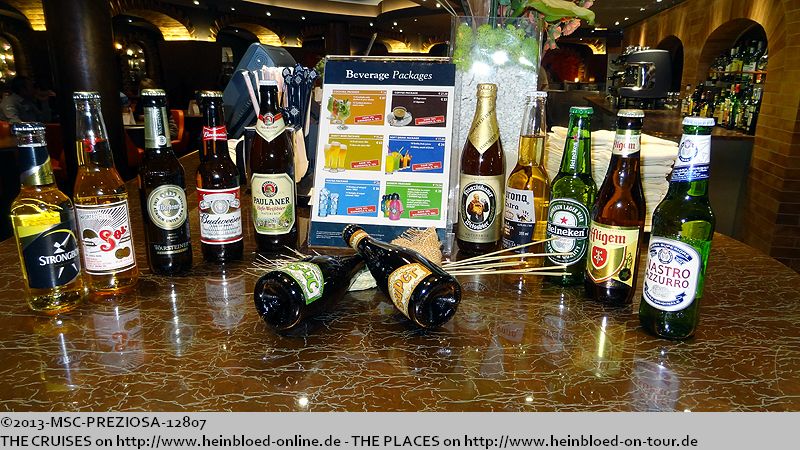 You can still buy beverage packages while you are on board. But you have to add 15% service charge. So best would be to pre-book at home.

100% cotton... Finally, I found a new hoodie jacket.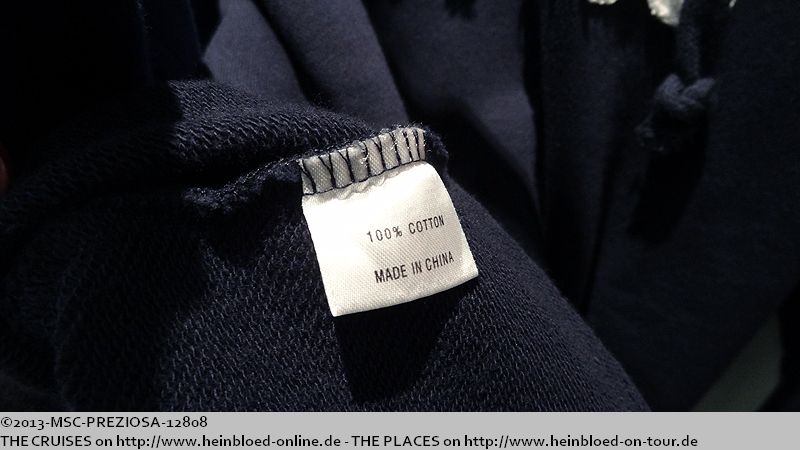 100% Baumwolle... endlich eine neue Kapuzenmütze.
Aber die Verarbeitung ist so schlecht, dass ich es trotzdem nicht kaufe. Gibt es keine Qualitätskontrolle bei MSC?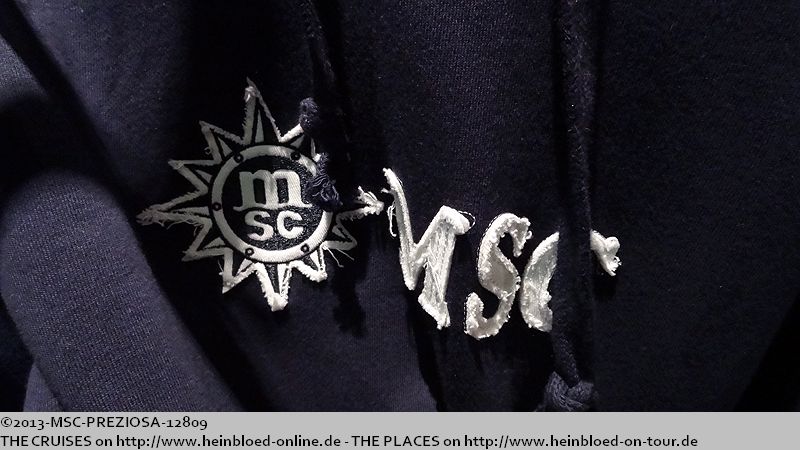 But the processing was so bad that I did not work it. I was wondering, that they do not have any quality control over MSC?

My card needs to be replaced because I cannot get into our cabin. Looked different now. Even my Silver membership was displayed.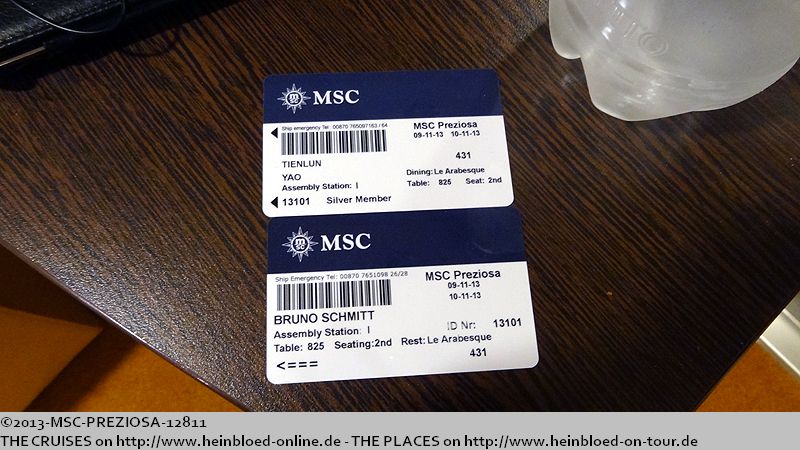 Meine Karte muss ersetzt werden, weil ich damit nicht mehr in die Kabine komme. Sie sieht jetzt anders aus. Sogar meine MSC-Club-Silbermitgliedschaft ist vermerkt.
Auf ein Internetpaket verzichte ich. Man muss keinen Coupon mehr besorgen und kann sich direkt per WLAN am eigenen PC buchen.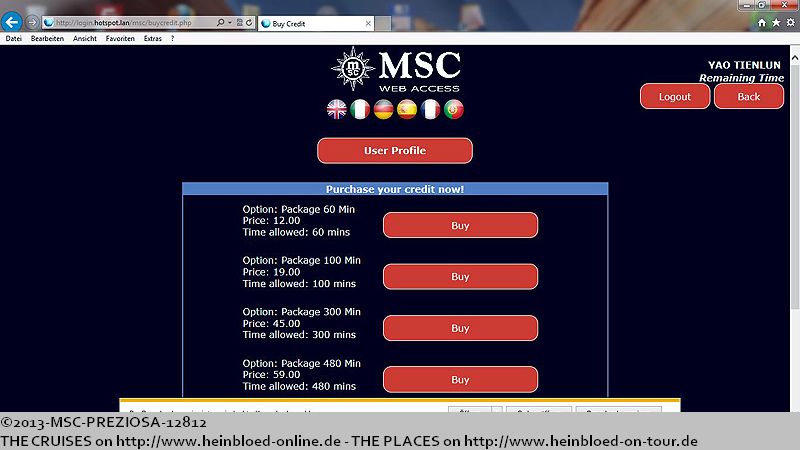 I did not take an internet package. You must not need to buy coupons, and you can just book the package right at your own PC.

We went to the first show, and I need to cry out loud when the kids of the MSC kids club came on stage.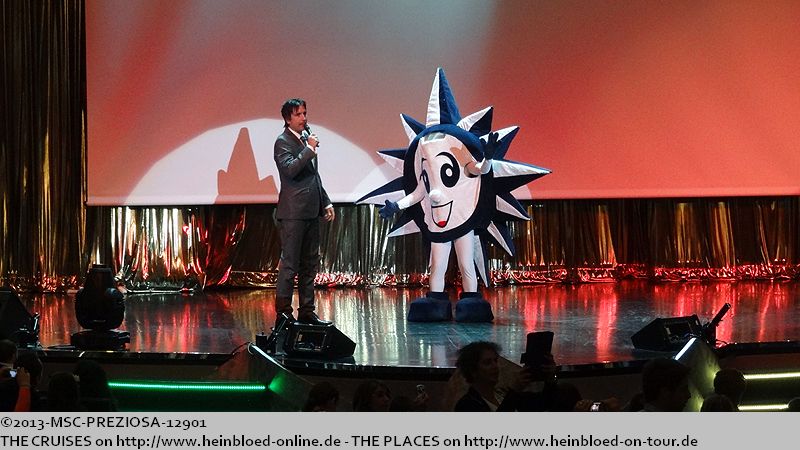 Wir gehen zunächst zur ersten Show und ich bekomme erst mal einen Schreianfall, als der MSC Kinder Club auf die Bühne kommt.
Nun die Eltern und die anderen Gäste sind begeistert und ich möchte bloß im Boden versinken. Das bin ich nun mal nicht mehr gewohnt. Seit 2009 sind wir nicht mehr familienfreundlich-italienisch unterwegs.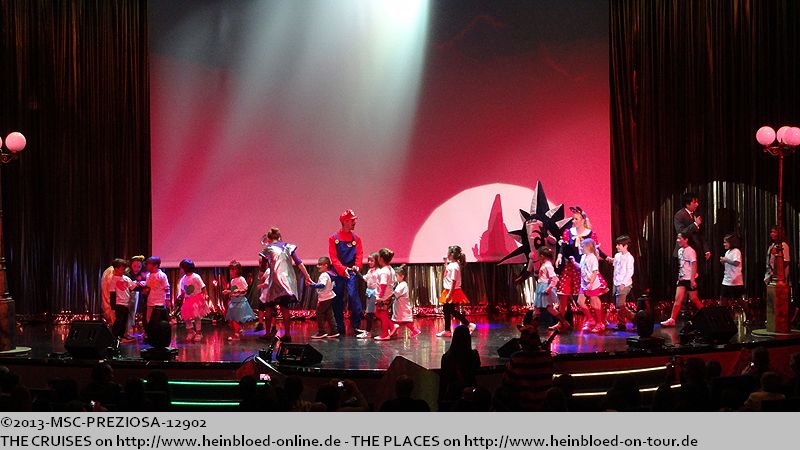 But the other guests and their parents were very excited, and I just want to disappear. I was not used to having such shows anymore. Since 2009 we did not go anymore on family-friendly Italian ships.

In the front two leading dancers who showed the kids how they had to move. O.K. Looked somehow sweet.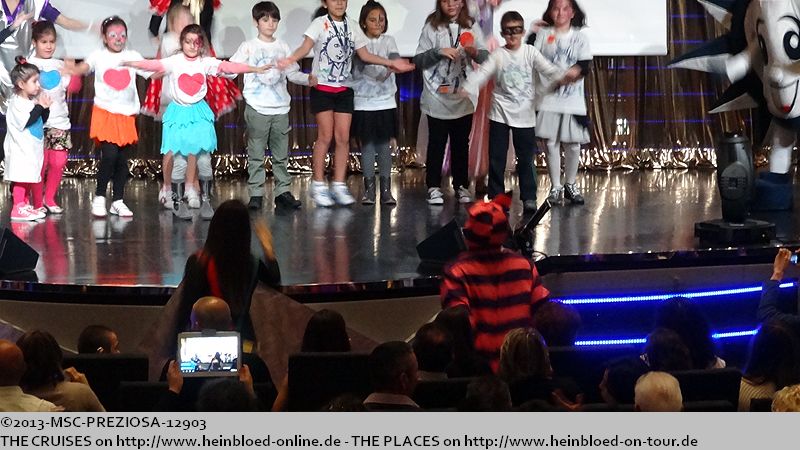 Vorne sind zwei Vortänzer, die den Kids vormachen, wie sie sich bewegen sollen. O.K. Sieht irgendwie süß aus.
So ein Bild zu machen, kann ich mir nicht entgehen lassen...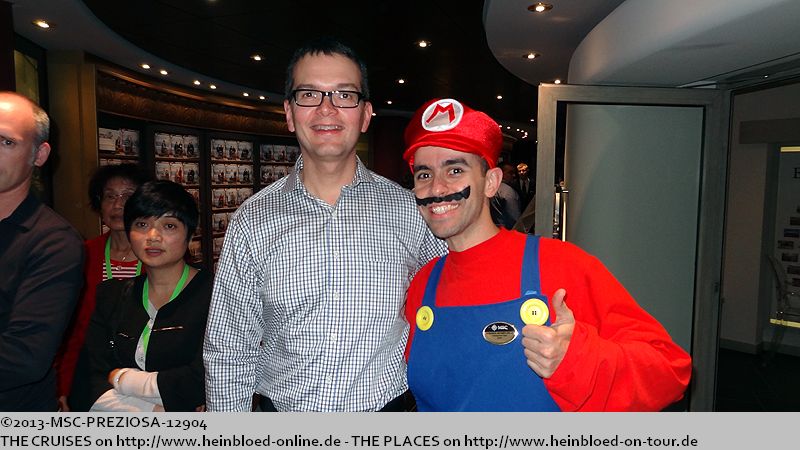 I cannot miss the chance to take such a picture.
Die anderen Reisen in diesem Blog/
The other voyages in this blog: