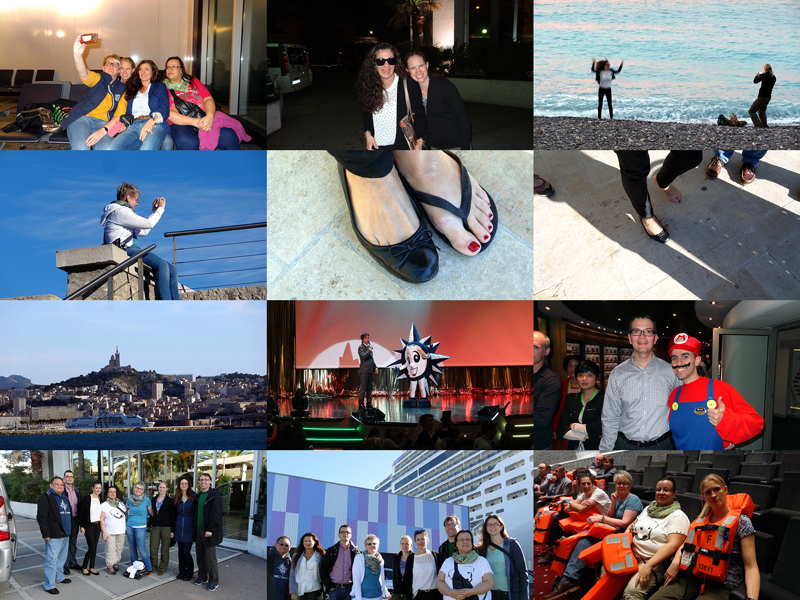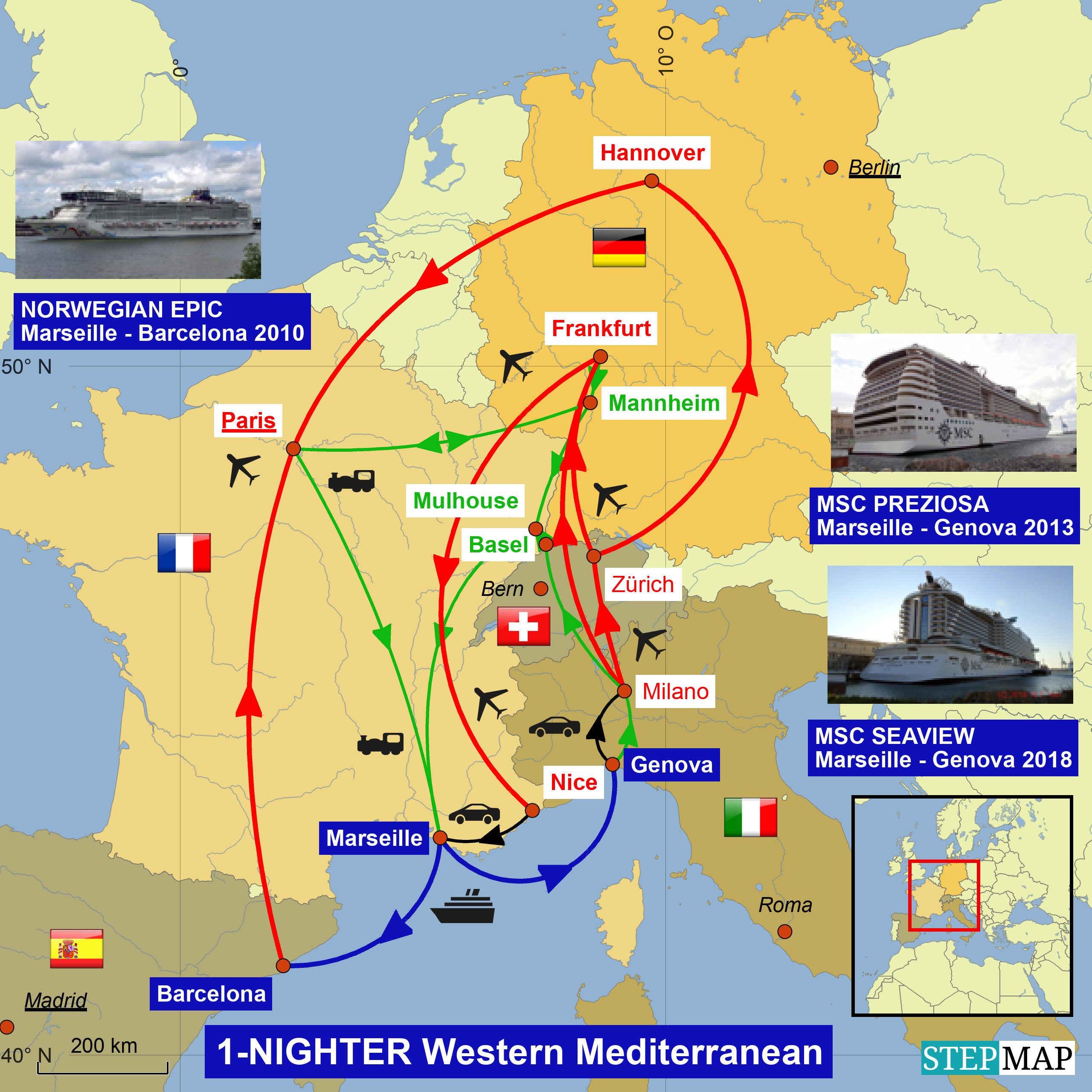 MSC hat Pech oder ich hatte Pech: ich komme ausgerechnet von der
RYNDAM 2013
und dort habe ich so ziemlich die besten Production Shows erlebt. Vier kristallklare Stimmen. Alles Broadway und Las Vegas-Stil und die Musik, die ich mag. Deswegen habe ich extrem hohe Ansprüche, als ich die Show besuche: "Paris Witches" (Pariser Hexen/Wesen) - leider nur die Musik vom Band und sehr "lahm" (
Edith Piafs "La Vie en Rose"
), was für mich nur bedeutet, dass ich nicht in der 1. Minute "eingesammelt" wurde und bleiben möchte. Irgendwie höre ich Französisch mit unbekanntem Akzent heraus... und das auch sehr abgehackt, als ob der Teleprompter zwischendurch stehenbleibt. Schade.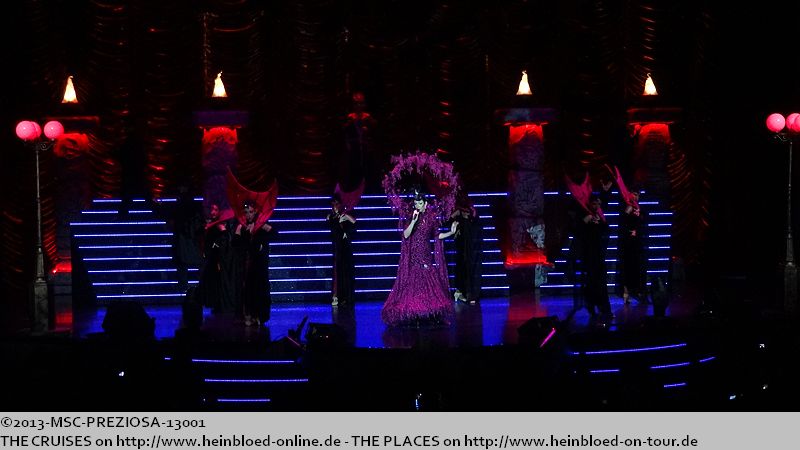 MSC had unluck - or I had unluck: I was just back from RYNDAM 2013, and there I experienced on the very best production shows ever. Four crystal clear voices. All Broadway- and Las Vegas-style and music which I liked very much. That is why I have very high expectations when I see a show: "Paris Witches" - but only music from the tape and extremely "slow" (Edith Piaf's "La Vie en Rose"), which meant to me that I was not "picked up" the very first minute and making me want to stay. Somehow I could hear French with an unknown accent... extremely choppy like a teleprompter gets stuck. So sad.

Tango... nice to see...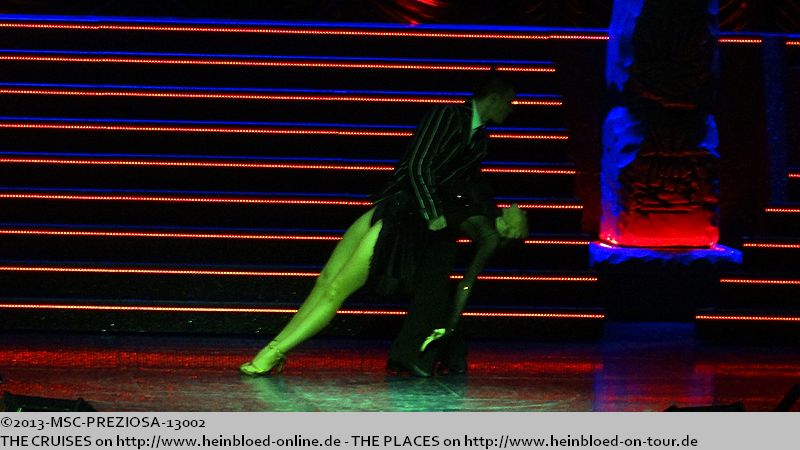 Tango... schön zum Angucken...
Die drei Artisten waren ganz gut... Typisch MSC: möglichst wenig Worte, damit man alle Nationen und Sprachen an Bord bedient. Deswegen wenn man Kinder dabei hat oder Gäste ohne Fremdsprachenkenntnisse, dann sind solche Shows sehr gut, weil man keine Texte verstehen muss. Nur bin ich derjenige, der eben mehr auf sehr guten Gesang steht, statt Akrobaten.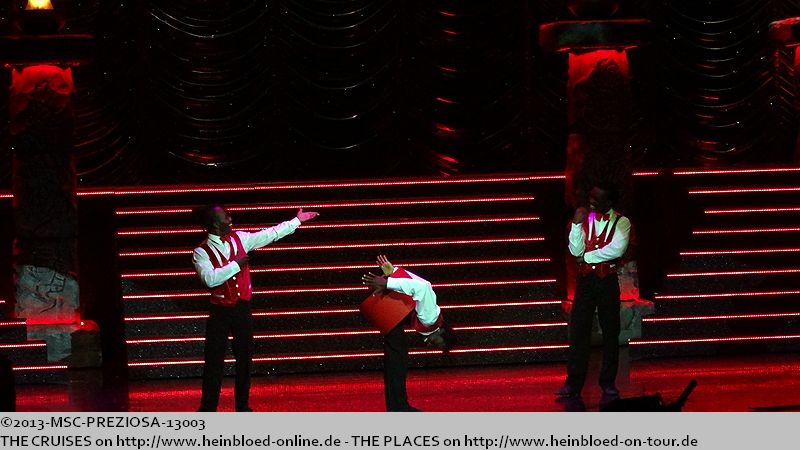 The three artists were very nice... Typical for MSC: the fewer words, the better so you could meet the need of all nations and languages. So if you have kids with you or guests without any foreign language skills, you have a great show because you must not understand any texts. But unfortunately, I am a person who loves more vocal but acrobatic performances.

What did the Sabre Dance of the Armenian Aram Chatschaturjan have to do with "Paris Witches"?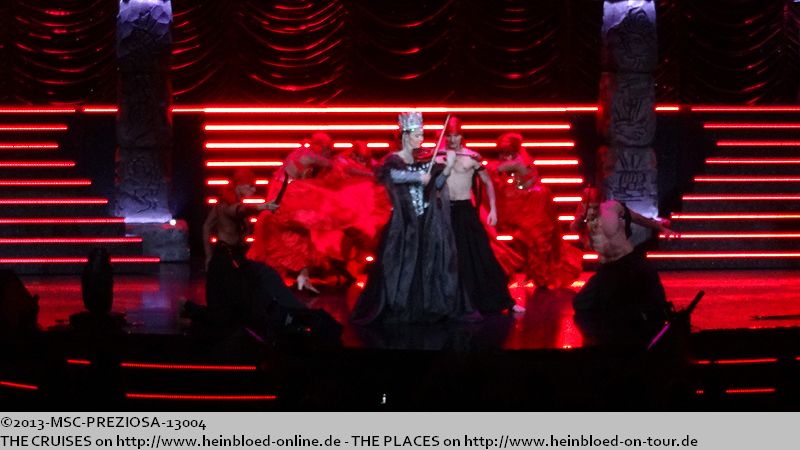 Was hat nun der
Säbeltanz des Armenier Aram Chatschaturjan
nun mit "Pariser Hexen" zu tun?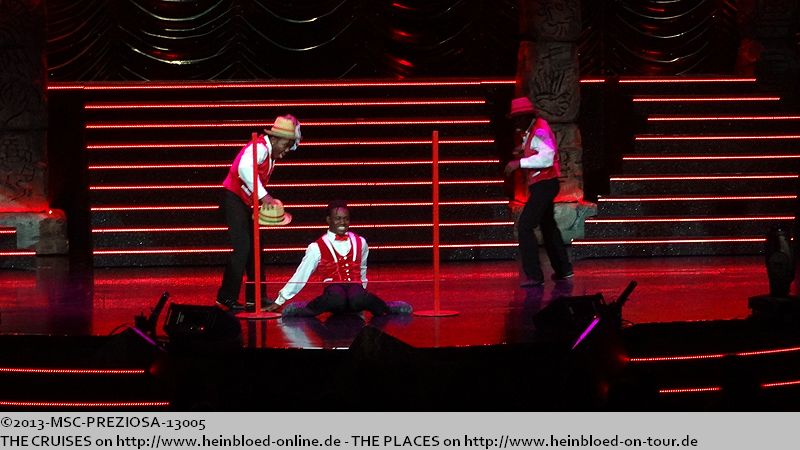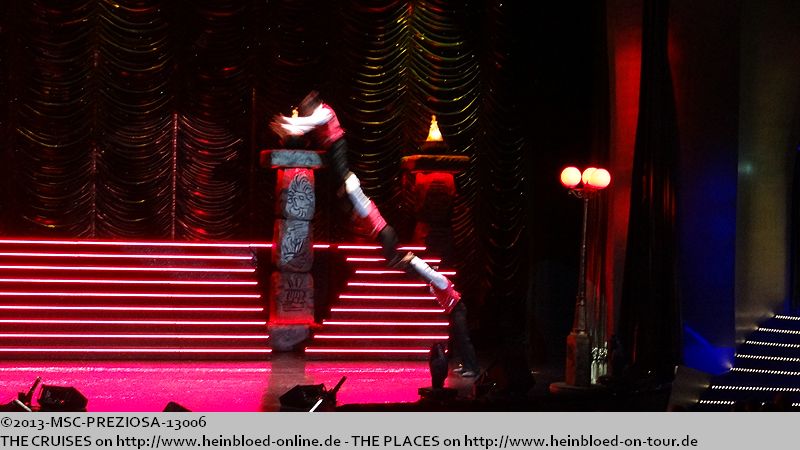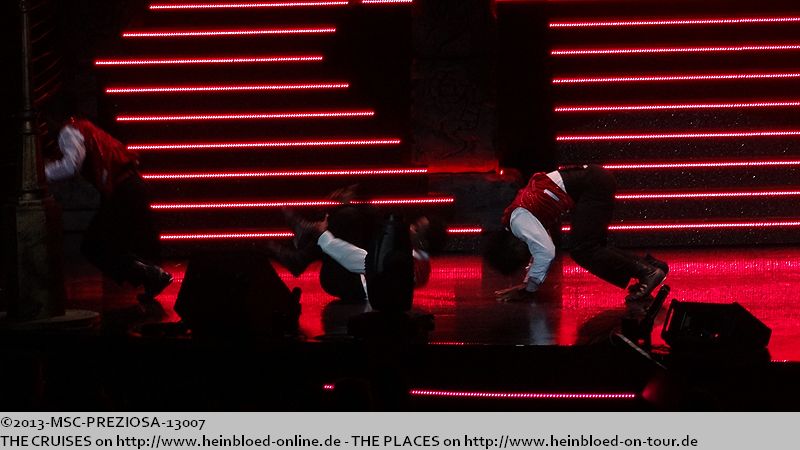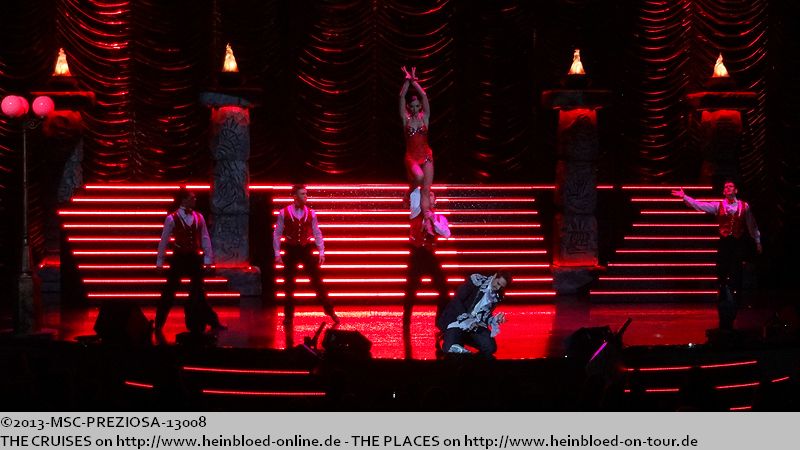 Beim
Can-Can aus Jacques Offenbachs "Orpheus in der Unterwelt"
werden dann alle (inkl. mich) eingefangen.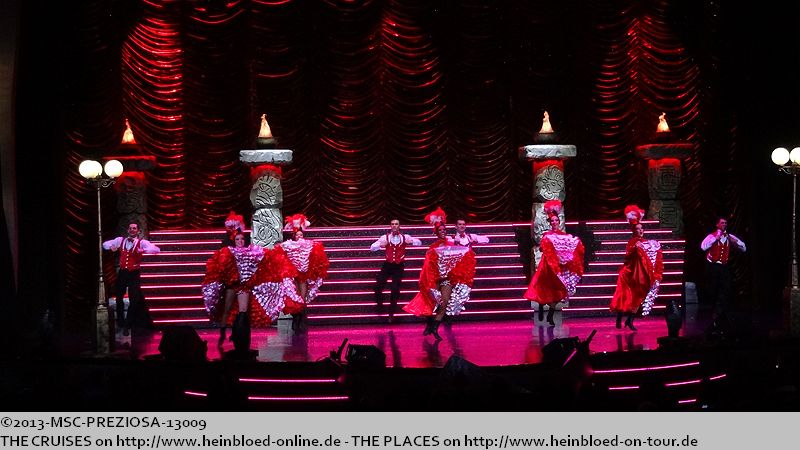 They caught everone (incl. me) finally with Can-Can out of Jacques Offenbach's "Orpheus in the Underworld".

But there was not anything from "Orpheus in the Underworld", I could sing with: "When you seduced the fair Alcmena..."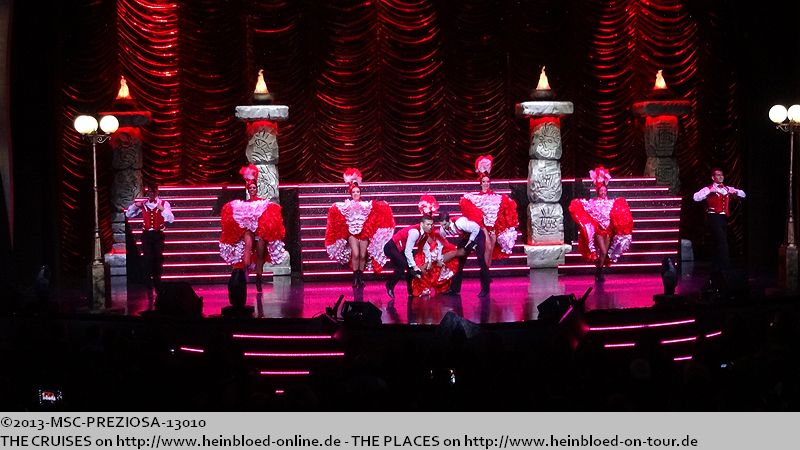 Nur lief ja nichts aus "Orpheus in der Unterwelt", bei dem ich mitsingen konnte: "Um einst Alkmenen zu betören..."

Nur leider wurde es sooft dann wiederholt, dass man den Eindruck hatte, dass denen das Geld für die Musikrechte ausgegangen ist.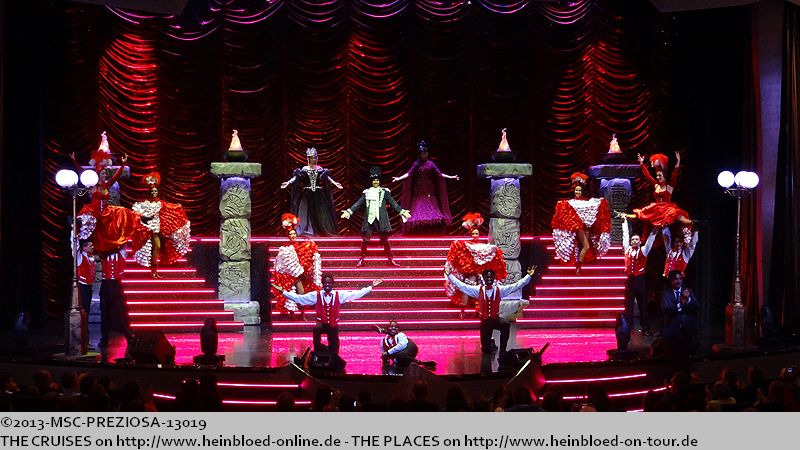 But they repeated it again and again that you got the impression that they ran out of the budget for music rights.

Excitement looked somehow different... Apparently, Hanna was the only one who had the fun of the show...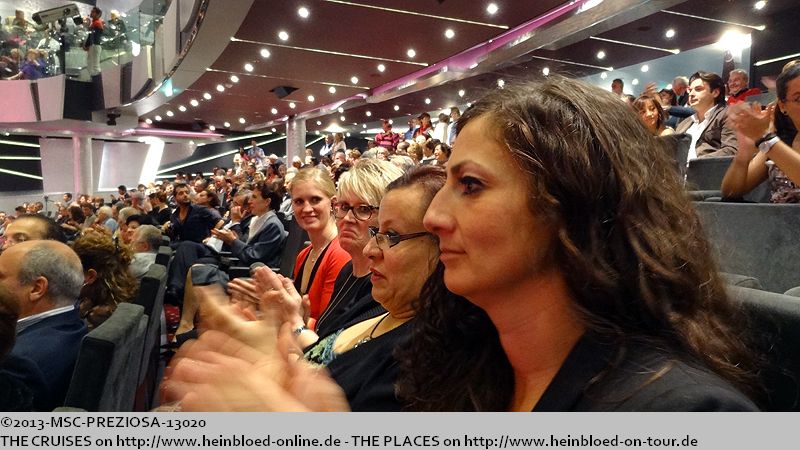 Begeisterung sieht anders aus... Nur Hanna hatte offensichtlich ihre Freude an der Show....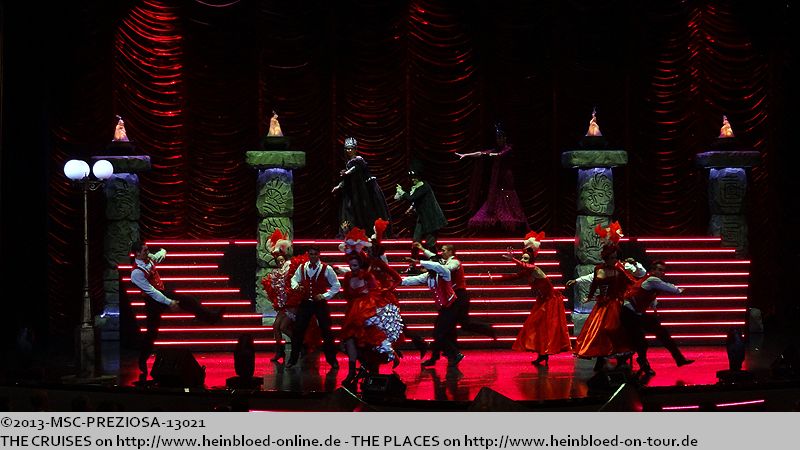 Michael Jackson's "Heal the World"... Dark memories were coming back... but really dark.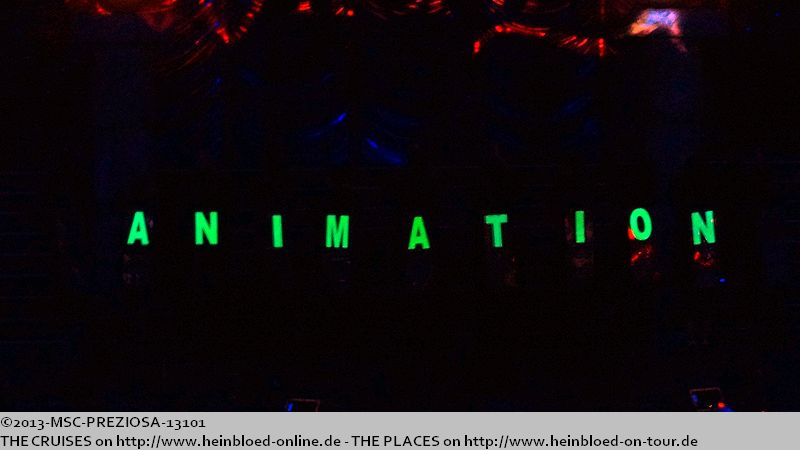 Michael Jacksons "Heal the World"
... Ich erinnere mich dunkel noch... im wahrsten Sinne des Wortes.

Da wir ja morgen die Hauptausschiffung in Genua haben, gibt es noch zum Finale
USA for Africas "We are the World"
.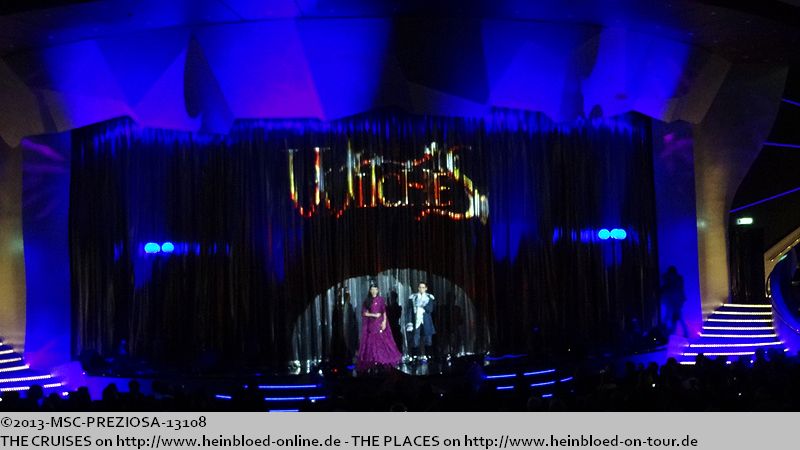 As we had the next day the main debarkation in Genoa, Italy you had finally USA for Africa's "We are the World".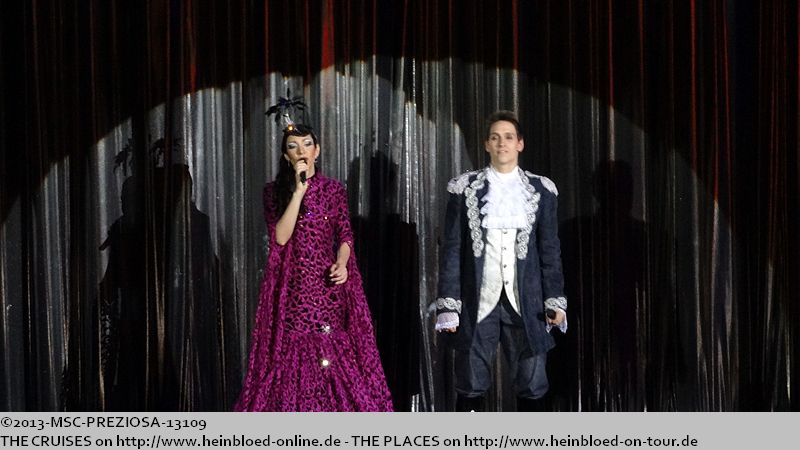 Viele schwenken schon im Takt ihre Arme in der Luft.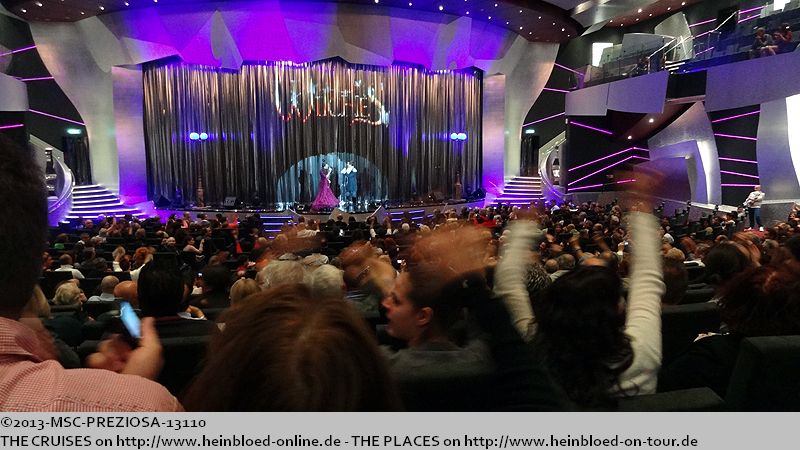 Many were swinging their arms in the air with the beat of the music.

Some were singing. So did I.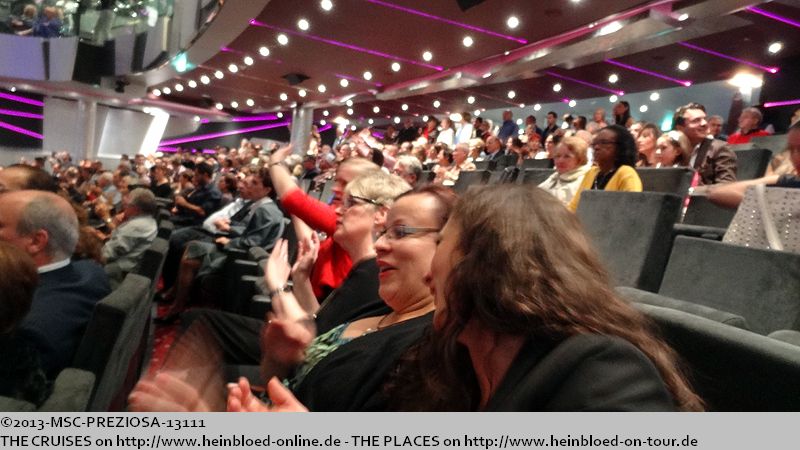 Manche singen mit. Ich auch.
Und endlich passiert mal was auf der Bühne.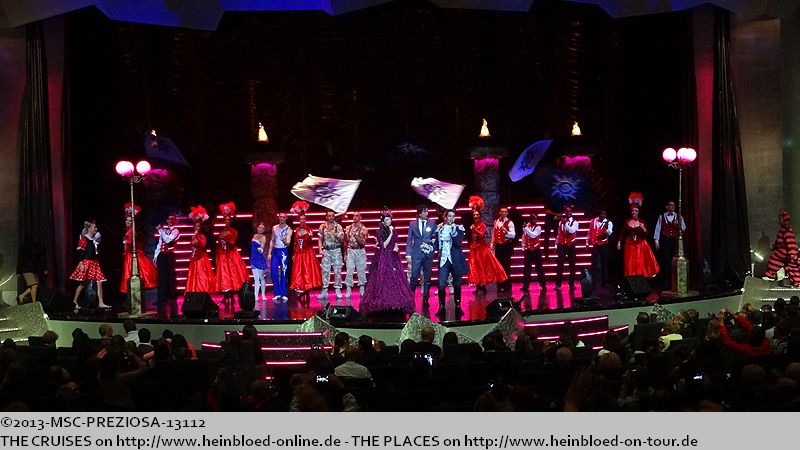 And finally something happened on the stage.

Somehow very sad... MSC can do it better...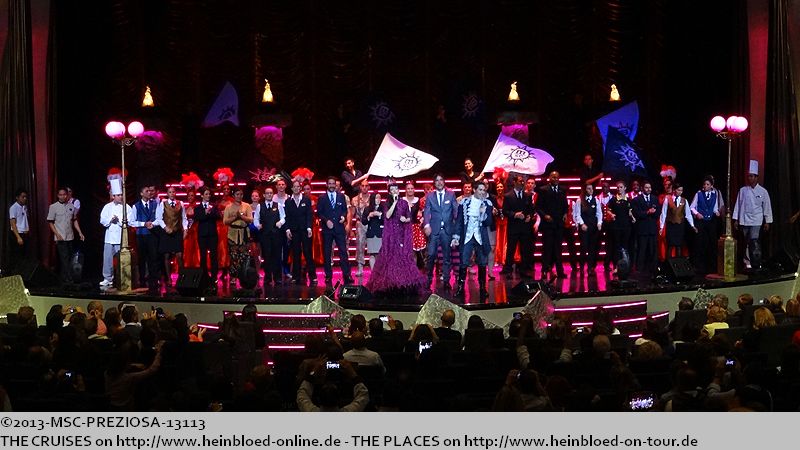 Schade... es geht bei MSC auch besser...
Damals noch auf der MSC FANTASIA... mit Tenor Enrico Scotto... und einem Sänger, der die tollen Hits von Queen sang.

Then on MSC FANTASIA... with the tenor Enrico Scotto... and a singer who sang all the great hits of Queen.

"Nessun Dorma" from Giacomo Puccini's "Turandot" - as duett. With a beautful stage set so I had to cry.

"Nessun Dorma" aus Giacomo Puccinis "Turnadot"
- als Duett. Mit einem wunderschönen Bühnenbild, dass ich geheult habe.
Und so hat das Publikum damals reagiert. Eine unvergessliche Show damals auf der
MSC FANTASIA 2009
. Also speziell für diejenigen, die Ostern auf die MSC MAGNIFICA gehen: auch wenn ich persönlich DIESE Show nicht mochte: es gibt in drei Nächten auch mehr zu sehen als nur diese eine Show. Und auf jedem Schiff werden andere Shows geboten.

And so the audience reacted then. An unforgettable show we had on MSC FANTASIA 2009. Especially for those who are going on MSC MAGNIFICA Easter Holidays: even me personally did not like THIS show: You have three nights, and so you have more to see but only this show. And each ship has different shows.
Die anderen Reisen in diesem Blog/
The other voyages in this blog: