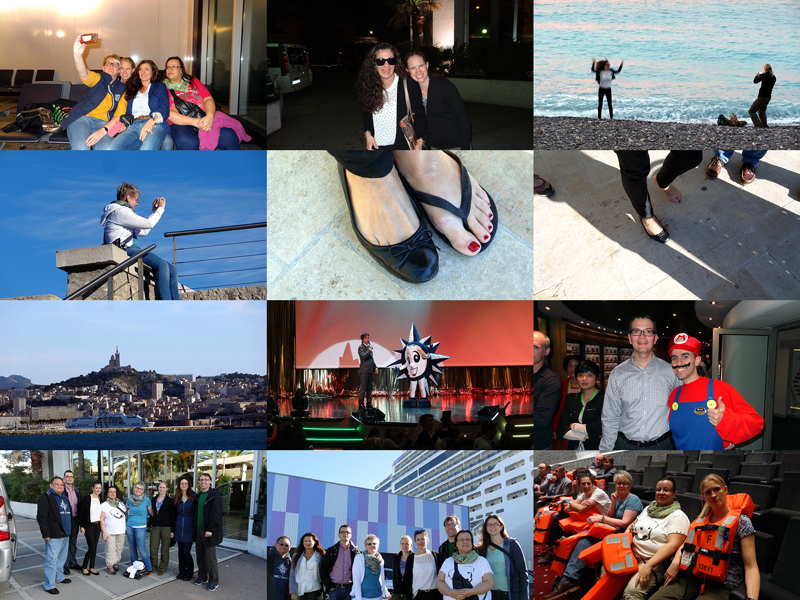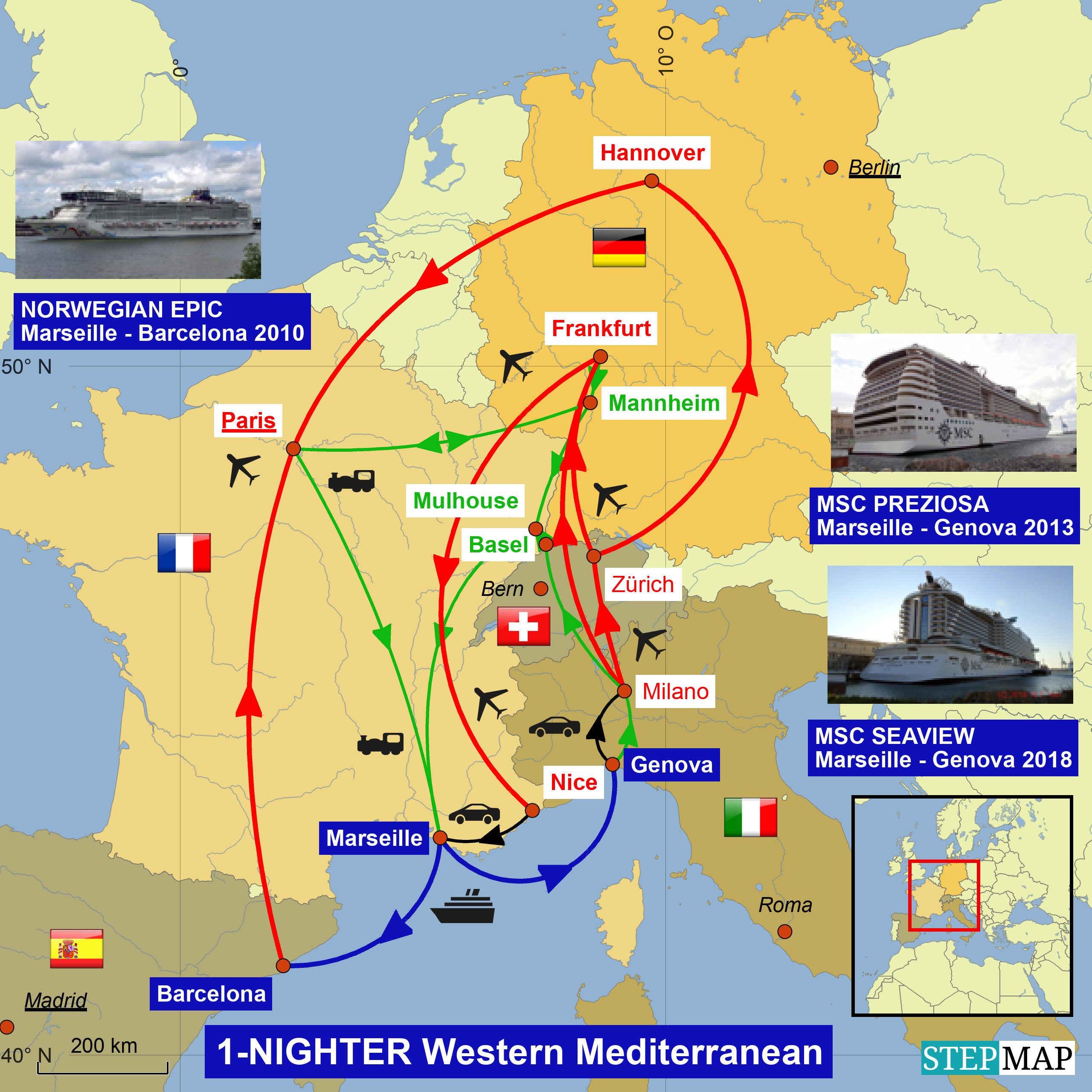 Im Bad fiel positiv auf, dass es nun eine Duschkabine gab. Allerdings war es doch etwas schwierig ein und auszusteigen, weil der größere Teil der Tür nach innen aufging.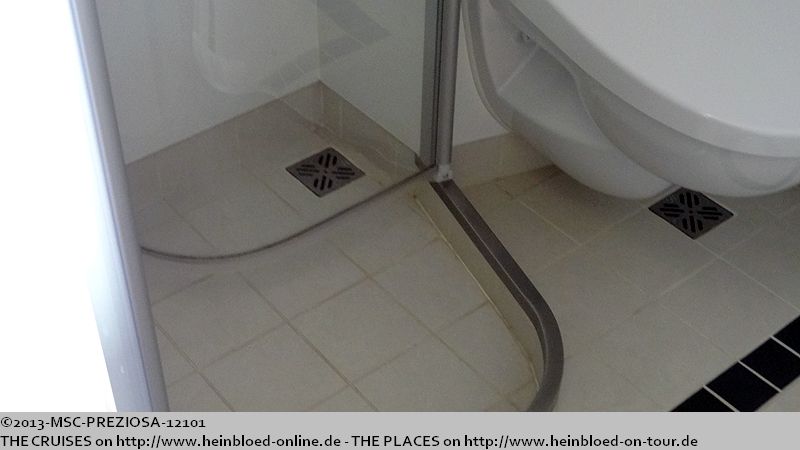 In the bathroom we learnt with a great surprise that they had now a shower cabin. But somehow it was a little difficult to access as the larger part of the door was swinging inside.

On MSC FANTASIA they still had the curtain.

Auf der MSC FANTASIA gab es noch die Vorhänge.
Aber auf der MSC MUSICA hatten sie sich noch immer schön Mühe gemacht. Heute arbeitet MSC nicht mehr mit Hilfsstewards im Kabinenbereich.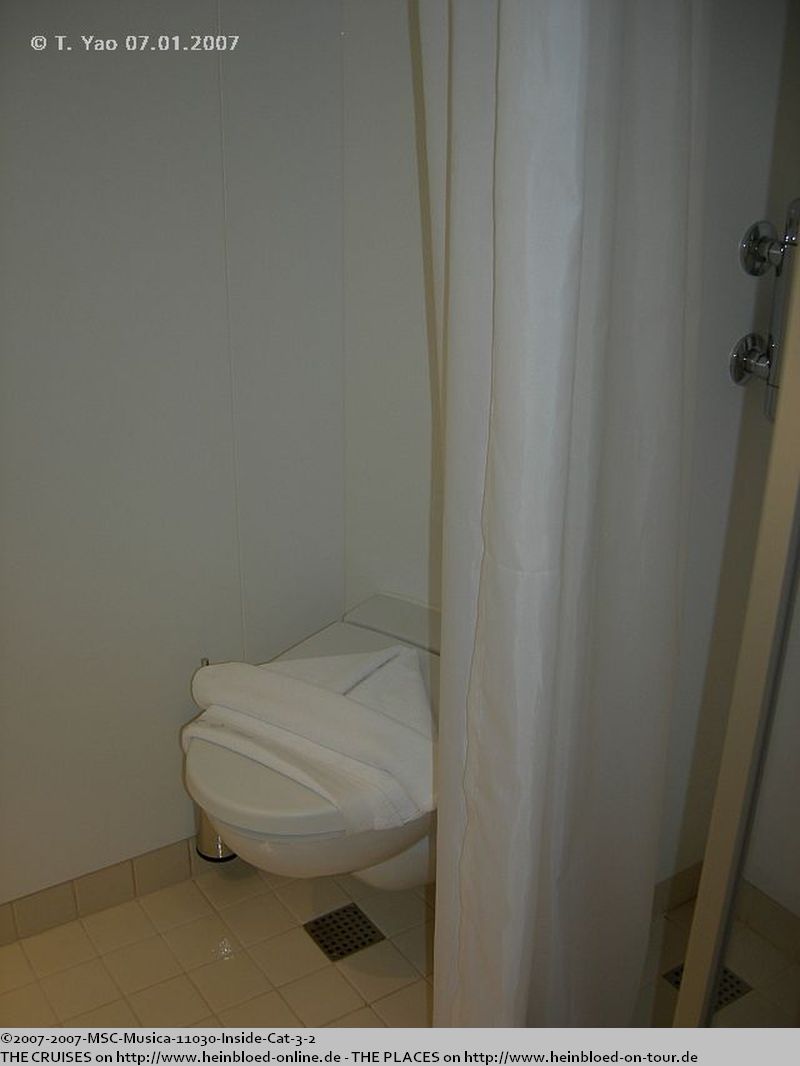 But on MSC MUSICA they still spent more effort. Today MSC is not working any more with assistant cabin stewards.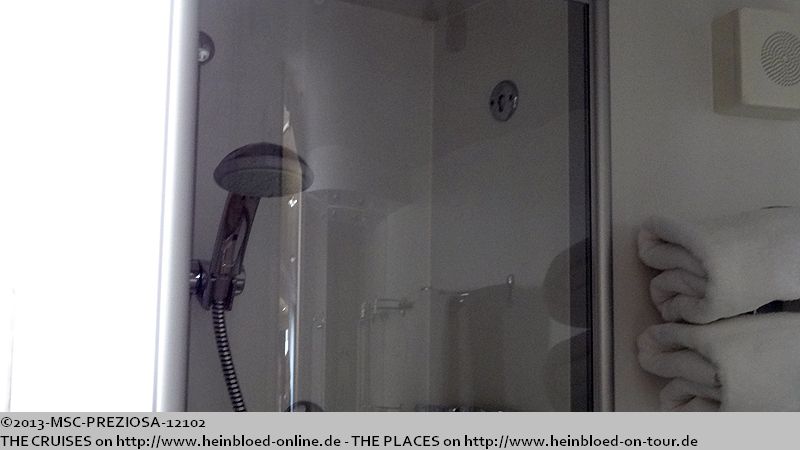 Beim MSC gibt es keine Waschlappen und keine Body Lotion.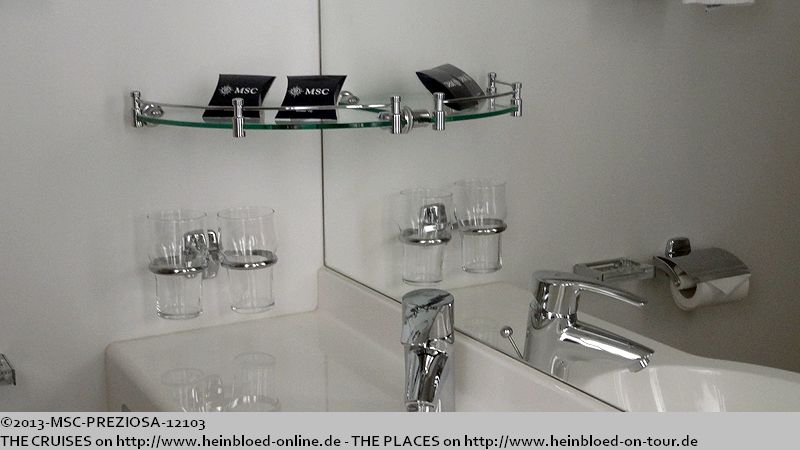 With MSC you never had washcloths and body lotion.

All information you get with MSC in seven languages. Daily programmes were also available in Japanese, and there was a larger group of Japanese on board.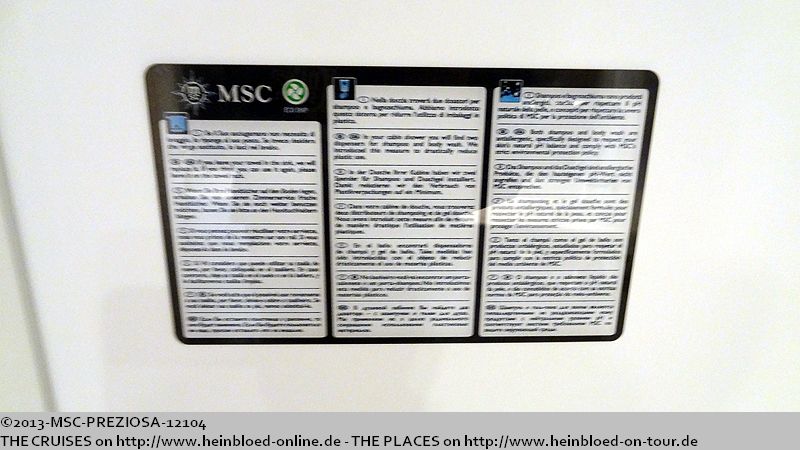 Alle Hinweise wie üblich bei MSC in sieben Sprachen mitlerweile. Tagesprogramme gab es sogar auf Japanisch, da eine größere Gruppe Japaner an Bord war.
200,00 EUR (2013) kostet der Spaß, wenn man Sachen in die Toilette wirft, die nicht rein gehören und eine Verstopfung verursachen.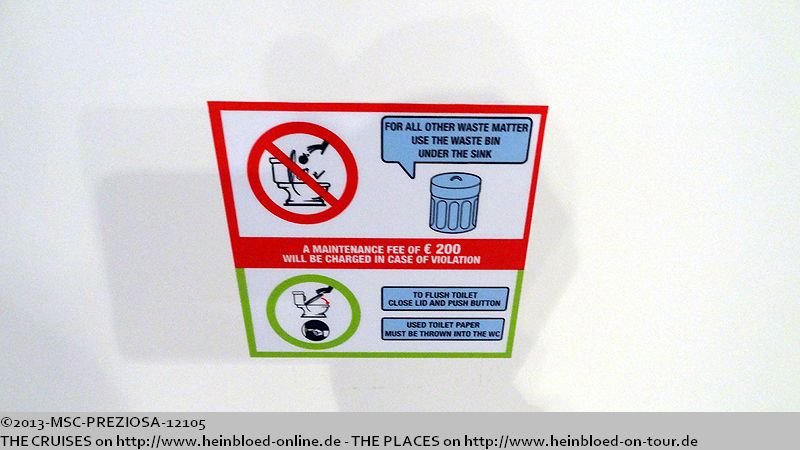 You had to pay 200.00 EUR (2013) if you throw things into the toilet which should not be in a toilet as they could occur congestion.

We were hungry and so went for lunch. Outside the self-service restaurant, you had already the information in which section you find the different food.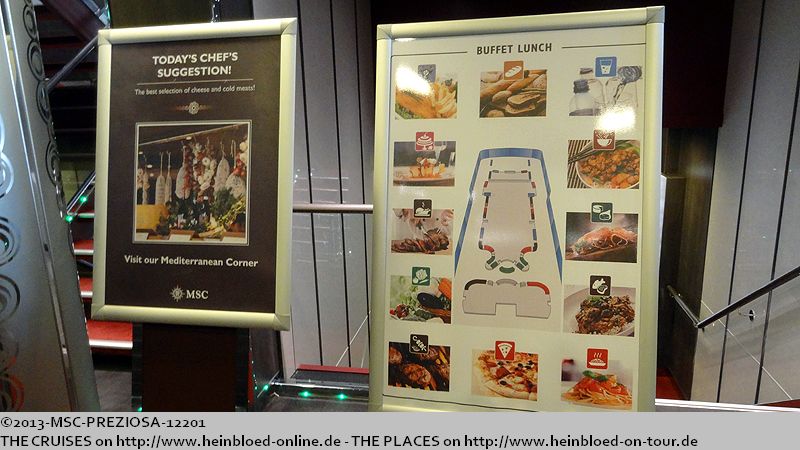 Wir haben Hunger und gehen essen. Außen befinden sich vom SB-Restaurant bereits Hinweise, wo man was findet.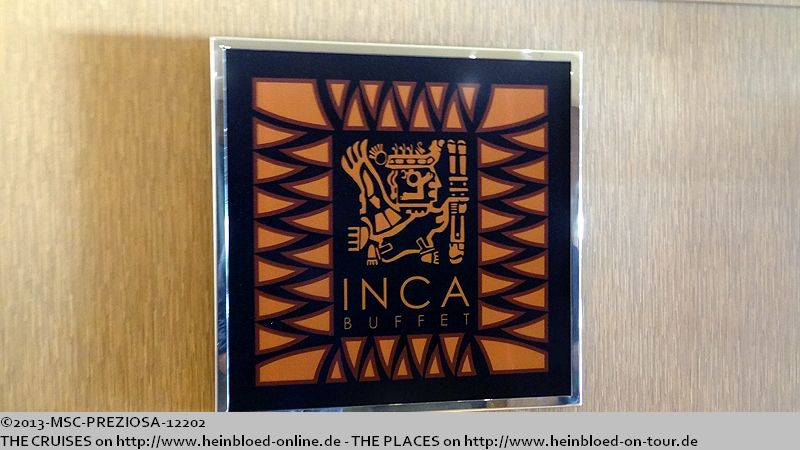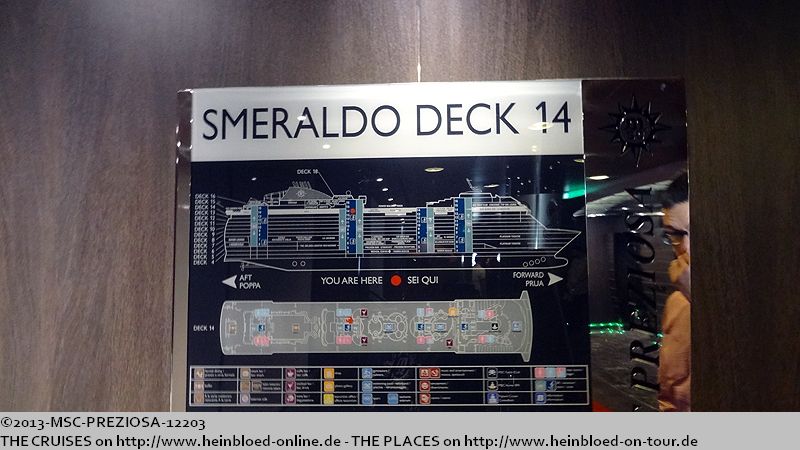 Getränke bekommt man am Tisch.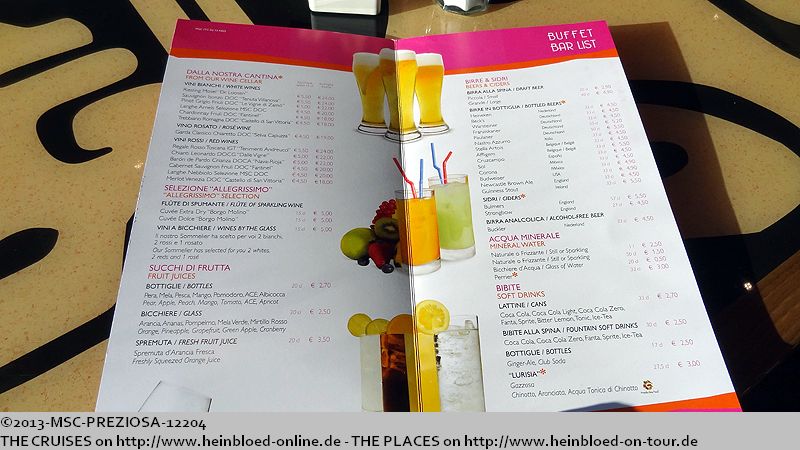 You get the beverages at the table.

Everything that was marked with an asterisk was not included in a Standard Allegrissimo beverage package and need to be paid extra.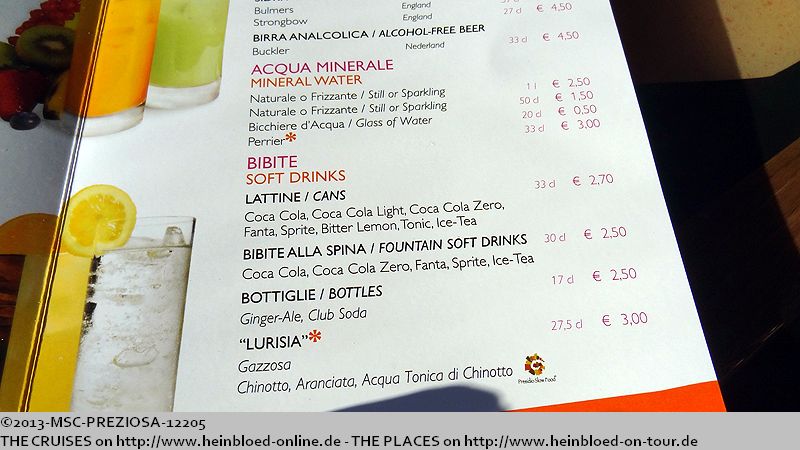 Die mit Stern gekennzeichnete Getränke sind im normalen Allegrissimo Paket nicht enthalten und müssen extra bezahlt werden.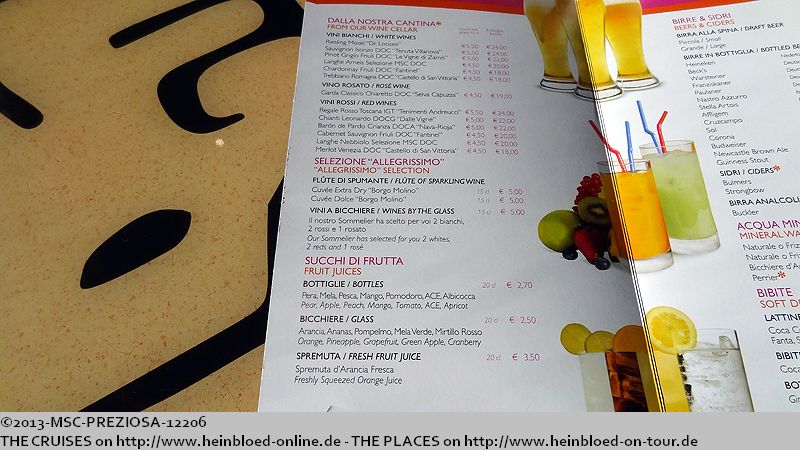 Furthermore you had always coffee, tea, water, milk and some juices available.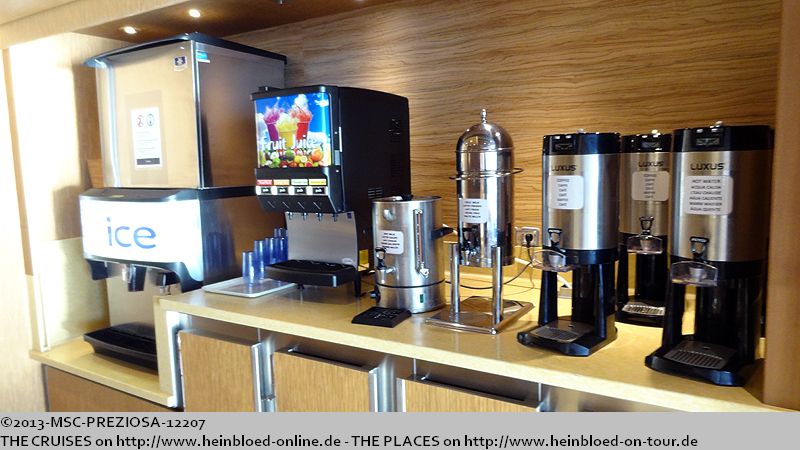 Außerdem steht immer Kaffee, Tee, Wasser, Milch und einige Säfte bereit.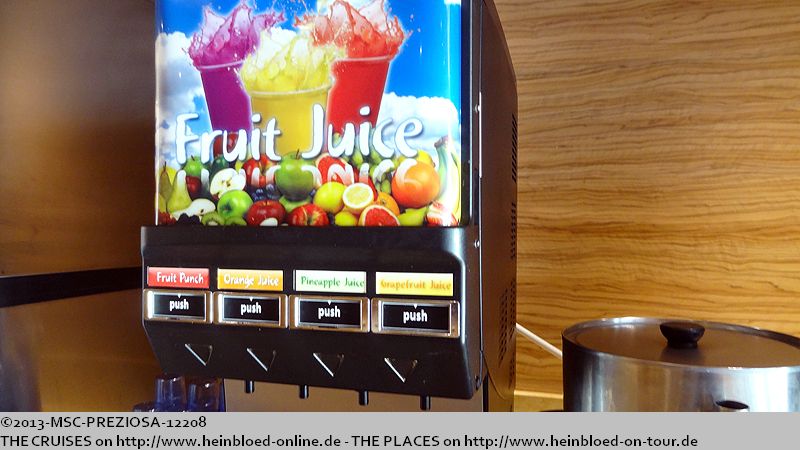 I need to admit that I was nicely surprised.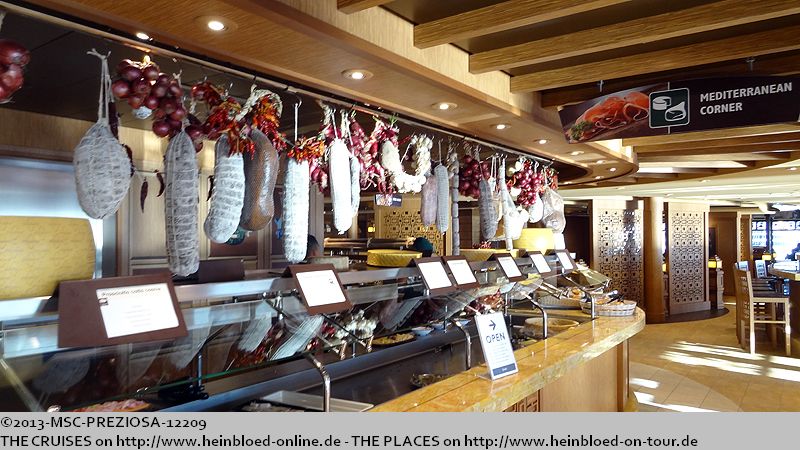 Ich muss ehrlich zugeben, dass ich positiv überrascht war.
Es gab auch eine ethnische Ecke.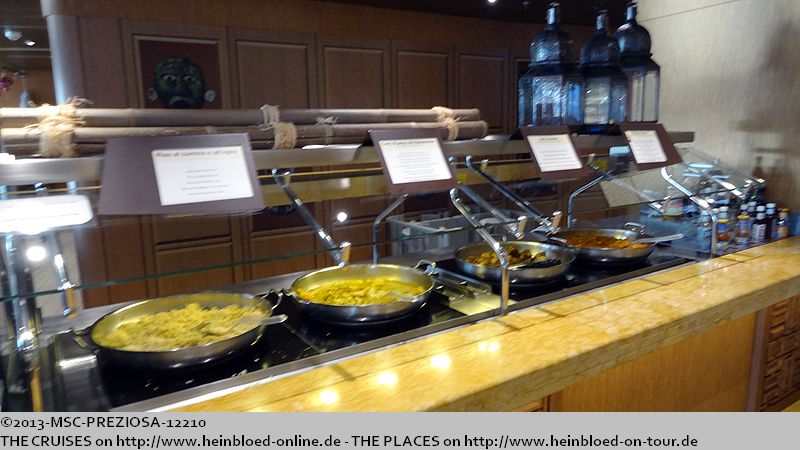 There was also an Ethnic corner.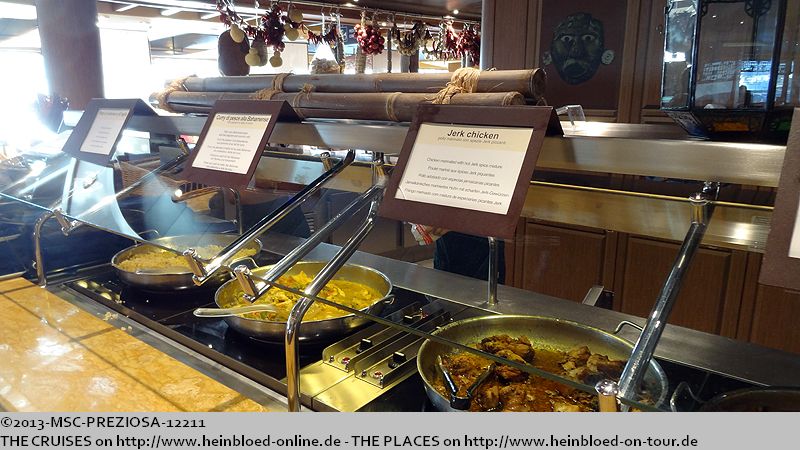 Und ein Kinderbüffet.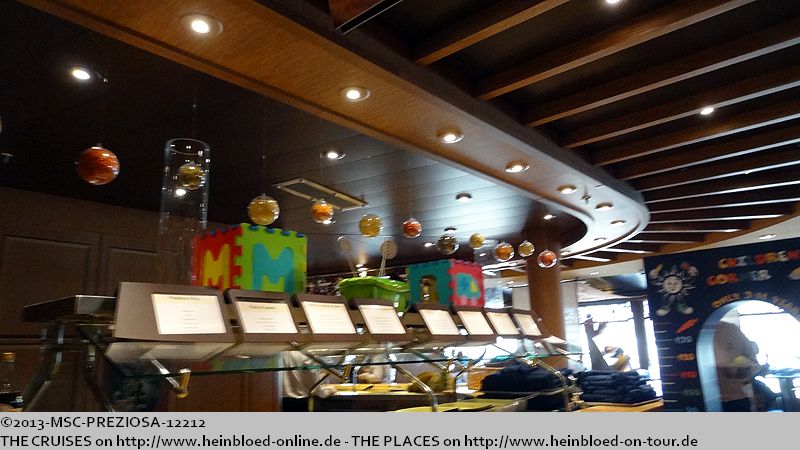 And a kids' corner.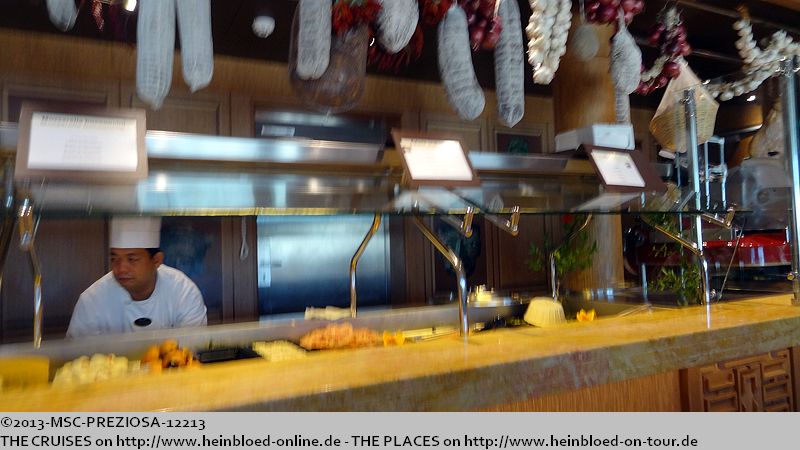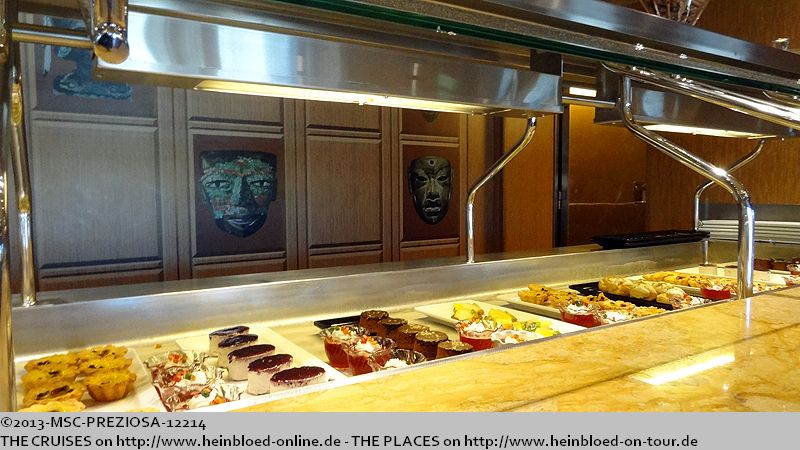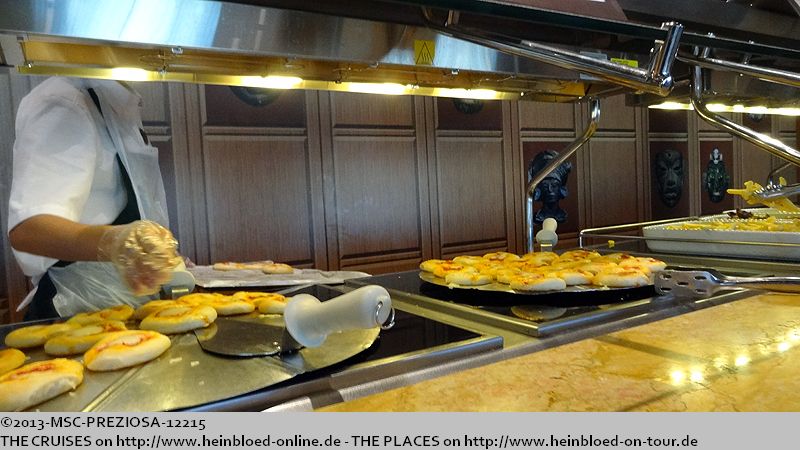 Im SB-Restaurant wurde alles sechssprachig erklärt.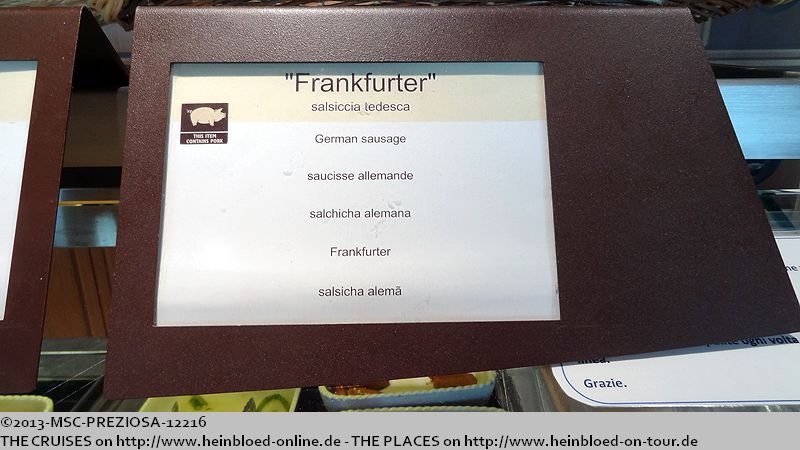 Everything in the self-service restaurant was explained in six languages.

But the burgers were not everyone's flavor if you are used to having American style burgers.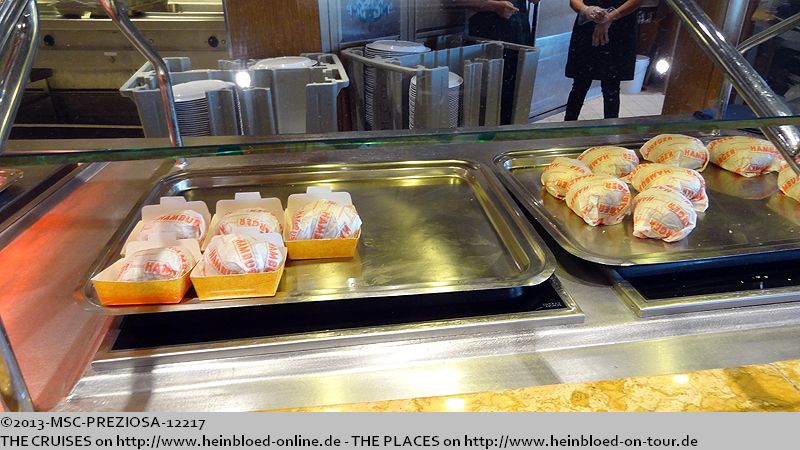 Nun die Burger waren nicht jedermanns Sache, wenn man amerikanische Burger gewöhnt ist.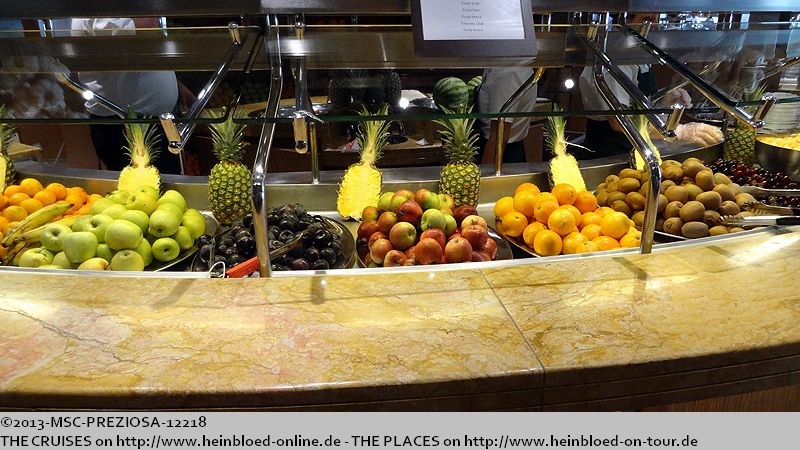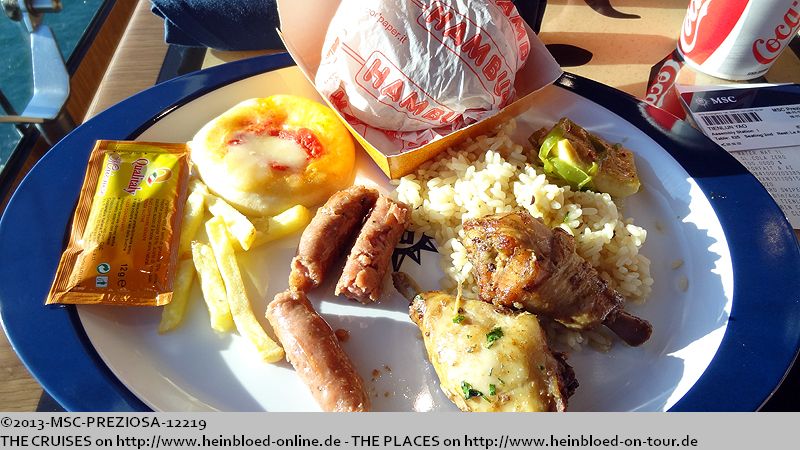 Die Getränke wurden an den Tisch gebracht. Cola wurde nur in Pappbechern serviert.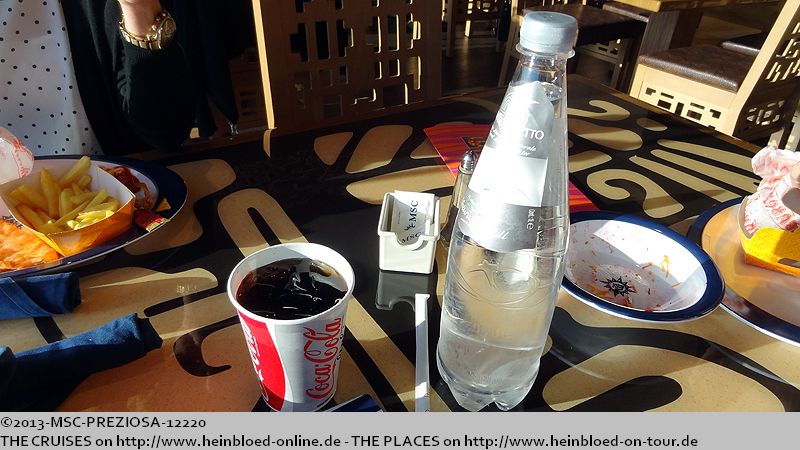 They served the beverages to your table. Coke was only served in papercups.

Here they presented the alternative events on a fee of the restaurants.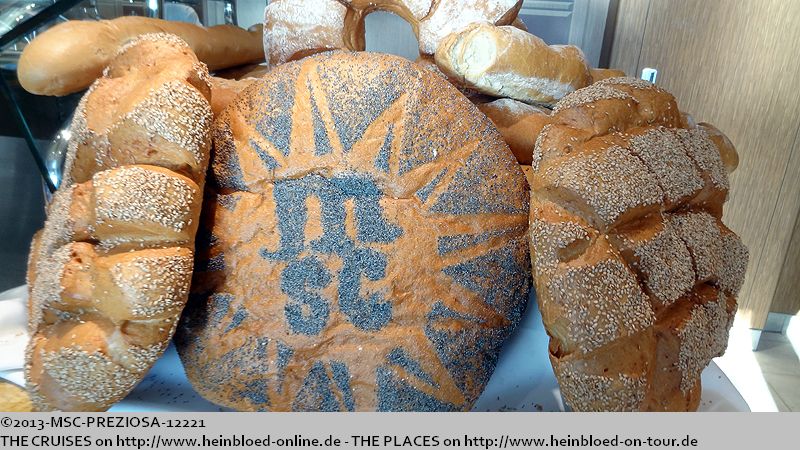 Hier wurde auf besondere zuzahlpflichtige Aktionen der Restaurants aufmerksam gemacht.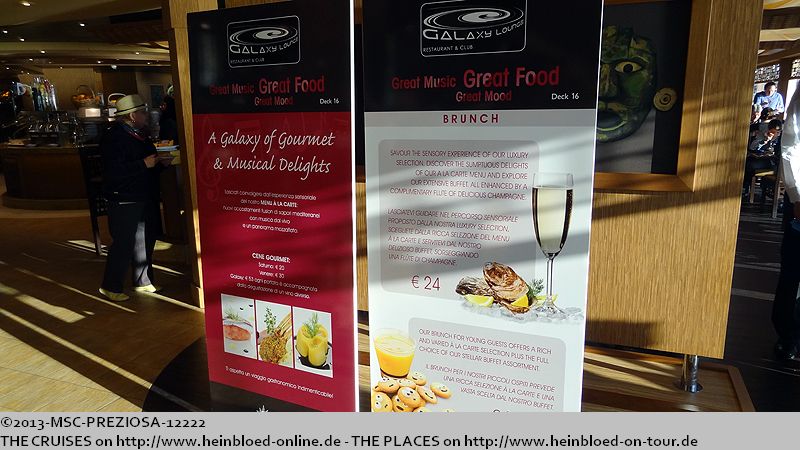 In the port there was still COSTA SERENA which arrived at 13.00 hrs.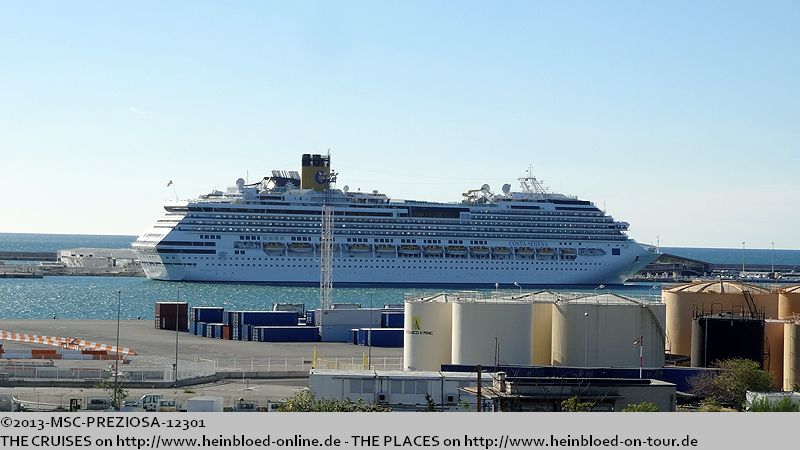 Im Hafen liegt noch die COSTA SERENA, die erst um 13.00 Uhr angekommen ist.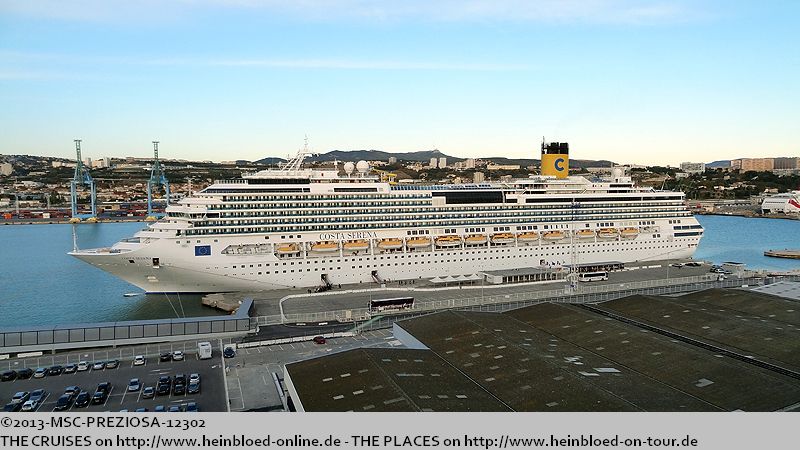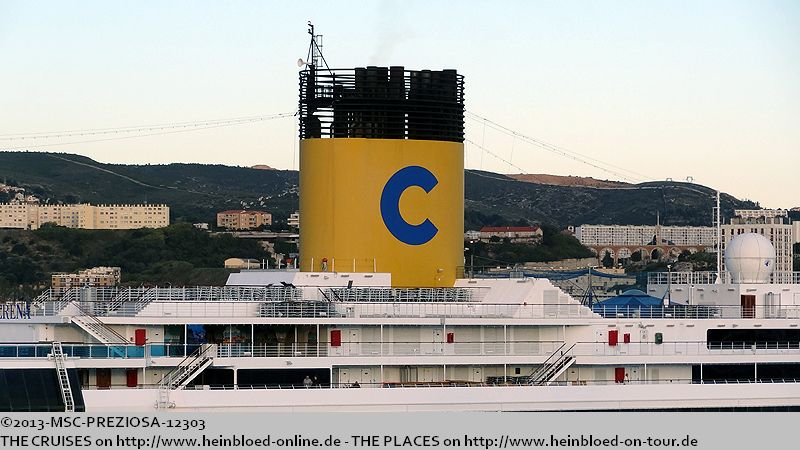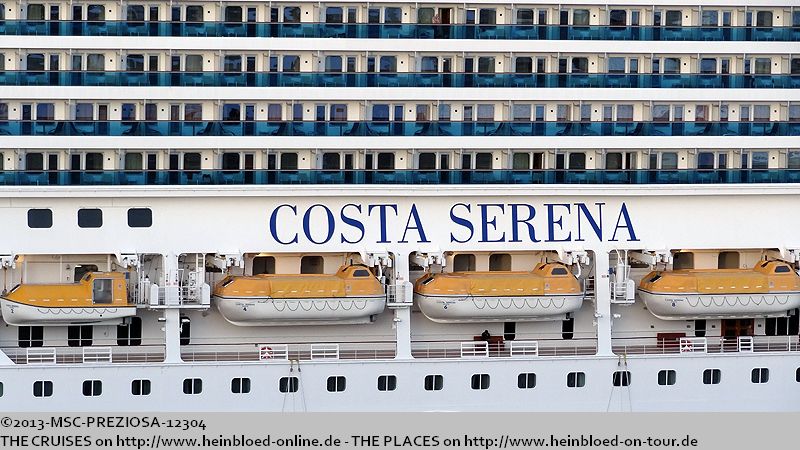 Furthermore there was COSTA MEDITERRANEA. Unfortunately, she sailed at 17.00 hrs too. At this time we had the life drill which I had to attend.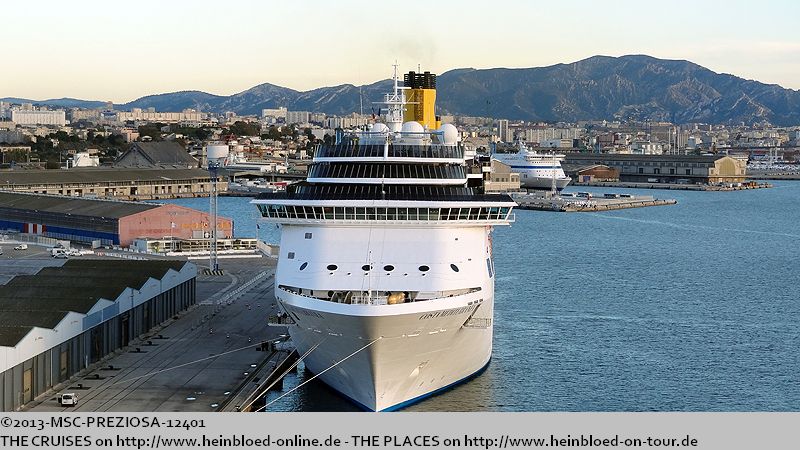 Ferner die COSTA MEDITERRANEA. Leider verlässt sie bereits um 17.00 Uhr Marseille. Zu dieser Zeit muss ich jedoch bei der Seenotrettungsübung sein.
So laufe ich die Außentreppe am Heck von Deck 14 nach Deck 7, um möglichst lange das Ablegen verfolgen zu können.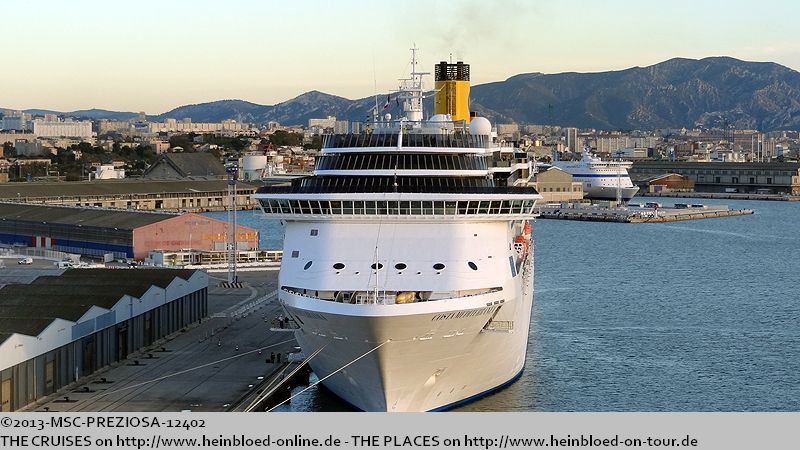 So I walked down the outdoor stairways at the aft from deck 14 to deck 7 to stay as long as possible with the set sail maneuver.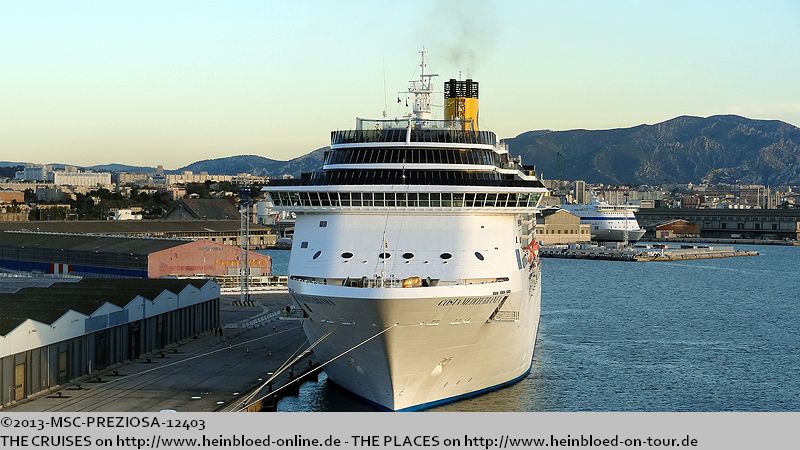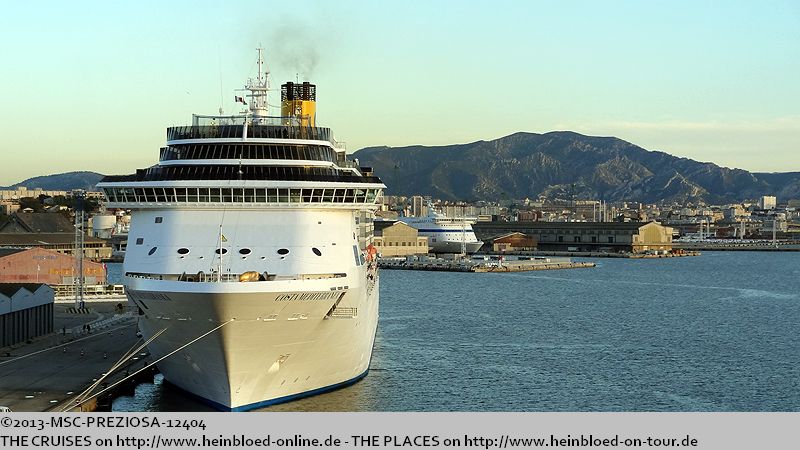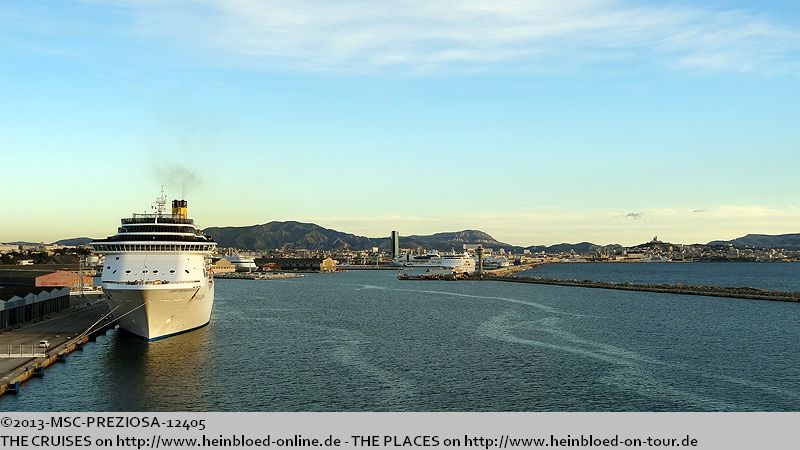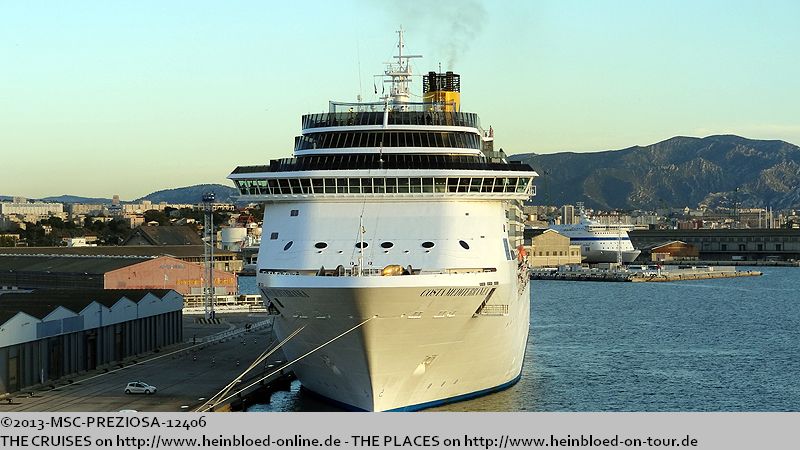 Unfortunately the life drill took much longer because many guests did not show at 17.00 hrs sharp. Next time I will leave again for taking pictures after they recorded my presence... (As I currently have no plans to sail MSC again I can easily live with any future penalties...)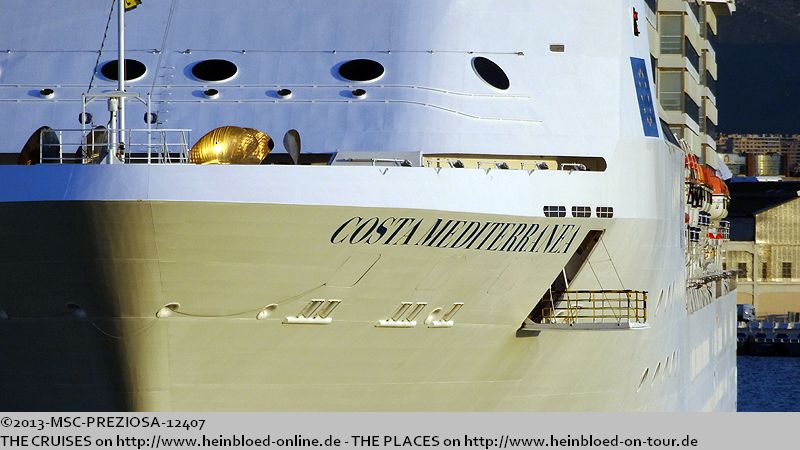 Leider dauert die Seenotrettungsübung länger, weil nicht alle pünktlich um 17.00 Uhr da sind. Nächstes Mal werde kurzerhand nach dem Einscannen wieder zum Fotografieren rauslaufen... (Da ich im Moment nicht die Absicht habe, in naher Zukunft wieder mit MSC zu fahren, werde ich mit evtl. Sanktionen leben können).
So fährt sie mir leider im Abendrot davon.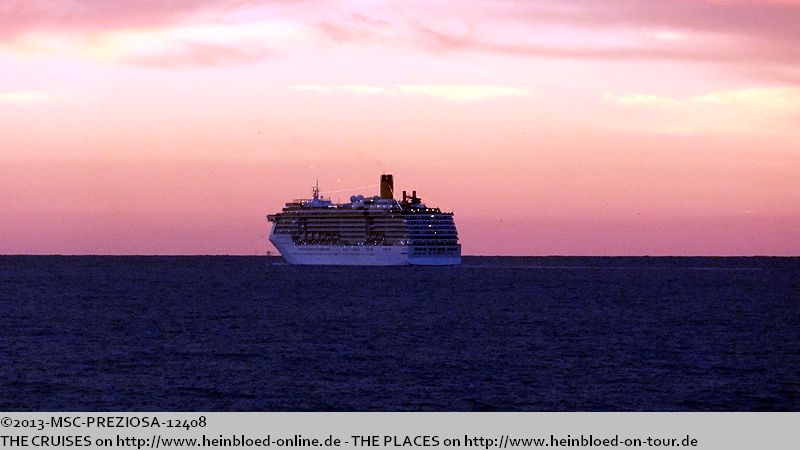 So she sailed away in the afterglow.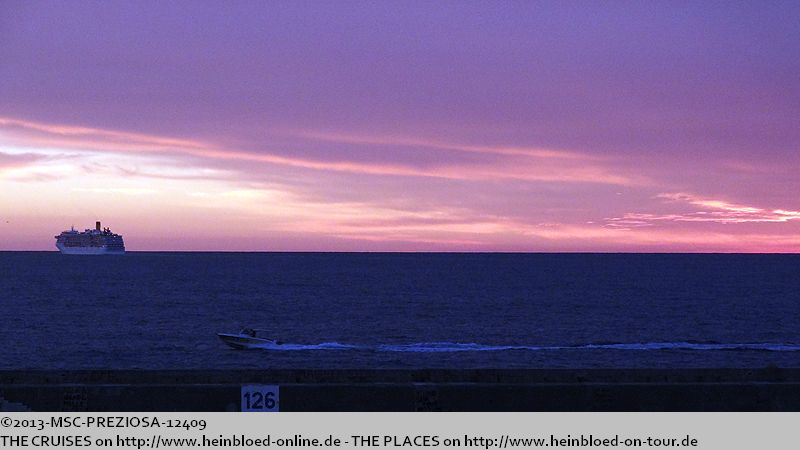 Und noch eine Überraschung im Hafen: AZORES.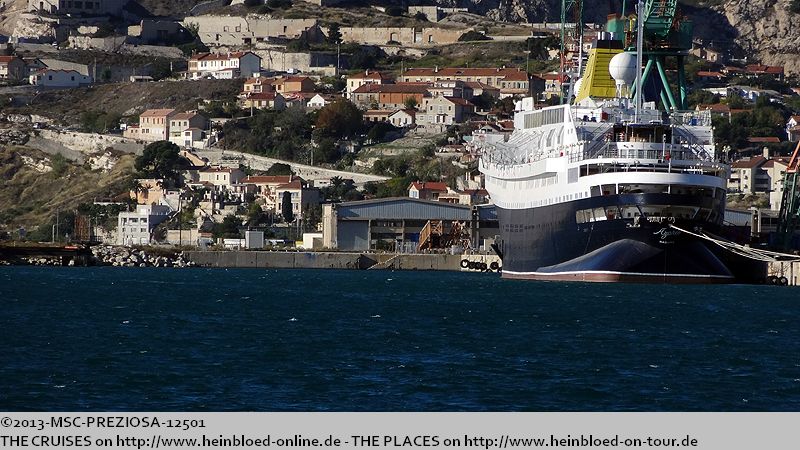 And another surprise in port: AZORES.

Unfortunately, you had no chance to get any closer. But the circle was closed... Initially, we were booked on a voyage on her.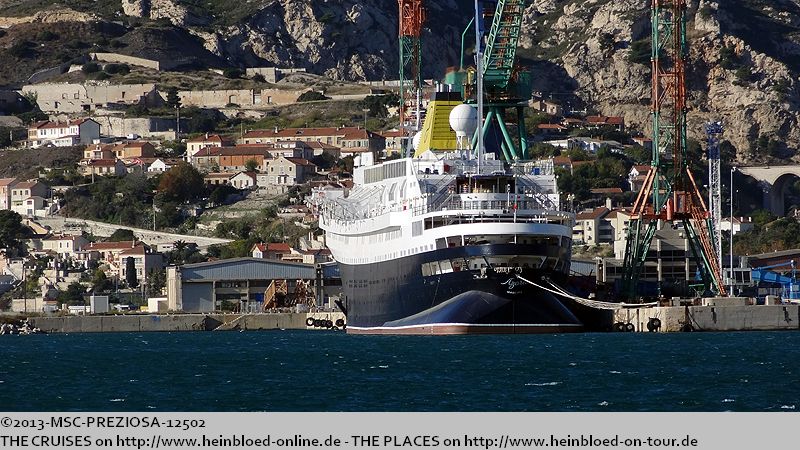 Leider kommt man nicht besser an sie heran. Aber der Kreis hat sich geschlossen... Denn ursprünglich war ja diese Reise auf ihr vorgesehen.
Als ATHENA... Leider kam die Insolvenz von CIC dazwischen und damit wurde die Saison von Ambiente Kreuzfahrten abgesagt und somit unsere Fahrt von Kiel nach Hamburg auch. Viele kennen sie noch besser als VÖLKERFREUNDSCHAFT oder STOCKHOLM, die 1956 vor New York mit der ANDREA DORIA kollidierte.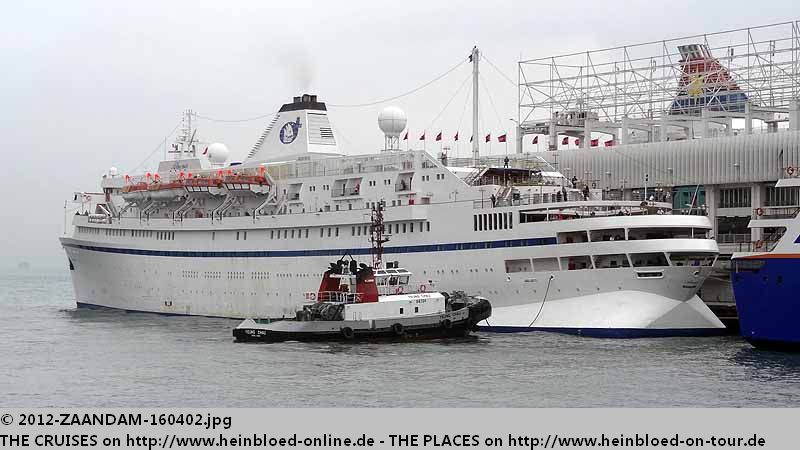 When she was ATHENA... Unfortunately, the insolvency of CIC did not allow the German operator Ambiente to offer to cruise from Kiel, Germany to Hamburg, Germany. Many in Germany know her much better under the name VÖLKERFREUNDSCHAFT (Friendship between people - a typical name under the East German communism) or STOCKHOLM when she had a collision with ANDREA DORIA in 1956 in New York.
Die anderen Reisen in diesem Blog/
The other voyages in this blog: