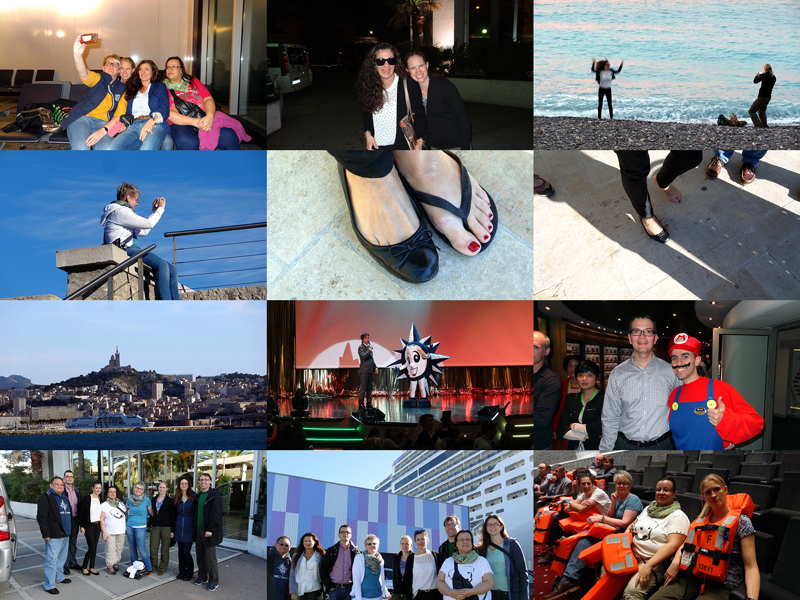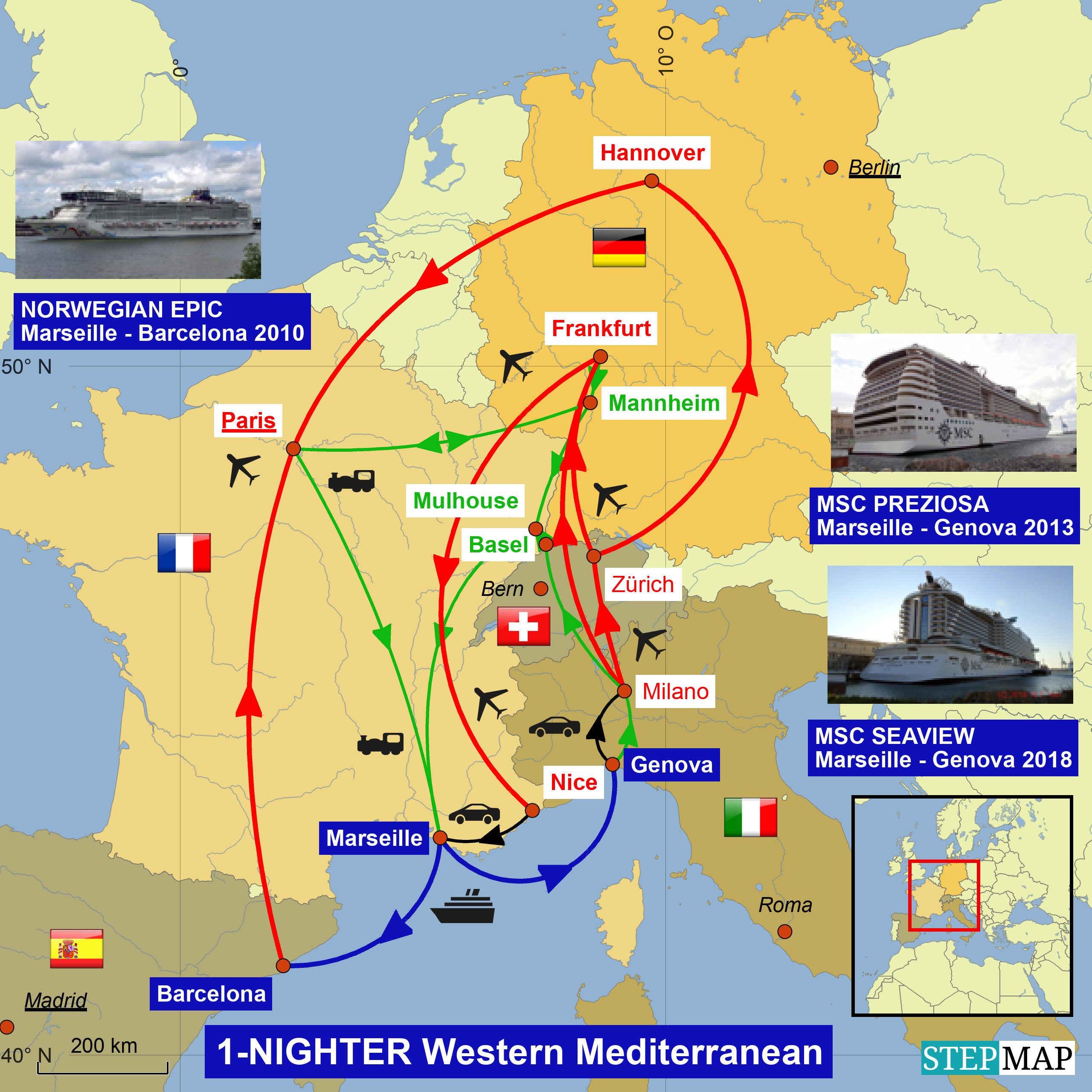 Sag niemals nie! Eigentlich war das Thema MSC seit unserer MSC FANTASIA-Reise 2009 gegessen. Andererseits hörte man zwischendurch wieder viel Gutes. Und auf der Suche nach einer 1-Nacht-Kreuzfahrt von Samstag auf Sonntag (ich konnte ja schlecht meinen Mitarbeitern frei für Freitag oder Montag geben), blieb am Schluß nur noch MSC übrig. Kopenhagen-Kiel hatte ich bereits gebucht, aber leider waren da meine Mitarbeiter nicht reaktionsfreudig genug... Es gab keine Kabinen mehr, als sie so weit waren. Und MSC war sehr großzügig und hat auf 10,00 EUR Stornogebühren verzichtet... oder doch nicht... die Verjährung hat noch nicht eingesetzt und bislang mache ich auch noch keinem Gerichtsvollzieher auf. Ich musste ja aber noch nach Hause. Das fing schon mal gut an... Der Anschluss in Frankfurt funktioniert schon mal nicht.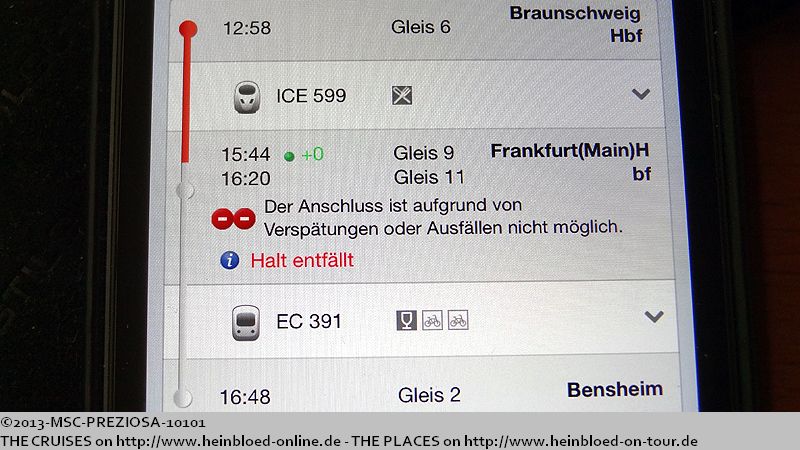 Never say never again! Officially MSC was no more a subject since our last voyage 2009 on MSC FANTASIA. But in the meantime, I heard a lot of good things. Checking for a one-nighter from Saturday to Sunday (I could not let them off for Friday or Monday - so only MSC was left. I booked already Copenhagen - Kiel, but my employees were not reactive enough... There were no more cabins available when they were ready to book. MSC was very generous and waived 10.00 EUR cancellation fee... or maybe has not... the limitation of claim has not started and so I do not open my doors for any bailiff. But first I need to get home. And the start was not good... My connecting train in Frankfurt was already canceled.

The train came from Austria and had so much delay that they did not let it go to Frankfurt. So I had to find an alternative to get home. Bruno needs to pick me up in Vettelheim... (Sebastian Vettel is the actual Formula 1 Champion)... so officially Heppenheim. There I could go around the same time as scheduled. I declined the friendly offer of my employees to do my laundry just in case I cannot make it at home right on time. So I was able to do my laundry myself before we leave tonight.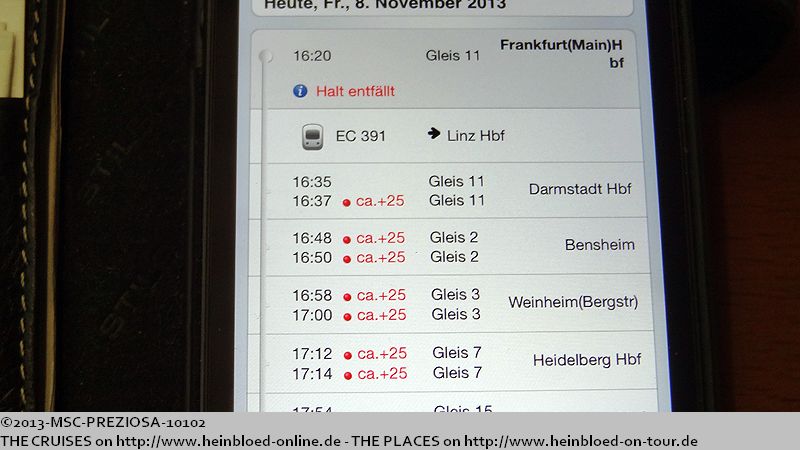 Der Zug kommt aus Graz und hat soviel Verspätung, dass er nicht mehr bis Frankfurt geführt wird. Also kann ich das erst Mal knicken und muss anders nach Hause. Bruno muss mich daher in Vettelheim... besser Heppenheim abholen, weil ich zumindest noch zeitnah dahin komme. Das freundliche Angebot meiner Mitarbeiterinnen mir meine Wäsche zu machen, wenn ich es nicht mehr schaffe, rechtzeitig nach Hause zu kommen, lehne ich dankend ab, da ich nun doch noch selbst schaffe schnell meine Wäsche zu aufzusetzen, bevor wir fahren.
2007 gab es für die MSC MUSICA noch ein Etui. 2009 für die MSC FANTASIA zumindest ein Heftchen.

2007 you had vor MSC MUSICA a cover 2009 you had a booklet for MSC FANTASIA.

And nowadays you had only e-tickets. For my "wife" and me. Bruno was booked into the 4-berth cabin of the girls. The advantage for the girls: as they had one MSC-Club-Member in their cabin they got the discount for the complete cabin. The disadvantage for us: As we did not want any beverage package we had to buy also for us as they were only sold for the entire cabins. We pre-booked them on MSC's website. They charged it on our onboard account without service charge.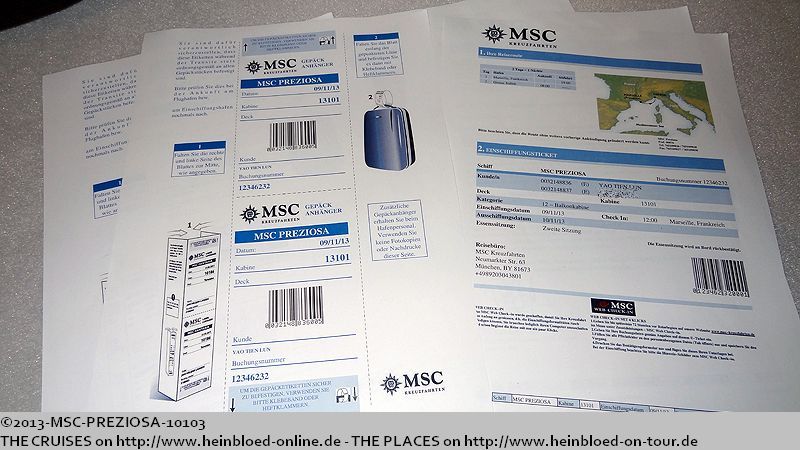 Und heute gibt es nur noch E-Tickets. Für meine "Frau" und für mich. Bruno wurde in die 4-er Kabine mit den Mädels eingebucht. Der Vorteil für die Mädels: da je ein MSC Club-Mitglied in der Kabine war, gab es entsprechend den Rabatt auf die Kabine. Nachteil für uns: da wir eigentlich kein Getränkepaket wollten, mussten wir eines mitholen, da es nur kabinenweise verkauft wurde. Wir haben es zuvor im Internet bestellt. Die Berechnung erfolgt an Bord ohne Servicecharge.
Nur musste ich feststellen, dass sie wohl nicht so viele cruisecritic.com-Gäste wollen. Wenn man sich an die Striche für die Faltung orientierte, dann passten Sie nicht in die Etuis von cruisecritic.com.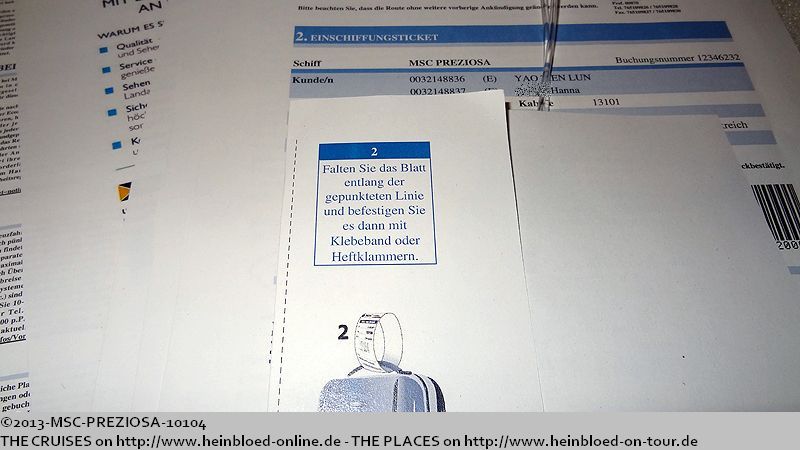 Now I had to find out that they were not interested to have many cruisecritic.com-members onboard. If you follow the dotted lines to fold they do not fit into the cruisecritic.com's baggage tag holders.

And one side was upside down. But the bags made it. And no idea what would happen if you make more than one print of the baggage tags which was officially forbidden. But I guess nothing.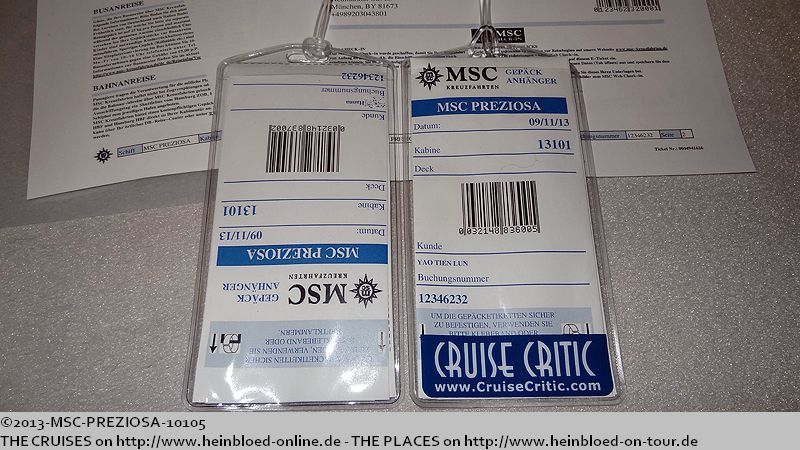 Und eine Seite steht Kopf. Aber die Koffer haben es geschafft. Und keine Ahnung was passiert, wenn man mehr als einen Gepäckanhänger ausdruckt, was offiziell verboten war. Aber ich nehme mal an, dass nichts passiert.
Nach dem die Wäsche fertig war, ging es wieder in das Parkhaus von
The Squaire
. Es regnet und wir haben keine Lust, vom Bus-Shuttle vom Platzhirsch zum Terminal zu laufen.

After the laundry was finished we went to the Parking of The Squaire. I was raining, and we did not like the idea to walk from the bus-shuttle of the other parking to the terminal.

This time we parked at the right park deck: 6.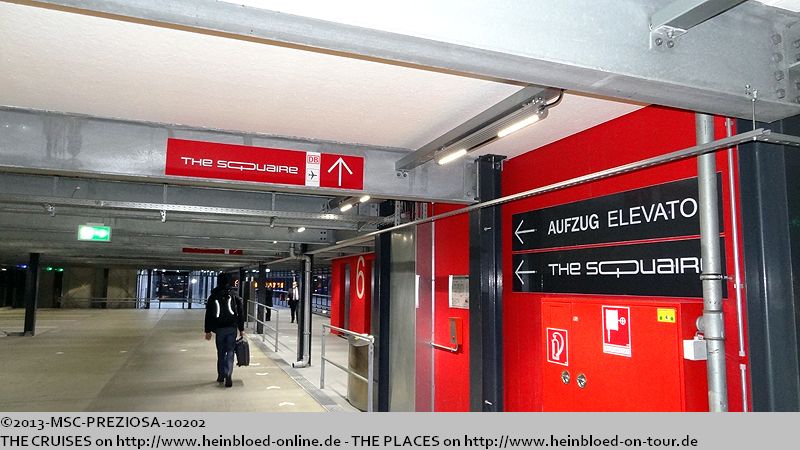 Dieses Mal haben wir direkt das richtige Parkdeck erwischt: 6.
20,00 EUR pro Tag (2013) plus 3,00 EUR je weitere Stunde. Im Platzhirsch wäre es billiger gewesen.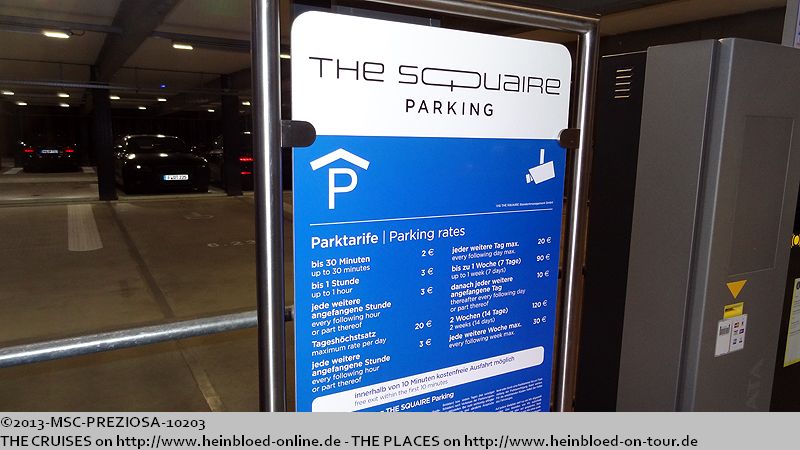 20.00 EUR per day (2013) plus 3.00 EUR for every additional hour. It was cheaper with the Platzhirsch parking.

But we could park without bad conscious as it was awarded by the German automobilist club.

Wenigstens parken wir mit einem ruhigen Gewissen dank der Auszeichnung vom ADAC.
Ab in die Metro - eigentlich Seilbahn.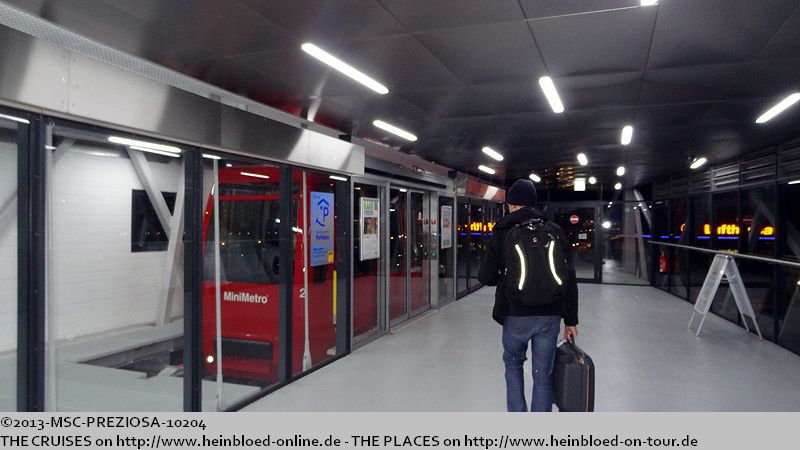 Let's take the metro - or better ropecar.

How should 50 people get into this car...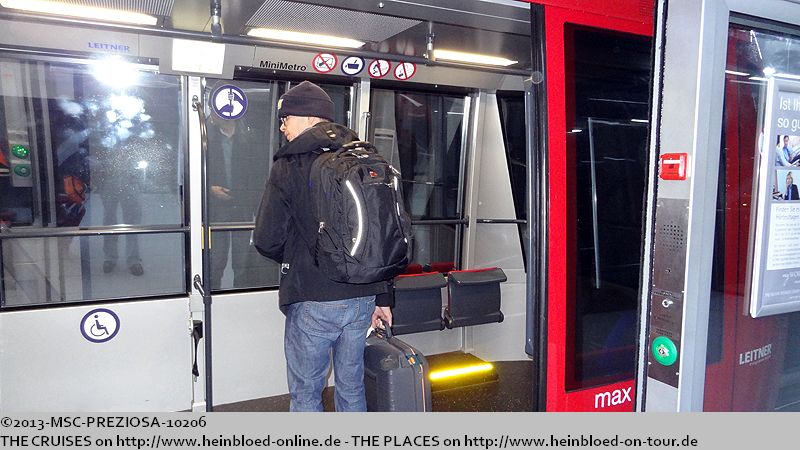 Hier sollen 50 Personen reingehen...
Knöpfchen drücken nicht vergessen, sonst fährt er nicht los.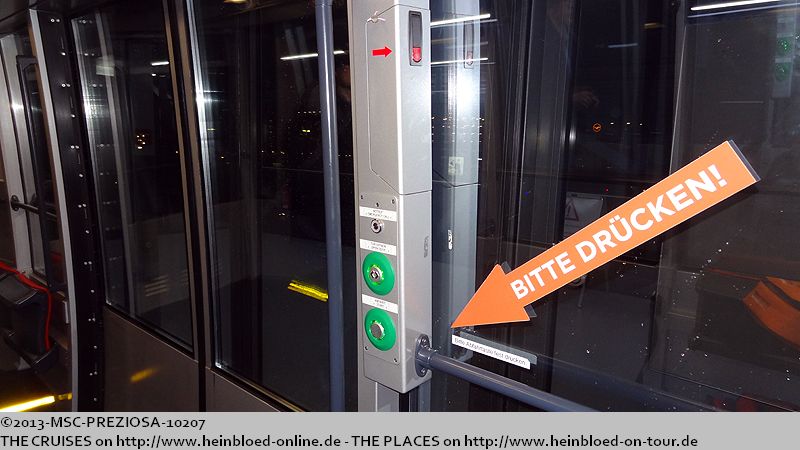 Do not forget to press the key. Otherwise it would not depart.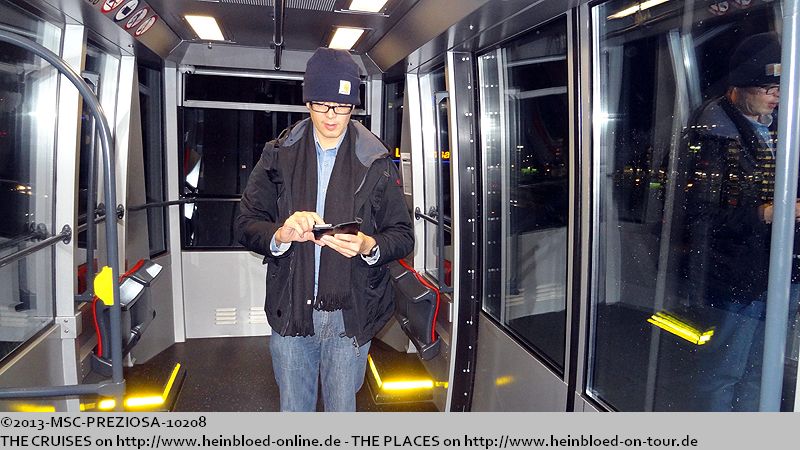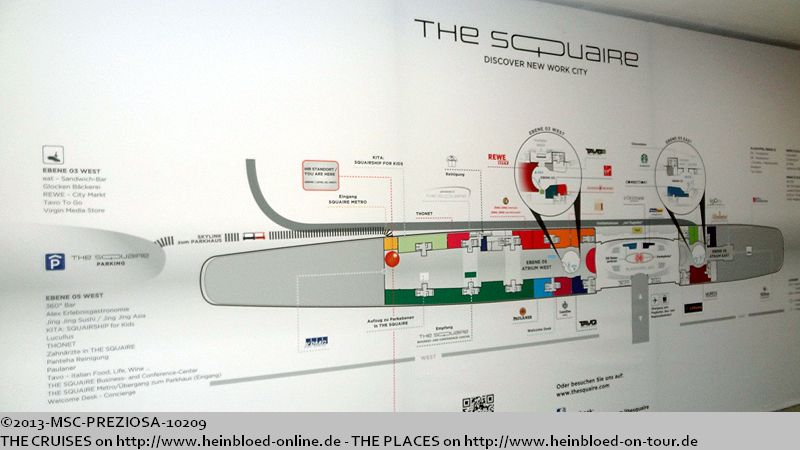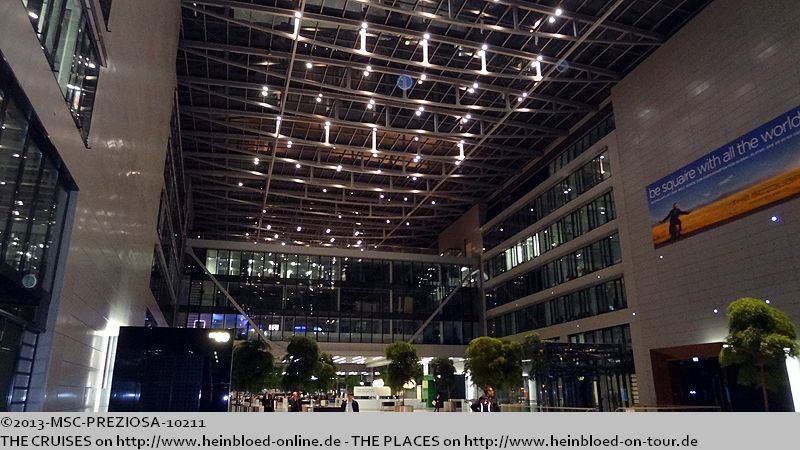 In the Western part of the The Squaire they had some nice restaurants which offer for street-level price but for airport-level price.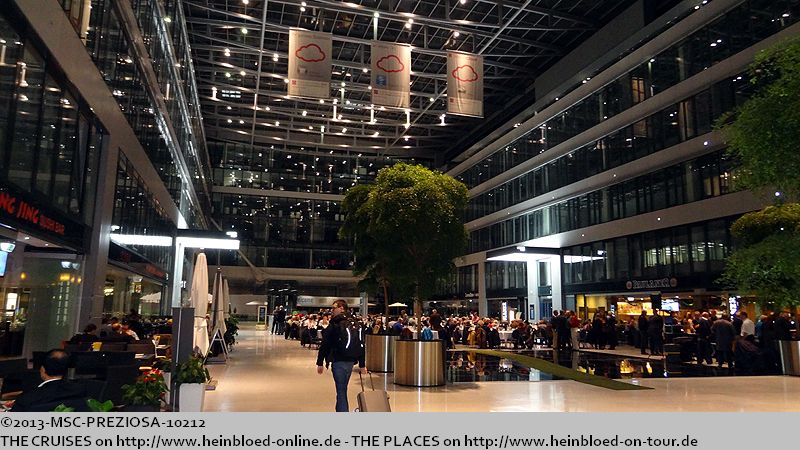 In dem westlichen Teil von The Squaire gibt es ein paar nette Restaurants die eher ein City-Preisniveau haben, statt Flughafen-Preisniveau.
Und unten ist der DB-Fernbahnhof mit Rewe, der täglich von 05.00 Uhr bis 01.00 Uhr geöffnet hat und andere Geschäfte.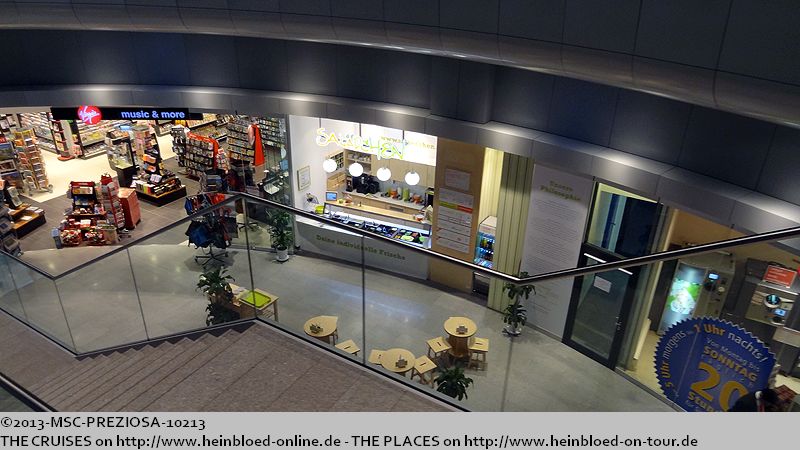 And downstairs you have the long distance train station of German Railways and a greengrocer which has open from 05.00 hrs to 01.00 hrs (in the night) and few other shops.

We walked to the departure hall A.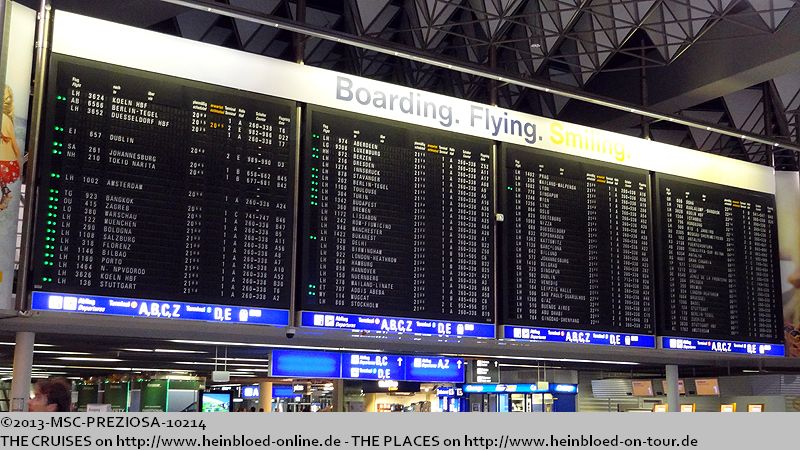 Wir laufen in die Abflughalle A.
Unser Flug wird angezeigt. Zum Glück nicht mehr A38 wie ursprünglich auf der Bordkarte angezeigt.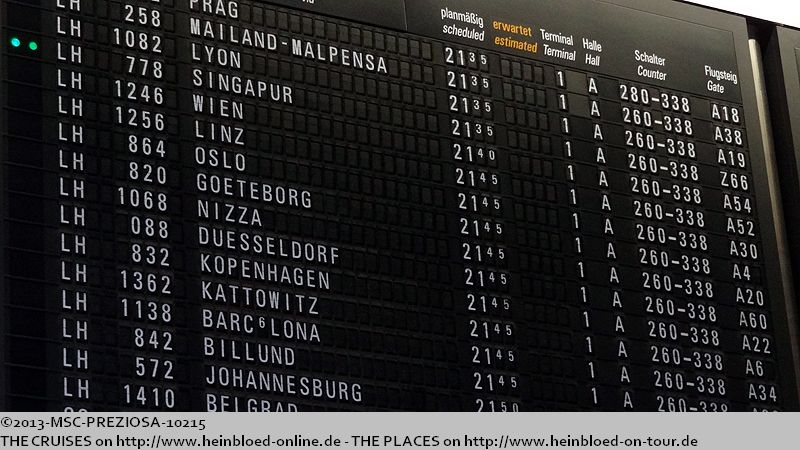 Our flight was displayed but not more at A38 as originally shown on our boarding pass.

Still, I can use the privilege to check in with Lufthansa's First Class.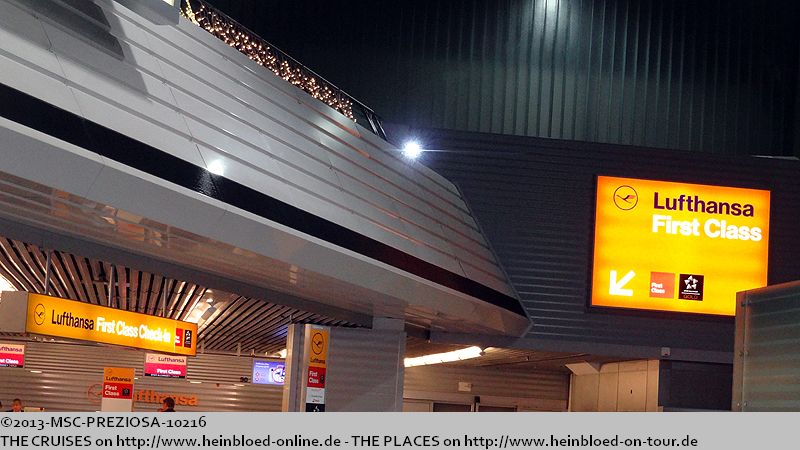 Noch nutze ich mein Privileg, dass ich bei Lufthansa bei der First Class mit einchecken darf.
Für zehn Minuten noch in die Lounge zu gehen lohnt sich nicht. Also laufen wir direkt zum Gate. Normalerweise läuft Bruno nie auf dem Laufband, aber heute ist er schon zu müde.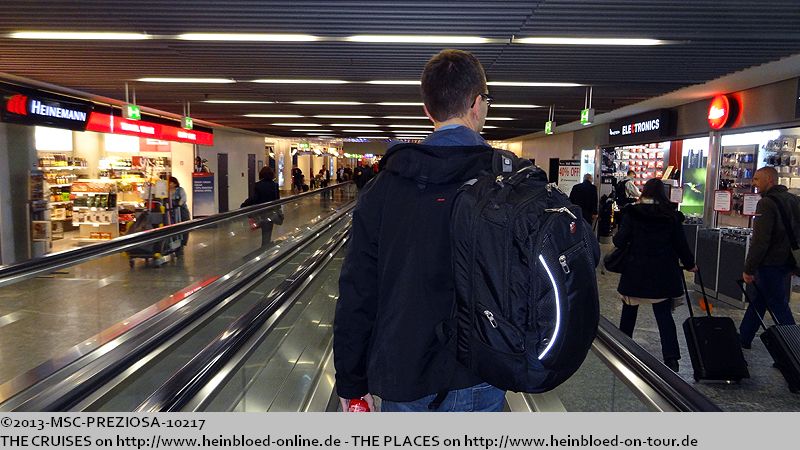 It was not worth to see the lounge for just ten minutes. So we walked directly to the gate. Normally Bruno never took the moving walkway, but today it seemed that he was already tired.

21.45 hrs to Nice, France.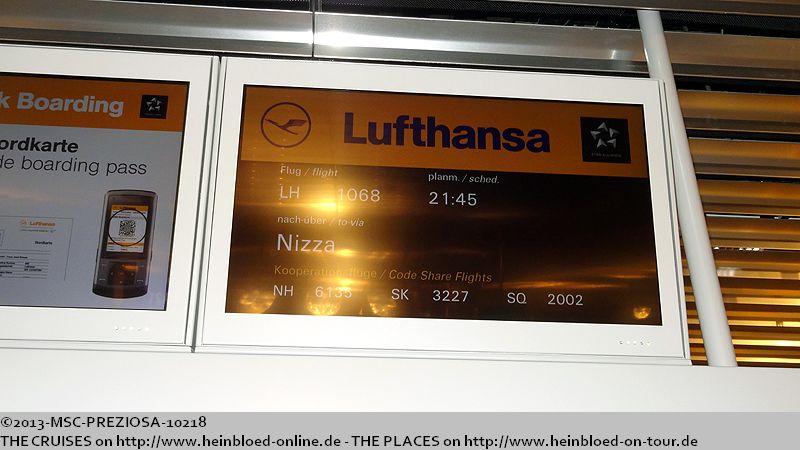 21.45 Uhr nach Nizza.
Und die Maschine ist schon da.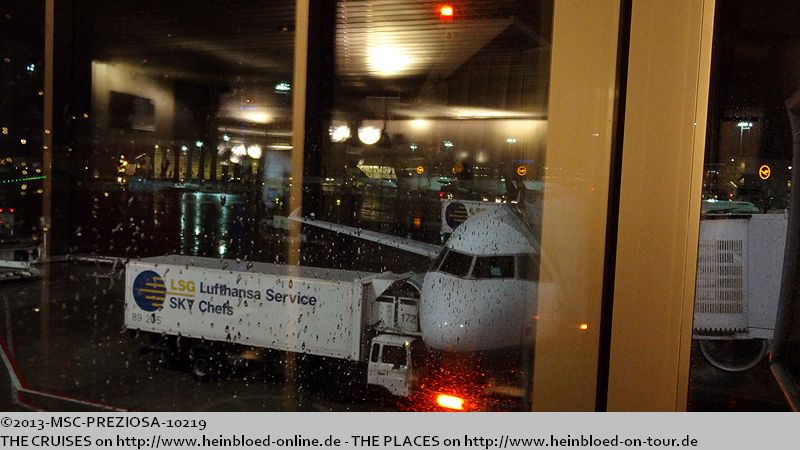 Our plane was already waiting.

To strenghten my nerves I had to have one Power-C by Glaceau VitaminWater.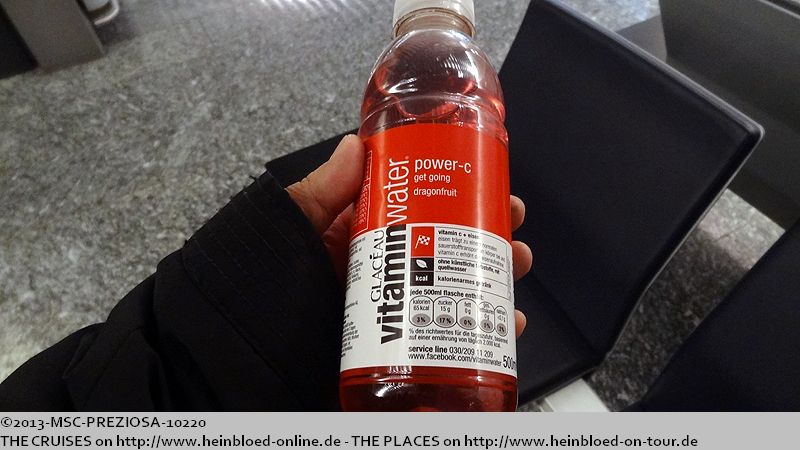 Ich gönne mir zur Stärkung noch ein
Power-C
von Glaceau VitaminWater für meine Nerven.
Da kommen schon meine Mitfahrer. Nach dem ich früher sie im Blog gar nicht bzw. zurückhaltender erwähnt habe, werde ich dieses Jahr offensiver damit umgehen. Schließlich sind sie Teil meiner Erinnerungen.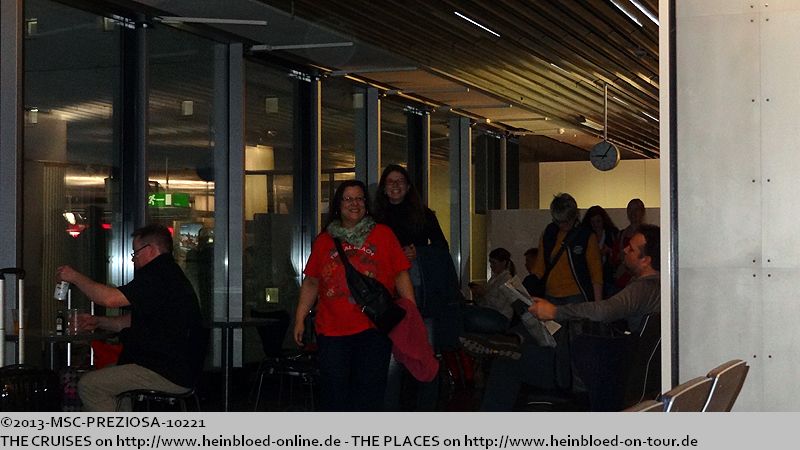 Here my cruise-fellows arrived. After I was very restrictive in my blogs featuring my employees, I decided to become more open. At least they are an active part of my memories.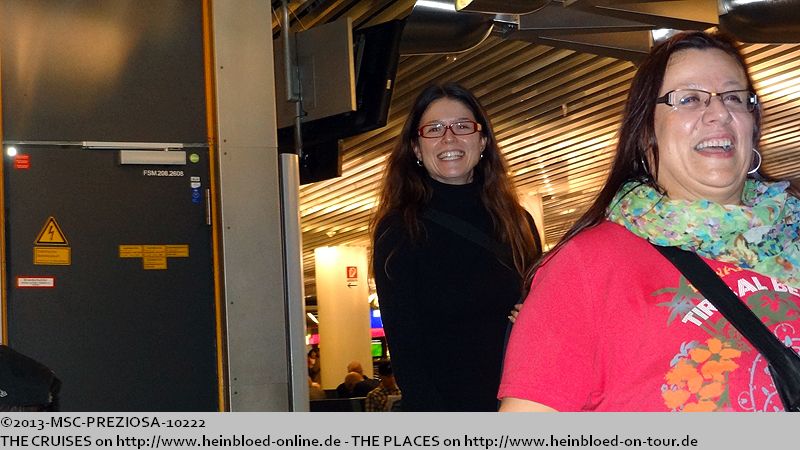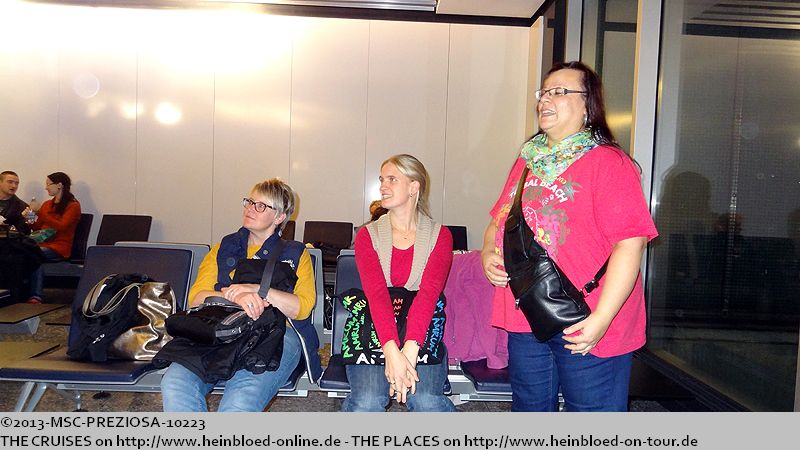 My actual employees Andrea (already with me on DELPHIN, DELPHIN VOYAGER and NORWEGIAN EPIC), Hanna (DELPHIN and DELPHIN VOYAGER), Selma (novice) and Rosa (all three sailings). They were this morning in the office and came from Goslar (Northern Germany). Initially, we should go on ATHENA, but she does not exist anymore.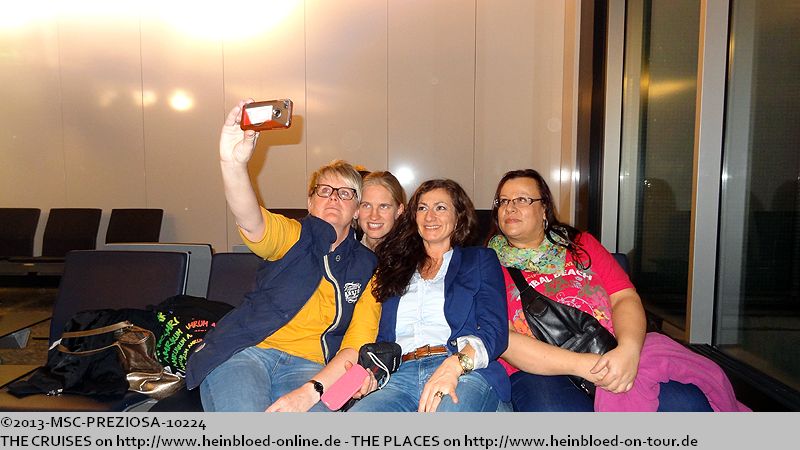 Meine aktuellen Mitarbeiterinnen Andrea (schon auf der DELPHIN, DELPHIN VOYAGER und NORWEGIAN EPIC mit), Hanna (DELPHIN und DELPHIN VOYAGER), Selma (erste Mal) und Rosa (auch alle drei Mitarbeiter-Fahrten), die heute morgen noch im Büro waren und von Goslar angereist sind. Ursprünglich war die ATHENA vorgesehen, aber die gibt es ja nicht mehr.
Ferner noch eine ehemalige Mitarbeiterin Mellie und ihr Freund Richard, die extra aus Leverkusen angereist sind.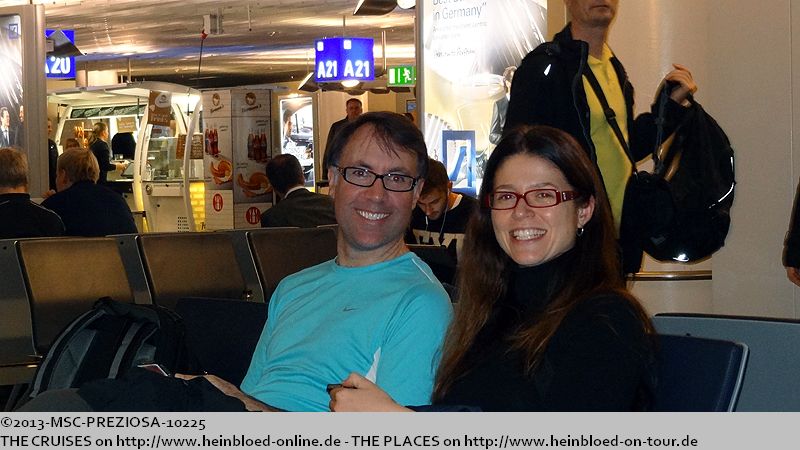 Furthermore my former employee Mellie and her friend Richard who arrived from Leverkusen (Western Germany).
Die anderen Reisen in diesem Blog/
The other voyages in this blog: