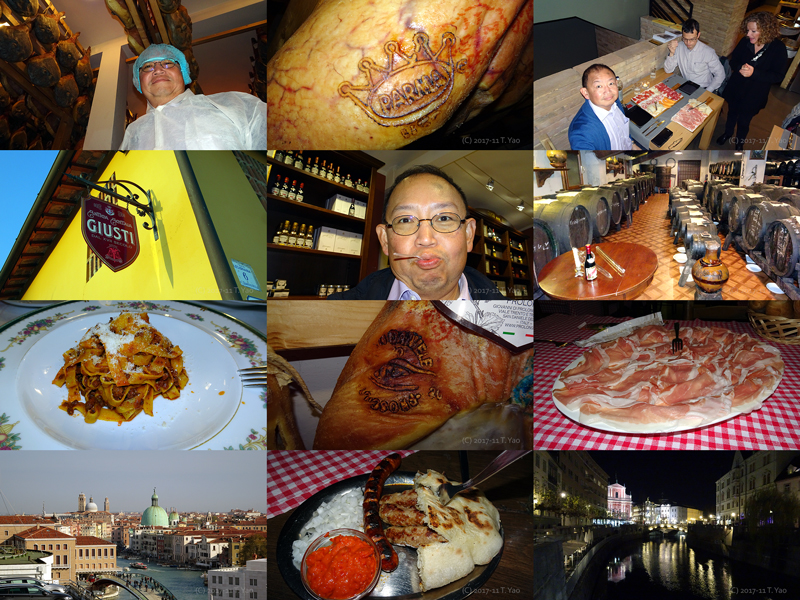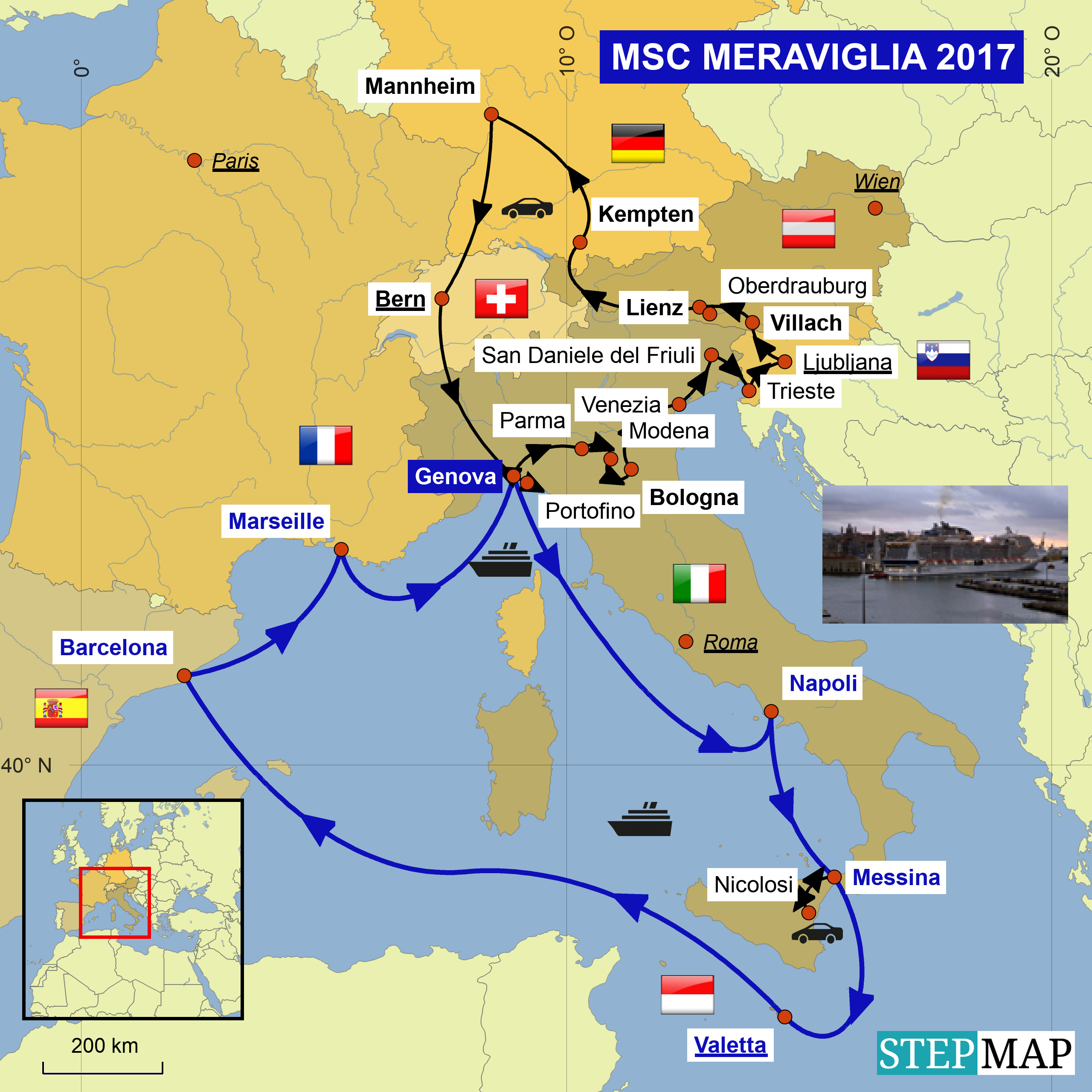 Kein Kreuzfahrtschiff im Hafen: wir sind fast die einzigen Gäste beim Frühstück. Heute können wir alles in Ruhe ausprobieren. Die regionalen Spezialitäten sind echt gut.

No cruise ship in port: we were nearly the only guests at breakfast. That day we could try everything in silence. The regional specialties were really great.

We headed to Parma, Italy. For 15.00 EUR (2017) we could join a guided tour at Rosa dell'Angelo. It was very informative. Two other guests from Australia and obviously from the ham making business tried to find out all secrets by asking and asking. Well, we preferred to eat more than to prepare ham. But we learned by our tour guide Michele a lot about the pigs and how the meat was processed.

Es geht weiter nach Parma. Für 15,00 EUR (2017) können wir an einer
Führung
bei
Rosa dell'Angelo
teilnehmen. Es ist sehr informativ. Zwei andere Gäste aus Australien und offensichtlich aus der Schinkenherstellung kommen versuchen die Geheimnisse der Herstellung zu hinterfragen und fragen und fragen. Wir ziehen es vor den Schinken zu essen als ihn herzustellen. Wir lernen viel von unserer Führerin Michele über die Schweine und wie das Fleisch verarbeitet wird.
Das beste kommt jedoch zum Schluss: sie haben eine eigene
Prosciutto Bar
, die auch von vielen Einheimischen aufgesucht wird. So probieren wir auch die Spezialitäten und kaufen einiges auch für zu Hause. Neben einem Stück Schinken für Brunos Vater, kaufe ich eine
Strolghino
- eine der besten Salami auf der Welt. Uns wird so viel gebracht. Wer soll das alles essen?

Saved the best for last: they had a Prosciutto Bar (Ham Bar) of their own which was attended by many locals. So we also tried the specialties and bought some of them for home. We bought a piece of ham for Bruno's father and a Strolghino for me - one of the best salami in the world. They served so much. Who should eat this all?

We headed to Modena, Italy. With Ferrari we parked our car.

Wir fahren weiter nach Modena. Bei
Ferrari
parken wir unser Auto.
Höchste Zeit für Kaffee... und Kuchen... Ein kurzer Besuch zu
Remondini
. Das hat sehr praktische Gründe: wir müssen unsere Gaumen auf unseren nächsten Termin vorbereiten.

Time for coffee... and cake... A short visit with Remondini. It was only for practical reasons: we need to prepare our pallets for the next appointment we had.

Our connecting appointment was in front of the city of Modena with Giusti. A manufacturer of Balsamic Vinegar with a long tradition. The guided tour was complimentary. But you need to register in advance. It was really well by Eleonora explained how they produced Balsamic Vinegar and you could try it later how the difference tasted like from sort to sort. Bruno liked the Raspberry one very much. I loved white Balsamic Vinegar. And the Balsamic Vinegar salt. We bought some bottles for ourselves and our families and friends.

Unser Anschlusstermin ist vor den Toren von Modena bei
Giusti
- einem Hersteller von Balsamessig mit langer Tradition. Die Führung ist kostenlos. Allerdings muss man sich vorher anmelden. Es wird wirklich durch Eleonora sehr toll erläutert, wie Balsamessig hergestellt wird und später kann man probieren, wie sich die unterschiedlichen Sorten geschmacklich unterscheiden. Bruno mag sehr den Himbeer. Ich mag sehr gerne den weißen und das Balsamessig Salz. Wir kaufen einige Flaschen für uns selbst und unsere Familien und Freunde.
Weiter geht es nach Bologna. Wir übernachten im
Holiday Inn Express
an der Messe. Nicht zentral. Aber sehr gastfreundlich! Es gibt keine getrennte Betten. Also haben sie mir einfach das Sofa noch zurecht gemacht. Leider stören ein paar kleine Details, die wohl dem Zimmermädchen nicht so auffallen, so dass man hier leider nichts unternommen hat. Das ist einfach schade, weil es sonst sehr toll ist.

We headed for Bologna, Italy. We stayed overnight at Holiday Inn Express at the fairground. Not very central. But very hospitable! They had not separate beds. So they set up the sofa for me. Unfortunately, there were few little details which were overseen by the housekeeping that they did not fix everything. That was so sad because it was really great.

As there was no more public transport available in the evening, we took a taxi to get into the town. So sad, that Bologna was not at the seaside with a cruise port. The city deserved more of our visits. First we need to see the Apple Store. Here they had something on the stock which was not available in Germany: The new Apple TV 4K.

Da es abends keine öffentlichen Verkehrsmittel gibt, nehmen kurzerhand ein Taxi um in die Stadt zu kommen. Schade, dass Bologna nicht am Meer liegt mit einem Kreuzfahrthafen. Die Stadt verdient weitere Besuche von uns. Zunächst geht es jedoch in den
Apple Store
. Es ist hier etwas vorrätig, was es derzeit in Deutschland nicht gibt: Die neue Apple TV 4K.
Es geht zum Abendessen: Spaghetti Bolognese - kennt jeder - mag jeder. Nur gibt es das gar nicht. In Bologna gibt es Tagliatelle Bolognese. Hierzu besuchen wir
Incrocio Montegrappa
. Alles schmeckt uns. Am Schluss gibt es jede Menge Amarettini und Limoncello aufs Haus. Hier gefällt es uns. Auch wenn wir gar keinen Alkohol trinken und vor allem vertragen: einen kleinen Limoncello habe ich mir ja genommen... das ist leider zuviel gewesen... lecker ist er trotzdem. In Basel wird neuerdings oft Piadina angeboten. Eine "Sandwich"-Spezialität aus der Emilia-Romagna. Ich bekomme keines mehr unter, um zu testen, wie ein Original schmecken muss. Also müssen wir das für das nächste Mal aufheben.

We went for dinner: Spaghetti Bolognese - everybody knew - everybody liked. But it did not exist. In Bologna, you had Tagliatelle Bolognese. For that we saw Incrocio Montegrappa. Everyone was nice to eat. Finally we a lot of Amerettini and Limoncello (Lemon liqueur) on the house. We liked the place. Even we normally did not drink alcohol and especially could not stand: I took one little small Limoncello... that was too much... but it was still yummy. In Basle, Switzerland they sold Piadina recently. A "sandwich"-specialty from Emilia-Romagna (Bologna is part of the region). I could not eat anything more to try how the original should taste. So we have to save that for the next time.

The next morning a big surprise was waiting for us. I hate having breakfast in Germany in a Holiday Inn Express location. I think breakfast there is terrible. Here it was the same operation company like the Holiday Inn in Genoa, Italy: Gruppo CHC. And somehow they had an entirely different understanding of hospitality: we got the same offer like in Genoa. Only the regional selection was diverse. We were excited. Mortadella is originally from here Emilia-Romagna. And at the buffet they had Mini-Piadina. Just the scrambled eggs were disappointing. But at least they had some compared to Holiday Inn Express, Germany.

Am nächsten Morgen erwartet uns im Hotel eine große Überraschung. Ich hasse eigentlich in Deutschland die Holiday Inn Express-Häuser. Ich finde das Frühstück grauenhaft. Hier ist es der gleiche Betreiber, wie das Holiday Inn in Genua:
Gruppo CHC
. Und irgendwie haben sie ein anderes Verständnis von Gastfreundschaft: wir bekommen das gleiche Angebot wie in Genua. Nur die regionalen Angebote unterscheiden sich. Wir sind begeistert. Mortadella stammt hier aus der Emilia-Romagna. Und am Büffet gibt es Mini-Piadina. Nur die Rühreier sind sehr enttäuschend. Aber immerhin haben sie welches im Gegensatz zum Holiday Inn Express in Deutschland.
Es geht weiter nach Marghera (Festlandseite von Venedig) zu
Fincantieri
. Ich bekomme einen Teil der CARNIVAL HORIZON vor die Kamera, die hier gebaut wird. Auf diese Seite der Stadt soll dann später auch das neue Kreuzfahrtterminal von Venedig gebaut werden.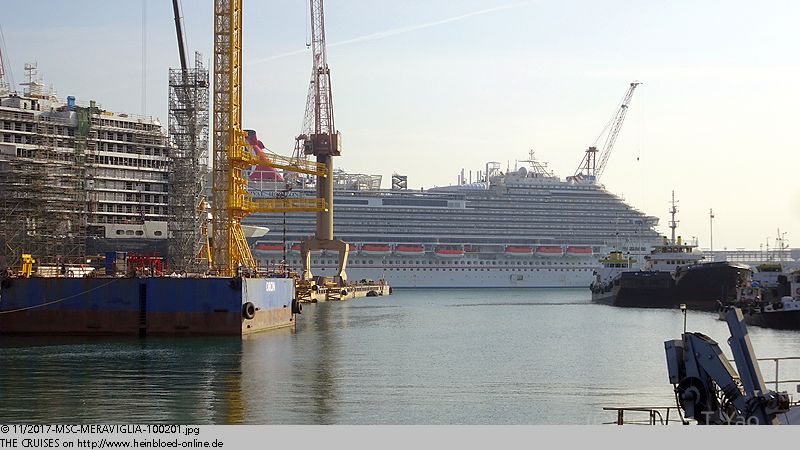 We went further to Marghera, Italy (Mainland side of Venice) to Fincantieri. I could get parts of CARNIVAL HORIZON which were under construction in front of my camera. On this side of the town later the new cruise terminal of Venice should be built.

Also from the opposite side (Laguna side) in the parking Tronchetto you could see her well.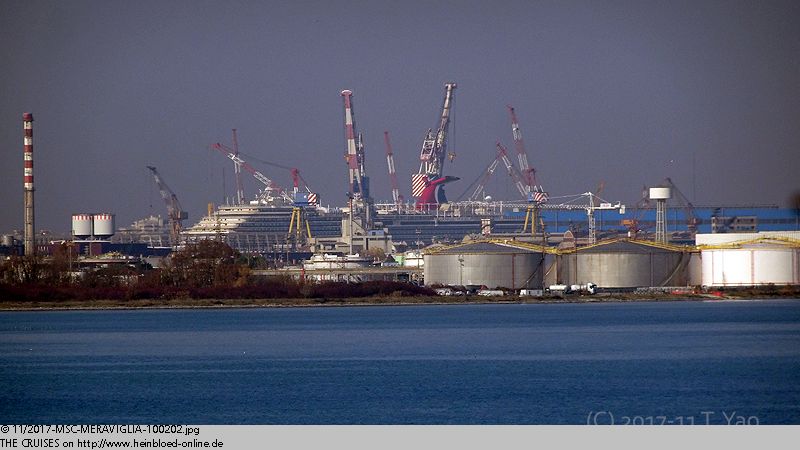 Auch von der gegenüberliegenden Seite (Lagunenseite) in der Parkgarage
Tronchetto
kann man sie später gut sehen.
Und später nochmals von der Zufahrtsstraße nach Venedig.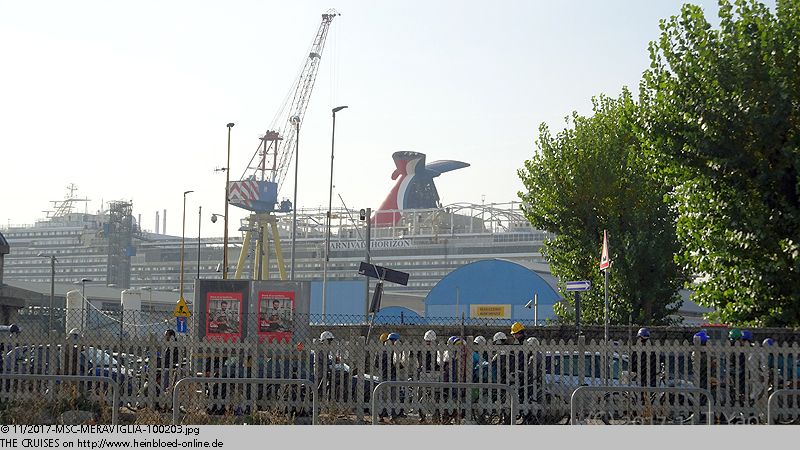 And later one more time from the access road to Venice.

Also in a construction dock: NIEUW STATENDAM.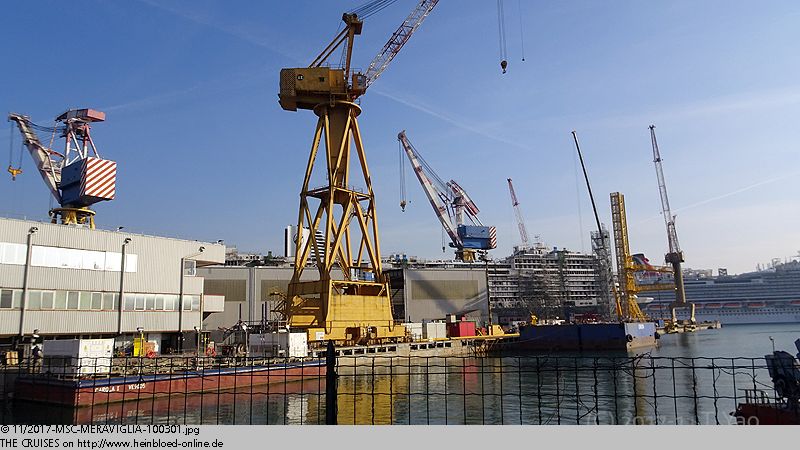 Und auch im Baudock: NIEUW STATENDAM.
Wir sind Herbst 2019 für die Transatlantik gebucht.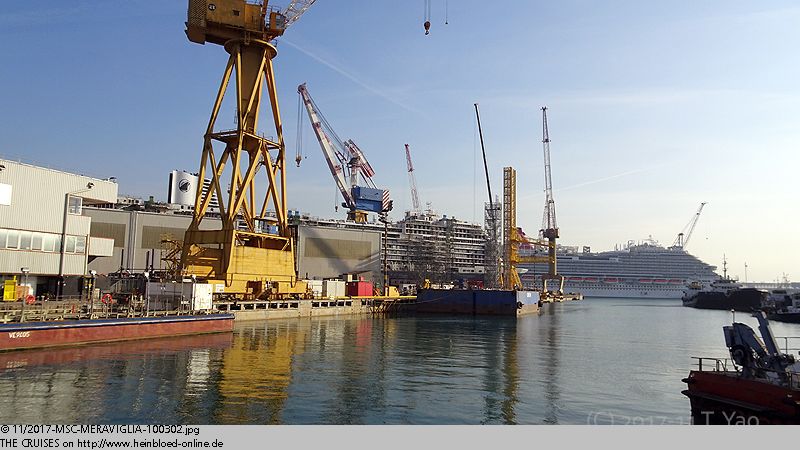 We were booked for the transatlantic in fall 2019.

Since the complete Europe-itineraries have not been released yet by Holland America, there might be some changes.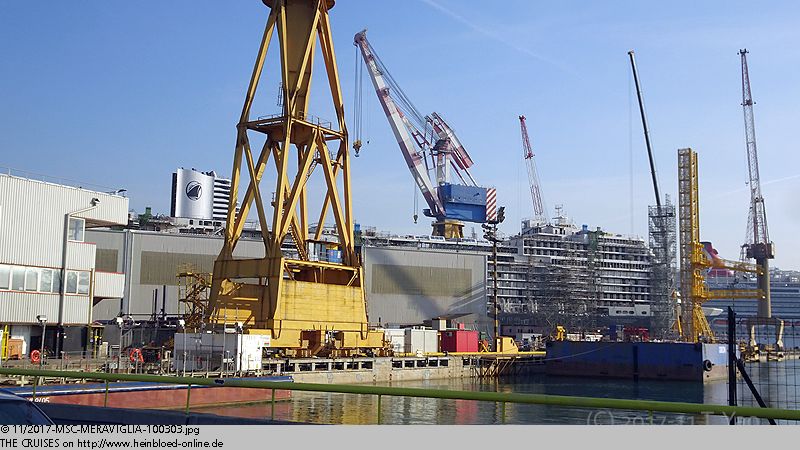 Aber da das vollständige Europa-Programm von Holland America noch nicht veröffentlich wurde, kann ich hier durchaus noch etwas ändern.
Wir waren ja jüngst auf der
KONINGSDAM 2016
- das Schwesterschiff.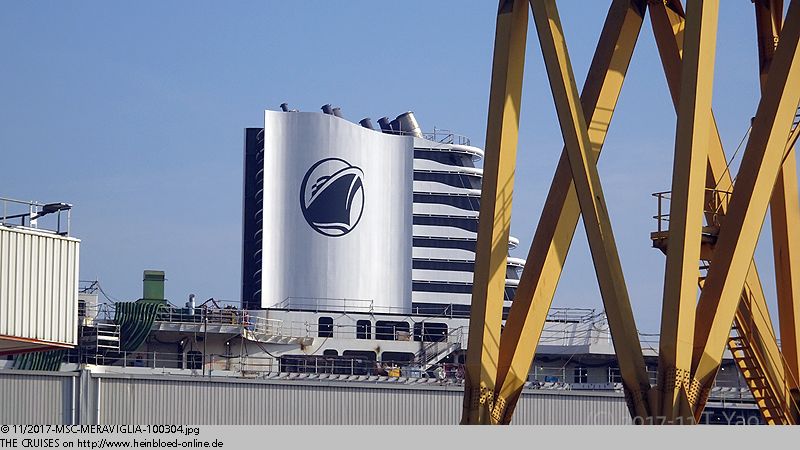 We were recently on her sistership: KONINGSDAM 2016.

I prefer the smaller older units of Holland America.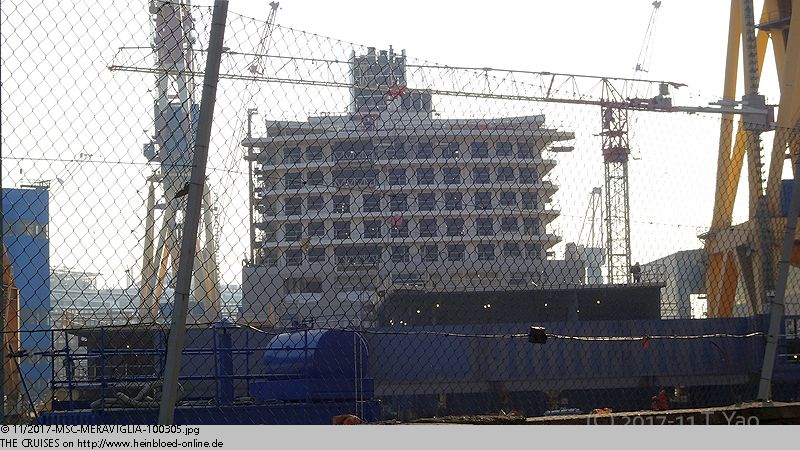 Ich mag lieber die kleineren älteren Schiffe von Holland America.
Zurück nochmals nach Tronchetto. 21,00 EUR (2017) für einen Tag in Venedig soll hier günstig sein.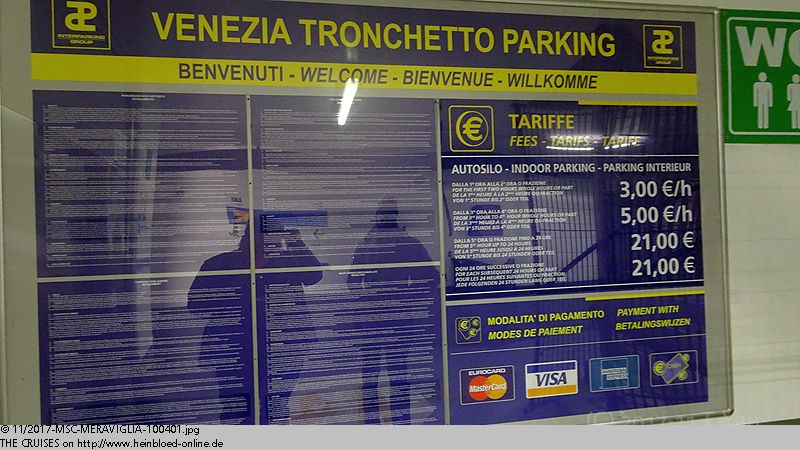 Back to Tronchetto. 21.00 EUR (2017) for one day in Venice should be cheap here.

Not all staircases you can find a machine to pay. But we made it: 59 minutes...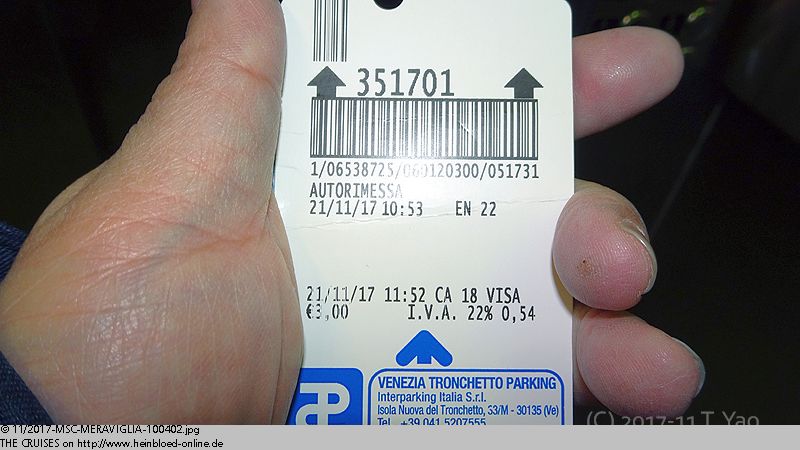 Es gibt leider nicht an jedem Treppengang einen Parkautomaten. Aber wir haben es geschafft: 59 Minuten...
Per
People Mover
geht es kurz in die Stadt.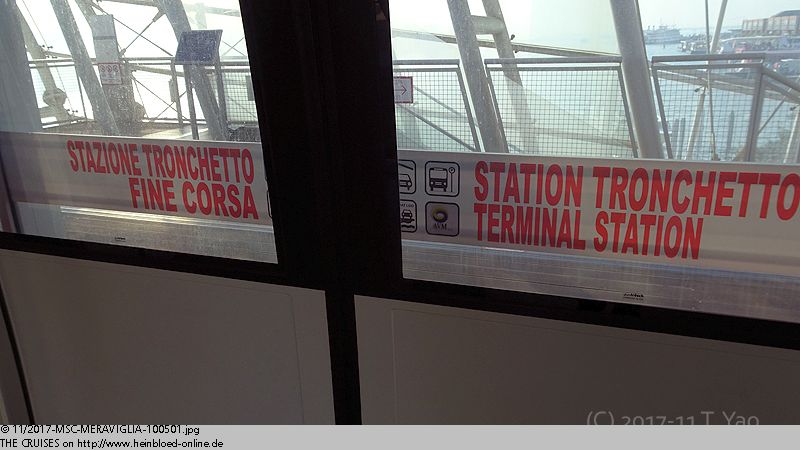 By People Mover we went quickly to the city.

Quickly passing Marittima. When sailing on NORWEGIAN JADE 2014 (2) we had the problem to get to the Vaporetto-boats towards the airport of Alilaguna. Then they did not want to let us in at the port gate. Nowadays you find even signs at the platform that you can transfer here.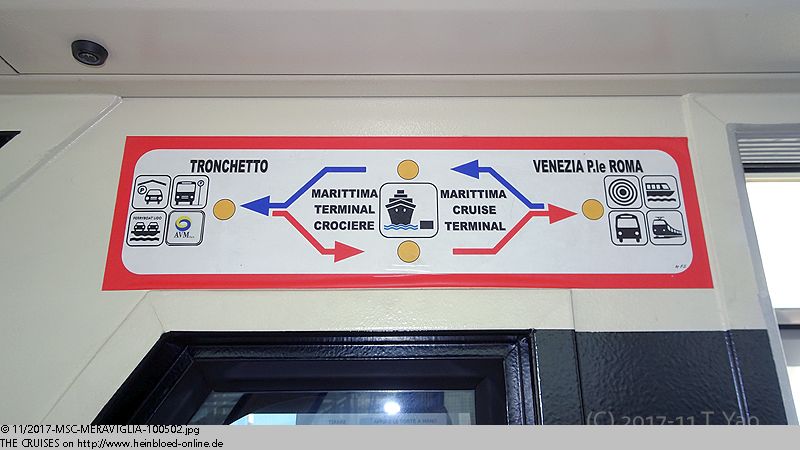 Kurz bei Marittima vorbei. Bei der Reise
NORWEGIAN JADE 2014 (2)
hatten wir Probleme hier zu den Vaporetto-Booten der
Alilaguna
zum Flughafen umzusteigen. Damals wollte man uns am Hafentor nicht reinlassen. Heute stehen hier am Bahnsteig sogar Schilder, dass man hier umsteigen kann.
Unterwegs sehen wir die BERLIN, die im Hafen liegt.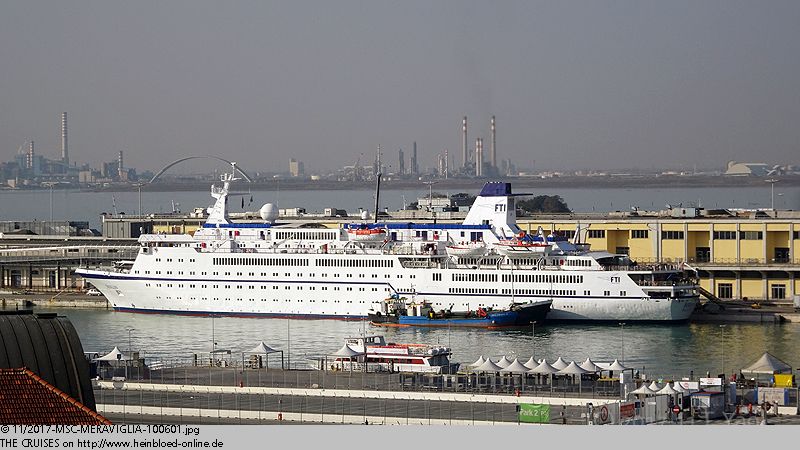 On the way we saw BERLIN which was here in port.

She had the same like PACIFIC PRINCESS in LoveBoat and was one of the boats in a TV-show many years ago in Germany.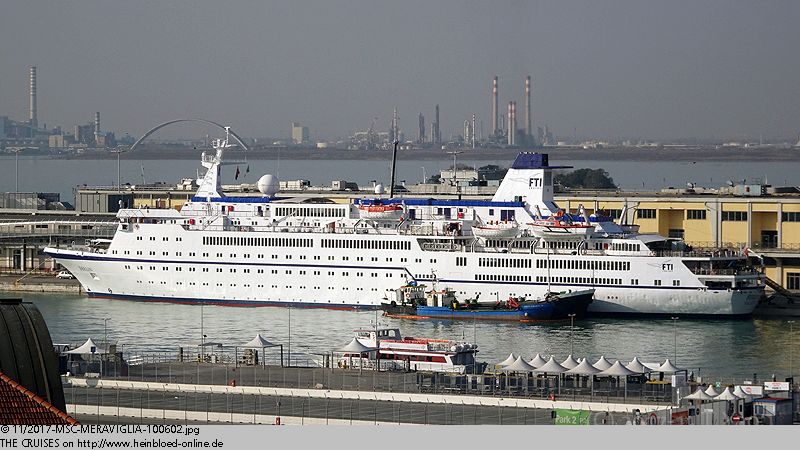 Früher mal ZDF-Traumschiff von Deilmann.
Heute bei
FTI
. Mich wundert es, dass es eine englischsprachige Homepage gibt, auf der die Reisen angeboten wird, da es ja eigentlich ein deutschsprachiges Produkt ist.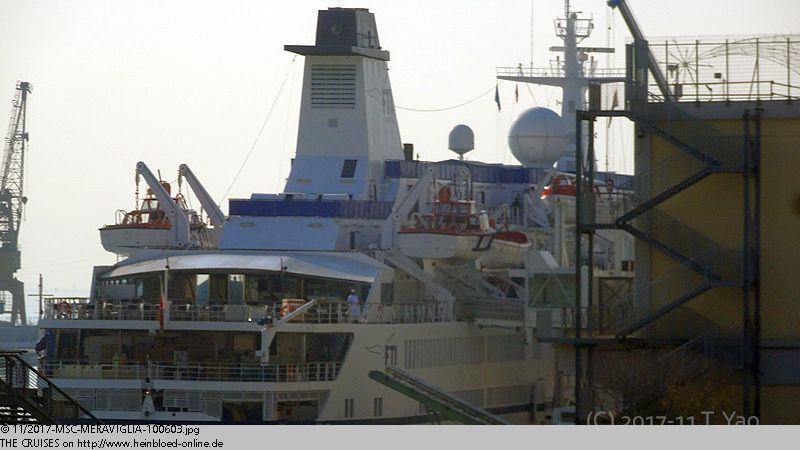 Today it is sailing again for a German operator FTI. I am surprised that they offer their cruises also in English although it is for German speaking guests only.

Later on our way back to the parking.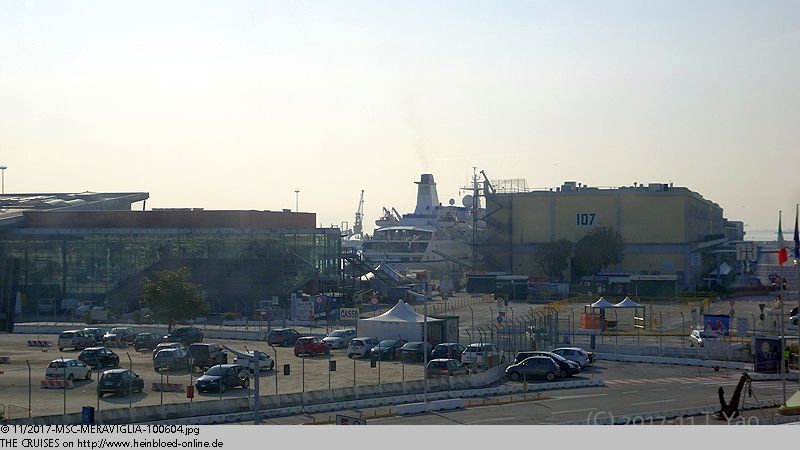 Später nochmals auf der Rückfahrt zum Parkhaus.
Das nächste Mal parken wir hier, falls wir viel Geld haben und einen ganzen Tag stehen bleiben müssen:
Garage San Marco
: 32,00 EUR pro Tag (2017). Keine Stundentarife. Dafür ein traumhafter Blick. Übrigens ist hier auch das Büro der
Trasbagagli
, die zwischen Hafen, Flughafen, Innenstadt und Hotels das Gepäck hin und her transportiert. Das Dach ist wirklich toll zum Fotografieren. Aber auch hier etwas diesig.

Next time we should park here, in case we had a lot of money and need to park here for one day: Garage San Marco: 32.00 EUR per day (2017). No rate by the hour. But a fantastic panorama. By the way, you can find here the office Trasbagagli which arranged the baggage transfer between port, airport, city center, and hotels. The roof was really great to take pictures. But it was a little misty here.

We headed to San Daniele del Friuli, Italy. As many restaurants were closed we were happy to find Ai Bintars which was open. They had ham exclusively from San Daniele and very great marinated vegetables: especially oyster mushrooms - simply just yummy.

Weiter geht es nach San Daniele del Friuli. Da viele Lokale auch geschlossen haben, sind wir froh, dass wir
Ai Bintars
finden, das geöffnet hat. Es gibt ausschließlich Schinken aus San Daniele und ganz tolles eingelegtes Gemüse: vor allem die Austernpilze - einfach nur lecker.
Die Junior-Chefin von
Prosciuttificio Prolongo Giovanni di Prolongo
Arianna hat uns zugesagt, dass sie uns kurz durch den Betrieb führt, wenn wir vor 14:00 Uhr vorbeikommen. Das Angebot nehmen wir gerne an und lernen den Unterschied zwischen dem Parma und dem San Daniele Schinken. Auch hier kaufen wir ein, damit wir zu Hause weiter vergleichen können. Sie haben sehr schöne Dosen, die man leider nur einmal benutzen kann. Kurzerhand bekomme ich eine leere Dose als Souvenir geschenkt. Schade, dass es das Rezeptbuch nicht in Englisch oder Deutsch gibt.

The Junior Boss of Prosciuttificio Prolongo Giovanni di Prolongo Arianna agreed to guide us quickly through their manufactury subject we would made it before 14:00 hrs. We accepted that offer and learned the difference between Parma and San Daniele Ham. And we also made here some purchases that we could compare at home. They had nice cans which you could only use once. Curtly I got an empty can as a souvenir. So sad that the recipe book was not available in English or German.

We went quickly to Monfalcone. I need to arrive before sunset. Here was a location of Fincantieri too and the Yacht Club of the Italian Navy had a place to take such beautiful pictures. Few more days before the MSC SEAVIEW would be handed over. I was waving over to our former cabin steward Gusti from MSC MERAVIGLIA, but he did not wave back.

Wir fahren schnell nach Monfalcone. Ich muss vor dem Sonnenuntergang ankommen. Auch hier ist ein Standort von Fincantieri und am Yachtclub der italienischen Marine kann ich diese Aufnahmen machen. In wenigen Tagen wird die MSC SEAVIEW übergeben. Ich winke unserem vorigen Kabinensteward Gusti von der MSC MERAVIGLIA, aber er winkt nicht zurück.
Triest erreichen wir erst als es dunkel ist. Hier merkt man, dass hier eher das mal österreichisch war. Vieles sieht eher aus, wie in in Wien. Eine tolle Stadt.

We reached Trieste, Italy once it became dark. Here you could notice that it was then Austrian. Many looked more like in Vienna, Austria. A great town.

Here one more cruise ship was docking: ARTHUSA.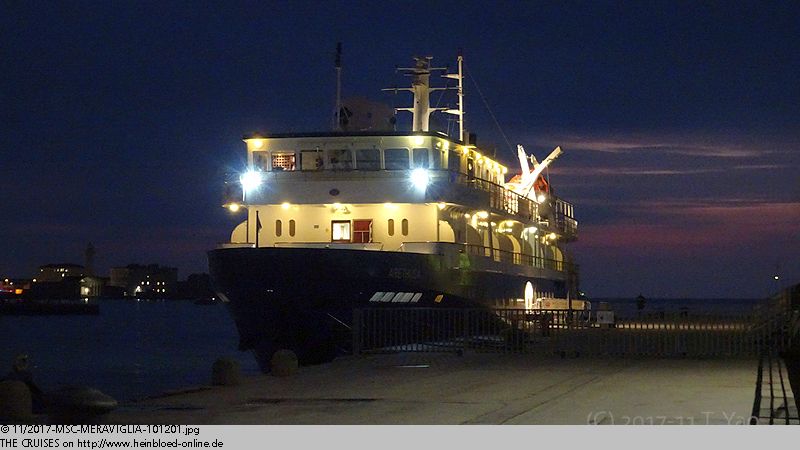 Hier liegt auch noch ein Kreuzfahrtschiff: ARTHUSA.
Gehört zu
Grand Circle Cruise Line
. Keiner der großen. Und das Schiff fasst nur 25 Passagiere.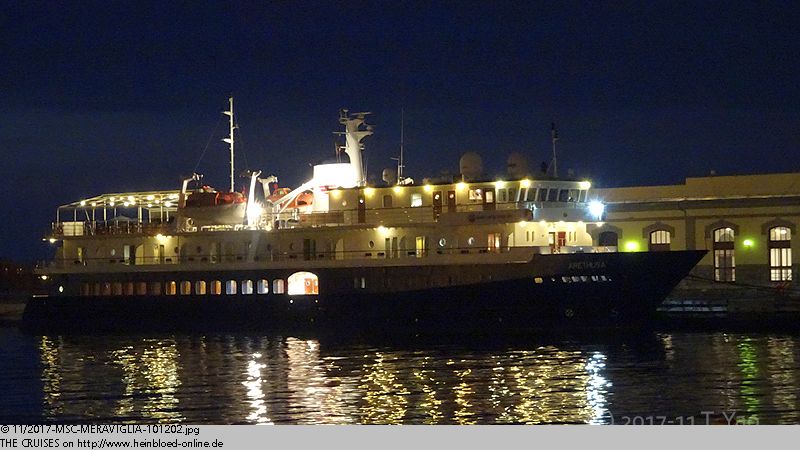 Belongs to Grand Circle Cruise Line. None of the big ones. And the ship only hosts 25 passengers.

The ship was not mentioned with Douglas Ward but it was awarded by Condé Nast Traveller.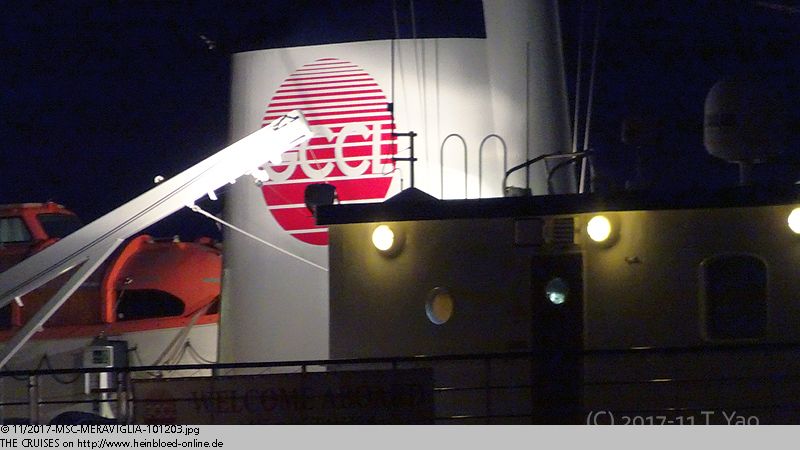 Das Schiff wird nicht mal bei Douglas Ward beschrieben, allerdings wurde es wohl im
Condé Nast Traveller
ausgezeichnet.
Höchste Zeit für Kaffee. In der ältesten Konditorei Triests:
La Bombonièra
. Es gibt nur zwei Tische. Eine schöne Pause.

Ultimate time for coffee. In the oldest patisserie of Trieste: La Bombonièra. They had only two tables. A nice break.

We parked at the Cruise Terminal which was in the center of the city: Trieste Terminal Passeggeri. Desirable rates for passengers who traveled by car to the ship.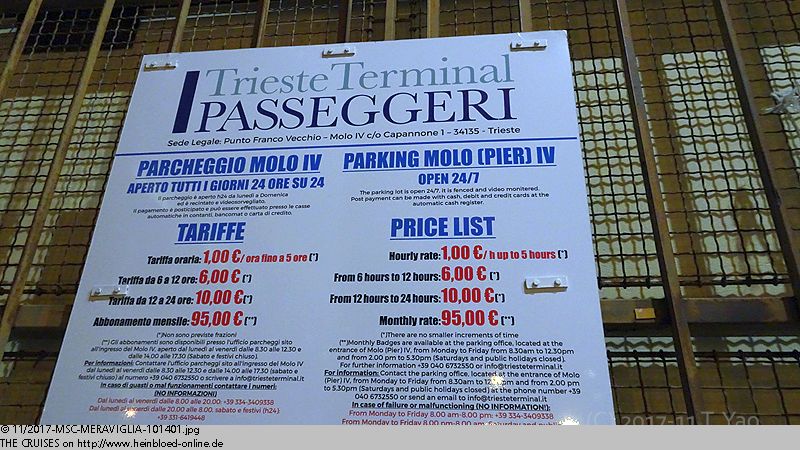 Geparkt haben wir am Kreuzfahrtterminal, das mitten in der Stadt ist:
Trieste Terminal Passeggeri
. Sehr attraktive Preise für Passagiere, die mit eigenem Auto anreisen.
Schnell fahren wir noch zum Shopping Center
Torri d'Europa
.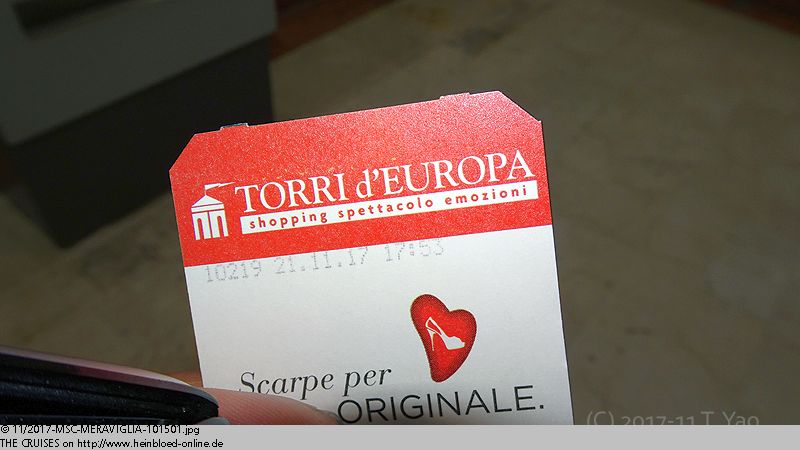 Quickly we headed to the shopping center Torri d'Europa.

Everything was set all ready for Christmas.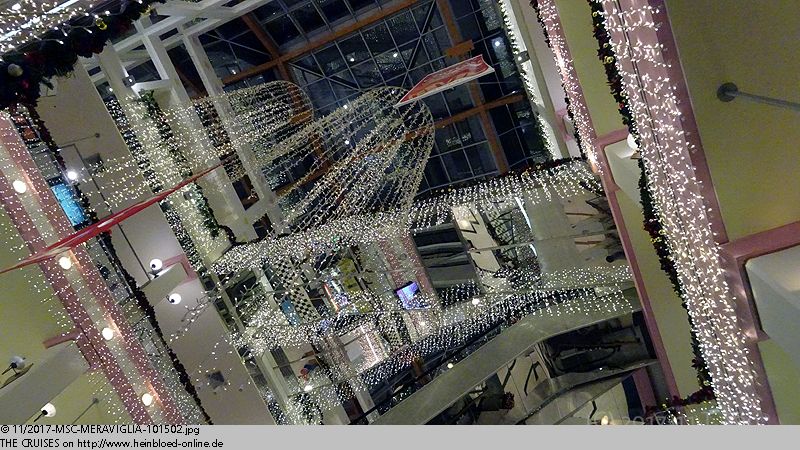 Alles bereits für Weihnachten dekoriert.
Und oben vom obersten Parkdeck, das eigentlich geschlossen ist, kann man noch rüber in das Trockdock gucken. Hier wird die MSC ARMONIA für die Wintersaison schön gemacht. Besser kommen wir leider nicht ran.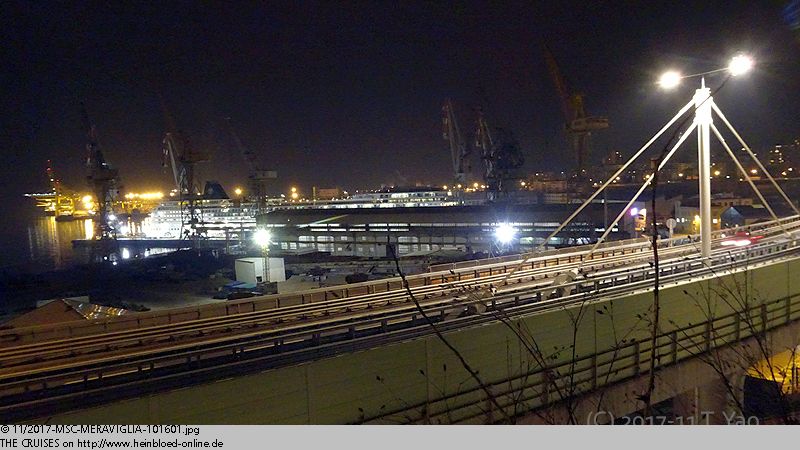 And on top of the parking deck which was actually closed you could see on the opposite side the dry dock. Here MSC ARMONIA was set up nice for the winter season. But we could not get closer.

2 minutes more via Ljubljana, Slovenia to the next destination Villach, Austria. Otherwise, we need to return all the way down via San Daniele del Friuli.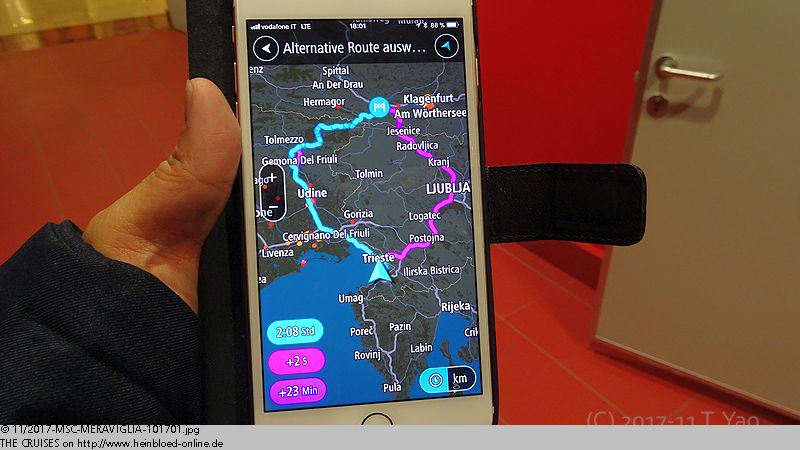 2 Minuten länger über Ljubljana zum nächsten Ziel Villach. Aber sonst müssen wir schon wieder fast in San Daniele del Friuli vorbei.
Da wir uns für Ljubljana entscheiden, müssen wir noch eine
Autobahnvignette für Slowenien
kaufen. Wir werden mehrfach unterwegs kontrolliert.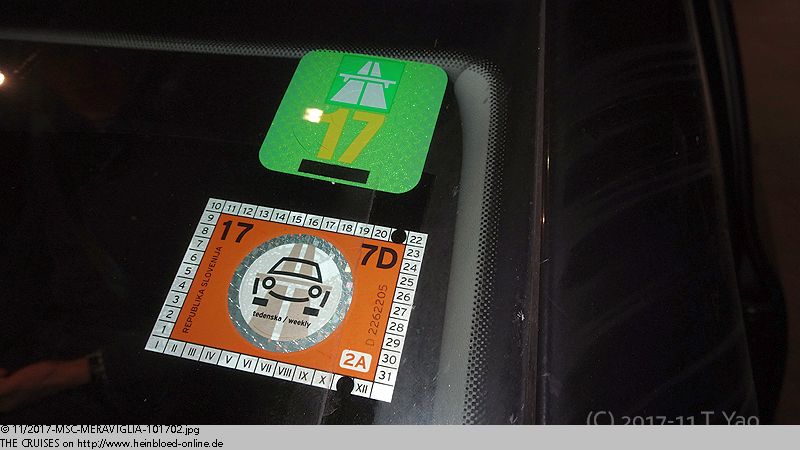 As we decided to go via Ljubljana we need to buy a Slovenian Highway toll tag. We were checked multiple times on our way.

And we also need an Austrian highway toll tag. We need to stick. We were a few days too early to use the new digital vignette.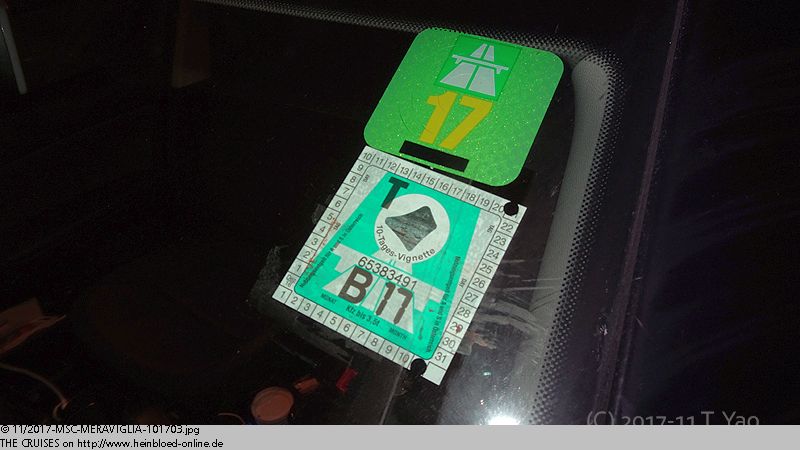 Und dann brauchen wir auch eine
österreichische Autobahnvignette
. Wir müssen noch kleben. Wir sind ein paar Tage zu früh, um die neue digitale Vignette zu nutzen.
Für den
Karawankentunnel
muss man noch zusätzlich eine Streckenmaut zahlen. Das habe ich digital gemacht, aber die digitale Streckenmaut gilt nur von Österreich nach Slowenien und nicht umgekehrt. Ich bekomme aber den Betrag wieder gutgeschrieben, nach dem ich eine E-Mail geschrieben habe.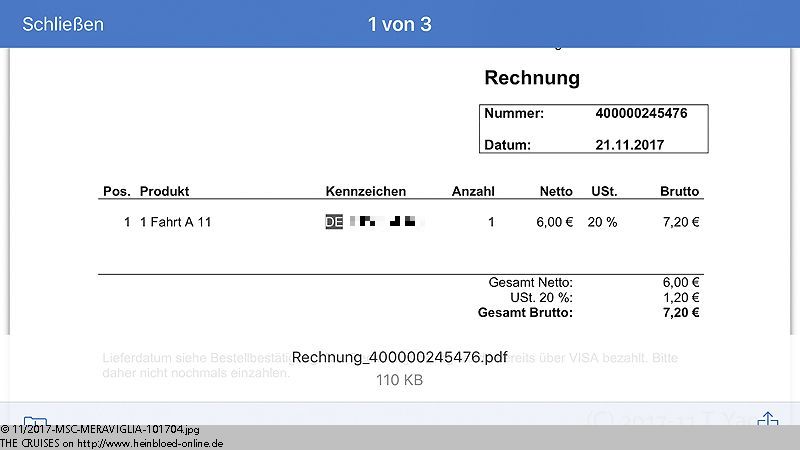 For the Karawankentunnel you to pay an extra toll for this special section. I did it digital but the digital toll was only valid from Austria to Slovenia but not vice versa. I got the amout credited after I wrote an e-mail.

Before we reached Austria, we made a stop in Ljubljana. A very nice city. Here we need to come again.

Bevor wir Österreich erreichen, machen wir einen Stop in Ljubljana. Eine sehr schöne Stadt. Hier müssen wir auch mal wieder kommen.
Sarajewo 1984. Die Olympischen Spiele von
Torvill/Dean und ihr Bolero
. Bei der Suche im TripAdvisor ist klar: wir gehen hierher:
Sarajevo '84
. Leider kein Rasnicij, aber sehr leckere Cevapcici. Der richtige Ort für mich: Fan der Olympischen Spiele 1984 und Cevapcici. Zum Schluss gibt es mit der Rechnung sogar ein Kaugummi. Wir stinken. Soviele Zwiebeln und Knoblauch habe ich schon lange nicht mehr gegessen.

Sarajevo 1984, former Yugoslavia, today Bosnia-Hercegovina. The Olympic Games of Torvill/Dean and their Bolero. When I was checking on Tripadvisor it was clear: the place we would go: Sarajevo '84. Unfortunately no Rasnicij (grilled pork skewer), but very yummy Cevapcici (grilled minced meat). The right place for me: Fan of the Olympic Games 1984 and Cevapcici. Finally, we got with the bill even chewing gum. We smelled bad. So many onions and garlic I had not had for a very long time.

Even we smelled bad like onions and garlic we were welcomed very friendly at Holiday Inn Villach. I was only asking for the access to the parking garage. They explained friendly where to find best a parking and did the check-in so that we could walk directly with all our bags from the parking deck to the room. The room: someone made many good thoughts - all the little details to make your stay more pleasurable. Great view. So many goodies because I was a loyal guest of the chain. A great day came to an end: with six cruise ships although we were not anymore on a cruise ship.

Trotz Zwiebel- und Knoblauchfahne werden wir sehr freundlich im
Holiday Inn Villach
empfangen. Ich frage eigentlich nur nach der Zufahrt für das Parkhaus. Man erklärt mir freundlich, wo ich am besten einen Parkplatz finde und checkt mich ein, damit ich direkt mit Gepäck vom Parkdeck zum Zimmer fahren kann. Beim Zimmer: Da hat sich jemand sehr viele Gedanken gemacht - all die Kleinigkeiten, um den Aufenthalt angenehmer zu machen. Toller Ausblick. Sehr viele Goodies, weil ich ein guter Stammgast der Kette bin. Ein toller Tag geht zu Ende: mit sechs Kreuzfahrtschiffen, obwohl wir gar nicht auf einem Schiff unterwegs sind.
Die anderen Reisen in diesem Blog/
The other voyages in this blog: