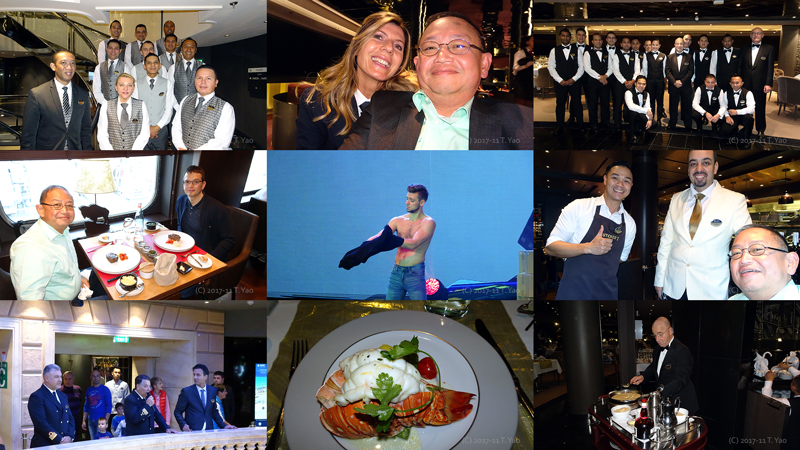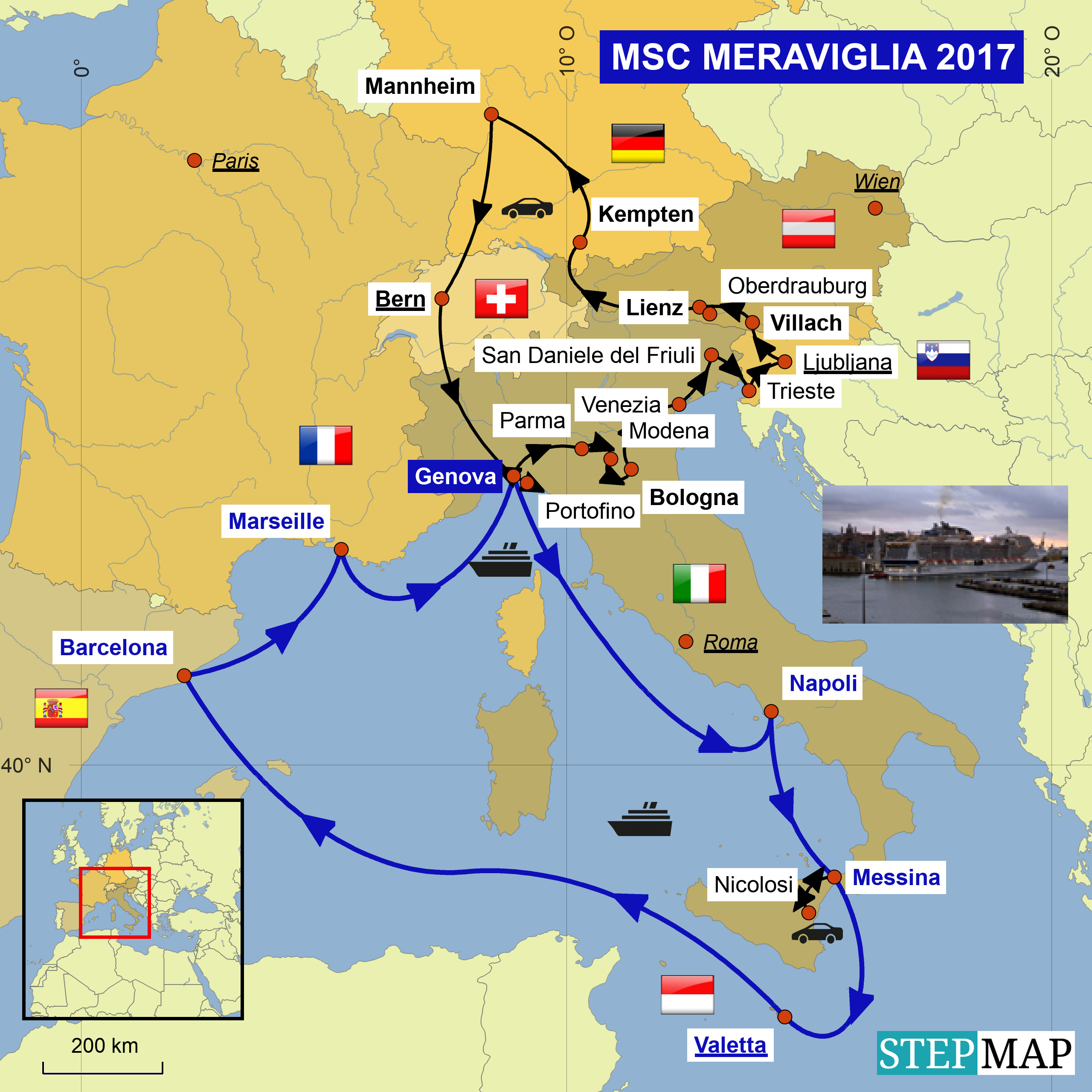 Auf dem ersten Blick wirkt ja alles schön, aber leider hat man auf dem zweiten Blick den Eindruck: beim Innenausbau im Bad hat man wohl die Insolvenz beim Praktiker genutzt, um richtig Schrott zu verbauen. Wie Schrauben und Ablagen, die anfangen unter der Dusche zu rosten. Die Seifenspender hatten die billigsten Federn und so musste man bei jeder Nutzung kämpfen.

On the first look it looked nice but the second look gave you the impression: no idea which bargain they made to buy those scrap items. Like screws and racks which started to rust in a shower cabin. The displays for soap had the cheapest coils, so you had a fight every time of use.

The Top Sail Lounge was the home of the butlers. All of them on one shot which took so well care of us: Thierry and his excellent team with Aaron Pineda, Adi Sucipta I Wayan, Anzhela Shcherbakova, Edwin Josue Garcia, Jose Ortez, Nata I Wayan, Sandro Mesquita, Sata Ralidera, William Guerra and Willy Mariski. Service which made fun. Now it would become expensive for MSC: I took a Ramazzotti and a Mojito.

Die Top Sail Lounge ist die Domäne der Butler. Alle auf einem Blick, die uns so toll betreuen: Thierry und sein wunderbares Team mit Aaron Pineda, Adi Sucipta I Wayan, Anzhela Shcherbakova, Edwin Josue Garcia, Jose Ortez, Nata I Wayan, Sandro Mesquita, Sata Ralidera, William Guerra und Willy Mariski. Service, der Spaß macht. Jetzt wird es teuer für MSC: ich nehme ein Ramazotti und ein Mojito.
Die anderen haben Zeitung bestellt. Wir wollen keine. Wir haben unsere ePaper von zu Hause.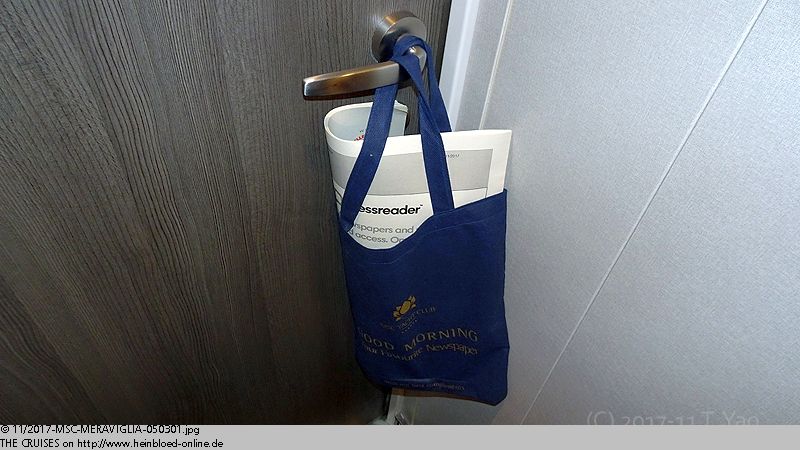 All the others ordered newspapaer. We did not want. We always had our ePaper from home.

Could I stand myself so many times at once?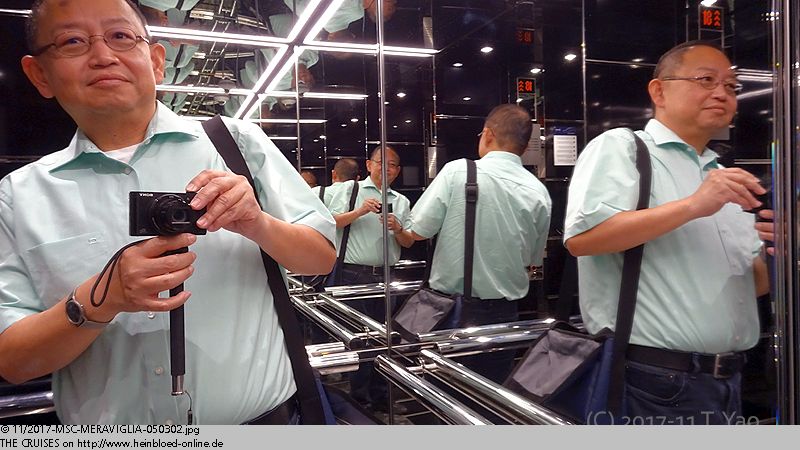 Kann ich mich selbst so oft auf einmal ertragen?
Auf zum Frühstück. Irgendwie klappt es nicht mit zwei weichen Eiern. Bruno ist vom Joghurt vom
Milchhof Sterzing
aus Südtirol begeistert.

Heading for breakfast. Somehow it did not work having two soft boiled eggs. Bruno liked a lot the yoghurt of Latteria Vipiteno (Milchhof Sterzing) from South Tyrol (Alto Aldige - former part of Austria - bilingual area: German/Italian).

Behind-the-Scenes-Tour... 08:30 hrs on a day at sea... Were they crazy?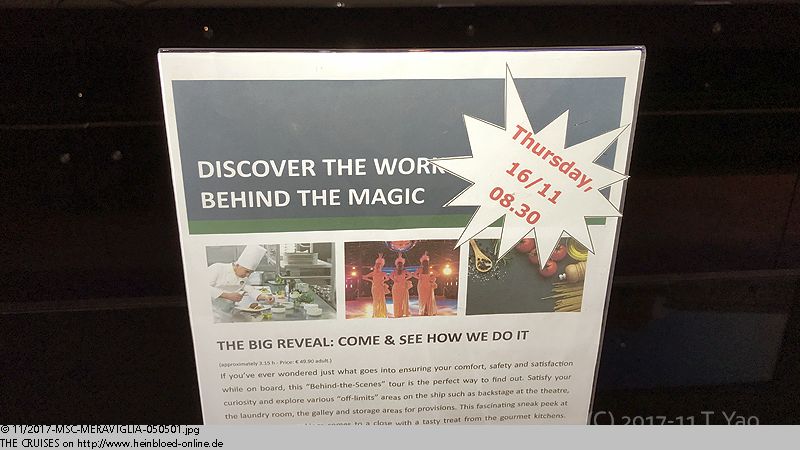 Behind-the-Scenes-Tour... 08:30 Uhr an einem Seetag... Sind sie verrückt?
Buchbar als Ausflug im Ausflugsbüro.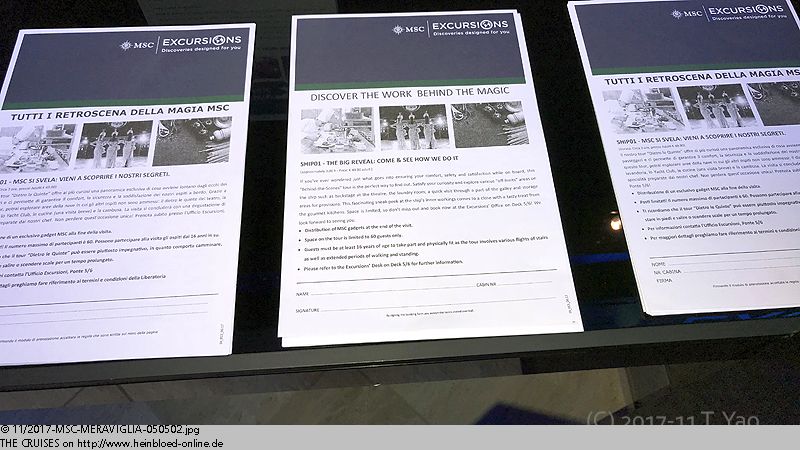 Bookable as an excursion at the shore excursion desk.

49.00 EUR (2017) for three hours and the Yacht Club was an attraction of the tour.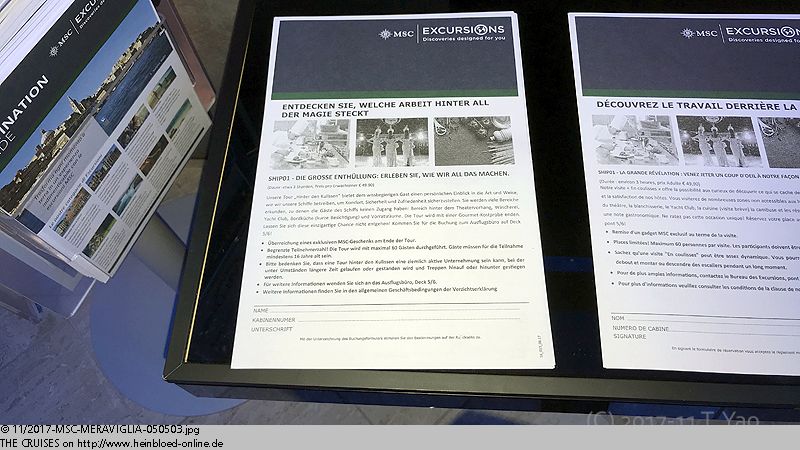 49,00 EUR (2017) für drei Stunden und der Yacht Club als Attraktion der Tour.
Obwohl wir bereits auf dem Weg nach Barcelona sind: es liegen noch die Karten von La Valletta aus.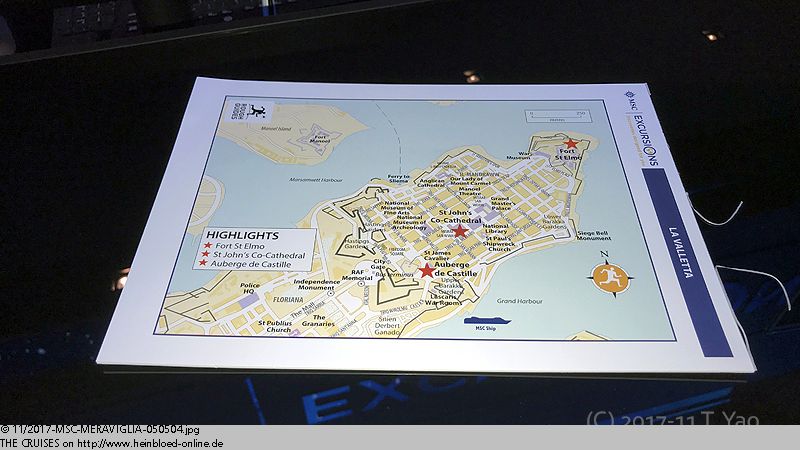 Although we were already on the way to Barcelona: they still had maps of La Valletta.

9.90 EUR (2017) for the shuttle to the city.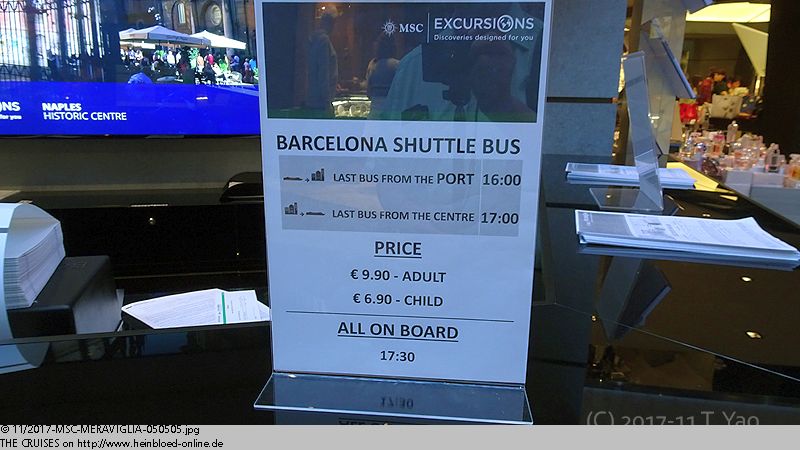 9,90 EUR (2017) für den Shuttle in die Stadt.
Da Internet nach Volumen abgerechnet wird: erst nach acht Stunden wird getrennt.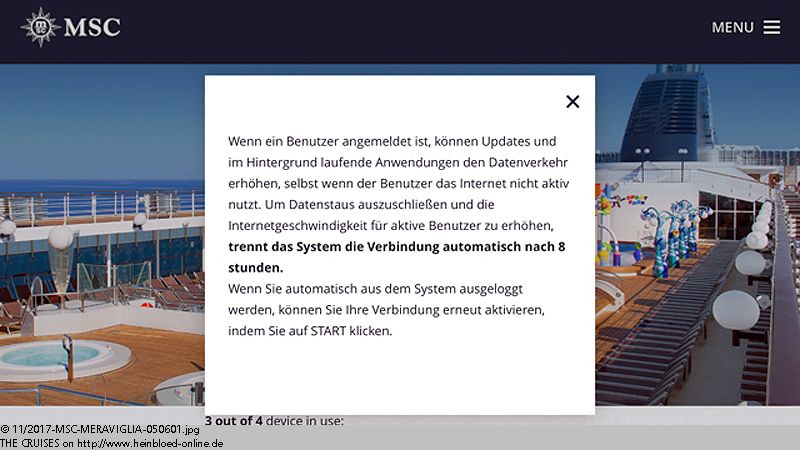 Internet was charged by volume: after eight hours they would disconnect.

They charged us our donation for Unicef: 1.00 EUR (2017) per guest and voyage.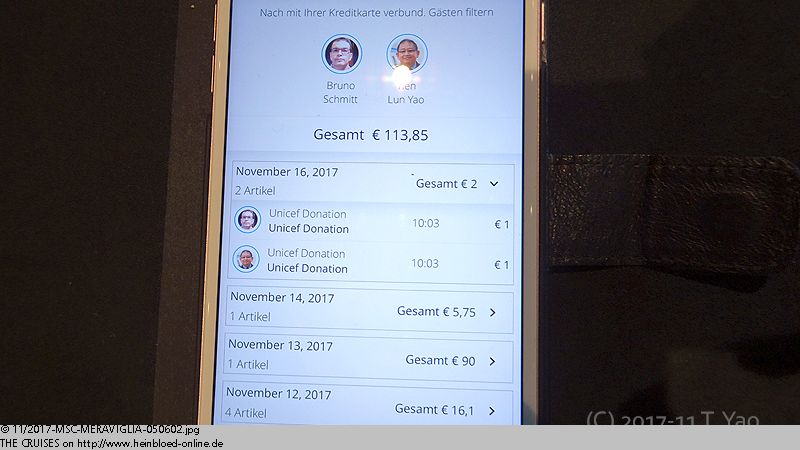 Uns wird die Spende für
Unicef
abgebucht: 1,00 EUR (2017) je Gast und Reise.
Das Internet läuft auf dem Seetag grauenhaft.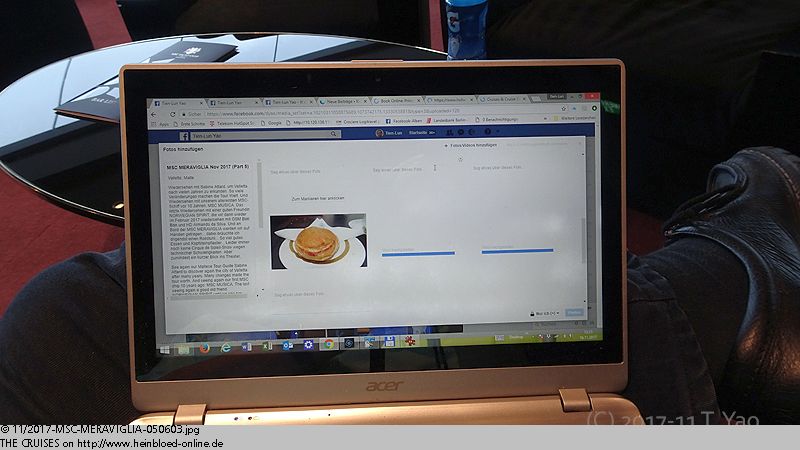 The internet did not run well on the day at sea.

We still had one user open. We used the package quite well.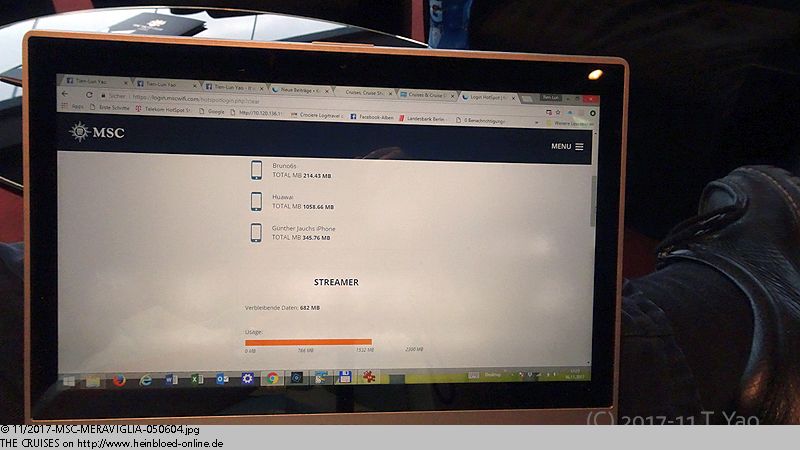 Wir hätten noch einen User frei. Das Paket nutzen wir ganz gut.
Der Kapitän lädt ein und wir haben immer noch keine Ahnung, wie er heißt. Teile der Promenade werden für den Empfang gesperrt: es dürfen ja nur Wiederholer in den gesperrten Bereich: mit Einlasskontrolle. Die anderen dürfen an der Seite vorbei und bekommen nur nichts zu trinken.

The Captain invited and we still did not know what was his name. Part of the promenade was blocked for the reception: only repeaters were allowed to walk into the blocked area: with access control. Others might pass alongside and were not allowed to drink.

We booked in the Butcher's Cut for lunch. Not bad. But I dislike their pricing. Excellent service and great food. As Black Members, we were allowed to select off the Dining Experience. Anything was regulated with a complicated surcharge system: depending you were changing a course, or you had an additional course. I wanted to change a course, and one suggested as an additional one. According to my calculation, it would be cheaper. But it did not work. No smaller cut of a Rib-Eye-Steak available. We got excellent service of Jaymon Tuvida and Ahmet Yakup Ozkan. The alternative would be Eataly: there was not only the shop but also a Gourmet Restaurant.

Wir haben mittags im Butcher's Cut gebucht. Nicht schlecht. Die Preisgestaltung gefällt mir allerdings nicht. Toller Service und tolles Essen. Als Black-Mitglieder dürfen wir hier aus dem Dining Experience auswählen. Alles andere unterliegt dann einem etwas komplizierten Aufpreissystem: je nach dem man, ob man einen Gang tauscht oder einen zusätzlichen Gang nimmt. Ich wollte offiziell einen Gang tauschen und das bereits vorgeschlagene als Zusatzgang. Das wäre nach meiner Rechnung etwas günstiger. Aber das geht nicht. Kein kleines Stück des Rib-Eye-Steaks verfügbar. Wir sind von Jaymon Tuvida und Ahmet Yakup Ozkan ausgezeichnet bedient worden. Die Alternative wäre Eataly: es gibt nicht nur den Verkauf, sondern auch ein Gourmet-Restaurant.
Immer wieder schön: unsere Top Sail Lounge.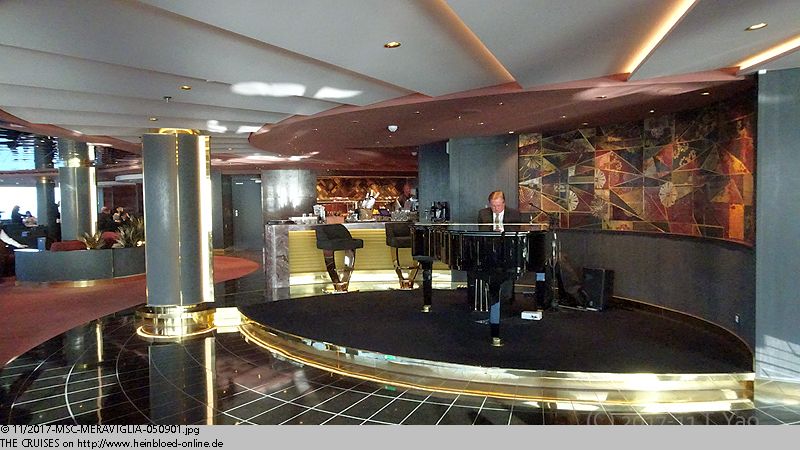 Always nice: our Top Sail Lounge.

Here everything was set up for High Tea Time.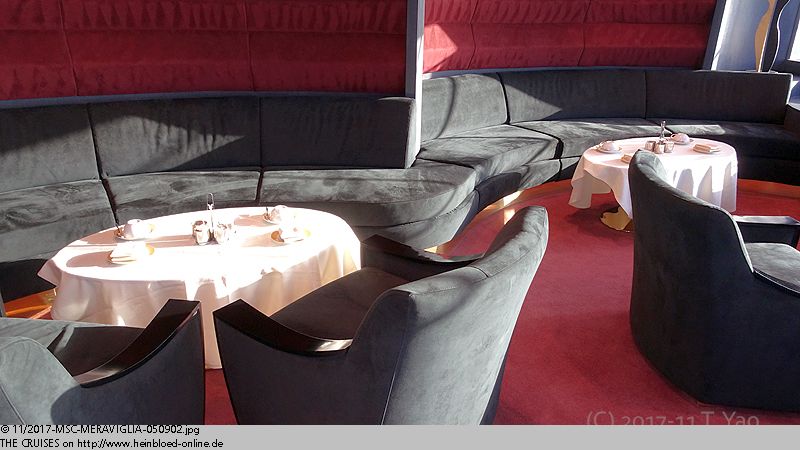 Hier ist alles für High Tea Time gedeckt.
Ich wollte aber bloß losen Jasmin-Tee.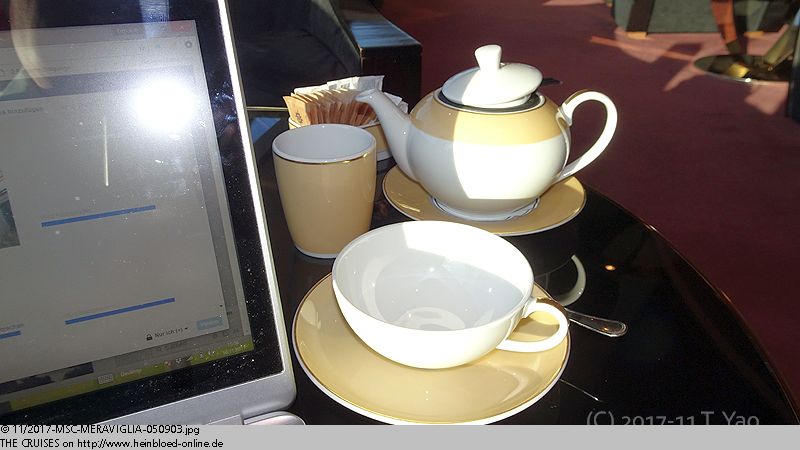 I only wanted to have a loose Jasmine-Tea.

That night we had the reception for guests of the Yacht Club. Unfortunately, I still had no idea what the name of the Captain was. Anyhow he was only available for his friends and stayed all the time with them until he needed to have few words to all guests and went immediately away. Other guests stopped him from making a common picture. I did not torture him and let him go. Reminded me to ISLAND PRINCESS 2013: Then we had also a shy Italian Captain who also wanted to disappear after his speech, and other guests were willing to catch him by a rope. So I had a nice common picture with Yacht Club Manager Rosalia Scaldeferri. She really managed a great team. We let the Captain being Captain and just simply enjoyed the excellent service of Anzhela Shcherbakova and Jose Ortez.

Abends findet der Empfang für die Gäste des Yacht Clubs statt. Leider weiß ich immer noch nicht, wie der Kapitän heißt. Auf jeden Fall ist er nur für seine Freunde da und bleibt bei ihnen so lange sitzen, bis dass er ein paar Worte ins Publikum spricht und anschließend sofort geht. Andere Gäste halten ihn auf, um ein gemeinsames Bild zu machen. Ich quäle ihn nicht und lasse ihn ziehen. Erinnert alles an
ISLAND PRINCESS 2013
: Auch damals ein scheuer italienischer Kapitän, der sofort nach seiner Rede verschwinden wollte und damals beinahe von anderen Gästen mit einem Lasso eingefangen wurde. Dann gibt es halt ein gemeinsames Bild mit Yacht Club Manager Rosalia Scaldeferri. Sie leitet wirklich ein tolles Team. Wir lassen den Kapitän Kapitän sein und genießen einfach den wunderbaren Service von Anzhela Shcherbakova und Jose Ortez.
Es geht zum Abendessen ins Yacht Club Restaurant. Der 2. Galaabend und es gibt neureiche Gäste, die sogar barfuß in Sandalen zum Abendessen kommen und das wird im Yacht Club Restaurant geduldet! Selbst im SB-Restaurant gibt es Schilder, dass verboten ist. Statt Butter gibt es heute Abend Olivenöl - aus Griechenland - und das auf einem italienischen Schiff. Ich lasse mir den Hummer aus der Schale herausnehmen. Ein toller Hummer!!! Gehört für mich einfach mit dazu. Und am Schluss gibt es Crèpes Suzettes, die vor Ort von Giuseppe zubereitet werden. Übrigens eine gute Gelegenheit das tolle Team, das uns eine Woche lang verwöhnt hat und ertragen musste, mal gemeinsam zu fotografieren: Grazie mille an Guiseppe di Nardo und sein Team bestehend aus Augustina I Wayan, Ajay Moorut, Angel Padilla Caballero, Connielyn Datoon Matti, Cesar Jr. Callejo, Giovanni Garguilo, Jeffrey Agana, Luigi Simonotti, Oscar de Paz, Preetam Leckraj, Raffaele Fruscio, Raffaele Iaccarino, Sonaram Boudewarai, Savio Furtado Movino, Sukron und Yogesh Bundhoo. Wir werden sie in wenigen Tagen sehr vermissen.

We went for the Yacht Club Restaurant for dinner. The 2nd gala night and you had nouveau riche guests who even came bare feet in sandals for dinner, and they accepted it in the Yacht Club Restaurant! Even they had signs in the self-service restaurant that this was forbidden. Instead of butter, they had tonight olive oil - from Greece - on an Italian ship. I let them remove the lobster off the shell. A great lobster!!! For me, it was part of it. Finally, we had Crèpes Suzette which were prepared in front of you by Giuseppe. By the way, a great occasion to have a picture of the great team who pampered and suffered on us a whole week: Grazie Mille to Guiseppe di Nardo and his team of Augustina I Wayan, Ajay Moorut, Angel Padilla Caballero, Connielyn Datoon Matti, Cesar Jr. Callejo, Giovanni Garguilo, Jeffrey Agana, Luigi Simonotti, Oscar de Paz, Preetam Leckraj, Raffaele Fruscio, Raffaele Iaccarino, Sonaram Boudewarai, Savio Furtado Movino, Sukron, and Yogesh Bundhoo.

Outside COSTA FASCINOSA and NORWEGIAN SPIRIT came behind us. While everyone had fun with DoReMi on the promenade, the girls from Aurea Spa get bored, and so they posed for me.

Draußen fahren uns COSTA FASCINOSA und NORWEGIAN SPIRIT hinterher. Während sich alle mit DoReMi auf der Promenade vergnügen, langweilen sich die Mädels vom Aurea Spa, so dass sie für mich posieren.
Es geht in die Show "Virtual". Thematisch finde ich mich als intensiver Smartphone-User auf jeden Fall wieder. Und seit heute funktioniert auch wieder die Reservierungsanzeige auf meinem iPhone.

We went to the show "Virtual". Perfect theme for people like me who were stuck with their smartphones. And that day the reservation system worked again on my iPhone.

It started all with a selfie with the Cruise Director. The show: a pleasant sight... No idea where I should look to...

Es fängt mit einem Selfie vom Kreuzfahrtdirektor an. Die Show: Ein schöner Anblick... ich weiß gar nicht, wo ich noch hingucken soll...
Wir verpacken schon mal die Schokoladenschiffe: Ladungssicherung.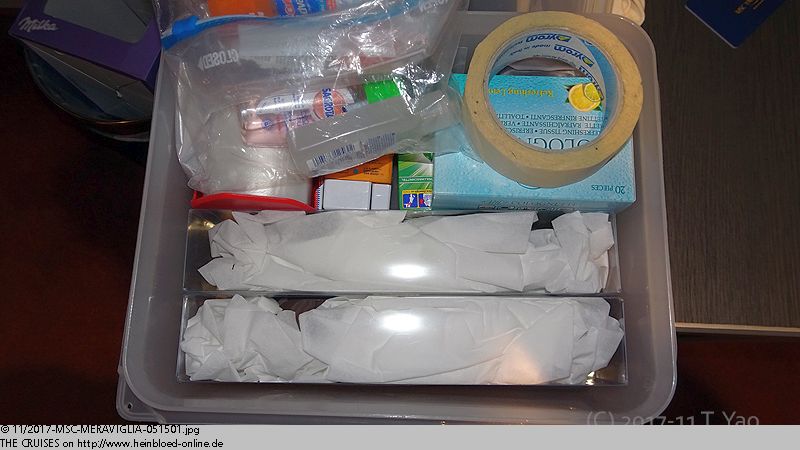 We packed already the chocolate ships: securing the load.

Tonight we had some special goodies for good night.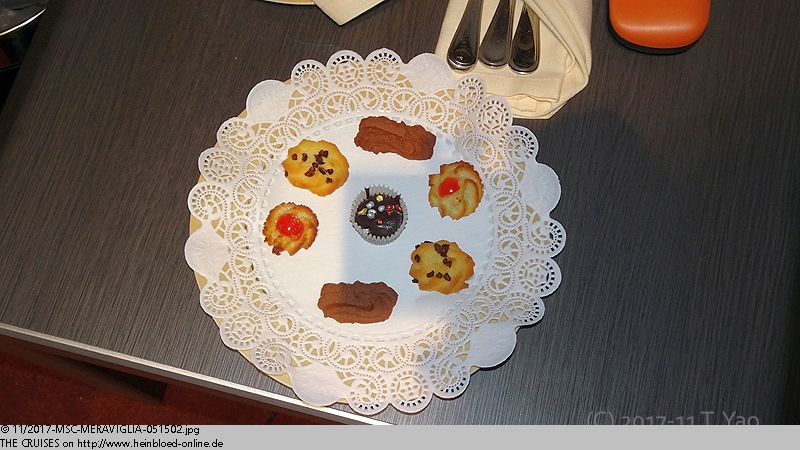 Heute gibt es noch ein paar Sonder-Leckerlis zur Guten-Nacht.
Und morgen dann sind wir in Barcelona.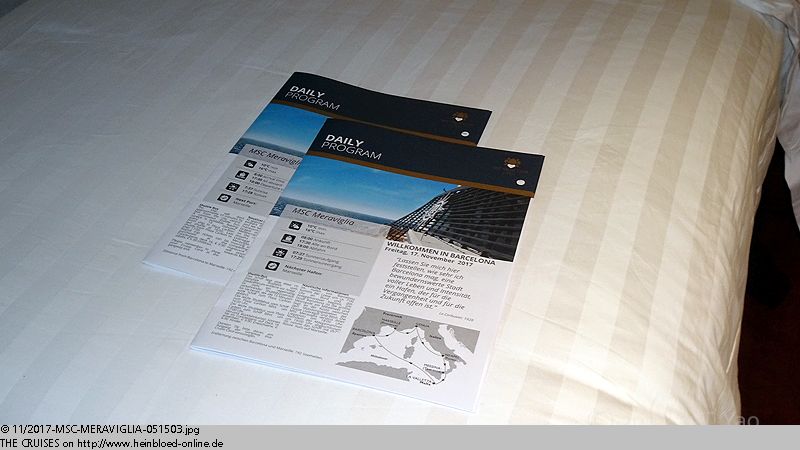 And the next we approach Barcelona, Spain.

The good-night-chocolate we still had.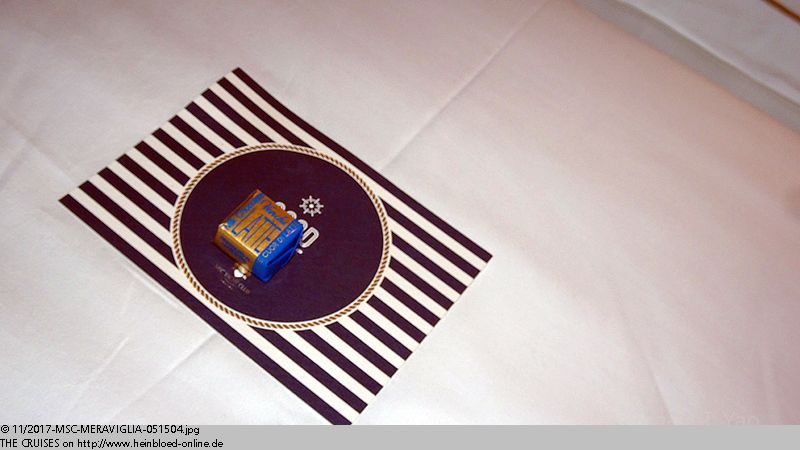 Die Gute-Nacht-Schokolade gibt es trotzdem.
Und noch zwei kleine Schuh- oder Strandbeutel.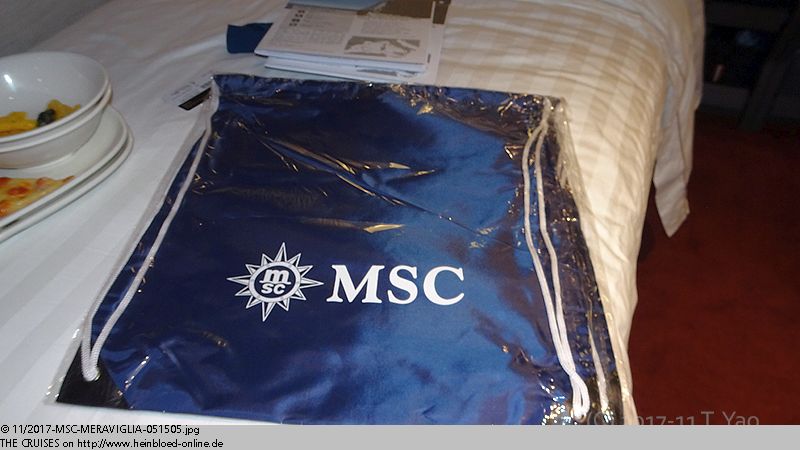 And two more small shoe- or beach-bags.

At the end of the day, I took another piece of pizza... for a good night... I need next time more days at sea.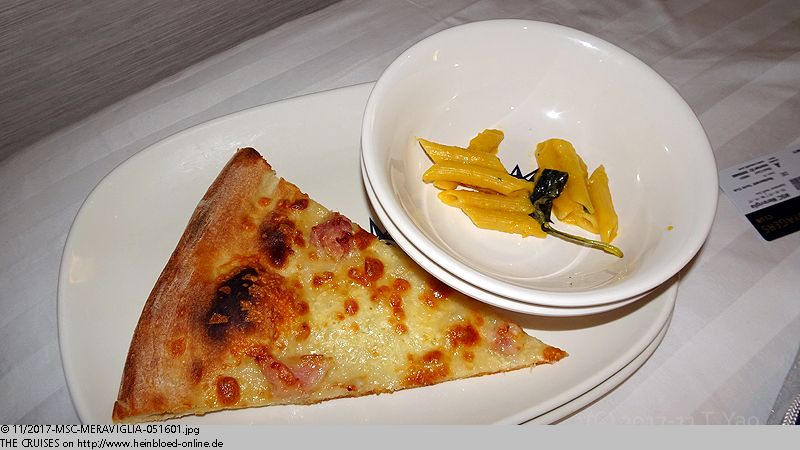 Ich nehme am Schluss des Tages noch ein Stück Pizza... zur Guten Nacht. Ich brauche demnächst mehr Seetage.
Die anderen Reisen in diesem Blog/
The other voyages in this blog: