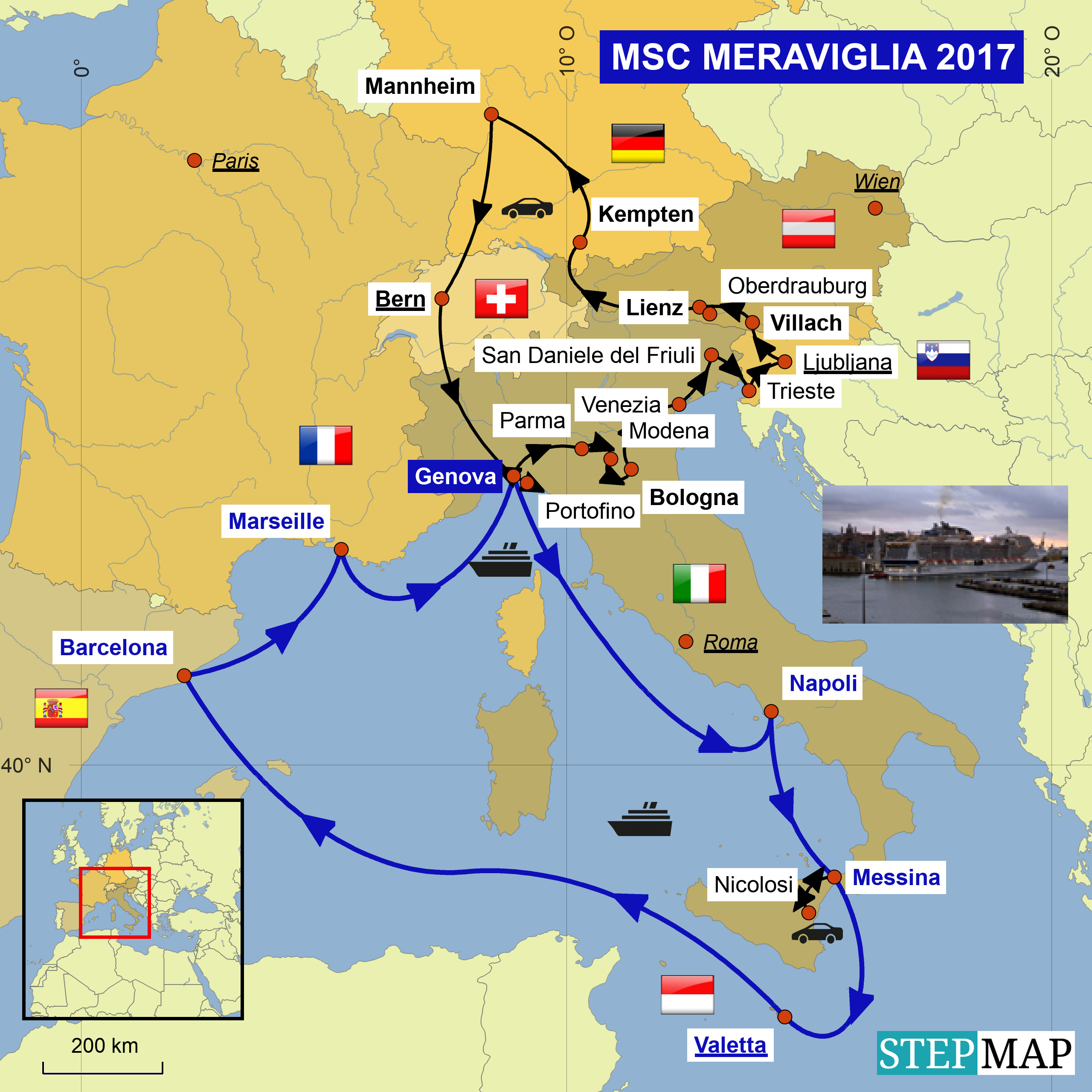 Ich konnte keine Tafel mit den Senioroffizieren an Bord finden, weil es keine im Passagierbereich gibt. So lerne ich ein paar auf dem Fernseher kennen... Darf man den internationalen Gastgeber überhaupt zu den Senioroffizieren zählen?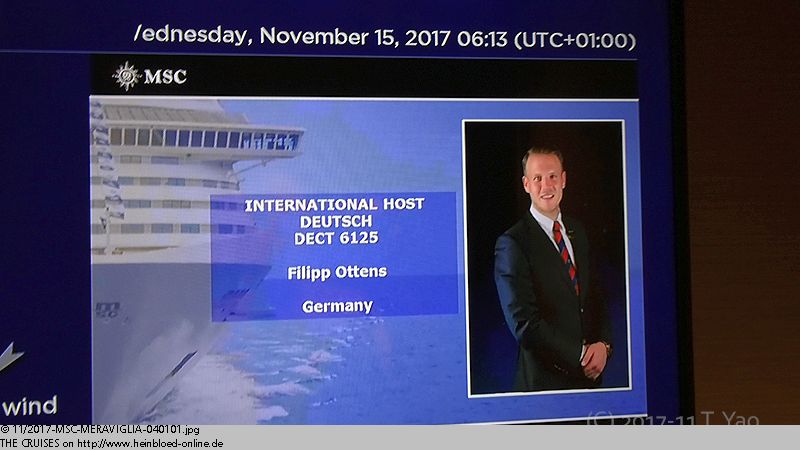 I could not find onboard a board showing all senior officers of the ship because they had none in the public passenger area. So made the acquaintance of few on the TV set... Can you count the International Host to the senior officers?

I could try to make a complaint in Chinese.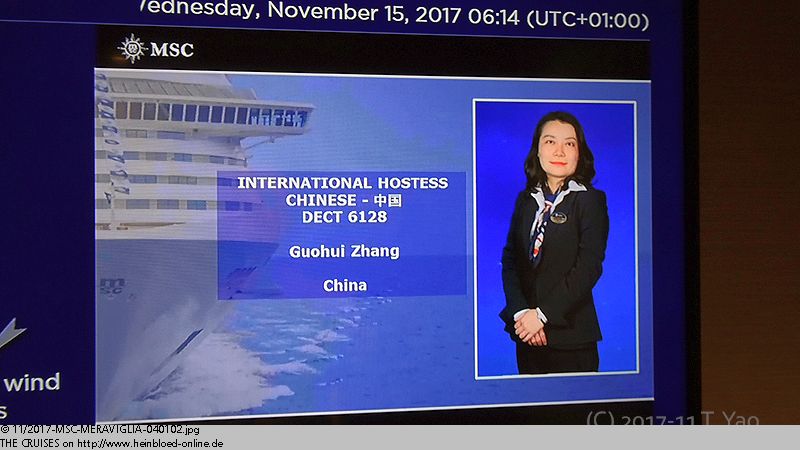 Ich könnte ja auch mal versuchen mich auf chinesisch zu beschweren.
Japanisch ist ja eine Bordsprache, die wir schon seit der
MSC MUSICA 2007
-Reise kennen.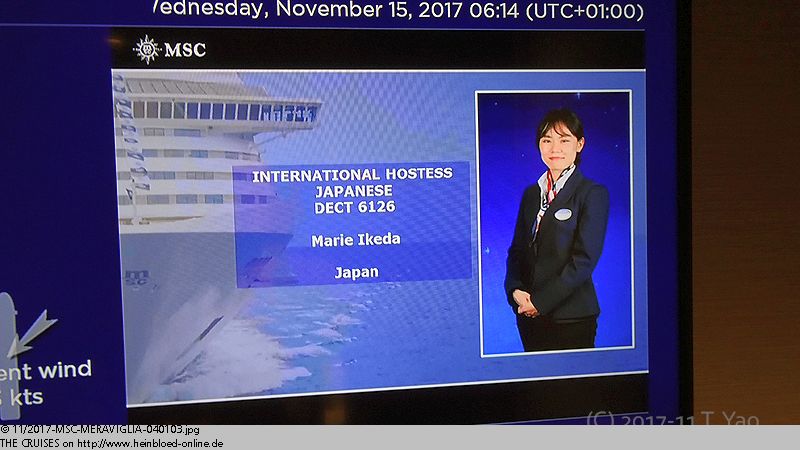 Japanese was one of the onboard languages which we knew already from our voyage on MSC MUSICA 2007.

So we made the acquaintance of the Hotel Director.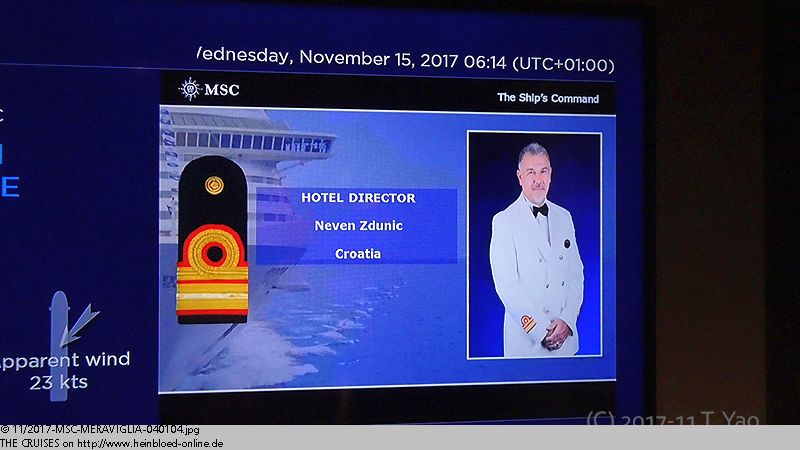 Wir lernen noch den Hoteldirektor kennen.
Und noch den Kreuzfahrtdirektor. Aber wer ist nun der Kapitän? Kein Kapitän wird auf der Fernsehpräsentation gezeigt. Ein Schiff ohne Kapitän!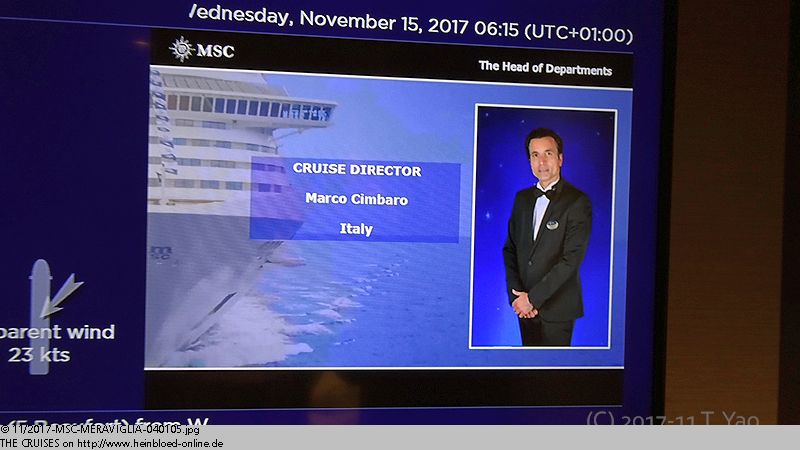 And also the Cruise Director. But where was the Captain? No Captain was shown in the TV-presentation. A ship without a Captain!

Arriving in Valletta on Malta. Always spectacular. And all while we had beautiful sunshine.

Ankunft in Valletta auf Malta. Immer wieder spektakulär. Und das ganze bei schönem Sonnenschein.
Und im Hafen: MSC MUSICA. Damals vor zehn Jahren. Wenn man sich vorstellt, wie MSC sich seitdem entwickelt hat.

And in the port: MSC MUSICA. Then 10 years ago. If you picture it how MSC was developed since then.

Heading for breakfast. Somehow sad: not breakfast offer which changed every day. So even the breakfast in the Yacht Club got quickly dull. Today we had the chance to take pictures of our last night's waiter: Raffaele Fruscio. As it was hectic, I did not insist on making the image the same night. Few Austrian and Bavarian got upset loudly that I took selfies with crew-members. They did not notice that I understood some German... I was sure that they were made only because I was not interested in making any common selfies with them.

Auf zum Frühstück. Etwas schade: es gibt keine Frühstücksangebote, die sich jeden Tag ändern. Dadurch wird das Frühstück im Yacht Club auch schnell langweilig. Heute haben wir auch eine Gelegenheit unseren Kellner von gestern Abend zu fotografieren: Raffaele Fruscio. Wenn es sehr voll ist, dann mache ich nicht unbedingt dann ein Bild. Ein paar Österreicher und Bayern regen sich lautstark gerne darüber auf, dass ich Selfies mit Crewmitgliedern mache. Sie haben ja nicht mitbekommen, dass ich etwas deutsch verstehe... Vermutlich sind sie nur sauer, weil ich kein Interesse habe, gemeinsam mit ihnen Selfies zu machen.
Mit uns im Hafen: COSTA FASCINOSA. Sie darf allerdings nicht auf der Stadtseite anlegen, sondern muss gegenüber anlegen. Von hier findet ein Tenderservice statt. Der dauert jedoch so lange, dasss sie mit Verzögerung erst Valletta verlassen kann.

With us in port: COSTA FASCINOSA. She was not allowed to dock at the city side but opposite. From here they had a tender service. It took so long that they could leave Valletta with a delay.

On the sundeck, they had an area which was reserved for smokers.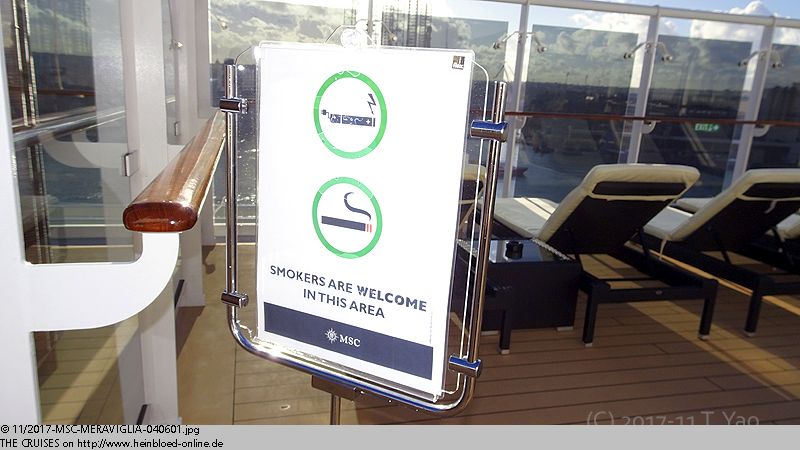 Auch auf dem Sonnendeck gibt es einen Bereich, der Rauchern vorbehalten ist.
Es gibt noch Cabanas, die den Royal Suite Gästen vorbehalten sind. Insgesamt drei Stück. Zu mieten gibt es sie nicht.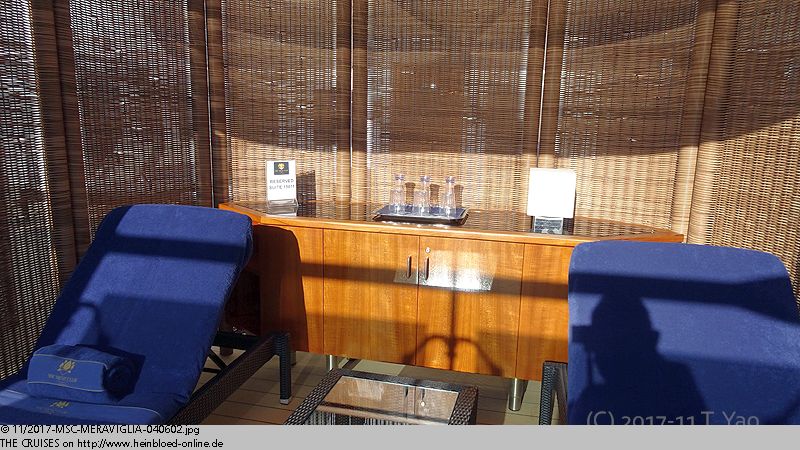 They had also cabanas which were reserved for the Royal Suite guests. In total three of them. But you could not rent them.

We tried our cards again in the elevator.

Wir probieren mal wieder unsere Karte im Fahrstuhl aus.
Heute geht es mal wieder.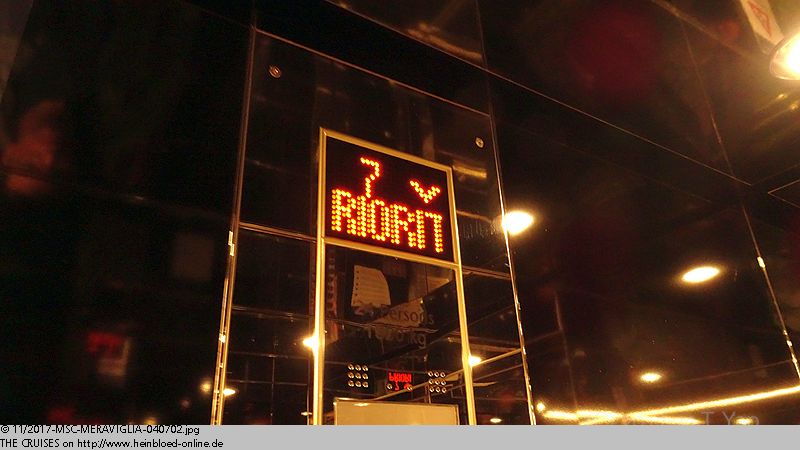 That day it was working again.

We went ashore ahead of time. Valletta will become in 2018 Culture Capital in Europe and they started to advertise for this event. Taxi tours and HoHo-Bus-offers you could easily find at the sidewalk. It was well organized. But we booked a private guided tour again. Later when we wanted to return on board, we saw Anzhela at the pier when she was heading for going to the town. She asked us if she should escort us onboard that we could get on the ship very quick. We were excited to learn so much hospitality and helpfulness. As she had her break and her civilian clothes showed it, we let her go for her break and asked her to ignore us. Crew-members could be very nice, but even them would need an undisturbed break when they need to take care of themselves and be egoists by not thinking of their guests. As a guest, you must not overstrain hospitality and use all the advantages which you can find on your papers.

Wir gehen schon mal an Land. Valletta wird
2018 Kulturhauptstadt
Europas und dafür wird schon überall geworben. Taxitouren und HoHo-Bus-Angebote findet man direkt am Bürgersteig. Es ist gut organisiert. Aber wir haben ja wieder eine private Führung gebucht. Später als wir wieder an Bord wollen, sehen wir auf dem Pier wie Anzhela in die Stadt will. Sie fragt uns, ob sie uns schnell noch an Bord begleiten soll, damit wir schnell reinkönnen. Wir sind über soviel Gastfreundschaft und Hilfsbereitschaft begeistert. Da sie jedoch Pause hat und ihre zivile Kleidung das auch signalisiert, lassen wir sie in ihre Pause gehen und bitten sie uns einfach zu ignorieren. Crew-Mitglieder können noch so nett sein, aber sie brauchen auch mal ungestört Pause, in der man sich einfach mal um sich selbst kümmern muss und ganz egoistisch nicht an die Gäste denkt. Man muss als Gast Gastfreundschaft nicht überstrapazieren und jeden Vorteil nutzen, der auf dem Papier steht.
Natürlich muss ich auch Bilder von
MEINER
MSC MERAVIGLIA machen.

Certainly I had to make pictures of MY MSC MERAVIGLIA.

Since our voyage on NORWEGIAN GEM 2009 we knew Sabine Attard. She has no homepage of their own. Who likes to book her: just ask me for her contact details. She also provides an English tour but only for NON-NATIVE speakers. She took us to the opposite side, and we could make great pictures of the ships. New was a ferry connection to the Three Cities. So we used the beautiful weather to get an onward and return ride.

Sabine Attard kennen wir seit unserer Fahrt auf der
NORWEGIAN GEM 2009
. Auch sie hat keine eigene Homepage. Wer sie gerne buchen möchte: einfach mich mal nach ihren Kontaktdaten fragen. Sie hatte uns damals auf die gegenüberliegende Seite geführt und dort konnten wir tolle Bilder von den Schiffen machen. Neu ist eine
Fährverbindung zu den drei Städten
. So nutzen wir das schöne Wetter, nur um einmal hin und zurück zu fahren.
Mit dem
Barrakka Lift
kommt man bequem hoch in die Oberstadt. Als Nutzer der Fähre gilt die Fahrkarte auf der Fähre auch für eine Fahrt mit dem Fahrstuhl hoch. Ansonsten zahlt man 1,00 EUR (2017). Allerdings ist die Schlange so riesig, dass wir Sabines Rat folgen und anders hochkommen. Allerdings nicht über die Treppe, die auch direkt neben dem Lift führt.

By using the Barrakka Lift you can easily get to the Upper Town. As a user of the ferry, the ticket was also valid for a ride in the lift. Otherwise, you need to pay 1.00 EUR (2017). But unfortunately, the queue was just extremely long so that we followed Sabine's recommendation and use a different way to get upwards. But not by walking the stairs next to the lift.

A very nice walking tour took us to the higher parts of the city. Through great lanes and parks.

Eine schöne Tour zu Fuß führt uns in den höhergelegenen Teil der Stadt. Durch tolle Gassen und Gärten.
Ein Pflichtbesuch auf Malta: Eine Tasse Kaffee und ein Pastizzi dazu im
Café Cordina
. Sehen und gesehen werden auf maltesisch - und dabei genießen.

A must when you were on Malta: a cup of coffee and a Pastizzi in the Café Cordina. To see and to be seen Maltese style - while enjoying.

Before we started cruising it was the last time we saw the Old Town of Valletta. Many have changed. So with the help of Sabine, we need to have a complete new overview. That was why again Sabine need to be the Ambassador for Valletta and to decide the places what we had to see: as much as necessary that we love to return and still have something new to visit and to book her the next time. So we went into St. John's Co-Cathedrale. Here we stopped for a little longer because Sabine explained many details and historical contexts.

In der Altstadt Vallettas waren wir zuletzt bevor wir mit Kreuzfahrten angefangen haben. Vieles hat sich verändert. So verschaffen uns mit Hilfe von Sabine eine komplett neue Übersicht. Daher darf auch Sabine hier die Botschafterin Vallettas sein und die Orte bestimmen, die wir sehen sollten: so viel wie nötig, dass wir bestimmt gerne wiederkommen und noch immer etwas haben, um das nächste Mal sie wieder zu buchen, und etwas neues zu entdecken. Es geht daher in die
St. John's Co-Kathedrale
. Hier halten wir uns auch etwas länger auf, weil Sabine uns sehr viele Einzelheiten und geschichtliche Zusammenhänge erklärt.
Wir gehen langsam wieder zum Schiff zurück. Um 13:00 Uhr möchte ich gerne wieder zurück im Hafen sein, weil bald Freunde von uns im Hafen erwartet werden und wir sie gerne begrüßen wollen. Die Tour ist wieder sehr schön. Mal gucken, was sich Sabine für uns für das nächste Mal ausdenkt.

We went slowly back to the ship. I wanted to be back in port by 13:00 hrs because some friends were expected in port and we wanted to welcome them. The tour was very nice again. Curious what Sabine would present us next time.

Back onboard we had some lunch on the sundeck. Here I met again Gaudin who helped us the day before in Messina to get quickly onboard.

Zurück an Bord essen wir draußen auf dem Sonnendeck etwas zum Mittag. Hier treffe ich auch Gaudin wieder, der uns gestern in Messina geholfen hat, schnell an Bord zu kommen.
Der Liegeplatz der MSC MUSICA wird heute doppelt belegt. Problem: MSC MUSICA kommt auch nicht pünktlich aus dem Hafen raus. Daher muss auch NORWEGIAN SPIRIT vor der Einfahrt warten, bis dass MSC MUSICA draußen ist. Hier können wir dann Armando und Bon in Valletta willkommen heißen. Hier erfahren wir, dass beide Ende Februar 2018 an Bord sein werden. Da freuen wir uns sehr. Hier trennen sich dann auch unsere Wege bis zum 21.02.2018 dann in Málaga.

The bay of MSC MUSICA was occupied double that day. Problem: MSC MUSICA could make it on time out of the port. So NORWEGIAN SPIRIT had to wait in front of the entry until MSC MUSICA was out. Here we could welcome Armando and Bon in Valletta. Here we learned that both of them would stay until the end of February 2018 on board. So we were quite happy to learn. Now our ways were separated until February 21, 2018, in Málaga, Spain.

Mail!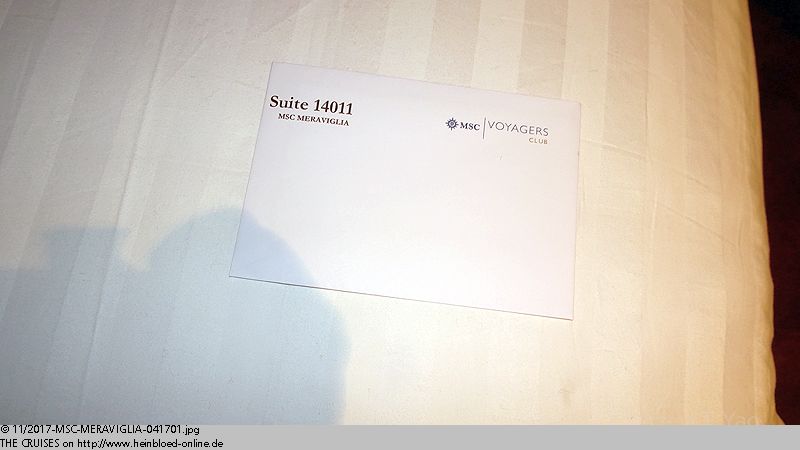 Post!
Aufgrund unserer Black-Mitgliedschaft erhalten wir ein paar Einladungen: Black-Party und die Welcome-Back-Party. Der Name des Kapitäns steht immer noch nirgends darauf. Außerdem werden wir darauf hingewiesen, dass wir kostenlose Bilder bekommen.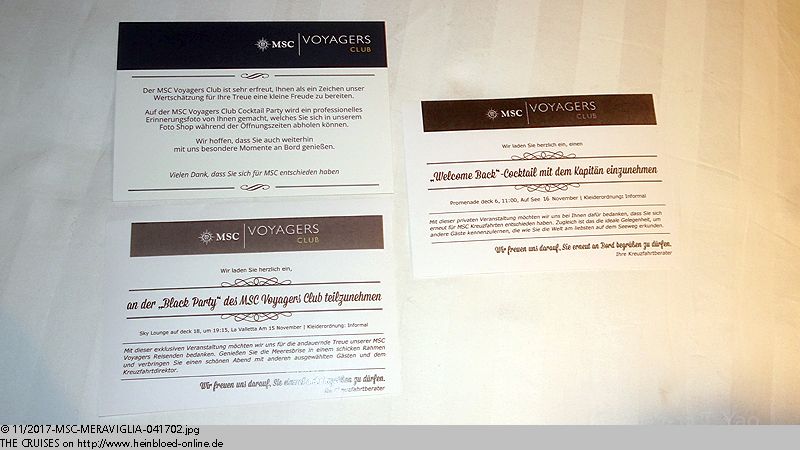 Due to our Black-Membership we got few invitations: Black-Party and the Welcome-Back-party. You could not find anywhere the name of the Captain. Furthermore, they informed us that we could get some free photos of us.

Two ships of chocolate. We could give it to Christian for his collection of ship models...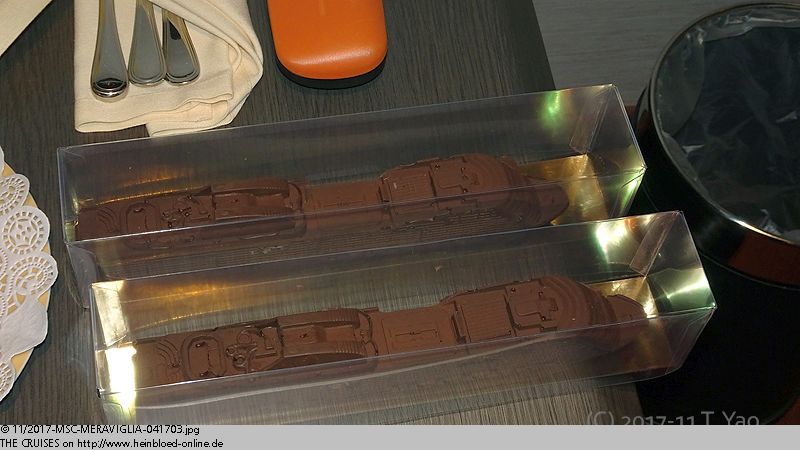 Zwei Schiffe aus Schokolade. Die können wir ja Christian für seine Modellsammlung mitgeben...
Jeden Abend gibt es eine andere Schokolade.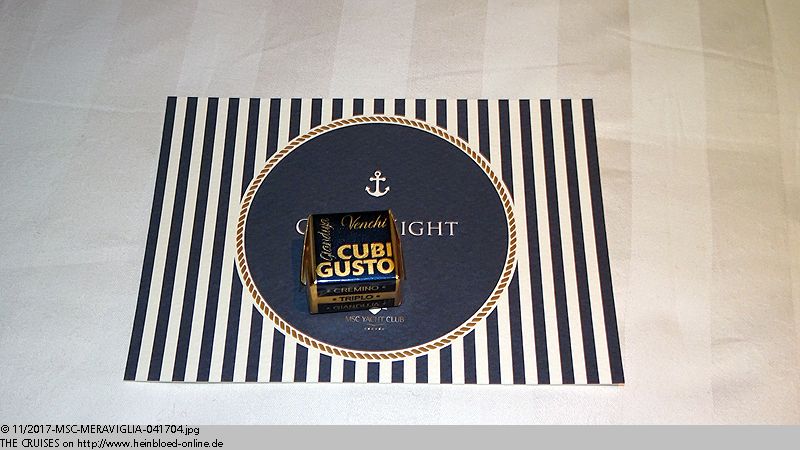 Every night we had a different chocolate.

In a small part of the Top Sail Lounge, you can get High Tea Time. But only if you caught one in the part of the linen set tables. Just then they served loose tea which I got yesterday too. I wanted only to have some tea, but they also served a tier-plate with many goodies. They even had mini-scones. Good for the bad conscience. But unfortunately no clotted cream. Also on the sundeck, you get some Tea Time at the buffet.

In einem kleinen Teil der Top Sail Lounge bekommt man High Tea Time. Allerdings nur wenn man einen mit Stofftischdecken eingedeckten Teil ergattert. Dann wird auch nur der lose Tee serviert, den ich gestern auch so bekommen habe. Ich wollte heute auch nur Tee, aber wir bekommen direkt auch eine Etagiere mit Leckereien serviert. Es gibt sogar Mini-Scones. Gut für das schlechte Gewissen. Leider keine clotted cream. Auch oben am Büffet des Sonnendecks wird Tea Time angeboten.
Genauso späktakulär wie die Einfahrt am Morgen, ist die Ausfahrt abends, wenn Valletta beleuchtet wird.

Like it was spectacular to see how to enter Valletta it was spectacular too to see the set sail when the city was well illuminated.

We went to the Black Party. Neither anyone welcomed you by handshake nor was there a Captain. The canapés were excellent and also the green apple juice.

Wir gehen zur Black Party. Weder wird man mit Handschlag begrüßt noch ist ein Kapitän vorhanden. Die Canapés sind gut und auch der grüne Apfelsaft.
Aufgrund der Black Mitgliedschaft dürfen wir einmal in einem Zuzahlrestaurant essen. Im Laden von Eataly gibt es das Angebot für 14,00 EUR (2017). Preise wie auf der Straße - je nach dem wo, würde ich sagen, sogar noch höher.

Due to the Black Membership we were entitled to have one meal with a alternative dining venue. In the shop of Eataly, they had this offer for 14.00 EUR (2017). Prices like on the street - depending on where I would say maybe much higher.

Here we did not want have our free meal and rebooked at short notice for Butcher's Cut.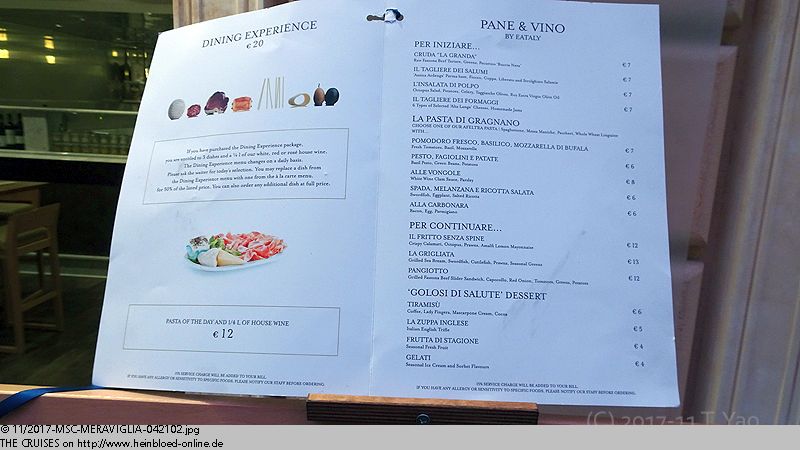 Hier wollen wir lieber nicht unser kostenloses Essen in Anspruch nehmen und bestellen kurzerhand für den Butcher's Cut um.
Eigentlich hätten wir heute Abend im
Cirque du Soleil
at Sea essen sollen. Aber immer noch werden alle Shows abgesagt. Ich hätte noch nicht mal gewusst, ob wir im Programm Sea Sonor oder Sea Viaggio gebucht hatten. So essen wir dann doch im Yacht Club Restaurant. Heute Abend erfahren wir wieder einen tollen Service durch Raffaele und Jeffrey Agana.

Actually we should had the night dinner in Cirque du Soleil at Sea. But they were still canceling all shows. I even did not know what we booked: Sea Sonor or Sea Viaggio. So we had to eat again in the Yacht Club Restaurant. That we experienced a fantastic service again by Raffaele and Jeffrey Agana.

As we were disappointed that again the shows were canceled and actually we did not expect that they perform while we were onboard. They already refunded the prepaid tickets to our onboard account. So we asked friends if we would have a chance to see the theater and what we missed. They agreed to our request. Our butler should take us to the theater, and we could make some pictures.

Da wir etwas enttäuscht sind, dass wieder die Shows abgesagt sind und eigentlich auch nicht mehr damit rechnen, dass sie stattfinden, solange wir an Bord sind. Sie haben uns bereits die vorausbezahlten Tickets auf das Bordkonto erstattet. So fragen wir kurzerhand nach, ob wir zumindest mal das Theater sehen dürften, um zu sehen, was wir verpassen. Diesem Wunsch wird uns gerne entsprochen. Unser Butler soll uns zum Theater begleiten und wir dürfen ein paar Bilder machen.
Die anderen Reisen in diesem Blog/
The other voyages in this blog: