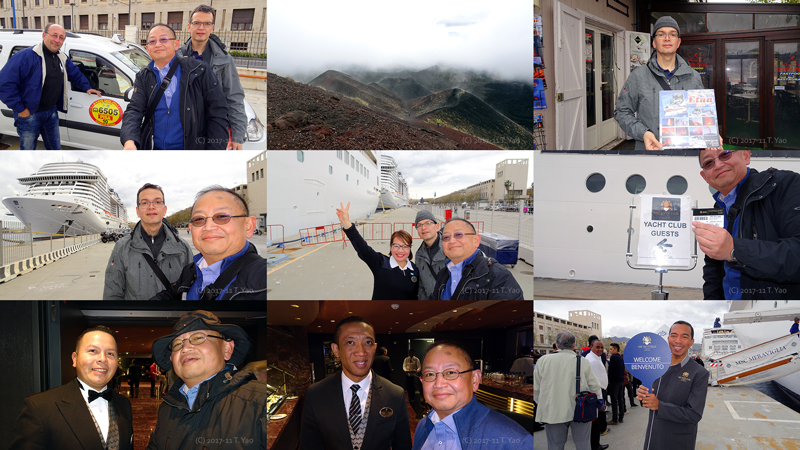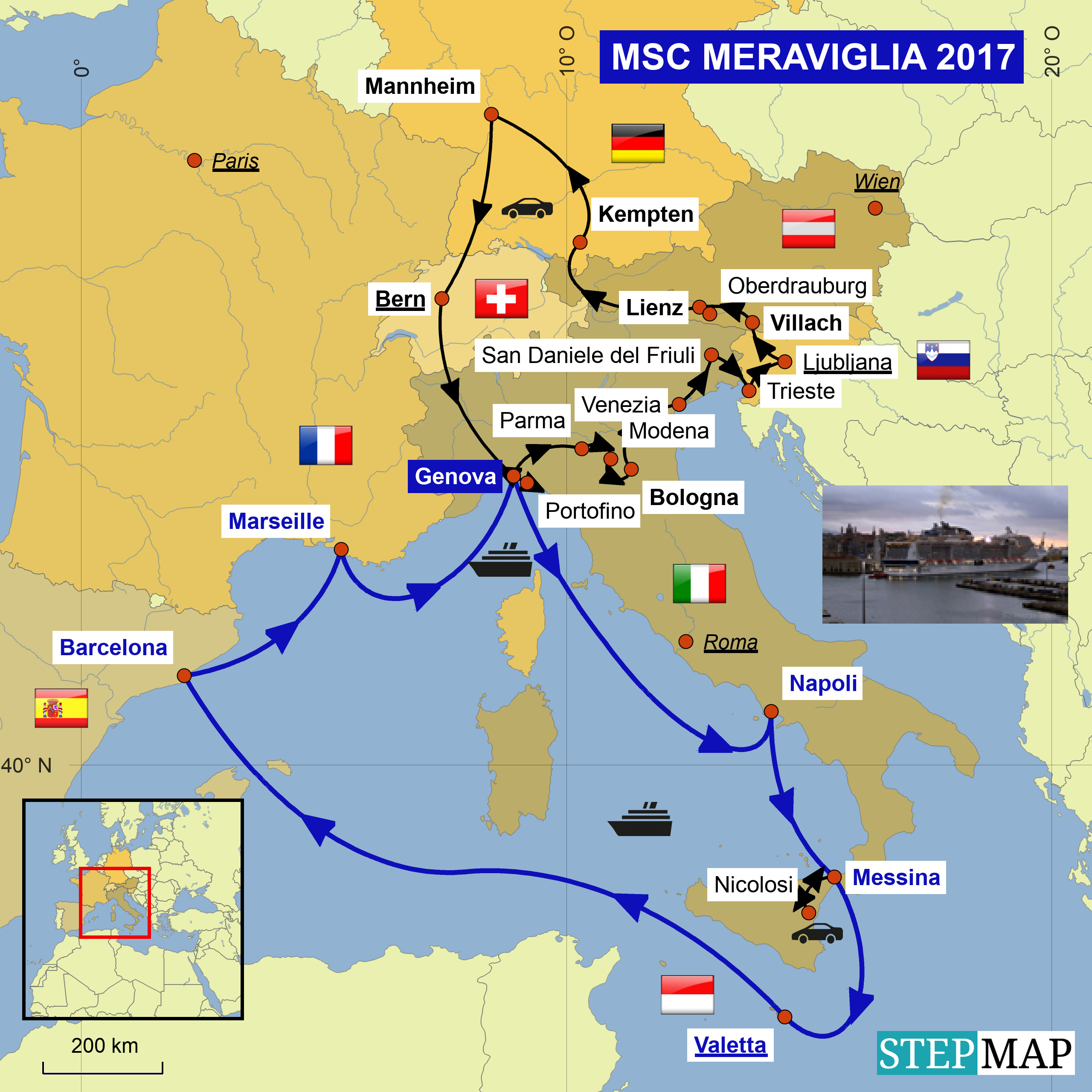 Vorbei am Stromboli (nichts vom fließenden Lava zu sehen!) und Ankunft in Messina.

Passing the Stromboli (nothing to see from the flowing lava!) and arrival in Messina, Italy.


One of my most favorite ships. Many great memories! Perfect interior: everything of Feng-Shui! Cruise with Bruno's and my parents (
NORWEGIAN SPIRIT 2013
) with Hotel Director Armando who did everything that had the best time of our life. My first cruise with today's Fleetwide Restaurant Manager Luiza-Oana Andrei. On that voyage
NORWEGIAN SPIRIT 2007
I was the first time with Cagney's Steakhouse, and she was then Assistant Maître D'. Here I learned the meaning of the of word liability: I was on the voyage
NORWEGIAN SPIRIT 2008
: no baggage service as it was only one night. One week later Frances went but back-to-back and so with a lot of baggage. I met by co-incidence one young agent at the front desk who is today guest service manager: Bon. I spoke with her. She arranged for Frances the week later that a baggage service would be available. And today we met Ana whom we knew originally from
NORWEGIAN GEM 2009
and whom we met last time again on NORWEGIAN SPIRIT. We would be back in February 2018 on NORWEGIAN SPIRIT, but unfortunately, Ana will not be onboard. That was why we need to say hello today.

Einer meiner Lieblingsschiffe. Viele tolle Erinnerungen! Perfektes Inneres: alles nach Feng-Shui! Kreuzfahrt mit Brunos und meinen Eltern (
NORWEGIAN SPIRIT 2013
) mit Hoteldirektor Armando, der alles tat, damit wir die beste Zeit unseres Lebens erleben. Meine erste Kreuzfahrt mit der heutigen Fleetwide Restaurant Manager Luiza-Oana Andrei. Bei der Reise auf der
NORWEGIAN SPIRIT 2007
war ich zum ersten Mal im Cagney's Steakhouse und sie damals die Assistent Maître D'. Hier habe ich zum ersten Mal Zuverlässigkeit erfahren: ich war auf der Reise
NORWEGIAN SPIRIT 2008
: kein Gepäckservice, da nur eine Nacht. Eine Woche später ist Frances gefahren, jedoch back-to-back und daher mit viel Gepäck. Zufällig habe ich eine junge Mitarbeiterin an der Rezeption angesprochen, die heute Guest Service Manager ist: Bon. Mit ihr habe gesprochen. Sie hatte dann für Frances eine Woche später arrangiert, dass ein Gepäckdienst zur Verfügung stand. Und heute treffen wir hier kurz Ana, die wir ursprünglich von der
NORWEGIAN GEM 2009
kennen und später auch wieder auf der NORWEGIAN SPIRIT zuletzt wiedergetroffen haben. Wir sind Februar 2018 wieder kurz auf der NORWEGIAN SPIRIT, aber leider ist Ana nicht an Bord. Daher mussten wir heute mal kurz sie grüßen.
Auf zum Frühstück ins SB-Restaurant: hier gibt es Congee!!! Nicht ganz so perfekt wie auf der
KONINGSDAM 2016
. Aber sonst sehr nett. In der Ecke auch nicht so voll... Nur muss man immer nach Sojasoße fragen.

Heading to the self-service restaurant for breakfast: they had congee!!! Not as perfect like on KONINGSDAM 2016. But else it was very nice. In that corner, it was not so busy... Only you need to ask for soy-sauce all the time.

As in every port, they offered disembarkation you had the appropriate information.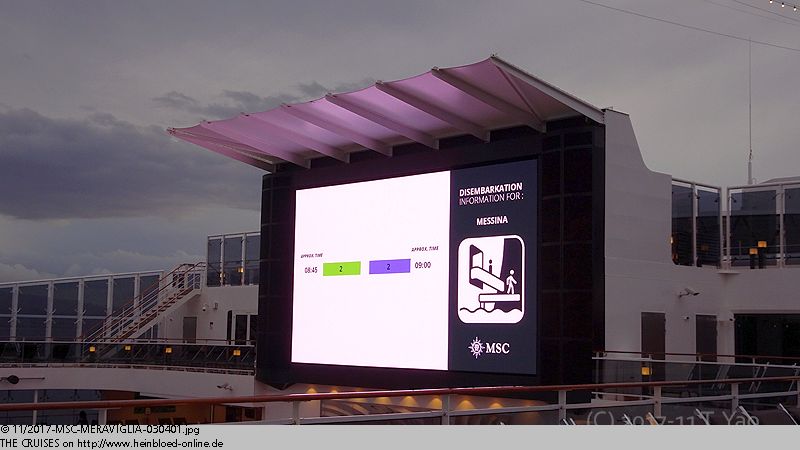 Da ja in jedem Hafen ausgeschifft wird, gibt es auch die entsprechenden Informationen.
Und die werden sehr gut überall verbreitet.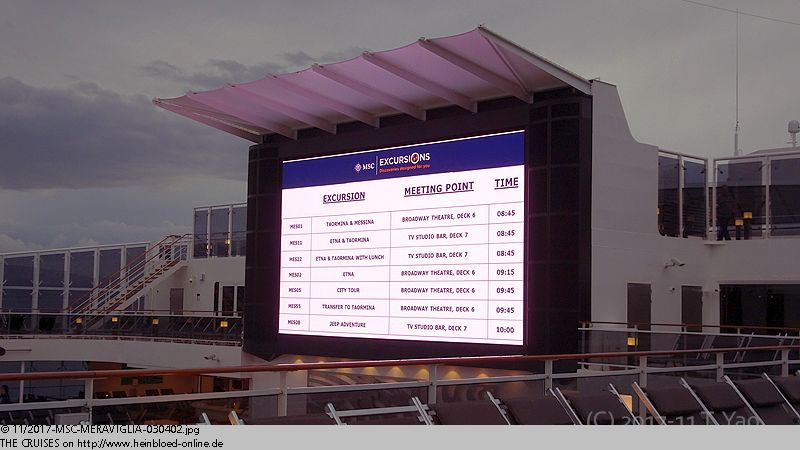 And they were displayed everywhere.

So we can quickly learn where to get out.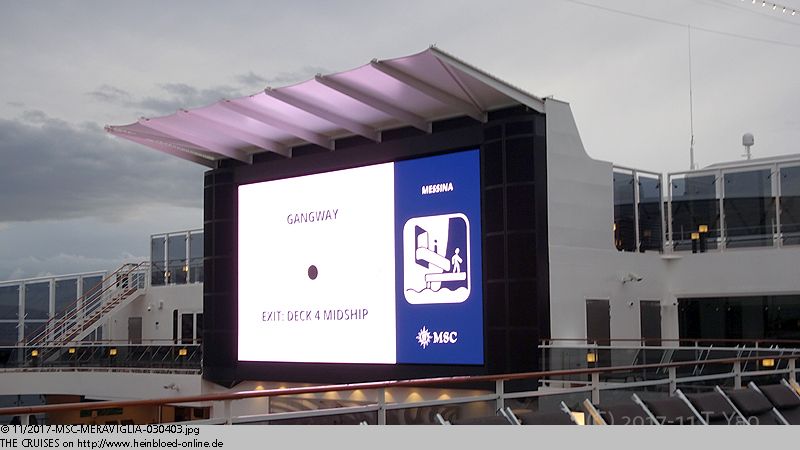 So wissen wir auch, wo es rausgeht.
Und da wir mit dem Taxi unterwegs sind, können wir von einem Teil zum anderen Teil fahren und so auch schöne Bilder von der MSC MERAVIGLIA machen.

And as we were on tour by taxi, we could move from one part of the port to the other and made great pictures of MSC MERAVIGLIA.

While I was waiting at the forward gangway for Ana, Bruno was checking if she came out at the aft.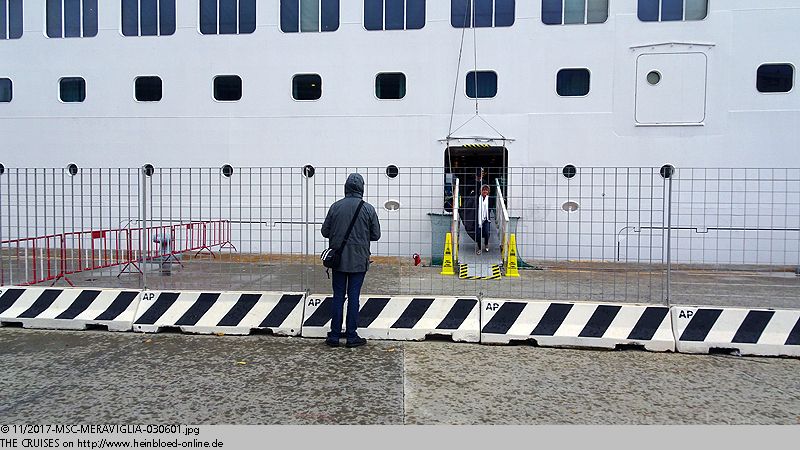 Während ich an der vorderen Gangway auf Ana wartet, guckt Bruno, ob sie hinten rauskommt.
Irgendwie bekommt er aber nicht mit, dass ich an ihm hinten vorbeigelaufen bin.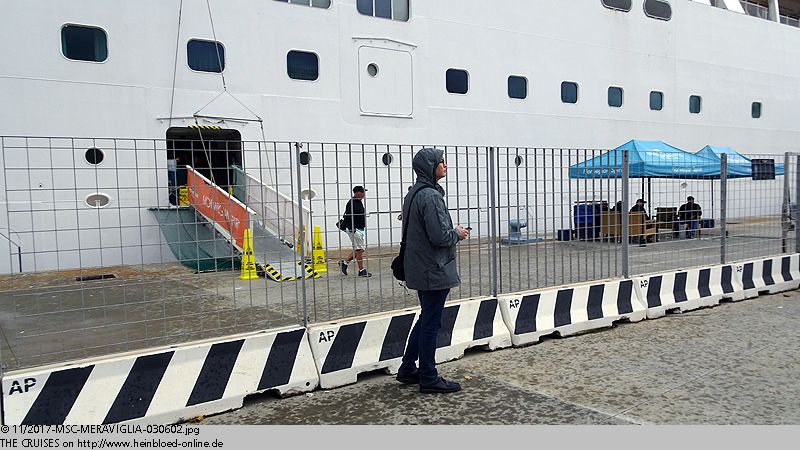 Somehow he did not notice that I passed him from the backside.

Now he was looking for the taxi.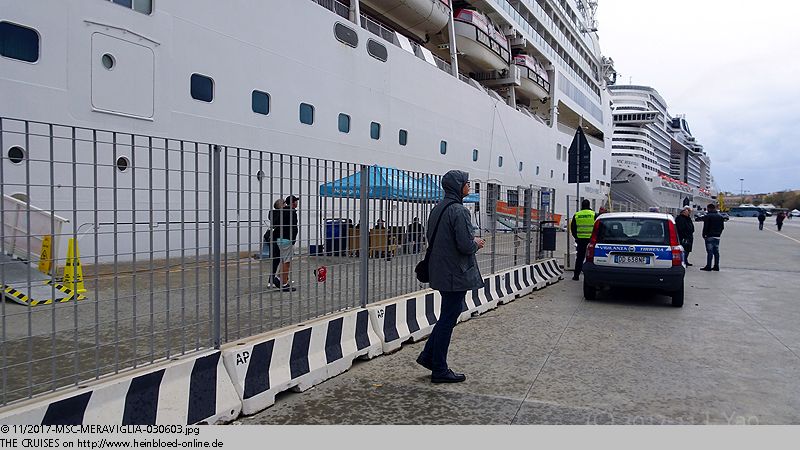 Nun sucht er das Taxi.
Und offensichtlich hat er es wohl entdeckt.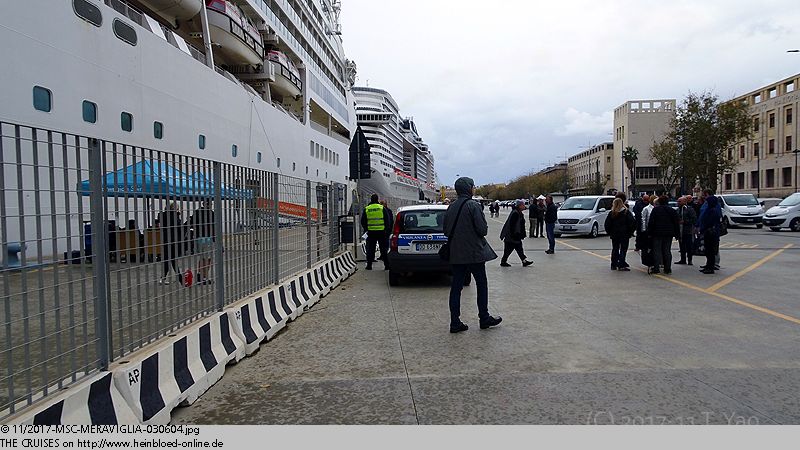 Obviously he discovered it.

NORWEGIAN JADE 2011 (2) from Venice, Italy to Civitavecchia, Italy: since then we knew Antonio Cipriano who took us to Taormina, Italy. Today we booked a transfer with him to Mt. Etna. He was right on time here to collect us. And he speaks English and always make pictures of new cruise ship calls. That was why we booked him again. You can ask for his contact details. He has no homepage of his own, so you can reach him easily.

NORWEGIAN JADE 2011 (2)
von Venedig nach Civitavecchia: seitdem kennen wir Antonio Cipriano, der uns damals nach Taormina gefahren hat. Heute haben wir einen Transfer mit ihm zum Ätna gebucht. Er ist pünktlich da, um uns abzuholen. Und er spricht Englisch und er macht immer wieder Bilder von interessanten Schiffsanläufen. Daher haben wir auch gerne wieder gebucht. Seine Kontaktdaten können gerne bei mir erfragt werden. Er hat keine Homepage, über die er erreichbar ist.
Der Weg zum Ätna dauert ca. 90 Minuten. Schöner Weg. Viel zum Gucken und Staunen.

The way to Mt. Etna took about 90 minutes. A nice way. A lot to see and to be astonished.

We arrived at the Silvestri Crater in the Mt. Etna-Park. When we arrived, it was quite foggy.
During our visit, the fog thinned out.

Wir kommen am Silvestri Krater im
Ätna-Park
an. Als wir ankommen ist es ziemlich neblig. Während unseres Besuches verzieht sich jedoch der Nebel.
Wir gehen kurz in das gleichnamige
Restaurant Crateri Silvestri
.

We went to the restaurant with the same name Restaurant Crateri Silvestri.

A tourist trap.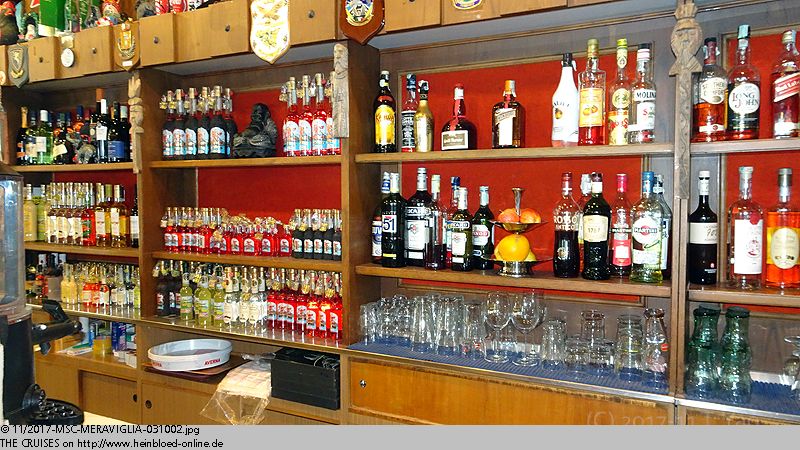 Ein Touristennepp!
Fast genauso teuer wie am Markusplatz in Venedig.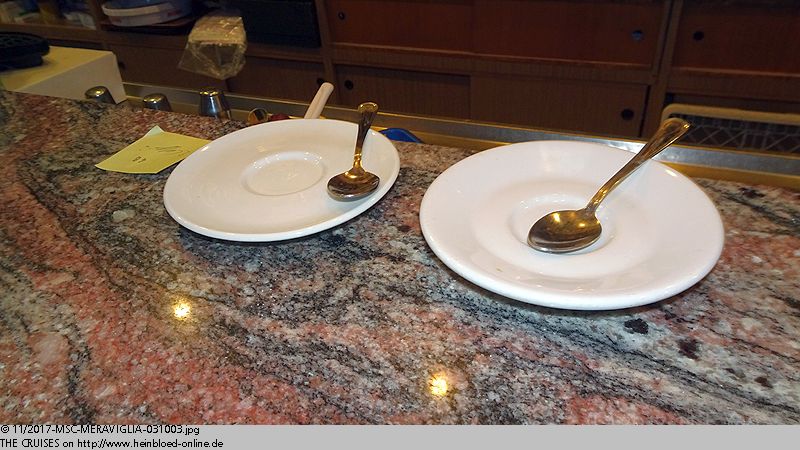 About the same price like St. Mark's Square in Venice.

After the cappuccino, I had to buy another magnet.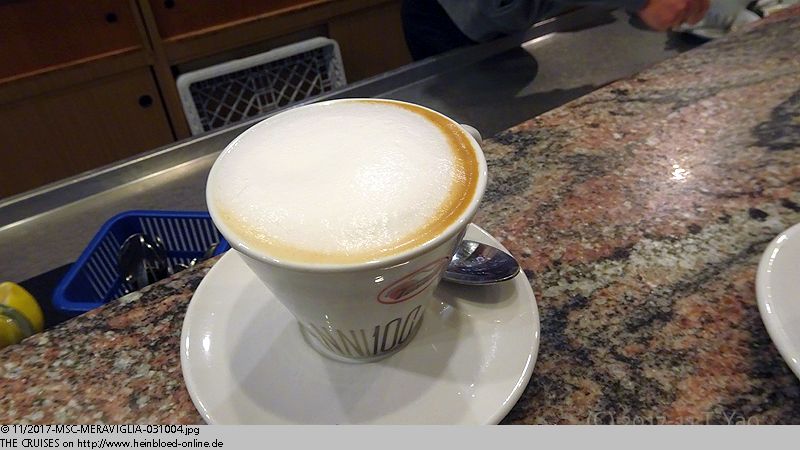 Nach dem Cuppucino kaufe ich doch noch einen Magneten.
Antonio hat uns vorgeschlagen, dass wir evtl. noch mit der Seilbahn hochfahren. So laufen wir dort hin. Da Bruno ja ein besonderes Interesse an Vulkanen hat, kauft er sich einen Kalender vom Ätna.

Antonio made the suggestion to get up by rope car. So we walked over. As Bruno had a special interest to vulcanos, he bought a calendar of Mt. Etna.

When we arrived at the rope car and wanted to buy tickets they showed us on the by webcam how it looked like at the top and highly recommended not to go. So left it.

Als wir an der
Seilbahn
ankommen und Karten kaufen wollen, zeigt man uns über die Webcam, wie es derzeit oben aussieht und rät uns ab, hoch zu fahren. So lassen wir das.
Wir fahren kurzerhand nach Messina zurück. Kurz fahren wir zur Sacrario Militare Cristo Re.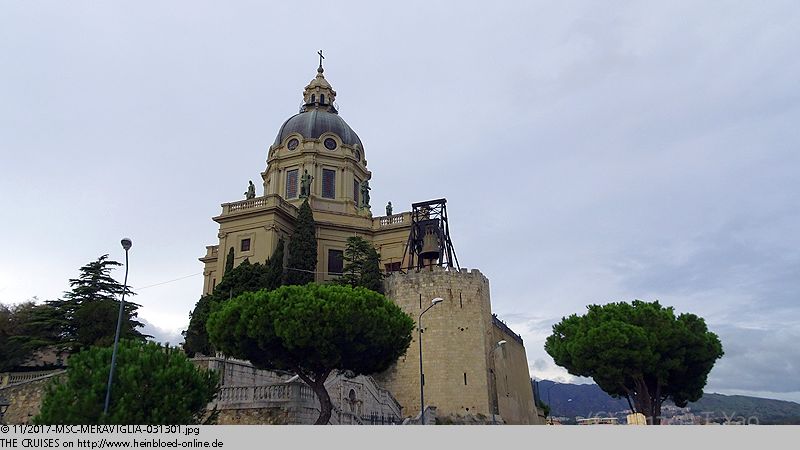 So went back quickly to Messina. At short notice we went to Sacrario Militare Cristo Re.

We knew this already from our last voyage on NORWEGIAN JADE 2010 (2).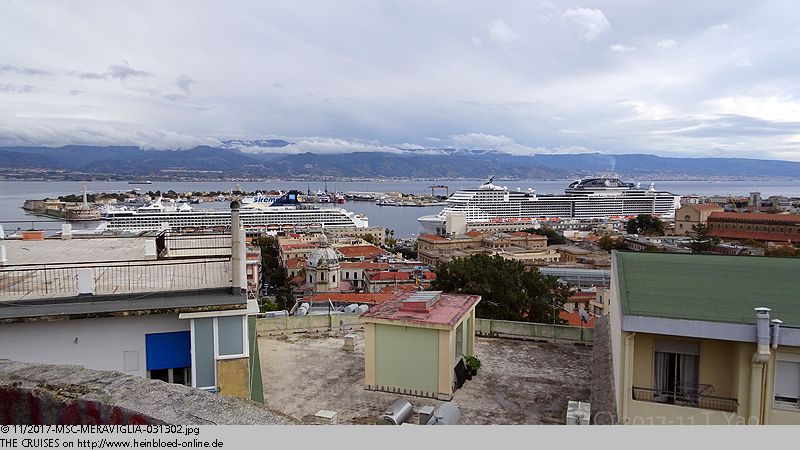 Wir kennen das bereits von unserer letzten Fahrt auf der
NORWEGIAN JADE 2010 (2)
.
Da wir gestern keine Zeit für Pizza in Neapel hatten, wollen wir heute eine Pizza essen. Antonio führt uns ins
Fratelli la Bufala
. Hier lernen wir von Antonio: er hat einen Steinofen und Pizza hat den Stellenwert in Sizilien wie Grünkohl in Bayern. Das nächste Mal werden Maccaroni essen: das ist typisch für Sizilien. Diese Kette war wohl zeitweise auch mal in Hannover vertreten. Die Preise sind genauso niedrig wie in Neapel. Für das Gedeck wird 1,50 EUR genommen. Aber die Pizza ist auf alle Fälle besser als in Deutschland oder in der Schweiz. Aber Neapel ist doch noch besser.

As we had to time for pizza yesterday we wanted today having a pizza. Antonio took us to Fratelli la Bufala. Here we learned from Antonio: a brick oven and pizza have the same status as Haggis in Cornwall. So next time we will have Macaroni: that was typical from Sicily. The chain was acting world like like in Miami, FL or London, England. The prices were about same like in Naples, Italy. The cover charge was 1.50 EUR. But the pizza was really better than any in Germany or in Switzerland. But in Naples, they were still better.

We had great memories of Fabio from DIAMOND PRINCESS 2016. He is also a great ambassador for Princess because you learn what you have not discovered of the world. One posting was from Sicily, and I wanted to try the Cookies of San Marco after I saw the pictures. Antonio took us to the most popular patisserie in Messina: Irrera. Here we had a last mutual espresso before he took us back to the ship. And here we learned: the Cookies of San Marco we could learn on the next round: when the ship calls Palermo instead of Messina or we should have taken COSTA FASCINOSA.

Fabio haben wir in sehr guter Erinnerung von der
DIAMOND PRINCESS 2016
. Er zählt auch zu den tollen Botschaftern für Princess, weil man so erfährt, was man alles auf der Welt noch nicht gesehen hat. Ein Betrag kam aus Sizilien und ich wollte unbedingt die Kekse von San Martino probieren, nach dem ich die Bilder gesehen habe. Antonio führt uns in die bekannteste Patisserie in Messina:
Irrera
. Hier trinken wir einen letzten gemeinsamen Espresso bevor wir wieder zurück zum Schiff gebracht werden. Und hier lernen wir: die Kekse von San Marco können wir erst auf der nächsten Runde kennenlernen: wenn das Schiff dann Palermo statt Messina anläuft oder wir hätten COSTA FASCINOSA fahren müssen.
Im Gegensatz zu Neapel finden wir uns direkt als Gäste des Yacht Clubs auf den Schildern wieder.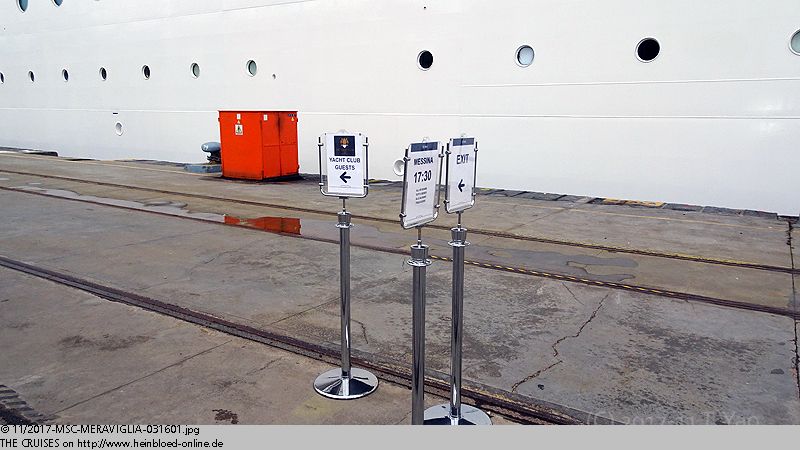 In opposite to Naples we found ourselves back on the signposts for guests of the Yacht Club.

There we could go.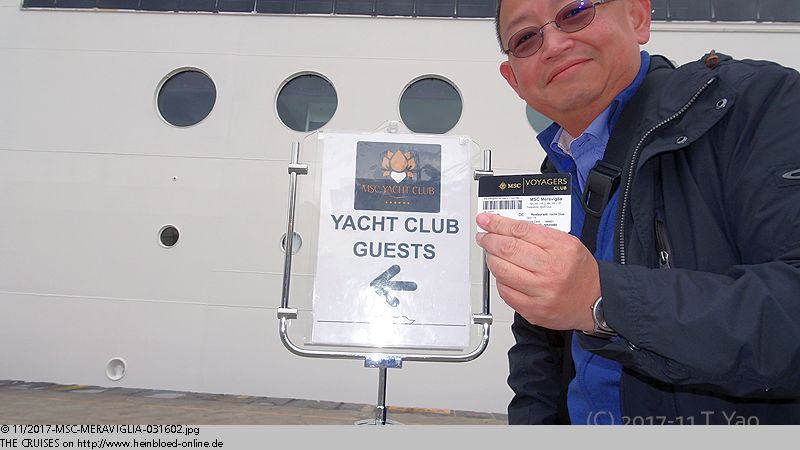 Da dürfen wir hin.
Und hier werden wir durch Gaudin Andriantsava erwartet. Er bringt uns direkt an der Schlage vorbei und wir dürfen direkt durch die Sicherheitskontrolle. Fantastisch.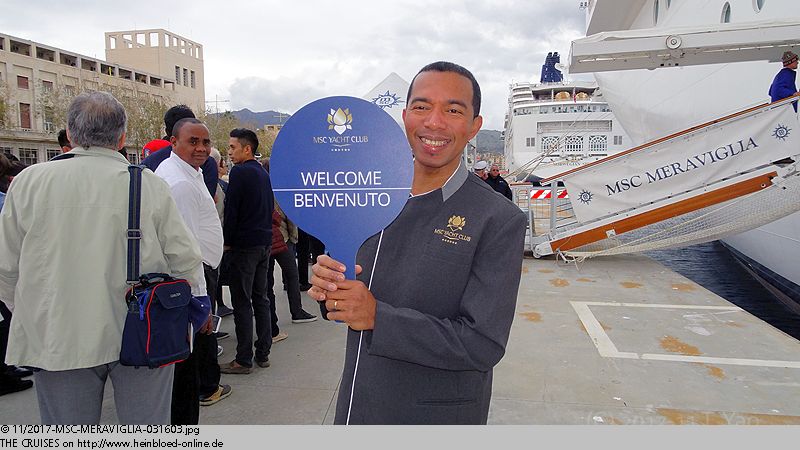 And here Gaudin Andriantsava waited for us. He took us immediately alongside the queue, and we could go directly to the security check. Phantastic.

Sometimes it worked, but mostly it did not: the card reader for Yacht Club guests at or in the elevator...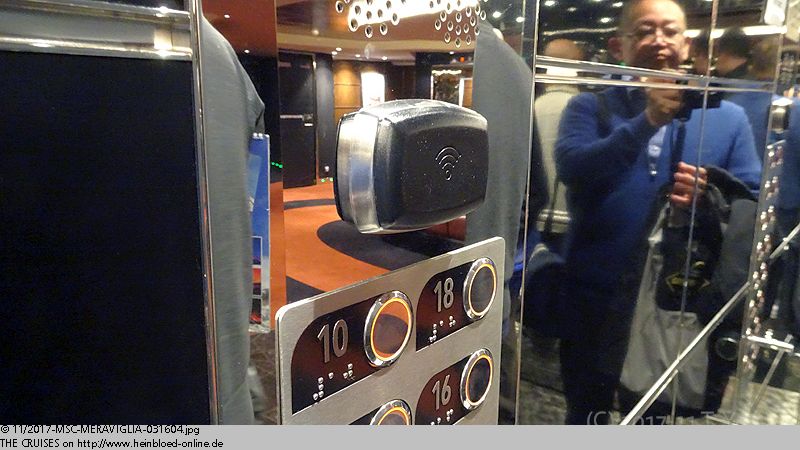 Was auch mal funktioniert und leider meistens nicht: der Kartenleser für Yacht Club Gäste am bzw. im Fahrstuhl...
Wenn es mal funktioniert wird sofort der Fahrstuhl auf "Priority Service" geschaltet und er führt zum nächsten Ziel, nach dem die Karte an den Leser gehalten wurde. Fantastisch. Vor allem die Gesichter, wenn der Fahrstuhl schon belegt ist und alle sich wundern, dass er unterwegs nicht mehr hält, bis dass wir ausgestiegen sind.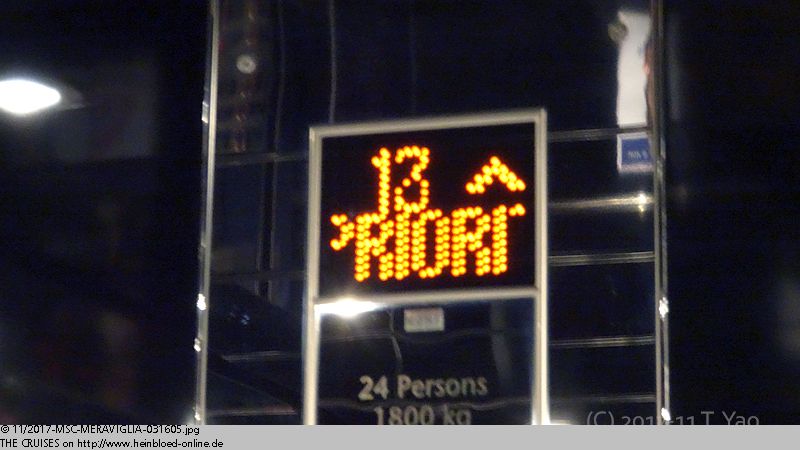 If it worked it switched immediately to "Priority Service" and took you to the next destination after the card was tapped to the reader. Fantastic. Especially those faces when the elevator was already occupied, and everybody was surprised that it did not stop anymore until we left the elevator.

My Douglas Ward was signed by the Captain and back. I still had no idea what was the name of the Captain.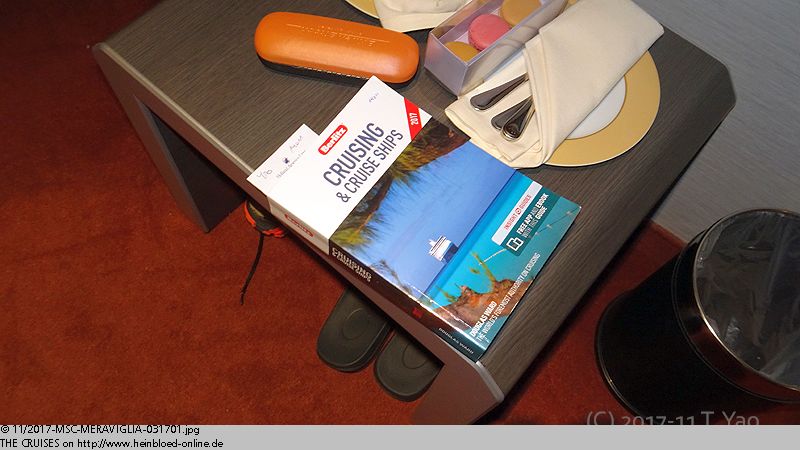 Mein Douglas Ward ist unterschrieben vom Kapitän zurück. Ich habe aber immer noch keine Ahnung wie der Kapitän heißt.
Meine Jeans ist auch von der Reinigung zurück.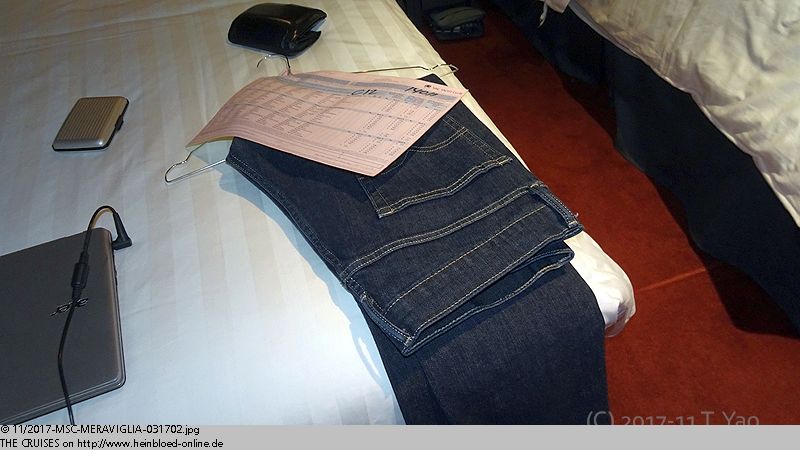 My jeans also was back from the laundry.

As there were no hooks for the clothes on the wall: very practical that my rain hat was equipped with magnets so it could easily dry on the wall.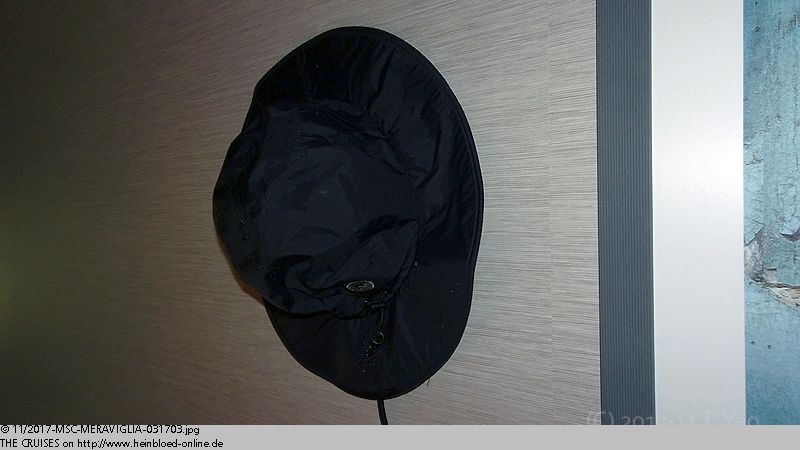 Da es ja kein Kleiderhaken an der Wand gibt: sehr praktisch, dass meine Regenmütze mit Magneten ausgestattet ist: so kann er in Ruhe an der Wand trocknen.
Schon wieder Champagner...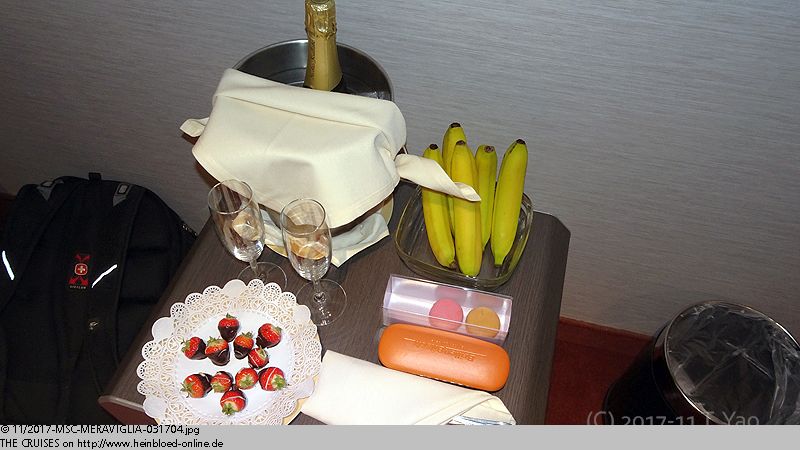 Again champagne...

The good-night-chocolate in advance.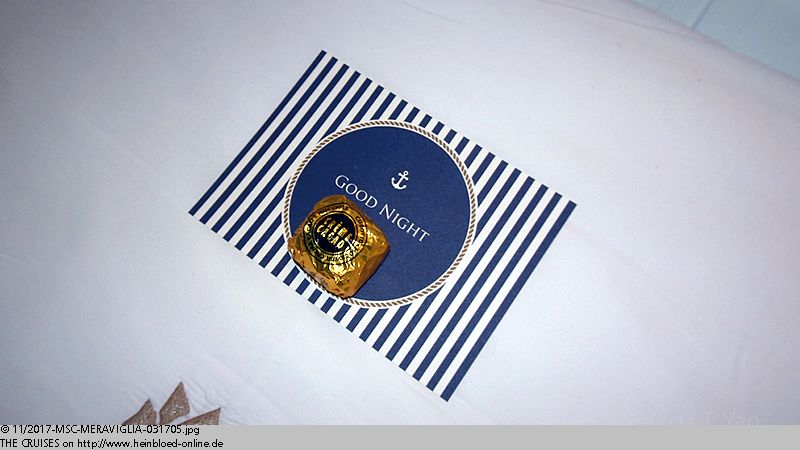 Schon mal vorab die Gute-Nacht-Schokolade.
High Tea-Time... ich will allerdings nur einen Tee. Den Rest hole ich mir am Büffet. Thierry ist der Oberbutler. Er hat wirklich ein tolles Team mit dem er eine exzellente Leistung den Gästen erbringt.

Hight Tea-Time... I only wanted to have some tea. The rest I was taking myself from the buffet. Thierry was the Head Butler. He had a great team which delivered excellent performances to the guests.

Approx. 30 minutes before everybody should be onboard I got a message from Antonio that he found a USB-stick - if it might be my?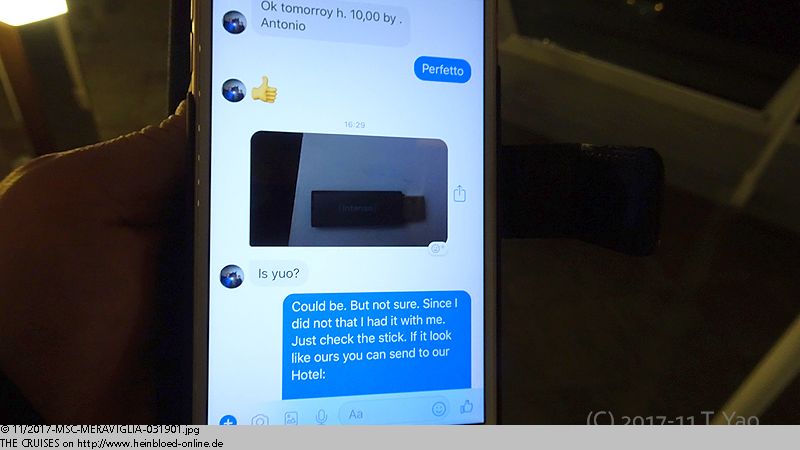 Etwa 30 Minuten bevor alle Mann an Bord sein sollen, bekomme ich von Antonio eine Nachricht, dass er einen USB-Stick gefunden hat - ob das meiner ist?
Ich erkläre unserem Concierge die Situation. Sofort bekomme ich einen Butler, der mich runterbegleiten und auf mich warten soll, um sicherzustellen, dass ich ja wieder pünktlich an Bord bin: Edwin Josue Garcia. Da es in dem Moment, als ich das Schiff verlassen wirklich sehr stark regnet, bitte ich Edwin kurzerhand an Bord zu bleiben. Es reicht ja, wenn ich nass werde und mich erkälte. Dann muss Edwin noch in der Lage sein, mir einen Tee zu servieren. Später stellt sich tatsächlich heraus: der USB-Stick gehört mir: vielen Dank an Filippe, Edwin und Antonio für die viele Mühe, die sie mit mir haben.

I explained our concierge the situation. Immediately I got a butler who should accompany me downwards to make sure that I will be right on time back onboard: Edwin Josue Garcia. As just at that moment when I left the ship it was raining dogs and cats I asked Edwin to stay onboard. Enough that one of us getting wet and catching a cold. Then Edwin must be still able to serve me a tea. Later I found out: indeed it was my USB-stick: thanks to Filippe, Edwin and Antonio for all the effort they had with me.

Filippe also got me the list of songs of the first show. So I could download the songs on my iPhone, and when I hear the music I am right back on MSC MERAVIGLIA.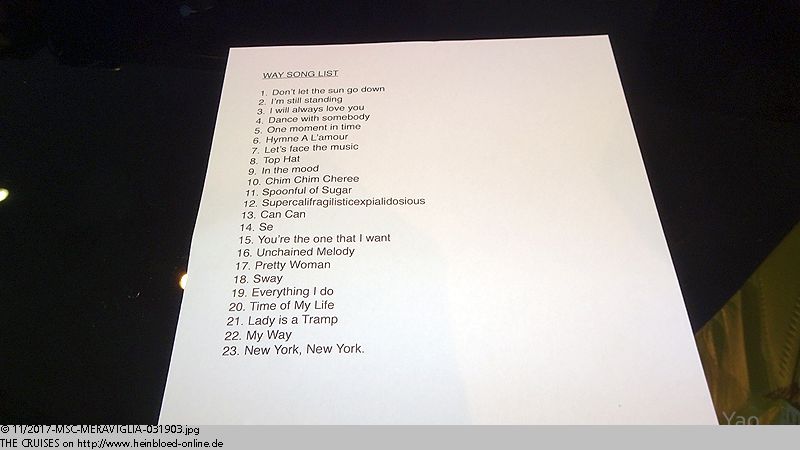 Filippe hat mir auch noch die Liederliste der ersten Show besorgt. So kann ich die Lieder auf mein iPhone herunterladen und dann bin ich wieder zurück auf der MSC MERAVIGLIA, wenn ich die Musik höre.
Abschied von Messina.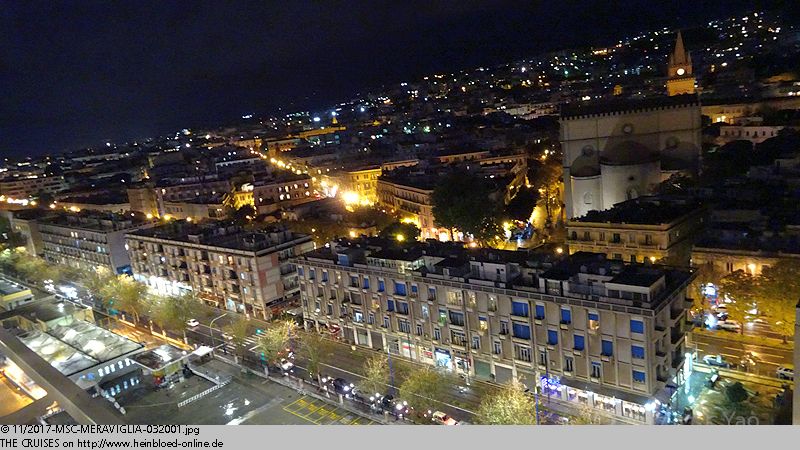 Messina Farewell.

It looked great.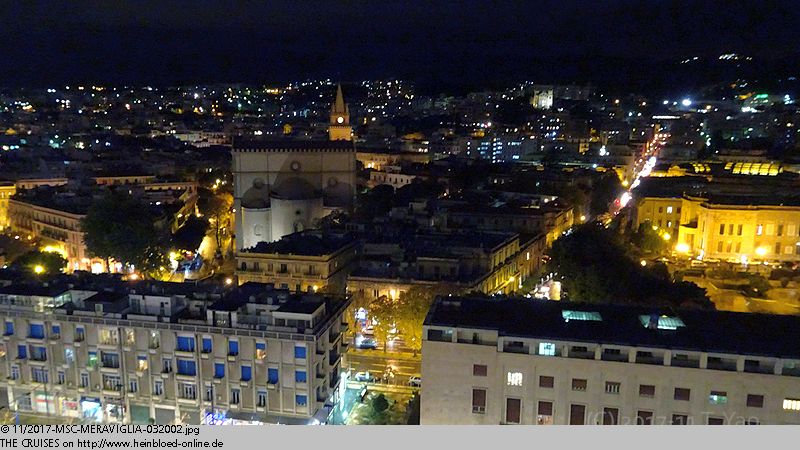 Toll sieht es aus.
Arrivederci, Messina.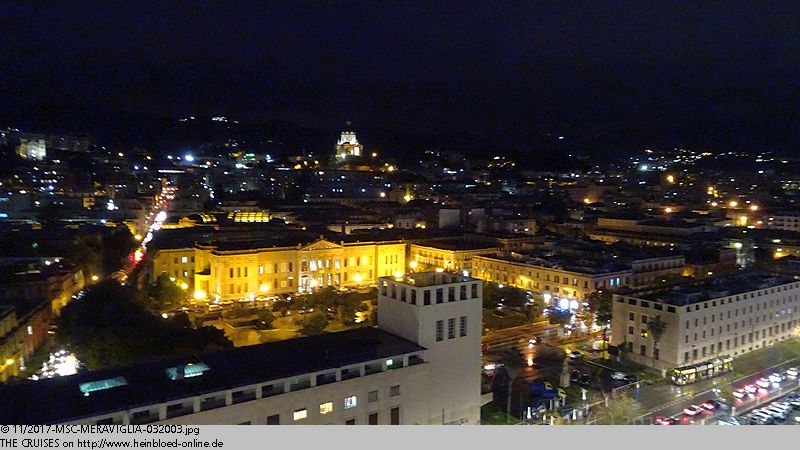 Arrivederci Messina.

We browsed again through the ship and looked around.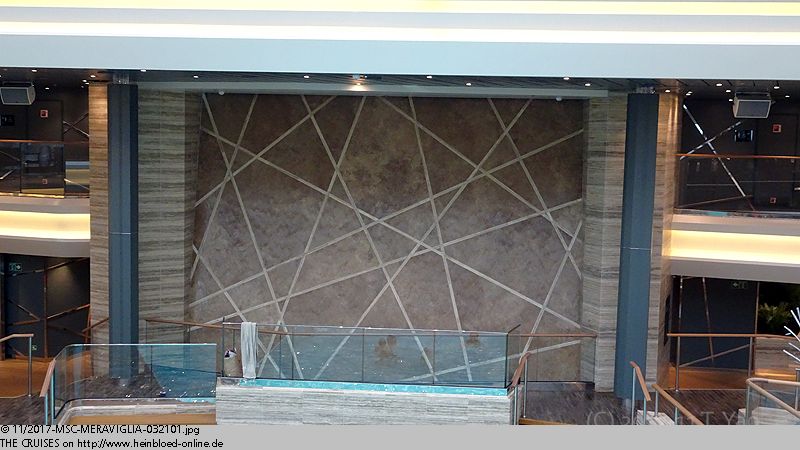 Wir laufen wieder durch das Schiff und sehen uns um.
Überall wird saubergemacht und ausgebessert.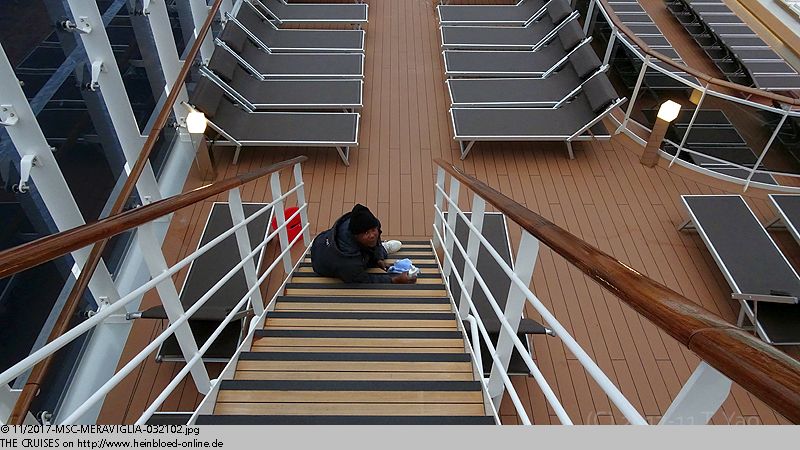 Everywhere you saw them cleaning and maintaining.

It always looked great in the night time. The show tonight made a big impression to me.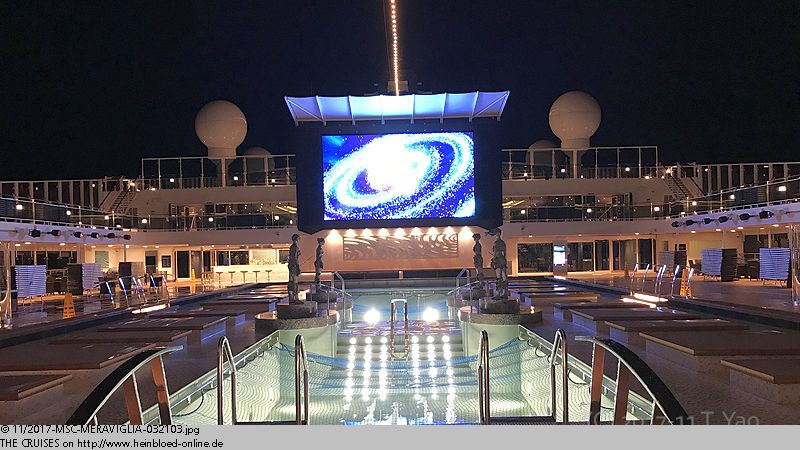 Nachts sieht es immer toll aus. Die Projektion heute Nacht hinterlässt Eindruck.
In Genua hatten wir eine SIM Karte von
Lycamobile
besorgt, aber die darf man nicht in einem mobilen WLAN-Router nutzen. So haben wir uns noch eine Karte von
TIM
in Neapel besorgt, die gut funktioniert. Nur blöderweise hat Windows mal wieder im Hintergrund ein Riesenupdate heruntergeladen. Das Guthaben war daher schnell weg. Wir hatten noch eine Karten von
3 Österreich
, aber die funktionierte nur im
Wind
. Aber dieses Netzwerk ist schrecklich.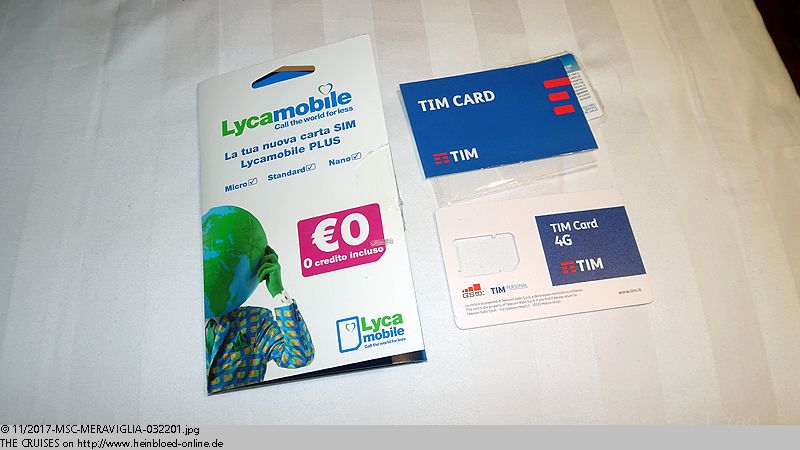 In Genoa we bought a SIM card of Lycamobile but you are not allowed to use it in a mobile WiFi-Router. So we got another card from TIM in Naples, which worked very well. Unfortunately Windows downloaded in the background a larger update. Those credit was quickly gone. We had also a card of 3 Austria which works in the Wind-Network only. But this network was terrible.

We had a significant problem onboard... we had no more access to our bookings for the shows and I could not see anymore which shows I booked which tickets. Unfortunately, the concierge could not help either as it was a systemwide problem. He offered me immediately that he will get into every show I want to see even my reservations would expire or have them all double.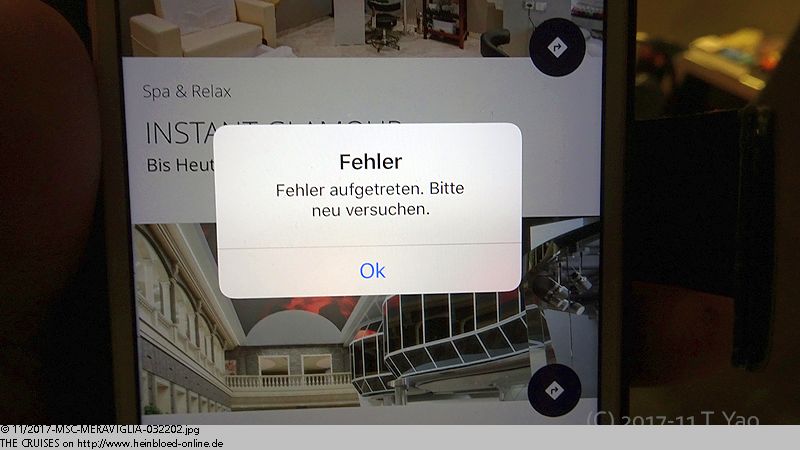 Wir haben allerdings ein größeres Problem an Bord... wir haben keinen Zugriff mehr zu unseren Reservierungen im Theater und ich kann nicht sehen für welche Vorstellungen ich welche Tickets gebucht habe. Da kann leider auch der Concierge nicht helfen, wenn so eine systemseitiges Problem bestehen. Er bietet mir aber sofort an, dass er mich in jede Show reinbringt, auch wenn die Reservierungen ggfls. verfallen oder doppelt wären.
Offensichtlich haben wir für die Show "Virtual" gebucht. Stornieren können wir generell - nur wissen wir nicht, welche Show wir stornieren müssen, weil wir das nicht sehen können, was wir ursprünglich gebucht haben.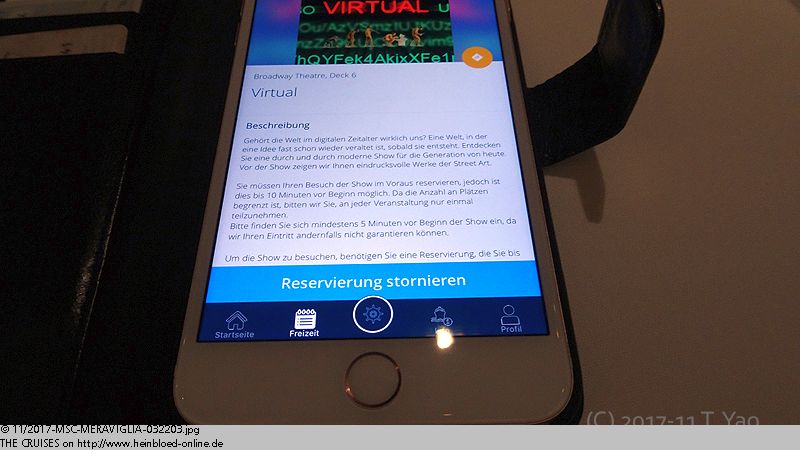 Obviously we were booked for the show "Virtual". We could cancel in general - but no idea which shows we were canceling since we could not see what we had booked originally.

Also, the ship had problems with Windows.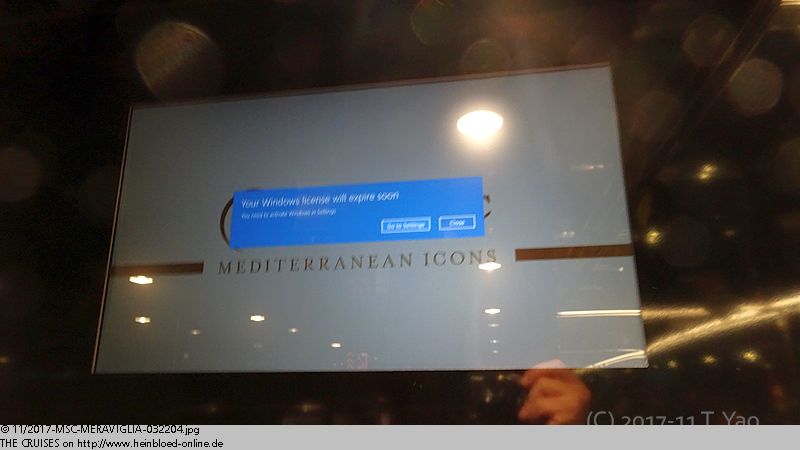 Auch das Schiff hat Probleme mit Windows.
Später prüfen wir am Theater den Spielplan. Aber ich weiß wirklich nicht mehr, was ich wann gebucht habe.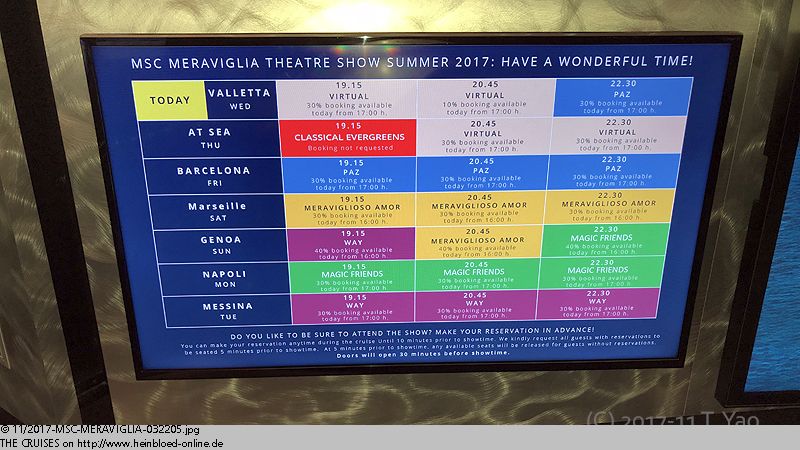 Later we checked the schedule at the theater. But I really could not remember what I booked for which time.

We went for dinner. Festive evening. The best escargots I ever had on any cruise ship: not being drowned by butter. On the shrimps were somehow a little too small. As I could not stand the lobster bisque, I got an alternative immediately: clear oxtail consomme.

Es geht zum Abendessen. Festlicher Abend. Die besten Schnecken, die ich je auf einem Kreuzfahrtschiff gegessen habe: nicht mal in Butter ertrunken. Nur die Shrimps sind ein wenig klein. Da ich mit der Hummercremesuppe nicht so viel anfangen kann, bekomme ich sofort eine Alternative: klare Ochsenschwanzsuppe.
Und das hätte es im Hauptrestaurant gegeben.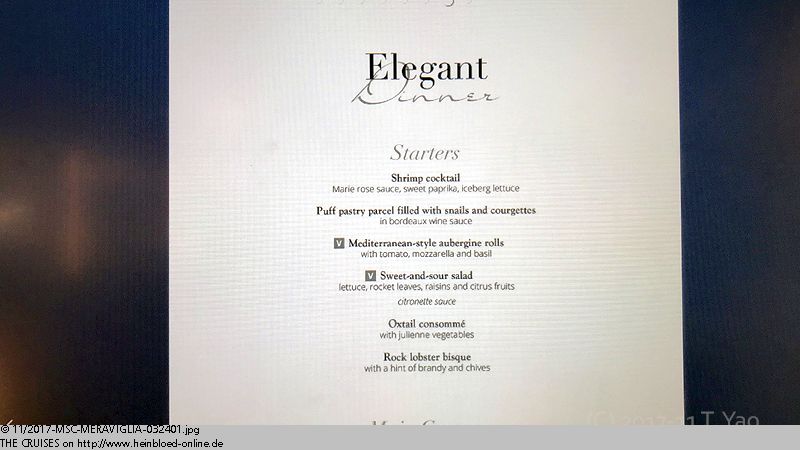 And this was what you would get in the Main Dining Room.

Did not sound so bad.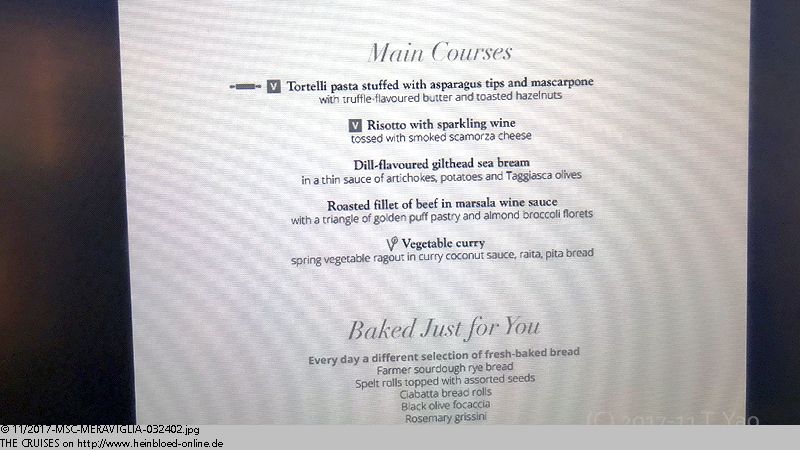 Klingt auch nicht schlecht.
Manches kommt mir bekannt vor.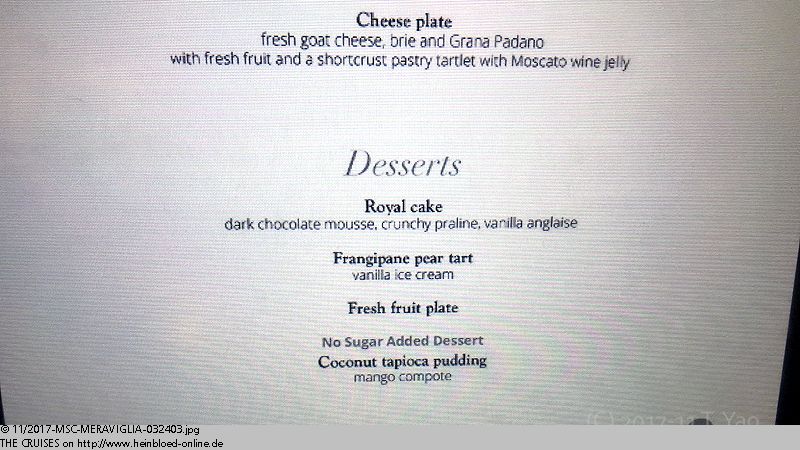 Some of them looked familiar to me.

Until 02.00 hrs you could get some food in the self-service restaurant.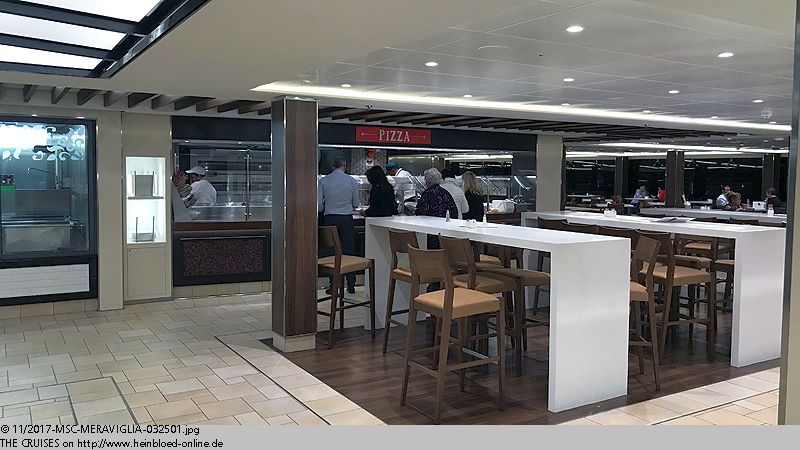 Bis 02:00 Uhr bekommt man ja etwas im SB-Restaurant zu essen.
In der Tat wird Pizza angeboten. Dafür muss man abends bei Costa extra bezahlen!!!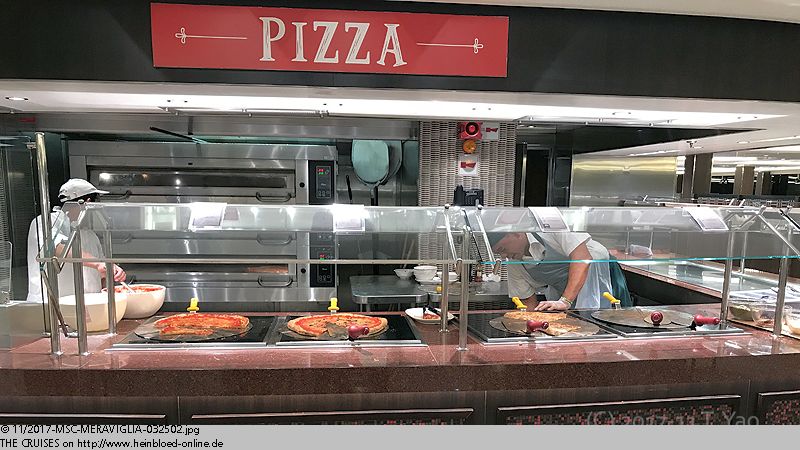 Indeed they were offering pizza. You need to pay for it extra in the evening when you are going with Costa!!!

OK: it was not like Da Michele in Naples, but it was so good that my large families terminate the evening with more than one piece of pizza. The part which was open was bustling.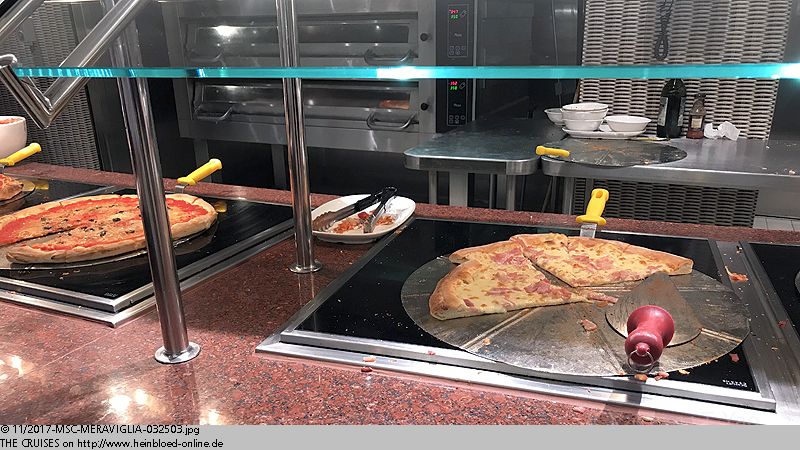 OK: es war nicht
Da Michele
in Neapel, aber so gut, dass viele Großfamilien hier den Abend bei mehr als einem Stück Pizza den Abend ausklingen lassen. Der geöffnete Teil ist wirklich voll!
Um die Zeit ist noch die Bar im Casino geöffnet, die ich für mich entdecke. Ich darf alles ohne Sterne und mit einem Stern bestellen, ohne dass es mir extra berechnet mir. Nur die Getränke mit zwei Sternen sind auch für mich zahlungspflichtig. Mir gefällt das Yacht Club Angebot immer besser: vor allem der alkoholfreie Mojito.

I discovered for me at this time the bar in the casino was still open. I was allowed to order every beverage with an asterisk (*) and with one asterisk without extra charge. Only beverages with two asterisk had an extra charge for me. I really love the Yacht Club offer more and more: especially the alcohol-free mojito.
Die anderen Reisen in diesem Blog/
The other voyages in this blog: