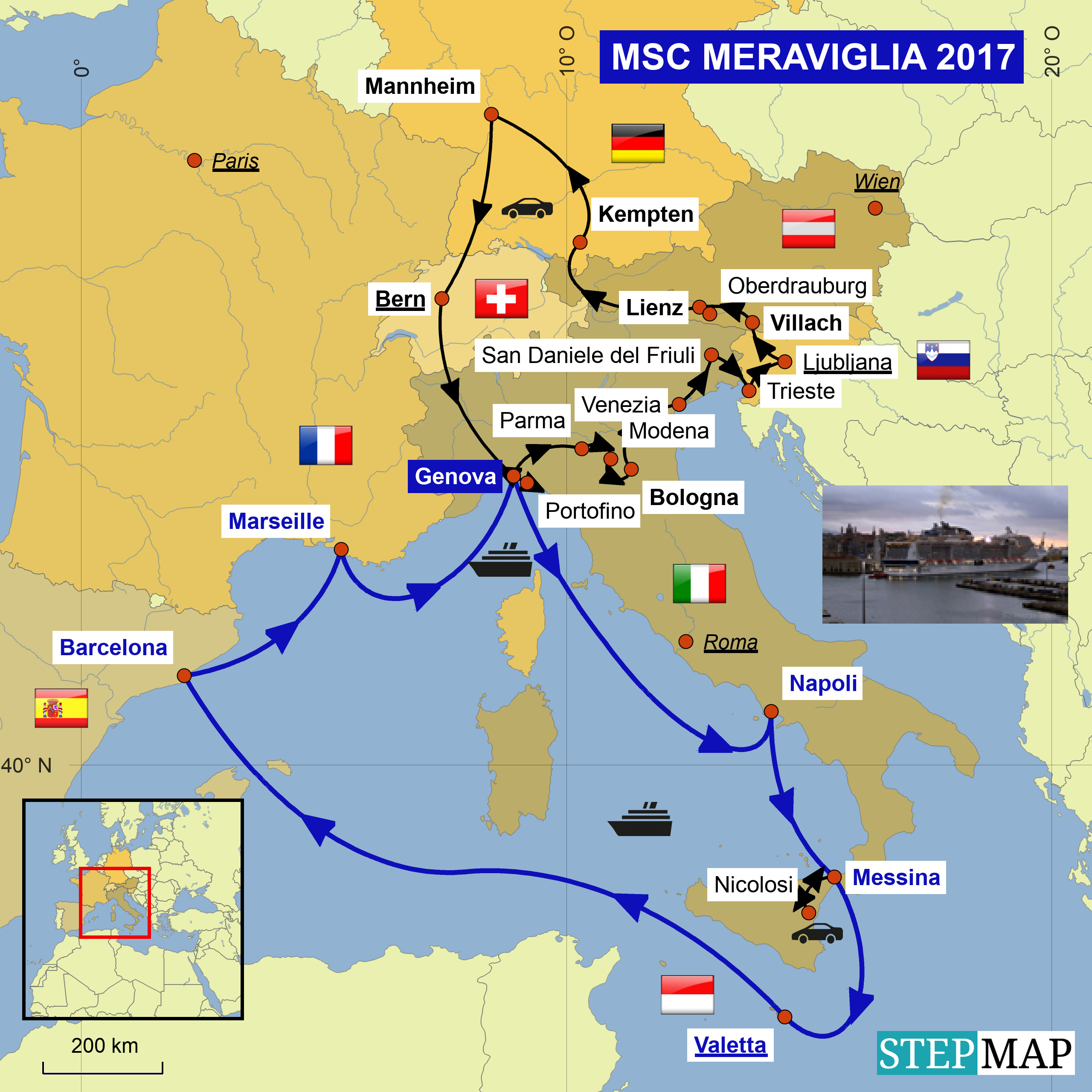 Barcelona - arschkalt! Die armen Jungs, die jeden Morgen alles aufstellen: Seta Rasamuelson und Lala Jose. Dabei sind sie immer am Lachen und freundlich.

Barcelona, Spain - damn cold! The poor guys who need to set up everything every morning: Seta Rasamuelson and Lala Jose. And they were always friendly and smiling all the time.

Sunrise in front of Barcelona.

Sonnenaufgang vor Barcelona.
Ankunft in Barcelona.

Arrival in Barcelona.

SEVEN SEAS EXPLORER was also in Barcelona. She had the luck that she could dock directly at the World Trade Center.

SEVEN SEAS EXPLORER ist ebenfalls mit uns in Barcelona. Sie hat das Glück, dass sie direkt am World Trade Center anlegen darf.
Und AIDAperla ist vor uns hier und fährt nach uns ab. So kann ich sie öfters fotografieren. Damals hatten wir 2014 das Schwesterschiff AIDAprima in der Werft in Nagasaki gesehen, als wir mit der
CELEBRITY MILLENIUM 2014
dort waren.

And AIDAperla was here ahead of us and sailed after us. So I could make more pictures of her. Then in 2014, we saw her sistership AIDAprima in the yard in Nagasaki, Japan when we were there by CELEBRITY MILLENIUM 2014.

Heading for breakfast: one Egg Benedict.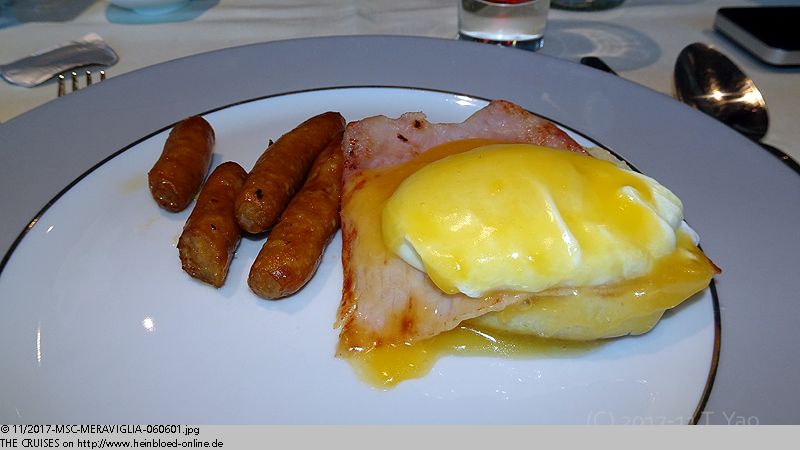 Auf zum Frühstück: ein Egg Benedict.
Bruno nimmt mal ein Omelette.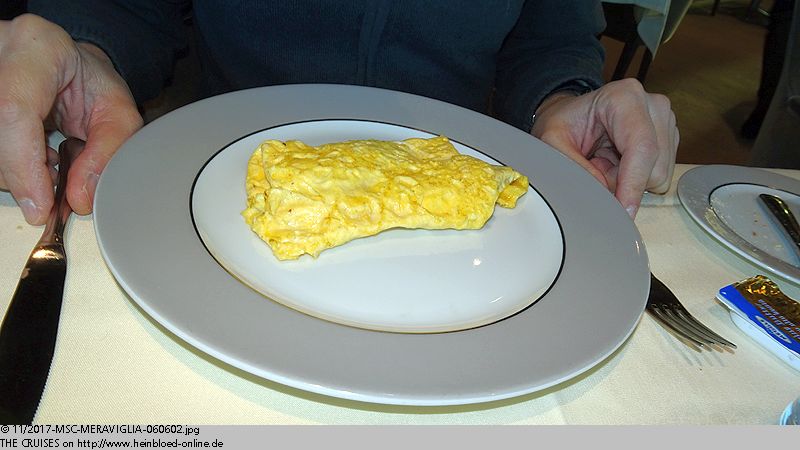 Bruno took that time an omelette.

But unfortunately, my egg white was still raw.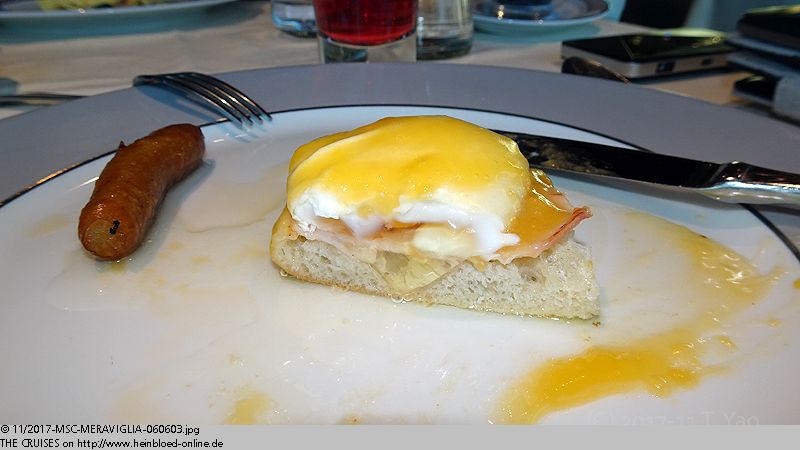 Aber leider ist mein Eiweiß noch alles roh.
Und dann kommt unsere Stalkerin COSTA FASCINOSA: nach uns da - vor uns weg. Mir sind die Liegezeiten von Costa zu kurz!

Then our stalker COSTA FAVOLOSA came in: arrived after us - left ahead of us. The call time appeared too short for me.

Compared to many other ships: not just one "general" newspaper for all guests of one language but you can select your regional favorite press.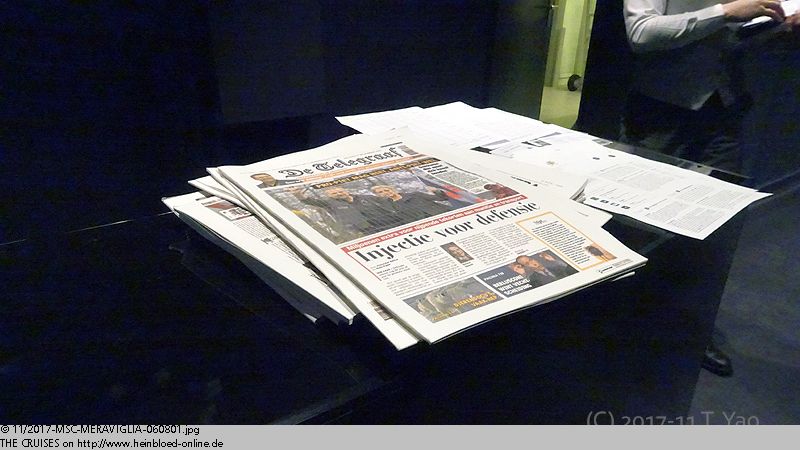 Im Gegensatz zu vielen anderen Schiffen: es gibt nicht diese "allgemeine" Zeitung für alle Gäste einer Sprache, sondern man kann sich seine regionale Lieblingszeitung auswählen.
Irgendwie idiotisch... beide Knöpfe sind gedrückt und niemand steht davor... das kommt davon, dass man nicht die gegenüberliegenden Aufzüge zusammenschaltet. So passiert es schon mal, dass man mit einem Lift gegenüber schon längst weg ist.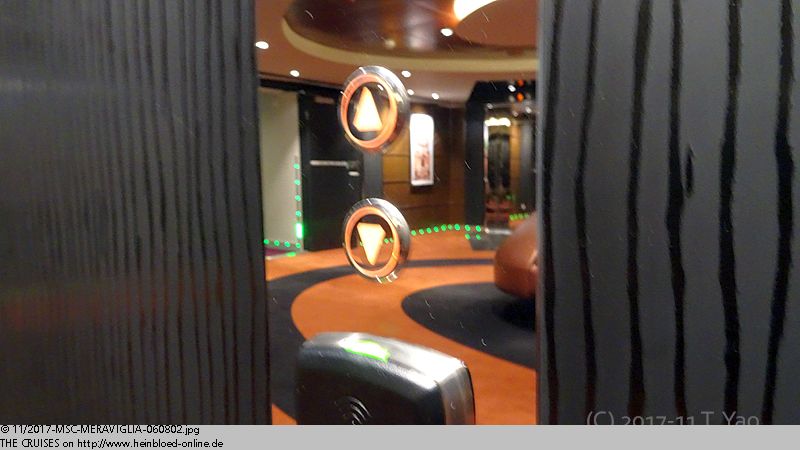 Somehow not very smart... both buttons were pushed and nobody were around... It was because they did not connect the elevators which were opposite side.

In the port, a new cruise terminal was under construction which was built for Carnival. Finally with parking directly at the terminal. For my next voyage, I started to make some investigations: We had luck and Bags and Go was still working. New was that you need to collect your bags at the baggage storage at Terminal 1 at the metro: see KONINGSDAM 2016. The Portbus T3 was renamed to Cruise Bus. I wanted to buy something at the machine. In front, there was an American family. The son (maybe 5-7 years old) wanted to have the orange vibrator. The discussion with the mother or between the parents were quite refreshing. I bought some replacement for Viagra to resell in Switzerland... It was 4 pieces for 160.00 CHF (= 160.00 USD)...

Im Hafen entsteht ein neues Kreuzfahrtterminal, das von Carnival gebaut wird. Endlich mit direkten Parkplätzen am Terminal. Für meine nächste Reise fange ich an, mich zu erkundigen:
Bags and Go
gibt es zum Glück noch. Neu holt man das Gepäck bei der Gepäckaufbewahrung im Terminal 1 am U-Bahnhof statt: siehe
KONINGSDAM 2016
. Der Portbus T3 heißt jetzt Cruise Bus. Ich wollte etwas am Automaten kaufen. Davor stand eine amerikanische Familie. Der Sohn (ca. 5-7 Jahre alt) wollte gerne den orangen Vibrator haben. Die Diskussion mit der Mutter und zwischen den Eltern sind sehr aufheiternd. Ich kaufe noch Viagra-Ersatz zum Weiterverkauf in der Schweiz... Dort kosten 4 Stück 160,00 CHF...
Barcelona bedeutet immer Eva, die wir seit vielen vielen Fahrten her kennen: die Kontaktdaten könnt ihr gerne bei mir anfragen. Das allererste Mal damals
NORWEGIAN JADE 2011 (1)
. Und seitdem fährt sie uns und viele unserer Freunde durch Barcelona. Christian kennen wir persönlich seit der
NORWEGIAN ESCAPE 2015
. Über das Forum
kreuzfahrten-treff.de
https://www.kreuzfahrten-treff.de/
schon sehr viel länger. Seine Eltern haben wir zuletzt kurz vor unserer Reise auf der
NORWEGIAN GETAWAY 2017
kennengelernt: Sylvia und Gunnar. Eva hat sie bereits am Flughafen abgeholt und wir übernehmen das Taxi für unsere übliche Barcelona-Runde. So fahren wir kurz über unsere Lieblingsplätze
Jardins de Mossèn Costa i Llobera
vor dem
Hotel Miramar
an der
Seilbahn
-Station,
Castell de Montjuic
,
Jardins del Mirador de l'Alcalde
,
MNAC
. Das ist ein Muss, auch wenn wir schon viele Male hier waren. Neu ist der kurze Stopp am
Olympiastadion
.

Bareelona always meant Eva whom we knew for many years: you can ask for her contact details. The very first time on NORWEGIAN JADE 2011 (1). Since then she were taking us and some of our friends around Barcelona. Christian we knew personally since NORWEGIAN ESCAPE 2015. Virtually on the German forum kreuzfahrten-treff.dehttps://www.kreuzfahrten-treff.de/ we knew him much more longer. His parents we made acquaintance recently just before starting on NORWEGIAN GETAWAY 2017: Sylvia and Gunnar. Eva already brought them from the airport and we took over the taxi for our usual round in Barcelona. So we made brief stops at our favorite places Jardins de Mossèn Costa i Llobera in front of Hotel Miramar at the cable car-station, Castell de Montjuic, Jardins del Mirador de l'Alcalde, MNAC. It was a must even we went there many times before. New was the short stop at the Olympic Stadium.

Few pictures of MY MSC MERAVIGLIA which were taken during the whole day were mandatory. The first were made in front of the fortress.

Ein paar Bilder von
MEINER
MSC MERAVIGLIA, die am Tag verteilt aufgenommen werden ist ein Muss. Die ersten entstehen jedoch vor der Festung.
Ein kurzer Stopp von unserer Reise auf der
COSTA FAVOLOSA 2017
, den wir nachholen weil er damals geschlossen war: Konditorei
Mauri
. Ein erstklassiger Tipp von Evas Freundin Beny. Auch lecker und gut.

A brief stop of our voyage on COSTA FAVOLOSA 2017, we need to caught up because it was closed then: Patisserie COSTA FAVOLOSA 2017,">Mauri
. A brilliant recommendation of Eva's friend Beny. Also yummy and good.
And another stop in the market hall
La Boqueria
. Again a color- and aromatherapy. And fresh dragon fruit juice.

Und noch ein weiterer Stopp in
La Boqueria
. Wieder Farb- und Dufttherapie. Und frischer Pittahaya-Saft.
Wir fahren zum Hafen zurück. Aji ist auch der Butler von Sylvia und Gunnar. Er erwartet uns schon. Eine so schöne Lounge, wie in Genua gibt es nicht.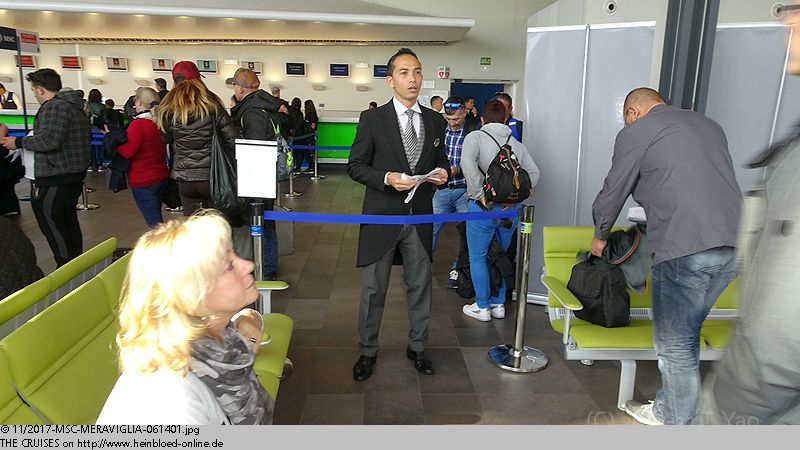 We went back to the port. Aji was also the butler of Sylvia and Gunnar. He was waiting for us already. There was not such a beautiful lounge like we had in Genoa, Italy.

Welcome to Barcelona.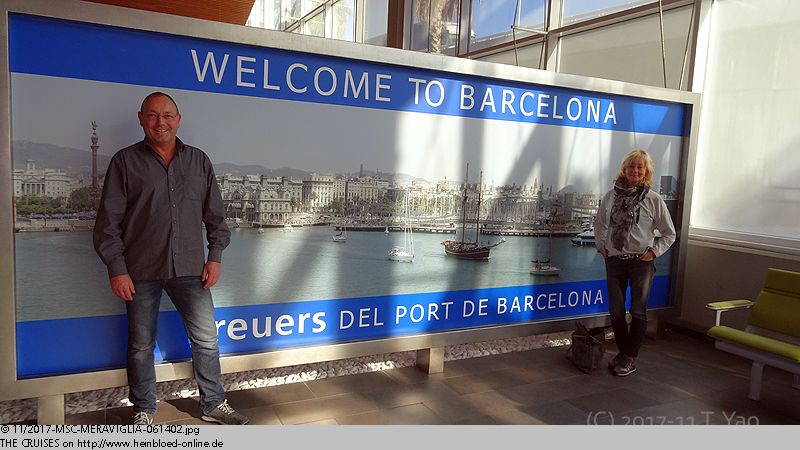 Willkommen in Barcelona.
Aber auch ohne Lounge: mit entsprechendem Service.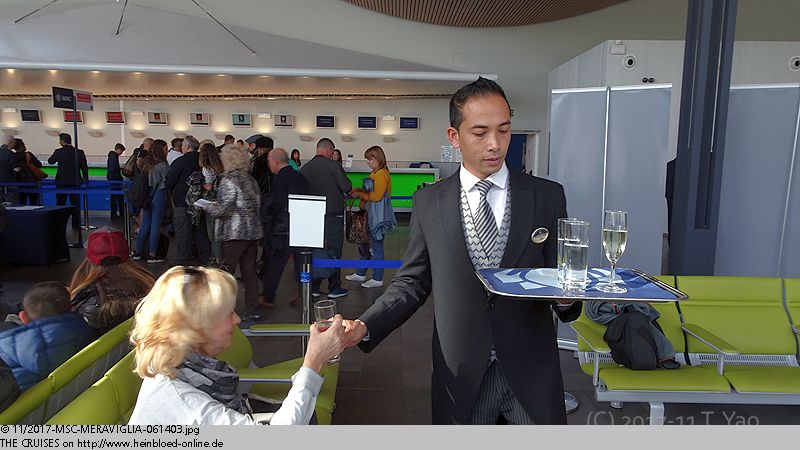 But also without lounge: with appropiate service.

That way you always had a good start on your cruise.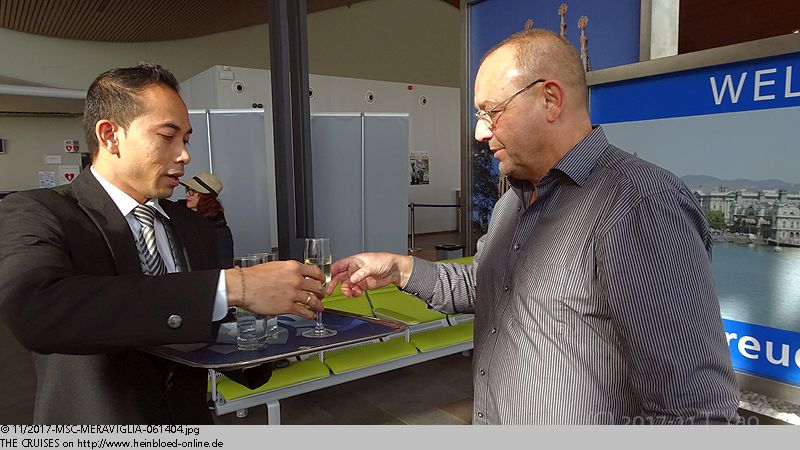 So fängt man immer eine Kreuzfahrt gut an.
Zunächst zum Mittagessen in das Yacht Club Restaurant.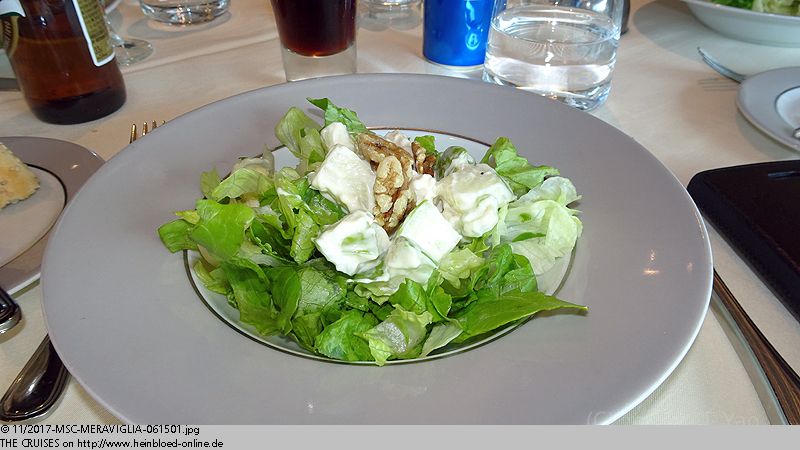 Back for lunch in the Yacht Club Restaurant.

"My wife had the fish again, and it was as usual good"... a phrase another cruiser said and followed us since our voyage on MSC MUSICA 2007.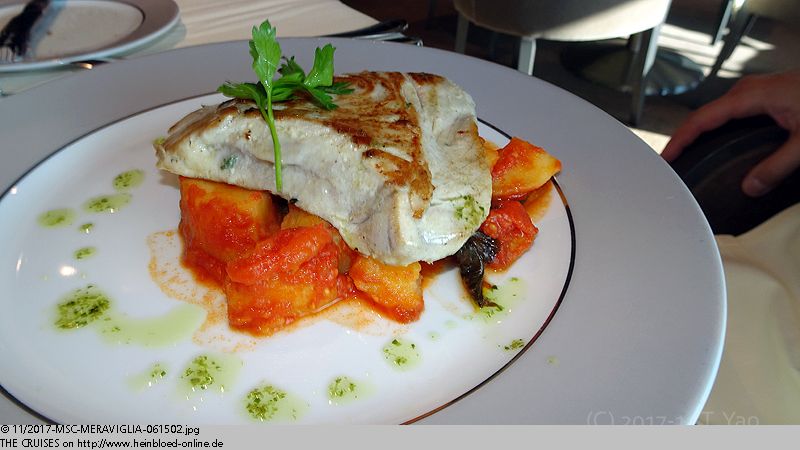 "Meine Frau hatte den Fisch und der war wie immer gut"... ein Spruch eines anderen Kreuzfahrers, der uns seit unserer Reise auf der
MSC MUSICA 2007
begleitet.
Und ich nehme ein Steak.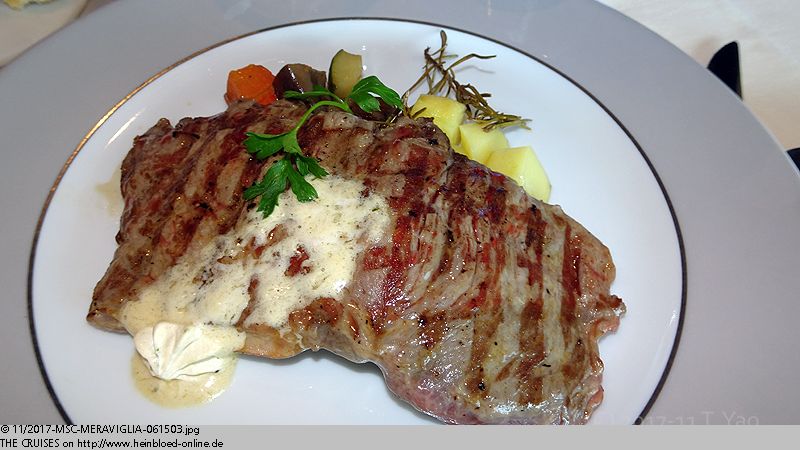 And I took the steak.

A dessert.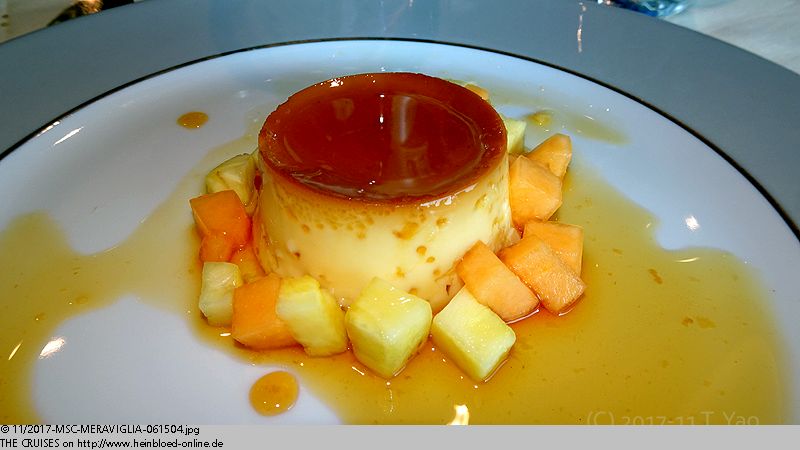 Ein Dessert.
Nun sehen wir mal ohne Gäste den Poolbereich. So sieht es also normalerweise aus.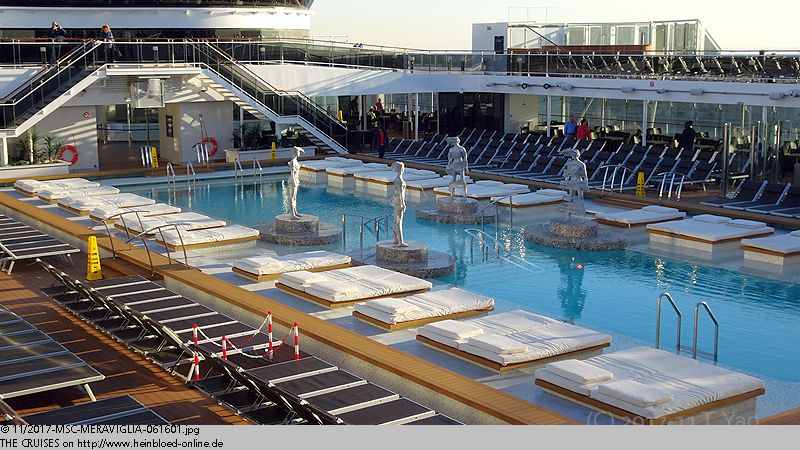 Now we saw the poolarea without any guests. So it should look normally.

The nice weather we used again for a port cruise by Las Golondrinas. Everything was just perfect. Later we walked back to the port.

Das schöne Wetter nutzen wir wieder für eine Hafenrundfahrt mit
Las Golondrinas
. Es ist im Moment alles perfekt. Zurück laufen wir später zu Fuß in den Hafen zurück.
Zurück gönnen wir uns erst mal eine kleine Stärkung in der Top Sail Lounge.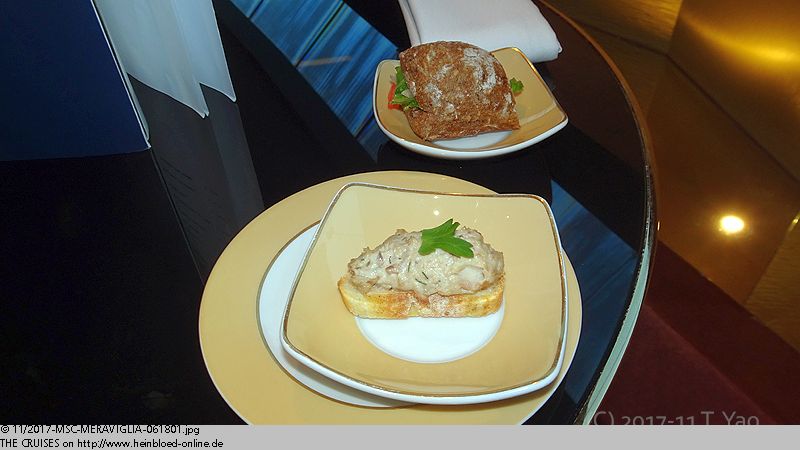 Back on board we just pampered ourselves with some goodies in the Top Sail Lounge.

With a Mojito.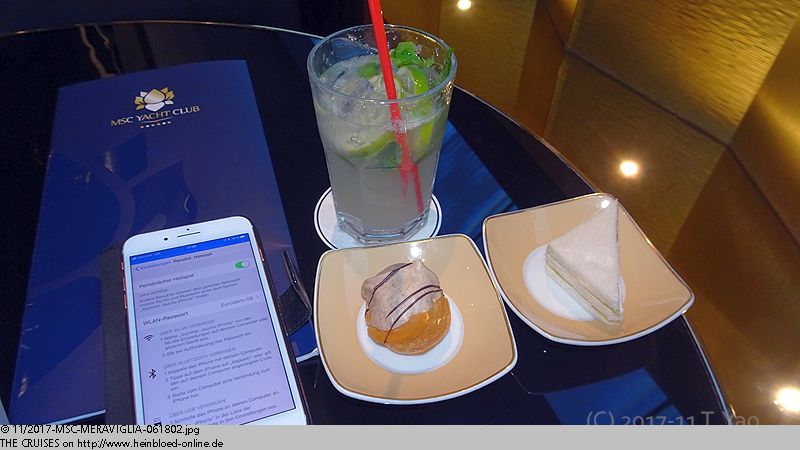 Dazu ein Mojito.
Und später ein paar Sushis.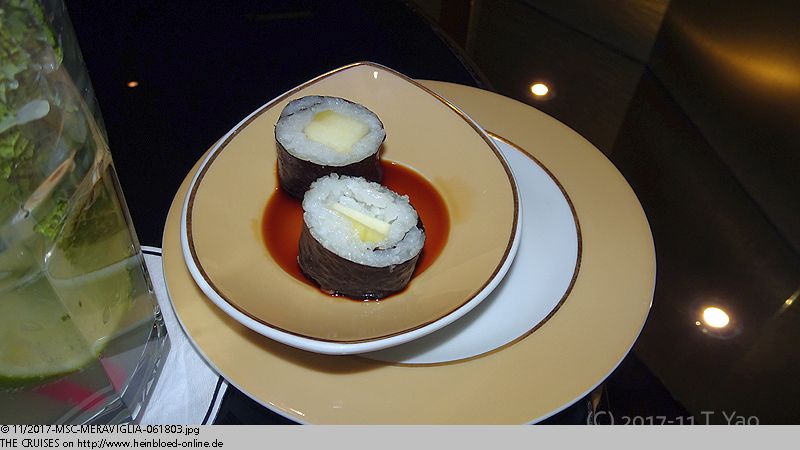 And later few shushis.

And some cocktail-canapés...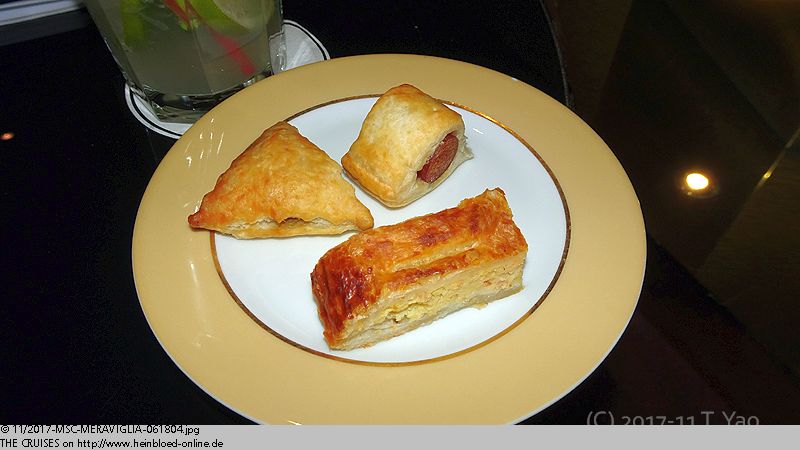 Und ein wenig Apéro-Gebäck, wie man in der Schweiz sagen würde...
Irgendwie wird es hart, wieder auf andere Schiffe zu gehen, ohne diesen Service des Yacht Clubs.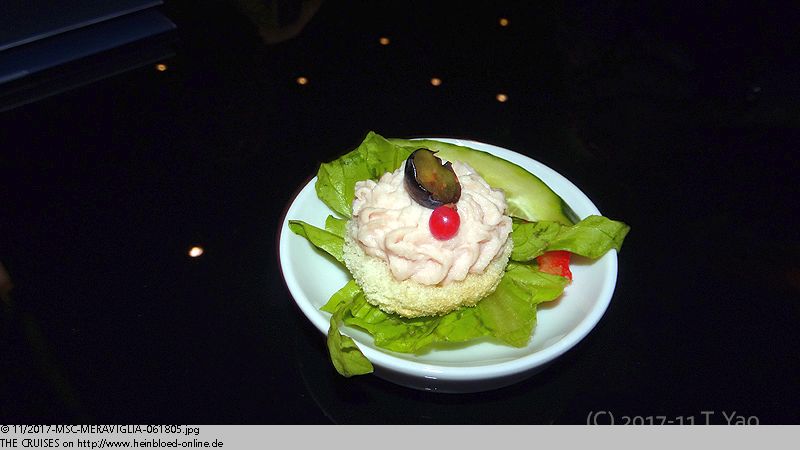 Somehow it will become hard to go on other ships without the service of the Yacht Club.

Sunset in Barcelona.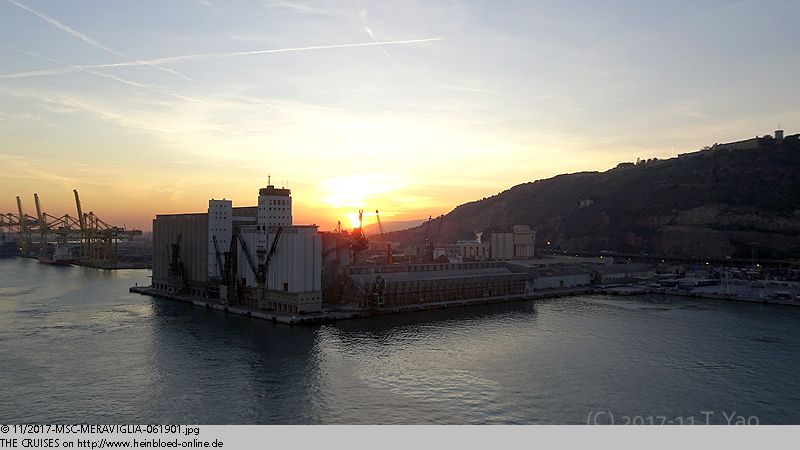 Sonnenuntergang in Barcelona.
Als einzigen Fleischgang gibt es heute Lamm. So bekomme ich wieder ein Rinderfiletsteak zubereitet. Man darf sich auch mehr als eines zubereiten lassen, wenn man großen Hunger hat.

The only meat course was that night lamb. So I got a beef fillet prepared. You could ask to have another one prepared if you were starving.

Good Night.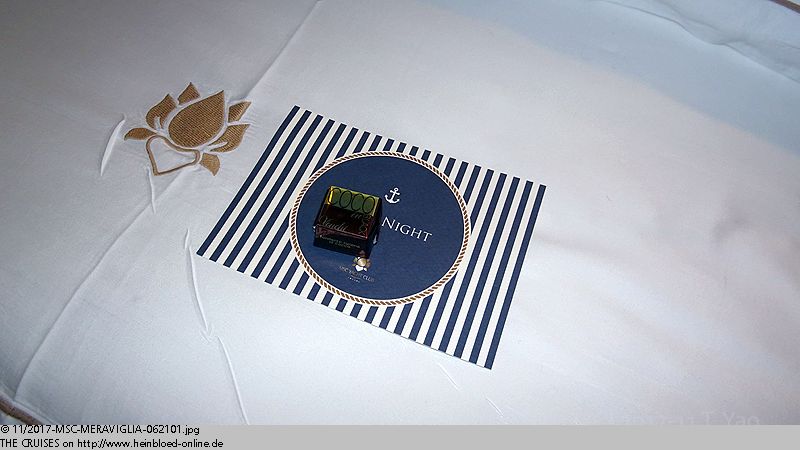 Gute Nacht.
Und morgen Marseille bei max. 15°C.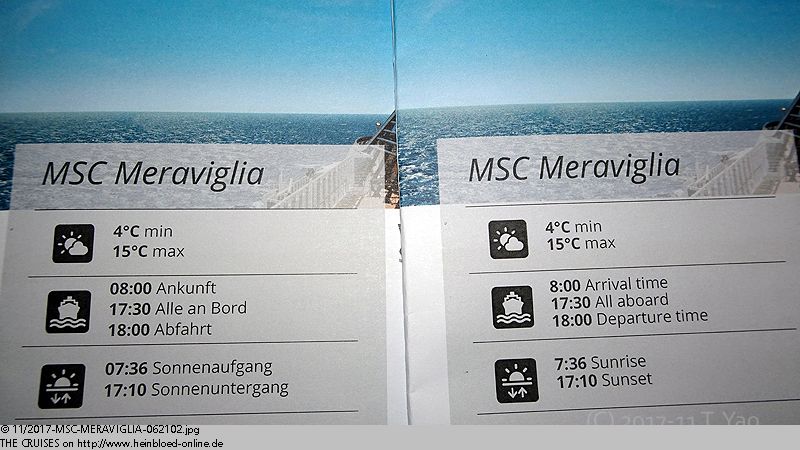 An the next day 59 F in Marseille, France.
Die anderen Reisen in diesem Blog/
The other voyages in this blog: