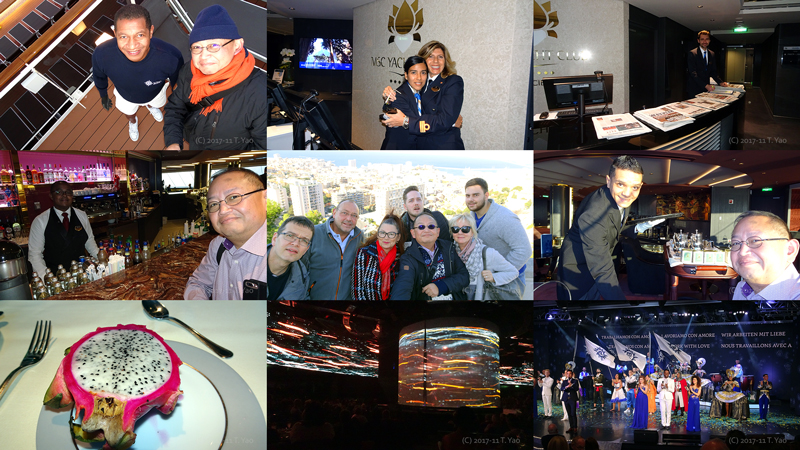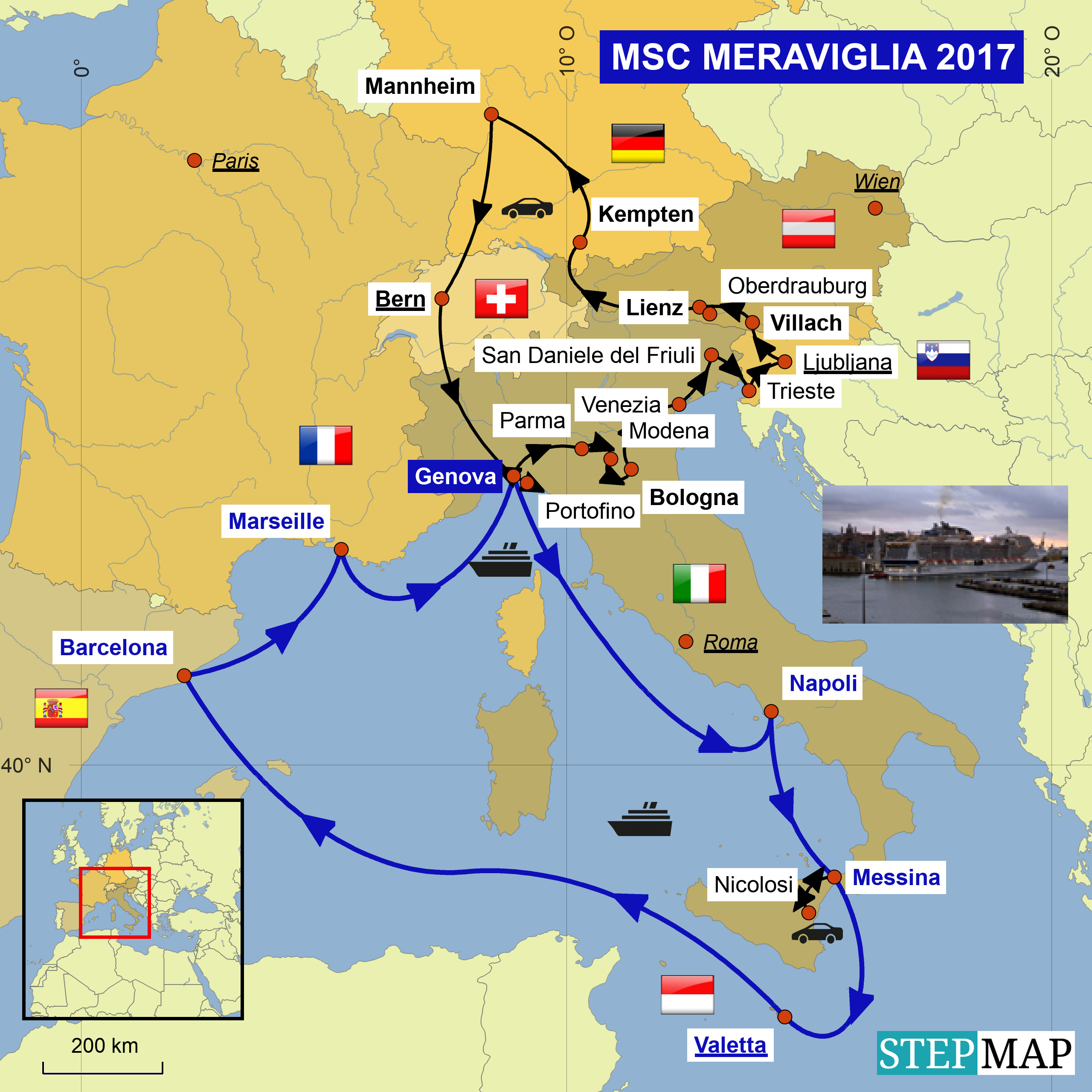 Internet muss sein.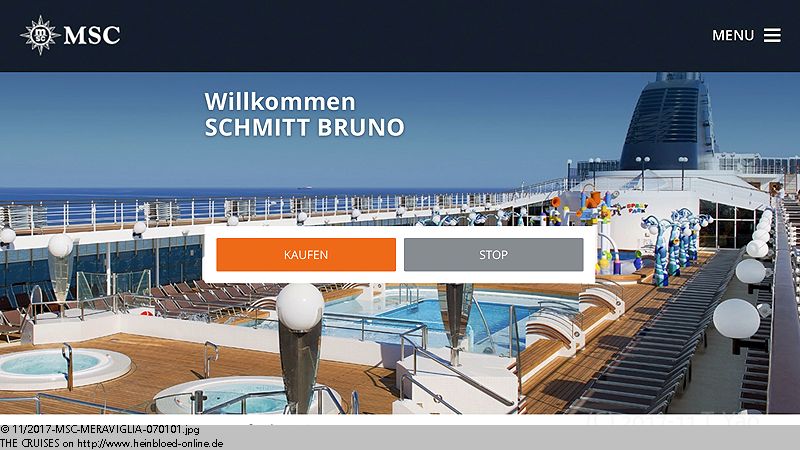 Internet was a must.

The display was not working correctly. We could not get our last 47 MB to use. It was because was so late that we already need a new package.

Die Anzeige stimmt nicht. Wir kommen an den letzten 47 MB nicht dran. Liegt aber daran: die Anzeige ist so verzögert, dass wir längst ein neues Paket brauchen.
Wir können wie folgt buchen.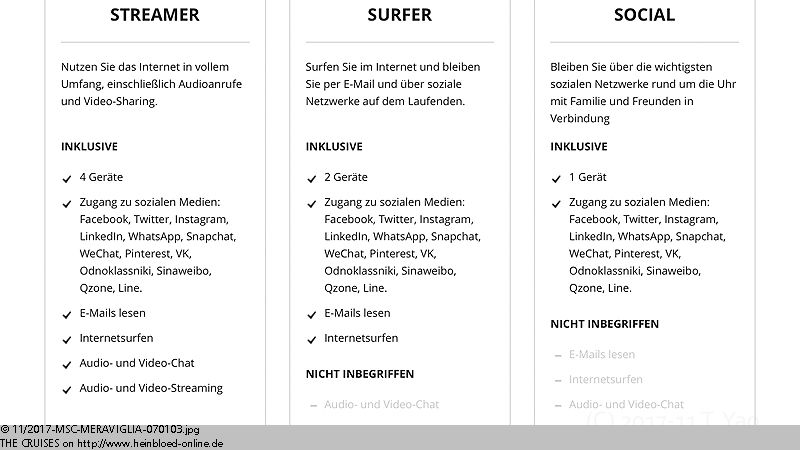 We could book as follows.

We had the option to top up or to book a different package. But it was cheapest to top up: 500 MB for 15,00 EUR (2017).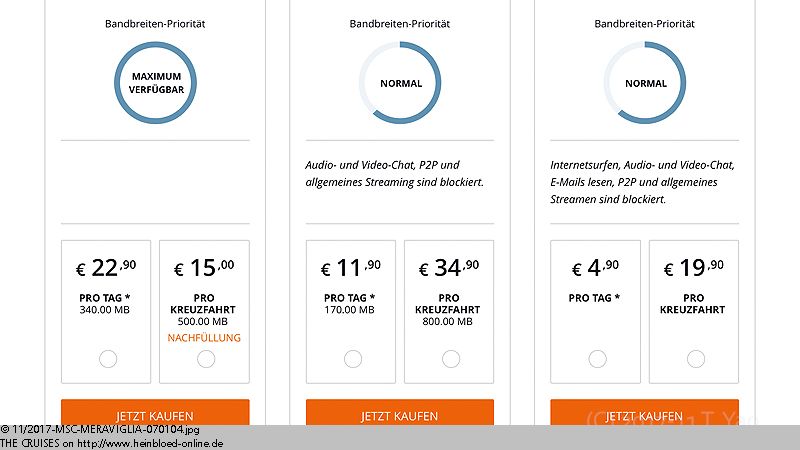 Also entweder nachbuchen oder ein anderes Paket. Aber am günstigsten ist eindeutig das Nachbuchen: 500 MB für 15,00 EUR (2017).
Wir laden also auf.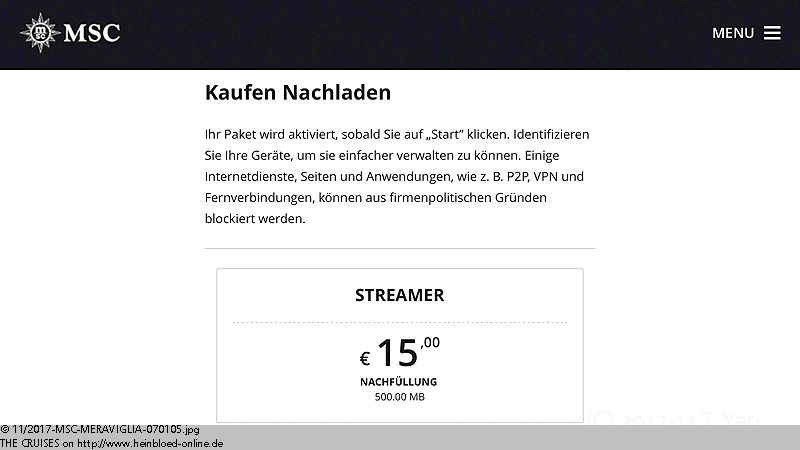 So we topped up.

I was dressed for the winter.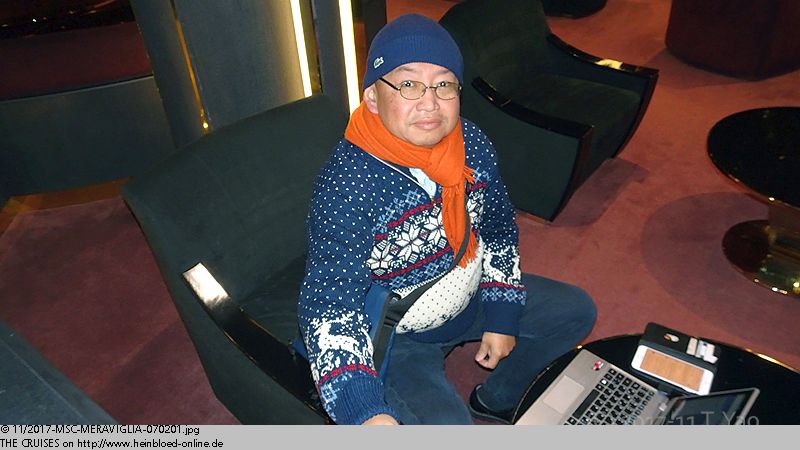 Ich bin für den Winter angezogen.
Und draußen laufen die Jungs in kurzen Hosen herum.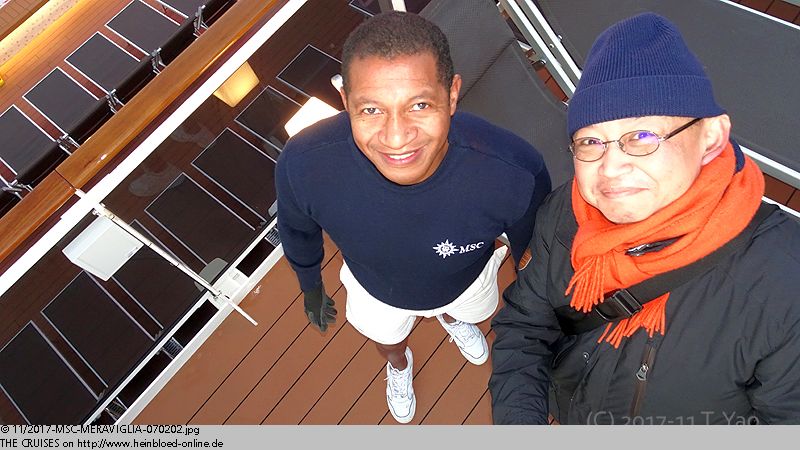 And outside the boys were dressed with shorts.

It was very nice outside.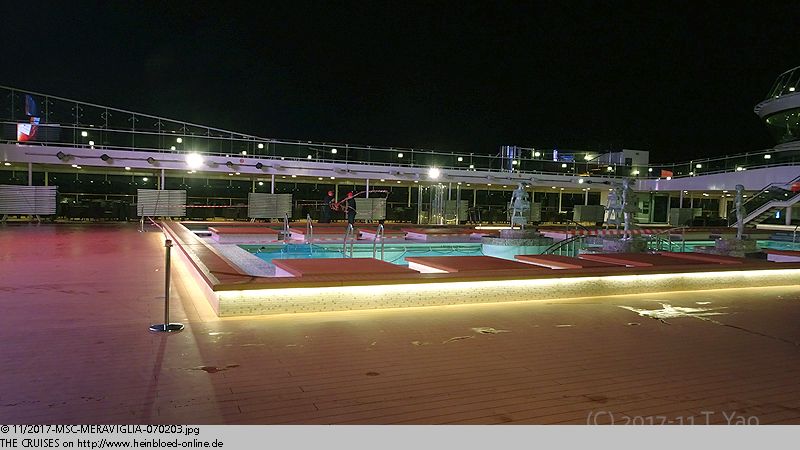 Ich finde es draußen sehr schön.
Auch nachts auf dem Bildschirm: immer tolles Programm, aber anscheinend haben sie auch ein Windows-Problem oder müssen auch nachladen...

Also in the night on the screen: an excellent programme, but apparently they had a problem with Windows too, or they need to top up too.

Magnificent sunrise in front of Marseille, France.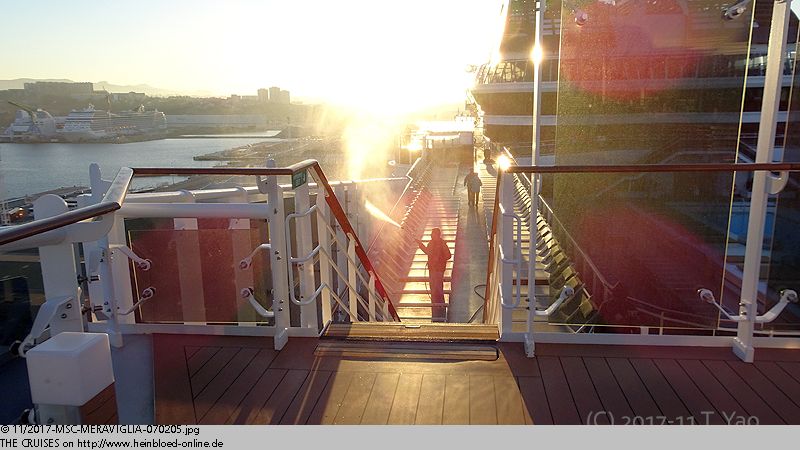 Ein toller Sonnenaufgang vor Marseille.
Das Frühstücksangebot im SB-Restaurant.

The breakfast offer in the self-service restaurant.

The night watch with the Concierge and editor and printer of the news: Andry Dzhenkov... He wrote all news in all languages all night long... every night.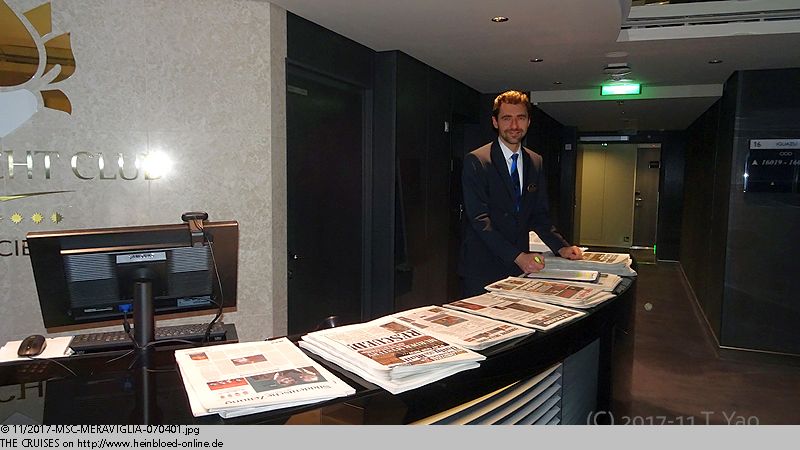 Die Nachtwache beim Concierge und Zeitungsredakteur und -drucker: Andry Dzhenkov... Er schreibt alle Nachrichten in allen Sprachen und das jede Nacht.
Ich erzähle Rosalia, wie toll sie hier sich um mich kümmern und ich sie am liebsten mit nach Hause nehmen möchte, damit sie sich zu Hause auch um alles kümmern... Das lässt Rosalia nicht zu, dass ich Josi mitnehme.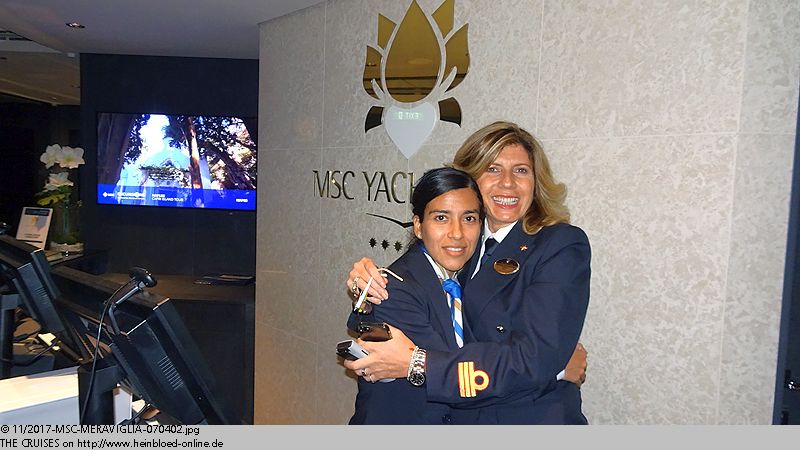 I told Rosalia that great everybody was taking care of me and I really would love to take them home to make them taking care of everything for me back too... Rosalia did not allow it that I take Josi with me.

I would also miss the Top Sail Lounge: the snacks and the green apple juice and every morning the greeting of bartender Boris Gerald Joseph.

Auch die Top Sail Lounge werde ich vermissen: die Snacks, den grünen Apfelsaft und jeden Morgen die Begrüßung durch Barkeeper Boris Gerald Joseph.
Ankunft in Marseille.

Arrival in Marseille.

In the shipyard: COSTA MAGICA.

In der Werft: COSTA MAGICA.
Und auch die MSC MAGNIFICA.

And MSC MAGNIFICA too.

The very last time our stalker COSTA FASCINOSA. Again in after us and out ahead of us! What sense did cruising make if you have no time ashore?

Zum letzten Mal unsere Stalkerin COSTA FASCINOSA. Wieder nach uns rein und wieder vor uns raus! Welchen Sinn macht eigentlich kreuzfahren, wenn man keine Zeit an Land hat.
Auf zum Frühstück. Wir servieren uns selbst eine Pitahaya. Den Rest servieren uns der andere Raffaele Iaccarino und Sukron.

Heading for breakfast. We served ourselves one dragon fruit. All other items were serviced by Raffaele Iaccarino and Sukron.

Getting ashore: we were recently here at Marseille-Provence Cruise Center. Unfortunately, it was so misty that I could not make any nice shots from the shopping center compared to the last time I was here.

Landgang: wir waren ja erst vor kurzem hier am
Marseille-Provence Cruise Center
. Leider so diesig, dass ich vom Einkaufszentrum keine schöne Aufnahmen machen kann, im Gegensatz zum letzten Mal als ich hier war.
Wie bereits erwähnt: Initiator der Reise ist eigentlich Christian, der die 2 für 1 Angebote in den USA erwähnt hat. Zuletzt getroffen haben wir ihn auf der
NORWEGIAN ESCAPE 2015
. Unsere Fahrerin in Marseille ist Chantal, die wir zuletzt auf der
MSC PREZIOSA 2013
getroffen haben. Sie hat mich damals in Aix-en-Provence gehauen!!! Nur weil ich damals Selmas Schuh mit Wasser vollgekippt hatte!!! Aber auch nur um den Schuh zu reinigen, der mit Cola vollgelaufen war!!! Aber das war ich nicht!!! Chantal hatte damals einen Schuh dann Selma geliehen... Wenn ich daran denke, muss ich immer noch lachen. Daher frage ich auch an, ob sie beim Schild mit Christians Namen etwas mehr malerisch darstellen kann, um ihn am Flughafen abzuholen. Gerne macht sie das für mich. Und sie haben sich am Flughafen gefunden. So kommt es jetzt auch zur Familienzusammenführung in Marseille.

As already mentioned: The voyage was initiated actually by Christian who mentioned the 2 for 1 offer in the US. Last time we met him on NORWEGIAN ESCAPE 2015. Our driver in Marseille was Chantal whom we met last time on MSC PREZIOSA 2013. She beat me then in Aix-en-Provence!!! Only I because I poured water into Selma's shoe!!! But only to clean the shoe which was full of Coke inside!!! But that was not me!!! Chantal had then a shoe ready for Selma to wear... Remembering that I really need to laugh out loud. So I asked her for a special sign to show a painted way Christian's name to collect him at the airport. Something she loved to do for me. And they made it at the airport. So we were here finally for a family reunion in Marseille.

We went all together quickly to Basilica Notre Dame de la Garde. I loved the place because you had the nicest panorama over Marseille.

Gemeinsam fahren wir kurz zur
Basilika Notre Dame de la Garde
. Ich liebe den Ort, weil man hier einen so schönen Ausblick über Marseille hat.
Innen geht es nur sehr kurz rein. Es ist doch sehr voll.

Quickly I stepped in. It was quite busy.

And one serial of selfies over the dream panorama: Marseille - mon amour!!!

Und eine Serie von Selfies über dieser Traumkulisse: Marseille - mon amour!!!
Von hier sehen wir auch auf
MEINE
MSC MERAVIGLIA.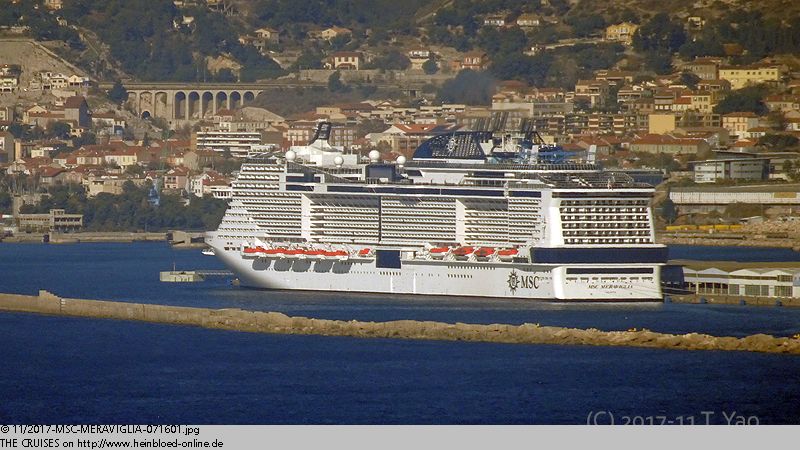 And from here we could see MY MSC MERAVIGLIA.

Quickly we stopped by at InterContinental. Here we stayed recently overnight before we went on COSTA FAVOLOSA 2017.

Ganz kurz halten wir noch bei
InterContinental
. Hier hatten wir vor unserer Reise auf der
COSTA FAVOLOSA 2017
übernachtet.
Ohne Zimmer unter dem Dach bekommen wir leider nur dieses Bild über den alten Hafen und mit der Basilika Notre-Dame de la Garde.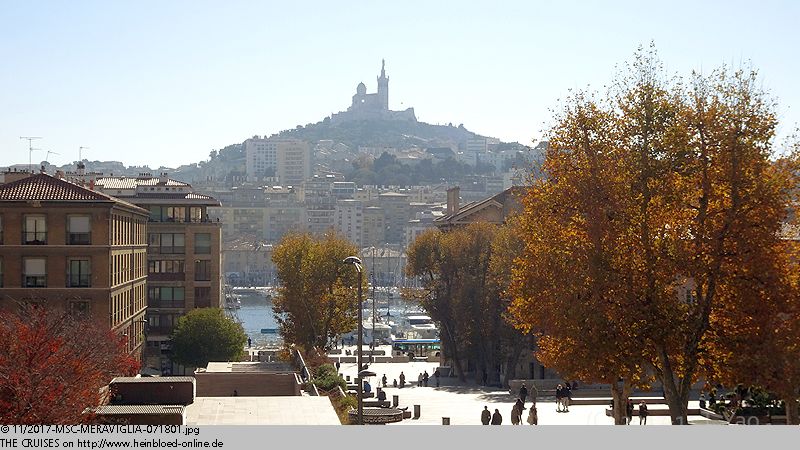 Without room under the roof we only got this picture of the Old Port and the Basilica Notre-Dame de la Garde.

We had in the spring more luck because it was not so misty.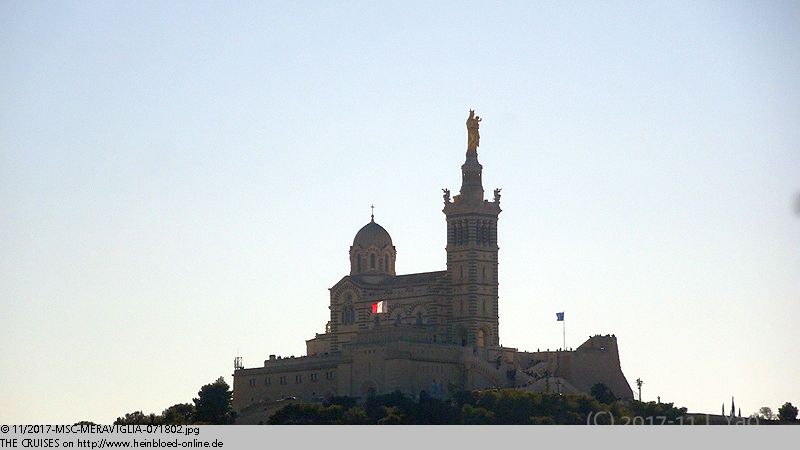 Wir hatten damals im Frühling mehr Glück, dass es nicht so diesig war.
Der Vorteil mit Chantal: sie kann ja einfach an einem Taxistand stehen bleiben.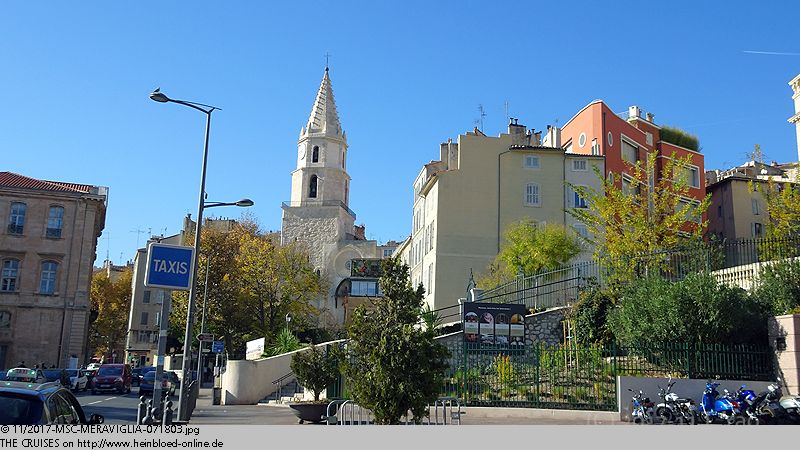 The advantage to having Chantal: she could simply stay at the taxi rank.

Few more pictures of the Cathedrale La Major.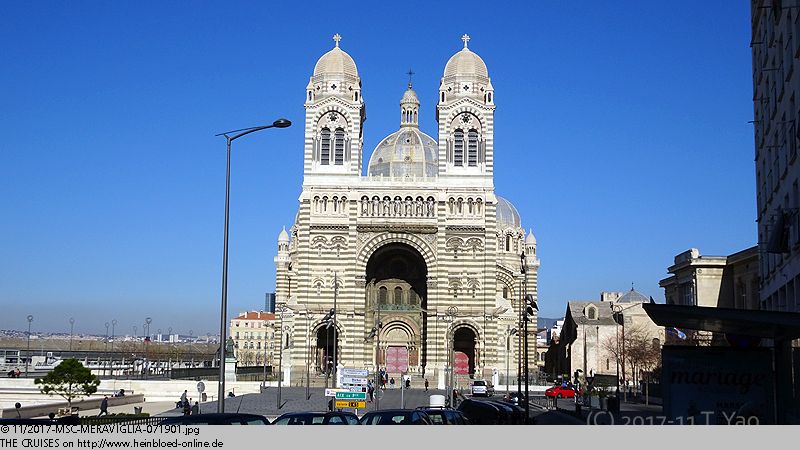 Noch ein paar Bilder an der Kathedrale
La Major
.
Auch heute schaffen wir es nicht reinzukommen.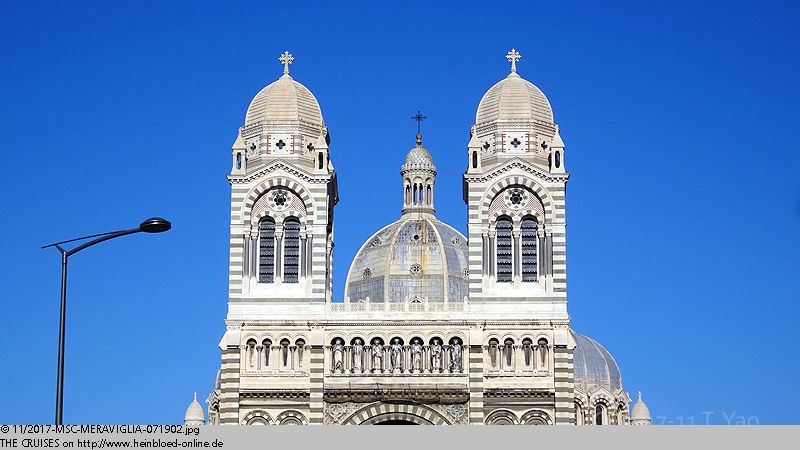 But even today we could not make it into.

After we dropped off Christian's family at the ship, we went for lunch with Chantal. Chantal is world discoverer like a great photographer who inspires to discover the world and us. We need further inspiration. But she is not doing it exclusively on ships so that we try to integrate such destinations in the interior of the land which she visited somehow with a cruise. But like with the Lake Titicaca, it will not be effortless... Merci beaucoup for everything in Marseille. I can really hope to can one travel together one day somewhere in the world. Travelling fascinates and connects!!! I was genuinely thanking the taxi driver who did not show up on our voyage on NORWEGIAN EPIC 2012. Otherwise, we would not make the acquaintance of Chantal.

Nach dem wir Christians Familie am Schiff abgesetzt haben, gehen wir noch mit Chantal essen. Chantal ist Weltreisende so wie wir und eine tolle Fotografin, die wirklich einen inspiriert, die Welt zu entdecken. Wir brauchen weitere Inspiration. Nur sie macht nicht alles auf Schiffen, so dass dass wir versuchen solche Ziele im Landesinneren, die sie besucht hat, irgendwie in eine Kreuzfahrt anzubinden. Nur beim Titicaca-See ist das nicht so einfach... Merci beaucoup für alles in Marseille. Hoffentlich das nächste Mal irgendwo gemeinsam irgendwo unterwegs auf der Welt. Reisen begeistert und verbindet!!! Ich bin dem Taxifahrer dankbar, der uns damals vor der
NORWEGIAN EPIC 2012
-Reise nicht gekommen ist. Sonst hätten wir Chantal nicht kennengelernt.
Zurück an Bord: Ich gehe nochmals ins TOP 19. Vielleicht ist das ja doch eine Alternative, wenn man mal nicht Yacht Club bucht und man etwas Ruhe haben will.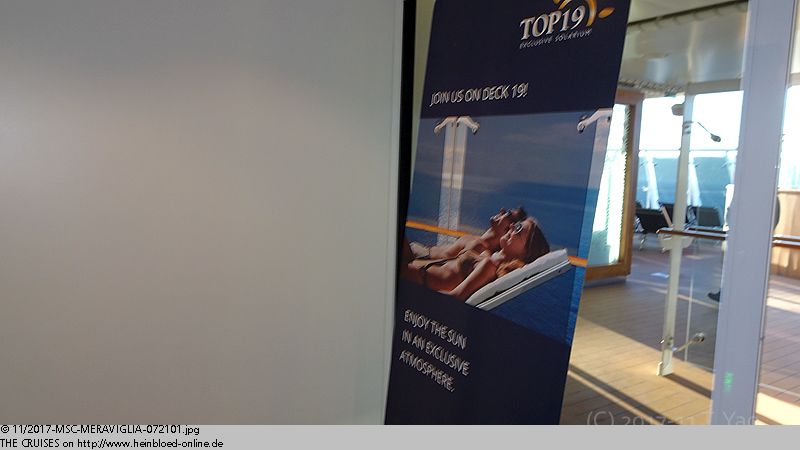 Back on board: I went again to Top 19. Maybe it might be an alternative to have some more privacy when you do not book Yacht Club.

For 5.00 EUR (2017) per day you got here on MSC MERAVIGLIA much more than you got on COSTA FAVOLOSA 2017.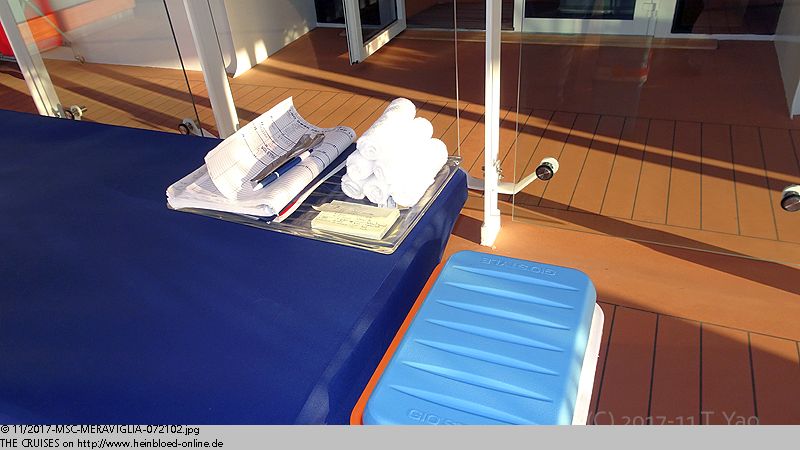 Für 5,00 EUR (2017) am Tag gibt es hier auf der MSC MERAVIGLIA mehr, als wir damals auf der
COSTA FAVOLOSA 2017
erhalten haben.
Da gab es ja sogar Zeiten, dass sie sich nicht mal die Mühe gemacht haben, die Liegestühle auf der
COSTA FAVOLOSA 2017
aufzustellen, obwohl wir bezahlt haben.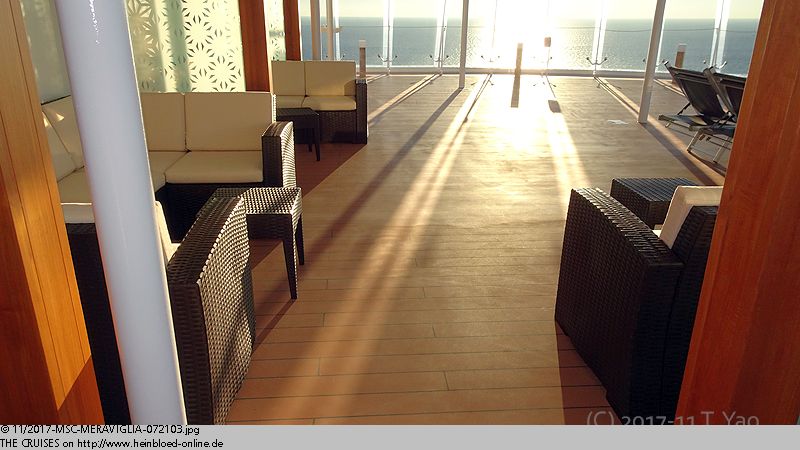 They even had times they did not spend the effort to set up the sunbeds on COSTA FAVOLOSA 2017 although we paid for.

But that here on MSC MERAVIGLIA made an entirely different impression.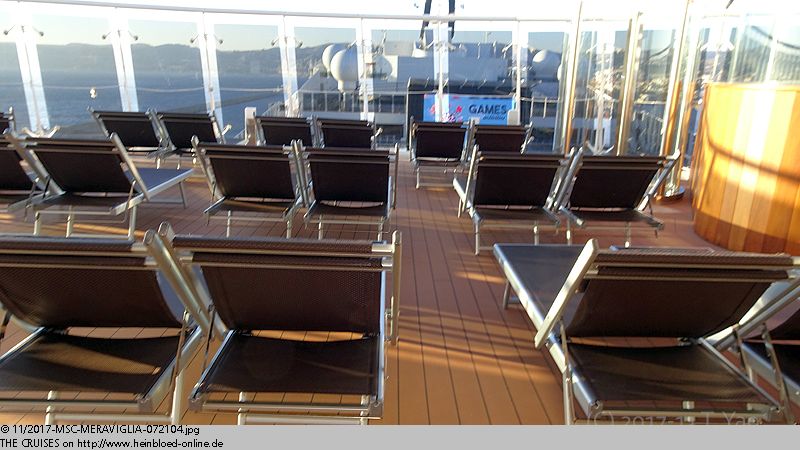 Aber das hier auf der MSC MERAVIGLIA macht ja doch einen anderen Eindruck.
Zumal hier auch jemand da ist, der sich um alles kümmert. Man läuft also nicht zur Rezeption, um nur dort zu bezahlen und niemand kümmert sich um einen wie auf der
COSTA FAVOLOSA 2017
.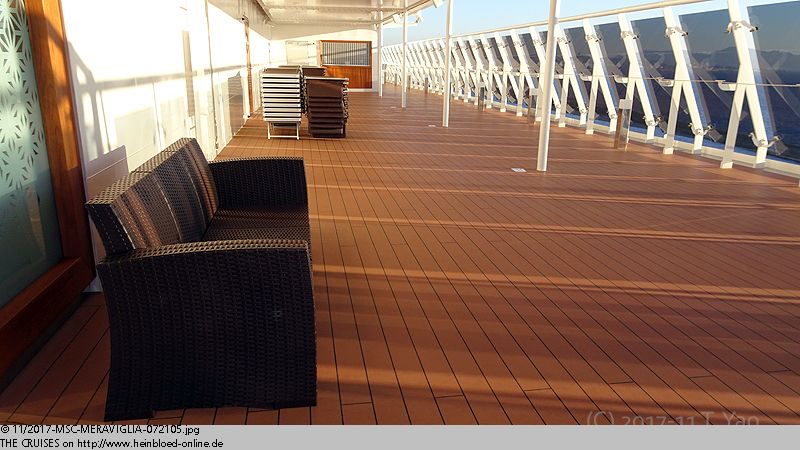 At least you had here someone who was taking care. You did not only walk to the front desk to pay there, and nobody was taking care anymore like on COSTA FAVOLOSA 2017.

As it was my last afternoon, Sandro Mesquita came and asked if I would not like to enjoy a very last time at the end of the voyage High Tea.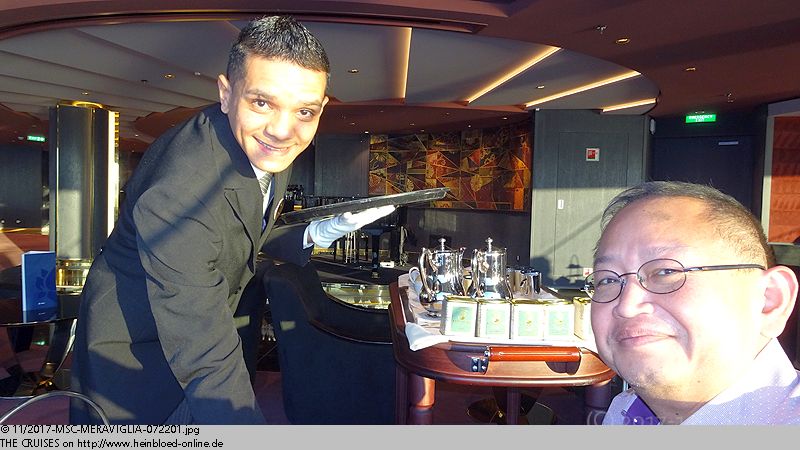 Da es mein letzter Nachmittag an Bord spricht mich Sandro Mesquita an, ob ich nicht zum Abschluss meiner Reise nochmals High Tea Time genießen möchte.
Ich verspreche noch etwas zu erledigen, und bis 17:00 Uhr spätestens wiederzukommen. Als ich wiederkomme sind alle gedeckten Tische belegt.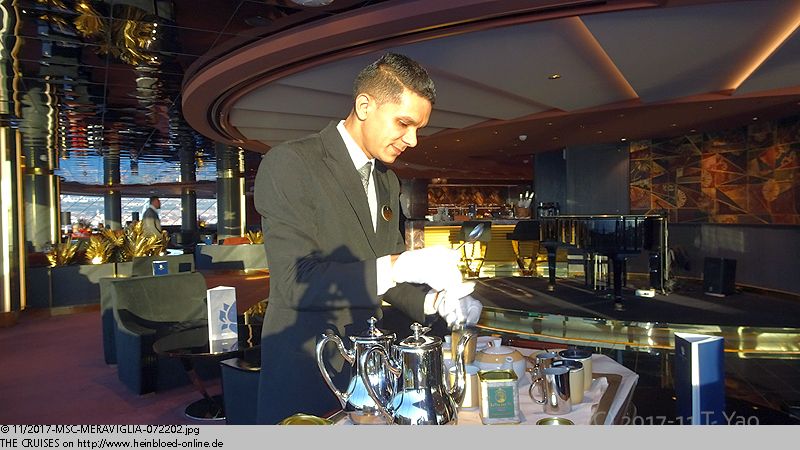 I promised to come by by 17:00 hrs after I finished my business. When I came back, all linen set tables were taken.

But he just got the trolley to me and brewed a very last Jasmine tea onboard for me.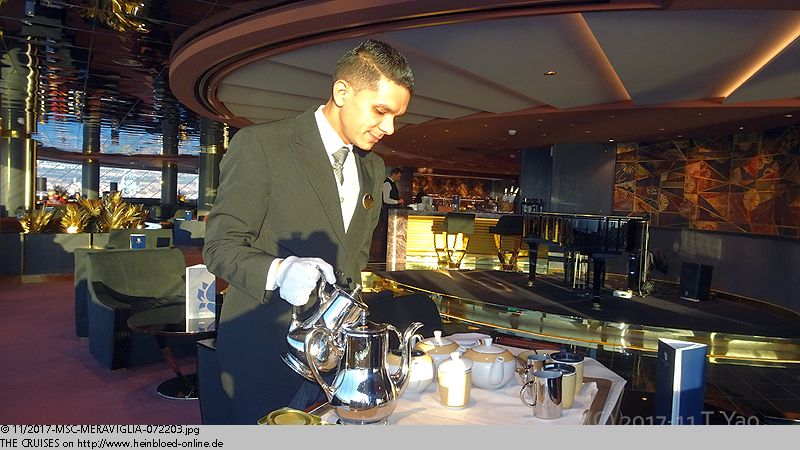 Er holt kurzerhand den Wagen zu mir und brüht mir meinen letzten Jasmin-Tee an Bord auf.
Und holt für mich auch eine Etagière aus der Galley. Er will ja nur, dass mir der Abschied vom Yacht Club schwer fällt.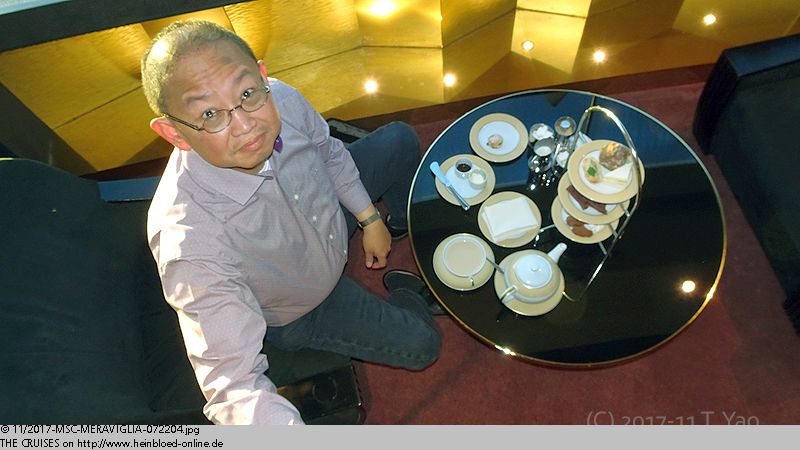 And he got me from the galley a tier-plate. He only wanted me becoming hard to leave the Yacht Club.

Who should eat all that? Bruno was celebrating his farewell in the gym.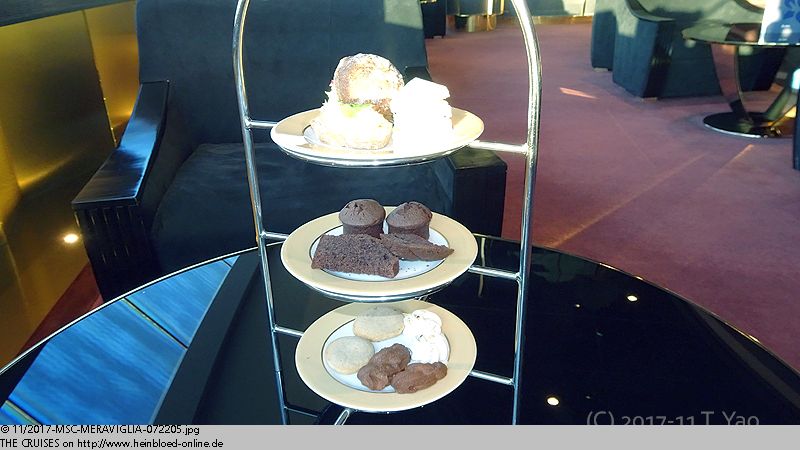 Wer soll das denn alles essen? Bruno feiert seinen Abschied lieber im Fitnessclub...
Au revoir Marseille.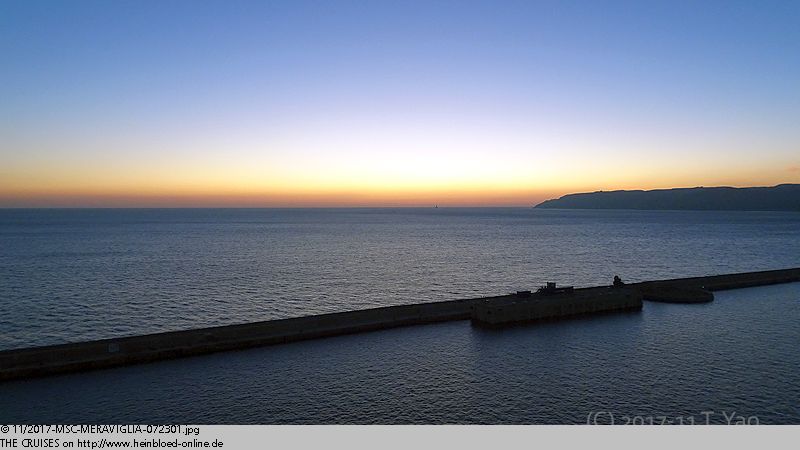 Au revoir Marseille.

The night we went to the show "Maraviglioso Amor". Here I need to say that the show on COSTA FAVOLOSA 2017 which you can compare to this one was a little better. You could feel more Italian lifestyle and spirit. But the show was good. The other was somehow better for me. It is always a question of personal taste. Like all the discussion Costa vs. MSC. It is still the question of personal expectations and disappointments. What you get what you paid for.

Abends geht es in die Show "Meraviglioso Amor". Da muss ich aber sagen, dass in dem Fall bei der vergleichbaren Show die Show auf der
COSTA FAVOLOSA 2017
die Nase vorn hatte. Da war mehr italienische Lebensfreude zu spüren. Wobei die Show hier ist gut. Die andere fand ich besser. Ist eine Frage des persönlichen Geschmacks. Wie die gesamte Diskussion Costa gegen MSC. Es ist immer eine Frage der persönlichen Erwartungen und Enttäuschungen. Man bekommt mal nun mal das, wofür man bezahlt hat.
Die Ausschiffungsunterlagen sind da. Jetzt erfahre ich auch mal wieder Kapitän heißt (Mattia Manzi). Nur um einen von Bord zu werfen, aber nicht um uns willkommen zu heißen. Wir können jederzeit von Bord, aber wir dürfen gerne auch noch ein wenig länger in der Top Sail Lounge oder auf dem Sonnendeck bleiben.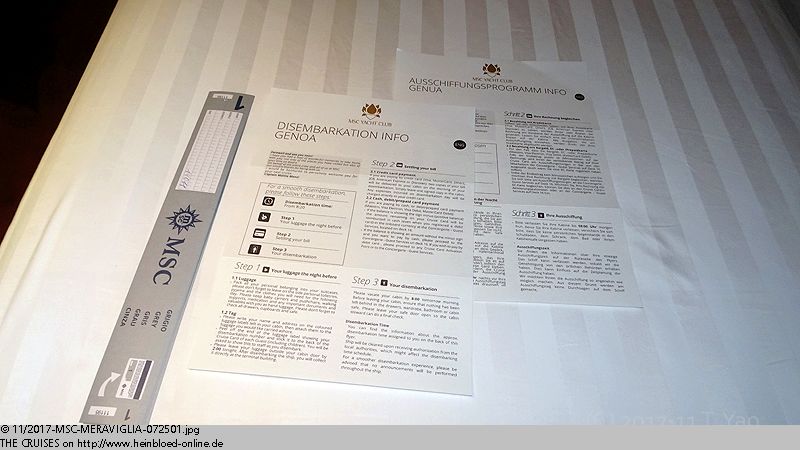 The disembarkation documents were there. Now I learned the name of the Captain (Mattia Manzi). Only to kick you off the ship but not to welcome you. We could leave anytime off the ship, but we could also stay a little longer in the Top Sail Lounge or on the sundeck.

We went quickly to the self-service restaurant to check what they had for dinner. For a pizza, for dinner, you must not pay extra like you had to do with Costa. I stole a Hamburger at the kid's buffet. But that was better with the Americans... that one was too dry... And we also quickly see the Main Dining Room. As we got tickets at short notice for Cirque du Soleil at Sea, we need to save some space for the dinner there and could not have dinner with Christian and his family in the Yacht Club. Tonight's performance was only for guests who should disembark the next day in Genoa, Italy.

Wir gehen kurz ins SB-Restaurant gucken, was es hier zum Abendessen gibt. Für eine Pizza zum Abendessen zahlt man hier nichts extra im Gegensatz zu Costa. Ich klaue am Kinderbüffet einen Hamburger. Aber das können die Amerikaner besser... der ist zu trocken... Und im Hauptrestaurant gucken wir auch mal kurz. Da wir ja Tickets für
Cirque du Soleil
at Sea kurzfristig bekommen haben, müssen wir etwas Platz für unser Abendessen dort aufsparen und essen daher nicht gemeinsam mit Christian und seiner Familie im Yacht Club. Heute Abend ist die Vorstellung nur für Gäste, die am nächsten Tag in Genua ausschiffen.
Wir werden um 21.15 Uhr vom Yacht Club zum Theater begleitet. Heute läuft die Show Sonor. Die andere Show wäre Viaggio. Auch wir müssen anstehen. Leider am Ende des Casinos im Zigarettenrauch. Die Tische werden zugewiesen. Wir bekommen einen guten, der vor einem Gang ist, so dass wir die Bühne gut einsehen können. Die Gäste nur mit Cocktail werden erst in einer Stunde hereingelassen. Viele stehen aber schon an. Aber auch sie dürfen nicht ihre Plätze aussuchen. Nur die letzten müssen sich Plätze an den übrig gebliebenen hinteren Tischen vom Dinner ihre Plätze suchen. Sie bekommen so einen kleinen Schaumweincocktail. Hier erfahren wir: unsere Getränkepakete (egal ob Yacht Club oder bezahlt) werden nicht anerkannt. Wasser bekommen wir. Aber alles andere müssen extra bezahlen. Die Vorspeise finde ich sehr gut. Ich lasse die alkoholische Version der Granita gegen eine alkoholfreie tauschen. Den Hauptgang mag ich nicht so: ich habe das Fleisch. Die Tomatensauce auf dem Osso Bucco (geschmorte Kalbshaxe) ist schon ziemlich kalt, so dass das Essen nicht wirklich heiß war. Die Nachspeise mag ich überhaupt nicht: zu amerikanisch süß. Das Knabbergebäck: so là là.

We were escorted at 21:15 hrs from the Yacht Club to the theater. That day they had the show Sonor. The other show would be Viaggio. We also need to queue. Unfortunately at the end of the casino in the smoke of cigarettes. The tables were allocated. We got a good one which was right in front of an aisle so that we really could see very well the stage. Guests with a cocktail booking were allowed to enter in one hour. Many of them were queueing already. But also they were not allowed to find themselves seats. Only the last guests were allowed to find the seats at the tables in the rear from the dinner. They got a small sparkling wine cocktail. Here we learned: our beverage packages (no matter Yacht Club or paid) were not accepted. We got water. But for anything else, we need to pay extra. The starters were very very good. I let them exchanged the alcoholic version against an alcohol-free. The entree was not really mine: I had the meat. The tomato sauce on the Osso Bucco (braised veal leg parts) was relatively cold, so the whole dish was not really hot at all. The dessert I totally disliked: too sweet American style. The snacks: very mixed.

Then the show came. Due to the late hours, I had not anymore the necessary attention and pleasure to enjoy the show. Two consecutive shows - no dinner like in the Yacht Club Restaurants - next day's debarkation were not the best conditions to enjoy the late show. And again the Italian Maître who only took care of a relative of a Senior-Officer and courted with Super Mega VIP-service and all other guests were not existing. Somehow I found it more attractive with NORWEGIAN GETAWAY 2017 and their Cirque Dream show. I expected more with the name Cirque du Soleil. Maybe need for a show of Cirque du Soleil a Ph.D. of an Art School to like it. With Cirque Dream I had with some sequences the I could just laugh and be amazed. Anyhow I decided for Las Vegas after GRAND PRINCESS in May 2018: as The Beatles Love of Cirque du Soleil will not run anymore and Celine Dion is also not present we will decide spontaneously what we would like to see - but no other show of Cirque du Soleil.

Dann kam die Show. Ich habe angesichts der späten Zeit nicht mehr die notwendige Aufmerksamkeit und Freude an der Show. Zwei Shows hintereinander - kein Abendessen wie im Yacht Club Restaurant - am nächsten Tag Ausschiffung sind nicht die besten Voraussetzungen um eine späte Show zu genießen. Und dann wieder die italienischen Maître, die sich nur um einen Verwandten eines Senior-Offiziers kümmern und mit Super Mega VIP-Service hofieren und alle anderen Gäste vollkommen egal sind. Irgendwie fand ich aber Cirque Dream auf der
NORWEGIAN GETAWAY 2017
doch irgendwie attraktiver. Ich habe mehr mit dem Namen Cirque du Soleil verbunden. Vielleicht brauche ich für die Show von Cirque du Soleil einen Doktor an einer Kunstakademie, um es gut zu finden. Bei Cirque Dream gab es einige Stellen, bei denen ich nur einfach lachen und staunen konnte. Auf jeden Fall habe ich mir für Las Vegas nach der GRAND PRINCESS im Mai 2018 vorgenommen: da die The Beatles Love Show von Cirque du Soleil nicht mehr läuft und Celine Dion auch nicht da ist, werden wir wohl spontan entscheiden was wir dort sehen wollen: aber keinesfalls eine andere Show von Cirque du Soleil.
Noch einmal geht es über die Promenade zurück. Das Thema der LED Projektion an der Decke passt sich ja an die Zielorte an. Hier finden auch so Veranstaltungen statt, wie bei Royal Caribbean auf der Royal Promenade. Die Deckengemälden gefallen mir gut... Nur sind wohl gerade keine Amerikaner in meiner Nähe, die sich darüber aufregen könnten... Sehr freizügig. Mir gefällt es. Ich bin gespannt, ob sich das ändert, wenn sie die Karibiksaison von Miami aus fährt. Noch einmal Gute Nacht von der
MEINER
MSC MERAVIGLIA.

One more time we need to return via the Promenade. The subject of the LED projection at the ceiling was influenced by the destination. Here they had also events like with Royal Caribbean on the Royal Promenade. I like the ceiling painting... No Americans around who could be upset... Very liberal. I liked it. Wondering if they change it during their Caribbean season out of Miami, FL. One more time Good Night from MY MSC MERAVIGLIA.
Die anderen Reisen in diesem Blog/
The other voyages in this blog: