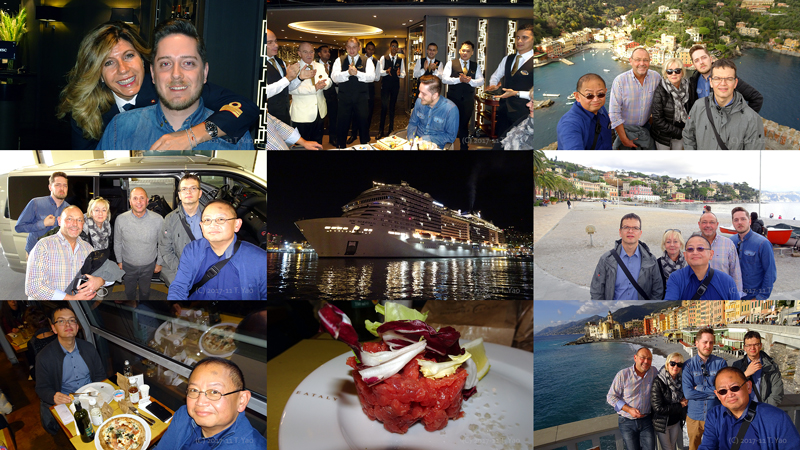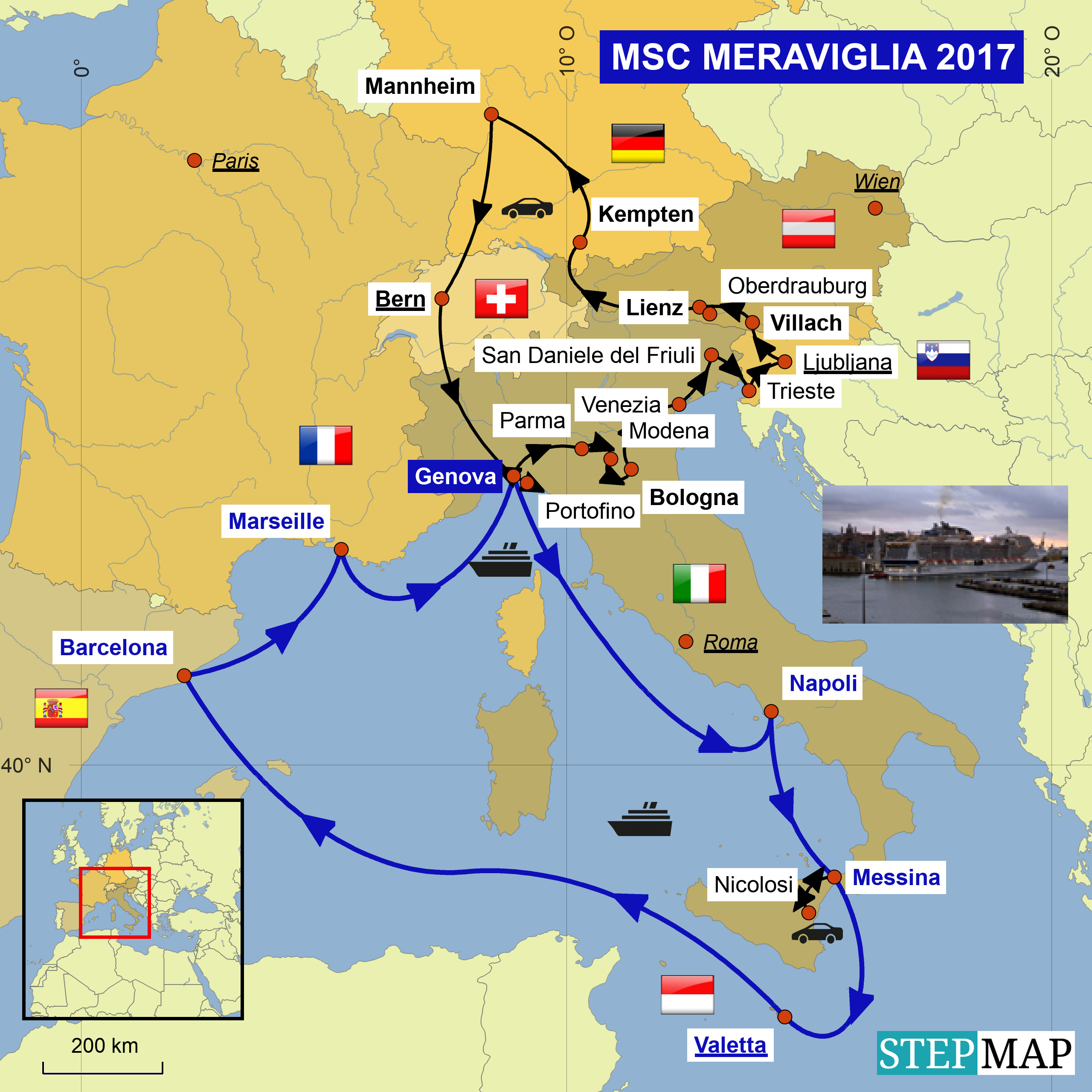 Der 30. Geburtstag von Christian ist eigentlich der Anlass für diese Kreuzfahrt. Da wir ausschiffen, feiern wir zum Frühstück. Dass MSC dann doch eher ein Containertransportunternehmen ist, merkt man daran, wie sehr Sonderwünsche, für die man bereit ist zu bezahlen, einfach ignoriert werden. Ich wollte für Christian keine Standardtorte, sondern eine Torte für einen echten Kreuzfahrer. Es muss ja nicht wieder die TIENDAM werden. Wir haben es beim Concierge erklärt, wir haben es beim Maître erklärt. Zufällig haben wir auch den Chef-Pattissier getroffen und ich habe ihn darauf angesprochen. Bei NCL hätte er jetzt seinen Notizblock herausgeholt und alles aufgeschrieben. Hier: gehen Sie zur Rezeption: hier wird man sich um Sie kümmern. Bei anderen geht es auch: Disney hatte mir eine HeinBloed-Torte zu meiner 75. Kreuzfahrt spendiert: siehe
DISNEY DREAM 2015
. Holland America hat sofort etwas für Sigi auf der
EURODAM 2014
arrangiert, als Sigi Geburtstag hatte. Auf der
NORWEGIAN JADE 2017
haben sie für Bruno sofort eine Torte gebacken, nachdem wir erklärt hatten, dass wir die Buttercreme-Torten nicht mögen und zuletzt auf der
NORWEGIAN GETAWAY 2017
haben sie innerhalb von einer Stunde etwas zu meiner 25. NCL-Kreuzfahrt gemacht. Mit gutem Willen und flüssiger Schokolade ist alles machbar. Nur hier gab es weder guten Willen noch flüssige Schokolade. Aber es gibt eine tolle Crew, die für Christian singt. Es gibt Maître Giuseppe, der noch irgendwo her doch eine Torte so früh bekommt. Es gibt Yacht Club Manager Rosalia, die ein Bild mit Christian macht, das jeden anderen Mann auf dem Schiff neidisch macht. Auf der
MSC FANTASIA 2009
hatten wir auch für eine Mitreisende eine Torte bestellt und bezahlt. Und da gab es ein italienisches Ritual, an das ich mich erinnere. Ich frage daher bei Giuseppe nach dem Ritual und ob es unter Jugendschutz fällt. Er weiß sofort, wovon ich spreche und handelt. Der perfekte Start für die Feierlichkeiten zum 30. Geburtstag - gleichzeitig die letzte Mahlzeit an Bord. Das Angebot länger zu bleiben, können wir leider nicht nutzen, da wir noch einiges für den Tag geplant haben. Deswegen haben wir es auch ein wenig eiliger mit dem Frühstück.

The 30th birthday of Christian was the original cause for this cruise. As we were disembarking, we had to celebrate when we had breakfast. That MSC was more a container shipping company you could easily feel how they ignored special requests even you wanted to pay for. I did not want a standard birthday cake for Christian but a cake for a true cruiser. No need to have TIENDAM again. We tried to explain it to the Concierge, we tried to explain it with the Maître. By coincidence, we met the Chief Patissier and I asked him for. With NCL he would get out his notepad and write everything in. Here: Go to the front desk: here they will take care of you. With others it worked properly: Disney gave me a HeinBloed-cake for my 75th cruise: see DISNEY DREAM 2015. Holland America arranged immediately something for Sigi on EURODAM 2014 when they learned that Sigi had birthday. On NORWEGIAN JADE 2017 they prepared a cake immediately after we told them that we did not like buttercream based cakes and recently on NORWEGIAN GETAWAY 2017 they did something within one hour as I had my 25th cruise with NCL. With some good intention some liquid chocolate, everything can be handled. But here they had neither the good intention nor liquid chocolate. But we had a great crew who was singing for Christian. We had Maître Giuseppe who get somehow somewhere from a cake so early. We had Yacht Club Manager Rosalia who did a picture with Christian that every other man on the ship must become jealous. On MSC FANTASIA 2009 we also ordered a fellow-cruiser and paid for. And they had an Italian ritual which I remembered. So I asked Giuseppe for the ritual and of there would be a rule regarding youth protection. He knew immediately what I was talking about and dealt. The perfect start for the celebration for the 30th birthday - and our last meal onboard. We could not use the offer to stay longer unfortunately since we planned a few items for the day. So we were a little hurry with the breakfast.

The final statement came. I reported voluntary that something was missing on the bill and I did not like a later charge. We got a credit for Cirque du Soleil, but we went there the last night.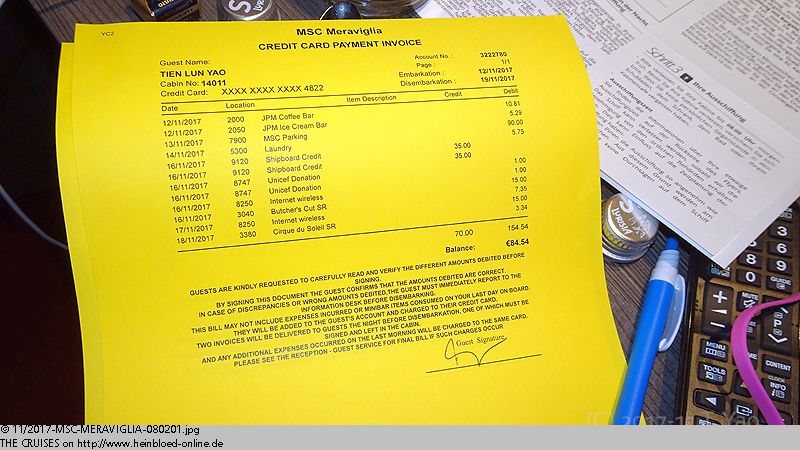 Die Schlussrechnung kommt. Ich melde mich freiwillig, dass noch etwas auf der Rechnung fehlt und weil ich keine Lust auf eine Nachbelastung habe. Wir haben ja schon Cirque du Soleil wieder gutgeschrieben bekommen und waren gestern ja doch da.
Die neue Abrechnung kommt und somit findet sich auch die Torte auf der Rechnung. Ist o.k. - ich hätte ja sogar mehr bezahlt, wenn sie sich darauf eingelassen hätte eine echte Kreuzfahrertorte zu machen. Dass sie nicht mal Schablonen haben, um ein MSC Logo oder ein Schiff darauf zu machen wundert mich ja schon sehr. Hätte ich das gewusst, hätte ich beim Chocolatier gefragt, ob er nicht hätte die Schablonen für die Schokoladenschiffe dem Patissier ausgeliehen hätte, oder wir hätten unsere Schokoladenschiffe kurzerhand auf die Torte gesetzt.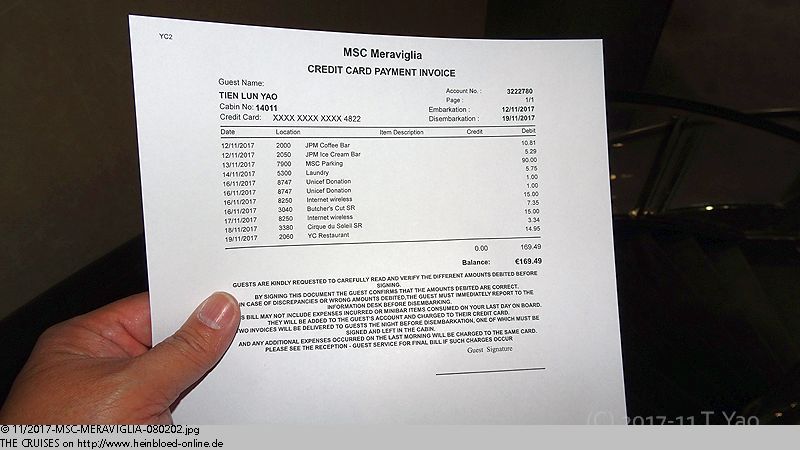 The new statement came and so I found also the cake on the bill. It was o.k. - I would pay more if they accepted my request to have a cake for cruise lover. I was surprised that they had no pattern to create an MSC logo or a ship on the cake. I should know it earlier, and we could ask the Chocolatier if he could not let the Patissier his pattern of the chocolate ships or we could have placed our chocolate ships on the cake at short notice.

Now it was time to say goodbye.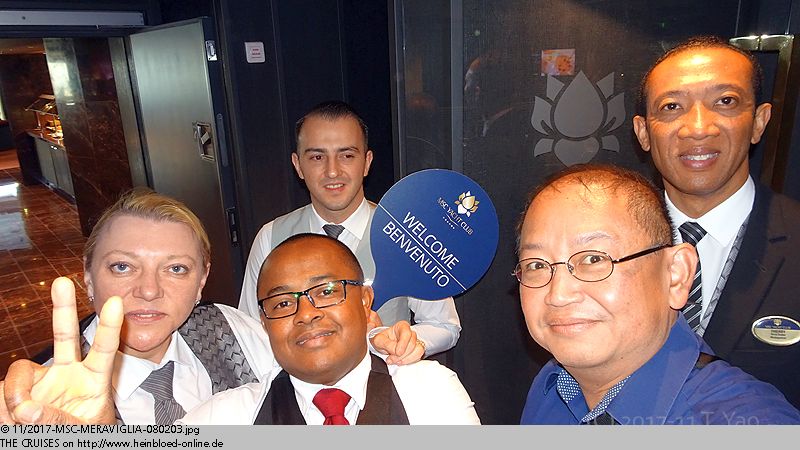 Nun heißt Zeit Abschied zu nehmen.
Übrigens der Service von Anzhela endet nicht nur an der Schiffsrailing, wie wir ja in Valletta festgestellt haben oder nach unserer Ausschiffung, sondern ging auch über die Kreuzfahrt hinaus. Wir hatten ja anlässlich der Black Party einen Gutschein für Bilder bekommen. Irgendwie haben wir es nie geschafft sie abzuholen und nach dem wir das Schiff verlassen, fiel es uns ein. Wir haben Anzhela gefragt und sie hat sie uns beschafft und dann Sylvia und Gunnar mitgegeben, die sie uns weitergeleitet haben. Ich pflege ja immer zu sagen: jemand ist eine Extrameile gelaufen und andere wiederum einen Extra Marathon. Da müsste ich jetzt sagen, dass Anzhela sogar einen Extra Iron (Wo)man für uns geschwommen, geradelt und gelaufen ist.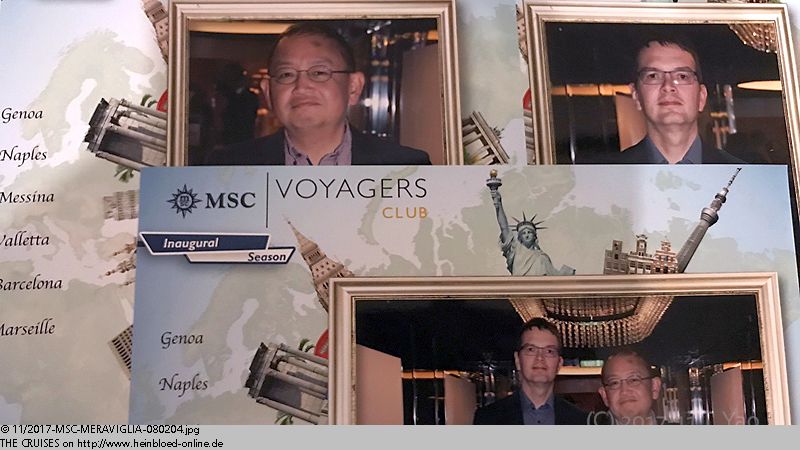 By the way Anzhela's service did not end at the ship's railing like we learned before in Valletta, Malta or after our debarkation but went beyond our cruise. We got vouchers when we had the Black Party for pictures. Somehow we never made it collect them, and after we left the ship, we remembered. We asked Anzhela, and she arranged the images for us and handed it over to Sylvia and Gunnar who forwarded them to us. I used to say: someone walked an extra mile for, and other walked an extra marathon. Here I need to say that she did for us an excess Iron (Wo)man: so she swam, she cycled and she ran for us.

Our hand baggage.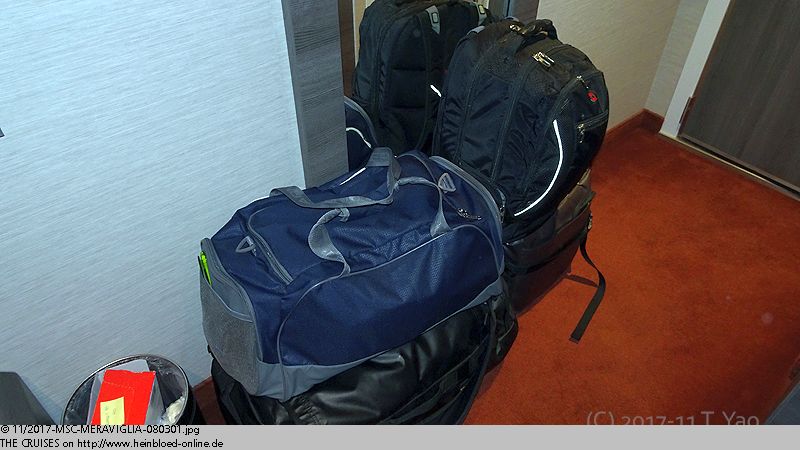 Unser Handgepäck.
Doch ein bisschen mehr. Gäste, die nach uns unsere Kabine bezogen haben: Ihr könnt beruhigt sein: wir haben nichts mitgenommen. Irgendwo müssten aber unter dem Bett noch zwei Flaschen Champagner sein, die wir vergessen haben...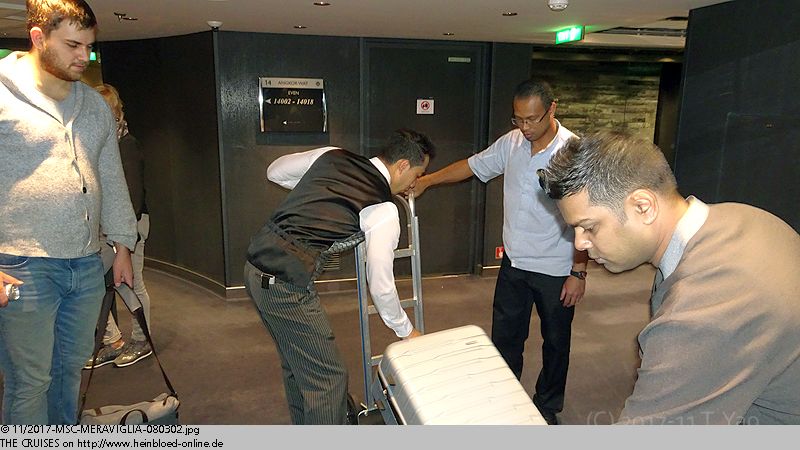 It was a little more. Guests who occupied after us the cabin: you could calm down: we did not take anything with us. But somewhere there should be two bottles of champagne under the bed which we forgot...

At short-notice, Alivonona Rason was asked to join with his hand truck.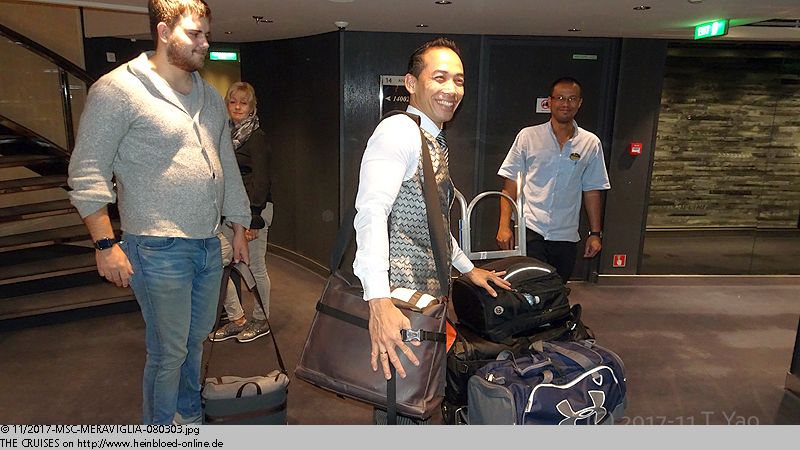 Kurzerhand wird noch Alivonona Rason geholt, der mit einem Sackkarren kommt.
Man hat uns an Bord begleitet und man begleitet uns auch wieder runter.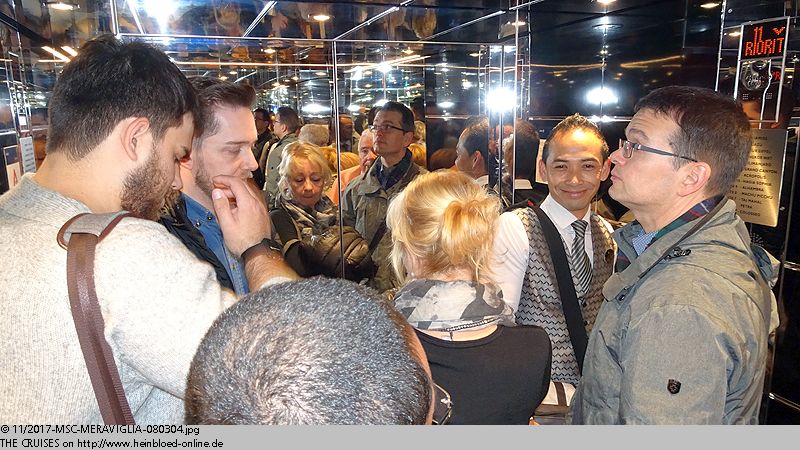 They escorted us on the ship and they escorted us off the ship.

We were a little-surprised to have a 2nd man with the hand truck, but the service did not end at the baggage claim but exceeded much further. I would have expected that they would put everything on a baggage trolley and handed this to us.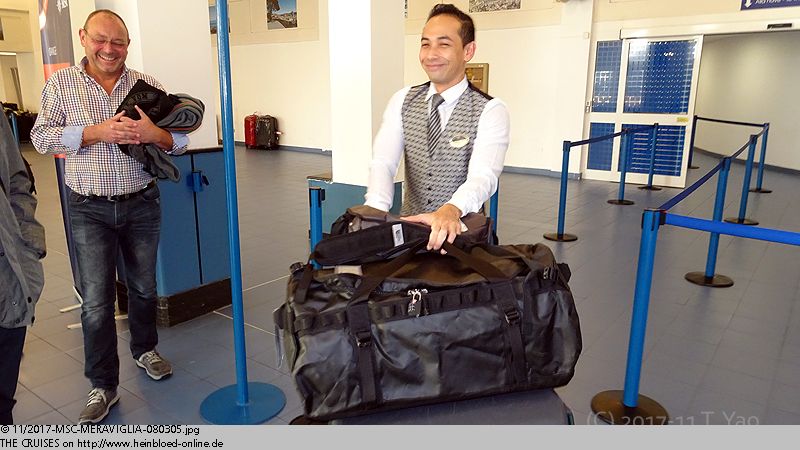 Wir hatten uns etwas über den 2. Mann mit dem Sackkarren gewundert, aber der Service endet nicht an der Gepäckausgabe, sondern geht weit darüber hinaus. Ich hätte jetzt erwartet, dass nach dem alles auf einem Gepäckwagen ist, dass wir den übergeben bekommen.
Aber Adi weicht uns nicht von der Seite. Er sagt, dass er helfen will unser Gepäck in den Wagen zu verstauen, aber das will ich nicht, weil ich Logistiker bin und geschult in Ladungssicherung. Ich kenne unsere kommende Route und das Gepäck ist so verteilt, dass wir nicht an jedem Ort alles rausholen müssen. So stellen sie dann das Gepäck vor unser Auto ab. Ein toller Service, wie wir ihn noch nie erlebt haben (nur Shenny hat das mal nach der
NORWEGIAN GETAWAY 2017
gemacht,... aber das war der Wagen viel zu nah am Kreuzfahrtterminal...). Deswegen Adi und Alivonona sind dann die letzten beiden, von denen wir uns verabschieden. Ich hoffe, dass ich sie mal wiedertreffe.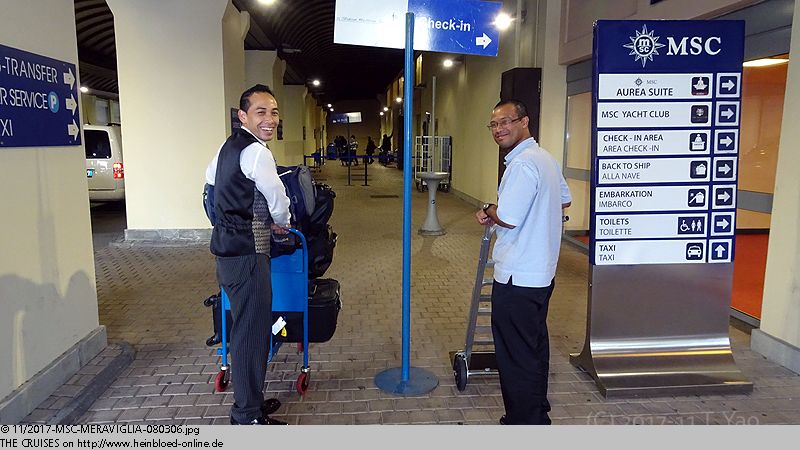 But Adi did not step away. He said that he would like to help us to stow our bags into the car, but that was nothing I wanted because I am a Logistics man and well trained in securing the load. I knew our tour, and the baggage was separated that we did not need to get everything off at every place. So they placed the bags in front of our car. A great service we never experienced before (only Shenny did it once after NORWEGIAN GETAWAY 2017... but unfortunately the car was too close to the terminal...). So it was Adi and Alivonona the last two we had to say good-bye. I really hoped to meet them again.

Against presentation of the stamped receipt, I got my car keys immediately back. It always went brilliantly in Genoa, Italy. So sad that they did not remove the scratches which I already had on my car when I handed it to them a week before...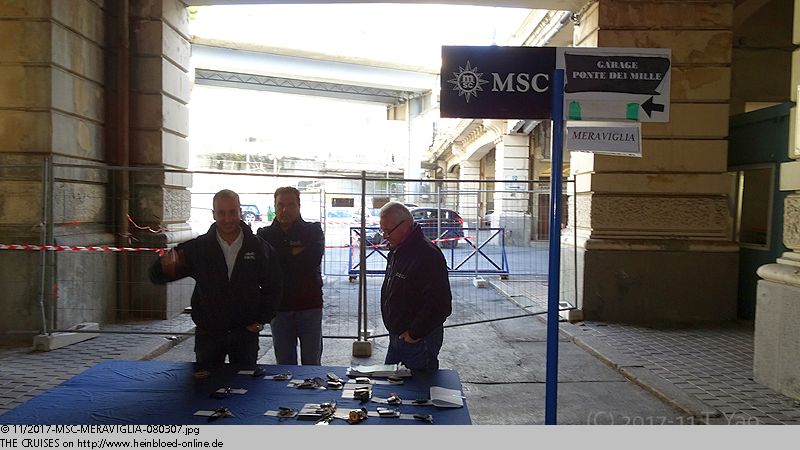 Gegen Vorlage der abgestempelten Quittung bekomme ich sofort meine Autoschlüssel. Das läuft wirklich absolut super in Genua. Schade, dass sie die Kratzer nicht noch weggemacht hatten, mit denen ich vor einer Woche vorgefahren bin und denen übergeben habe...
Ein letzter Blick auf
MEINE
MSC MERAVIGLIA.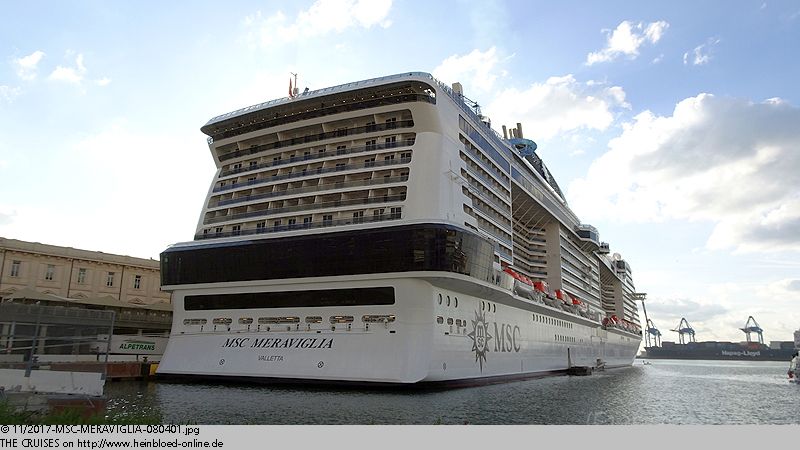 A last time watching over to MY MSC MERAVIGLIA.

And once for birthday with HIS MSC MERAVIGLIA.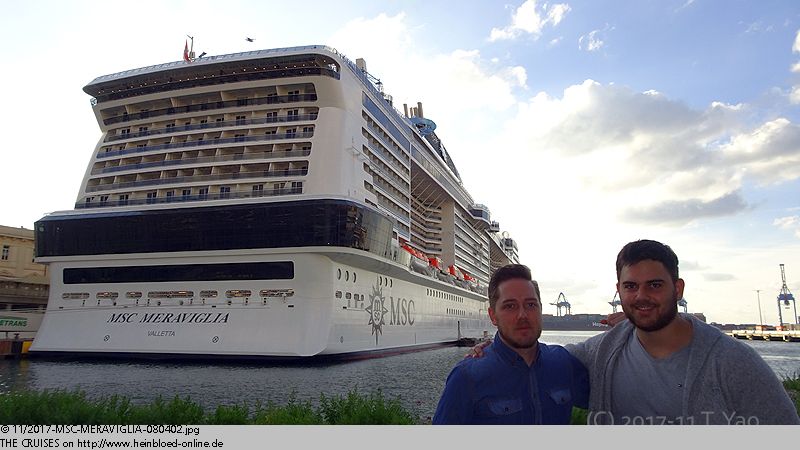 Und einmal zum Geburtstag mit
SEINER
MSC MERAVIGLIA.
Wir werden hier erwartet. Da wir ja nicht alle in mein Auto passen, haben wir einen Limousinendienst bestellt. In Italien nennt man diese Dienste "NCC" (noleggio con conducente).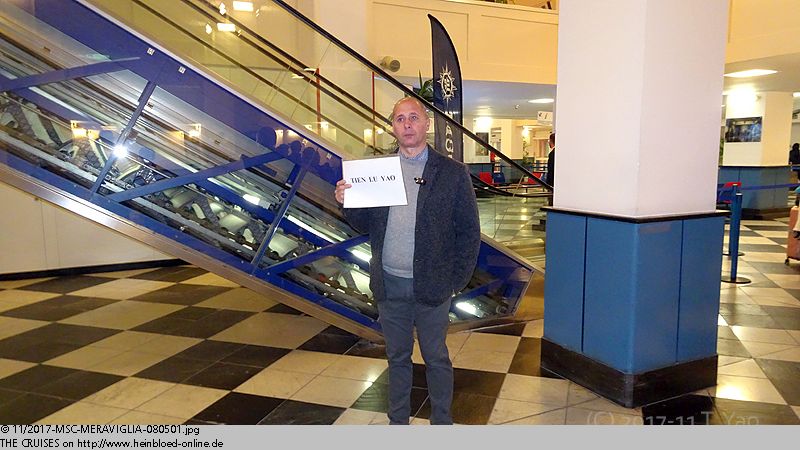 We were expected here. As we would not fit all together in one car, we ordered a limousine service. In Italy, it is called "NCC" (noleggio con conducente).

Actually we booked with Davide of Gran Turismo in Savona whom we knew from our voyage on MSC PREZIOSA 2013. Unfortunately he had a family commitment at short notice and could not come by himself.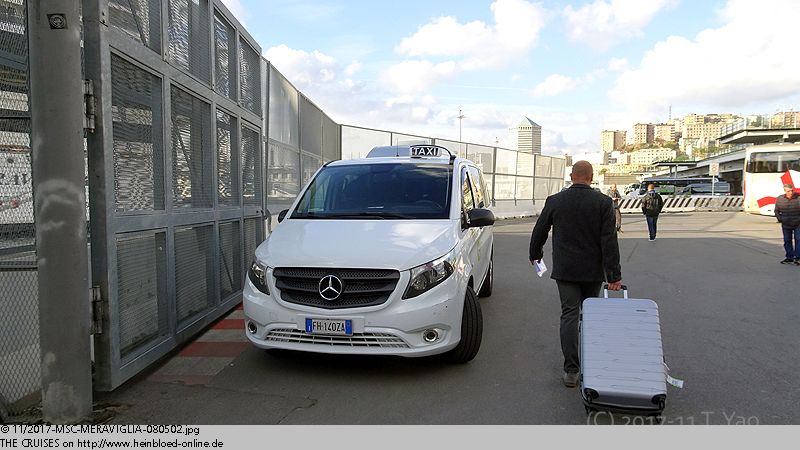 Eigentlich haben wir bei
Davide von Gran Turismo in Savona
bestellt, den wir von unserer Reise auf der
MSC PREZIOSA 2013
kennen. Leider hatte er kurzfristig eine familiäre Verpflichtung und konnte nicht selbst kommen.
Er besorgt uns aber
Andrea Boccardo
, der die Tour übernommen hat und praktischerweise aus Genua kommt.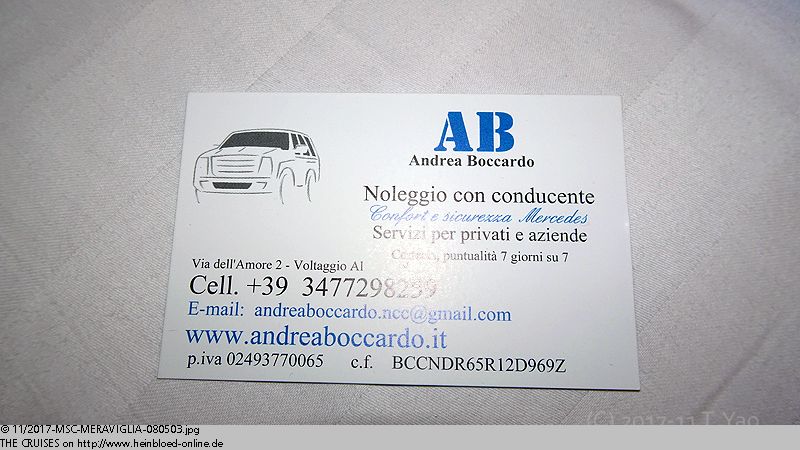 He arranged for us Andrea Boccardo to come and taking over the tour and practically he was from Genoa itself.

On NAVIGATOR OF THE SEAS 2008 we had once a great dinner in Portofino (unfornately not existing anymore). On OCEAN PRINCESS 2010 we should have a call here. But someone in Valencia, CA slept in the Corporate Office of Princess.
So we need to alter the itinerary because they need to include a Non-EU port. So we caught up that day Portofino. Wonderful. Somehow Sophia Loren and Marcello Mastroianni were missing while they would walk in the rows of houses.

Im Portofino auf der
NAVIGATOR OF THE SEAS 2008
haben wir super gegessen (gibt es heute nicht mehr). Portofino war auf der
OCEAN PRINCESS 2010
geplant. Aber da hat jemand in Valencia, Kalifornien in der Princess-Zentrale geschlafen. Leider musste umgeroutet werden, weil ein Nicht-EU-Hafen unbedingt aufgenommen werden musste. So holen wir heute Portofino nach. Wunderschön. Eigentlich fehlen irgendwie Sophia Loren und Marcello Mastroianni, die hier zwischen den Häuserzeilen spazieren gehen sollten.
Unser Tom Tom ist im Auto in Genua im Hotel. Tien Tien hatte kein Lust. So nutzen wir Bruno Bruno, um den Weg zur Kirche zu finden. Stattdessen ging es zur Burg
Castello Brown
hinauf. Der Weg ist etwas beschwerlich, aber doch jeden Schritt und Atemzug Wert! Was für ein Ausblick! Einfach ein meraviglia!!! Einfach ein Wunder!!!

Our TomTom was in my car in Genoa in the hotel. Tien Tien did not like to guide. So we used Bruno Bruno to find the way to the church. Instead we found us back on the way up to the castle Castello Brown. The way was a little onerous, but it was worth each step and each breath! What for a panorama! Just a meraviglia!!! Just a wonder!!!

Back Bruno Bruno worked much better: we passed the church San Giorgio and also a way which was easier to walk. The narrow street having two busses crossing reminded a little to the Amalfi-Coast we went then on OCEAN PRINCESS 2010 and NORWEGIAN JADE 2011. But there were no cliffs here around.

Zurück funktioniert Bruno Bruno besser: wir haben die Kirche San Giorgio gefunden und auch einen Weg, der einfacher zu begehen ist. Die enge Straße mit der Kreuzung zweier Busse zurück erinnert ein wenig an die Amalfiküste, die wir damals mit der
OCEAN PRINCESS 2010
und
NORWEGIAN JADE 2011
besucht hatten, nur fehlt hier eine Steilküste.
Es geht weiter nach Santa Margherite Ligure. Hier hätten wir damals mit der
OCEAN PRINCESS 2010
ankern sollen. Das wäre total klasse gewesen. Nur wenige Kilometer mit Bus oder Boot von Portofino entfernt. Heute holen wir den Besuch nach. Wir haben damals wirklich etwas verpasst: ich finde es schöner als damals in Karthago, Tunesien. Kommt nun Regen oder nicht?

We headed to Santa Margherita Ligure. Here we should anchored on OCEAN PRINCESS 2010. That would be totally great. Only a few miles away by bus or boat from Portofino. That day we caught up our visit. We really missed something here: I liked it more than Carthage, Tunisia. Should we have rain or not?

We went to have a quick bite in a cheap family restaurant for lunch. Here we found many Italian families were eating after visiting the service.
It did not look like fast food or convenience. The prices were meager. It was like described in TripAdvisor, and it met the Italian taste entirely: Da Pezzi. Lasagne not in single casseroles from the noble Italian restaurant but from baking sheet like an Italian Mamma would do it for the grande famiglia.

Wir gehen schnell eine Kleinigkeit in einem günstigen Familienrestaurant zu Mittagessen. Hier sind viele italienische Familien, die nach dem Kirchgang hier essen. Es sieht nicht nach Fast Food oder Convenience aus. Die Preise sind günstig. Entspricht der Beschreibung von TripAdvisor und trifft voll den italienischen Geschmack:
Da Pezzi
. Lasagne eben nicht vom Edel-Italiener in kleinen Auflaufformen sondern eben mehr vom großen Blech wie eine italienische Mamma es für die grande famiglia macht.
Danach geht es zu einem Espresso um die Ecke bei der Konditorei
Arte Dolce
. Da wir satt sind, bleibt es bei einer Duft- und Farbtherapie. Die Aromatherapie für den Gaumen entfällt leider.

Then we went around for an espresso in the Patisserie Arte Dolce. As we were full we only had smell and color therapy. No aroma therapy for the pallet.

Originally I suggested to head on to Cinque Terre. We knew it from our voyages on MSC FANTASIA 2009 and OCEAN PRINCESS 2010. But Davide told us that we could not be right on time back for the set sail of MSC MERAVIGLIA. Bruno and I would not care since we would stay overnight in Genoa. So he suggested us to see Camogli and that place reminded a little to Cinque Terre and Amalfi-Coast. It was so warm that some people were having a sunbath at the rocky beach or went into the sea. Maybe we will call La Spezia in the future. From there it is most simple to go to Cinque Terre.

Nun hatte ich eigentlich vorgeschlagen weiter nach Cinque Terre zu fahren. Wir kennen es von unserer Reise auf der
MSC FANTASIA 2009
und
OCEAN PRINCESS 2010
. Aber Davide hat uns gesagt, dass wir dann nicht rechtzeitig bis zur Abfahrt der MSC MERAVIGLIA zurück sein könnten. Bruno und mir hätte es ja egal sein können, da wir ja eh in Genua übernachten. So hat er uns vorgeschlagen noch nach Camogli zu fahren. Und so erinnert der Ort ein wenig an Cinque Terre und Amalfiküste. Es ist so warm, dass sogar noch Leute sich am Steinstrand sonnen und ins Meer gehen. Vielleicht laufen wir mal La Spezia an. Von dort ist es einfach nach Cinque Terre zu kommen.
Ein Schild mit Granite - da muss ich hin!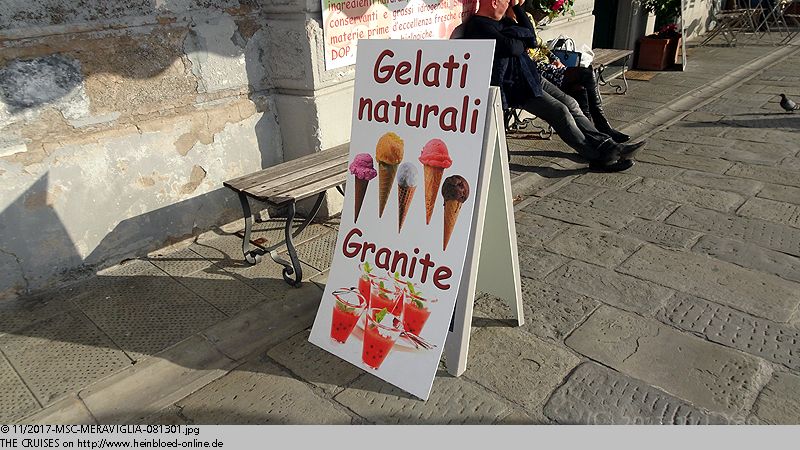 A sign with Granite - I need to go!

We went quickly into Gelato & Dintorni.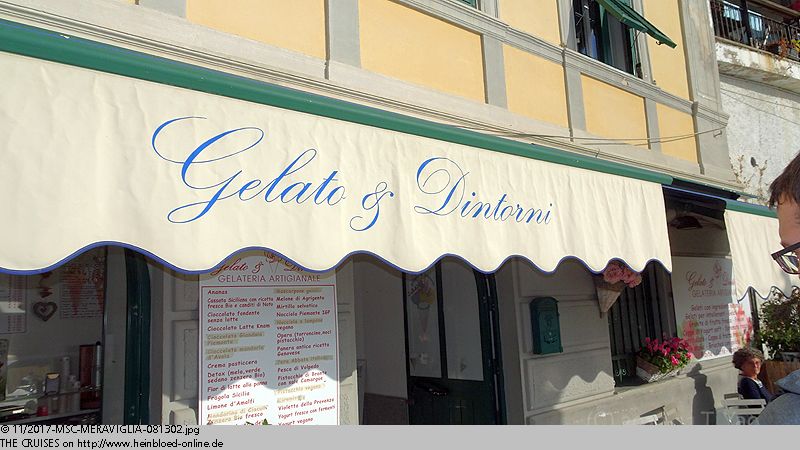 Wir gehen kurz bei
Gelato & Dintorni
rein.
Leider gibt es kein Granite mehr im November. Sie versichern uns aber, dass aus den gleichen Zutaten wie das Eis auch Granite gemacht wird und nur die Konsistenz anders sei. So nehmen wir kurzerhand eben Eis.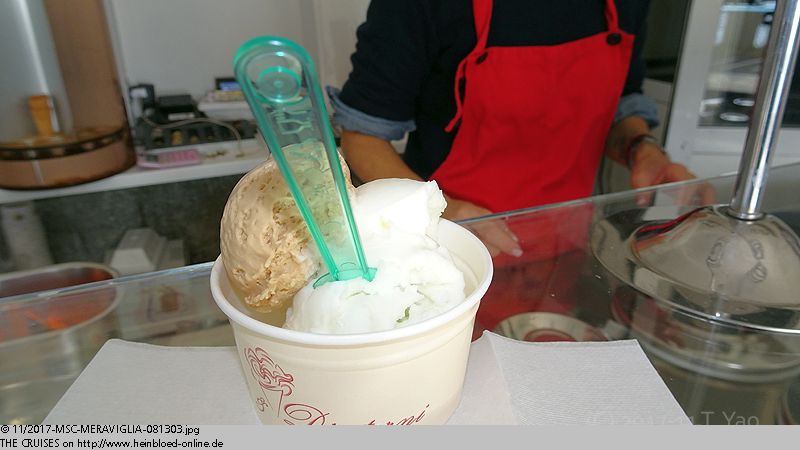 Unfortunately they had no more Granite in November But they secured us that they would use the same ingredients for Granite as for ice cream and only the consistency would be different. So we took ice cream curtly instead.

We used the last sunshine of the day to sit in front of the ice parlor.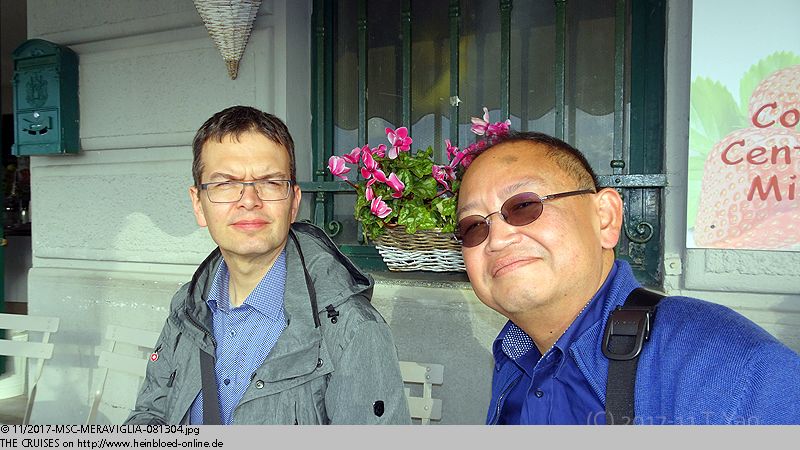 Wir nutzen die letzten Sonnenstrahlen des Tages, um uns vor Eisdiele Platz zu nehmen.
Und hier genießen wir das leckere Eis.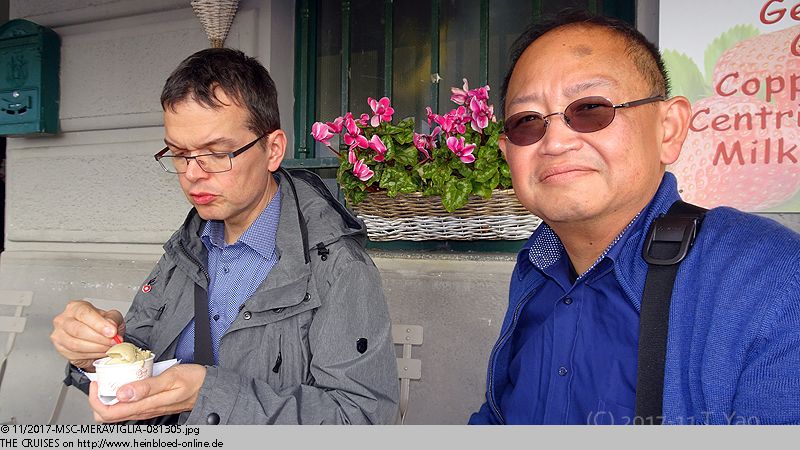 And here we enjoyed the yummy ice cream.

Back to the cruise terminal in Genua. Someone placed here a waste bin of the German Railways here...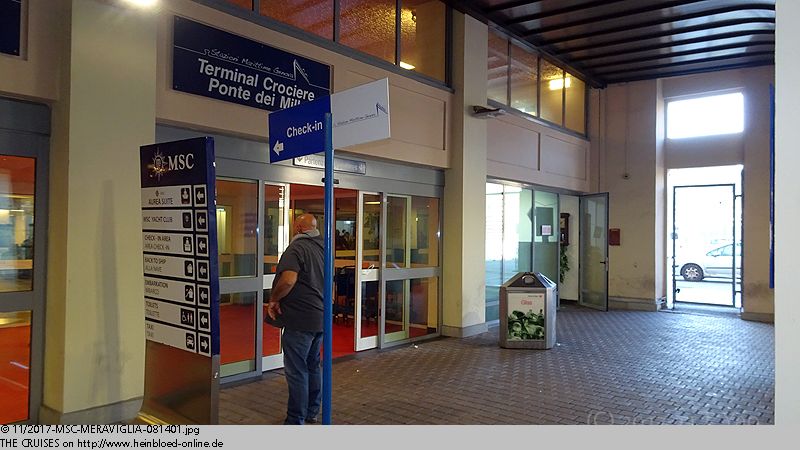 Zurück zum Kreuzfahrterminal in Genua. Jemand hat einen Abfalleimer von der Deutschen Bahn hier platziert...
Wir bedanken uns bei Andrea für die schöne Tour. Er fährt uns noch zum Hotel zurück, da er heute Morgen auch geholfen hat, mein Auto schon mal zum Hotel zu bringen und mich dort abzuholen.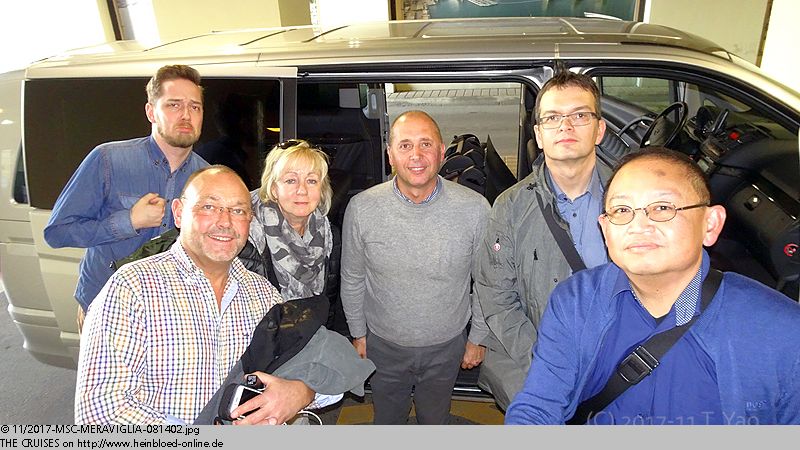 We thanked a lot for Andrea's great tour. He took us back to the hotel, and he helped me to my car to the hotel and to pick me up.

It was time to say goodbye to Sylvia, Gunnar, and Christian. I was totally jealous... They were going now on the new itinerary via Civitavecchia and Palermo, Sicily but Naples and Messina, Sicily. At this time we need to thank again Dorothy of Cruise Brothers who made all arrangements. And as already said: we had no enough cabins from one port. And 2 for 1 was not available anymore for the next round.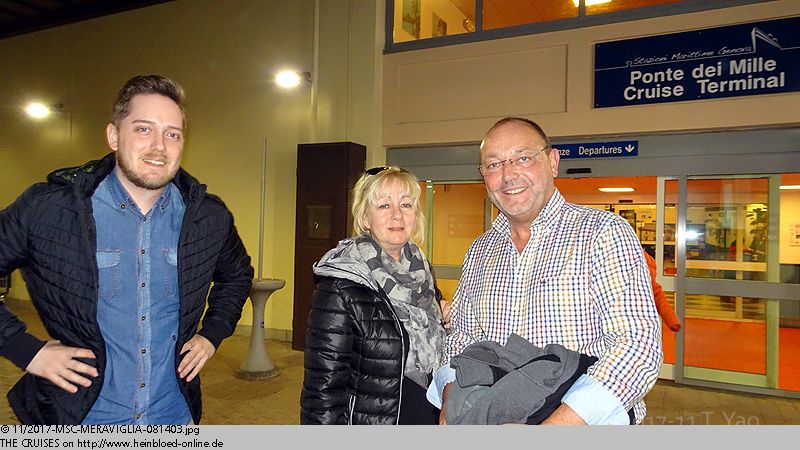 Auch heißt es dann Zeit sich von Sylvia, Gunnar und Christian zu verabschieden. Ich beneide sie... Sie fahren jetzt die neue Runde über Civitavecchia und Palermo statt Neapel und Messina. An dieser Stelle müssen wir uns auch mal bei
Dorothy von Cruise Brothers
bedanken, die das alles für uns arrangiert hat. Wie gesagt: es gab nicht genügend Kabinen von einem Hafen. Und das 2 für 1-Angebot gab es dann auch nicht mehr für die nächste Runde.
Da morgen kein Kreuzfahrtschiff mehr reinkommt, überlasse ich dem
Hotel Holiday Inn
die Wahl meines Zimmers. Eine nette Juniorsuite als Upgrade für gute Stammkunden der Kette. Und extra für mich ein Bild der QUEEN MARY 2 in der Lobby. So fühle ich mich als Kreuzfahrer willkommen.

As the next day there would be no cruise ship would enter I let the selection of room to our hotel Hotel Holiday Inn. For loyal customers, we got a nice upgrade to a junior suite. And just for me a picture of QUEEN MARY 2 in the lobby. So as a cruiser I felt perfectly well welcomed.

Time to say Good-Bye - Con te partiró - Ciao MSC MERAVIGLIA. Ciao Christian. Ciao Sylvia. Ciao Gunnar. We caught them on the picture. Even it was not easy to identify. Next to the cleaning device on Deck 17.

Time to say Good-Bye - Con te partiró - Ciao MSC MERAVIGLIA. Ciao Christian. Ciao Sylvia. Ciao Gunnar. Wir haben sie wohl auf dem Bild drauf. Auch wenn man sie kaum erkennt. Neben der Waschanlage auf Deck 17.
Wir sind übrigens im
Porto Antico
neben dem Riesenrad, um uns von
MEINER
MSC MERAVIGLIA zu verabschieden und zu fotografieren. Hier sind viele Restaurants.

By the way we were at Porto Antico neext to the giant wheel to say good-by to MY MSC MERAVIGLIA and to take pictures. Here you find many restaurants.

On our way back we passed EATALY. Actually it was a great deli store.

Auf dem Weg zurück laufen wir bei
EATALY
vorbei. Es ist eigentlich ein toller Feinkostladen.
Man kann aber auch im angeschlossenen Restaurant essen. Zur Öffnung ab 19:00 Uhr füllt sich das Restaurant schlagartig. Bis dahin gibt es nur an der Theke Pasta und Pizza. Etwas ungewohnt: man muss im Voraus bezahlen. Daher ist der Service auch nicht der Beste, als meine Pizza nicht kommt und mehrmals reklamiert werden muss. Mein Geld haben sie ja schon. Das Mineralwasser kommt uns bekannt vor. Das Tartar ist himmlisch. Die Pizza ist auch gut, auch wenn sie sehr spät kommt. Ich liebe ja die weiße Pizza ohne Tomaten.

You could eat in the attached restaurant. The restaurant filled up very quickly after 19:00 hrs right after opening. A little unused: you need to pay in advance. So the service was not the best when my pizza did not come, and you had to claim multiple times. They had already my money. The mineral water looked familiar to us. The tartare was heavenly. The pizza was delicious too even it came very late. I love white pizza without tomatoes.

At the coffee bar, we had one more expresso. They would have fresh juices too.

An der Kaffeebar nehmen wir noch einen Espresso zu uns. Saft gäbe es auch noch.
Wir können direkt mit der
U-Bahn
zurück zum Hotel fahren. Wir können nicht allzuviel falsch machen. Es gibt nur eine Linie. Ein Problem haben wir doch: alle Fahrkartenautomaten am Bahnhof San Giorgio funktionieren nicht und der Bahnhof ist nicht besetzt. Wir steigen bei Dinegro aus. Auch dort ist niemand da, der uns Fahrkarten am Ausgang verkaufen könnte. Wir haben es zumindest versucht! So laufen wir die letzten Meter zum Hotel zurück. Die Kreuzfahrt ist nun zu Ende. Die Reise noch nicht und es gibt noch ein paar Schiffe in den nächsten Tagen zu sehen. Und jede Menge leckerer Sachen.

We could get back to our hotel directly by Metro. There was not too much to make wrong. They had only one route. But we had one problem: all ticket machines at the station were not working, and the station was unattended. We get off at Dinegro. But there was nobody either to sell us tickets at the exit. At least we tried it! So we walked the last yards back to the hotel. The cruise came to an end. But not the voyage and few more ships to see. And a lot of good food.
Die anderen Reisen in diesem Blog/
The other voyages in this blog: