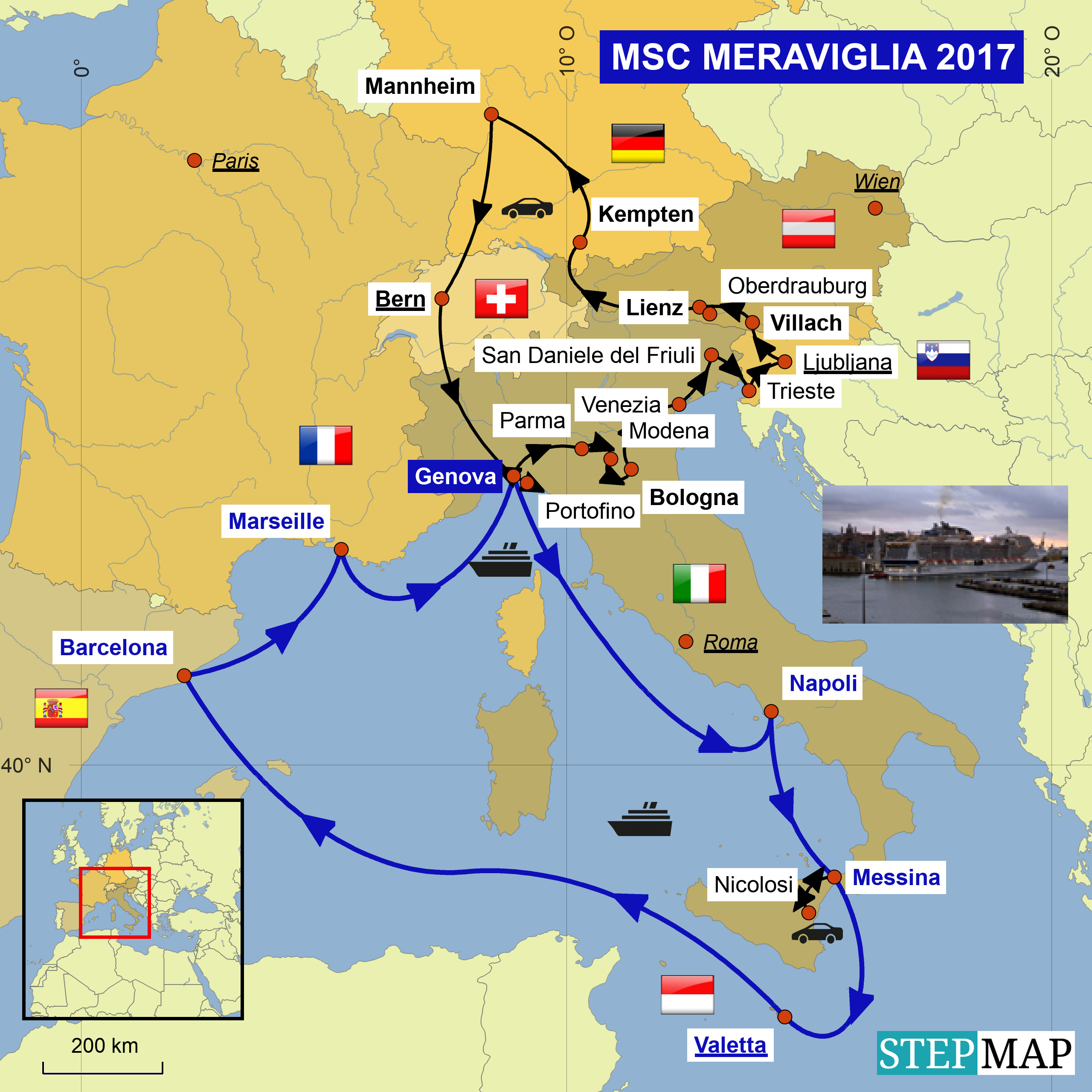 MSC - eigentlich hatten wir darauf keine Lust mehr. Als ich jedoch auf ein US-Angebot aufmerksam gemacht wurde, dass es "2 für 1" im Yacht Club in einer Innenkabine gibt, hatte ich mir das Angebot schnell angeguckt. Wir sind ja nicht so die Freunde von Innenkabinen, aber nach der Reise auf
DIAMOND PRINCESS 2016
, möchte ich das nicht um jeden Preis in eine Außen- oder Balkonkabine. Wir hatten auch in einer Innenkabine eine gute Zeit. Also warum nicht auch hier. Die Berichte in der Presse und die Inklusivleistungen für Yacht Club-Gäste und Black Members (aufgrund des
Status Match
) sind sehr vielversprechend. Für wäre eine Schande, es nicht zu probieren. Innerhalb von wenigen Tagen bleibt auch nur noch eine Reise am 12.11.2017 ab Genua übrig. Genua ist praktisch ab Deutschland/Schweiz mit dem Auto zu erreichen. Kurz nach unserer Buchung ist aber auch hier auch schon die Kategorie ausgebucht. Da jeder Hafen Ein- und Ausstiegshafen ist, muss man ggfls. in den anderen Abgangshäfen es probieren. 3 x Marseille oder 2 x Barcelona geht nicht mehr. Also bleibt es bei Genua am 12.11.2017. Bei der nächsten Runde am 19.11.2017 gibt es kein "2 für 1" mehr.

MSC - originally we did not like to go anymore. But when my attention was attracted to an US-offer for a "2 for 1" in the Yacht Club in an inside stateroom, I checked the offer carefully. We were not so many friends of the inside staterooms but after the voyage on DIAMOND PRINCESS 2016 there was no need to into an oceanview or balcony cabin for any price. We had a good time in an inside stateroom too. So why not here as well. The reports in the press and the service which were included for Yacht Club-guests and Black Members (due to Status Match) were all very promising. For us, it would be a shame not to try it. During few days only one sailing on November 12, 2017, from Genoa, Italy was left. Genoa was easy to reach from Germany/Switzerland by car. Shortly after we booked, the category was sold out. As each of the ports of call was embarking and debarking port, you need to try it in a different port. 3 times out of Marseille, France or 2 times out of Barcelona, Spain were not possible anymore. So we stayed with November 12, 2017, out of Genoa. For the next round no "2 for 1" was offered anymore.

Our voyage started in Bern, Switzerland.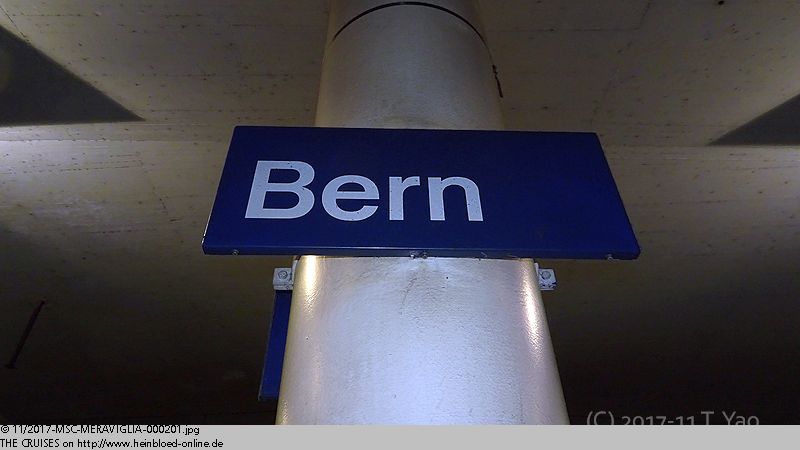 Unsere Reise beginnt in Bern.
Bruno kommt aus Deutschland hierher.

Bruno came here out of Germany.

His train arrived.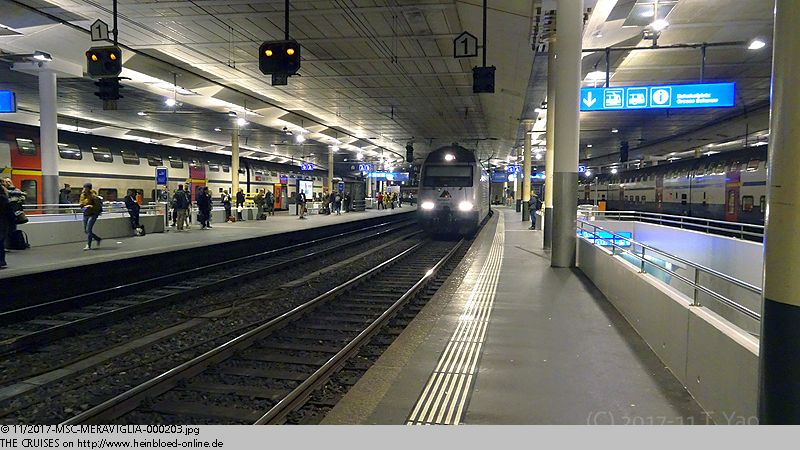 Sein Zug trifft ein.
Wir nutzen immer die Gelegenheit, um Freundschaften zu pflegen. Von der
NORWEGIAN PEARL 2007
kennen wir Reto. Dort treffen wir uns im Restaurant
Lötschberg
. Ein echt tolles schweizerisches Restaurant mit sehr viel jungem Publikum. Wir sind vermutlich die ältesten. Richtig lecker. Ich probiere mich an einem tollen Rösti aus. Dabei fällt mir auf: wir fahren später ja gar nicht über den sog. Rösti-Graben (Trennlinie deutschsprachige und französischsprachige Schweiz).

We always used the chances to maintin our friendships. From NORWEGIAN PEARL 2007 we knew Reto. Here we met him at the Lötschberg-Restaurant. A great true Swiss restaurant with a lot of young guests. We assumed that we were the oldest. Really yummy. I tried a great Rösti (Swiss potato dish - like hash browns). But I noticed later we did not cross the Rösti-moat (seperation line between the German speaking and French speaking part of Switzerland).

We went back to the hotel by the BLS Commuter Train (S-Bahn).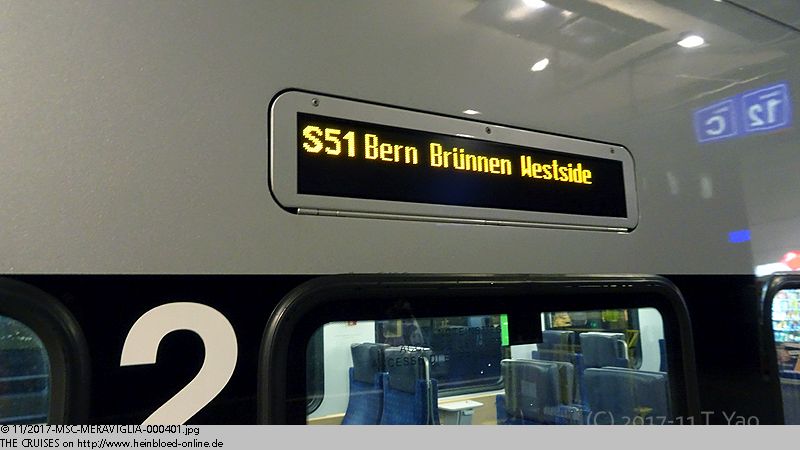 Mit der
S-Bahn der BLS
geht es zurück ins Hotel.
Sehr schön, aber wie spricht man es ggfls aus?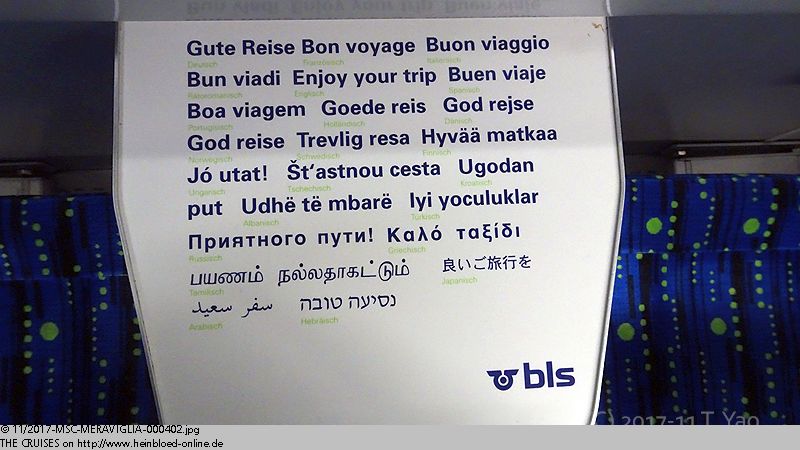 Very nice but how should you pronounce it eventually?

A charming commuter train. Especially in the 1st class.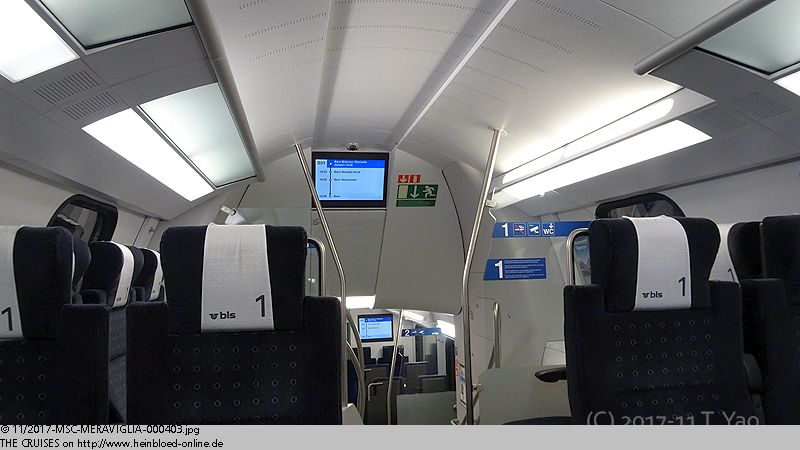 Eine echt schöne S-Bahn. Speziell in der 1. Klasse.
Ich genieße es damit zu fahren, da die Nutzung im Preis des Zimmers inkludiert ist.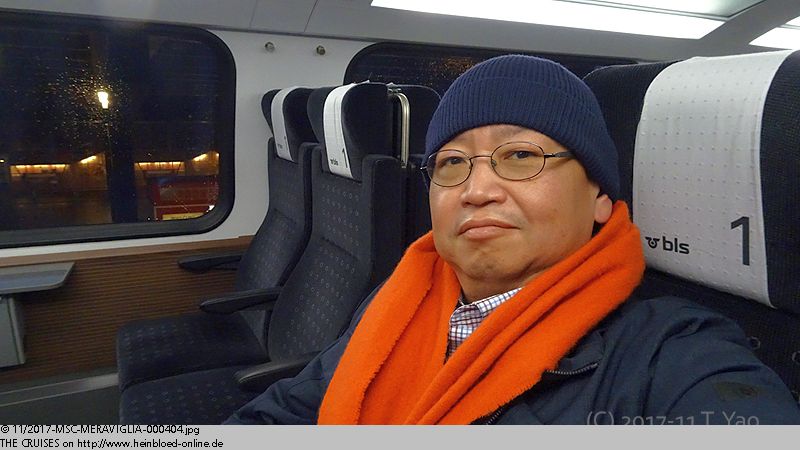 In enjoyed the ride since the use was included in the hotel rate.

Our hotel: Holiday Inn Bern Westside. Part of Westside Shopping Centers with excellent access by public transport. Just in front of the hotel, the trams and commuter trains started. But that also had some disadvantages: in the night you did not count the sheep to sleep in but freight trains in transit. Only with the garage, I was nearly sure: there must be hotel guests who never made it to the hotel on the way from the parking to the front desk and got lost in the labyrinth of the parking.

Unser Hotel:
Holiday Inn Bern Westside
. Teil des
Shopping Centers Westside
mit excellenter Anbindung an den öffentlichen Personennahverkehr. Direkt vor dem Hotel fahren Straßenbahnen und S-Bahnen ab. Das hat allerdings auch den Nachteil: nachts zählt man keine Schafe zum Einschlafen, sondern vorbeifahrende Güterzüge. Nur bei der Garage bin ich mir fast sicher: es muss bestimmt Hotelgäste geben, die auf dem Weg vom Parkhaus ins Hotel niemals angekommen sind und sich im Labyrint des Parkhauses verirrt haben
Im Zimmer sind viele Details, die den Aufenthalt sehr angenehm machen: ausreichende Zahl an Steckdosen beispielsweise. Was ich allerdings, wie die Pest hasse: Glastüren zum Bad, so dass nachts immer jemand mitgeweckt wird. Als Orientierung im Bad: eine kleine blaue Lampe, die immer an ist. Das müsste es auch in jeder Innenkabine geben, so dass man etwas sich orientieren kann. Leider funktioniert die Lüftung im Bad nicht. Der Blick am nächsten Morgen auf Eiger, Mönch, Jungfrau entschädigt. Nur leider lassen sich die Fenster nicht sehr weit öffnen, um schöne Aufnahmen zu machen.

In the room you had many details which made the stay more pleasant: like the sufficient number of electric power outlets. But what I hate for death: glass doors to the bathroom so that you had to wake up someone in the night. As orientation in the toilet: a small blue lamp which was on all the time. That you should also have in every inside cabin, so you have some orientation. Unfortunately, the ventilation in the bathroom did not work. The compensation was the view next morning on Mounts Eiger, Jungfrau (Virgin), Mönch (Monk). Unfortunately, the windows could not be opened very widely to make beautiful pictures.

They offerd a great breakfast. Unfortunatley the Bircher Müesli had to much honey even in Switzerland. The prepared just for me some soft boiled eggs. A minor challenge since it was the first time for the chef.

Es wird ein tolles Frühstück angeboten. Leider ist das Bircher Müesli auch in der Schweiz zu honiglastig. Für mich werden extra weichgekochte Eier gemacht. Eine kleine Herausforderung, da wohl eine Premiere für den Koch.
Nun muss die Entscheidung fallen: Ursprünglich sollte es über den
Großen St. Bernhard-Tunnel
gehen. Aber der wurde gesperrt. So blieb nur
Mont Blanc
oder
Lötschberg
-
Simplon
-Autoverlad oder eben Gotthard oder San Bernardino. Die letzten beiden liegen auf der falschen Seite und man muss rund um Mailand später fahren. Das wollen wir nicht. Aufgrund der Wetterprognosen: schnell weg aus Bern und gucken, ob wir mittags über die Alpen sein können.

Now we had to decide: Originally we wanted to go through the Great St-Bernard Tunnel. But it was closed. So only Mont Blanc or Lötschberg-Simplon-Car Transport or Gottard or San Bernardino. Last two were too distant on the other side of Switzerland, and you need to pass around Milan, Italy. Nothing we wanted to do. Due to the weather forecast, we need to leave Bern quickly and need to find a way to pass the Alps until noon.

Blasercafé from Bern was before our preferred coffee brand. We had the coffee even on many cruises with us when they did not have good coffee bars.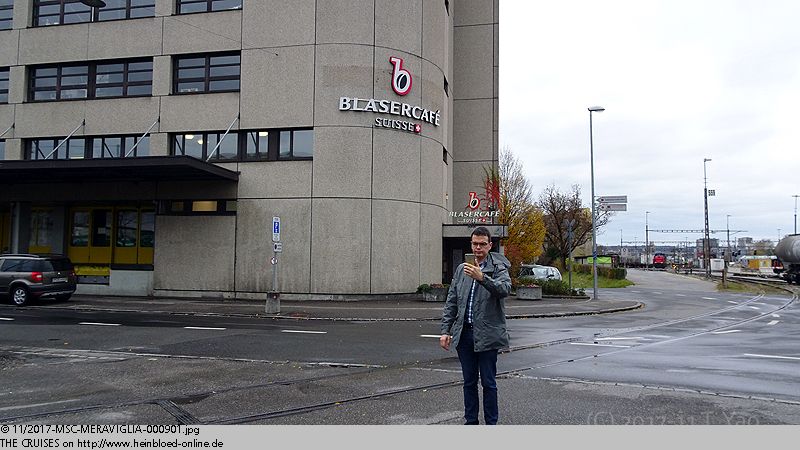 Blasercafé
aus Bern gehörte ja mal zu unseren bevorzugten Kaffeemarken. Hatten wir sogar oft auf Kreuzfahrten mit, als die noch keine guten Kaffeebars hatten.
Aufgrund einer Sortimentsumstellung sind leider alle Kaffeesorten weggefallen, die wir gerne mögen.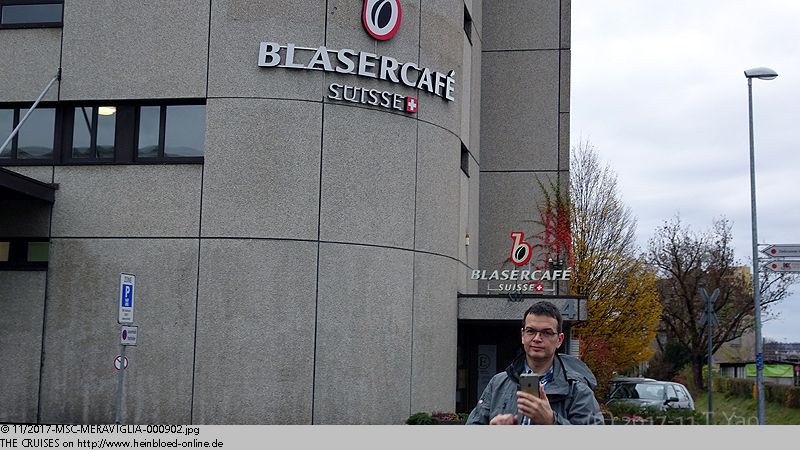 Due to change of assortment most of the sorts of coffee were withdrawn which we liked most.

Unfortunately, our try to have the last occasion to test something different was not successful.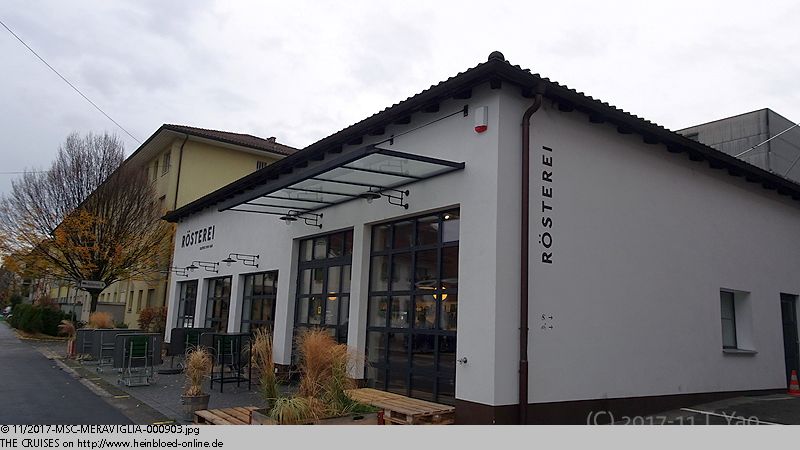 Leider ist der Versuch gescheitert, noch einen letzten Versuch zu unternehmen und etwas zu testen.
Die Öffnungszeiten richten sich eher an den späten Kaffeegenießer. Schade.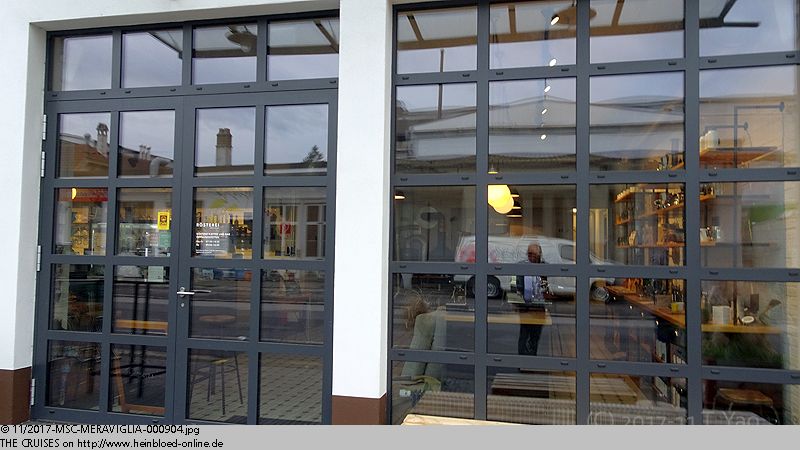 The opening hours were addressed to late coffee lovers. Sad.

We headed through the Bernese Oberland.

Durch das Berner Oberland geht es weiter.
In Kandersteg geht es dann auf die "Fähre" (lt. Tom Tom) nach Goppenstein. Leider fährt derzeit nicht der direkte Auftoverlad nach Iselle, Italien durch. Online kann man sich vergünstigte Karten lösen. Nur das Einlesen des Barcodes ist etwas schwierig.

In Kandersteg, Switzerland we went on a "ferry" (according to Tom Tom GPS Navigation) to Goppenstein, Switzerland. Unfortunately the direct car transport to Iselle, Italy did not go through. Online you could be discounted tickets. But scanning the barcode was somehow a little difficult.

As the car transport did not use the new Lötschberg-Tunnel, you need to drive yourself from Goppenstein to Brig, Switzerland.

Da der Autoverlad nicht über den neuen Lötschberg-Tunnel erfolgt, muss man von Goppenstein noch ein Stück bis Brig fahren.
In Brig geht es dann weiter nach Iselle. Wir nutzen die Wartezeit kurz zum Bahnhof Brig zu laufen und uns noch etwas für unterwegs zu besorgen. Im Moment fährt auch der
Glacier-Express
nicht. Wäre schön gewesen, diesen schönen Zug mal wiederzusehen.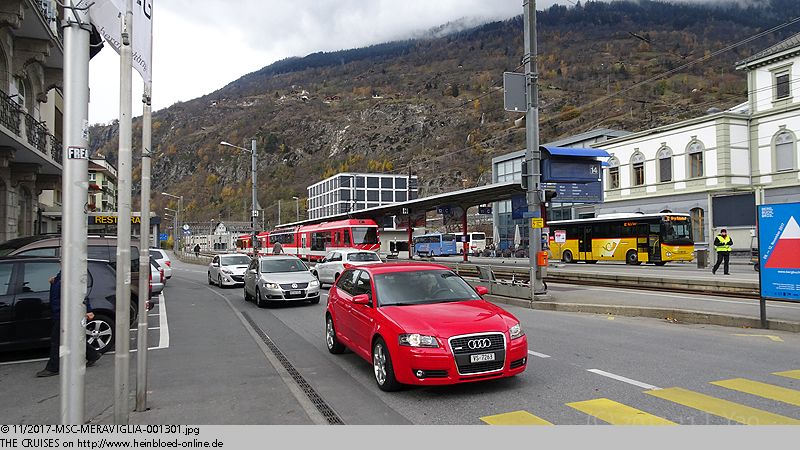 In Brig we headed to Iselle, Italy. We used the waiting time to walk over to Brig station and to buy something for our tour. At the moment the Glacier Express was not operating. Would have been nice to see the wonderful train again.

But you can go with "regular" cars to all places. Just no food offer and no narration and no panorama glass dome cars.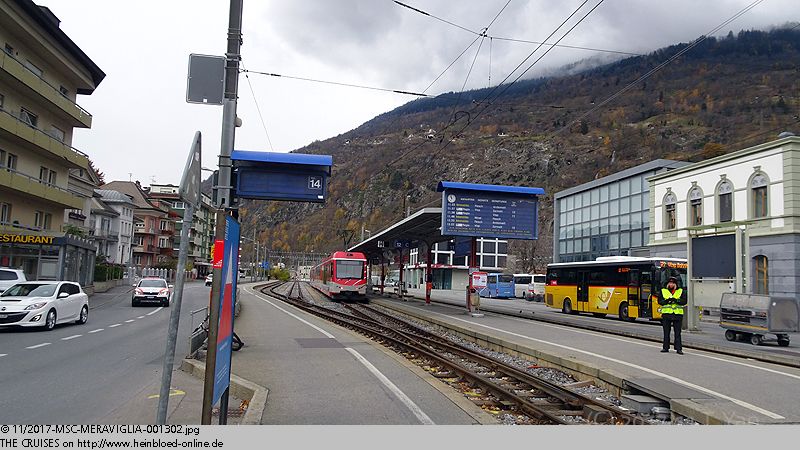 Man kommt allerdings überall mit "normalen" Wagen hin. Nur ohne Bordgastronomie und ohne Erläuterungen und ohne Panoramawagen.
Schnell durch den Bahnhof Brig zurück zum Auto.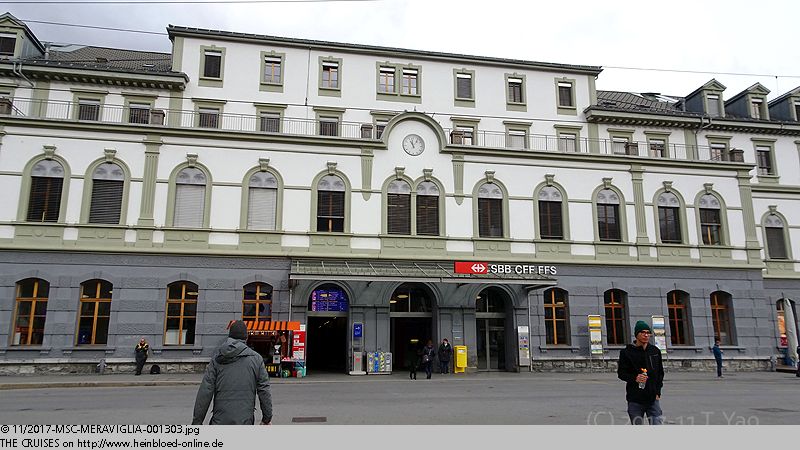 Quickly we had to pass the Brig station to get back to our car.

Until December 09, 2017 the car transport through Simplon will be offered by SBB. From December 10, 2017, by BLS. The waiting time before departure (unfortunately only every 90 minutes on weekdays off-season) you can shorten by Swiss biscuit specialties. In total the car transport via Lötschberg and Simplon was the same price like the tunnel toll in the Mont-Blanc-Tunnel. But you have a little rest but driving yourself through a tunnel.

Bis 09.12.2017 wird der Autoverlad durch den Simplon von SBB angeboten. Ab 10.12.2017 durch BLS. Die Wartezeit vor der Abfahrt (leider nur alle 90 Minuten wochentags außerhalb der Saisin) kann man mit schweizerischen Gebäckspezialitäten verkürzen. Insgesamt ist der Autoverlad über Lötschberg und Simplon genauso teuer, wie die Tunnelmaut im Mont-Blanc-Tunnel. Nur so kann man sich immer ein wenig ausruhen, als selbst durch einen Tunnel fahren zu müssen.
Man kommt bereits in Italien an: Iselle.

You already arrived in Italy: Iselle.

While Brig looked like snow, cold and rain, the sun was expecting us here.

Während es in Brig nach Schnee, Kälte und Regen aussah, erwartet uns hier Sonne.
In Meina am Lago Maggiore halten wir kurz, um zu Mittag zu essen. Zu spät erkenne ich ich, dass wir hätten auch alternativ am Ortasee vorbeifahren konnten. Ein paar Jugenderinnerungen.

In Meina at the Lake Maggiore we stopped for a brief stop to have lunch. Too late I noticed that we could have gone to Lake Orta instead. Some memories returned to my youth.

In the Residence Antico Verbano we had a small bite for lunch. Frech Mozzarella was something very nice.

In der
Residenz Antico Verbano
essen wir eine Kleinigkeit zu Mittag. Frischer Mozzarella ist schon etwas sehr leckeres.
Und weiter geht es nach Genua.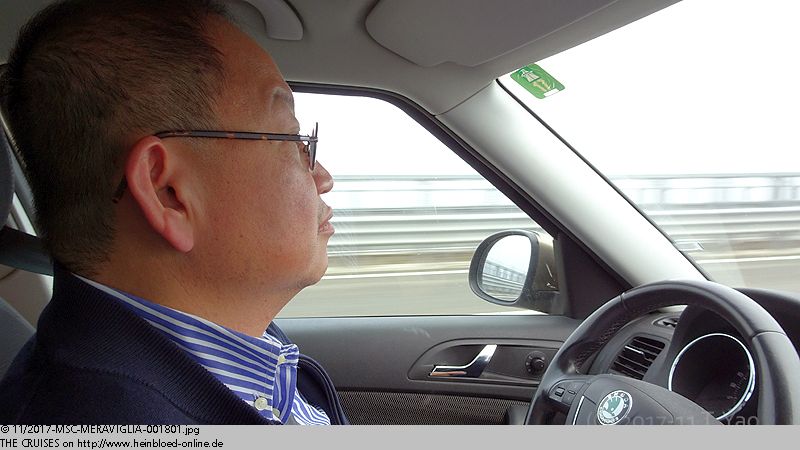 And then we headed to Genoa.

As usual between Milan and Genoa: fog.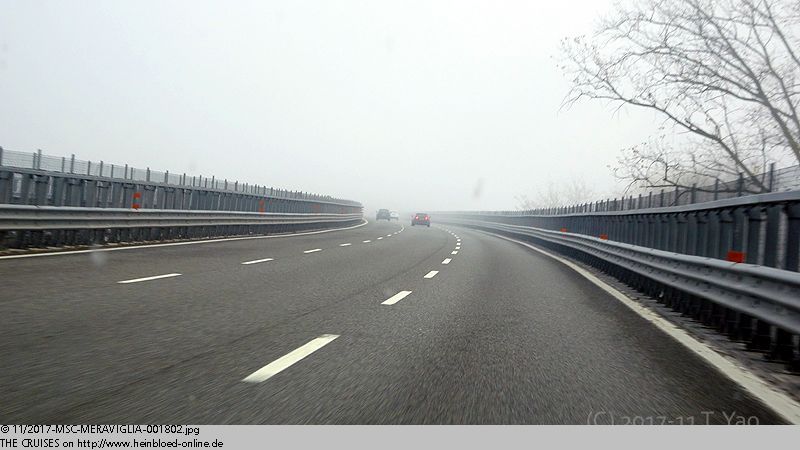 Wie üblich zwischen Mailand und Genua: Nebel.
Ankunft am
Holiday Inn Genua
. Die Suche nach den Parkplätzen ist etwas schwierig. Es gibt zwei Parkdecks. Eines geht direkt zum 3. Stock des Hotels. Bei dem anderen finden wir dann das "schwarze Loch" und es ist gut, wenn man auch mal anrufen kann, weil mehrere Tore zu öffnen sind, bevor man parken und manchmal halt das falsche geöffnet wird. Insgesamt machen aber die Parkplätze einen gutgesicherten Eindruck. Obwohl es einen Rabatt für Kreuzfahrer gibt: wir lassen unser Auto lieber am Kreuzfahrtterminal, weil es einfach von hier zu weit ist, um mit viel Gepäck dahin zu laufen und wir sehr viel dabei haben. Es ist daher ein Nullsummen-Spiel: hier parken und Taxi oder dort parken.

Arrival at Holiday Inn Genoa. Finding the parking was somehow difficult. They had two floors of parking. One was connected directly at the 3rd floor of the hotel. For the other we had to find the "black hole", and it was good when you had a phone ready to call them to describe your exact location because they had to open multiple gates before you can park and sometimes the wrong gate was opened. In total the parking made a well-secured impression. Although they had a discount for cruisers: we preferred to leave the car directly at the cruise terminal as it was too far to walk over there with a lot of bags and we had a lot with us. It was a Zero-Sum game: parking here and paying a taxi or parking there.

The first room which we got had a phantastic view. Unfortunately, a smoker stayed here before who wholly ignored that smoking was prohibited.
We got a different room. Unfornately no more extra sofa we asked for because they had no twin configuration.

Das 1. Zimmer, das wir bekommen hat eine fantastische Aussicht. Leider hat hier zuvor ein Raucher gewohnt, der leider das Rauchverbot komplett ignoriert hat. Wir bekommen daher ein anderes Zimmer. Leider nicht mehr mit dem Extrasofa, wonach wir gefragt haben, weil es keine getrennte Betten gibt.
Das 2. Zimmer, das wir bekommen, liegt etwas mehr an der Ecke des Gebäudes. Am nächsten Morgen erweist es sich aber zum Shipspotting als perfekt heraus, weil die Fähren alle spätabends ablegen und die Situation morgens, wenn ein Kreuzfahrtschiff einläuft komplett anders aussieht.

The 2nd room we got was more in the corner of the building. The morning it was perfect for ship spotting because all ferry boats were leaving in the late evening and the situation in the morning looked totally different when a cruise ship arrived.

We walked from here about five "Italian minutes" to the Piazza Principe station. It means in reality about 15 German minutes. We passed the market hall, but it was about to close. We walked a few minutes into the old town, but somehow we were hungry and did not walk anymore.

Wir laufen von hier aus fünf "italienische Minuten" bis zum Bahnhof Piazza Prinzipe. Eigentlich heißt das dann ca. 15 deutsche Minuten. Die Markthalle, an der wir vorbei kommen hat leider fast zu. Wir laufen noch ein paar Meter weiter in die Altstadt, aber irgendwie haben wir Hunger und wollen nicht mehr weiterlaufen.
Sehr schön umgebaut:
Genova Piazza Principe
ist ein echtes Schmuckstück.

Very nice rebuilt: Genova Piazza Principe became a real gem.

We need to have a refreshment at the Juice Bar.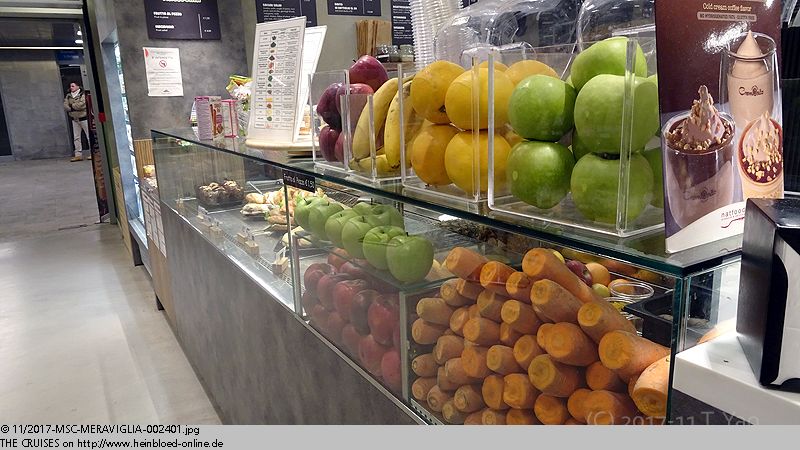 An der Juice Bar müssen wir uns zunächst stärken.
Vitamine und Pausen sind immer gut.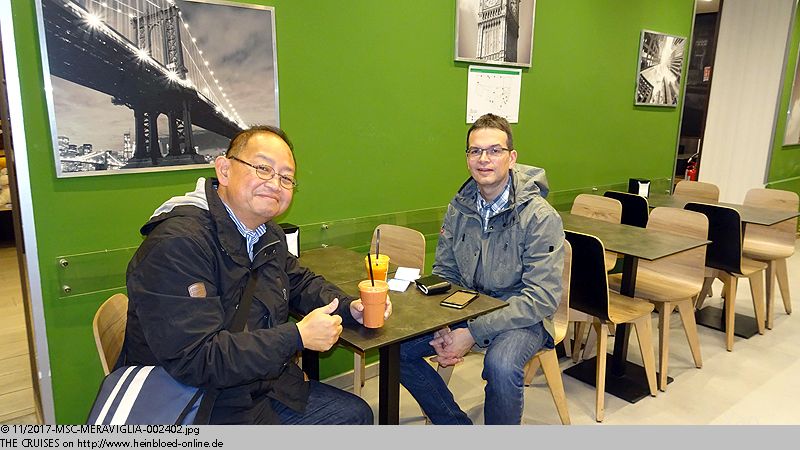 Vitamins and breaks were always good.

Later at the coffee bar Moka the true paradise: 1.00 EUR for an Espresso but 4.50 CHF.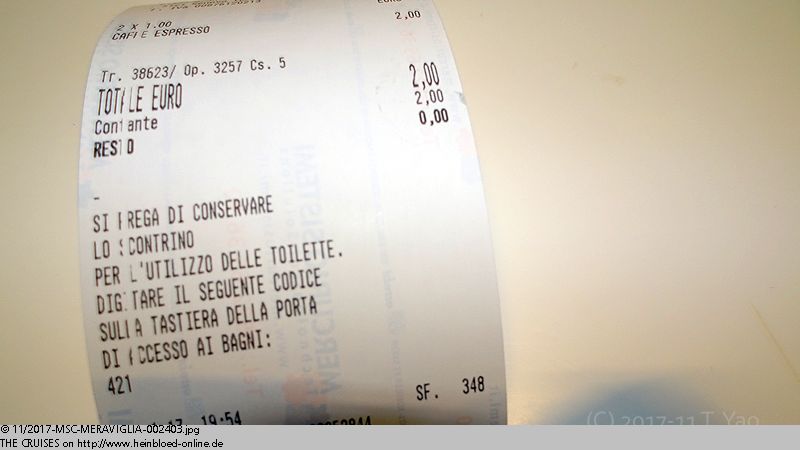 Später auch an der Kaffeebar
Moka
das reinste Paradies: 1,00 EUR für einen Espresso statt 4,50 CHF.
Perfetto.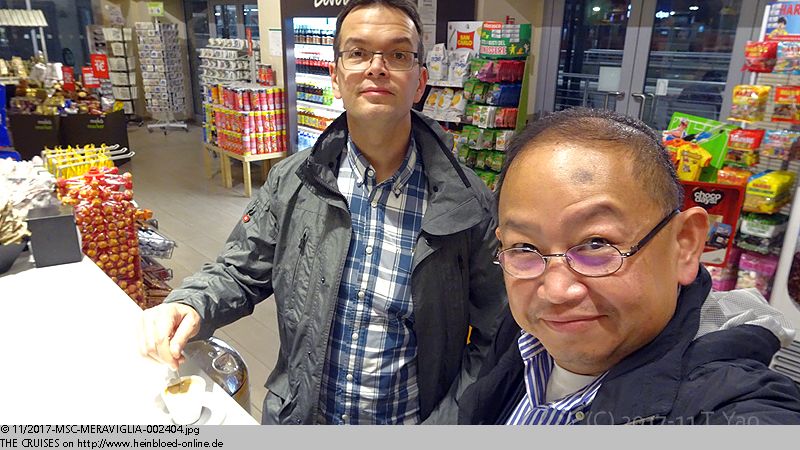 Perfetto.

Exciting travel accessories which were offered here.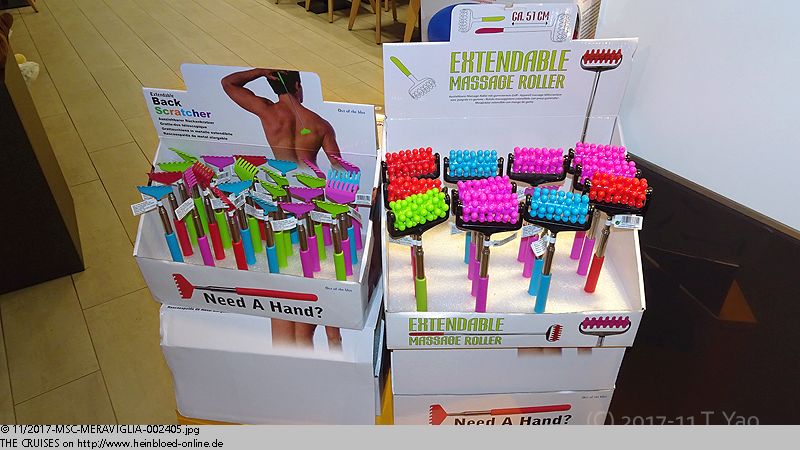 Interessante Reiseartikel, wie angeboten werden.
Im Bahnhof gibt es ein Sen Noodle Bar. Irgendwie habe ich Lust darauf.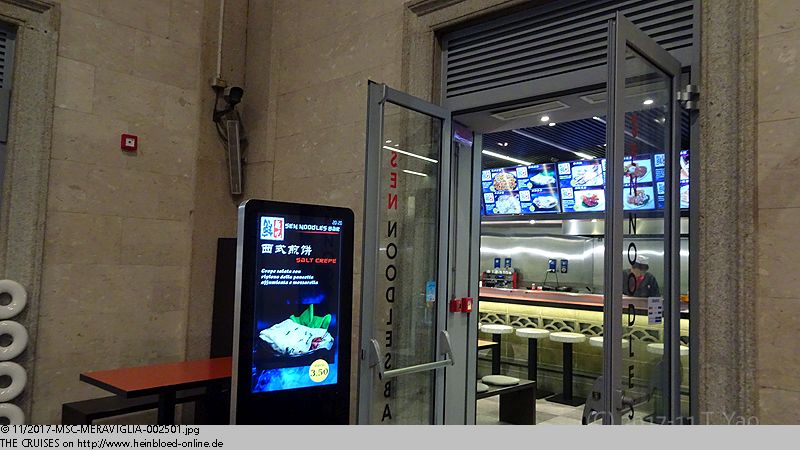 In the station they had a Sen Noodle Bar. Somehow I wanted to have some.

The selection sounded good.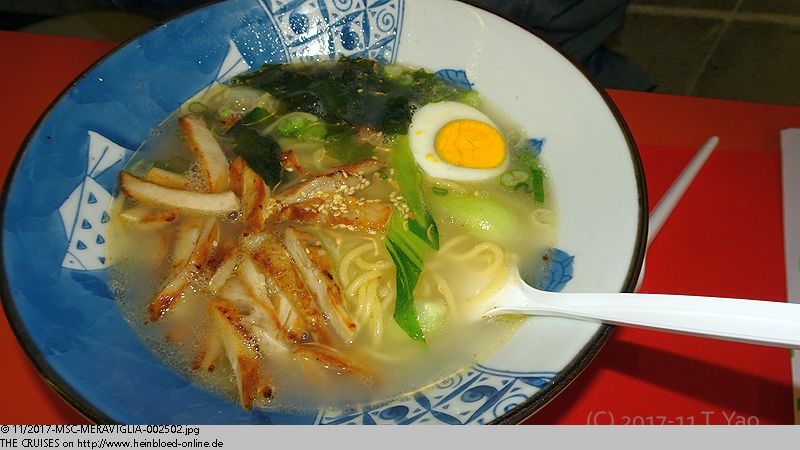 Die Auswahl klingt toll.
Es sieht auch sehr chinesisch aus. Mit dem Personal kann ich auch auf chinesisch bestellen. Nur kleines Problem: wir sind in Italien und die Nudeln sind extrem untypisch-chinesisch "al dente" für die italienischen Gäste gekocht.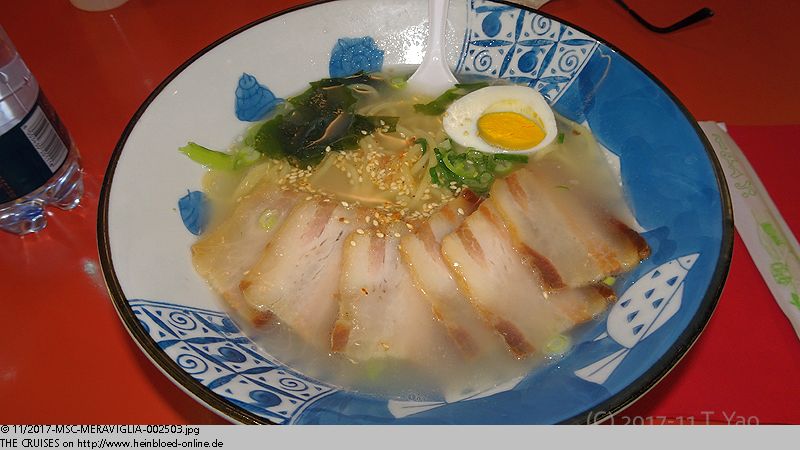 It looked very Chinese. I could order in Chinese with the staff members. The only problem: we were in Italy and so prepared the noodles in a very untypical Chinese way: "al dente" for the Italian guests.

Then I thought: for the compensation you take something which I knew from my mother, but that was something that you really should generally have only with your mother.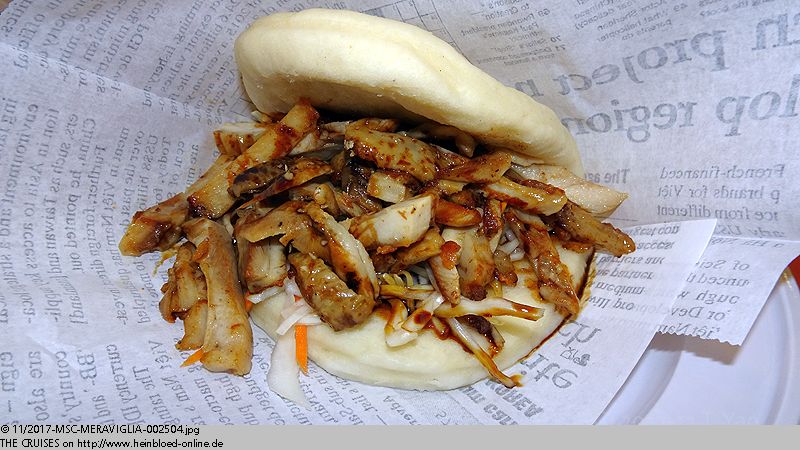 Danach dachte ich: nimmst du zum Ausgleich, etwas, was du von deiner Mutter kennst, aber auch so etwas sollte man grundsätzlich bei der Mutter essen.
Die anderen Reisen in diesem Blog/
The other voyages in this blog: