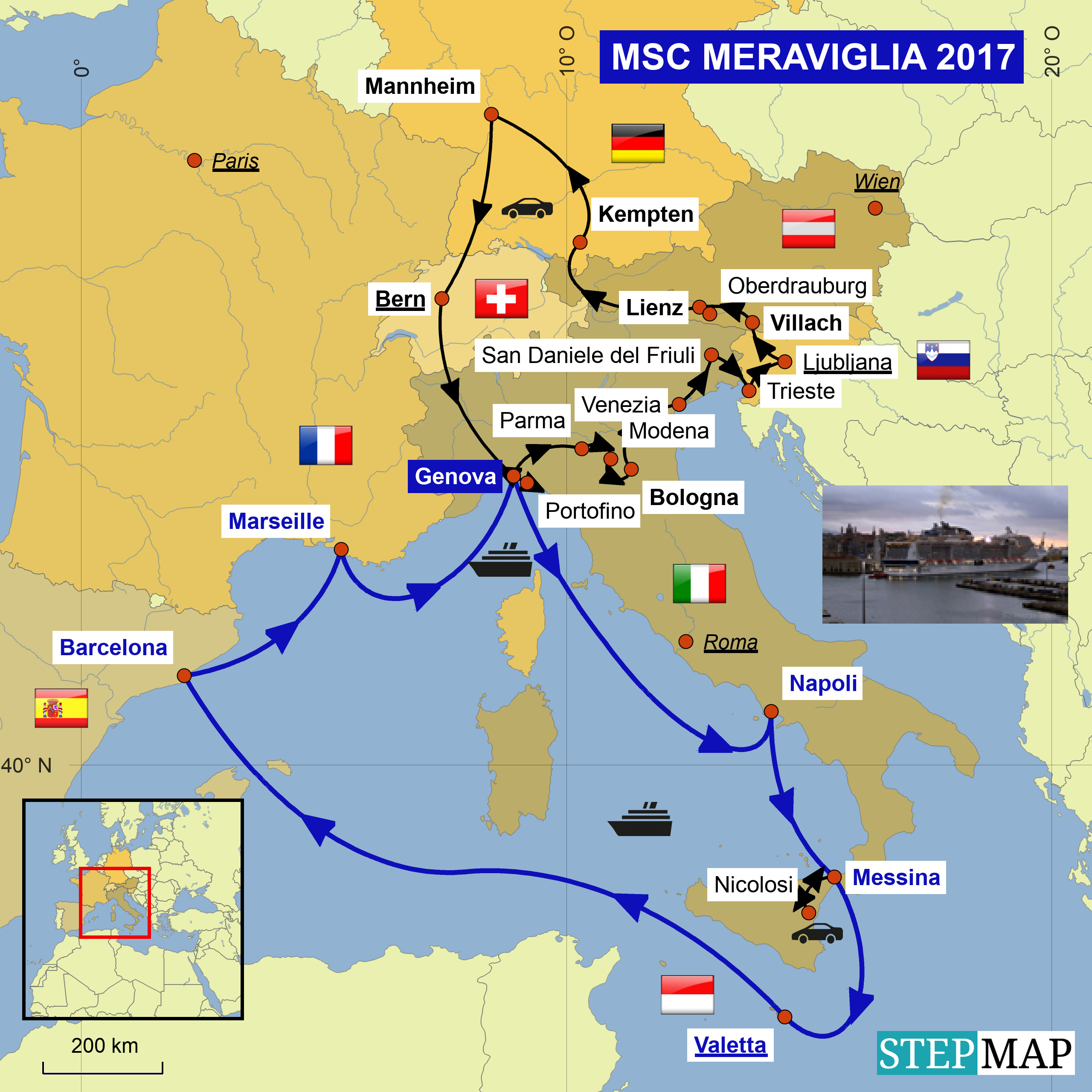 Quasi mit der Morgendämmerung kommt die MSC MERAVIGLIA rein. Sie hätte nicht länger sein dürfen, um sie genau zwischen zwei Lichtmasten zu erwischen. Also das Zimmer muss ich mir vormerken für das nächste Mal. Leider nur von hinten.

Just with the dawn MSC MERAVIGLIA arrived. She should not be any longer as she fitted exactly between the two lamp masts. So I need to remember this room for the next time. Unfortunately only from the aft.

The breakfast buffet was surprisingly good. A significant variation with regional and healthy products.

Das Frühstücksbüffet ist überraschend gut. Eine tolle Auswahl mit regionalen und gesunden Produkten.
In wenigen Minuten sind wir am Kreuzfahrtterminal. Wegen ISPS (Hafensicherheit) ist die Zufahrt verändert worden. Wir landen in einem Labyrinth von Einbahnstraßen. Aber zum Glück sind die Italiener sehr geduldig und gelassen mit Ausländern und gestikulieren bloß ohne direkt zu hupen und die Polizei zu rufen. Unser Gepäck vom Yacht Club wird gar nicht von den normalen Gepäckträgern übernommen, sondern es kommen die Butler. Sofort bekommen wir neue Gepäckanhänger, obwohl eigentlich schon alles mit unserer Kabinennummer beschriftet ist. Den Parkplatz haben wir über MSC vorgebucht. Dieses Mal müssen wir nicht mehr in bar bezahlen, sondern er wird über das Bordkonto abgerechnet. Wir sollen an Bord den Parkschein abstempeln lassen. Problematisch ist bloß eigentlich genau die Zufahrt zu finden. Leider sind es die Koordinaten vom Parkhaus, die in der Reservierung angegeben sind. Wir müssen jedoch vor das Terminal fahren, da von hier ein Valet-Service angeboten wird.

In few minutes we should be at the cruise terminal. Due to ISPS (Port safety) the access was newly arranged. We landed in a labyrinth of one-way roads. But luckily the Italians were extremely patient and relaxed with foreigners and only gesticulated and did not honk or call the police. Our baggage for the Yacht Club was not taken over by the regular porters but by the butlers. Immediately we got new luggage tags although ours were already marked with our cabin numbers. We pre-booked the parking via MSC. That time there was no need to pay in cash and they charged it through the onboard account. We should let them stamp our parking ticket onboard. It was only a problem to find the right access. The coordinates were those from the garage which were indicated in the reservation. But we need to call the Terminal as they offer a valet service.

So far we loved admitting to the Grill Classes with Cunard, Suits with HAL or The Haven with NCL: the access to the Yacht Club with MSC beat everything. Our butler in charge expected us, and they arranged the check-in in a dedicated lounge while we were zipping a drink. It was only fabulous. Our butler was so fast with the hand baggage on the way. I had hardly a chance to take pictures. And the puzzled faces when we escorted and by-passed all the queues (check-in, embarkation, and elevators), and it was just fun (I know that it is mean and not very appropriate). Only a total difference then when we accessed NORWEGIAN BREAKAWAY 2013 and booked The Haven: nobody helped us with our baggage from the first to the last second of our voyage.

Wenn wir bisher den Zugang zu den Grill-Klassen bei Cunard, Suiten bei HAL und The Haven bei NCL gut fanden: der Zugang zum Yacht Club bei MSC hat das bisherige alles geschlagen. Unser zuständiger Butler erwartete uns und während wir bei einem Getränk warten, wird die Einschiffung in eigener Lounge vollzogen. Es war nur klasse. Unser Butler war so schnell mit dem Handgepäck unterwegs. Ich komme kaum zum Fotografieren. Aber die verdutzten Gesichter, an denen wir an den Schlagen (Check-In, Einschiffung und Fahrstuhl) vorbeiziehen, machen einfach Spaß (Ich weiß, dass das jetzt gemein ist und sich nicht gehört). Ganz anders als damals auf der
NORWEGIAN BREAKAWAY 2013
, als wir The Haven gebucht haben: niemand, der uns mit dem Gepäck von der ersten bis zur letzten Sekunde unserer Reise geholfen hat.
Die Bordkarten bekommen wir erst an Bord: man findet sie in der Informationsmappe in der Kabine. Bruno möchte den Fitnessclub besuchen und benötigt hierfür eine Registrierung und bekommt hierfür einen Aufkleber auf die Karte.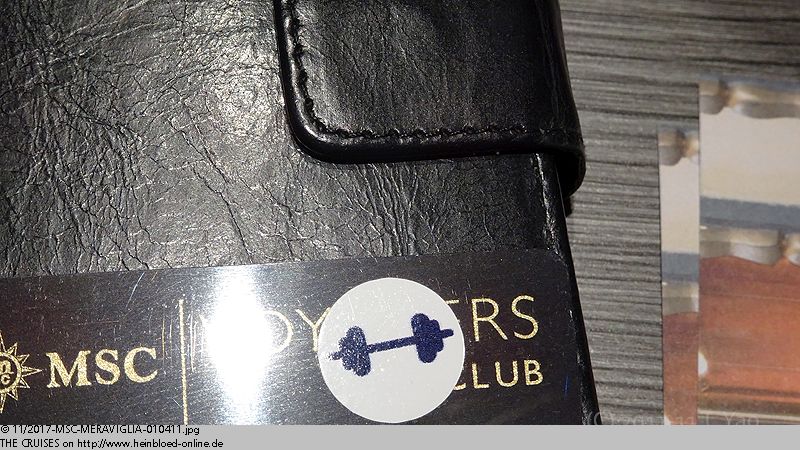 The ship's card we got finally onboard: you find them in an information folder in the cabin. Bruno would like to see the fitness club and needed a registration for and got a sticker on his card.

We booked a Yacht Club inside cabin: 14011. Our beds were separated due to our request. Our butler Adi Sucipta I Wayan and cabin steward I Gusti Ngurah Indraw was in charge for us. We were delighted with both of them. Compared to NCL the stupid bed racks without drawers were better for the daily use than with NCL: no long tube for which you need a 6 feet long arm and need to clear everytime everything before you could get the items at the rear.

Wir haben eine Yacht Club Innenkabine gebucht: 14011. Unsere Betten werden auf Wunsch auseinandergestellt. Unser Butler Adi Sucipta I Wayan und Kabinensteward I Gusti Ngurah Indraw sind für uns zuständig. Wir sind mit beiden hoch zufrieden. Im Gegensatz zu NCL sind die komischen Nachttische ohne Schubladen jedoch besser zu gebrauchen als bei NCL: kein langer Schlauch, für den man einen 2 m langen Arm braucht und jedes Mal alles ausräumen muss, wenn man von hinten etwas braucht.
Das Bad macht einen guten optischen Eindruck.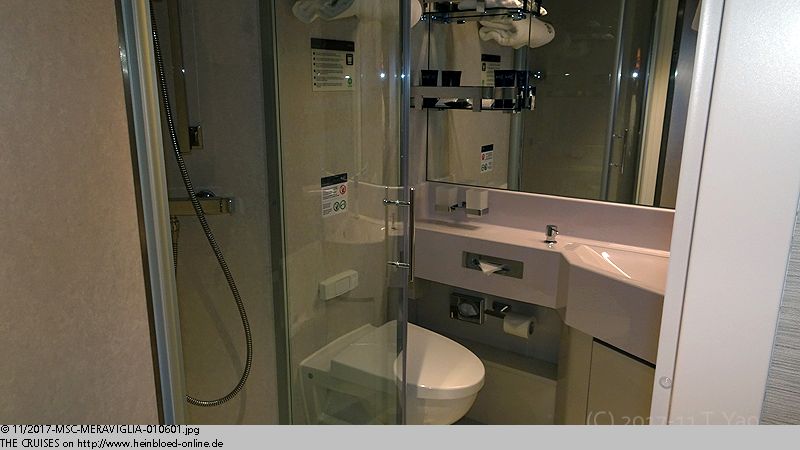 The bathroom made a visible good impression.

Here they had the items in tubes.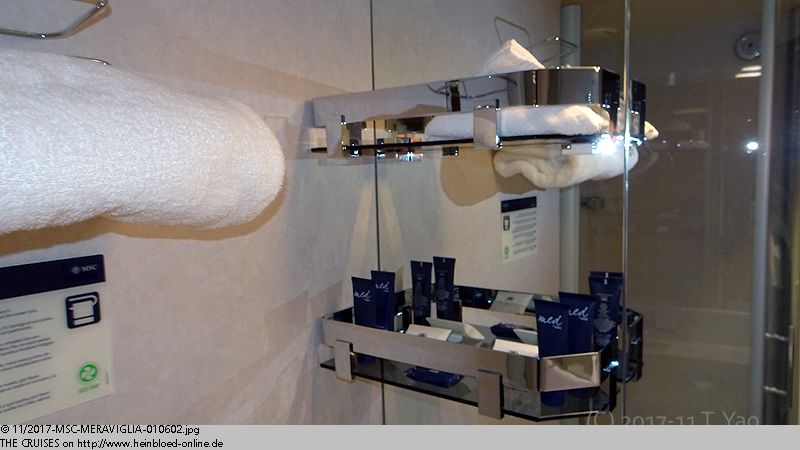 Hier gibt es Produkte in Tuben.
Und nochmals als Spender. Und auf jeden Fall: Viel zu wenig Platz.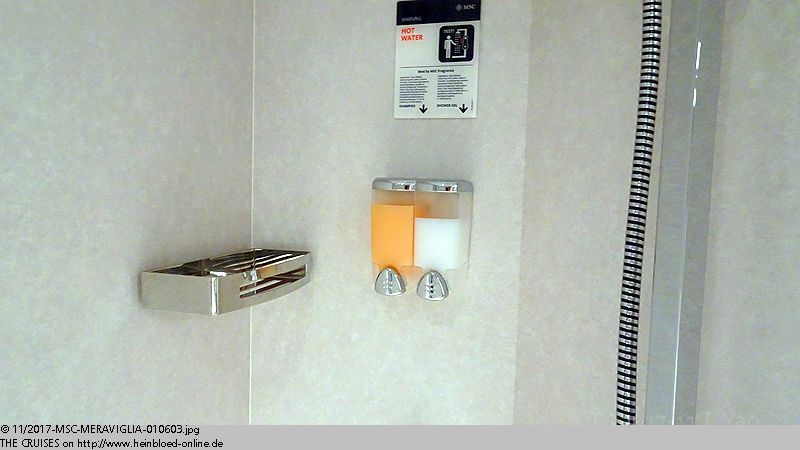 And again as dispenser. But anyhow: too less space.

A little annoying: our automobilist club did not work for the slot for electric power. It had to be the ship's card. Annoying: only one USB-port and one single European power outlet and the others were occupied by the coffee machine. Drawers and storage space were missing somehow. One drawer was blocked by the hair dryer. To stay longer than one week would occur some problems. Luckily we had our basket of Costa with us which I got in reply to my letter to the management due to our voyage on COSTA FAVOLOSA 2017. Some hooks at the wall were missing to hang some wet clothes. Our request only to have bananas instead of a mixed fruit basket was indeed fulfilled. And we got additional coat hangers. I hate the wired ones from the laundry, but there was not any other way to have more of the regular ones. Everyone we got a Good-Night-Greeting. The mini-bar was refilled every night. But we used it only for mineral water. And here we just requested for still water. In The Haven from NCL, you had to pay for additional bottles.

Etwas nervig: Die ADAC-Karte im Schacht für den Strom funktioniert nicht. Es muss die Bordkarte sein. Nervig: nur ein USB-Port und nur eine Steckdose für Europa, weil die andere durch die Kaffeemaschine schon belegt ist. Es fehlen irgendwie Schubladen und Platz zum Verstauen. Eine Schublade wird leider durch den Fön blockiert. Länger als eine Woche würden auf jeden Fall Platz Probleme bereiten. Zum Glück haben wir noch den Korb von Costa mit, den ich für meinen Brief an die Geschäftsleitung wegen der
COSTA FAVOLOSA 2017
-Reise bekommen habe. Kleiderhaken, um mal nasse Jacken aufzuhängen fehlen. Unsere Wünsche nach Bananen statt gemischtem Obstkorb wird gerne erfüllt. Und zusätzliche Kleiderbügel bekommen wir auch. Die Drahtbügel aus der Reinigung hasse ich, aber anders hätten uns weitere Kleiderbügel gar nichts genützt. Jede Nacht gibt es einen Gute Nacht-Gruß. Die Minibar wird jeden Tag aufgefüllt. Bloß nutzen wir sie nicht, außer für Mineralwasser. Und hier haben wir den Wunsch geäußert, dass wir nur stilles möchten. In The Haven von NCL hätten wir für jede weitere Flasche bezahlen müssen.
Da unser Gepäck noch nicht da ist, führt uns unser erster Weg in die Top Sail Lounge. Wir sind schwer beeindruckt: da hier alle "normalen" Getränke inkludiert sind, sind wir schon mal begeistert. Von NCL sind wir ja nur die Kekse und Knabberzeug in The Haven gewöhnt. Aber das ist eine komplett andere Klasse, an die nur die Neptune Lounge von HAL teilweise dran kommt. Ständig gibt es andere Häppchen. Wir brauchen den Yacht Club nicht zu verlassen, um glücklich zu sein. Es gibt sogar High Tea. Und vor allem Service, der begeistert: Top Sail Lounge-Butler Anzhela Shcherbakova.

As our bags were not available yet our first way took us to the Top Sail Lounge. We were very impressed. As all regular beverages were included, we were very excited. From NCL we only know cookies and snacks in The Haven. But that was a different class which only can be partly reached by the Neptune Lounge of HAL. All the times you had different small bites. No need to leave the Yacht Club to be happy. They even had High Tea. And especially they had service which was making one exiting: Top Sail Lounge-Butler Anzhela Shcherbakova.

The first day we had luck: "MSC for me" was working. We pre-bought a Streamer Plus Pass and got 1.8 GB instead of 1.5 GB when you booked it onboard. For 15.00 EUR you can top up 500 MG additionally. They had days it was working perfectly well and other it worked barely. The registration had to be done with Bruno. In total, we can connect four devices. As had a WIFi-Router with an Extender we could use one channel to combine all five devices on one account. A messenger service was missing to communicate with others on board. You can also book beverage packages or tickets for events on this application.

Am 1. Tag haben wir Glück: "MSC for me" funktioniert. Wir haben einen Streamer Plus Pass vorgebucht und bekommen 1,8 GB statt 1,5 GB bei Buchung an Bord. Für 15,00 EUR kann man nochmals 500 MB hinzubuchen. Es gibt Tage, da läuft es super und andere eben nicht. Die Registrierung läuft über Bruno. Insgesamt dürfen wir vier Geräte verbinden. Da wir aber einen WLAN-Router mit Extender haben, nutzen wir einen Kanal dafür und somit somit alle 5 Geräte über ein Konto laufen lassen. Es fehlt allerdings ein Messenger Service, um an Bord untereinander zu kommunizieren. Hierüber kann man dann auch Getränkepakete und Tickets für Veranstaltungen buchen.
Da unser Gepäck immer noch nicht da ist, gehen wir im Yacht Club Restaurant zum Mittagessen. Also das wechselt täglich und da ist das täglich identische Essen für The Haven-Gäste von NCL absolute keine Alternative hierzu. Auch mögen wir hier den Service von Anfang an: bei Cesar Jr. Callejo fühlen wir uns sehr wohl. Und ich muss nicht ständig nach Butter fragen: ich mag zwar diese aufgeschlagene weiche Butter nicht, aber ich muss nicht ein einziges Mal danach fragen. Kein Vergleich zum Club Restaurant von Costa für deren Suitengäste: Ein Unterschied wie Tag und Nacht.

As our bags still have not arrived we went to the Yacht Club Restaurant for lunch. It was changing every day, and the same daily food for the guests of NCL's The Haven was no option compared. Also, we loved the service very much from the beginning: with Cesar Jr. Callejo, we felt very comfortable from the beginning. And no need to ask for butter: I disliked the frothed up soft butter, but there was not one single occasion I need to ask for. No comparison to the Club Restaurant with Costa and their suite guests: a difference between day and night.

Deck 16 was the heart of the Yacht Club: you can find here the concierge and the Top Sail Lounge. And the only public toilet for restaurant and Top Sail Lounge still without urinal as Ally-Mc-Beal-Unisex-Toilet but with textile hand towels. Deck 16 was the Iguazu-Deck and fit perfectly to my travel plans for 2019 to South America on NORWEGIAN SUN from Buenos Aires, Argentina to San Antonio, Chile. There we want to go too. I want to see this. Also here you had the Swarovski stairs. No Deck 17 as 17 was number with the same function as 13 with us. Deck 19 was closed due to actual weather condition.

Deck 16 ist das Herz des Yacht Clubs: Der Concierge und die Top Sail Lounge findet sich hier. Und die einzige öffentliche Toilette für Restaurant und Top Sail Lounge immer noch ohne Urinal als Ally-Mc-Beal-Unisex-Toilette aber mit Stoffhandtüchern. Deck 16 ist das Iguazu-Deck und passt zu meinen Reiseplänen für 2019 nach Südamerika auf der NORWEGIAN SUN von Buenos Aires nach San Antonio. Dort wollen wir auch hin. Das will ich sehen. Auch hier gibt es eine
Swarovski
Treppe. Deck 17 gibt es nicht, da 17 in Italien der Zahl 13 bei uns entspricht. Deck 19 ist heute witterungsbedingt geschlossen.
Ich mache einen kurzen Rundgang zur Rezeption, weil sie beim Concierge kein Kleingeld zum wechseln haben. Das Atrium mit der Klassikmusik gefällt mir.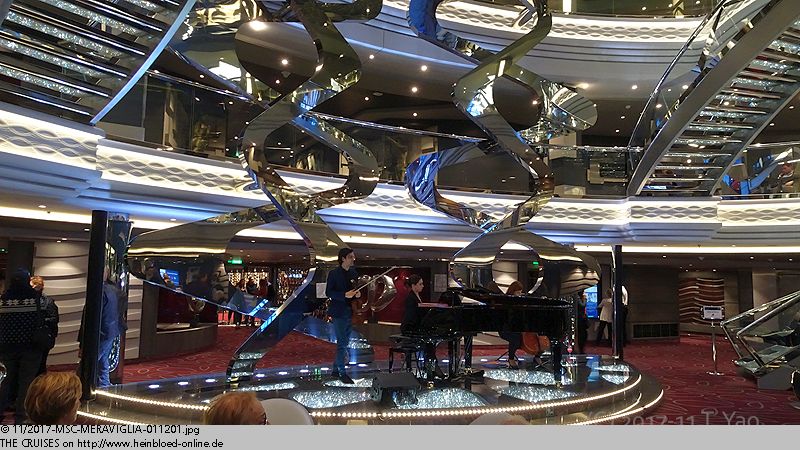 I made a short walk to the front desk because they had no change to change. I like the classical music in the atrium.

Honestly spoken I did not expect any classical offer here onboard.

So ein Klassik-Angebot muss ich sagen, hätte ich hier an Bord nicht erwartet.
Nur ist es mir definitiv zu laut und zu voll.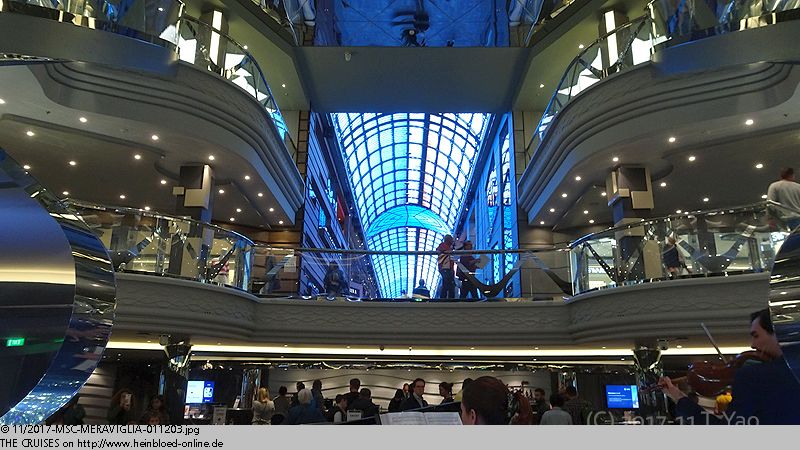 But it was for sure to loud and to crowd for me.

Like with Costa you need to register your credit card yourself.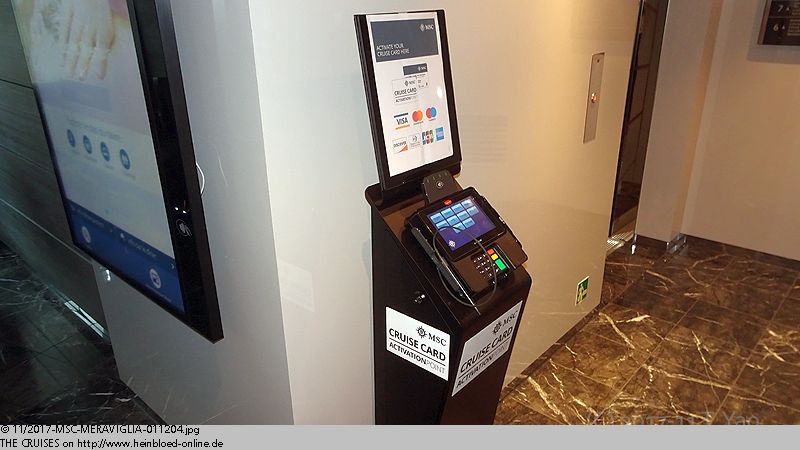 Wie bei Costa muss man auch hier die Kreditkarten selbst einlesen.
Der Destination Guide ist quasi das Ausflugsprogramm.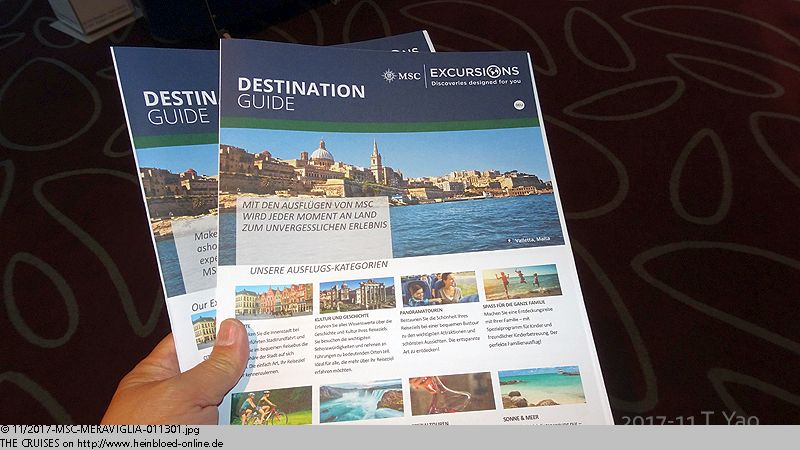 The destination guide was more or less the excursion programme.

At least they had complimentary maps of the city centers.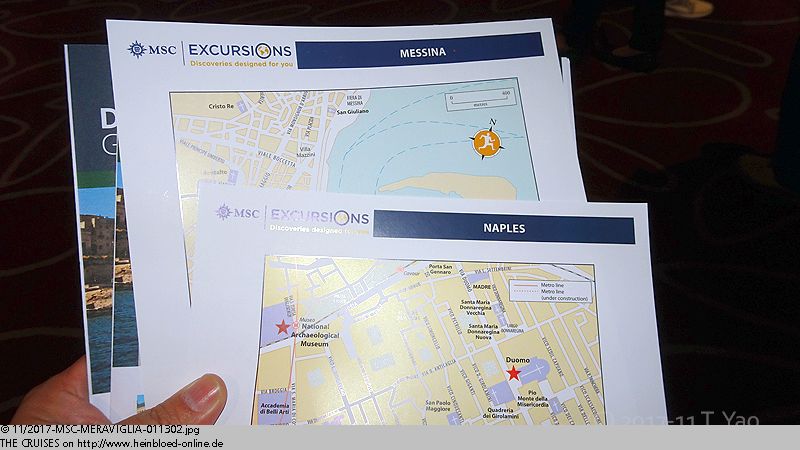 Es gibt immerhin kostenlose Innenstadtpläne.
Und man kann auch an Bord eine künftige Kreuzfahrt buchen und bekommt ein Bordguthaben dafür.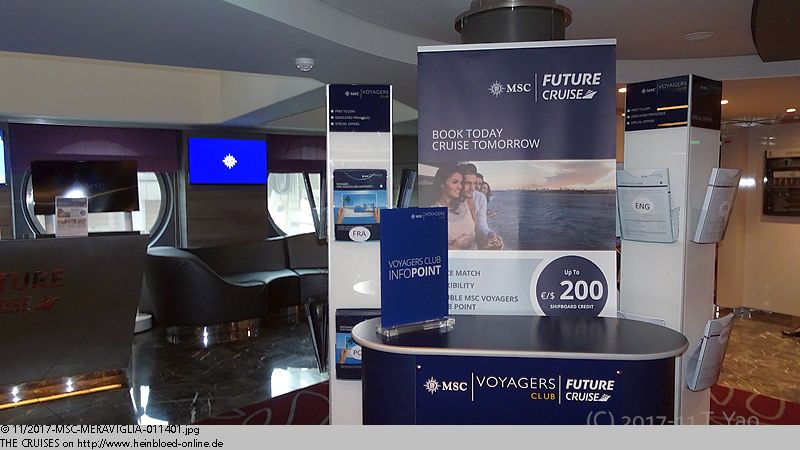 And you can book for future cruises and an onboard credit for.

Unfortunately, you cannot make just a deposit and fix later the booking.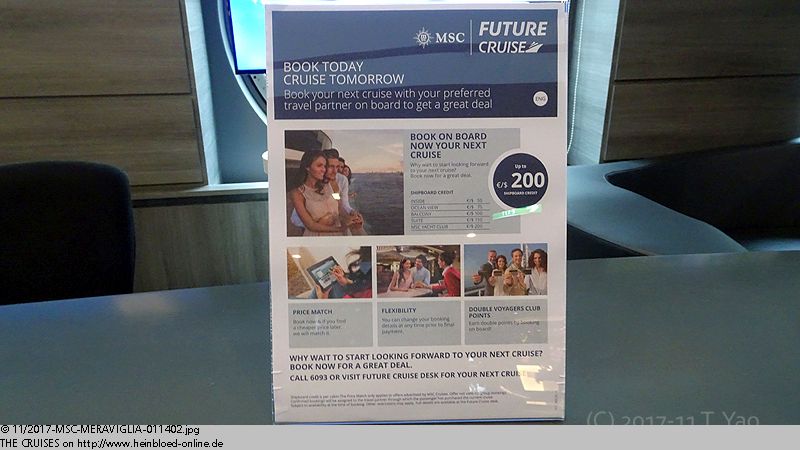 Leider kann man nicht nur eine Anzahlung leisten und später es in eine feste Buchung umwandeln.
Überall Bildschirme mit ein paar Informationen. Es werden die Armbänder beworben. Ich will sie, aber man bekommt sie nicht, weil der Ausflugsschalter keine verkauft, obwohl dafür beworben wird und weil sie auf der Reise gar nicht funktionieren. Auch wird Cirque de Soleil beworben. Hierfür haben wir bereits bezahlt, aber noch ohne festen Termin. Leider werden aus technischen Gründen gar keine Vorstellungen angeboten. Eine Box mit Nachrichten für den Hoteldirektor: da liegt aber schon einiges drin...

Everywhere you had screens with information. They advertised for the arm wrist. I wanted them, but I could not get any because the excursion desk did not sell although it was advertised and they did not work on our voyage. Also, they advertised for Cirque de Soleil. We paid already for without having a fixed time slot. Unfortunately, no show was offered due to technical reason. A box for messages to the Hotel Director: a lot of messages were inside...

A great offer for the cabin service - at least in the Yacht Club.

Ein tolles Angebot für den Kabinenservice - zumindest im Yacht Club.
MasterChef
at Sea. Ich überlege mir, ob ich mitmachen soll, aber irgendwie habe ich keine Lust auf Stress und lasse es. Ich mag die Sendung gar nicht so, obwohl
Gordon Ramsay
mitmacht. Ich kritisiere lieber sein Essen, als dass er meins kritisiert. Deswegen dürfen wir im Juni 2018 nochmals in der
Bread Street Kitchen
in London kostenlos essen gehen.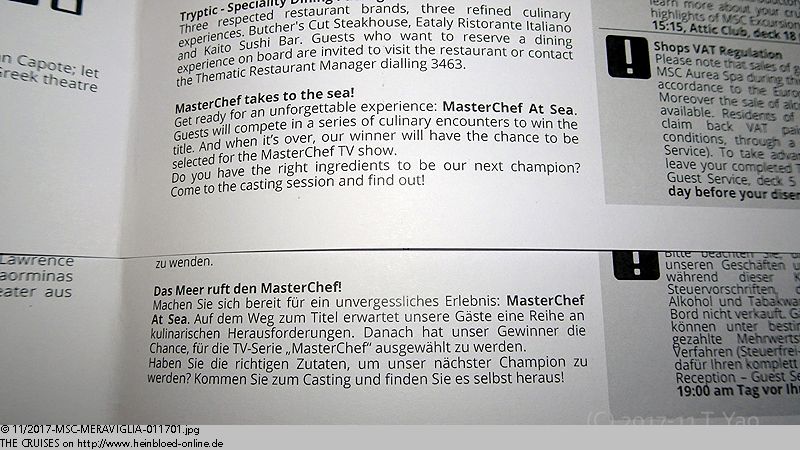 MasterChef at Sea. I was considering if I should join, but somehow I did not like the idea of having stress and let it go. I did not like the show anyway although Gordon Ramsay was part of. I loved more the idea to criticize his food but letting him criticizing my food. So we were allowed in June 2018 to eat again in the Bread Street Kitchen in London, England for free.

On an intra-community cruise, they were not allowed to sell alcohol and cigarettes onboard. Non-EU-citizen may get the VAT refunded onboard.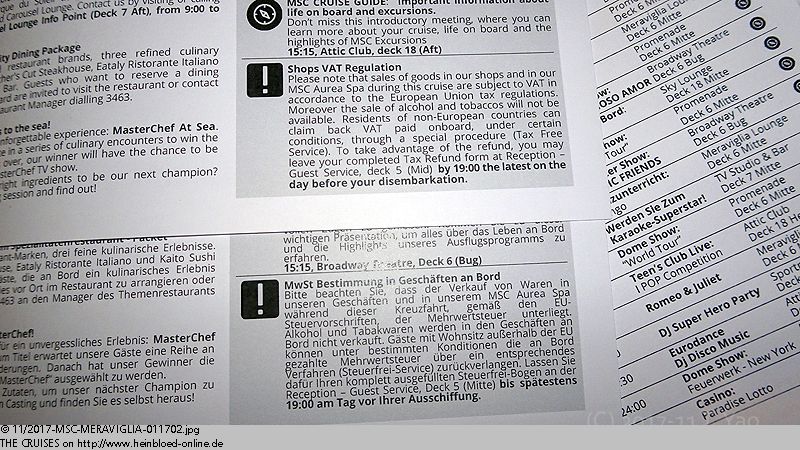 Bei einer innergemeinschaftlichen Kreuzfahrt dürfen kein Alkohol und Zigaretten an Bord verkauft werden. Nicht-EU-Bürger können sich die Mehrwertsteuer an Bord erstatten lassen.
Sehr freundlicher Hinweis: wir fahren an Giglio vorbei. Allerdings in einer Entfernung von 6 Seemeilen. Fühle ich mich dadurch sicherer? Das Unglück der COSTA CONCORDIA kommt in Erinnerung.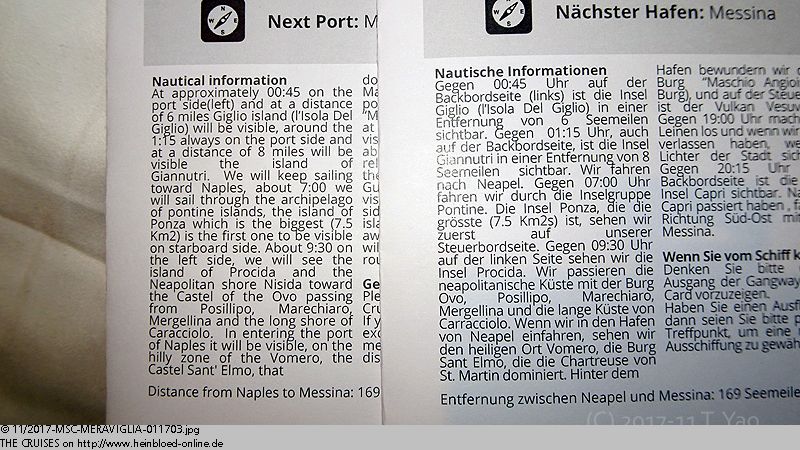 A very nice advise: we should pass the island of Giglio. But in a distance of 6 nautical miles. Should I feel any safer? The memories of the COSTA CONCORDIA incident came back.

We headed to the life drill.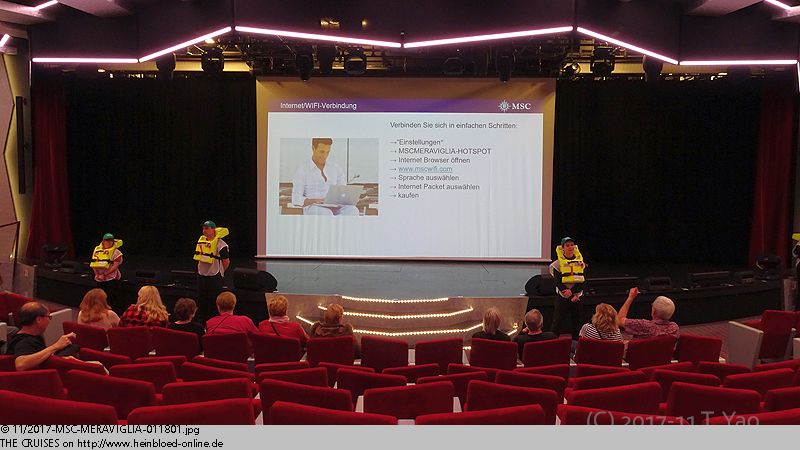 Es geht zur Seenotrettungsübung.
Da es keine Rettungswesten in der Kabine gibt (werden erst im Ernstfall an den Sammelstation ausgegeben), gibt es auch keine Umsatzmöglichkeiten für die Bordfotografen. Das hatte mich bislang bei MSC ziemlich genervt. Bruno ist allerdings fast eingeschlafen, weil ja alles in fünf Sprachen kam. Trotz allem ist alles sehr schnell vorbei.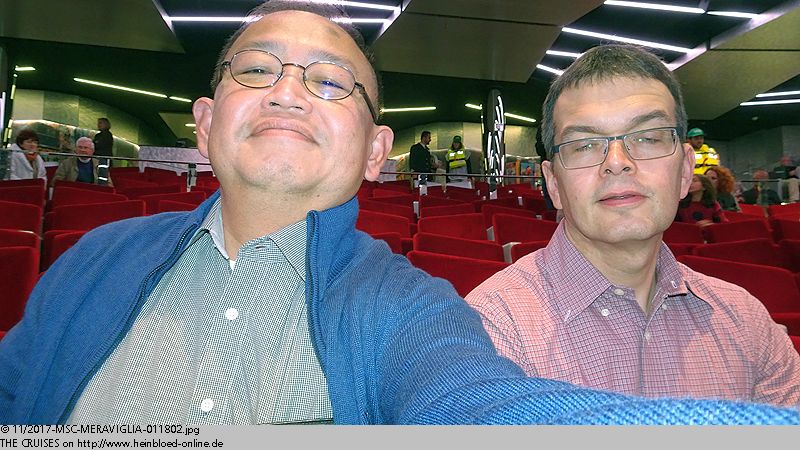 As there were no life vests in the cabin (in the worst case they will be released at the muster station) there was also no revenue chance for the photographers onboard. So far I was really annoyed with MSC. Bruno slept in as it was conducted in five languages. Even though I was quite quickly terminated.

As we had to chance to get an elevator at short notice to reach upwards, we went to have a cup of coffee with Jean Philippe. Many items were offered to sell: Chocolate items, Crepes, and Ice Cream. No need to pay for the beverages as guests of the Yacht Club. But we did not notice it from the start of the cruise. No lactose-free milk was available. The hot chocolate with the marshmallows was too sticky and sweet that I was unable to drink. Unfortunately, the crepe was too sticky sweet also. But no wonder: the French patissier was working in Las Vegas. So entirely made for the US flavor.

Da wir keine Chance sehen kurzfristig einen Fahrstuhl nach oben zu ergattern gehen wir bei
Jean Philippe
zum Kaffeetrinken vorbei. Hier wird vieles zum Kauf angeboten: Schokoladenprodukte, Crepes und Eis. Die Getränke brauchen wir als Yacht Club-Gäste nicht zu zahlen. Aber das haben wir gar nicht sofort mitbekommen. Laktosefreie Milch gibt es leider nicht. Die heiße Schokolade mit Marshmallows ist so klebrig-süß, dass ich es nicht trinken kann. Leider ist der Crepe auch ekelhaft süß. Aber kein Wunder: der französische Patissier arbeitet ja in Las Vegas. Also voll für den US-Geschmack.
Als dann die Sail Away-Party in der Promenade stattfindet wird es Zeit zu verschwinden! Das ist ja noch schlimmer als bei Royal Caribbean auf der Royal Promenade. Irgendwie wie Kindergeburtstag für Erwachsene. Fehlt bloß noch eine Polonaise. Die wechselnde LED-Decke ist jedoch sehr nett gestaltet. Und auch die Selfie-Skulptur passt zu mir.

When they started the Sail-Away-Party in the Promenade it was time to disappear! It was more terrible than with Royal Caribbean on their Royal Promenade. Somehow it was like kids' birthday party for adults. Only a Polonaise dance was missing. The changing LED-ceiling was very nicely set up. Also, the selfie sculpture fitted to me perfectly.

We left Genoa when it was raining.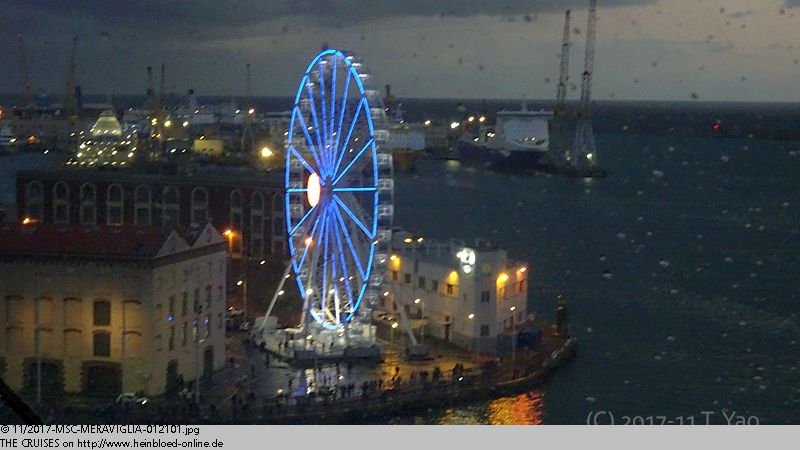 Wir verlasen Genua bei Regen.
Glück gehabt.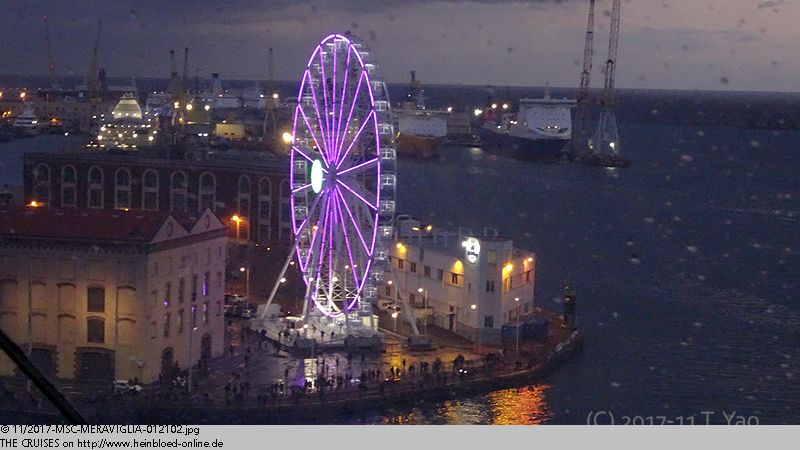 We really had luck.

But now I know where I should stand in a week to see MSC MERAVIGLIA when she would set sail.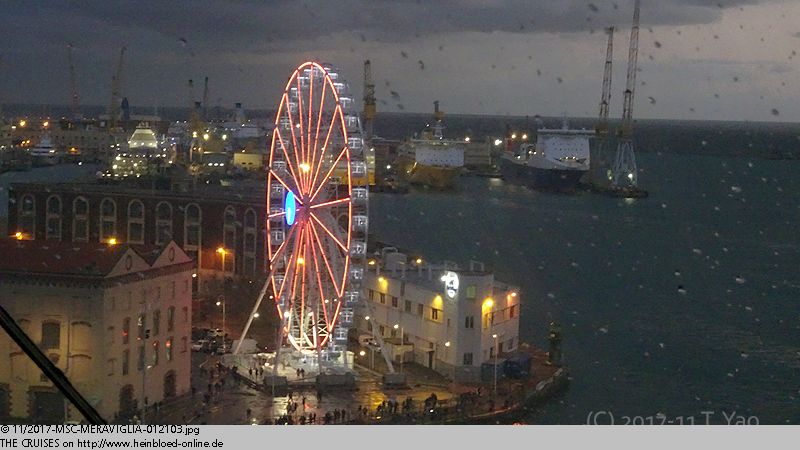 Aber ich weiß jetzt, wo ich in einer Woche stehen werde, um der MSC MERAVIGLIA beim Auslaufen zuzugucken.
Dieser Platz vor dem Riesenrad erscheint perfekt.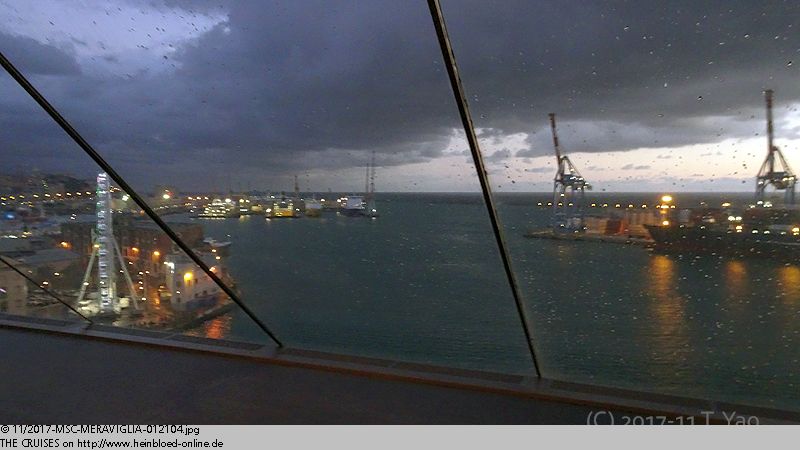 The square in front of the giant wheel appeared perfect.

There was one indoor-pool which was opened unfortunately not earlier but 07:00 hrs. On DIAMOND PRINCESS 2016 I was mostly around 05:30 hrs active to do my rounds of Aqua-Jogging.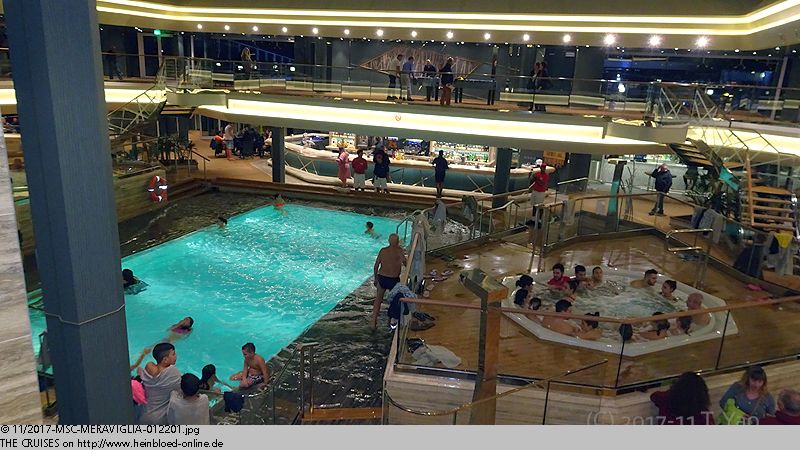 Es gibt einen Indoor-Pool, der leider erst um 07:00 Uhr öffnet. Auf der
DIAMOND PRINCESS 2016
war ich ja meistens gegen 05:30 Uhr meine Runden Aqua-Jogging laufen.
Irgendwie erscheint es mir ziemlich voll. Der Pool im Yacht Club ist leider außen.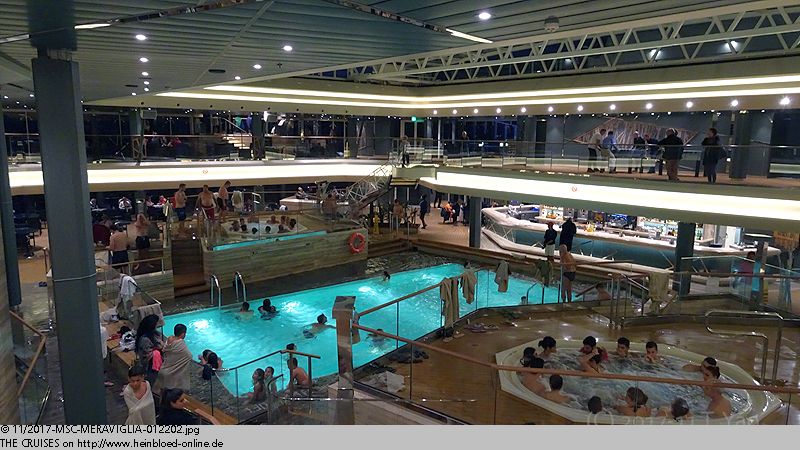 But it looked quite busy. The pool in the Yacht Club was unfortunately outdoor.

As here it was always busy all the time I never saw the pool.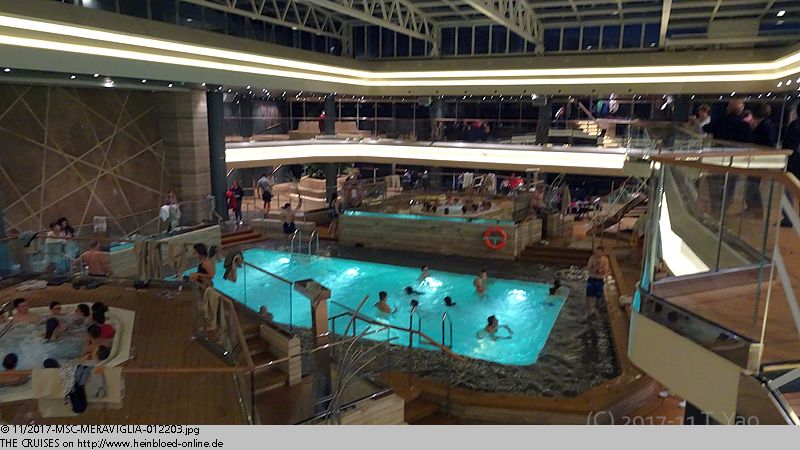 Da hier immer alles ziemlich voll ist, habe ich den Pool nicht besucht.
In den Whirlpools sind jedoch zu den Öffnungszeiten immer Gäste anzutreffen.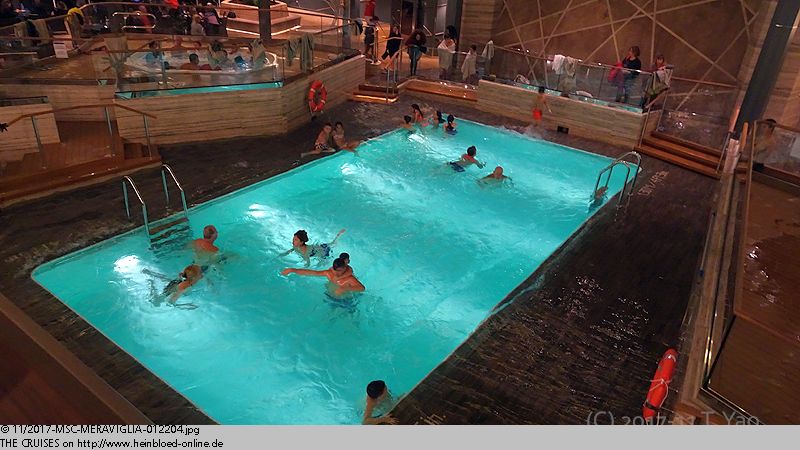 You always met guests during the opening hours in the jacuzzis.

With Costa, there was not a significant difference what they offered in their Main Dining Room and the Club Restaurant (only the Chef's recommendation of the day). But here the offer between the Main Dining Room and the Yacht Club was like a difference between day and night. Although it was officially advertised: no flexible dining was offered onboard. You need to take a little care when want to dine in Eataly: there was one restaurant and one offer like in an Italian Deli-Store. Butcher's Cut impressed because of the high charge. To talk about a surcharge would not be correct. It was a price level like in Zurich, Switzerland which kept me away to dine there.

Bei Costa unterschied sich ja das Angebot zwischen dem Hauptrestaurant und dem Club Restaurant so gut wie gar nicht (Bis auf die Empfehlungen des Chefkochs). Hier unterscheidet sich das Angebot zwischen Hauptrestaurant und Yacht Club doch wie zwischen Tag und Nacht. Obwohl offiziell beworben: eine flexible Tischzeit wird an Bord gar nicht angeboten. Bei
Eataly
muss man etwas aufpassen: es gibt einmal das Restaurant und einmal das Angebot quasi im italiensichen Delikatessenladen. Butcher's Cut beeindruckt mich durch die extrem hohen Preise: Von Zuzahlung kann man da nicht mehr sprechen. Es hat schon Züricher Preisniveau, das mich davon abhält essen zu gehen.
Für die Shows benötigt man Eintrittkarten, die man einfach am Fernseher oder über die App buchen kann. Heute Abend läuft unter anderem "Way".

For the shows you need to book tickets which you can easily do at your TV set or on your app. Tonight they had one show called "Way".

I liked the way how they tuned the audience for the show.

Mir gefällt die Art, wie das Publikum auf die Shows eingestimmt wird.
Noch besser gefällt mir die Show: Energy Drink pur = Musik, die ich liebe - und one size fits all. Hier werden allerdings der Tenor und die Sopranistin in die Show eingebunden. Nicht immer wird der Ton getroffen, aber die Show macht soviel Spaß, dass ich mir schon überlege, ob ich sie mir nochmals ansehen soll. Aber im Normalfall darf man in jede Show nur einmal rein. Mir wird jedoch angeboten, dass man mich einfach in die Show escortiert, wenn ich sie nochmals sehen will.

Much more I like the show: pure Energy Drink = Music which I loved - and one size fits all. But here they integrated the tenor and soprano in the show. Not all tones were really hit in perfection, but the show made a lot of pleasure so I was considering if I should not see it one more time. Normally you were only allowed to see one-time per show. But they offered me to escort me into the show if I like to see it one more time.

For the end of the day, we went to the Yacht Club Restaurant to have dinner. The selection was always too little as not always the golden rule poultry, meat, seafood and vegetarian were offered. Sometimes the meat was not mainstream (pork, beef or veal) or game or lamb. Later I learned that also had dishes you can always get and covered this rule. And with portions sometimes it did not work: sometimes too small and another time too large. But you still got full even many time no carbs were offered. Cesar and Preetam Leckraj served us on our first night in a lovely way. So we went immediately to bed. It will be hard to get us out of the Yacht Club after that.

Zum Schluss des Tages geht es ins Yacht Club Restaurant zum Abendessen. Die Auswahl ist etwas zu klein, da nicht immer so die goldene Regel Geflügel, Fleisch, Meeresfrüchte und Vegetarisch eingehalten wird. Manchmal ist der Fleischgang dann auch nicht Mainstream (Schwein, Rind oder Kalb), sondern Wild oder Lamm. Später lerne ich, dass es auch auch Gerichte gibt, die man immer bekommen kann und die das abdecken. Und bei den Portionen hauen sie manchmal auch daneben: manches wirkt zu klein und anderes wiederum zu groß. Aber satt wird man immer, auch wenn oft die Kohlenhydrate fehlen. Cesar und Preetam Leckraj haben uns an unserem Abend sehr toll bedient. So gehen wir danach auch direkt ins Bett. Es wird schwierig uns aus dem Yacht Club wieder rauszubekommen.
Die anderen Reisen in diesem Blog/
The other voyages in this blog: