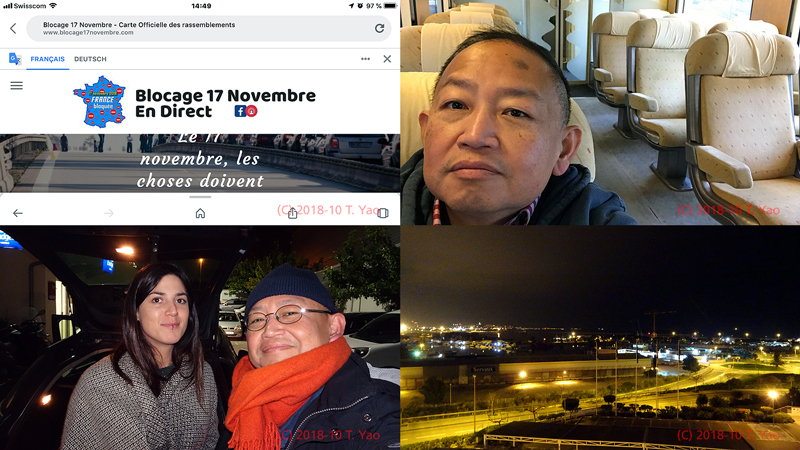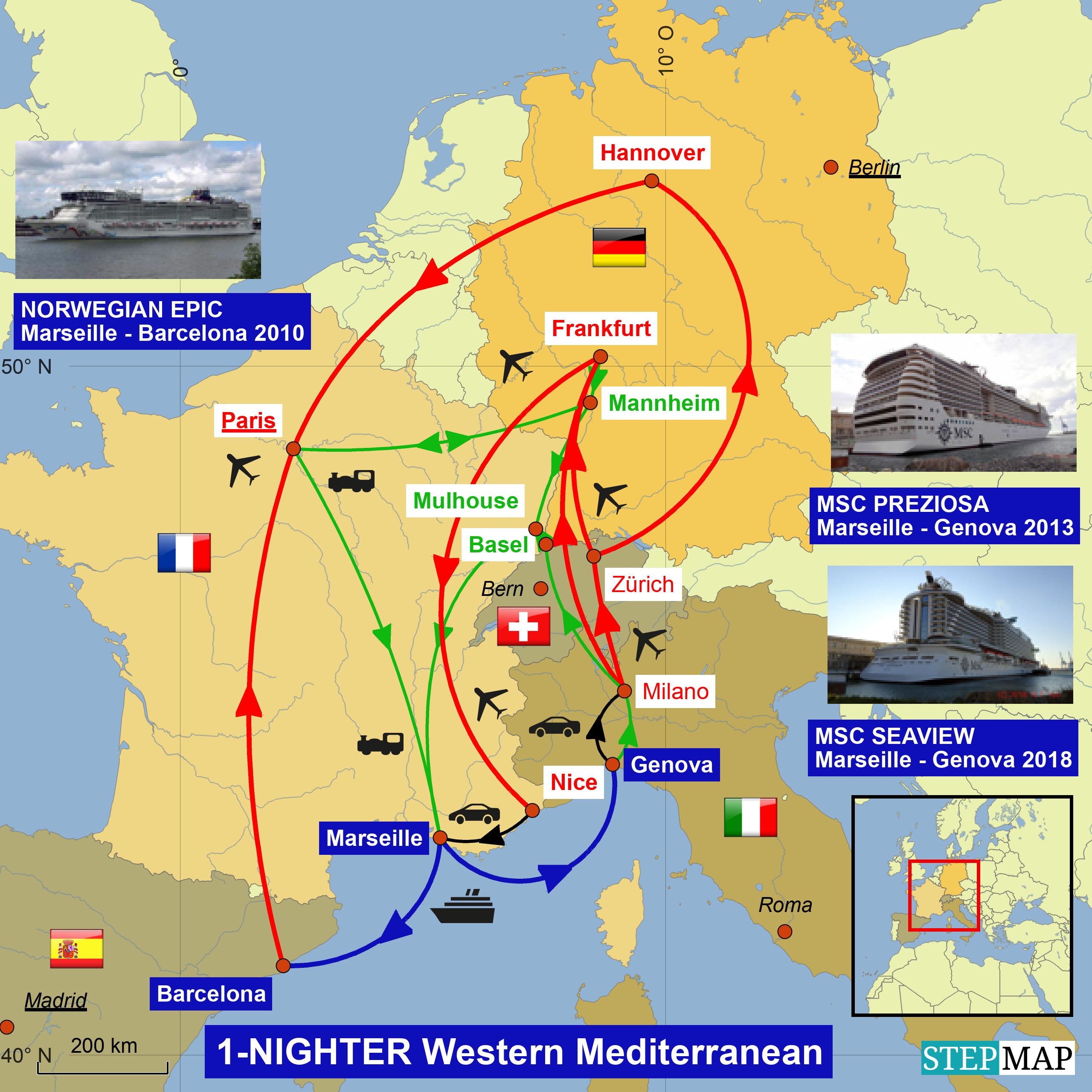 Wir bekommen zu Hause einen Anruf von MSC München, dass wir unbedingt vor 12:00 Uhr im Hafen von Marseille sein sollen. Lt. Unterlagen, die uns Sonnendeck Seereisen zugesendet hat, sollten wir eigentlich erst um 13:35 Uhr da sein. Mir persönlich ist das egal: ich bin bereits eh am Vorabend schon da.

We got at home a call from MSC Munich, Germany. They asked us to be in the port of Marseille, France, by 12:00 noon. According to the travel documents we got from our travel agency Sonnendeck Seereisen, we should be at 13:35 hrs there. I did not care too much since I arrived the night before.

The reason was the blockage of the "Yellow Vest"-("Gilet Jaune")-Movement against the increase of the energy taxes.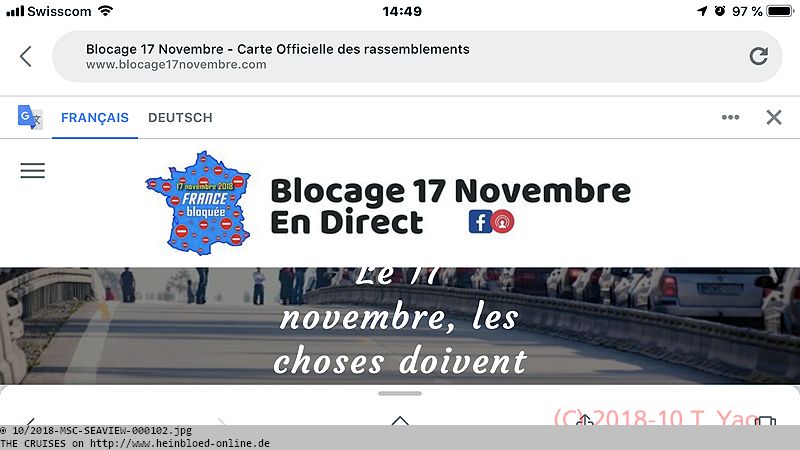 Hintergrund sind die Proteste der "Gelben Westen"-("Gilet Jaune")-Bewegung gegen die bevorstehenden Erhöhungen der Energiesteuern.
U. a. sind von den Straßenblockaden der Flughafen von Marseille und die Bahnhöfe rund um Marseille betroffen.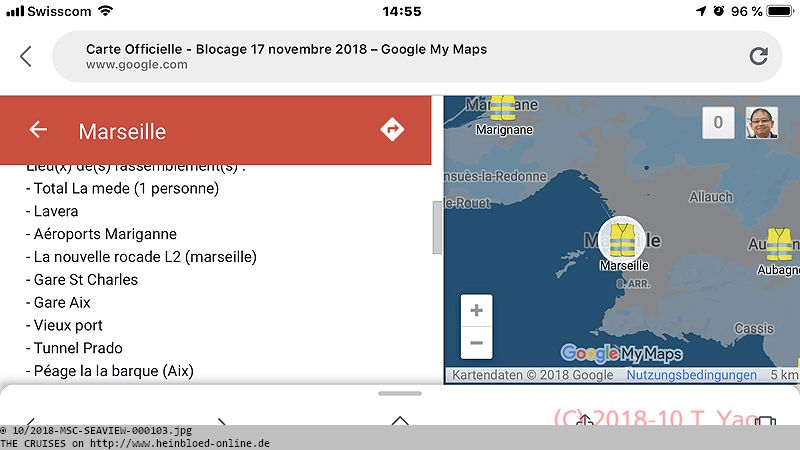 The road blockade actions would apply to the Marseille Airport and to some train stations around Marseille.

Initially, we made an excellent bargain for Frankfurt, Germany to Marseille by TGV French High-Speed Train. Bruno had to postpone his departure from Frankfurt due to business reasons, and we had to cancel the tickets because I could not use them later from Mulhouse, France, and the assigned seats would expire. So we rebooked Bruno on Lufthansa's first flight on Saturday morning. Chantal recommended arriving as early as possible. Scheduled arrival should be 10:15 hrs. Lufthansa did not allow to cancel or to rebook: they did not care how you could leave the airport.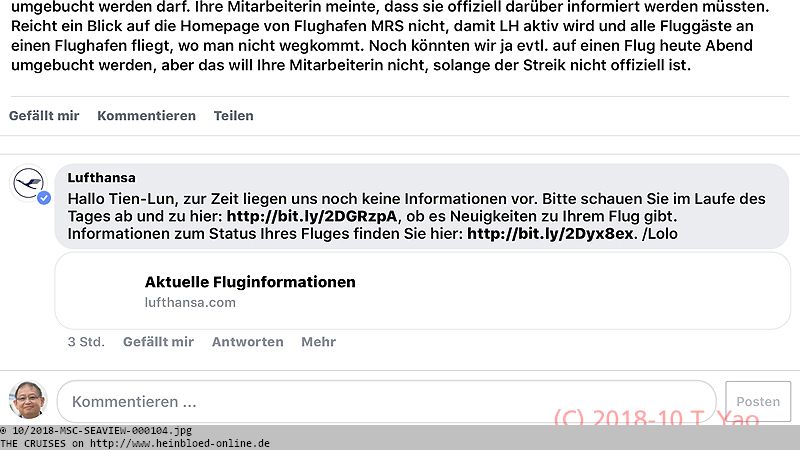 Wir waren eigentlich mal zum Spottpreis im TGV von Frankfurt nach Marseille gebucht. Bruno musste aber aus beruflichen Gründen seine Abreise ab Frankfurt verschieben und wir mussten die Tickets stornieren, weil ich sie ab Mülhausen später nicht nutzen kann und die Plätze verfallen wären. Bruno haben wir daher auf die erste Lufthansa-Maschine am Samstag Morgen umgebucht. Chantal empfiehlt jedoch so früh wie möglich zu kommen. Planmäßige Landung 10:15 Uhr. Lufthansa lässt Stornierung oder Umbuchung nicht zu: denen ist es egal, wie man hinterher vom Flughafen wegkommt.
Ich musste ein neues Ticket von Basel über Mülhausen nach Marseille holen. Es ist teurer als die ursprüngliche Fahrkarte zu zweit von Frankfurt nach Marseille. Schön ist die 1. Klasse im Regionalzug TER 200 der SNCF: Uralt-Fernverkehrswagen. Allerdings quasi ein Privatwaggon.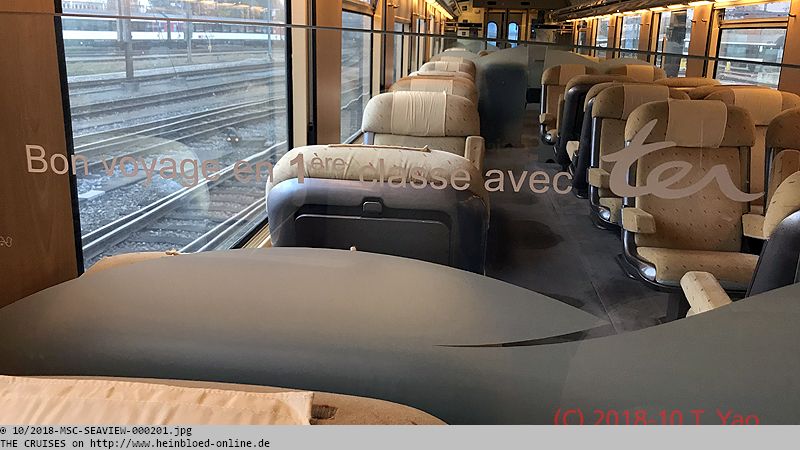 I needed to buy a new ticket from Basle, Switzerland via Mulhouse to Marseille. It was more expensive than our original ticket for two from Frankfurt to Marseille. The 1st class in the regional train TER 200 of the French Railways SNCF was lovely: antique long-distance cars. But I had it as a private car.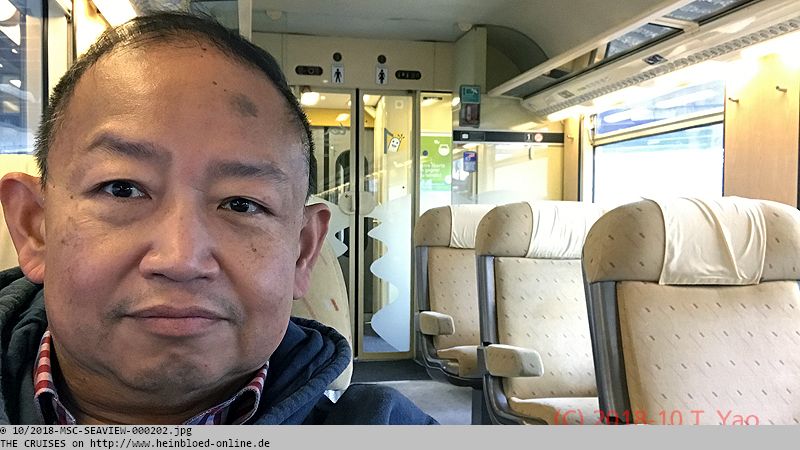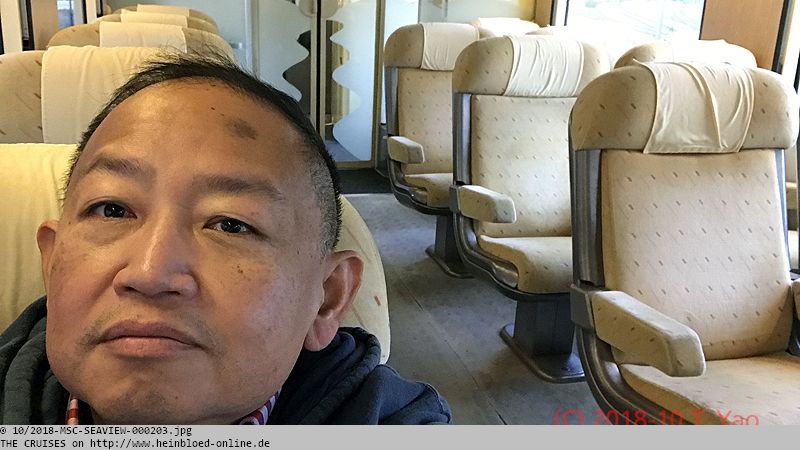 In Mulhouse I went eating something after I learned that my train would depart very much later. The Croque Monsieur was smiling at me.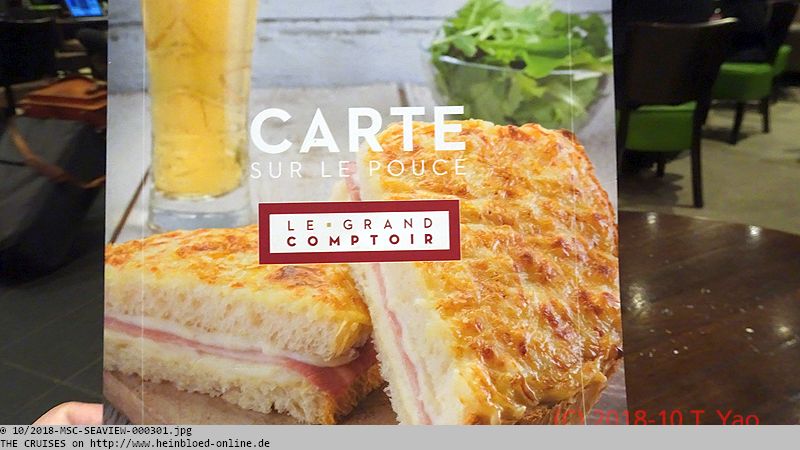 In Mülhausen gehe ich etwas essen, nach dem ich erfahren habe, dass der Zug sehr viel später abfahren wird. Das Croque Monsieur lacht mich an.
Muss ich haben.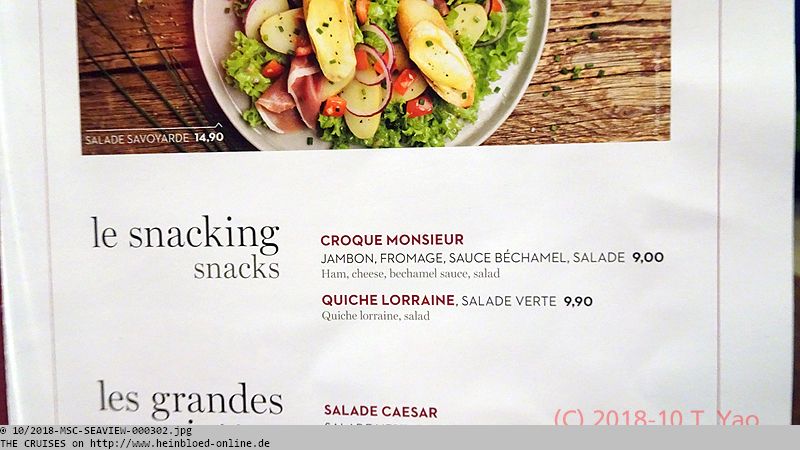 I had to have it.

As usual, the photographer did a better job than the cook.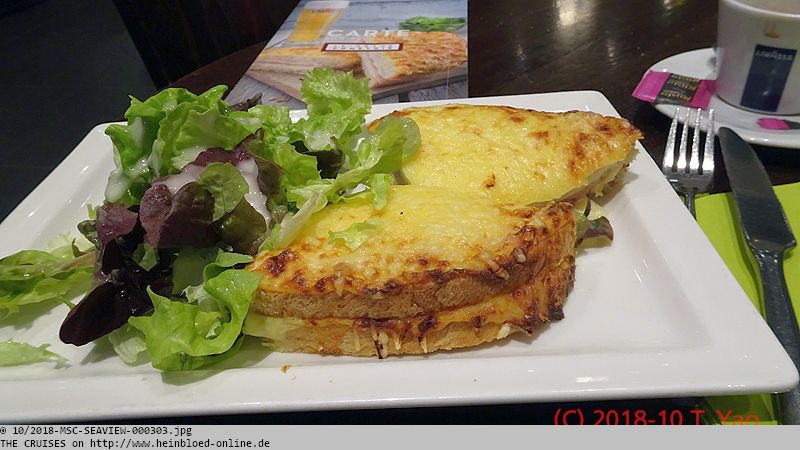 Wie üblich hat der Fotograf eine bessere Arbeit geleistet als der Koch.
Café Viennois - Einspänner... muss ich auch haben und keiner, der mich dafür auslacht.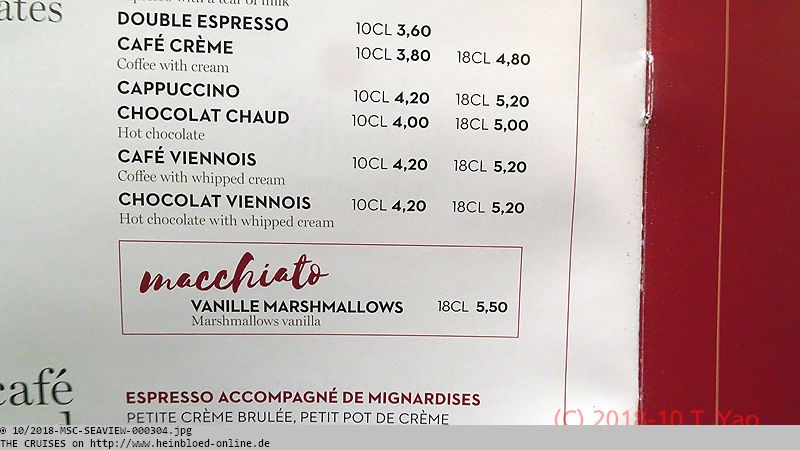 Café Viennois - Coffee with whipped cream... I had to have this too, and none was around who would laugh loud out at me.

Though I got hot chocolate by mistake.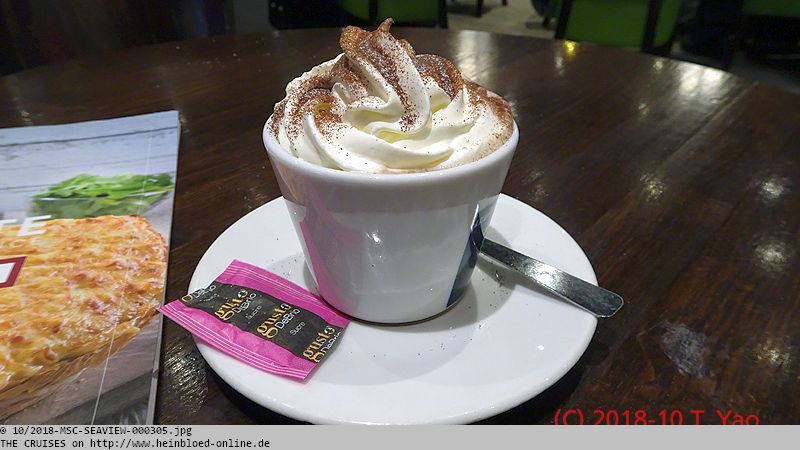 Allerdings bekomme ich irrtümlich ein heiße Schokolade.
Ausgerechnet ein Personenunfall auf dem nachfolgendem Abschnitt. Die Abfahrt meines Zuges verzögert sich um 75 Minuten. Interessant: das System mit dem Internet. Jedem Fahrgast steht pro Stunde ein bestimmtes Kontigent zu. Danach ist man bis zum Beginn der nächsten 60 Minuten für das Internet gesperrt. Bis Marseille gelingt es dem Zug nicht viel Zeit aufzuholen.

Of all, there was a personal accident on the next section of my route. The departure of my train was delayed by 75 minutes. Interesting: their internet-system. Each passenger had per hour a certain quota. After that, you were blocked for internet for the remainder of 60 minutes. The train was not able to catch up time until we reached Marseille.

I booked a cab with Chantal. I only needed to find the taxi rank for pre-booked taxis. There I really had luck: due to the delay, many passengers, who missed their connections, required to stay overnight in Marseille or to continue by taxi. Since we were not the only train with a delay, the queue in front of the taxi rank was endless. Chantal's charming daughter was waiting for me and took me the hotel.

Ich habe ein Taxi bei Chantal vorbestellt. Ich muss nur den Standplatz für vorbestellte Taxis finden. Dort habe ich Glück: wegen der Verspätung müssen viele Kunden, die ihre Anschlüsse verpasst haben in Marseille übernachten oder mit einem Taxi weiter. Da wir nicht der einzige Zug sind, der verspätet ist, ist die Schlange vor dem Taxistand endlos. Chantals charmante Tochter Deborah wartet auf mich und fährt mich zum Hotel.
Eigentlich habe ich einem Bed und Breakfast gebucht. Von dort hätte von der Terrasse, die beste Aussicht gehabt, um die Schiffe einlaufen zu sehen. Das Buchungsportal schreibt mich vor zwei Wochen an, dass ich meine Kreditkartennummer aktualisieren soll, damit die Übernachtung vorab abgebucht werden kann. Und eine Woche zuvor erreicht mich die Mail des Bed and Breakfast-Betreibers, dass sie das Haus verkauft haben und sie meine Buchung nicht aufrecht erhalten können.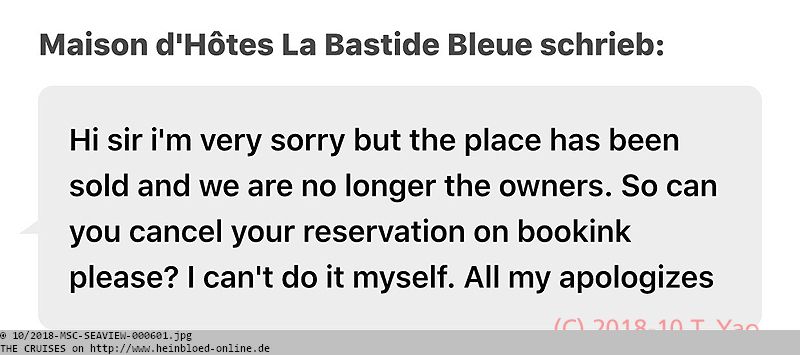 Initially, I booked a Bed and Breakfast. From here, I should have the best view from their terrace to see the arriving ships. The booking engine wrote to me two weeks ago that I should update my credit card details, that they could charge before my arrival the expenses. One week before I got a mail from the Bed and Breakfast-operator that they sold the house and could not honor anymore my booking.

As a substitution, I booked in the same quarter L'Estaque a room with the Ibis Budget (formerly Etap). On the phone, they confirmed that they had rooms where I could see the ships arriving. The floor higher and it would be perfect. The staff was amicable, and I had the luck that I spoke French. The hotel itself should be better demolished and rebuilt. The first time, I was considering to get next time a full protective suit from our laboratory and to book a different hotel. There, I would stay overnight and with the arrival of the ships, I would check-in here. I hated it to find the hairs of previous guests in the shower.

Ersatzweise habe ich im gleichen Stadtteil L'Estaque das Ibis Budget (ehemals Etap) gebucht. Telefonisch bestätigen sie mir, dass sie über Zimmer verfügen, aus dem man auch die ankommenden Schiffe sehen kann. Drei Stockwerke höher und es wäre perfekt. Das Personal ist sehr freundlich und zum Glück spreche ich französisch. Das Hotel selbst sollte man allerdings abreißen und neu bauen. Zum ersten Mal überlege ich mir für einen künftigen Aufenthalt mir einen Vollschutzanzug aus dem Labor mitzubringen und ein anderes Hotel zu buchen. Dort würde ich übernachten und erst morgens zur Ankunft der Schiffe hierher anreisen. Ich hasse es, wenn ich die Haare der vorherigen Bewohner in der Dusche finde.
Die anderen Reisen in diesem Blog/
The other voyages in this blog: